What We Get Wrong About Country Music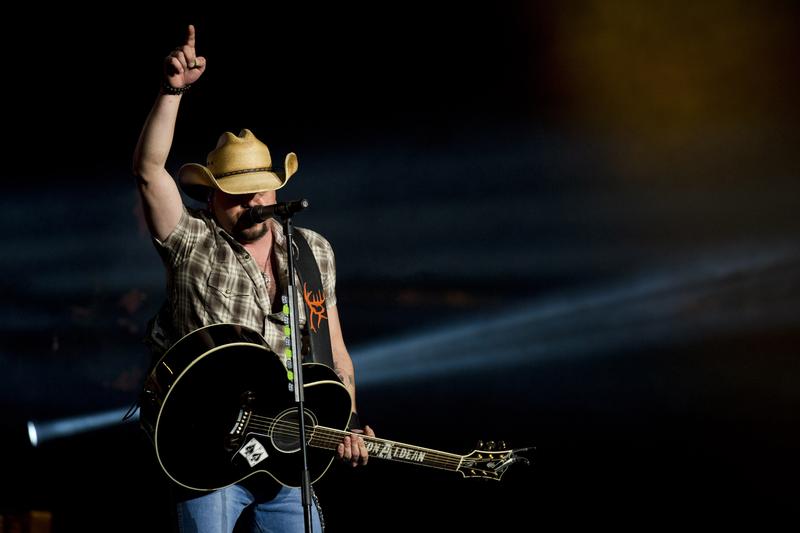 Transcript
BOB GARFIELD: According to Historian Nadine Hubbs, we absolutely need to pay closer attention to country music but minus the condescension that oozes from the supposedly sophisticated class. Hubbs is author of Rednecks, Queers and Country Music, and she says that we need to understand that, first of all, just as the entire working class is not white, not all country music fans are white or, for that matter, working class. And secondly, our generic assumptions about country betray an underlying discomfort with and misunderstanding of the actual working class in America.
NADINE HUBBS: It really takes the working class seriously in a way that no other major culture form in America does. Whatever comes up in ordinary life very often comes up in a country song. So a kid spilling his orange drink in his car seat [LAUGHS] all over the upholstery, that comes up in a country song.
[CLIP/RODNEY ATKINS SINGING "WATCHING YOU"]:
A green traffic light turned straight to red
I hit my brakes and mumbled under my breath
As fries went a flyin' and his orange drink covered his lap.
NADINE HUBBS: What has been happening over the past several decades is that there is an ever-wider chasm between the upper middle class and the working class, where folks get educated, who they hang out. We don't rub elbows anymore and we may not rub elbows with working-class music. Whatever its actual contours are, we keep our distance.
BOB GARFIELD: What else in this vast genre tells us more about its audience than people like me understand?
NADINE HUBBS: I could give two examples. One would be the hillbilly humanism that features in country songs, one after another for 70 years, and another more challenging theme is the antibourgeois theme that features in a lot of country songs too. So hillbilly humanism is what really many country songs boil down to. And it's a very simple message: Nobody's better than anyone else. Hank Williams, Sr. is one of the earliest sources of hillbilly humanism, so a song like "Pictures from Life's Other Side."
[CLIP/HANK WILLIAMS, SR. SINGING]:
… from life's other side someone has fell by the way
NADINE HUBBS: Even like I've got "Friends in Low Places" --
[CLIP/GARTH BROOKS SINGING]:
'Cause I've got friends in low places
Where the whiskey drowns
And the beer chases my blues away
NADINE HUBBS: -- a Garth Brooks song. It's about him being pissed off with an ex-girlfriend, it seems, and now she's marrying a fancy guy and he thinks about how he, [LAUGHS] he went over and threw a wrench into the fancy wedding and then went back over to the bar and joined his friends and spent the rest of the night drinking and having fun. That song has the anti-bourgeois theme in it, that is thumbing the nose at those who look down on, on us. Sometimes they're funny, sometimes they're really angry. Those are the kinds of songs that when a non-country fan would happen to hear one of the songs, they might be really offended, confirming their negative stereotypes. One of those songs is "Redneck Woman," a very big hit by Gretchen Wilson in 2004.
[CLIP/GRETCHEN WILSON SINGING "REDNECK WOMAN"]:
Some people look down on me
But I don't give a rip
I stand barefooted in my own front yard with a baby on my hip
'Cause I'm redneck woman
I ain't no high class broad
NADINE HUBBS: The entire song is just about telling off the people who look down on her and people like her. One of the things that we could hear in country music, if we listened, is that, while we're often in denial that we have class differences, country songs every day are showing us otherwise. I mean, you know a song from the '70s like "Take This Job and Shove It."
[CLIP/JOHNNY PAYCHECK SINGING "TAKE THIS JOB AND SHOVE IT"]:
Take this job and shove it
I ain't workin' here no more
NADINE HUBBS: He's having a fantasy about telling off his supervisor who's a superior, kind of a middle-class person.
BOB GARFIELD: I'm glad you brought up "Take This Job and Shove It" because the author of that song, an outlaw country artist named David Allan Coe, wrote another song, which we can't play much of here. [LAUGHS] Tell me about that song to, to the extent that you can on public radio and explain why it's actually significant.
NADINE HUBBS: I think you're talking about David Allan Coe's 1978 underground track, "F—Anita Bryant."
[CLIP ]:
F-Anita Bryant
Who the hell is she
NADINE HUBBS: Anita Bryant was a 1958 runner-up in the Miss America Pageant. She was a middle-of-the-road singer who had some Top 40 hits. She opposed a local ordinance that would have extended some equal rights protection to what we would now call LGBTQ citizens. Only months after she first spearheaded that campaign, David Allan Coe, of all people, this outlaw country star, wrote a song, "F—Anita Bryant." It was certainly nothing that was playable on country radio or any other kind of radio. And in the song, he makes it clear that he's [LAUGHS] very familiar not only with men who had sex with men in prison, he implies pretty strongly that he's familiar with it in every way and that, actually, those people she calls "homosexuals" are a lot more diverse than she imagines. [LAUGHS] In his lyrics, he goes through a whole list. Some are yellow bellied, that some are mean.
[CLIP/DAVID ALLAN COE SINGING]:
Some are killers
Some are thieves
And some are singers too
In fact, Anita Bryant
Some act just like you
NADINE HUBBS: The problems of a lot of our assumptions about who has been the hero and savior of liberal causes for the first 100 years of homosexuality, from around 1870, when that label was devised, to about the 1970s, the sin of the working class was not that they were queer haters but that they were queer lovers. It's only been since the civil rights era when tolerance rose in importance, then the middle class became the owners of queer acceptance and the working class sin was suddenly that they were queer haters.
BOB GARFIELD: Maybe, at this point, we should also discuss a song from Merle Haggard, the very person who turned "Okie from Muskogee" into a sort of anthem, actually --
NADINE HUBBS: Uh-huh.
BOB GARFIELD: -- in defense of interracial marriage.
NADINE HUBBS: He released "Okie from Muskogee" in 1969. It catapulted him into a level of stardom that he had not known before. He gained lots of new fans who were suburban conservatives. His fan base had previously overlapped with Dylan's fan base, you know, songs about social justice, songs about the downtrodden. After Haggard had such an enormous hit, his record company asked him, okay, what's gonna be your follow-up? Merle Haggard's answer was he wanted to release "Irma Jackson."
["IRMA JACKSON"/MUSIC UP & UNDER]
It was the antithesis of "Okie from Muskogee." The narrator sings to a woman he has loved since childhood and who he will love "'til I die" who is forbidden to him because she's black.
[MERLE HAGGARD SINGING]:
There's no way the world will understand that love is color blind
That's why Irma Jackson can't be mine
NADINE HUBBS: The record company said, no Merle, we want another song that's gonna appeal to the same people who are lovin' "Okie." And the song that he did release was another song that appealed to those who didn't like hippies and didn't like Vietnam War protesters. It was called "The Fighting Side of Me."
BOB GARFIELD: If our goal is to really understand not just country music as a genre but its audience and a wide swath of America, what do we do?
NADINE HUBBS: The problem is confirmation bias. If you already hate the sound of country music and country music is something you've learned to associate with this group of people who you think of as -- the phrase I coin in my book, "the bigot class"
-- the racist people, the homophobic people, the sexist people
-- it's a nice fantasy that takes the middle class, upper middle class off the hook, despite the fact that they actually have their hands on the levers of institutional power that could really make changes in society. To blame America's social ills on some of its least influential citizens is distortive wishful thinking. So how do we stop or slow down a stereotype? I'd be happy to share a playlist [LAUGHS] that could give you a broader picture of country music fans, but the problem would be maybe you would wince at [LAUGHS] every song.
BOB GARFIELD: You know, one of the sad ironies of this conversation is that there is a song that is about exactly what we're discussing. It's called "They Don't Know" and it's by Jason Aldean who was the artist performing --
NADINE HUBBS: Yeah.
BOB GARFIELD: -- in Las Vegas when the shots rang out.
[CLIP/JASON ALDEAN SINGING]:
But those folks ain't lived in our lives
They ain't seen the blood,
sweat and tears it took to live their dreams
When everything's on the line
NADINE HUBBS: Nowadays, in country music, this theme comes up again and again. It comes up with melancholy. It comes up with rage. Being judged, being misunderstood, "they don't know."
[MUSIC UP & UNDER]
BOB GARFIELD: Nadine, thank you very much
NADINE HUBBS: Thank you, Bob. It's been a pleasure.
BOB GARFIELD: Nadine Hubbs is a professor of Women's Studies and Music at the University of Michigan and author of Rednecks, Queers and Country Music.
That's it for this week's show. On the Media is produced by Alana Casanova—Burgess, Jesse Brenneman, Micah Loewinger and Leah Feder. We had more help from Jon Hanrahan, Isaac Napell and Philip Yiannopoulos. And our show was edited this week by our executive producer, Katya Rogers. Our technical director is Jennifer Munson. Our engineer this week was Sam Bair. On the Media is a production of WNYC Studios. Brooke Gladstone will be back next week. I'm Bob Garfield.
* [FUNDING CREDITS] *
Bob Garfield: And I'm not quite finished. During the Oscars the National Rifle Association sent out a stark warning to the media over its agenda to destroy American values.
Dana Loesch: We've had enough of the lies the sanctimony, the arrogance, the hatred, the pettiness, the fake news. So to every lying member of the media, to every Hollywood phony, to the role model, athletes who use their free speech to alter and undermine what our flag represents.
Bob Garfield: That's a teaser for a new show on or a TV hosted apparently by NRA spokes reactionary Dana Loesch who kicks ass and names names.
Dana Loesch: To the Joy-Ann Reads, the Morning Joe's, the Mikas, to those who stain honest reporting with partisanship. To those who bring bias and propaganda to CNN the Washington Post and The New York Times. Your time is running out.
Bob Garfield: And then she turns over an hourglass like the Explorer Magellan or the Wicked Witch of the West.
Dana Loesch:] The clock starts now.
Bob Garfield: Whoa. But the promo is so limited. What about the second we're going to destroy you episode? And the third? So herewith we offer a follow up teaser. Not because the NRA demands a response, not because the public interest is necessarily served, not because it contributes to an important conversation... just because it feels so good.
Leah Feder: We've had enough of the dinnertime calls for free cruises, the four hour cable repair windows, the auto play Internet ads... we're done with the hair trigger red light cameras, the persistent thigh chafing, the eight dollar airport hotdogs. We're done with that thing when someone leaves the checkout line to grab one item and doesn't come back for two and a half minutes. We're done with bleeding gums. We are done with raccoons. So to every indifferent fast food cashier, to every too loud cell phone talker, to every mixer of cognac and soft drinks: You are on notice. To the Shia LaBeoufs, the Jerry Joneses, to that snooty Jennifer at Colored Tile customer service, to all those who think you are the boss of me: We have 300 million guns and your time is running out. The clock starts now....Wh-wa- do I press this twice? Uh...Okay enough nothing's happening. I'm pressing it. Is-is that AM or PM? I'll do 12:01. Okay. Yeah, yeah, yeah... The clock starts.... now! [GONG]