Why the Constitution Doesn't Define "Religion"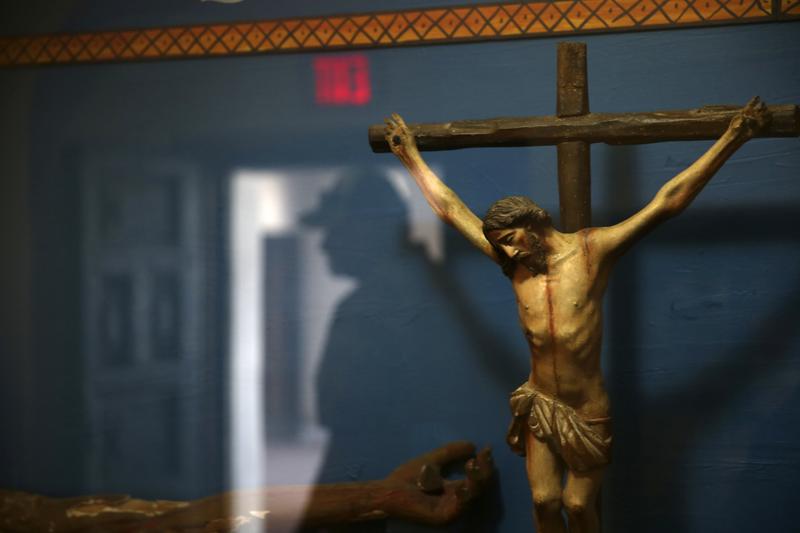 Transcript
SACHA PFEIFFER From WNYC in New York, this is On the Media, I'm Sacha Pfeiffer, sitting in for Brooke Gladstone. We begin this week with a plea for freedom.
[CLIP]
NICKI MINAJ When I was a little girl, the people in church would tell us, be happy that you're able to praise God freely because people in so many countries in the world can't praise the God they'd like to praise freely. We have become that place that you can't speak for the fear of the mob attacking you. [END CLIP]
SACHA PFEIFFER This is rapper Nicki Minaj, speaking on Instagram live on Wednesday after she became the subject of an absurd controversy that, on its face, had nothing to do with religious freedom. The Internet mob was responding to this tweet, which she posted to her 22 million followers on Monday.
[CLIP]
TUCKER CARLSON '"My cousin in Trinidad won't get the vaccine because his friend got it became impotent," she wrote. "His testicles became swollen. His friend was weeks away from getting married, now the girl called off the wedding. So just pray on it and make sure you're comfortable with your decision, not bullied."
SACHA PFEIFFER Needless to say, that tweet went viral pretty much instantly, as did #ballgate. Late night hosts, sensing their work had basically been done for them, had a field day.
[CLIP]
STEPHEN COLBERT ...but to be fair to Dr. Minaj, everyone knows there's no source more reliable than your extended family's acquaintances in another country. Her report comes straight from the New England Journal of My Cousins Friend in Trinidad. Check out this week's study: I heard his girlfriend got pregnant from a hot tub. [END CLIP]
SACHA PFEIFFER But not everyone found it funny.
[CLIP]
JOY REID You have twenty two million followers on Twitter.
[CONTINUES UNDER]
SACHA PFEIFFER Joy Reid on MSNBC,.
JOY REID For you to use your platform to put people in the position of dying from a disease they don't have to die from. Oh, my God. As a fan, as a hip hop fan, somebody who was your fan. I'm so sad that you did that. [END CLIP]
SACHA PFEIFFER Then there's the other problem with the story of the rapper's cousin's friend. It didn't check out.
[CLIP]
DR TERRENCE DEYALSINGH Unfortunately, we wasted so much time yesterday running down this false claim.
[CONTINUES UNDER]
SACHA PFEIFFER Here's Trinidad and Tobago Health Minister Dr Terrence Deyalsingh.
DR TERRENCE DEYALSINGH As far as we know, at this point in time, there has been no such reported either side effect or adverse event. [END CLIP]
SACHA PFEIFFER Rather than just apologizing for spreading medical misinformation, Minaj doubled down. She took to Instagram live to riff on her feeling that her critics had robbed her of her freedom to speak her mind. She also said she had been put in Twitter jail, which the company says is not true. Facts be damned, the story was catnip for the right wing media.
[CLIP]
TUCKER CARLSON It's not anything to do with the physical effect of the vaccine that makes our political class mad. It's the last part of Nicki Minaj's tweet that enrages them. The part where she says you should "pray on it," make the decision yourself like a free human being and quote, "don't be bullied." [END CLIP]
SACHA PFEIFFER Maybe Tucker Carlson seized on the story because being told what to do, even in matters of life and death, can be spun to feel un-American. It's the same reason conservative lawmakers and pundits have landed on a scary word to describe Joe Biden's new vaccine mandate for companies of 100 employees or more.
[CLIP]
NEWS REPORT Medical tyranny is still tyranny, and that's exactly what this Biden administration is trying to push on American people.
NEWS REPORT Mississippi Governor Tate Reeves said even though vaccines are lifesaving, the president's move is unconstitutional. He added, This is still America and we still believe in freedom from tyrants.
NEWS REPORT I think it's interesting that we were assured for four years that Donald Trump is a tyrant, that he is, you know, Hitler incarnate. No, we had to elect to this rotting bag of oatmeal to get a real tyrant. [END CLIP]
SACHA PFEIFFER History shows that vaccine mandates, which have been enforced legally in this country for more than a century, are neither bullying nor tyrannical. On Tuesday, Arizona became the first state to challenge the vaccine mandate, a measure many businesses seem on board with, because why would they want their workers to end up in the hospital? President Biden.
[CLIP]
PRESIDENT BIDEN Some of the biggest companies are already requiring this, United Airlines, Disney, Tice's food and even Fox News. [END CLIP]
SACHA PFEIFFER Fox isn't exactly requiring it. It's asking employees to disclose their vaccination status. And according to a human resources memo sent to Fox staffers this week, 90 percent of employees at the network are already vaccinated and the rest are tested weekly. Meaning, Fox was essentially following the president's new policy before he announced it. These claims of government overreach could just be cynical dog whistles aimed at firing up TV viewers and raising campaign funds. But there actually is a conflict between our constitutionally enshrined religious rights and parts of the vaccine rollout.
[CLIP]
NEWS REPORT Some employees can challenge this vaccine mandate. Title seven of the Civil Rights Act allows employees to refuse the vaccine over sincerely held religious beliefs. Tell us what this means exactly.
SPECIALIST It's a little bit murky. No major religious denomination in the U.S. opposes vaccination outright, but beliefs, practices, observances with which an employer might not be familiar, are still protected. [END CLIP]
SACHA PFEIFFER In other words, even though the pope has come out in favor of vaccinations, Catholics have the right to make an individual case to their employers for opting out. And those requests are on the rise, bringing with them a long list of questions like: what counts as a religious exemption? How can we tell if they're sincere and what even counts as religion?
[CLIP]
UNICOLE UNICRON Your personal reality is reality. And in Unicult, as we honor that, it is because of this teaching that Unicult protects its members who do not want to get the vaccine. [END CLIP]
SACHA PFEIFFER That's Unicole Unicron, the founder of the Unicorn cult known as Unicult speaking on TikTok.
[CLIP]
UNICOLE UNICRON Unicult is a real religion, and we can provide documentation to support any religious exemptions if you are a Unicult member. With the highest health in mind, we support you and we love you [END CLIP]
SACHA PFEIFFER As it turns out, the Constitution doesn't quite spell out what should be done about Unicult because the Constitution doesn't define religion.
WINNIFRED SULLIVAN There were so many different churches and other religions in the U.S. that there was no single tradition that could have been a national church. So as a practical matter, it was impossible.
SACHA PFEIFFER Winnifred Sullivan teaches at Indiana University Bloomington, in both its Department of Religious Studies and Maurer School of Law. She's also a visiting professor of religion at the University Sciences Po in Paris. She told me that not defining religion in the Constitution was a deliberate decision to ensure that no one church had sole moral and legal authority.
WINNIFRED SULLIVAN We have decided not to know what religion is as an official matter, that that is our constitutional commitment, that there's no official definition of what religion is. That's something that's left to each individual and each community. There's no way to distinguish legally between a religion that you and I might cook up right now, so to speak, and an ancient tradition like Judaism or an old church like the Roman Catholic Church.
SACHA PFEIFFER According to Sullivan, religion is best left undefined in law because otherwise the courts are in the position of deciding what counts as a good or bad religion, which is an awfully messy theological business. It also misses the point because religious exemption cases are often about much more than spiritual faith and practice.
WINNIFRED SULLIVAN So I do think that religious exemptions become a kind of fevered place where American dysfunction gets litigated and talked about. If you have an example where a single person has said I should be able to do this even though it's illegal. One question you should ask is, well, maybe everybody should be able to do this. Maybe the problem is with the law, not with the person who's objecting. There's a Supreme Court case that says that a Muslim man who was imprisoned had a religious right to wear a beard even though beards were prohibited in the prison. I think there, a good question to ask is: if he can wear a beard, why not those men in the prison who either have medical reasons or even just personal reasons for wanting to wear a beard? You know, why only him? That's an American question to ask.
SACHA PFEIFFER The policing of facial hair in prisons is one kind of American dysfunction, but Sullivan says religious exemptions like those for vaccines can also signal deeper systemic failures in education and health care.
WINNIFRED SULLIVAN Where there is dysfunction in American government, you see religious exemptions coming up. So that's in health care where because we funnel health care through private employers, religious exemptions are raised there. If we had national health care, arguably, that would be very differently organized. So I think that the religious exemption problem or arguing about who we are through arguing about what religion is and what's good religion and what's bad religion, this is something we keep doing. And we're doing it right now because our biggest problem is the pandemic. And there has been so much governmental dysfunction around the managing of the pandemic.
SACHA PFEIFFER I do think it's surprising, actually, that we haven't defined religion, especially when you think how much time gets spent trying to define other complicated constitutional words in the Constitution like 'speech.' Why so much time spent on defining speech, but not religion?
WINNIFRED SULLIVAN I think in the U.S. it's impossible. I've written a great deal about this. I think it's impossible to be coherent. That isn't true in other countries. And I'd like to point out to Americans that in many countries, perhaps most, there is a Ministry of religious affairs. There's an office which decides what a religion is, and we decided not to do that. [chuckles] But if you do do that, you have the advantage of being able to have someone to argue with you about who's an official in charge. And we have no officials in charge of what religion is. Sometimes academics set themselves up in that role, and sometimes judges have referred to theologians or other academics and use them as authorities. But mostly there's no support for that in our constitutional history to pick out one Protestant theologian, for example, and say he's the one who defines what religion is.
SACHA PFEIFFER The religious exemption allowance was encoded into law with the federal Civil Rights Act of 1964. It says employers must make reasonable accommodations for employees who object to work requirements because of, quote, sincerely held religious beliefs. And as Winnifred Sullivan points out, since the Constitution doesn't define what is a religion or not, the final ruling is up to employers. One hospital system in Arkansas saw an uptick of employees asking for a religious exemption from the Covid-19 vaccine on grounds that fetal cell lines were used in its development and testing. So the hospital called their bluff and had them sign a form promising they wouldn't use any other drugs developed or tested using fetal cell lines.
[CLIP]
NEWS REPORT The form, which has made the rounds on social media, mentions the vaccine went through the same process as many typical medications such as ibuprofen, antacids... [END CLIP]
SACHA PFEIFFER Tylenol, Pepto Bismol, aspirin, Tums, Lipitor, Benadryl, Sudafed and many other household medicines.
[CLIP]
NEWS REPORT President and CEO Matt Troup says if someone has those beliefs and they are truly beliefs that are strongly held, there should be no issue. And he hopes some of the staff are more educated about that potential decision. [END CLIP]
SACHA PFEIFFER If you can't beat them, educate them? Coming up, more on what happens when church and state are at odds with one another. This is On the Media.