The Consequences of Impeaching Joe Biden Without Evidence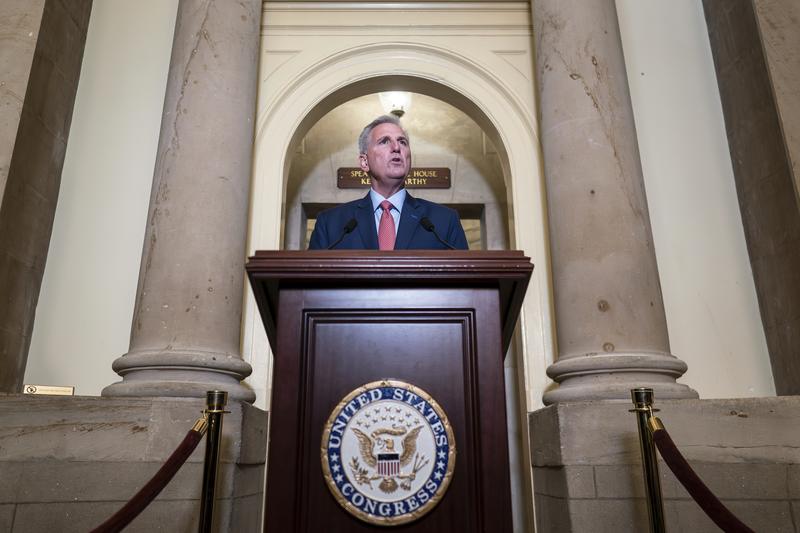 Transcript
Micah Loewinger: This is On the Media. I'm Micah Loewinger.
Brooke Gladstone: I'm Brooke Gladstone. This week, the House took action.
Kevin McCarthy: Today, I am directing our house committee to open a formal impeachment inquiry into President Joe Biden.
Brooke Gladstone: They're accusing the president of profiting from his son Hunter Biden's four business deals. A CNN headline dubbed it the most predictable impeachment investigation in American history. CNN political reporter, Stephen Collinson wrote that "it felt more like an inevitable consequence of America's diseased politics than a constitutional thunderclap but if this is a sign of disease then the condition is spreading."
News clip: The governor of New Mexico is now facing growing backlash, including calls for impeachment, following her executive order banning concealed carry for self-defense. It followed the recent shooting deaths of three children in that area.
Brooke Gladstone: In Wisconsin.
News clip: State Republicans are threatening to impeach the newly elected state Supreme Court Judge, Janet Protasiewicz because she spoke the truth about their heavily gerrymandered electoral maps.
Brooke Gladstone: As to the Biden probe, House Oversight Committee Chairman James Comer spent eight months digging into this case promising to produce a bombshell.
James Comer: We found that the President did have transactions that went to his family members while he was vice president. That was something that the media said never happened, and we proved that nine Biden family members were a part of the [unintelligible 00:02:42]
Brooke Gladstone: Less bombshell than pop gun, there's still no direct evidence tying Biden to any wrongdoing. On CNN, South Carolina rep, Nancy Mace said, no, but soon, maybe.
Kaitlan Collins: Isn't it supposed to be the evidence that leads you to pursue impeachment and impeachment inquiry?
Nancy Mace: Well, that's what the inquiry is for. It's to get more evidence.
Stephen Collinson: There is a perception of a conflict of interest.
Brooke Gladstone: That's CNN's Stephen Collinson, who gave us his take on what's fair and what's not.
Stephen Collinson: I think it is fair to ask why Hunter Biden was on the board of a Ukrainian energy company, for example, while his father was vice president and very involved in issues in Ukraine.
Brooke Gladstone: Stephen, isn't that standard issue nepotism? It's unsavory but no high crime or misdemeanor.
Stephen Collinson: Yes. The idea that this reaches at this point the level of an impeachable offense let alone investigation is a very hard case to make. Clearly, there is in every Congress, and particularly in the polarized times that we're in now, political motivation for almost every investigation.
Brooke Gladstone: McCarthy is very weak. The GOP only has a five-seat majority in the House and he's beholden to a rump crew of very far-right members for his job as speaker. He has to do what they want and they want to do what Trump wants.
Donald Trump: They have absolute proof that Biden is being paid off by China, Ukraine, and many other countries, and the press doesn't even write about it.
Brooke Gladstone: Obviously, there's no evidence of any payments from China into Joe Biden's bank account. It is Trump's desire to spread impeachment around, right?
Stephen Collinson: By moving towards potentially impeaching Biden, the Republicans in the House could seed a view that corruption is endemic, that the offenses of which Trump is accused, the four criminal trials, the looming next year, his own two impeachments are just par for the course. Oh, Biden's just the same as Trump, a curse on all their houses.
Brooke Gladstone: This impeachment fever that's happening in all sorts of red states, is that just simply catching the bug or a way to discount the gravity of an impeachment?
Stephen Collinson: It is seen as just another tool in the toolbox of hardline politicians. A lot of experts worried even during the Trump impeachment, the continuing resort to impeachment as almost a measure of censure because at that point, it was clear that Trump wouldn't be convicted in the Senate is denuding the gravity of impeachment and it could be something that we would see more and more often, and that seems being born out by events. Are we going to go forward and every president is going to be impeached when there's a house of the opposite party? Seems like it's quite possible.
Brooke Gladstone: Even though the Democrats knew they weren't going to win, they wanted this censure on the historical record.
Stephen Collinson: Yes. Having said that, I think we should make the distinction that there were clear actions that Trump took that led to his impeachment. At this point, there aren't clear actions that Biden took that appear to merit impeachment, and there's a difference in these two cases.
Brooke Gladstone: Critics of the media coverage around this case have pointed out a troubling trend, I think. Media critic Jay Rosen noted that it took the AP until the 14th paragraph in its piece to clarify that the GOP had no evidence to present and instead focused on the idea that the impeachment itself was historic. It took the New York Times until the seventh paragraph in its piece to make the same point about the evidence. The lack of evidence wasn't mentioned in the headlines and we've gotten used to saying without evidence when it comes to things that Trump says like the election was stolen, we always say without evidence. Isn't it fair to say the same about this impeachment trial? Especially if it continues to be Kabuki theater? What's the real story here?
Stephen Collinson: Of course. I think it was on the front page of The Times. They said something to the effect of McCarthy opens impeachment inquiry caving to the right, something to that effect. I can speak for myself, we have pointed out repeatedly that there's no direct evidence of the President being involved.
Brooke Gladstone: Would you put in a piece, at this point, it appears they're trying to impeach the president for the alleged transgressions of his son? Would you do that? I know there is a tremendous tendency, having analyzed the media now for more than 30 years myself, that this excruciating need to be fair enables certain obvious and useful context to be left out of the story.
Stephen Collinson: It's difficult for me to say that I would definitely write that because I think everything needs to be dealt with in context, but I think--
Brooke Gladstone: That is context. I'm not trying to put you horribly on the spot. Just a little bit on the spot.
Stephen Collinson: My job is to write analytical journalism and that may move a little bit to opinion.
Brooke Gladstone: If the evidence that they have provided entirely involves certain self-interested behaviors of Hunter Biden, alleged transgressions, and nothing points to the president, isn't it a simple fact that what they're presenting is a kind of by-association argument?
Stephen Collinson: They are trying to create a situation politically in which the behavior of the son is blurred in a way that suggests wrongdoing by the President. I think that's clearly a political tactic. I don't know what necessarily the terminology or the particular phraseology I would use but I don't have any problems saying that that appears to be exactly what they're doing and I think I've written that. They're trying to seize on the business activities of Hunter Biden to suggest a massive abuse of power by the president because they don't have evidence of a massive abuse of power by the president. That is a fact.
Brooke Gladstone: One last question. The White House in the Obama days certainly and also in the Biden Administration has often been criticized by Democrats for not defending itself vigorously enough. It seems this White House has made a decision to defend itself. What do you think?
Stephen Collinson: President Biden is not quite as eloquent as Obama. He doesn't do as many public appearances. I think I perhaps would argue the White House doesn't have a president that is as good as going out and driving the message. They do have a very aggressive fightback operation as you said, a war room that they're now starting to stand up against what they regard as completely frameless impeachment proceedings.
Honestly, I don't think there's great evidence that they're being that successful in fighting back against these allegations. I remember the Clinton administration, during that impeachment, were exceedingly aggressive in defending Bill Clinton, getting him out, going around the country. He was very active in fending off these allegations. In the end, it worked for him because he emerged from the impeachment process, and in the last period of his presence, he was much more popular than the people who tried to impeach him. I guess that's the model for the White House, but we're in a completely different media era right now.
Brooke Gladstone: And a completely different political one.
Stephen Collinson: Yes. If you look at some of the president's policies, the Recovery Act, an attempt to reignite manufacturing, for example, a lot of the things that Biden has done, which by any objective view of the presidencies of the last 20 years, they're pretty impressive legislative achievements. Some of these things take a long time to roll out and a lot of people aren't feeling the benefits for them, even if they're working for the economy.
You've got this situation whereby President Biden is almost running for reelection on the basis of a recovering economy, but a lot of people aren't appreciating that. I often think about the selling of the Iraq war, which as a political campaign was very successful but, of course, when you look back now, many people regard it as one of the greatest foreign policy disasters of the modern age. Sometimes administrations are good at selling things which perhaps they shouldn't be selling.
Brooke Gladstone: This impeachment, we don't need in the current political environment to sell it to everyone or even to most people. Basically, just people who vote in primaries.
Stephen Collinson: The political impact of impeachment may well be decided in those 20 or 30 districts Republicans won in 2022 where Biden won in 2020. If impeachment comes to be seen as just a naked political action, those Republicans could be hurt. In the same way, we've seen how Republican extremism has actually hurt the GOP in more moderate suburban districts in the 2020 election and the 2022 midterm election and in the fact that they didn't win back the Senate and they didn't get that huge red wave that they expected in the midterm elections.
In a way, I don't really like talking about the political implications of impeachment because the question should really be, is this a justified impeachment or not? I think we need to keep the focus on that because impeachment is such a grave thing. There will be political after-effects and it will be the job of the White House to try and exploit those political after-effects because clearly, it's very unlikely that Joe Biden is going to be convicted in the Senate trial so he'll be here at the end of it. The question is, what political impact does that have on him?
Brooke Gladstone: Stephen, thank you very much.
Stephen Collinson: Thanks
Brooke Gladstone: Stephen Collinson is CNN's senior political reporter.
Micah Loewinger: Coming up, two geriatric men or the likely presidential nominees. Is there such a thing as too old for the job?
Brooke Gladstone: This is On the Media.
Copyright © 2023 New York Public Radio. All rights reserved. Visit our website terms of use at www.wnyc.org for further information.
New York Public Radio transcripts are created on a rush deadline, often by contractors. This text may not be in its final form and may be updated or revised in the future. Accuracy and availability may vary. The authoritative record of New York Public Radio's programming is the audio record.