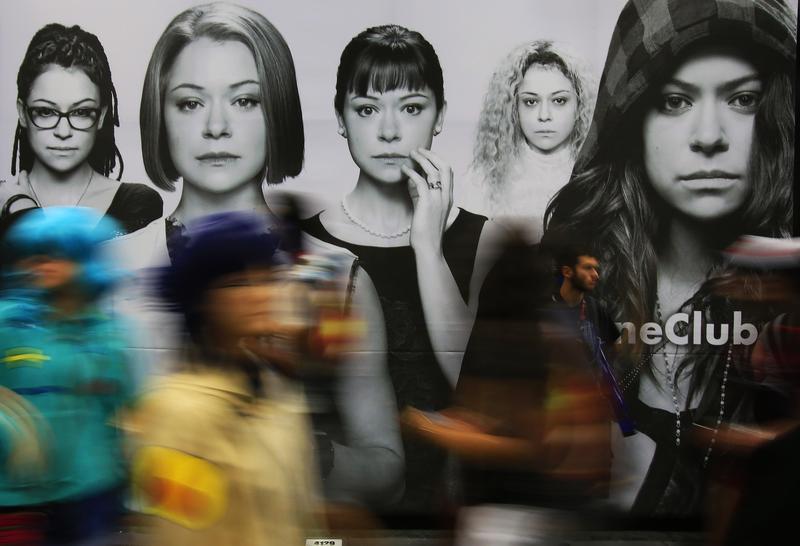 Transcript
BROOKE GLADSTONE: So secrecy has left scientists with a serious image problem, especially those who tinker with genes because it seems like a short hop from mosquitoes to mice to people. Cloning, for instance, is a rich source of anxiety, especially when Dolly the Lamb was cloned by Sir Ian Wilmut on July 5th, 1996. Got any plans for the 20th anniversary?
Naturally, science fiction has dug deep into clones, from Blade Runner to Boys from Brazil to The Island to the underrated Moon - go see it – and, of course, BBC America's Orphan Black. The show's characters include Sarah, a British grifter, Alison, a soccer mom, Cosima, the science geek, and Helena, a stunningly unpredictable assassin, and lots of others, all cloned, all far more nuanced than I could describe, all played by Maslany.
[CLIP]:
ALISON: We're clones! We're someone's experiment and they're killing us off!
[END CLIP]
BROOKE GLADSTONE: Their self-styled Clone Club pursues answers about their mysterious creator, desperate to secure their autonomy and save their lives.
In his new book, What We Talk About When We Talk About Clone Club, Bioethicist Gregory Pence uses the universe of Orphan Black to probe the thorny ethics of cloning. Gregory, welcome to the show.
GREGORY PENCE: Thanks for having me.
BROOKE GLADSTONE: Now, as a bioethicist, you are pro-human cloning, which, I take it, is not a mainstream view among bioethicists?
GREGORY PENCE: No, I am a lone wolf, kind of an outsider, when it comes to cloning.
BROOKE GLADSTONE: We're so used to imagining clones as commodities - soldiers or slaves or the source of spare body parts. And there are plenty of filmic depictions of all of that.
[BLADE RUNNER CLIP]:
TYRELL: Commerce is our goal here at Tyrell. More human than human is our motto. Rachael is an experiment, nothing more.
[THE ISLAND CLIP]:
McCORD: Some hag trophy wife needs new skin for a facelift or one of 'em gets sick and they need a new part, they, they take it from you.
[STAR WARS CLIP]:
LAMA SU: We modified their genetic structure to make them less independent than the original host.
[END CLIP]
GREGORY PENCE: I prefer to think of being created by cloning as a delayed twin. And we've had delayed twins. We've had two embryos who've split and one was implanted eight years after the other. And anything that's true about a delayed twin would be true of cloning. So if we created two versions of Taylor Swift from her embryo, we couldn't just kill them and use them, you know, as a commodity.
BROOKE GLADSTONE: And this is because of the principle of nondiscrimination by origins, a phrase that you coined, right?
GREGORY PENCE: Yes. It basically says that the way you were originated, whether your parents were married or whether your sperm and egg met in the test tube, really doesn't matter to your human status and, therefore, you can't be killed for your parts. People had exactly the same fears, including some Nobel Prize winners, about the first test tube baby, Louise Brown. And, as soon as the "baby" was walking down the street with her mother in a pram, people said, oh, it's just a baby, oh, how lovely ('cause it was in England). And all that stuff about the scares just kind of went away.
BROOKE GLADSTONE: So you think the same thing must and will apply to clones because that's just the way humans are - we think babies are cute?
GREGORY PENCE: If a child was created by cloning to someone who was, say, aspermatic or just all the other ways had failed, that child would be very, very highly wanted. And this is where the rub comes, I mean, ethically, not only just as a baby but for those specific characteristics.
BROOKE GLADSTONE: That's a big rub, yeah.
GREGORY PENCE: Yeah, it is a big rub. It's called the argument for an open future, the idea that every child should have an open future. And if you call in LeBron James, then everybody's gonna expect him to be a basketball player and not a rabbi. But people still have free will. Expectations aren't necessarily destiny. And the Pacific Rim, they kind of see our almost puritanical fear of cloning as a chance to get ahead of us.
BROOKE GLADSTONE: We know that the evil people in Orphan Black are the people who devised the experiment that brought these clones into being. One of them is someone named Aldous Leekie, which is a kind of compression of Aldous Huxley, who wrote Brave New World, and Leakey, the famous anthropologist.
[ORPHAN BLACK CLIP]:
DR. ALDOUS LEEKIE: I'll be able to offer you the ability to see into a spectrum never before seen by the naked eye, infrared, x-rays, ultraviolet. You interested?
COSIMA: Maybe I'll just start with basic Lasix.
[AUDIENCE LAUGHTER]
DR. ALDOUS LEEKIE: And so you should! That's making an evolutionary choice. Neolution gives us the opportunity at a self-directed evolution. And I believe that's not only a choice but a human right! [MUSIC]
[END CLIP]
BROOKE GLADSTONE: Are you agreeing with him, Dr. Pence?
GREGORY PENCE: No.
[BROOKE LAUGHS]
There's a tension in the show between getting the facts right and being dramatic and, unfortunately, the evil scientist in the show provides the drama.
BROOKE GLADSTONE: But I mean, do you believe the basic impulse to improve ourselves through science?
GREGORY PENCE: Yes. I just walked here from across the campus and went by Children's Hospital, which is a major, major hospital for the Southeast. Probably about half of the kids in there suffer from some genetic condition - cystic fibrosis, Tay-Sachs. If you could eliminate those problems, it would alleviate a huge amount of human suffering. There's a gradient between eliminating terrible genetic defects to improving people, but once you open the door to choice I think it's going to be very hard to say, well, you can choose this but you can't choose that.
BROOKE GLADSTONE: But you're not afraid of opening that door.
GREGORY PENCE: Not given the kind of conditions I see in the kids in Children's Hospital. We have a man here at UAB who has a cure for sickle cell in mice, but the NIH and other people won't let him try it on humans because they're so afraid that something might go wrong.
BROOKE GLADSTONE: On the other hand, you can't be experimenting on human subjects who might suffer even worse as a result, right?
GREGORY PENCE: Well, I think you can, if they voluntarily consent and they're educated and they've experienced sickle cell in their own families and know what it – what it can do and they're carriers. Otherwise, we basically have to say, uh, we're done, no more medical progress.
BROOKE GLADSTONE: Okay, let me make a distinction here between messin' around with genes to make us more disease-resistant or healthier and cloning. IVF babies are one thing. Cloning yourself is another. It's yukkily narcissistic, it seems. Everyone remembers the 1978 film, The Boys From Brazil, which essentially brings back legions of Hitler.
[CLIP]:
DR. JOSEF MENGELE: He had denied himself children because he knew that no son could flourish in the shadow of so godlike a father! But, then he heard what was theoretically possible, that I could create one day not his son, not even a carbon copy but another original!
[END CLIP]
BROOKE GLADSTONE: [LAUGHS] Jawohl!
GREGORY PENCE: I don't think you necessarily have to say that any child originated by cloning would be someone's narcissistic fantasy. You know how people go out to the sperm bank in Los Angeles and the women kind of look through the different guys? I think that's a more realistic and plausible scenario.
BROOKE GLADSTONE: It's curious, we often talk about the media on this show as being a reflection of ourselves, kind of a mirror?
GREGORY PENCE: Yeah.
BROOKE GLADSTONE: You see something similar at work in the way cloning critics think about cloning.
GREGORY PENCE: Yes, I think cloning is a kind of Rorschach test for our fears about parental choice and scientists gone mad.
BROOKE GLADSTONE: The deepest needs we want fulfilled with another human being, right?
GREGORY PENCE: Absolutely. The two dominant pictures of cloning in the media are someone who fits a certain stereotype of female beauty and another stereotype is of the warrior, men who are gonna just basically follow orders and be super soldiers. One of the problems for the media in using these stereotypes, it tends to make you ignore the more substantive issues ethically about money. In Orphan Black, some of the more interesting points are about people patenting DNA, using stem cells as medicine for people and how powerful the desire for profits. That, in some way, is the more interesting story.
BROOKE GLADSTONE: And Cosima – she's the scientifically-minded clone - talks about precisely that.
[CLIP]:
SARAH: A patent?
COSIMA: We're property. Our, our bodies, our biology, everything we are, everything we become, belongs to them.
[END CLIP]
BROOKE GLADSTONE: As you point out in your book, whether a part of a living organism can be patented is the source of an extremely thorny legal debate. So [LAUGHS] why don't you kick that off with a brief description of the 1980 Supreme Court case, Diamond v. Chakrabarty?
GREGORY PENCE: So the question was whether a novel organism that was created by Chakrabarty, which basically ate oil and converted it to something nice, could be patented. And the Court said yes, because it's a novel invention, the person who created this deserves to have some revenues from it. But if you take that further, then you start to wonder how much of the human DNA can be patented.
BROOKE GLADSTONE: And that takes you to 2013. The Supreme Court ruled that they couldn't patent the human gene related to breast cancer because it was simply a discovery of something that already existed in nature.
GREGORY PENCE: And the Court saw rather quickly, it's something that might create a whole human and be patented. People really don't quite know what to do about it. Ultimately, I'm not sure how much we can control. We certainly ought to see it coming.
BROOKE GLADSTONE: Explain to me why you decided to write this book about this show.
GREGORY PENCE: Orphan Black is one of the very few shows I've ever seen who treats beings created by cloning in a dignified, natural way. They're not commodities, they're not zombies. It tries to get the science right, at least in the first three seasons.
BROOKE GLADSTONE: They're very clear on their own individual identities.
[CLIPS]:
SARAH: We're all messed up.
ALISON: Except you, Sarah.
SARAH: I'm the biggest mess there is, Alison.
ALISON: No, no no no, because you say "eff it". [SNIFFLING] I tried to say "eff it" today and I blew up my whole life. [LAUGHS]
RACHEL: My name is Rachel Duncan and we are going to come to terms.
COSIMA: It's a double blind… The monitor's unaware of the purpose of the experiment. That way, they can't skew the results.
HELENA: First I eat, then we fight.
[END CLIP]
GREGORY PENCE: The show gets this absolutely right, that small differences in surrogate mothers or what the mother ate, parental upbringing is going to be a major factor in how people turn out, and the particular culture they are raised in, whether they're raised by Ukrainian nuns or on Long Island as a soccer mom.
BROOKE GLADSTONE: [LAUGHS] Now, I thought that was one of the most interesting parts of your book. Clones are not, strictly speaking, identical. Identical twins, despite a lot of really flashy twin studies, are not even so identical. And you explain why, that there are variations on the molecular level and variations in how parental genes are expressed. You don't necessarily get a 50 percent expression from your father's gene in a particular trait and 50 percent from your mother. They could vary, even if you have identical genes.
GREGORY PENCE: Yes, and whatever package of genes we have, have a different response to different environments. So if people are starving, one kind of expression comes out in our genes. If we are full of food, kind of don't have to work very hard, our genes might be expressed another way. That's basically the backbone of epigenetics. Our genes can turn this way, rather than that, based on what's going on not only in utero but in childhood and the whole rest of our life. We're just starting to understand that though, and that is a huge, huge project.
BROOKE GLADSTONE: And now, let's get to the stickiest wicket of Orphan Black, the question of sexual and gender orientation and identity. It isn't just about a science geek clone and a soccer mom clone. It's about a gay clone and a trans clone. If our sexual identity and orientation is pretty much decided by our genes, then are they walking into a particularly murky landscape here, in Orphan Black?
GREGORY PENCE: Well, I must say, Brooke, this is one of the most delicate issues to research and write about in the book. One of the ways we know about twins is there's a reunion every year in Twinsburg, Ohio and some identical twins, one person is heterosexual and one's gay. So that's pretty strong evidence that pretty much the same genes, because of epigenetics or childhood influences, can be expressed in different ways. So the show is just basically validating what people already know.
BROOKE GLADSTONE: We started this discussion by noting that you're basically in favor of cloning. In 2000, you were the lone bioethicist to testify before Congress against bills that would have criminalized human cloning, right?
GREGORY PENCE: Yes. They wanted to make it a federal crime to create both reproductive cloning and embryonic cloning.
BROOKE GLADSTONE: Mm-hmm.
GREGORY PENCE: If I wanted to create some of my own cells and make it into my medicine or maybe Michael J. Fox wants to do this and drip it into his brain to help Parkinson's, I don't see that's a big deal, I really don't. Reproductive cloning, then you're creating a baby, which is ethically different territory than creating stuff.
BROOKE GLADSTONE: Would you testify before Congress in favor of reproductive cloning?
GREGORY PENCE: Sure.
BROOKE GLADSTONE: You would.
GREGORY PENCE: Using IVF in 1977 was an unethical experiment, but it became ethical to try it. So we might want to still have the tool around. If we made it a federal crime or we say never, I think that's a mistake. We just don't know what the future holds. Let's just leave it out there and see what happens with gorillas and chimpanzees. Maybe one day there will be a, a reason why we would want to try it.
BROOKE GLADSTONE: And you have enough faith that human beings won't –
GREGORY PENCE: Mess it up?
BROOKE GLADSTONE: Yeah.
GREGORY PENCE: Basically, I trust parents, that they're going to want the best for their children.
BROOKE GLADSTONE: Thank you very much.
GREGORY PENCE: Thank you.
BROOKE GLADSTONE: Gregory Pence is author of, What We Talk About When We Talk about Clone Club.
[MUSIC UP & UNDER]
Do you have a favorite clone?
GREGORY PENCE: Helena.
BROOKE GLADSTONE: Me, too!
GREGORY PENCE: [LAUGHING] Everybody loves Helena. She's kind of like an intercontinental ballistic weapon that Sarah can unleash anytime she wants.
[BROOKE LAUGHS]
"You want me to kill them?" [LAUGHS]
BROOKE GLADSTONE: You vant me to kill them?
[CLIP]:
SARAH: What have they done to you? Are you okay?
HELENA: I'm most wonderful.
[END CLIP]
BROOKE GLADSTONE: That's it for this week's show. On the Media is produced by Meara Sharma, Alana Casanova-Burgess, Jesse Brenneman and Dasha Lisitsina. We had more help from Emma Stelter, Isabel Cristo and Micah Loewinger. Our technical director is Jennifer Munson. Our engineer this week was Casey Holford. Katya Rogers is our executive producer. Jim Schachter is WNYC's vice president for news. On the Media is a production of WNYC Studios. You'll hear Bob's dulcet tones next week. I'm Brooke Gladstone.
[FUNDING CREDITS]