What A Chinese Balloon Can Teach Us About Our Media Consumption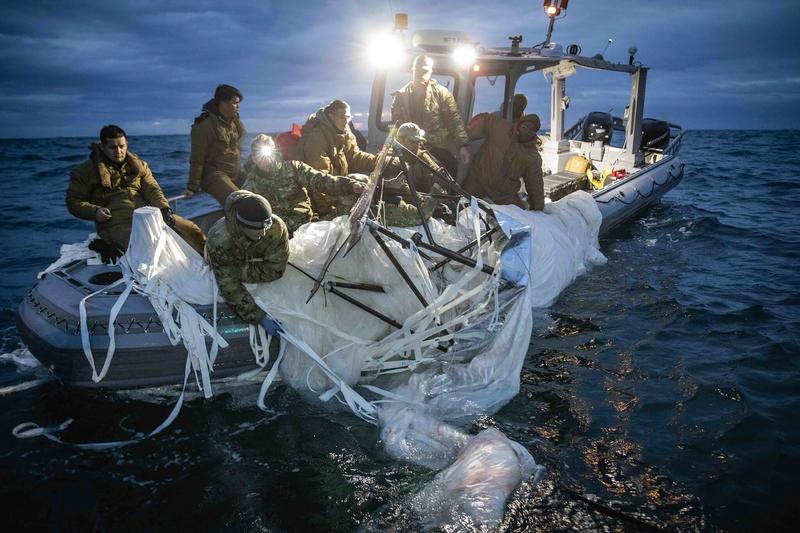 Transcript
Brooke Gladstone From WNYC in New York, this is On the Media. I'm Brooke Gladstone. Many reports this week on the intelligence-gathering capabilities of the headline-grabbing Chinese balloon, apparently part of a fleet. On Thursday afternoon, the House of Representatives gathered at the Capitol to vote to condemn the Chinese Communist Party for flying it over U.S. soil.
Senator Murkowski As an Alaskan, I am so angry. I want to use other words, but I'm not going to. The fact of the matter is, Alaska is the first line of defense for America, right?
Senator Tester I don't want a damn balloon going across the United States when we potentially could have taken it down over the Aleutian Islands or in some of the areas in Montana.
Senator Murray This incident is greatly concerning to me, not just because of the breach of our airspace but what it signals about our relationship with China, the strength of our diplomacy and really the state of our domestic capabilities.
Brooke Gladstone The House unanimously voted to condemn just a week after the balloon was first sighted by civilians. And just a day after the State Department announced that the balloon had antennas that were, quote, likely capable of collecting and geo locating communications, meaning data from mobile phones and radios. The outrage over the balloon was first ignited when a local news reporter snapped a photo of it over Montana on February 1st. And then the story blew up.
CLIP MONTAGE. The balloon. The balloon, The balloon, The balloon. The Chinese balloon. So where did the balloon come from?
Brooke Gladstone February 4th, just three days after it was snapped, it was felled.
CNN The balloon was so high up when it was destroyed, the sound of the blast took several seconds to reach the ground. Listen to this… [EXPLOSION SOUND]
Brooke Gladstone On Saturday Night Live, Bowen Yang was that punctured balloon.
Chloe Fineman (SNL CLIP) Look, I'm sorry, but people were worried they were being spied on.
Bowen Yang (SNL CLIP) By me? A balloon? Everyone's being surveilled constantly, but it's always shoot the balloon and never unplug Alexa. If you care so much about your data, why do you all keep your bank passwords in the notes app?
Brooke Gladstone So was it a real threat or just the moral equivalent of the creepy clown from Stephen King's It?
IT Clip Come on up, Richie, I got a balloon for you.
Brooke Gladstone John Allsop writes Columbia Journalism Review's newsletter The Media Today. He says the balloons coverage illustrates the difficulty of regarding something as both concerning and absurd at the same time. Though, shouldn't we be used to that by now? John, welcome back to the show.
Jon Allsop Thank you so much for having me.
Brooke Gladstone The commentary was satirical, breathless, punny, and it reminded you a little bit of the coverage back in November 2020, right after the election, when Rudy Giuliani appeared at the Four Seasons, which in this case was a Philadelphia landscaping company. And in fact, he was sort of outside in the parking lot.
MSNBC He recited a few unsubstantiated claims about dead people voting in Philadelphia. You almost couldn't tell he was at the Four Seasons Total landscaping, except for the big yellow reel of hose off to the side.
Jon Allsop It reminded me of that because it sort of had this aesthetic as a news story that was two things at once. Rudy Giuliani in the parking lot at the Four Seasons was objectively hilarious. And yet he was, I don't want to even say laying the foundation because I think it was more advanced at that point.
Brooke Gladstone That's another pun, by the way.
Jon Allsop A landscaping plan. I didn't even realize I was making that one, but it was a step towards something that became incredibly dark and scary. Sometimes news stories can be all of those things at once. There is something, I think, inherently funny in everyone following this literal balloon across the sky and the avalanche of memes about it and puns and otherwise serious news coverage would probably suggest that there is something absurd about it. But obviously, at root, the story is a very serious one that certainly ties into a very serious, broader story about tensions between two of the most powerful countries on earth.
Brooke Gladstone And you also noticed the streak of really scare raising coverage of the balloon across the political spectrum.
Jon Allsop Yes. So you have Donald Trump shouting on Truth Social shut down the balloon, and then you have The New York Post a couple of days later with a front page headline with big capital letters to a similar effect. Obviously, you know, as well as playing into their preferred narratives about the huge threat of China, it was an opportunity to bash Biden for perceived weakness, for not following their instructions sooner, even though I think the White House laid out pretty clear reasons why they weren't going to shoot it down while people might be in harm's way.
Brooke Gladstone Yeah, it was a couple of thousand pounds and as big as three busses?
Jon Allsop But I've seen a lot of comparisons to busses. How long is a piece of string? How big is a bus? That might be a question you have to ask, but certainly when it eventually was shot down over the ocean, the debris from the balloon had scattered across a really large area. And so, the idea that you could be confident of breaking that down over inhabited land, even in a relatively less densely populated place without hurting anyone, seems to me to be kind of spurious. But you did see that kind of tough talk in right wing media and among right wing politicians, as you would expect. But I think you also saw it as well in mainstream coverage. You know, you could hear voices on CNN expressing, if not explicit, then certainly implied amusement about the fact that Biden and his administration hadn't shot the balloon down sooner.
Brooke Gladstone You mentioned CNN. It fell on one of its old tropes, having the armchair generals in to talk about the military aspects of this and bringing in a Cold War-style perspective they were trained on and how they view the world.
CNN Why did we let a potential adversary air vehicle penetrate the sovereign territory of Canada the United States? It should have been neutralized as it entered our air defense identification zone.
Jon Allsop Yeah, you saw four-star generals and pundits with deep ties in the military industrial CNN complex. None of this is to say that that strain of coverage about the balloon was entirely illegitimate, but I think it was put across in a way that was kind of hair-raising and over-the-top and a nuance. But beyond that, I think the visibility talks to a second dimension of this, which is maybe this is a human impulse. Maybe it's only a sort of human impulse in the age of cable news. But people just seem to love following stuff on TV. I wrote in my newsletter that it brought to mind the O.J. Bronco chase.
NEWS CLIP We're going to go to a live picture in Los Angeles. Police believe that O.J. Simpson is in that car.
Jon Allsop Many pundits pointed out that it brought to mind the coverage of the balloon boy incident in, I think, 2009, when there was a balloon over Colorado that supposedly contained a young child.
MSNBC What you all see right there is an experimental aircraft that inside of which is a six year old boy who got into that aircraft and accidentally launched it.
Jon Allsop It turned out to have been a hoax. But, you know, a story is fundamentally a movement from A to B, be that metaphorical or literal. And I think when it's literal, people love following it and it's a great story for cable news.
Brooke Gladstone It's that episodic thing. There's a balloon, it's Chinese. What's gonna happen?
Jon Allsop It's going to move.
Brooke Gladstone But despite what you call the unbearable lightness of the coverage of the balloon, there were some measurable consequences. Secretary of State Tony Blinken canceled a trip to Beijing due to what he called a clear violation of U.S. sovereignty and international law. Can you tell me more about that fallout?
Jon Allsop It did have a number of very concrete consequences, not least diplomatically, as you mentioned. The Biden administration since then, including Biden himself, have tried to play down the idea that they're trying to ratchet up tensions. But there have been some pretty aggrieved statements from the Chinese government as well. So clearly, there is tension over this, as you would expect, and it's opened up this public conversation about Chinese surveillance, not just of the U.S., but other parts of the world.
Brooke Gladstone Yeah, I've seen Taiwanese reports that they've seen Chinese balloons parked over the equivalent of their White House. And these Taiwanese scientists also noted that the balloons can pinpoint missile locations, which would make our ICBMs easier to take out in a first strike. I think that's really meant to be scary because, you know, the idea of first strikes is kind of hair-on-fire. So in the wake of the fervor over the balloon, does the incident tell us anything about China's intelligence strategy?
Jon Allsop Just before we spoke, there was this statement from the US government saying that the balloon was capable of collecting communications signals and saying that the capabilities of the balloon were, quote, inconsistent with the equipment on board weather balloons, which was the official Chinese explanation for what this was. So there's that. But obviously, it sort of extends beyond balloons. Even other big stories that have been in the news recently have to do with a similar area. Right. I mean, this is a big story about TikTok being a potential security threat to the U.S., which is now a really long running story and one that I think has at least some degree of bipartisan buy-in, because TikTok is owned by a Chinese company. And although TikTok has strongly denied it, there have been reports that US user data from TikTok has been accessed in Beijing. And obviously then there are concerns that if a company is able to access US user data in China, then it would not be a big step beyond that for the Chinese government to get access as well. So clearly this is just a very visible up-in-the-sky manifestation of something that is a much bigger story.
Brooke Gladstone So the balloon, despite being shot down, continues to make headlines. Marjorie Taylor Greene was walking around Capitol Hill with a balloon like a kid at a carnival, saying it was the number one thing that the president needed to address in the State of the Union that night. And on Wednesday, American officials shared that the spy balloon program is part of a surveillance plan to collect intelligence on the military's of countries around the world as more news about the balloon emerges, how can listeners tell what to take seriously and what to ignore?
Jon Allsop Well, if somebody is walking around the halls of Congress carrying a physical balloon, I would say that's a pretty clear indication that they and that should not be taken seriously. I think my guidance, to the extent that I have any, would be to at least question anything that seems like hype or untrammeled outrage or that seems to be lacking in nuance or a different perspective.
Brooke Gladstone Congressman James Comer, head of the House Oversight Committee, said, "We don't know that balloon could be carrying a bioweapon from Wuhan." Some CNN interviewer said, "Is there any evidence?" He goes "I'm just asking questions."
Jon Allsop Yeah, we've seen that one before. A lot of questions that don't end up having answers or answers that aren't "No, that's not a thing."
Brooke Gladstone John, thank you very much.
Jon Allsop Thank you so much for having me.
Brooke Gladstone John Allsop is a journalist and author of the newsletter The Media Today for the Columbia Journalism Review. Coming up, as Russian dissident Alexei Navalny languishes in prison, his message is being amplified by an Oscar nominated documentary. This is On the Media.
Copyright © 2023 New York Public Radio. All rights reserved. Visit our website terms of use at www.wnyc.org for further information.
New York Public Radio transcripts are created on a rush deadline, often by contractors. This text may not be in its final form and may be updated or revised in the future. Accuracy and availability may vary. The authoritative record of New York Public Radio's programming is the audio record.