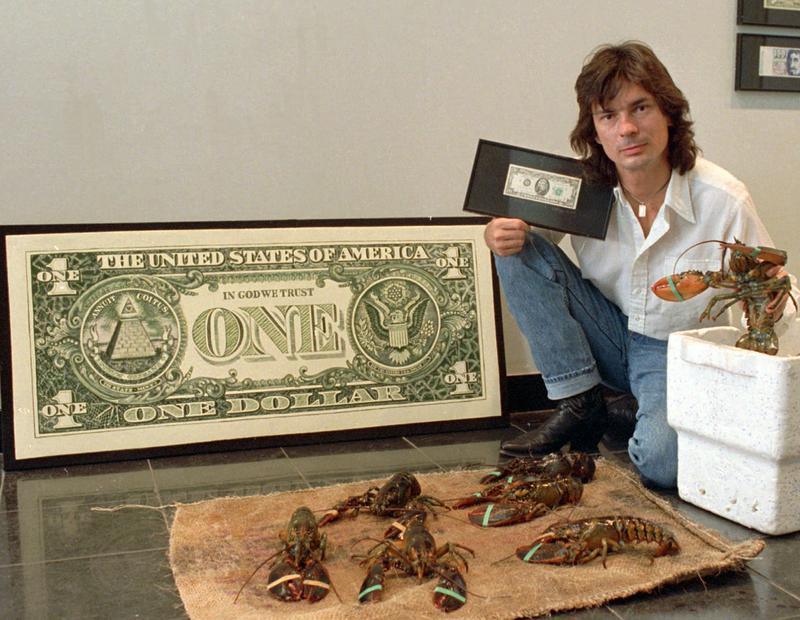 Transcript
BOB GARFIELD: From WNYC in New York, this is On The Media. Brooke Gladstone is away this week. I'm Bob Garfield.
[MUSIC UP & UNDER]
[CLIP]
Everybody got hurt.
GEORGE W. BUSH: Major financial institutions have teetered on the edge of collapse and some have failed. [END CLIP].
BOB GARFIELD: Ten autumns ago came two watershed moments in the history of money. In September '08, the bankruptcy of Lehman Brothers triggered a financial meltdown from which the world has yet to fully recover. The following month someone using the name Satoshi Nakamoto introduced Bitcoin, the first crypto currency.
[CLIP]
FEMALE CORRESPONDENT: A peer to peer electronic cash system.
MALE CORRESPONDENT: Bitcoin transactions have no middleman.
MALE CORRESPONDENT: There is no government, no central bank controlling the supply of bitcoin.
[END CLIP]
BOB GARFIELD: Some say 2008 marked the end of the old world financial order and the beginning of the new. Before our eyes, the very architecture of money was evolving, changing the world in the process. But how? What architecture are we talking about, exactly? And what the hell is money anyway?
[CLIP]
FEMALE CORRESPONDENT: Billions of dollars pouring into the hands of the American worker.
MALE CORRESPONDENT: Money.
FEMALE CORRESPONDENT: A dollar for six.
CHILD: It's my first payday.
[END CLIP]
[MUSIC UP & UNDER]
BOB GARFIELD:Yeah, yeah of course money is many things. It's how we buy our groceries and how we manage the global economy and how we keep score of success. It's how we are compensated for labor and risk. It's a token of exchange for valuation for obligation and maybe most of all, trust.
[MUSIC UP & UNDER]
BOB GARFIELD: But on top of everything else, or more precisely at the bottom of it all, is the reason this particular set of 10th anniversaries fall within the bailiwick of On The Media. Money in any form is the connective tissue of society. A medium for our relationships past, present and future. It is humanity's never-ending narrative.
NEHA NERULA: Money is a story that we all tell ourselves.
BOB GARFIELD: Neha Nerula is the director of the Digital Currency Initiative at MIT's Media Lab.
NEHA NERULA:You know there's nothing inherently valuable about a dollar bill or a coin that you keep in your pocket or even a bar of gold. Those things have value because we know that other people think that they have value. Money is a network where we all collectively have decided that we're going to use it to represent value.
BOB GARFIELD: A collective belief is not to be dismissed. You've seen Peter Pan. It's how a dying fairy called Tinkerbell is brought back to life.
[CLIP]
PETER PAN: If you believe, whatever you are clap your hands and she'll hear you. Clap, clap! Don't like Tink die. Clap! She's getting better, clap, clap! [END CLIP]
BOB GARFIELD: Hold that thought before too long. You will be hearing about Tinkerbell again. In this hour, we look at the story of money from its uncertain origins to its digital reinvention in the form of cryptocurrency which may simultaneously reform global commerce and blow the foundations of modern society to smithereens. But will begin in a curious place with an artist a man who made a global reputation and an incredible legal ruckus searching for the meaning of money.
J.S.G. BOGGS: My name is Boggs B-O-G-G-S.
BOB GARFIELD: J.S.G. Boggs was an artist whose technical genius was drawing uncanny replicas of paper currency and using them to purchase goods and services. You could call it counterfeiting, except nobody ever thought that they were accepting legal tender. They were accepting a signed hand drawn Boggs. This is from a 1992 documentary money man J.S.G. Boggs.
[MUSIC UP & UNDER]
[CLIP]
J.S.G. BOGGS: Which started drawing and spending my money in 1984. I was a poor starving artist as they say when I found myself in Chicago in a café doodling on a napkin. The waitress came over and said the drawing looked like a one-dollar bill. And asked if she could buy it from me. So when she came back with a check from my coffee, it was for 90 cents. I offered her the drawing as payment. She took it and insisted I take ten cents in change. So I framed the dime and hung it on the wall. And that's how it all started.
BOB GARFIELD: He followed this same ritual for almost three decades and now his work is displayed in Chicago's Art Institute the British Museum and the Smithsonian. But the time of his 2017 death he had drawn bills totaling more than 1 million dollars based on their denominations as art pieces which include the original sketch the receipt and the cash change. They've gone on to fetch an untold fortune in the open market. His art, he emphasized was not a drawing per se but the entire transaction. Here he is explaining it to a coffeehouse manager.
[CLIP]
MANAGER: Excuse me, the waiter just brought this to my attention. I understand that you want to pay your check with this, this bill here.
J.S.G. BOGGS: Yes, actually I made this hundred dollar note myself.
MANAGER: It's very nice.
J.S.G. BOGGS: It's not actually real currency and it's not counterfeit currency. It's essentially a work of art.
[END CLIP]
BOB GARFIELD:Such radical transparency has a proud history in 20th century art. In his most famous work, Belgian painter Rene Magritte depicted a curvy briar pipe with the caption in script 'this is not a pipe.' Because it was of course merely a picture of a pipe. The treachery of images Magritte called the painting. Boggs entire body of work toyed with such treachery by similarly disclosing his authorship of his remarkable facsimiles. Lacking any intrinsic worth, a Boggs had value only if he could persuade someone to believe it's valuable. This is what behavioral economists and others call, yes, the Tinkerbell effect. The value resides entirely in mass belief, just like money.
LAWRENCE WESCHLER:He's one of these people who, you know, like in the cartoon you walk over the cliff. You keep walking he says 'will you please look down.' Nothing is holding us up.
BOB GARFIELD: Lawrence Weschler who followed the artist's exploits for 30 years is the author of Boggs: A Comedy of Values.
LAWRENCE WESCHLER: Except the most marvelous thing of all which is this community of belief that we have and the way in which value is negotiated at every moment between human beings in a truly mystifying and marvelous and delightful and at times terrifying fashion.
BOB GARFIELD:The marveling at money's mystery has hardly began with Boggs. Here's a 1947 school instructional film tracing the path of a single five-dollar bill.
[CLIP]
FILM NARRATOR: After school, the five-dollar bill goes to a hardware store where Tom uses it to buy the paint. This is one of the most common ways in which we all use money as a medium of exchange for goods. Tom exchanges a certain amount of money for a gallon of paint. The clerk naturally accepts the money and he gives Tom a smaller amount of money in change.
[END CLIP]
BOB GARFIELD: Exactly like a Boggs transaction. Even the ones that never happened due to that hardhearted portion of the population unwilling to believe in Tinkerbell.
[CLIP]
SHOPKEEPER: Good morning, may I help you.
SHOPPER: Yes, can you tell me the price of those bookends in the window?
SHOPKEEPER: Yes, that pair is a $8.75 and most attractive.
SHOPPER: I'm afraid that is more than I care to spend.
[END CLIP]
BOB GARFIELD: Get the movie spoke less with authority than bemusement over a system so invested in mere tokens or totems, a mystery which Weschler observes mankind has been trying to get to the bottom of for at least 26 hundred years.
LAWRENCE WESCHLER: The pre-Socratic philosophers on islands in the Ionian Sea, where there are mines and the mines are turning their stuff into coins. And the question they're asking is what is the meaning of value? How is it possible that this piece of stone is worth something in relation to this cow over here. And why does that man have although stones and what is really of value? And within a few generations you have Socrates asking that is the main question of philosophy. What does it mean to have a valuable life?
BOB GARFIELD: Such weighty musings are the sort of thing that landed Boggs work in the British Museum. Which is kind of ironic because before that his work was scrutinized by Britain's Central Criminal Court for illegal reproduction of British currency. Boggs in the dock of the Old Bailey persuaded a jury that, no, no, the British notes rolling off of her majesty's printing presses. They were reproductions, his drawings were originals. There he prevailed, however he was less fortunate with the United States Secret Service, because as 1947 school kids learned imitation is the sincerest form of felony.
[CLIP]
FILM NARRATOR: So today in the United States any money is counterfeit and so worthless unless issued by the federal government. And anyone who knowingly tries to spend counterfeit money. Maybe find a large amount and sent to jail. [END CLIP]
BOB GARFIELD:The Secret Service never prosecuted Boggs but did spend many millions of actual U.S. dollars investigating him, harassing him and fighting him in civil court. Confiscating more than a thousand items of his drawings and other property along the way. Then a US federal judge ruled that the Secret Service was within its rights to take fake money out of circulation and Boggs, says Ren Weschler was broken. A man who had spent much of his early childhood as a carny helping in cheerful flim-flams and who had devilishly poked at the law in the name of art took the philosophy of value, shall we say to the next level.
LAWRENCE WESCHLER: What happened in the case of Boggs is, I never was sure whether he was interested in money or innocent transgression, and fascinate transgression. And after this complete defeat by the government where they went to give him his stuff back. He got interested in another form of money which was, he noticed the fastest way of turning crap into money was a meth lab.
BOB GARFIELD: Yes near the end of his life he manufactured illicit drugs. Whether that depraved stunt was evolution of his art, naked criminality or insanity remains unclear. What is clear is that the man who captured the world's imagination by making fake money, had actually made real money. A rogue currency perhaps but a genuine currency nonetheless. A medium of exchange with fixed denominations floating in value based on the global marketplace and yet intrinsically worth no more than the paper it was printed on.
[CLIP UP AND UNDER]
BOB GARFIELD: It was wily coyote three steps beyond the cliffs edge, suspended in midair. This side asserted to Boggs Boswell the author Weschler. If the goal of art at some level is to locate truth.
LAWRENCE WESCHLER: Mmhmm.
BOB GARFIELD: My take is that Boggs came about as close as any artist I can think of for getting to the truth of money.
LAWRENCE WESCHLER: I would argue that that's exactly true. And that the truth of money is that it is an endless perplex. It is endlessly confounding.
[MUSIC UP & UNDER]
BOB GARFIELD: Coming up. What is money? Or more to the point what isn't it? This is On The Media.