Capturing Egypt's Neverending Story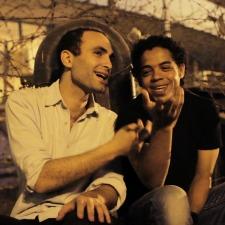 Transcript
MAN: Capital cities are in chaos. Caracas, Kiev -
WOMAN: On the streets of Bangkok.
[EXPLOSIVE SOUNDS]
MAN: The images are stunning and the atmosphere, it's deadly.
PIERS MORGAN: The violence tonight in Kiev is a lot like what we saw three years ago in Tahrir Square.
BROOKE GLADSTONE: And it's hard not to think of Tahrir ablaze in 2011. But three years after protestors ousted Egyptian dictator Hosni Mubarak, the heat hasn't abated. This week, three Al Jazeera journalists appeared at a prison court in Cairo and pled not guilty to charges that included broadcasting false news and aiding a terrorist organization, namely the Muslim Brotherhood. As Peter Greste, one of those Al Jazeera journalists, wrote, in a letter from prison, "One side is deemed terrorist and talking to them is an act of treason. How do you accurately and fairly report on Egypt's ongoing political struggle, without talking to everyone involved?
The Oscar-nominated documentary, The Square, turns a lens on the Egyptian revolution and its aftermath, through the eyes of three very different men, Since it screened at Sundance in 2013, it's been updated numerous times to reflect Egypt's never-ending story. The authorities haven't allowed the film to be shown in Egypt, though it's been viewed by well over a million Egyptians, thanks to enterprising hackers. I interviewed director Jehane Noujaim and producer Karim Amer at a screening at the Paley Center in New York City. Here's an edited version of that talk, courtesy of the Paley Center for Media. The first voice you'll hear is Karim, who talked about some of the challenges the team encountered while making The Square.
[PALEY CENTER AUDIO CLIP]:
KARIM AMER: It's very difficult to make a film when the director keeps getting arrested.
[BROOKE LAUGHS]
And Jehane got arrested, what, five hours after landing?
JEHANE NOUJAIM: There was a reason why I was arrested that time, that time.
KARIM AMER: There's always, there's always an excuse.
[BROOKE LAUGHS]
JEHANE NOUJAIM: There were these checkpoints and so they searched the car and they found a film made in 2007 called, Egypt: We Are Watching You (Shayfeencom), which was about three women fighting for change in Egypt. And so, they took me in for questioning, 'cause it was not the best title, Egypt: We Are Watching You -
[LAUGHTER]
- to find, as the country is exploding by military intelligence.
BROOKE GLADSTONE: How soon after the beginning of the protests did you get there?
JEHANE NOUJAIM: I ended up getting there, I believe in was the 2nd of February, and the military were already down in the street. Karim was there from the first day.
KARIM AMER: Yeah, I went down, actually, as a skeptic, to be honest. And, thank God, I was completely wrong. Something fundamental shifted in that, in that Square during those first 18 days. When you live in a country where you feel that your story's already been written for you, it's one of the most crippling things you can do to people. And that was really Mubarak's biggest crime, is he killed the hope of generations of Egyptians. And what was found in that Square was, for the first time, they would have the ability to write their story. Witnessing that, I think, changed all of us.
BROOKE GLADSTONE: The criticism of the film you hear most often is that it's narrow in its focus, it represents, you know, a slightly lefty liberal crowd.
JEHANE NOUJAIM: You're following the emotional journey of the character. You're not trying to be a news reporter. We chose three characters who we felt actually came from very different backgrounds, and we wanted to go as deeply into their emotional story as possible, in order to allow an audience to feel like they had actually been walking in their shoes through the past three years.
BROOKE GLADSTONE: Their stories - I mean, Magdy's story is so tragic, and Ahmed, I mean, what a character!
JEHANE NOUJAIM: Ahmed I fell in love with immediately. I mean, here was this street poet. He's somebody that grew up in Shubra, which is a very poor section of Cairo. His mother sold vegetables. His father died when he was a kid. He was the first person in the family to have gone to two years of education, by taking every job you could think of, from being a cook to cleaning houses. You know, so he was representative to me of many of the youth who had come down to the Square to demand something different for their life.
Magdy was sleeping in a tent near to ours. He is the first person who I had long conversations with in the Muslim Brotherhood. It was the first time he told his family he was part of the Brotherhood. And he started to question his relationship with the Brotherhood. He was going through this fascinating change. Khalid was somebody I met through Cressida, his wife, from –
BROOKE GLADSTONE: The actor from Britain.
JEHANE NOUJAIM: He's the actor. And he could have been anywhere in the world, but he decided that this was where he wanted to be. He's able to be incredibly articulate during very confusing moments.
KHALID ABDALLA: We won't know if this revolution has succeeded – for decades. There is no way in which the goals of this revolution - bread, freedom, social justice, dignity – there is no way in which those things can be achieved in two years. What you can do is lay the ground for them…
JEHANE NOUJAIM: I don't think he knew he'd be waking up to a camera for the next three years, but that gave an intimacy to the film that we would never have gotten otherwise.
BROOKE GLADSTONE: Was it really three years?
JEHANE NOUJAIM: Yeah, it was three years -
KARIM AMER: Yeah, three and a half years.
JEHANE NOUJAIM: - that we filmed and two years of editing.
BROOKE GLADSTONE: When did you decide it was over?
JEHANE NOUJAIM: Well, the first time was really when Morsi elected, and that was sort of the political storyline. And it was a film that had three acts and it made a lot of sense and it was logical, from the bringing down of a president to the election of a new president. Yet, we were on the way to Sundance with the film, and two weeks before we left all of our characters were back in the streets, and Khalid was saying, this is a freely-elected leader that is using the tools of democracy to create another dictatorship. And it became a much more interesting story because it became about what it means to hold your government accountable, what it means to fight for true change. So we showed at Sundance, went back to Cairo and continued filming.
KARIM AMER: And the thing is also, is that, you know, this is one of the most documented events in modern history and it's one of the most important social events of the 21st century, and it's going to continue to be talked about. The problem in understanding this revolution and the problem why some people end up not having hope in Egypt is because we kind of live in this world where we get to see changes' greatest hits. We see Gandhi liberating India, we see Martin Luther King saying, "I have a dream," we see Mandela ending apartheid.
But we don't spend 20 years with Mandela, when he's in jail and nobody believes in him. We don't see Martin Luther King when nobody believes in him. We don't see Gandhi when he's at his weakest moment. And so, when we look at change as it's happening, we're disappointed that it's not fitting into the beginning, middle and end. And, as filmmakers, it was very difficult because we're trying to find a narrative arc, right? Now, how do you find a narrative arc when the climax starts in the first two minutes? The dictator fell. How are you going to beat that, right? So you don't really even know where you're going.
So the only thing we could, we could find is that these three people who come from completely different walks of life are united by one thing. All three of them are unwilling to give up that sense of authorship for the future of their country and continue to come back to that Square. And you felt that this was important because there's something happening when we start to see this image that you just saw, of this iconic-now shot of a million people bringing a country to a standstill by occupying a square.
And we look today at what's happening in Kiev, we see the same exact image. We look at Caracas last week, and the same thing is happening. We look at Istanbul. And we start to realize that this isn't just the Arab Spring, Winter or Summer. This is a global paradigm shift. When it started off in Egypt it was a very lonely fight between the Egyptian dictator versus the Egyptian protester, but when all of you and the rest of the world started watching what was happening, you leveled the playing field. Your witness provided protection for us. And that's the way that we can change the world today.
[AUDIENCE APPLAUSE]
BROOKE GLADSTONE: You're good!
[LAUGHTER]
BROOKE GLADSTONE: In creating a film that had so many built-in challenges, what was the hardest part of it? What was the biggest surprise?
JEHANE NOUJAIM: I think a lot of times the process artistically mirrors the subject, right, and it was very important for us to really have this be a collective effort. So there were a lot of voices involved in the editing of this film, which made for a very long messy process, a lot of arguments, a lot of, "If you take that scene out, you will destroy the revolution and the story of the revolution."
[LAUGHTER]
A lot of that, a lot of talk about, you know, will we have DVD extras in places where you can upload?
[BROOKE LAUGHS/AUDIENCE LAUGHTER]
And so, that –
KARIM AMER: We're going to have a lot of DVD extras.
[BROOKE LAUGHS]
JEHANE NOUJAIM: So, ultimately, it did become a dictatorship, where I had to work with, you know, a final editor and finalize the film. But that process that we went through, involving all of these people that cared so deeply in what was going on, it would not be the same film without that. And it didn't help – I mean, the process of shooting, I mean, we had five cameras confiscated. I was arrested three times. Everybody on the team was arrested or teargased.
KARIM AMER: Ahmed, the main character, actually learns how to film halfway through the film, and he actually shot a quarter of the movie, which was unbelievable to witness, and now he is working in Egypt as a DP.
BROOKE GLADSTONE: I want to thank you both for being here.
KARIM AMER: Thank you.
JEHANE NOUJAIM: Thank you so much.
[AUDIENCE APPLAUSE]
BROOKE GLADSTONE: Jehane Noujaim is the director and Karim Amer, the producer of The Square.
[MUSIC UP & UNDER]
KHALID ABDALLA: We're now living in a state of fear. But it has its housing department, it has its borders, it has its army, it has its way of feeding itself. It has all of those things. It doesn't have a foreign ministry.