Breaking News Consumer's Handbook: Protest Edition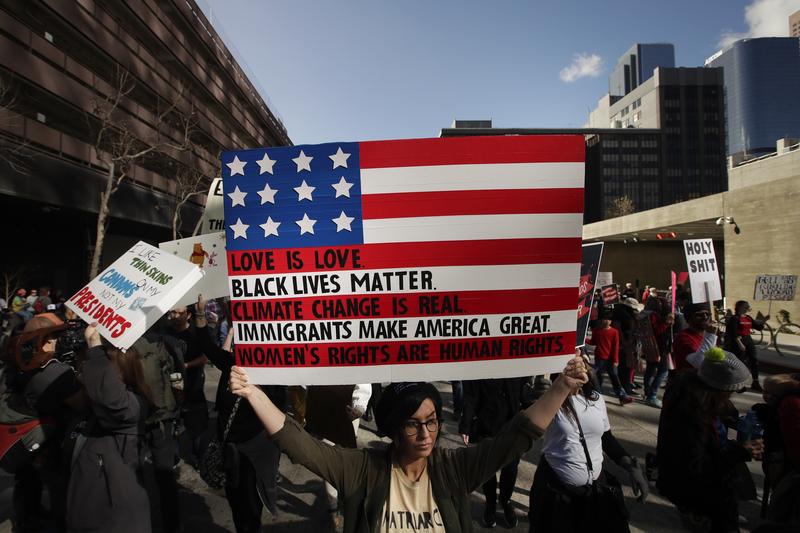 Transcript
BROOKE GLADSTONE: This is On the Media. I'm Brooke Gladstone.
BOB GARFIELD: And I'm Bob Garfield. Earlier this week, Presidential Press Secretary Sean Spicer went on Fox and complained about the steady stream of protests against the actions of the new administration.
[CLIP]:
PRESS SECRETARY SEAN SPICER: It's not these organic uprisings that we've seen for the last several decades, that, you know, the tea party was a very organized movement. This has become a very paid AstroTurf-type movement.
[END CLIP]
BOB GARFIELD: Let's be clear, there is no evidence to suggest that any recent demonstration was anything other than the genuine expression of concerned citizens but, says David S. Meyer, sociology professor at the University of California at Irvine, claiming that protesters are bankrolled by outsiders is a standard political tactic.
DAVID S. MEYER: If you can make an audience believe that those who are turning out are paid, that they have ulterior motives then you discredit them. Another way is to emphasize that they're crazy, that they don't know anything, they're ill informed or radical or that they're frivolous; they're there to listen to the concert, Pete Seeger or Bruce Springsteen, or meet dates.
BOB GARFIELD: Dismissing protesters as paid, shallow or even unpatriotic goes back decades. Here's Richard Nixon's Vice- President Spiro Agnew in 1970.
[CLIPS]:
VP SPIRO AGNEW: Will America be led by a president elected by a majority of the American people or will we be intimidated and blackmailed into following the path dictated by a disruptive, radical and militant minority, the pampered prodigies of the radical liberals in the United States Senate?
BOB GARFIELD: And J. Edgar Hoover, in 1966.
J. EDGAR HOOVER: The Communist Party of America is doing everything in its power to steal the minds and the souls and the hearts of our young people. They have never worked so feverishly as they have in the last two years in some of all colleges and institutions, to enlist the youth of this country in the faith and loyalty to a foreign power, the Soviet Union.
[END CLIP]
DAVID S. MEYER: And those things are not limited to conservative criticisms of liberal demonstrators.
BOB GARFIELD: David Meyer.
DAVID S. MEYER: People said the same thing about the tea partiers, that the Koch brothers were supporting them all.
BOB GARFIELD: So paid protestors, a classic ruse with little basis in reality. And it's one of many tropes you should keep in mind when rallies make headlines. Here's another sure thing: TV coverage of protests will always fixate on mayhem in the flaming trashcan, the smashed window, whether or not that represents the overall nature of the event.
[CLIP]:
FEMALE CORRESPONDENT: Police made arrests after crowds began breaking windows and lit garbage cans and a limo, as you can see there, on fire.
[END CLIP]
DAVID S. MEYER: When you have a large demonstration, there aren't any bouncers, there's nobody working the door. Somebody coming in with a Molotov cocktail, a racist sign, that's kind of de rigueur. And when you see coverage of a demonstration that emphasizes either the peaceful, sincere protester or the garbage can on fire, you should be mindful of the outlet that's portraying that image.
BOB GARFIELD: You can do an apparently objective report on a single aspect of a story, let's say a burning limousine, but the very choice of that story is itself subjective and perhaps distorting.
DAVID S. MEYER: Absolutely. You know, when the tea party was going on there were certainly racist signs at some of the demonstrations. How prevalent were they? During Occupy, there was a picture that went viral of somebody defecating on a police car. I believe that really happened. I don't believe that was emblematic of the big diverse movement. I want to know about the violence but I also want to know about how prevalent it was and I want to know about the relationship of the people who threw bricks through a Starbucks window and the actual organizers of the demonstration. Put disturbing events, whatever they might be, in the picture but contextualized.
BOB GARFIELD: One man's protest is another man's riot, although they're actually not the same thing.
[CLIPS]:
MALE CORRESPONDENT: Around Franklin Square, scene of Friday's Inauguration Day riot involving hundreds of protesters, the aftermath today left many shaking their heads.
FEMALE CORRESPONDENT: There are so many people on the other side of the political aisle who just were not going to be happy, those who are, you know, protesting and they're rioting in the streets and those at the airport, so on and so forth.
[END CLIP]
DAVID S. MEYER: What you call something reflects your view of that thing. We still have arguments in Southern California about the Rodney King "riots" or the Rodney King "rebellion." And you have to understand that when somebody's giving a label to an event, they are trying to change the way you understand that event.
BOB GARFIELD: Now, hold on because sometimes simultaneously there is a principled political protest and associated vandalism that is perhaps wholly untethered from the underlying issue. How should consumers best understand that duality?
DAVID S. MEYER: Consumers should see whether there is a long tether or no tether or a very short tether between the people who are being disruptive and violent and the people who are trying to make political claims. Remember, people show up to sell sodas and make money, people show up to just act out, and that's why it's important to provide fuller pictures.
BOB GARFIELD: For obvious reasons, there's often a focus on numbers, which itself gets very political and contentious.
[CLIPS]:
MALE CORRESPONDENT: The DC Homeland Security director estimates that the Women's March crowd exceeded 500,000 people.
MALE CORRESPONDENT: In DC, about 600,000 people were there.
FEMALE CORRESPONDENT: Some say as many as 800,000.
[END CLIP]
BOB GARFIELD: Should we not think about numbers at all?
DAVID S. MEYER: I think it's really useful to think about numbers but I think you have to be suspicious of just about every source. The Park Service stopped providing numbers about 20 years ago, after the Million Man March which maybe was 600,000 or maybe it was 1.6 million. Sometimes television networks hire people to take aerial photographs and count grids and multiply, but I guess it's expensive and then nobody believes the numbers anyway. So I think what you want to do is look at characteristic distortions up or down, and I think you want to compare the turnout to similar demonstrations on similar issues.
So one great thing the anti-abortion movement has given us is annual demonstrations on the anniversary of Roe vs. Wade, so you can compare turnout over time and see the salience and urgency of that cause. Activists are paying attention to that. You know, the tea party stopped having tax day marches because they turned out to be so small. The grassroots wound up being pictures of - grass.
BOB GARFIELD: [LAUGHS] One weird little wrinkle about the coverage of large protests is what you call the cleanliness coda.
[CLIP]:
FEMALE CORRESPONDENT: Washington is getting a – is kind of worn out from all the demonstrations and the crowds. The trash that all these, these groups leave behind, the signs are probably – alone are a lot.
[END CLIP]
DAVID S. MEYER: If you have a half a million people in Washington, DC, I bet most of the trash cans are gonna be filled up. So if you focus on the scraps that didn't make it into the can, then you're saying that the demonstrators are irresponsible and careless and selfish. If you focus on, wow, they cleaned up after themselves, everybody was carrying plastic bags and taking stuff home, then you're focusing on responsibility and you're kind of valorizing the protesters. I have never seen a large demonstration where some garbage wasn't left behind. I have never seen a large demonstration where there weren't lots of people carrying plastic bags, trying to pick up. It's a question of focus.
BOB GARFIELD: Alarming stories about the state of the climate over many, many years have created a sort of fatigue – ugh, melting ice caps, don't we already know this? Protests are variously inspiring or infuriating to the public. Does everyone get tired of them too? Is it sustainable?
DAVID S. MEYER: It is hard to stay engaged and media contribute to this fatigue because if you turn up half a million people in Washington, DC for a women's march, what does it take to be newsworthy the next time? There's going to be a science march within a week of a climate march. Maintaining the capacity to escalate and get attention is extraordinarily difficult.
One of the odd things that's happening in this presidency, however, is that the president's helping a lot. The smart political move of any president, when people turn out to demonstrate against your policy, is to praise the diversity and tolerance of the United States and announce that you're going to try to look out for everyone. It's astonishing to me that the current president hasn't been able to learn that script.
BOB GARFIELD: It's axiomatic that if you can't take pictures of it, as far as the TV news is concerned, it practically didn't happen. How should this axiom inform our understanding of the general state of dissatisfaction?
DAVID S. MEYER: The cliché is always that an iceberg is nine-tenths underwater. You have to know that whenever there's a demonstration there are tons of people it watching on TV, downloading photos on social media who are cheering for it and are ready to do other things. And it takes months and months to mobilize those people. So the coverage of a demonstration is 300,000 people showed up in front of the Lincoln Monument and then they went home. Well, responsible, effective journalism tells a deeper story, which talks about the grievances that those people are expressing and where did they come from, how did they get there, what are they going to be doing next?
Another common trope here is that people who are protesting don't do anything else; they're protesting when they could have turned up at the polls. Well, in real life the people who are protesting are probably the very same people who did turn up at the polls, who did knock on doors for political candidates, and some of them even gave money to candidates.
BOB GARFIELD: We're talking about the nuts and bolts of protests, but do they really matter? Do they ultimately ever change our politics?
DAVID S. MEYER: Not by themselves and not necessarily in the short run. It's quite likely that these large demonstrations in Washington, DC and the airport protests are going to be followed in short order by political defeats, but in order to execute those policy gains that the movement fuses defeats the Trump administration who's going to spend political capital. They're going to strain political relations with their own allies. And you often see the impact play out over long periods of time.
So, for example, in 2009, the tea party focused on stopping Obamacare. There were big rallies, disruptive town hall meetings and, in the short run, they lost; Obamacare was passed. But the tea party actually grew afterwards, and we're seeing a president who's really the Frankenstein monster of the tea party now. So yeah, protest matters but not as quickly as the story mass media like to tell. And if you go into a bar and watch people drinking and watching a soccer game, you'll see them cheering and yelling about a run down the side of the field that didn't lead to a score but it did tire out the opposition, it did reveal weaknesses in positioning and it did set up another score, maybe 40 minutes later. European viewers have some sense of how that game works. Americans don't.
BOB GARFIELD: David, thank you very much.
DAVID S. MEYER: Bob, it was a great pleasure.
BOB GARFIELD: David S. Meyer is professor of sociology and political science at the University of California Irvine, where he focuses on social movements.
[MUSIC UP & UNDER]
You can find the highlights of this conversation distilled into a Breaking News Consumer Handbook, Protest Edition at our website, onthemedia.org.