The Blaming of Gay Priests in the Catholic Church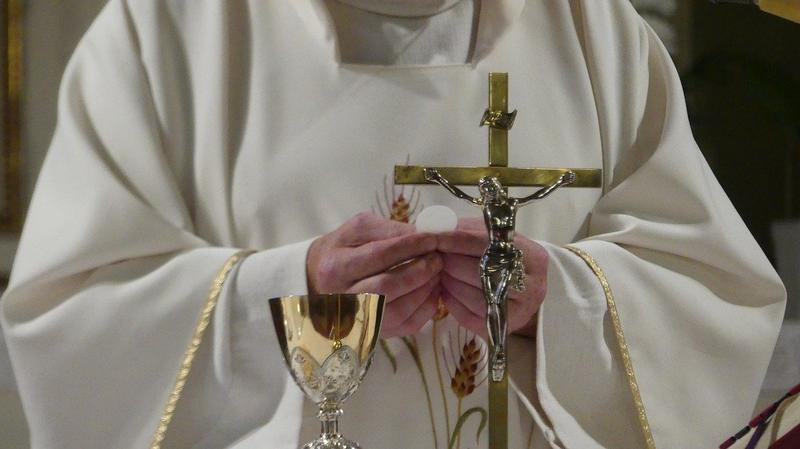 Transcript
BRANDY ZADROZNY Morrison says the outing of a priest using commercially available Grindr location data has implications for all of us, but the story written by and for Catholics also has something to tell us about the state of American Catholicism and its media. In The Pillar article, the authors also focused on how Grindr has been involved in the abuse of children, all the while admitting there's no evidence to suggest that the priest was ever in contact with minors through Grindr. We reached out to the founders of The Pillar for comment, but didn't hear back. However, they did publish a statement on Twitter saying, quote, There is no indication at all that the leader in question was using the app for any purposes pertaining to minors, and we would not wish to insinuate anything to the contrary. According to Michael O'Loughlin, a national correspondent at the Catholic media organization America, The Pillar's use of brokered location data to target an individual might be new, but the scapegoating of gay priests within the Catholic Church is not. Mike, welcome to the show.
MICHAEL O'LOUGHLIN Thanks for having me.
BRANDY ZADROZNY So the Catholic Church teaches that sex is morally permissible only between a heterosexual married couple, but according to estimates from priests and researchers, gay men make up at least 30 to 40 percent of Catholic clergy in the US. In the general population, it's around 4 percent. Why such a high percentage in the church?
MICHAEL O'LOUGHLIN It's a good question. Why are gay men attracted to the priesthood? And there's a lot of theories. There have been some studies, but one idea is back in the 1960s, the church undertook a renewal and reform effort commonly referred to as Vatican II. And at that time, a lot of priests left the priesthood because they had been hopeful that the church would start to allow married priests, and when the Vatican decided that was not going to be the case, they left. And the theory goes that as a result, the proportion of gay priests, the priests who stayed, was much higher than the general population. And then that trend has continued.
BRANDY ZADROZNY And what about Catholic leaders blaming gay priests for their own shortcomings?
MICHAEL O'LOUGHLIN Gay priests in the church have faced a lot of criticism throughout the decades. Back in the 1960s, as this reform effort was going through, some Catholics who were not happy with some of the changes in liturgy, some of the more liberalizing aspects of the church, when they began to realize that there were a number of gay priests, they kind of started blaming them for what they didn't like in the church. Fast forward into the 1980s with HIV and AIDS coming onto the scene. A number of priests were involved in HIV and AIDS ministry, which effectively outed them. And later on into the 90s, a number of priests began dying from HIV and AIDS. It becomes this realization that the church's teaching against homosexuality in the public square, but many of its leaders are gay men, many of them celibate and maintaining their vows, some of them not, as evidenced by deaths from HIV.
BRANDY ZADROZNY Did that lead to a realization of hypocrisy or did something else happen?
MICHAEL O'LOUGHLIN Unfortunately, as we move through the 1980s of the 90s, it becomes more clear that there's a sexual abuse crisis in the Catholic Church. And when The Boston Globe reveals the extent of it, in the early 2000s,
BRANDY ZADROZNY That was the spotlight investigation?
MICHAEL O'LOUGHLIN Yep, and as a result, you have this knee jerk reaction among church leaders to blame gay priests. There's this attack really at every level of the church that says gay men are not suited to be priests because they're a threat to children. And you have this really unfortunate conflation between homosexuality and pedophilia. The Vatican eventually cracks down and says gay men can not be priests because it creates conditions ripe for sexual abuse of minors. And that's continued on through the last couple of decades, but it's simply not true. There's been many studies, the John Jay study conducted by US bishops following the 2002 sex abuse crisis found that it wasn't true. There was no connection between gay priests and sexual abuse of minors, but it's a trope that just won't die in the church. In The Pillar, of course, there was more than a thousand words devoted to sexual abuse of minors, even though that's something the monsignor had not been accused of.
BRANDY ZADROZNY The priest who The Pillar outed was linked with or responsible in some way for child protection efforts within the Catholic Church. And the Pillar says that that is why it's newsworthy. Do you buy it?
MICHAEL O'LOUGHLIN There is a nuanced position that when priests are leading double lives, it does create a culture of secrecy where there is a possibility that cover up and abuse could happen because a lot of people have a lot to lose. Priests are called to a life of celibacy and chastity, and if a priest is breaking that, and other priests know about it, it becomes harder to report other abuse because everyone has things to lose. The Pillar report seems to go beyond that, though, and say because he was a gay priest suspected to be engaged in sexual activity, that there was somehow some connection to sexual abuse. And that just isn't the case.
BRANDY ZADROZNY And a focus on a trope ignores the real causes.
MICHAEL O'LOUGHLIN It does. And many victims groups have come out and said that they want nothing to do with these accusations. That activists and publications like this that ostensibly say they're out there to help protect victims and prevent future abuse. These groups are saying, no, this is not something we believe. We want the real causes of abuse, such as clericalism and cover up. Those are the things that need to be addressed, not the issue of gay priests.
BRANDY ZADROZNY Now, before this story, I had never heard of The Pillar or its founders, Ed Condon and JD Flynn.
MICHAEL O'LOUGHLIN Ed Condon and JD Flynn were editors at a conservative Catholic news agency called Catholic News Agency that is part of a conservative global empire of Catholic news. There is a television network called EWTN, which is available all around the world, heavily financed by conservative Catholic money in the United States. It owns Catholic News Agency, which was set up really to push a conservative, traditionalist vision of Catholicism both in the United States and around the world.
BRANDY ZADROZNY The Catholic Fox News?
MICHAEL O'LOUGHLIN Some have said that. There are personalities on EWTN who are also Fox News contributors. EWTN gave lots of airtime to the Trump administration. Ed and JD were editors at Catholic News Agency. Both of them have long careers in the church. They worked for the institution for what some people might describe as more conservative elements in the church before becoming journalists at CNA. And then they struck out on their own.
BRANDY ZADROZNY The Pillar founders were both canon lawyers. First of all, what's a canon lawyer? And secondly, has that role ever been in conflict with the journalism?
MICHAEL O'LOUGHLIN A canon lawyer is someone who navigates the church's legal structure. So, the Vatican has a set of legal codes that include things like marriage annulments or priests have certain rights under canon law. So, for example, you can't just dismiss someone from the priesthood. They would have to be some sort of trial. And often priests will hire canon lawyers to help them navigate this complex process. In terms of conflict of interest, the National Catholic Reporter, which is seen as a more liberal media outlet than the Catholic Church, reported that content appears to have represented an archbishop accused of sexual misconduct in a Vatican trial. And the news agency where they worked at the time reported on this case, but didn't disclose that one of its top editors was acting as a lawyer throughout this canon law process.
BRANDY ZADROZNY How influential is conservative Catholic media, more broadly?
MICHAEL O'LOUGHLIN Conservative Catholic media in the United States is hugely influential, both here in the US, among Catholics and globally in terms of fighting the agenda of Pope Francis, who many conservative Catholics see as too liberal, too progressive in his reform effort. So here in the United States, you have conservative Catholic media who have aligned themselves pretty clearly with the Republican Party. During the Trump presidency, you had many Trump officials appearing on EWTN, the Global Catholic News Network, based here in the US. President Trump himself was interviewed on the network, several of his top officials were given plenty of airtime, and it's this group that's really behind the idea that to be a Catholic in the United States today means to be a Republican voter. Abortion, homosexuality, those are the issues they focus on quite often. The current debate around whether President Joe Biden, Speaker Nancy Pelosi, who are both Catholics who believe in abortion rights, whether they should be able to receive communion, that's an effort that's really been driven by conservative Catholic media outlets here in the United States. In terms of the globe, these US based outlets are really influencing the conversation around Pope Francis. The pope came in and wanted to sort of reform the tone of the church. One of his earliest comments was he said the church had been too obsessed with abortion, same sex marriage, and he wanted to focus on the church's wider social justice mission. In the previous few years, we've seen these conservative Catholic news outlets here in the United States provide air time and space to his opponents and really push this anti Pope Francis agenda around the world.
BRANDY ZADROZNY What struck me about The Pillar was it seemed like a new chapter in niche journalism. So we are used to places like Church Militant, I know what that is. I know it's an extreme publication, but I think Substack has opened up a whole new opportunity and planet for these people or publications who are not as clearly defined.
MICHAEL O'LOUGHLIN Yeah, I think that's accurate. And I think in terms of The Pillar, you have two individuals who, to their credit, are very connected in the church. In one of their stories, they reported that they had an hour-long meeting with the Vatican secretary of state, which is just an unbelievable get for an independent journalist. So you do have these individuals who are connected in the church, who no longer have editors, who maybe push back against some of these kinds of stories. And they seem willing to engage in methods that even some of the more conservative outlets, such as their former employer, refused to do. In these fringe groups like Church Militant, LifeSite News that are really activist organizations that sort of parade as media outlets. They've been targeting gay priests for a while now. Homosexuality is an issue that they're really just obsessed with exposing the church. The Pillar, with this article, seems to be presenting itself as a more polished version, maybe of Church Militant. Willing to use these dirty tricks to advance its agenda while maintaining an air of respectability because of the founders backgrounds and training and experience running a news agency. So there does seem to be this rogue element here of well-connected Catholics who now are acting as something of activists, or journalists, depending on your point of view.
BRANDY ZADROZNY The Pillar has denied that they are mounting a witch hunt on gay priests. How does an article like this affect gay priests?
MICHAEL O'LOUGHLIN There are a large number of gay priests in the United States, and many of them the faithful lives committed to their vows of chastity and celibacy, but like all human beings, there are some who simply mess up. And as a result of these articles, I think there's a lot of fear. Will they be presented in the media as someone who is living a double life when in reality they simply messed up one or two times. So even gay priests who are faithful to their vows, they just feel targeted and they already feel that they're in a difficult position because they identify as gay, but work for an organization that tends to fight gay rights. And this just feels like another burden they have to contend with.
BRANDY ZADROZNY Ugh, I'm so sorry.
MICHAEL O'LOUGHLIN Yeah.
BRANDY ZADROZNY Thanks so much, Mike.
MICHAEL O'LOUGHLIN Thanks for having me.
BRANDY ZADROZNY Michael O'Loughlin is national correspondent at the Catholic media organization America. He is the author of a forthcoming book, Hidden Mercy: AIDS, Catholics and the Untold Stories of Compassion in the Face of Fear. Thanks so much for having me this week.
On the Media is produced by Leah Feder, Micah Loewinger, Elouise Blondiau, Rebecca Clark-Callender and Molly Schwartz with help from Ellen Li. Xandra Ellen writes our newsletter and our show was edited by our executive producer Katya Rogers. Our technical director is Jennifer Munson. Our engineer this week was Adriene Lily.
On the Media is a production of WNYC Studios. Brooke Gladstone will be back in a few weeks. I'm Brandy Zadrozny.
Copyright © 2021 New York Public Radio. All rights reserved. Visit our website terms of use at www.wnyc.org for further information.
New York Public Radio transcripts are created on a rush deadline, often by contractors. This text may not be in its final form and may be updated or revised in the future. Accuracy and availability may vary. The authoritative record of New York Public Radio's programming is the audio record.