What's at Stake in Biden's Build Back Better Act?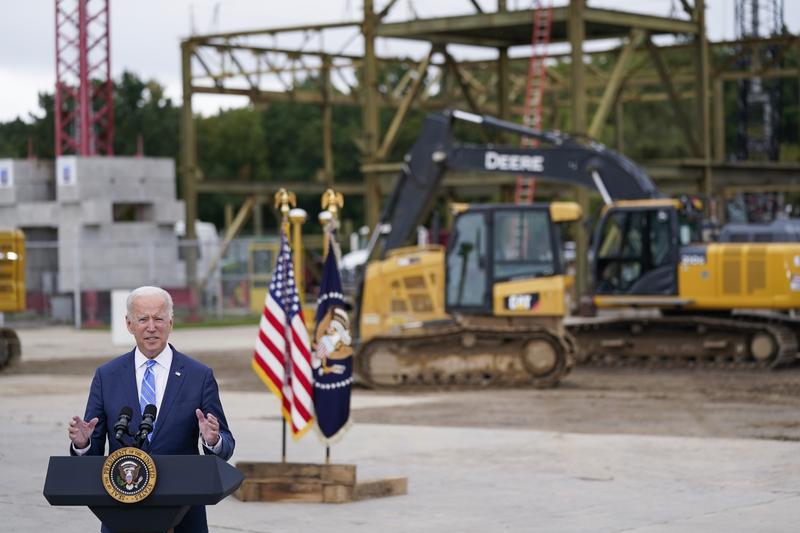 Transcript
Against the Machine
MEGHAN O'GIEBLYN The idea is that will possibly be able to upload our minds to some sort of computational substrate so that our minds will be able to exist there after we die.
BROOKE GLADSTONE Is the rising belief and salvation through technology, just old time religion in new bottles? From WNYC in New York, this is On the Media, I'm Brooke Gladstone. Also headlines focus on the tug of war between progressives and two so-called moderates over landmark legislation, but the immensity of what's at stake is being overlooked.
ANDREW PROKOP There's been curiously little discussion about what this bill would actually do. It's estimated that it would lift 4.1 million children above the poverty line.
BROOKE GLADSTONE Plus, does Facebook really turn nice folks into trolls? The data say... nope.
MICHAEL BANG PETERSEN We did not find this huge group of people who report to be nice in face-to-face discussions, but hostile in online discussions.
BROOKE GLADSTONE It's all coming up after this.
[END OF BILLBOARD]
BROOKE GLADSTONE From WNYC in New York, this is On the Media, I'm Brooke Gladstone. This week, President Biden told the country about his plan to tackle supply chain disruptions, causing shortages of food, medical supplies and even books.
[CLIP]
PRESIDENT BIDEN The Port of Los Angeles announced today that it's going to begin operating 24 hours a day, seven days a week. [END CLIP]
BROOKE GLADSTONE Tucked into his speech was a plea to support his bipartisan infrastructure bill, now pending before Congress.
[CLIP]
PRESIDENT BIDEN We need to think big and bold. That's why I'm pushing for a once-in-a-generation investment in our infrastructure and our people, with my infrastructure bill and my Build Back Better act [END CLIP]
BROOKE GLADSTONE The build back better act is part of Biden's broader Build Back Better agenda, also referred to as the reconciliation bill. Since the act is opposed by Republicans, Democrats are using the reconciliation process that requires full support from every Senate Democrat to get it through, but two of them, as you know, aren't playing ball.
[CLIP MONTAGE]
NEWS REPORT West Virginia Senator Joe Manchin has made it very clear to the White House and congressional leaders that he has concerns about Biden...
NEWS REPORT In Senator Kirsten Sinema's home state of Arizona, the state's Democratic Party is so fed up with her not being on board with the bill that they passed a resolution this weekend. [END CLIP]
BROOKE GLADSTONE Before we knew it, a familiar narrative emerged around the mega bill...
[CLIP]
NEWS REPORT Democrats in disarray, President Biden trying to unite his party, holding separate meetings at the White House with so-called moderate and progressive Democrats hoping to get the factions to come together to pass key parts of his agenda, which are now on the line. [END CLIP]
BROOKE GLADSTONE The dissenting senators have been consistently characterized as moderate by CNN, NPR and other legacy outlets. The' moderates versus progressives' frame keeps us focused on political feuding and not what's actually in the bill. When a CBS reporter asked Nancy Pelosi if the Democratic Party needs to do a better job of communicating what's in the reconciliation bill, since so few Americans seem to grasp it, Pelosi had this to say to the press:.
[CLIP]
NANCY PELOSI Well I think you all could do a better job of selling it to be very frank with you, but it is true it is hard to break through when you have such a comprehensive package. [END CLIP]
BROOKE GLADSTONE It's not the job of journalists to sell the bill, but why not explain it? When outlets do tear themselves away from the Democratic infighting, they often seem preoccupied with how one man will go down in history.
[CLIP MONTAGE]
NEWS REPORT The President Joe Biden's legacy could be on the line here...
NEWS REPORT The Biden legacy may come down to what Congress decides this week...
NEWS REPORT ...As divisions in the Democratic Party leave his legacy in limbo. [END CLIP]
BROOKE GLADSTONE Journalist Lyz Lenz put it this way: "it's often so clear that the people who treat politics like a game are insulated from the worst of its effects." Andrew Prokop wrote about the legislation buried in the political coverage for Vox in an article titled Biden's Reconciliation Bill would be a Big Bleeping Deal. I asked how the coverage of the Build Back Better Act compared to the coverage of Obamacare.
ANDREW PROKOP The biggest difference is that there's a lot less of it. Obamacare just dominated headlines. You still had the same intense focus on legislative gamesmanship, but I do recall there being a fair amount of coverage of policy as well. Obamacare did provoke this intense backlash on the right. And what's really interesting is that we are not really seeing that backlash.
BROOKE GLADSTONE We're not even hearing socialism as much as we used to.
ANDREW PROKOP Yeah, I mean, Republican politicians are all going to vote against this thing. But the energy of the Republican base does not seem to be really devoted to this. They're getting activated by culture war issues, or vaccinations and mask mandates, and so on. There are several possible reasons for that. Biden might just be a less threatening figure to the Republican base than Obama, the first black president. Also, there's the fact that this bill does so many different things. There's no one thing that has commanded the headlines as much, and it's been deliberately crafted in such a way that it doesn't really take anything away from anyone, except the very rich or corporations who will see some higher taxes. Many of the groups that would get the increased spending are very politically sympathetic, even among the right. If you polled Republicans, people would say, yes, we should spend more money on new parents and seniors.
BROOKE GLADSTONE Let's talk about the expansion of the child tax credit that's in the bill. This is a policy that is so popular that when it was rolled out in July on a temporary basis due to the pandemic, it sparked a TikTok trend.
[CLIP]
TIKTOK So I got my first child tax credit, today. Which means the government has officially paid me more child support than my baby daddy ever has [END CLIP]
BROOKE GLADSTONE Provisions in the tax code don't often go viral. So what do you think would happen if the child tax credit was expanded for the foreseeable future?
ANDREW PROKOP I want to emphasize that this policy is viewed by so many people in the think tank or expert community as a really tremendous deal for issues of child poverty.
BROOKE GLADSTONE You're saying it would be a big bleeping deal?
ANDREW PROKOP Exactly. The Center on Budget and Policy Priorities estimated that it would lift 4.1 million children above the poverty line, cutting the number of children in poverty by more than 40 percent. The part that some experts are most excited about is that it was newly available to poor families, including those earning no taxable income at all. So the idea is to get money in the pockets of the poorest of the poor because they need the money the most, and non-workers have so often been left out of previous policies like this. There have been some implementation challenges, but they're trying to overcome those challenges. And if this policy is extended down the road, it would really be transformational
BROOKE GLADSTONE Just to give money to parents, something that our government has long been loath to do.
ANDREW PROKOP That was overcome because this was passed as a pandemic relief measure. That was the opportunity that these reformers saw to try this out and hope that there wouldn't be too much backlash and that they could keep it going.
BROOKE GLADSTONE The bill also sets aside money for new programs like paid leave for parents for subsidizing child care for universal pre-K.
ANDREW PROKOP You can think of it as going through the life cycle of the child. Start off with paid leave once the child is born. The federal government does not guarantee paid leave for working parents right now. Some states do require it, a lot of employers voluntarily offer it, especially white collar employers. But small businesses and employers with mostly low wage workers are less likely to do that. This bill would create a national program in which the government would pay part of a worker's salary for up to 12 weeks of leave for new parents. Then, as the child gets older, there would be child care subsidies. If you earn below a certain amount, the federal government would help foot the bill for your child care so that costs won't exceed a certain percentage of your income. Now, President Biden has said the child care we're talking about has to be high quality that will have to be assessed in some way. So this could be one of the trickiest parts to implement. Next would be when the child is three or four years old. Universal pre-K. So here the bill would allot hundreds of billions of dollars for preschool expansion. Again, creating these preschools would have to happen at the state and local level. If you add them all up cumulatively, that's a lot more help being delivered to parents.
BROOKE GLADSTONE The reconciliation bill also has plans to patch up gaps in the U.S. healthcare system that Obamacare didn't quite cover.
ANDREW PROKOP The bill in its current form would expand Medicare to cover dental vision and hearing benefits for seniors. It would spend hundreds of billions of dollars on long term care for people who need daily assistance in the home. There's, by one estimate, more than 800,000 Americans on waiting lists for this type of care right now because of lack of funding. Then there are other gaps, such as there's still 12 states that have not implemented Obamacare expansion of Medicaid to more low income people, the red state governors and legislatures turning this expansion, which would have been quite generous down for ideological reasons.
BROOKE GLADSTONE Can we talk about climate change? The bill hopes to achieve a goal where 80 percent of the U.S. electricity is generated by clean sources by 2030.
ANDREW PROKOP Because of quirks in the Senate rules, they can't actually set a standard. What they can do is to just give money, basically sending payments to utilities that more heavily rely on clean energy for electricity generation while fining those that aren't making as much progress. So this would make clean energy even more cost effective and perhaps attractive to these utilities. It might sound a little wonky and arcane, but the climate policy wonks and experts that I talked to are tremendously excited about this. They think it would really be impactful.
BROOKE GLADSTONE How impactful?
ANDREW PROKOP One analysis from the firm Rhodium Group, which tallied several of the policies in the reconciliation bill, suggested that it would mean one billion metric tons less carbon being emitted in the near future.
BROOKE GLADSTONE I don't know what that means, but it sounds like a lot! [LAUGHS]
ANDREW PROKOP A billion is a pretty significant amount, especially if we're talking about just one bill producing that change.
BROOKE GLADSTONE Obviously, a lot of attention has been paid to the aspirational three and a half trillion price tag on the bill. That's over 10 years, which I don't think is said enough. I mean, it's a big bill, but it really doesn't sound nearly as shocking when it's broken down over 10 years. I mean, the military is budgeted for twice as much in the same time, and Congress just threw an extra 20 billion to the military for no particular reason. It didn't ask for it.
ANDREW PROKOP Oh, if we're talking about comparing it to the military, of course, they're always going to win out.
BROOKE GLADSTONE Manchin, meanwhile, has demanded that the build back better plan be slashed from three and a half trillion to one and a half trillion. What do you think is going to be the first on the chopping block?
ANDREW PROKOP So there are some issues that we didn't really talk about that are in the package right now, but are rumored to be in trouble. One is a housing plan, which is basically Democrats were planning to allot hundreds of billions of dollars more for affordable housing, rental assistance, homeownership initiatives.
BROOKE GLADSTONE We desperately need that.
ANDREW PROKOP That is the tough position that Manchin and his colleague Kirsten Sinema have put Democrats in if they are insisting that the bill be cut in half or more. But there are several ways that are under discussion to kind of meet this goal of cutting the price tag, dropping certain things, perhaps starting them a little later. But then the problem there is that voters won't see the benefits of it until years in the future. So the flip side of that is doing some of these things, but setting them to expire in a few years. And this is viewed as risky, but it has a lot of supporters on the Hill. This approach, because some Democrats want to make a bet that when this passes, people are going to like it. And Republicans, even if they do regain control of Congress, they're not going to want to look like the bad guys for taking these benefits away.
BROOKE GLADSTONE This is a very old idea. I mean, FDR and LBJ and even Obama with Obamacare slipped some things in, not in their perfect form, just to get a foothold because once the public got used to it, they reckoned it would stay around and get improved.
ANDREW PROKOP There are different schools of thought on this, and it doesn't break down clearly along ideological lines. Some progressives are saying we should focus on doing a few things, but funding them really well and making it last long. But other progressives say, no, let's try to fund everything and roll the dice and hope that it survives going forward and you have moderates in both camps as well. But this is all responding to the constraint imposed by Manchin and Sinema of the overall price tag of having to come down.
BROOKE GLADSTONE Thank you so much, Andrew.
ANDREW PROKOP This has been really fun.
BROOKE GLADSTONE Andrew Prokop is senior politics correspondent at Vox. Coming up, does Facebook really turn nice people into trolls? This is On the Media.