Anger and Identity in an Age of Polarization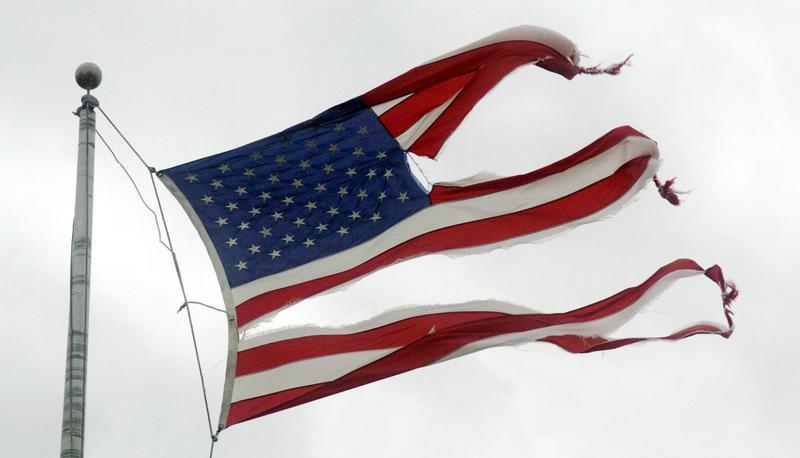 Transcript
[CLIP]
TRUMP Five days from now, we are going to win Florida. [END CLIP]
[CLIP]
BIDEN Florida goes blue, it's over. [END CLIP]
BROOKE GLADSTONE Yep, America may have slipped when it comes to other global competitions, but when it comes to political division, we are fighting fit. From WNYC in New York, this is On the Media, I'm Brooke Gladstone.
BOB GARFIELD And I'm Bob Garfield. It's easy to sort ourselves into political tribes because of the clear cut differences between the two parties, but...
LILIANA MASON If there were to be a rift in one party, it would reduce polarization because people would have a less clear sense of us and them.
BROOKE GLADSTONE From sorting to taxonomy. David Starr Jordan thought he was ordering the world, but really he was only fostering more division.
LULU MILLER There were eugenics fairs at small town festivals where there'd be competitions and there'd be the best babies or the fittest families.
BROOKE GLADSTONE It was so gross.
LULU MILLER It was so gross.
BOB GARFIELD It's all coming up.
[BREAK]
BOB GARFIELD From WNYC in New York, this is On the Media, I'm Bob Garfield.
BROOKE GLADSTONE And I'm Brooke Gladstone, holding my breath with the rest of you.
[CLIP]
BIDEN We can turn four years of Donald Trump into an aberration, but eight years, he'll change the country in a way we can't tolerate. [END CLIP]
[CLIP]
TRUMP Could you imagine if Sleepy Joe ever became president, this country would be a mess?
BROOKE GLADSTONE The top of the show is where we usually put the breaking stories written at the last minute on Friday, but the big story we'll see endlessly updating news cycles before you even hear this all reporting the same thing. Voter volume and snafus, voter intimidation or suppression, and voter polling data. Oh, so much polling data. And then there'll be more stories about why isn't the press reporting on Hunter Biden followed by more on why there's no "there" there for Democratic candidate Joe Biden. Plus, more polling data when GOP spokespeople speak a nod to the polls, and then a rather jarring gesture to "look over there, Hunter!"
[CLIP]
NEWS REPORT I honestly hope that our opponents, both in media as well as the Biden campaign, believe that they're up 17 because that's preposterous. That poll came from ABC. Speaking of ABC, interesting that on Good Morning America, despite hours of programing, not a single mention of the absolute blockbuster story, the most important story of this campaign, which is the Bob Wolinsky revelations that confirm what we know from the laptop, from hell with receipts, with documentation that the Biden family has been selling influence. This is a pay to play scheme. [END CLIP]
BROOKE GLADSTONE Chatter about paths to victory through Michigan, Pennsylvania and, of course, Florida.
[CLIP]
TRUMP Five days from now, we are going to win Florida. [END CLIP]
[CLIP]
TRUMP Florida goes blue, its over. Its over. [END CLIP]
[CLIP]
NEWS REPORT Biden may be right if he takes the Sunshine State. President Trump has a much narrower path to victory. [END CLIP]
BROOKE GLADSTONE And across the nation, chat in enclaves more entrenched and divided by both ideology and actual physical distance than I've ever seen in my boomer lifetime.
BOB GARFIELD Hard to believe that 70 years ago, the country was deemed by political scientists to be not polarized enough. They said that the similarity between the two major parties was leading to confusion and disengagement on the part of the electorate.
LILIANA MASON In 1950, the American Political Science Association put out a report that our parties were not distinct enough from each other and that they therefore did not provide a clear enough choice for voters and that it was making people's political decision-making too difficult.
BOB GARFIELD Liliana Mason is a political psychologist at the University of Maryland. In a conversation two years ago, she told me that nowadays most people know exactly what each party stands for, leaving us with two camps that seek to destroy each other. But in the 1950s, that was not the case. I asked her if the Republicans weren't the Conservative Party back then, what were they?
LILIANA MASON In the 1950s? This is pre Civil Rights Act. The two parties were effectively a mixture of liberals and conservatives. The Republican Party up until that point really had been the party of the North. The Republicans had been the party of Abraham Lincoln and the Union, while the South was the Confederacy. The Democratic Party represented a collection of conservative Southerners as well as some more economically liberal northerners, whereas the Republican Party was a northern economically conservative party but still had plenty of relatively liberal people in it.
BOB GARFIELD So what caused the change? Was it Nixon's Southern strategy, to coalesce a base based largely on racial fear? Was it the long list of culture wars, battles that had already begun from the Civil Rights Act to Miranda to school prayer to abortion? What was at the heart of this reconstitution of the party?
LILIANA MASON It really started after the Civil Rights Act of 1964, when Southern Democrats started moving away from the Democratic Party as they became more comfortable being in the Republican Party than their interests had to be represented by the party. So racially conservative interests began to be represented by Republicans more than Democrats, and the religious right became politically active and they felt that the party that best represented their interests would be the Republican Party. Most of the requests of the religious right organizations had been completely installed into the Republican Party platform by the year 2000. So there was really a combination of a racial attitude, realignment and realignment of which religious groups felt comfortable in which parties.
BOB GARFIELD Now what you've described is really the wholesale resorting of the electorate into more easily defined worldviews, right. Leaving us not just two parties, but two tribes. What is the psychology of that tribalism? And maybe we can begin with the Roberts Cave experiment that you've written about.
LILIANA MASON In 1954, some psychologists collected a bunch of fifth grade boys from the Oklahoma City area and really tried very hard to make sure that all the boys were very, very similar to each other psychologically, socially, in terms of their academic abilities, traitsm - because sort of in every possible way, they were similar to each other. They were all white and Protestant boys. They divided them into two camps and they kept the boys completely separate for the first week of camp. And the boys came up with their own names for what their camps were called. One was the Rattlers and one was the Eagles. And in the second week, they let them know that there was another camp down the road. And immediately the boys wanted to have a competition, and the experimenters encouraged this. And the more the boys competed, the more they began to hate each other. They called each other nasty names. They began throwing rocks at one another. And at one point it got so violent that the experimenters had to separate them because they were so worried about the boy's safety. So really, all that it took was separating them into two different groups and allowing them to form an identity and then letting them sort of have at each other. And we all like to think that we're more mature than fifth grade boys and hopefully we are. But in general, that motive is a very deep seeded psychological motive. Once we are in a group, we think our group is the best and we think that the other groups are less good. And if we're in competition with those groups, we begin to hate them.
BOB GARFIELD How much of this is free will? How much of it is just who we happened to be born as?
LILIANA MASON That's a very deep question. Part of it comes with the way that we were raised. Some of the earlier scholars of political behavior said, you know, that partisanship is something that's learned at your mother's knee. If you live in a political household, you grow up learning that you're a partisan. In a similar way that you grew up learning that you are, you know, a Christian, if you go to church and some identities are unavoidable, like race. Some identities are things that we choose. But the most important thing to know about identity is that whether it's something that is given to you or you choose the most powerful identities are the ones whose status is being threatened. That's the threat to the status, not just whether the status is high or low. And it's very easy to make people think about one identity or another simply by telling them that someone has insulted their group or that their group is about to lose in some type of competition. When we see politicians talking about identities or groups. One thing that they have a lot of power in is helping us think about which groups are most important to us by telling us which groups are the most threatened.
BOB GARFIELD Alright, I understand this notion of winning and losing and feeling that your side is under threat. But back in the supposedly Hypo-partisan 50s, many voters actually toggled between parties based on the economy or wars or other transitory circumstances. What do voting records show about today? Is it about issues or is it just threats to the tribe?
LILIANA MASON There was a Pew study. People were asked whether they approve of background checks for gun purchases at a federal level. 86 percent of Republicans agreed that this would be a good policy to have in place. And then they were asked whether they believed that the government should pass a bill enacting background checks at a federal level. And once it was phrased that way, only 50-something percent of Republicans agreed that a bill should be passed. These people who believed that the legislation would be good for the country as a whole also believed that it would be bad for their party. And in those scenarios, there are a substantial number of people who will choose the party's victory over what they think is best for the nation as a whole. The fact that a party could switch positions and maintain its voting base almost completely. That's actually a very concerning development because it removes accountability in the 1950s when people would switch between parties if the party did something that upset them. That was a mechanism by which voters held elected officials accountable. And without that ability, it's a lot harder for voters to hold not only elected officials accountable, but also to even pay attention to what their elected officials are doing because the most important thing in their mind is whether or not the party is winning.
BOB GARFIELD You know, it's one thing to be upset when you're losing. It's another thing altogether to be upset when you're winning. I want to go back to the 90s for a minute while the GOP was becoming the party of conservatism and white identity, the Democratic Party became the party, by default, I guess, of minorities. The party, as it was characterized, of big government. The party of organized labor and its political response was a Clinton administration that governed increasingly toward the right. For so long, government has failed us. And one of its worst failures has been welfare. I have a plan to end welfare as we know it. And yet he was demonized by the right. Why?
LILIANA MASON I think one of the things that Clinton was doing was trying to push back against the realignment that was very clearly happening. But at the same time, the Republican Party was really doubling down, saying we're gonna take this realignment and run with it. We're gonna be the party for white people. We're gonna be the party for Christians, particularly for evangelical and fundamentalist Christians. The Republican Party was really choosing to be a racially and religiously consistent party while the Democratic Party was sort of pushing back against taking the other side, of that. And really only recently, I think, has the Democratic Party really fully embraced the idea that, well, OK, if the Republican Party is going to be the party of white Christian, largely male rural people, then the Democratic Party has to be the party of everybody else.
BOB GARFIELD We're speaking of identity here. Did the Democratic Party have agency in that choice or was it just consigned to being the party of whatever the GOP wasn't?
LILIANA MASON Well, they had agency, but one of the things that wasn't fully understood in the 90s was that demographically, the country was changing. Now we know that by 2050, white Americans will make up a minority of the American population. In the 90s, that wasn't quite as well understood. And so the political strategy of the time was to try to get as many white voters as you could. As the Republican Party tacks more to the right in terms of its racial positions, it makes sense for the Democratic Party to be the party of not just progressive white people, but also everyone else. And to think about it more as a strategic good. One really interesting thing is that the average American prefers generally liberal policies, but identifies as conservative. The Republican Party has a generally less popular set of policies than the Democratic Party does. And so when we think about the term identity politics, we tend to associate that with the Democratic Party. But ironically, when Democrats legislate, they tend to do things that are relatively popular and Republicans legislation tends not to be very popular. The tax cut bill that they passed, sort of the landmark accomplishment of the first two years of the Trump administration is not very popular. This actually incentivizes the Republican Party to engage in identity based rhetoric because they don't have a lot of policies to talk about. It is in the Democratic Party's best interest to talk about policy and to talk about what government can get done. So it makes a lot more sense for the Republican Party to talk about scary stories and threats and who's winning and who's losing.
BOB GARFIELD We're talking about winning and losing. We're talking about this political moment where it is all important for the Rattlers to defeat the Eagles even if they have to resort to violence. Is it any wonder that lunatic partisans are trying to kill perceived enemies?
LILIANA MASON Right. So that is the worst possible scenario. That all of this partisan, dehumanization, and need for victory becomes something that encourages widespread violence. I think a couple of other things are worrisome in that regard, right. One is the potential for the loss of the legitimacy of our electoral outcomes. If people don't trust the outcome of elections, then the basic machinery of democracy ceases to function. These are kind of the weakest spots of our democracy and they are being tested. We have seen violence and assassinations in American history. The 1960s were not a peaceful time. The difference is that today those types of conflicts that we saw in the 1960s are mapped onto our partisanship. Our elections determine how angry or happy we heart with what's happening politically. And so elections can possibly become flashpoints for this type of violence.
BOB GARFIELD Perhaps especially when the electorate has been groomed to believe that the system is rigged and that there is a deep state trying to delegitimize the elected administration and etc., etc..
LILIANA MASON Absolutely. And when one side is particularly encouraging of this, it ends up being an asymmetric effect. Where the vast majority of Americans don't believe that violence is acceptable at all, particularly in advancing political goals. But some partisans do, and there are enough partizans that accept political violence that it could become dangerous. Now we can look to other countries. This is not my area of specialty, but there are other political scientists who study the emergence of civil war in other countries. And there's a political scientist named Joel Selway who does interesting work in this, and he says there are three major predictors of civil war. One is ethnic or religious fractionalization along political lines, which we have. Two, is adverse regime change, which would be something like a contested election or an election outcome that many people feel is illegitimate. It's a very frightening prospect. And in terms of my research, the best way to get out of it is for there to be some sort of new realignment of the parties. What started this was a massive rift in the Democratic Party after the Civil Rights Act. If there is a massive rift in either party, again, particularly the Republican Party, we could see a new set of cues that the parties are giving us a new political information that's giving us some mixed messages, or we have crosscutting identities that emerge. And if there were to be a rift in one party, it would reduce polarization because people would have a less clear sense of us and them.
BOB GARFIELD Liliana, thank you so much.
LILIANA MASON Thank you so much for having me.
BOB GARFIELD Liliana Mason is professor of government and politics at the University of Maryland and author of Uncivil Agreement: How Politics Became Our Identity.
BROOKE GLADSTONE Coming up, from the annals of taxonomy when sorting goes wrong.
BOB GARFIELD This is On the Media.
Copyright © 2020 New York Public Radio. All rights reserved. Visit our website terms of use at www.wnyc.org for further information.
New York Public Radio transcripts are created on a rush deadline, often by contractors. This text may not be in its final form and may be updated or revised in the future. Accuracy and availability may vary. The authoritative record of New York Public Radio's programming is the audio record.