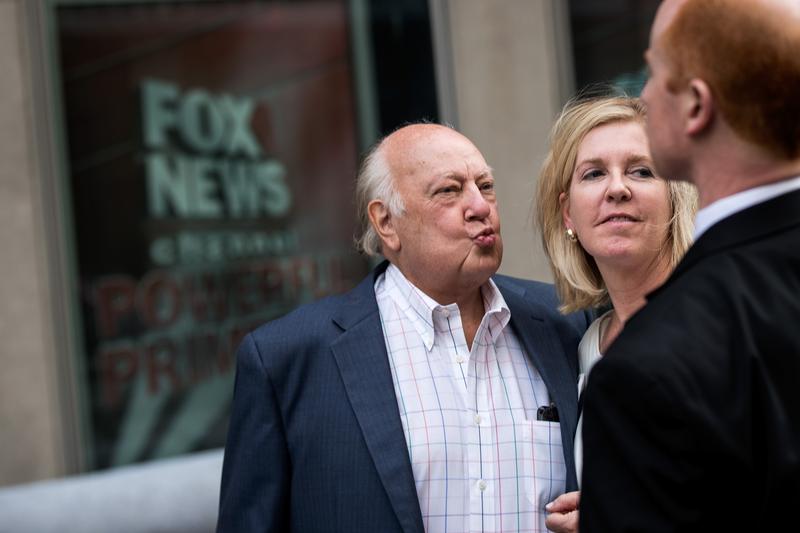 Transcript
BOB GARFIELD: This is On the Media, I'm Bob Garfield.
BROOKE GLADSTONE: And I'm Brooke Gladstone. Earlier this week, former Fox News host Gretchen Carlson accepted a $20 million settlement from 21st-Century Fox and her sexual harassment suit against Roger Ailes, Fox News founder and former CEO. When news of the scandal broke in July, Ailes swiftly denied it all, while riding a wave of support from the Fox News rat pack.
[CLIPS]:
BILL O'REILLY: I've worked for Roger Ailes for 20 years. Best boss I've ever had. Straight shooter, always honest with me. Ninety-five percent of the people who have worked for Roger Ailes would say exactly the same thing that I just told you.
FEMALE CORRESPONDENT: Similarly, Greta Van Susteren and Jeanine Pirro told The New York Times they have long-term working relationships with Ailes and said neither had witnessed the kind of behavior claimed by Carlson.
[END CLIP]
BROOKE GLADSTONE: But Ailes' star power was no match for the facts. By late July, Rupert Murdoch and his sons, James and Lachlan who run Fox's parent company, told Ailes to take his $40 million severance deal – poor Roger – and to not let the door hit him on the way out.
Gabriel Sherman , Ailes' biographer and national affairs editor at New York Magazine, this week reported that Fox News host Megyn Kelly and 18 other women also were sexually harassed by Ailes. In his cover story, "The Revenge of Roger's Angels," he details how Ailes built a culture of fearful compliance at Fox News.
GABRIEL SHERMAN: Yeah, you know, one of the things that Rupert Murdoch made him so successful over the years is that he's hired executives that are really willing to go to almost any lengths to produce profits. And what that does is it ends up encouraging a lot of corporate misbehavior.
BROOKE GLADSTONE: Because Murdoch gives his favorite employees, his profitmaking employees, such a long leash they basically can shape their organizations any way they like. Fox is 20 percent of Murdoch's profits. That's a lot.
GABRIEL SHERMAN: That's correct. It generates over a billion dollars a year of profit. Rupert Murdoch is a newspaperman at heart. That's where he got his start. He did not know the television business. Ailes understood the medium and so Murdoch trusted him to run Fox News as he saw fit. And it's important to understand, what Roger Ailes built at Fox News was not a news network but it was a political operation. A lot of the people he recruited in the early days at Fox were veterans of his political consulting company, Ailes Communications, and the culture of Fox News, from the very beginning in 1996, was one of a political campaign, where loyalty was paramount, leaks to the press were punished with ruthless severity.
BROOKE GLADSTONE: You talk about how they got the personal home and cell phone records of Joe Strupp, a reporter for Media Matters, the liberal watchdog group, because Strupp apparently had some insiders at Fox giving him information. You also describe a TV system within the building that allowed Ailes to monitor all of Fox's offices, studios, green rooms.
GABRIEL SHERMAN: Yeah. He used the network's resources to build a surveillance operation called the Black Room inside of Fox News that was staffed by operatives and political consultants. The public relations department at Fox News was built both to monitor the employees and even leak damaging information if Ailes felt that they were being disloyal, but also to target people outside the network.
BROOKE GLADSTONE: Didn't he collect a 400-page dossier on you?
GABRIEL SHERMAN: Yeah, as CNN has reported, there was a dossier created about me and fake websites to smear my reputation. And he hired private investigators to follow me and my wife.
BROOKE GLADSTONE: At some point, worried that people would start connecting the dots about his behavior, he had a wall built around his office so that people couldn't see who was going in and out and also had people change the visitor logs?
GABRIEL SHERMAN: Yeah. And when the investigation was going on into the sexual harassment, when Rupert Murdoch's lawyers were trying to prove these allegations, they could not confirm in some cases that the women were in Ailes' office because the logs didn't show that.
BROOKE GLADSTONE: Well, let's talk about the culture of misogyny at Fox that he created and normalized.
GABRIEL SHERMAN: I mean, all you need to do is watch the channel, the way women are pressured to dress. Rudi Bakhtiar, who was a Fox correspondent, told me about how she felt uncomfortable wearing the miniskirts and she actually asked not to, and producers said, well, Roger wants to see your legs. You also notice on Fox News that the desks are glass on, on many cases, so you can see their legs. So, again, this was all part of the production to highlight the sexuality of the female talent on the network.
BROOKE GLADSTONE: Which is why there's something kind of delicious in the fact that with all this control and all this surveillance, Gretchen Carlson must have, at some point, determined that turnabout was fair play.
GABRIEL SHERMAN: Exactly. After Gretchen Carlson was demoted off of Fox & Friends in 2013, she started bringing her iPhone to meetings with Roger Ailes and capturing these comments on tape to prove that this harassment was going on. And we should point out, he has completely denied any of these allegations, even after more than two dozen women came forward to speak to the law firm Murdoch had hired.
BROOKE GLADSTONE: Even after he was caught on tape?
GABRIEL SHERMAN: And after Gretchen had taped him, he has denied every single allegation.
BROOKE GLADSTONE: So let's talk about his legacy and let's begin with Trump. You suggest that Ailes laid the steppingstone for his nomination.
GABRIEL SHERMAN: Yes, Ailes gave Trump a weekly call-in segment on the morning show, Fox & Friends, and he really helped mainstream a lot of this conspiracy talk that Trump and the far- right websites like Breitbart were fostering in the Obama years. And by giving Trump that platform and by offering him political advice, Ailes was instrumental in fueling Trump's rise.
BROOKE GLADSTONE: And this is where it gets a bit complicated because Trump and Murdoch didn't get along, and so you get a situation, as during that early GOP debate, the Fox interlocutors were pretty tough on Trump, and most notoriously Megyn Kelly's famous citing of Trump's sexist remarks back to him.
[CLIP]:
MEGYN KELLY: He once told a contestant on Celebrity Apprentice, it would be a pretty picture to see her on her knees. Does that sound to you like the temperament of a man we should elect as president? And how will you answer the charge from Hillary Clinton, who is likely to be the Democratic nominee, that you are part of the war on women?
[END CLIP]
GABRIEL SHERMAN: What the drama of last summer at the GOP debate showed was that Ailes' rule over Fox was slipping. A few weeks before the opening debate last summer, James and Lachlan Murdoch, Rupert Murdoch's two adult children, were promoted to co-leadership positions, effectively becoming Roger Ailes' bosses. And both the Murdoch sons have a lot of antipathy to Trump, James especially, so they were not happy with Ailes' boosterism of Trump. And so, Ailes was caught between his own personal political project and pleasing his corporate overlords. And then caught in the middle of this triangle was Megyn Kelly, who had a lot of ambitions of her own. And so, this complex mix of agendas exploded onto the screen last summer, when Trump began attacking Megyn Kelly.
BROOKE GLADSTONE: You've spoken to Fox employees since Ailes' ousting. How is the network doing?
GABRIEL SHERMAN: By some admissions, it's chaos. Even before Ailes' ouster, I had had Fox executives describe the climate if Ailes ever did leave as a, quote, "Lord of the Flies situations." And we're actually starting to see some of that. This week, Greta Van Susteren, the longtime Fox News anchor – she had been at the network for 14 years - abruptly resigned from the network. She had publicly defended Ailes.
BROOKE GLADSTONE: Yeah.
GABRIEL SHERMAN: And it cast doubt on Gretchen Carlson's allegations. And so, when she learned the full scope of his alleged behavior, I understand from my reporting that she felt betrayed, and when she couldn't renegotiate her contract, she basically said, I'm out of here.
Sean Hannity has been so openly pro-Trump and, as The New York Times reported, advising Trump behind the scenes, that there's a lot of speculation that if Trump ever did launch a television network after the election, if he loses, that Hannity would be a founding member.
BROOKE GLADSTONE: Is there any evidence that Trump is planning to launch Trump TV with Ailes at the helm, or is this just the stuff of media journalists' dreams?
GABRIEL SHERMAN: Well, talking to people in Trump's inner circle, I do know they talk about it. He travels the country turning out thousands and thousands of people, he clearly wants to try to make money off of those people. You know, it bothers Trump. He wants to turn this audience into some sort of business, if he can, if it's not the presidency. [LAUGHS]
[BROOKE LAUGHS]
As to the Ailes question, you know, part of his severance from Fox News includes a non-compete agreement. He can't work for a rival television news or media company through 2017. He could be an informal advisor to Trump and, sure, maybe take some role after. And, knowing Ailes' ambition, I think whether it's Trump TV or something else, he's gonna try to have another act.
BROOKE GLADSTONE: You wrote that by merging news, politics and entertainment in such an overt way, Ailes was able to personally shape the national conversation and political fortunes as no one ever had before, that it's not a stretch to say that Ailes is largely responsible for the selling of the Iraq war, the Swift boating of John Kerry, the rise of the Tea Party, the sticking power of a host of Clinton scandals and the purported illegitimacy of Barack Obama's presidency. They couldn't have done it without him?
GABRIEL SHERMAN: Without question, he catalyzed and drove all of those news events that you just described. And we can just take the Iraq war. We go back to those months after 9/11 and we remember how American culture became swept up in this hyper patriotism. And Roger Ailes is at the center of that. Fox News' ratings exploded in those months. The success that Fox is having pushed the entire media to the right. The entire media was on notice about seeming liberal and being scared of being against the Bush administration. It all originated in the White House but Ailes was in constant contact with Karl Rove and Dick Cheney and others, so it was all part of one system that helped sell and package this war.
[MUSIC UP & UNDER]
BROOKE GLADSTONE: Gabe, thank you very much.
GABRIEL SHERMAN: Great, thank you.
BROOKE GLADSTONE: Gabriel Sherman's latest story on Roger Ailes appears in this week's edition of New York Magazine. He's also the author of Roger Ailes' biography, The Loudest Voice in the Room.
BOB GARFIELD: Coming up, a news consumer's guide to Islamophobia, long overdue.
BROOKE GLADSTONE: This is On the Media.