30 Years Of Talking (And Talking And Talking) About Climate Change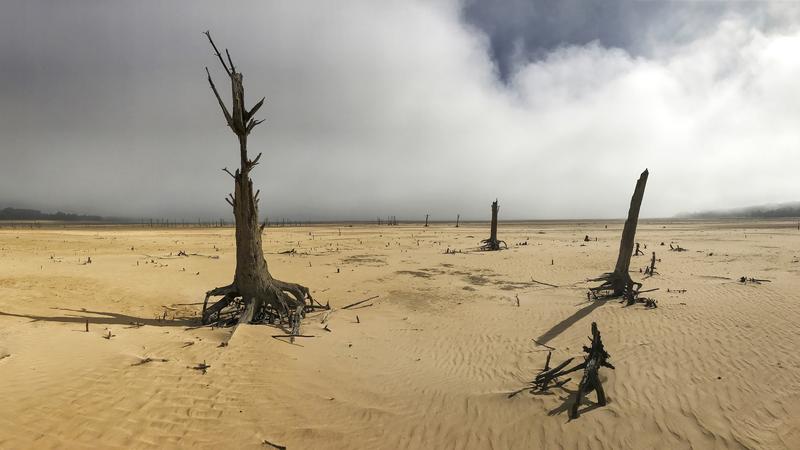 Transcript
BROOKE GLADSTONE: This is On the Media. I'm Brooke Gladstone. Some things in the world happen shockingly fast, to others imperceptibly slowly. As we heard, the tug-of-war over perceptions is waged over generations. Thirty years ago this summer, NASA climate scientist James Hansen testified before the Senate, warning that global warming was real and that he was, quote, "99% certain that the warming trend was caused by humans." He displayed a chart of rising temperatures.
JAMES HANSEN: And 1988, so far, is so much warmer than 1987 that barring a remarkable and improbable cooling, 1988 will be the warmest year on the record. This evidence represents a very strong case, in my opinion, that the greenhouse effect has been detected and it is changing our climate now.
BROOKE GLADSTONE: It's often cited as the moment or at least the season when the gravity of the science became front-page news, the Times putting the story on A1 ran the headline, "Global Warming Has Begun Expert Tells Senate." Just below that story was another one, "Drought Raising Food Prices." That's because the country was under a month-long drought and heat wave that summer, and officials estimate that between 5 and 10,000 people in the US died from the high temperatures.
[CLIPS]:
FEMALE CORRESPONDENT: The barren spots in the mountains, the parched fields of the Midwest, the soaring temperatures throughout the country all finally have got people believing in what one seemed science fiction, the greenhouse effect.
MALE CORRESPONDENT: The mercury topped 100 again today on the scorched fields of Wisconsin, deepening the drought and forcing farmers to feed their cows from winter reserve.
FEMALE CORRESPONDENT: The summer of '88 is a scorcher but not a fluke. The '80s have brought us the four hottest years in the last 100. and don't look for quick relief.
BROOKE GLADSTONE: Nineteen-eight-eight (1988) is also the year that Andrew Revkin first started on the global warming beat. He'd go on to cover the story for the New York Times but in October of 1988 he wrote a cover story for Discover Magazine, "Endless Summer: Living with the Greenhouse Effect."
Andy Revkin is now strategic advisor for environmental and science journalism at the National Geographic Society. His piece looking at 1988 is called, "Climate: The More Things Change" and it's in the July issue of National Geographic magazine. An-dy, welcome back to the show.
ANDREW REVKIN: It's a little bit like Groundhog Day but --
[BROOKE LAUGHING[
-- it's still good to be back with you.
BROOKE GLADSTONE: I described the 1988 heat wave in the introduction but what was so significant about Hansen's testimony?
ANDREW REVKIN: You know, he was making the point there that unlike the pollution that we did a great job cleaning up starting in the '60s and '70s here, the smoggy stuff, carbon dioxide and heat-trapping gas, when you release it into the atmosphere it stays there and it might go into a tree for 100 years and then comes back out.
BROOKE GLADSTONE: Mm-hmm.
ANDREW REVKIN: And so, it builds like unpaid credit card debt. It's a cumulative problem. That was the point he was trying to make. If you don't get at it early, it just compounds.
BROOKE GLADSTONE: Nineteen-eighty-eight was the year that the globe was at 350 carbon dioxide parts per million, a significant number.
ANDREW REVKIN: Yeah, Hansen went on to write a paper with some colleagues positing that if you build beyond that you're in the hot zone, you're in the danger zone and it keeps building. And that figure, of course, inspired Bill McKibben, his book The End of Nature --
BROOKE GLADSTONE: Mm-hmm. [AFFIRMATIVE]
ANDREW REVKIN: -- which was really the first popular book on global warming that came out the following year.
BROOKE GLADSTONE: Three-hundred and fifty, and we're past it. Where are we now?
ANDREW REVKIN: Uh, 410 or so.
BROOKE GLADSTONE: We have some tape from a CBS News report from 1980 when we were at 339 parts per million. So this is eight years before you got on the beat, eight years before Hansen testified.
[CLIP]:
MALE CORRESPONDENT: The relatively small amounts of carbon dioxide in the Earth's atmosphere filter the warming rays of the sun to the Earth's surface but, like a greenhouse, carbon dioxide also prevents heat given off by the Earth from escaping into space. Fossil fuels, when burned, release carbon dioxide into the atmosphere, coal, the worst culprit, oil and natural gas to lesser degrees. Scientists and a few politicians are beginning to worry that icecaps could melt, raising the level of the seas.
SENATOR PAUL TSONGAS (MASS.): But if it happens, it means goodbye Miami, goodbye Corpus Christi, goodbye Sacramento, goodbye Boston.
BROOKE GLADSTONE: That seems so long ago.
ANDREW REVKIN: Yeah.
BROOKE GLADSTONE: If you'd said that was a report from 1936 or something, I would believe it.
ANDREW REVKIN: Well, the first article that really nailed this was a Popular Science article in 1912, and it basically said, hey, we're burning billions of tons of coal, it's going to warm the climate, it's going to change things for centuries.
BROOKE GLADSTONE: You've said that the big mistake you made in the early coverage of this story is that you saw it as a kind of a pollution problem.
ANDREW REVKIN: Well, it just gives it a template. It's the existing narrative. In other words, we need to cut emissions by 20%, let's have a treaty or a law and we'll magically do that. There was a growing thought about having a price on carbon and the problem there too is that the price would have to be so high to change the behavior of industries and individuals that no one could figure out politically how you could possibly do that, not just here but everywhere.
Another reason everyone thought that we could do this is 'cause in 1987 there was the Montréal Protocol, and that was a treaty to cut chlorofluorocarbons --
BROOKE GLADSTONE: Mm-hmm.
ANDREW REVKIN: -- a different kind of compound eroding the ozone layer.
[CLIP]:
NARRATOR: Each Spring, over Antarctica, a hole in the ozone develops. To date, as much as 50 to 60% of the ozone in this area has been lost. These discoveries prompted a coordinated series of Antarctic ozone experiments.
[END CLIP]
ANDREW REVKIN: Scientists had demonstrated that if we ignored that, there could be a deadly consequence for us and for many species. So everyone thought, look, hey, we did it, we had this huge treaty on a chemical with a long-lived effect, ergo, we can do it with CO2 too.
[BROOKE LAUGHS]
Again, that shaped how the coverage was framed. It shaped how environmentalists framed their actions. It shaped the way legislation was proposed. And it all kept running up against the reality that's reflected in the fact that we still are 85% a fossil-fueled world, not just here but everywhere.
BROOKE GLADSTONE: What's the feeling you had in revisiting your 30 years of coverage? What is the lesson that you draw?
ANDREW REVKIN: I've come to see the emergence of global warming as a symptom of a much more profound juncture in human history. We're emerging as a species the just drifted along for most of its existence, mostly at the whims of nature, with fossil fuels. You know, the last 200 years, we went from a billion people to 7.7 billion or so, all seeking middle class lives. There's an emergent aspect of that that makes it different than a problem that you fix. It took time to get into this mess, you know?
BROOKE GLADSTONE: Mm-hmm. [AFFIRMATIVE] Well, the "getting into this mess" has pulled hundreds of millions of people out of poverty.
ANDREW REVKIN: Bingo! That's the paradox. CO2 is essentially, for the moment, a proxy for progress. And the one thing I started writing about in the Times a lot in 2006 was the other disinvestment we have made in R&D. If you really want a post- carbon society that's prosperous for everyone, without the underpinning of basic science, you don't get there from here.
BROOKE GLADSTONE: But you have leadership in Washington that's still calling for the use of coal --
ANDREW REVKIN: Yeah.
BROOKE GLADSTONE: -- which employs so few people and offers no future.
ANDREW REVKIN: Yeah, and a lot of that comes from this sort of cultural/tribal nature of society right now. Last year, Bill McKibbben wrote a piece in the New Republic going for a war on climate change. I've looked back, you know, the war on poverty began in 1964, the war on cancer, Richard Nixon in 1971.
BROOKE GLADSTONE: War on drugs, that one's been really good.
ANDREW REVKIN: Yeah, well -- right. And so, it's fine to call these things wars if you want but global warming is the ultimate example of something that we think is one thing but is so much bigger. And I, I quoted Timothy Morton who's a, sort of a philosopher and a student of language --
BROOKE GLADSTONE: Mm-hmm.
-- at Rice University, and he has this word called hyperobjects."
BROOKE GLADSTONE: Yeah.
ANDREW REVKIN: Hyperobjects is things that you think are one thing and they're another. And he -- in this piece he did in High Country News in 2008, none of which I'd really seen until I was probing at this question of why we get this wrong, he compared it to the scene in Empire Strikes Back were Han Solo flies the Millennium Falcon into what he thinks is a cave on an asteroid to get, get away from the enemy. And --
[CLIP]:
LEIA: I am not a committee!
ANDREW REVKIN: -- there's earthquakes and things that are starting to happen and they -- as they're zooming out of a cave it turns out it's the mouth of a giant worm. [LAUGHS]
HAN SOLO: I see it, I see it.
THREEPIO: We're doomed!.
[END CLIP]
BROOKE GLADSTONE: What is the frame that you think is getting in the way of telling this story the way it should be told?
ANDREW REVKIN: First, you know, it was the idea it was a pollution problem and you do what we did with the other ones. Then it was a political problem, for sure. [LAUGHS] I did a piece when I was at ProPublica where I ran the numbers on whether a Hillary or a Trump presidency would make much of a difference in the long process of global warming, and we're such a small part of the global emissions pie that it really was a tiny differential. If you look at it in terms of this accumulating gas in the atmosphere, we have been, by far, the dominant source of the gas that's built up in the atmosphere, so far. China is coming up quickly.
But when you look forward, nearly all the growth comes from emissions in developing countries, just like I wrote in 1988. There are 750 million people in India living in households that are cooking on wood or dung and dying young and they could use propane.
BROOKE GLADSTONE: Mm-hmm.
ANDREW REVKIN: And for someone to say they shouldn't have that because of a global concern about global warming is utterly unethical, at least from my standpoint.
BROOKE GLADSTONE: Can you summarize the mistakes the media made, that you made, in the coverage?
ANDREW REVKIN: What I regret most is what emerged for me in 2006. So after An Inconvenient Truth came out, Al Gore's movie, and that's when the rhetoric really got hot and the fighting got intense, and an editor said, hey, Andy, why don't you do a piece for a Week in Review on what the hell's going on here, why are we all so angry about this? That was the first time in, at that point, 18 years of journalism on global warming, that I interviewed a sociologist --
BROOKE GLADSTONE: Mm-hmm. [AFFIRMATIVE]
ANDREW REVKIN: -- and a psychologist. That was my real "oh no" moment.
BROOKE GLADSTONE: Why? What did he tell you, or she?
ANDREW REVKIN: I was asking Helen Ingram at UC Irvine what gets people to vote on things, and she said, well, people vote on things that are soon, salient and certain. As she's saying these words, I'm going, oh my God, that's not global warming. And then I started talking to more people in the social and behavioral sciences, Robert Brulle at Drexel and Dan Kahan at the Yale Law School, and he was doing all this work that showed that basic literacy on climate science is not an indicator of your concern about climate change. The reason we get into these boxes when an issue gets polarized, and this is not just climate change, it's vaccines and nuclear power, is because your affiliation with your tribe historically, evolutionarily is more valuable to you than facts. If your part of this landscape is advancing renewable energy and you go into Woodward County, Oklahoma, which Yale identified as the most skeptical county in America on global warming, John Sutter, this really great CNN journalist went to Woodward County, Oklahoma in 2015, and he interviewed a guy who was, like, your class oil patch guy, you know, blue shirt and a tie, and at one point he says, well, you know, God controls the environment.
[CLIP]:
MAN: When he said in Genesis, be good stewards of this land and take care of it, that has value always.
ANDREW REVKIN: And then she says, you know, I've got half my roof covered with solar panels and we want to get off the grid entirely.
MAN: We're gonna try to have a solar system big enough to supply all of the needs of our house.
ANDREW REVKIN: It seems like cognitive dissonance but then you realize the reason he wants to get off the grid is the same reason he would never vote for a, a Democrat. If you think that the barrier to having a conversation with him that will benefit climate policy is his belief on global warming and you, you try to defeat him or something, you're missing that. This cultural cognition work and the other psychological studies show that there's always something you can find in somebody that is in alignment with what you think, as well. The idea that you can change their views by battering them with facts is pretty much fantasy. [LAUGHS]
BROOKE GLADSTONE: I want to get back to uncertainty and salience and short term. We have a commentary from John Chancellor of NBC from the summer of 1988 where he seems to be presenting the issue with all of those things. He did this in the aftermath of James Hansen's Capitol Hill testimony.
[CLIP]:
JOHN CHANCELLOR: Energy which doesn't pollute is expensive but look at this week's cost of a hotter planet, workers walking off the job, farmers going broke, food prices rising, water ration, the Mississippi River closed. In the long run, clean energy is cheaper. What's frustrating is that the humans who are part of the problem also know the solution. It isn't a scientific problem, it's political and financial. And it's also all that boring business about cleaning up pollution. Hard to keep our minds on that in this heat, but if we don't keep our minds on that the heat will only get worse, which is commentary for this evening, Tom.
TOM BROKAW: Thank you, John. There is some good news tonight for people who love to eat chocolate.
[END CLIP]
[LAUGHTER]
ANDREW REVKIN: That's great. I love the transition.
BROOKE GLADSTONE: [LAUHGING] Yeah.
ANDREW REVKIN: Oh my God. There you go. One of the other things I learned from sociologists, I think it was Elke Weber who was at Columbia at the time, she says we all have a finite basket of worry that we walk around with.
BROOKE GLADSTONE: Mm-hmm.
ANDREW REVKIN: It's always the thing about your, your kids or health care, for sure, and the paycheck stuff, and then there's this thing called global warming.
BROOKE GLADSTONE: Mm-hmm. [AFFIRMATIVE][LAUGHING]
ANDREW REVKIN: And then there's chocolate [LAUGHS] and your diet. If you're too climate centric, which, of course, I have been, had been, you can miss those contexts that really do determine more about what we do and don't do. It's, like, can we hold two thoughts in our head at the same time?
One thing I've been writing for a long time, not just in the context of global warming, it started with a really early post on my daughter's blog at the Times, "Are We Stuck With 'Blah, Blah, Blah, … Bang'?" [LAUGHS]
BROOKE GLADSTONE: Translate that.
ANDREW REVKIN: Well, you know, whether it's earthquake risk in Istanbul, which I wrote about, or it's global warming or it's even asteroids, like the one over Siberia a few years ago, you know, where we know it's there, the evidence is clear, we don't -- act.
BROOKE GLADSTONE: You have said before that you are a recovering denialist, which doesn't mean that you're denying global warming. Your denial lies in your, quote, "longstanding presumption, like that of many scientists and journalists, that better communication of information will tend to change people's perceptions, priorities and behavior." You wrote that in 2011 when we were at 391 carbon dioxide parts per million. If better communication doesn't tend to change people's minds and behavior, what are you even doing?
ANDREW REVKIN: Oh, well, all right, I'll break that down. I guess the two things that I began to appreciate that I hadn't fully appreciated are those cognitive and sociological realities and also that the more I spent time in developing countries, and I had been, you know, in the Amazon rain forest in poor households in '89 but really in the -- to the last decade or two when I was in Nairobi where 400,000 people, even in the middle of Nairobi, had hardly any electricity or clean water or when I was in India for ProPublica and looking in at this cooking pollution issue, seeing women having to spend a couple of hours to go down the road to collect sticks just to do the bath water for their family for the evening, not just including the separate fuel collecting they do for cooking, you know, I realized that when so many times I had written or spoken the words "we," "we need to," "we need to" ---
BROOKE GLADSTONE: Mm-hmm.
ANDREW REVKIN: -- I look around the world and realize when it comes to energy there's no "we" if you're in India. That's a primary imperative, and that's why India, they're pushing hard on solar but they're also saying, we're gonna use a lot more coal.
So all of that together has gotten me to think about this a little more [LAUGHS] like, well, you think, well, what are the other big things that we work on that we know we can't solve? And one of them is just basically living a good life. You know, you know you're gonna die. And with global warming, you know now that it's more of a journey than a fixable problem.
BROOKE GLADSTONE: So we're going to die and, ultimately, the Earth will die. And then, to quote Woody Allen's character in Annie Hall, the universe is expanding so why bother doing your homework. [LAUGHS]
ANDREW REVKIN: [LAUGHS] Of course, you pursue things energetically that you think matter and whatever your skill set is, whether you're a student or an entrepreneur or a teacher or an investor or a journalist, you find your place in that, you know, you work on it. When a problem is this big, everyone can play a role but it doesn't fit our standard template for how we move forward in society. It's not like a piece of legislation or a widget. It's a, it's an attitude. And there are these basic needs that really are emerging now for the first time and there's great data journalism happening, you know, imposing transparency, whether it's on deforestation that's illegal, who's building how many power plants, wherever, you know, you know, because they're lying in the 3-D process, you can truth that. And that's why I wake up in the morning not bummed out. You know, I, I think there's tons that can be done. But it, it does get away from this -- frame -- [LAUGHS]
BROOKE GLADSTONE: Yeah.
ANDREW REVKIN: -- a word that I used to hate. We're in the early days of that, and I think it's a wonderful time.
BROOKE GLADSTONE: I think that what happens in the face of deep uncertainty is that people create panel discussions.
ANDREW REVKIN: Sure, yeah.
BROOKE GLADSTONE: I don't know if anything beyond that actually happens.
ANDREW REVKIN: "Blah, Blah, Blah, … Bang"? [LAUGHS]
[BROOKE LAUGHS]
But you can have a conversations like that one in Woodward County, Oklahoma with someone who will never embrace global warming as an existential threat but who loves solar energy.
BROOKE GLADSTONE: Mm-hmm.
ANDREW REVKIN: You can find a way to have that conversation at each level and defeat this polarized politics, find room for agreement that is incremental. It's not the old model of fixing a problem. And it will lead to a world that's profoundly different than the one you and I grew up in, in the 20th century, with Walter Cronkite just saying, that's the way it is.
You know, we don't know where this journey is going to end up but we do know there's plenty to do, and that keeps me going.
BROOKE GLADSTONE: Andy Revkin is now strategic advisor for environmental science journalism at the National Geographic Society. He's also co-author of Weather: An Illustrated History: From Cloud Atlases to Climate Change.
[MUSIC/MUSIC UP & UNDER]
That's it for this week show. On the Media is produced by Alana Casanova-Burgess, Micah Loewinger, Leah Feder, Jon Hanrahan and Yasmeen Khan. We had more help from Meg Harney. And special thanks to Robert Brulle. Our show was edited by me. Our technical director is Jennifer Munson. Our engineer this week was Sam Bair. Katya Rogers is our executive producer. Jim Schachter is WNYC's vice-president for news. On the Media is a production of WNYC Studios. Bob Garfield will be back next week. I'm Brooke Gladstone.
And if you're looking for more On the Media on a regular basis, you can follow us on Facebook where our voracious producers are always posting what they're reading and watching and listening to, and that includes material that shapes the show as the week goes on. And if you're missing us midweek, every Wednesday we have a little extra program for you on a podcast feed. You can follow us on Twitter for commentary and important links throughout the week. You can see photos of our office and of our show mascot, Jessie the Fish, on our Instagram. That's at onthemedia too. And last but not least, go to onthemedia.org/newsletter to sign up for the most delightful thing you could get in your inbox on Thursday morning. It's the unfiltered id of our producers, and it sure is weird.
* [FUNDING CREDITS] *