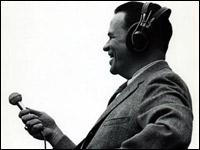 Transcript
BROOKE GLADSTONE: The music you're hearing is a three-person collaboration: First, Jimmy Giuffre, a pioneering clarinetist and bandleader. The second is Reenah Schwartz. It's her high heels you hear echoing in the lobby of a midtown Manhattan office building over 50 years ago. And the third is her husband, Tony Schwartz, who made the recording. This is just one of over 30,000 Tony Schwartz recordings. He was a man obsessed with hearing and preserving sound, until his death in 2008, when we first ran this piece.
That he recorded so much is all the more remarkable, for the constraints under which he did it. Tony Schwartz.
TONY SCHWARTZ: I'm not able to travel far. I have agoraphobia. And in walking, I could just go around my postal zone in the midst of Manhattan, and the postal zone was New York 19 at that time. That was the area I could travel in.
BROOKE GLADSTONE: What he lacked in range, he made up in depth, using a new recording device he built himself in 1945.
TONY SCHWARTZ: I made the first portable tape recorder. I brought the VU meter from inside the case to the top so I could look down at it and see how loud things were. And I put a strap on it so I could have it over my shoulder. I could go record children in the park doing jump-rope rhymes. And I made 14 records for Folkways Records.
BROOKE GLADSTONE: When his recorder was mass produced, he struck a deal with those who bought it: Send me your sounds and I'll send you mine. And they did. And when he wasn't dealing strictly in sound, he used his ear to inform his other vocation, TV advertising, much of it political.

He's best known for the so-called "Daisy Ad" he made for Lyndon Johnson in the 1964 race against Barry Goldwater, that of a young girl pulling off and counting daisy petals, a sound that dissolved into a man counting down to an atomic blast. And that was all just still a small part of Schwartz's extraordinary legacy as a media theorist, author, record producer, Broadway sound designer, advertising exec and folklorist.

In this piece, the Kitchen Sisters, Davia Nelson and Nikki Silva reflect back on Schwartz and a life spent listening.
CHILDREN SINGING:
I won't go to Macy's anymore, more, more.
There's a big fat policeman at the door, door, door.
[SINGING UP AND UNDER]
TONY SCHWARTZ: I was interested in the sound around us.
[SOUND OF WHISTLING/CAR HORNS]
CABDRIVER: Two things that you're not allowed to carry in a taxicab, one is fish, the other is bedding that…
[SOUND UP AND UNDER/SIREN SOUNDING]
TONY SCHWARTZ: I had a wrist mic. I had a brush lapel mic and I would put it on a wristwatch band and I'd pull it out my sleeve. So I would just walk around and record that way, like when I went into the pawnshop. And I did cabdrivers that way. I recorded about 7-, 800 cabdrivers.
CABDRIVER: Do away with your parkin' lots in midtown from 14th Street to 59th Street. No parkin' allowed during in the daytime, only after 6 o'clock.
[CAR HORNS]
There's your - you solve your whole plan.
[SOUNDS UP & UNDER]
TONY SCHWARTZ: I had recorded the songs on jukeboxes in the restaurants or bars that catered to the various groups around my postal zone. What I would do is get people in the restaurant who spoke English to come over and translate it for me.
[WOMAN SINGING/UP AND UNDER]
MAN: The country in which I was born is suffering many, many bad economic things. Even though I – I will feel terrible there, in my country there are always flowers. That is my paradise. I won't change Puerto Rico by 60 New Yorks. I won't [LAUGHS] change Puerto Rican chickens by frozen chickens in the iceboxes here.
MAX NICHOLS: This is Max Nichols of Pietermaritzburg, Natal, South Africa, calling Tony Schwartz of New York, USA.
[MUSIC, WHISTLING UP AND UNDER]
WOMAN: Hello Tony Schwartz. I'm bringing you greetings from Pittsburgh, Pennsylvania.
MAN: This is a Greek folksong from Island of Crete.
THOMAS KNOTT: Hello, Tony. My name is Thomas Knott, and I come from Killarney, County Kerry, Ireland.
TONY SCHWARTZ: When I got my first wire recorder, I asked the company if they would give me the guarantee slips from people from all over the world and all over this country –
[WOMAN SINGING/UP & UNDER]
- who bought the recorders, who said they were buying them because of their interest in music. And I would exchange wires with people in other countries who were interested in folk music, and they would send me material from their countries.
[GUITAR PLAYING/UP & UNDER]
TONY SCHWARTZ: My name is Tony Schwartz. The music you'll hear is a Peruvian Indian playing his guitar on a quiet summer evening. This is 1 of 15,000 recordings I've collected, recordings of folk music and folklore, recordings I've exchanged with people all over the world.
[GUITAR PLAYING/UP & UNDER]
MAN: Hello Tony, I received your letter here the other day. Well, I'm gonna send you a wire on all of this stuff that I generally do, you know, singin' the cowboy stuff. I don't know if you fellas in New York City appreciate this kind of music but we folks around here do, this hillbilly stuff.
[VOICE UP AND UNDER]
TONY SCHWARTZ: That's how it started. Recordings came in from all parts of the United States, from all parts of the world, recordings on wire, recordings on tape. One of my exchanges was with a man who wanted sounds he no longer heard.
MAN: Tony, I wonder if you'd do me a favor. I live out in the country, and originally I came from the city, and I kind of miss it. And I was wondering if you would record some sounds of the city and send them out to me. I - I'd really like to hear it. How about it?
TONY SCHWARTZ: Part of my answer was recorded in Times Square
[CITY STREET HUBBUB]
A week later, I found this in my mailbox.
[CITY SOUNDS/UP & UNDER]
MAN: [LAUGHS] Tony, I received your sounds of the city this morning, and [LAUGHING] I've been playing them ever since.
[TRAFFIC NOISE/CAR HORNS]
I noticed that you said that you recorded them about 8:30 at night. To sort of reciprocate, here's the sounds of my country, 8:30 at night.
TONY SCHWARTZ: The voices and music of the world came into my apartment in New York City, and I traveled no further than my mailbox.
[SOUND OF AUCTIONEER/UP & UNDER]
In people talking, there's an innate musicality in, in the way certain people speak, and also in the barkers at nightclubs or various places. The sound of selling used to be the people, vendors going by on the street or people singing in the backyard or shouting in the backyard. Now, it's over the radio or television.
[SELLING SOUNDS UP AND UNDER]
I did a whole record on the sound of selling.
[SOUND OF STREET VENDOR]
A vegetable men shouting, "Apples, apples" on the street, or that horse and wagon selling vegetables.
WOMAN SINGING: My mule is white. My charcoal is black. I sells my charcoal, two bits a sack…
[SINGING UP AND UNDER]
TONY SCHWARTZ: There were men who would go around buying old clothes, and they'd yell, "I cash clothes, I cash clothes!"
WOMAN SINGING: Charcoal, charcoal.
TONY SCHWARTZ: I did a radio program on sound once a week, on WNYC for over 35 years.
[SOUNDS/UP & UNDER]
I would do it on any subject that came up to me during the week.
[COLLAGE OF SOUNDS/SINGING, TALKING]
How did I come to these ideas? Just from [LAUGHS] being human and working with sound and knowing how sound affected me and affected other people.
[SOUND OF TOY TRUMPET]
CHILD: Here lies Tony Cherny, once a pet turtle of Sal Cherny, died February 24, 1964.
TONY SCHWARTZ: Who died?
CHILD: My turtle, Tony. He got a sore shell, and we tried to save him by giving him hamburger, but he died. And we're gonna bury him.
TONY SCHWARTZ: How do you feel about it?
CHILD: Not too well. It's sort of a tragedy for me. I'm gonna play Taps, and the flag is because I like him, just like the President of the United States when he died, except the - but he is like in my family.
TONY SCHWARTZ: Okay.
CHILD: Okay. Give me the turtle. [PAUSE] Bye.
WOMAN SINGING: Come to me, my melancholy baby. Cuddle up and don't be blue.
[BOTH AT ONCE/CHILD SINGING ALONG]
CHILD: Can, can a baby feel blue?
WOMAN: Anybody can feel blue. [SINGING] All your fears are foolish fancy, maybe.
TONY SCHWARTZ: Well, I was born at the beginning of Time.
HARRY BELAFONTE SINGING: Day-o! Day-o!
TONY SCHWARTZ: Time Magazine started the year I was born.
HARRY BELAFONTE SINGING: Daylight come and me wan' go home. Day – is a day –
[SINGING UP & UNDER]

TONY SCHWARTZ: Harry Belafonte was a bop singer when I met him. I got him into the Jamaican songs.
[HARRY BELAFONTE SINGING UP AND UNDER]
WOMAN: This is another working song. It is The Banana Loading Song. [SINGS] Day-o, day-o.
GROUP OF WOMEN SINGING: Daylight come, me wan' go home.
[WOMEN SINGING/UP & UNDER]
TONY SCHWARTZ: I met a woman who was a cashier at Macy's, and her name was Louise Bennett. And she knew all the Jamaican folklore. And I played those songs to Harry Belafonte.
[BANANA BOAT SONG/UP & UNDER]
I got from a nightclub in Africa songs like Wimoweh. Remember that?
[PAUL ROBESON SINGING SLEEP MY CHILD IN GERMAN]
TONY SCHWARTZ [ON AIR]: Good morning. Today I'd like to play two beautiful songs, sung by Paul Robeson.
TONY SCHWARTZ: I think he was one of the great singers of our time. And in the McCarthy era, Robeson couldn't travel because they called him a Communist, which is ridiculous. He wasn't a Communist. He just believed in [LAUGHS] internationalism.
The ridiculousness of this McCarthy era - you know, he started the whole thing of loyalty oaths. Most people think of evil as the sounds of gunfire or thunder or lightning, or something.
[CLIP]:
INTERROGATOR: And did you, as a witness, did you conduct yourself like -
[COMMITTEE TESTIMONY/UP & UNDER]
TONY SCHWARTZ: I found and believe that the most evil sounds in the world are the sounds out of mouths of people.
INTERROGATOR: -concluded, and unanimously so…
[WOMAN SINGING SPIRITUAL/UP & UNDER]:
TONY SCHWARTZ: I've used media to shame people into proper behavior. In primitive cultures, if someone did something shameful and word of mouth got around the village in an hour or so, in our culture the same thing exists, but if you divide the distance of our country into the speed of sound, you'd find that it would take 1/64th of a second to reach across the country by telephone, radio, television or anything like that.
[MUSIC UP AND UNDER]
My brother built a one-tube radio which never worked, and I used to go up in the attic and play a spaceship like Jack Armstrong. I was also interested in physics, and the physics teacher was interested in amateur radio. And I first built my own receivers and huge 20-meter antennas, and I built my own little shack where I had a 16 x 16, and I had my radio station in the front, my bed in the back. And I ran a telephone line up to the house so my mother could call me in for [LAUGHS] supper. I made up short-wave listener cards. I'd speak to them on the radio, and then I would tell them how they're coming in.
I think the most important thing we can work on in communication is to make the world safer for the people who live in it. People, that's what I was most interested in, people and their, their life and what they do.
[MUSIC/MUSIC UP AND UNDER]
BROOKE GLADSTONE: This reflection on Tony Schwartz was produced by Davia Nelson and Nikki Silva, the Kitchen Sisters.
[SOUNDS UP & UNDER]
BOB GARFIELD: That's it for this week's show. On the Media was produced by Jamie York, Alex Goldman, PJ Vogt, Sarah Abdurrahman and Chris Neary, with more help from Amy DiPierro and Eliza Novick-Smith, and edited - by Brooke. Our technical director is Jennifer Munson. Our engineer this week was Andrew Dunne.
BROOKE GLADSTONE: Katya Rogers is our senor producer. Ellen Horne is WNYC's senior director of National Programs. Bassist composer Ben Allison wrote our theme. You can listen to the program and find transcripts in onthemedia.org. You can find us on Facebook or follow us on Twitter, and you can email us at onthemedia@wnyc.org. On the Media is produced by WNYC and distributed by NPR. I'm Brooke Gladstone.
BOB GARFIELD: And I'm Bob Garfield. Hey Brooke, what's this sound? [SCRATCHING SOUNDS]
BROOKE GLADSTONE: Are you - striking a match?
BOB GARFIELD: Lighter, lit my cigar.
BROOKE GLADSTONE: [LAUGHS] Okay?
BOB GARFIELD: What's this one?
[PAPER RIPPING SOUNDS]
BROOKE GLADSTONE: You're tearing paper.
BOB GARFIELD: Exactly. How about this? [PAUSE]
BROOKE GLADSTONE: You've - just fallen asleep?
[THEME MUSIC/UP AND UNDER]
BOB GARFIELD: Nope. That's the sound between "Edited by" and "Brooke." [LAUGHS]
BROOKE GLADSTONE: Bye, Bob.
BOB GARFIELD: Bye, Brooke.