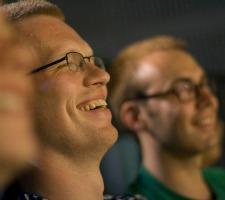 Transcript
BOB GARFIELD:
There was the old way to shoot a sitcom and then there's the modern way. The old way was with multiple cameras shooting from fixed angles, usually before a live studio audience, an audience whose reaction was heavily augmented by a laugh track to signal to viewers at home where the hilarity was located.
Other shows, notably Hogan's Heroes, were with no audience and 100 percent canned laughter. The modern technique is the one-camera shoot, a la Modern Family, with no live audience and no laugh track. Viewers, like a movie audience, have to locate and react to the jokes all by themselves.
The unadorned one-camera technique is becoming so common, in fact, that it would be tempting to prepare an obituary for the laugh track. But Joe Adalian, who writes about Hollywood for New York Magazine, says, not so fast. Joe, welcome to On The Media.
JOE ADALIAN:
Thank you, sir.
BOB GARFIELD:
Who does a sitcom these days without electronic enhancement?
JOE ADALIAN:
Most really big sitcoms these days come without laugh tracks, unless they're on CBS. CBS has remained the stalwart for traditional shows. But even those shows, by the way, are not, according to the creators, electronically augmented. Most of the comedies on CBS have a studio audience in them: Two and a Half Men, Two Broke Girls, The Big Bang Theory. Their creators all insist, we don't do anything, we don't sweeten it, etc.
The only show on CBS that actually cops to using a laugh track, believe it or not, is How I Met Your Mother. Even though it's shot in a single-camera style, laughs are added in after the fact, which is pretty amazing because if you listen to How I Met Your Mother, it's actually a very subtle laugh track.
[CLIP]:
GIRL:
And what made you decide you wanted to become an architect?
TED MOSBY:
Well, you know, soul of an artist, hands of a master craftsman.
[LAUGHTER]
It was inevitable, I guess.
[END CLIP]
BOB GARFIELD:
The laughs on How I Met Your Mother are probably a lot more mellow than the ones you might get on Two and a Half Men.
[CLIP]:
JON CRYER AS ALAN HARPER:
Eighty million dollars.
[LAUGHTER]
ASHTON KUTCHER AS WALDEN SCHMIDT:
Eh, give or take. Mostly took.
[LAUGHTER]
JON CRYER:
And, and you consider losing that kind of money and — and oops?
ASHTON KUTCHER:
Yeah.
JON CRYER:
No, no, no, oops is when you clip your toenails too close and they bleed.
[LAUGHTER]
Oops is when you mistake toothpaste for lubricant.
[LAUGHTER]
Oops is when thought a fart in the elevator was gonna be silent.
[LAUGHTER]
[END CLIP]
BOB GARFIELD:
In your piece, you talk about how the laugh audio can be manipulated without actually being faked altogether, sort of accentuate reality without, strictly speaking, changing it.
JOE ADALIAN:
We wonder when you have creators saying we don't manipulate the laughs, and yet to our ears at least they sound fake, what could be going on? And some sound engineers say that well yes, you can just use the audio track that's supplied by the audience. But depending upon how it's laid in, depending upon where you position the microphone, what levels capture, for example, the actors onstage versus the audience in the studio, all that can make the sound of laughter seem louder than it naturally is.
Whether or not these shows do it, or not, you know, only their hairdressers know for sure. And there is this sense of quiet shame about this. Nobody really wants to talk about it because, of course, it implies that the show's not funny.
BOB GARFIELD:
But there are certainly shows that are indisputably fully natural, right?
JOE ADALIAN:
You can talk to the people who work in sound in Hollywood and they will tell you about different audiences for shows, and going back to say, for example, Married With Children in the '80s, that show used to get loyal audiences coming in every week for the tapings. Oftentimes a bunch of Marines would come by [LAUGHS] with entire platoons; those people genuinely laughed at everything Al Bundy said, did.
[CLIP]
ED O'NEILL AS AL BUNDY:
Now look here, Miranda —
[LAUGHTER/CHEERS]
- if you really want some, some film at 11, why don't you follow me down to the brewery. I'll tie a bowling ball on my ankle, dive in the vat of beer. I'll leave this world the same way I entered my marriage, dead drunk!
[LAUGHTER/CHEERS]
[END CLIP]
JOE ADALIAN:
There was no reason to electronically supplement them or make them bigger 'cause the were huge. And I bet the same is true with Two and a Half Men.
BOB GARFIELD:
So where did these laugh tracks come from? There's always been studio audiences to have available. Have they not always been a part of sitcom production?
JOE ADALIAN:
Yes and no. Early TV shows were, of course, filmed in front of studio audiences, with actual people actually laughing. But the people who did the shows started realizing that because they sometimes would have two and three and four takes of a scene, the laughs for number two and three and four weren't perhaps as robust. And sometimes, because this was older technology, not the digital wonders that we have today, maybe the microphone wouldn't pick up a laugh the way that the producer wanted. Or there could be something that went wrong in the editing.
A man named Charlie Douglas saw an opportunity there, and he basically created a machine able to record on loop tape different sounds of laughter from live studio audiences.
[CLIP]:
LUCILLE BALL:
Are you tired or rundown or listless?
[LAUGHTER]
Do you pop out at parties?
[LAUGHTER]
Are you unpoopular?
[LAUGHTER]
[END CLIP]
JOE ADALIAN:
One of the earliest laughs he recorded was Lucille Ball's mother actually laughing [LAUGHS] and, and making a - an outloud comment at one of her daughter's shows. Soon producers all over Hollywood realized there was this guy who could make your laughs sound much, much better.
And so, as with anything in Hollywood, what started as a natural idea with a very pure motive of making sure everything was even and level and consistent, started getting abused a little bit, and suddenly people thought, well, maybe the show's not that funny but, you know, Mr. Laugh Man will like it.
BOB GARFIELD:
In the meantime, studio audiences and laugh box supplements kind of coexisted, until at some point, at maybe the nadir of sitcom culture and maybe the nadir of human culture, Gilligan's Island [LAUGHS] came along and other shows that were entirely the creation of laugh-boxing, huh?
JOE ADALIAN:
What basically happened was studios also started experimenting with single-camera shows. They ditched the studio audience altogether. They tried to make shows look a little bit different, involve more outdoor scenes and different production techniques. And suddenly you didn't have a studio audience showing up to watch The Brady Bunch or Gilligan's Island.
[CLIP]:
ACTOR:
I want you to go outside and I don't want you to come back in until you've counted ten.
BOB DENVER AS GILLIGAN:
But it's dark out there. Can I count to ten by fives?
[LAUGHTER]
ACTOR:
No, Gilligan.
[LAUGHTER]
BOB DENVER:
Fours?
[LAUGHTER]
ACTOR:
No, by ones. One, two, three, four, five, six, seven, eight, nine, ten!
BOB DENVER:
I can count faster than that. [SLURS] One, two, three, five — seven, ten.
[LAUGHTER]
ACTOR:
Gilligan, outside.
[LAUGHTER]
[END CLIP]
JOE ADALIAN:
It was simply at the whim of say, a Sherwood Schwartz to simply add the laughs as often as he wanted to, and that's why, in fact, they sounded so incredibly artificial. What also happened was Mr. Douglas didn't, at least in the early days, do a good job updating his laughs. In the late 1960s, watching Gilligan's Island, you might be hearing an audience from the '50s laughing at the day's jokes.
[BOB LAUGHING]
Some people who had good ears could actually pick up, wait a second, I know that lady's laugh. And the joke became, as laugh technicians will tell you today, that there were probably a few dead people laughing at jokes in some of the shows in the '60s and '70s.
BOB GARFIELD:
Now we're talking about Gilligan's Island which was on a set that went beyond the routine sitcom interior. Another show that did that was MASH, which it surprised me to learn also was laugh-tracked, against the creator's wishes, as it turns out.
JOE ADALIAN:
Especially in the '70s, a lot of network types simply thought that if you didn't have the sound of people laughing, nobody would laugh.
And even a Larry Gelbart thought well, what about movies? Network people didn't care, and they insisted on it. And it is a shame because sometimes you watch those episodes of MASH and think, why do I have to hear these annoying laughs.
[CLIP]
ALAN ALDA AS HAWKEYE:
I'll carry your books, I'll carry a torch, I'll carry a tune, I'll carry on, carry over, carry forward, Cary Grant –
[LAUGHTER]
- cash-and-carry, carry me back to Old Virginny. I'll even hari-kari if you show me how, but I will not carry a gun.
LARRY LINVILLE AS FRANK BURNS:
That was totally uncalled for.
[LAUGHTER]
[END CLIP]
BOB GARFIELD:
Notwithstanding what I'm sure were titanic battles between Larry Gelbart and CBS over the question of whether to laugh-track MASH, and other arguments in control rooms about whether to ride the laugh track higher or lower and so forth, the assumption always was that it - worked.
But what if they actually don't matter, that it's not just me but the fact that these modern shows don't use them is evidence that we never really paid much attention to the fake laughter, to begin with?
JOE ADALIAN:
What it can do is it changes the feel of a show. A show like Two Broke Girls, for example, which is very big and broad and theatrical, it plays off having a studio audience there. The actors are actually living off of the reaction they get from that audience to their laughs. They are punching it up, they're making it bigger.
[CLIP]
BETH BEHRS AS CAROLINE CHANNING:
Oh, my God, you've been robbed.
[LAUGHTER]
KAT DENNINGS AS MAX BLACK:
This is how it always looks.
BETH BEHRS:
Oh my God, totally cute.
[LAUGHTER]
[END CLIP]
JOE ADALIAN:
And that works and creates a different kind of show, as opposed to Modern Family which its creator Steve Levitan, who has sort of worked with both kinds of shows, says he loves single-camera for the exact opposite reason. His actors are not trying to milk every last laugh out of a line. They can allow a joke to sort of sit there and marinate and roll over you and sort of subtly get you, and it creates a different kind of feeling.
So I guess it's maybe the difference between to an Adam Sandler movie and a Woody Allen movie. I think, in the end, I think there's room for both.
BOB GARFIELD:
Joe, thank you very much.
JOE ADALIAN:
Thank you.
BOB GARFIELD:
Joe Adalian wrote about laugh tracks for New York Magazine.