Space Madness, Real and Imagined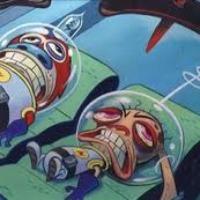 Transcript
BROOKE GLADSTONE:
And now we offer this annihilation of a time-honored canard:
[CLIP FROM COMMUNITY]:
TROY:
Pierce has got Space Madness or he's just old or something, an' they're lockin' him up in the back.
[STAR TREK CLIP]
SCOTT:
This is her first deep space trip, and you know how that affects people.
[ARMAGGEDON CLIP]:
HARRY STAMPER [TO ROCKHOUND]:
Have you lost your mind?
COLONEL WILLIAM SHARP:
He's got space dementia.
[CLIP FROM REN & STIMPY]:
STIMPY:
He's got the space madness!
[END CLIPS]
BROOKE GLADSTONE:
In 1959 manned space travel was still the stuff of science fiction, freighted with unanswered questions, both technical and psychological. The American Journal of Psychiatry noted that one might expect strong intimations of psychopathology among those who elect to be fired into space.
NASA wasn't so sure, but pop culture had already made up its mind; only crazy people would volunteer, and the trials of space would make them only crazier, which came to be known as space madness. Matthew H. Hersch has written about space madness, real and imagined. Matthew, welcome to the show.
MATTHEW H. HERSCH:
Thank you. It's a pleasure to be here.
BROOKE GLADSTONE:
So take us back to the fifties, as the Space Program was developing.
MATTHEW H. HERSCH:
There were tremendous concerns that possibly no human at all would be able to withstand travel into space. The physical environment would be extremely austere, there would be weightlessness, radiation and a variety of emotional terrors.
BROOKE GLADSTONE:
Like what?
MATTHEW H. HERSCH:
Things as simple as loneliness, isolation and the deprivation of cigarettes or Coca-Cola even were considered to be so jarring for the average pilot that one had to wonder whether or not they could even survive. There was even some talk of sedating the first astronauts.
And by the mid 1950s, the United States Air Force was engaged in a program to try to identify which particular individuals had the combination of skills and physical and emotional fortitude to survive travel into space.
BROOKE GLADSTONE:
Now, at the same time that all of this analysis was going on, a film in 1955 called Conquest of Space imagined the impact of a trip to Mars.
GENERAL SAMUEL T. MERRITT:
Here's the report. Lost course for several days due to near-collision with asteroid, but we can still reach destination as planned, which may be Mars - or hell. This voyage is a cursed abomination!... We're committing man's greatest sacrilege.
CAPTAIN BARNEY MERRITT: [?]
The general isn't well, fatigue.
[END OF CLIP]
MATTHEW H. HERSCH:
Very common in that period was the idea that the mere act of traveling into the heavens, literally, would provoke crises of faith among the people who attempted it and that the result of this blasphemy would be tremendous guilt or some kind of religious mania that might manifest itself in homicide, even, as depicted in the film.
Among the proponents of space flight, it was actually hoped that the space age would actually be a religious experience that would reconfigure humanity's relationship with the divine, although leading space pioneer Wernher Von Braun did receive letters from children who were afraid that the rockets that he was sending into space in the 1950s would actually strike angels on the way up.
And he made it abundantly clear that he saw no chance that this would actually happen.
BROOKE GLADSTONE:
And he would know, since he struck lots of innocent children with his rockets in the 1940s.
MATTHEW H. HERSCH:
Indeed.
BROOKE GLADSTONE:
When and how do you think the actual image of the astronaut began to diverge from the image in the popular imagination?
MATTHEW H. HERSCH:
Almost immediately, as it turns out. When the first NASA astronauts were introduced to the American public in 1959, the astronauts made it clear that they thought of themselves as engineers who had been assigned by NASA to do a job, one that was very much like other jobs they had done as professional test pilots.
Yet, the press reports about the men spoke of their simpleness, their homespun wisdom, described them, in effect, as Victorian gentlemen coming from another time who America could be proud of.
Reporters who questioned the astronauts insisted that the astronauts must be deeply religious men, that that must provide them with a source of courage. And the astronauts labored to say that they would have faith in their skills and the skills of the people that worked around them.
BROOKE GLADSTONE:
So there was the reality of the pilot, and then there was the NASA image-generating machine. And then on top of it, there was the Hollywood version, which basically used space travel as a metaphor?
MATTHEW H. HERSCH:
Exactly. Hollywood's image of the astronaut, at least in the early years of the program, was definitely as a kind of soldier or cold warrior who would endure tremendous stress, who did not expect to come back alive and who would effectively fight for the nation in the heavens.
BROOKE GLADSTONE:
And this brings us to the second part of this space madness phenomenon. The first involves who would go on the mission, and how crazy are they. And the second, how crazy are they after they experience those stresses.
MATTHEW H. HERSCH:
A fascinating and perplexing film from 1980, The Ninth Configuration, builds up a moment in an earlier film about an astronaut who after one mission finds himself confronted with the possibility that he might die in space on his next mission, not merely that he will perish in space but that dying far from earth and far from home will mean that he will die far from God.
[CLIP]:
CAPTAIN CUTSHAW:
See the stars, so cold, so far, and so very lonely…. All that space, just empty space.
[END CLIP]
BROOKE GLADSTONE:
That's one view. One of the films that I think most shaped at least the current generation's notions of what an astronaut is supposed to be is The Right Stuff, based on
Tom Wolfe's novel.
MATTHEW H. HERSCH:
I love the film of The Right Stuff, which came out in 1983, as well as the book on which it's based. And it is probably most responsible for the popular conception of what an astronaut is, as cowboy figures who ride horses in the desert, who are gruff, plain-spoken, if not profane, but do their jobs extremely well.
Tom Wolfe did some wonderful work, but among the astronauts themselves, there's a sense that he portrays the astronauts as being perhaps more reckless, perhaps more rugged than they actually were.
[CLIP]:
RECRUITER:
It's so hazardous that if you decide not to volunteer, it will not be held against you in any way.
ALAN SHEPARD:
Sounds dangerous.
RECRUITER:
It is.
RECRUITER:
It's very dangerous.
RECRUITER:
Very!
ALAN SHEPARD:
Count me in.
[END CLIP]
MATTHEW H. HERSCH:
You would not survive very long if you were reckless or a cowboy. In fact, in order to become an astronaut in this period you had to have a sterling service record and be excellent with people.
BROOKE GLADSTONE:
You suggest that really, audiences don't like to see their astronauts becoming unglued.
MATTHEW H. HERSCH:
I think this is definitely the case. In fact, probably the most popular example of the insane astronaut trope, David Bowie's song Space Oddity, about the adventures of Major Tom, was not a big success when it was released in 1969. It took on another six years for it to become popular.
None of the Hollywood films or television shows about insane astronauts was a huge success. Instead, it just appears to be a fascination of screen writers and intellectuals, who were fascinated by the concept of the transformation of the human consciousness in space, even though there is no evidence that there's ever been a psychotic break or other instance of tremendous emotional disturbance by an astronaut, cosmonaut or taikonaut in the past 50 years of human space flight.
BROOKE GLADSTONE:
What's a taikonaut?
MATTHEW H. HERSCH:
That is a Chinese astronaut.
BROOKE GLADSTONE:
[LAUGHS] Okay. And how about psychic breaks after you've returned to earth? We had the astronaut who went to pursue a boyfriend and wore diapers so she wouldn't have to get out of the car. Here's Stephen Colbert.
[CLIP]:
STEPHEN COLBERT:
Press, lay off Lisa Nowak, at least on this diaper business. The rest of it I call:
space madness!
[END CLIP]
MATTHEW H. HERSCH:
Well, it's certainly true that there have been a number of instances in which people formerly employed as astronauts have experienced emotional difficulties post- flight.
I think you would probably find the same kinds of situations among any extremely driven, success-oriented population that had suddenly been forced to stop doing its job.
BROOKE GLADSTONE:
Mm-hmm [AFFIRMATIVE].
MATTHEW H. HERSCH:
The most noteworthy case, of course, is Buzz Aldrin, the second man to walk on the - on the moon, experiencing alcoholism and a brief hospitalization following his return. While he speculated that travel into space may have exacerbated his condition, other astronauts wondered whether this individual, who was very driven, finally succumbed to the pressures of round-the-clock training and the submergence of their personal lives and their other hopes and dreams.
BROOKE GLADSTONE:
So even as the nature of space travel changes, will our image of space travel, what it might do to our brains, change accordingly?
MATTHEW H. HERSCH:
With every new generation of Americans, the vision of space travel has always changed to suit their particular preoccupations and concerns. I find it interesting though that in every era certain tropes manage to remain the same. And one of them is space madness.
[BROOKE LAUGHS]
We as a species cannot get over the idea that traveling into space, leaving our home planet cannot do anything but upset us.
[BROOKE LAUGHS/MUSIC]
And that is a notion that we've carried with us for the last 50 years.
BROOKE GLADSTONE:
Matthew, thank you very much.
MATTHEW H. HERSCH:
Thank you.
BROOKE GLADSTONE:
Matthew Hersch is a professor in the department of history and sociology of science at the University of Pennsylvania.
DAVID BOWIE SINGING SPACE ODDITY:
This is Ground Control to Major Tom
You've really made the grade
And the papers want to know whose shirts you wear…
[MUSIC UP AND UNDER]
BOB GARFIELD:
That's it for this week's show. On the Media
was produced by Jamie York, Alex Goldman, PJ
Vogt, Sarah Abdurrahman and Chris Neary, with more help from Liyna Anwar, Hannah Sheehan and Doug Anderson, who leaves this week with our best wishes for the future and our extreme gratitude for a job very well done.
The show was edited – by Brooke. Our technical director is Jennifer Munson. Our engineer this week was Rob Grannis.
BROOKE GLADSTONE:
Katya Rogers is our senior producer.
Ellen Horne is WNYC's senior director of National Programs. Bassist composer Ben Allison wrote our theme. On the Media is produced by WNYC and distributed by NPR. I'm Brooke Gladstone.
BOB GARFIELD:
And I'm Bob Garfield.
[FUNDING CREDITS]