How Katrina Changed Crisis Reporting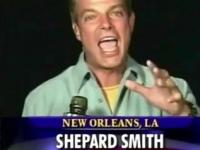 Transcript
BROOKE GLADSTONE: When Hurricane Katrina burst through New Orleans' flawed levee system and flooded the city, suppliers and rescuers were slow in coming. Casualties mounted and survivors suffered, most visibly at the New Orleans-appointed shelter, the Superdome. But the media were quick on the scene. Two days after landing on the Gulf Coast, CNN's Anderson Cooper spoke with Louisiana Senator Mary Landrieu.

ANDERSON COOPER: Excuse me, Senator, I'm sorry for interrupting. I haven't heard that, because for the last four days I've been seeing dead bodies in the streets here in Mississippi. And to listen to politicians thanking each other and complimenting each other, you know, I've got to tell you, there are a lot of people here who are very upset and very angry and very frustrated. And when they hear politicians slap – you know, thanking one another, it just, you know, it kind of cuts them the wrong way right now, because literally there was a body on the streets of this town yesterday being eaten by rats, because this woman had been laying in the street for 48 hours. And there's not enough facilities to take her up. Do you get the anger that is out here?

BROOKE GLADSTONE: As 24-hour cable news covered the story, Cooper's frustration and sadness and anger spread to other broadcasters used to projecting cool resolve even when delivering the worst of news. But this time it was different, and while it may have been uncharacteristic, it was also undeniably cathartic. The people on the screen vented our mounting anger, attempting to cut through politicians' spin, imploring them to do something. On the sixth day of New Orleans' flooding, FOX's Shepard Smith reacted in a way reminiscent of what was once cinema's satirical extreme – Network's Howard Beale.

SHEPARD SMITH: Over there, there's hope. Over there, there's electricity. Over there, there's food and water. But you cannot go from there to there [OVERTALK] –

SEAN HANNNITY: All right, Shep –

SHEPARD SMITH: I think the government will not allow you to do it.

SEAN HANNITY: I want –

SHEPARD SMITH: It's a fact.

SEAN HANNITY: I want to get some perspective here, because earlier today the images –

SHEPARD SMITH: That is perspective!

SEAN HANNITY: Hang on a second.

SHEPARD SMITH: That is all the perspective you need!

[CLIP FROM NETWORK]

PETER FINCH AS HOWARD BEALE: - depression and the inflation and the Russians and the crime in the street. All I know is that first you've got to get mad! You've got to say, I'm a human being, God damn it! My life has value!

[END CLIP]

BROOKE GLADSTONE: Five years later, the impact of Katrina and Katrina reporting is still reverberating. Think of the coverage of Haiti. Did Katrina mark a transformation in TV news? Missouri State Assistant Professor of Journalism Andrew Cline joins us. Andrew, welcome to the show.

ANDREW CLINE: Thank you.

BROOKE GLADSTONE: So we had this premise that Shepard Smith's emotional outburst during Katrina signaled some kind of ripening of a new kind of advocacy journalism, a kind of emotional advocacy for audience members. And you were a little skeptical, so you went back and you listened to Edward R. Murrow reporting from the blitz and from Buchenwald.

ANDREW CLINE: Well, I was working on just, you know, memory because, you know, it had been a long time since I heard it. And I went back and listened, and I was a little surprised to see, well, no, he wasn't too terribly emotional. It was a little melodramatic, in the way they were at that time.

[CLIP]:

EDWARD R. MURROW: In another part of the camp, they showed me the children – hundreds of them. Some were only six. One rolled up his sleeve, showed me his number. It was tattooed on his arm. B-6030 it was. The others showed me their numbers. They will carry them till they die.

[END CLIP]

ANDREW CLINE: But what he was, was very pointed and very clear.

[CLIP]:

EDWARD R. MURROW: I should think in a few minutes there may be a bit of shrapnel around here. Coming in, moving a little closer all the while - just overhead now the burst of the antiaircraft fire. Now you'll hear two bursts a little nearer in a moment.

[BURSTS OF FIRE] There they are.

[END CLIP]

ANDREW CLINE: Basing it on really good reporting and observation but no overt emotionalism.

BROOKE GLADSTONE: So why did you remember it emotionally?

ANDREW CLINE: Well, those are emotional things. I mean, you know, if you're on a rooftop and you're being bombed or that you are among the first to enter the gates at Buchenwald and seeing the horrors there, any human being is going to be moved to emotion that maybe they can't contain.

BROOKE GLADSTONE: This, of course, was radio, which was the -

ANDREW CLINE: Yes.

BROOKE GLADSTONE: - most immediate communication of the day, but was eclipsed soon after by TV. So you also reviewed some particularly poignant moments of early TV coverage, such as Walter Cronkite at the -

ANDREW CLINE: Mm-hmm.

BROOKE GLADSTONE: - Tet Offensive or live reporting about the Kennedy assassination.

ANDREW CLINE: The only way you can really tell that he's a bit freaked out is that he starts fidgeting with his glasses. He takes them off, he puts them on, he takes them off, he puts them on. And then when he finally makes the announcement, he has a moment in which he chokes up.

[CLIP]:

WALTER CRONKITE: From Dallas, Texas, the flash, apparently official, President Kennedy died at 1 p.m. Central Standard Time, 2 o'clock Eastern Standard Time, some 38 minutes ago. [PAUSE] Vice President Lyndon Johnson [CLEARS THROAT] has left the hospital -

[END CLIP]

ANDREW CLINE: And then as soon as that moment fades, he is back to being Walter Cronkite again. And then the other piece that I looked at was one that I vaguely remember seeing at the time, which was his reporting from Vietnam following the Tet Offensive. And this is the moment in which we popularly think that the American mood turned against Vietnam. And what I saw was Walter Cronkite dressed in a khaki jumpsuit, standing there just kind of droning on about the Tet Offensive. But what made it powerful wasn't any emotion he was showing. It was very pointed descriptions of what he had seen, with no sugarcoating.

BROOKE GLADSTONE: Okay, so then did you come around to our premise that something changed and it's most clearly exemplified by the coverage from Katrina?

ANDREW CLINE: As our use of TV became a 24-hour beast that we had to fill, I think there was just a natural progression towards emotionalism because television wants two things. It wants visuals, but it also wants emotion. And so I'm not so sure what we saw from Smith and Cooper was something new, but Katrina offered them a moment to complete a historical arc that we were heading towards anyway.

BROOKE GLADSTONE: The arc being what?

ANDREW CLINE: From a time when a middle-aged gray-haired man wearing a khaki one-piece jumpsuit can be standing in the middle of a warzone and America thinks of him as the most trusted man in America and that that report is powerful and interesting and compelling, to a point where to be powerful and interesting and compelling, Anderson Cooper has to lose his cool and yell at a politician; Shepard Smith has to have an emotional breakdown.

BROOKE GLADSTONE: So if Katrina did something that was inevitable, it also did something that audiences hadn't seen before, which was show ostensibly levelheaded reporters suddenly becoming unglued. They became victim surrogates, and as anger mounted at the lack of federal response, they became audience surrogates. What's gained and what's lost when reporting changes like that?

ANDREW CLINE: Well, I wanted to kind of condemn it. But if you're going to do television well, you've got to feed the beast what it wants. And you take that and add in a disaster like Katrina, and I think you have the makings of a liberating moment for television journalism; in other words, a moment where we can say, okay, you know what, this is pissing me off. And it's pissing me off not necessarily because I'm a journalist. It's pissing me off because I'm a human being. I am a citizen of, you know, the richest, most powerful country in the world. Where is my country? And while on one hand that seems inappropriate for a journalist to be thinking, they're there on the ground. They're seeing the pain.

BROOKE GLADSTONE: Well, here's the thing. They've always been there on the ground, and television has been there a very long time.

ANDREW CLINE: Mm-hmm.

BROOKE GLADSTONE: What I see here is a very full expression of what many media watchers have noted for a long time, which is that the voices from on high, the Walter Cronkites and the Eric Sevareids of the world have given way to a more level playing field. So now the reporters aren't instructing us. In these situations they appear to be representing us. So what does the audience take away from that?

ANDREW CLINE: Whether or not it's a good thing or a bad thing I think is going to depend entirely on the American public's willingness to critically think about what they are seeing and hearing on television, because the fact of the matter is if Anderson Cooper can yell, basically, at a politician during the coverage of Katrina, like he did - you know, we can complain about ethics of the purveyors of various media products, but we also have to ask ourselves hard questions about our own ethical choices in what we consume.

BROOKE GLADSTONE: But isn't it perhaps okay if we acknowledge openly that what we really want from our journalists is a representative, because that has always been the case. When people are enraged at a reporter, it's because the reporter doesn't agree with them, not because the reporter is distorting information or lying to them.

ANDREW CLINE: Yes, it has always been the case. I mean, that's where American journalism started. I mean, papers were owned by politicians or owned by factions or heavily influenced by them, and it wasn't until we get into the penny press in the 1830s that that begins to change. And it isn't till the Progressive Era when it really completely changes. That whole idea of objectivity, if what is meant by that is some strange ability to stand outside of events and tell you how it actually is, has always been nonsense. So I agree that people want news that generally conforms to their worldviews. Now, do they want emotional surrogates out there? I think it's entirely possible for some viewers, if you're sitting there frustrated.

BROOKE GLADSTONE: Howard Beale.

ANDREW CLINE: Well, Howard Beale, and that's exactly what happens in Network. When I watched Network for the first time, I considered it fantasy. It's turned out to be a prophecy.

BROOKE GLADSTONE: Andrew, thank you very much.

ANDREW CLINE: Thank you.

BROOKE GLADSTONE: Andrew Cline is Associate Professor of Journalism at Missouri State University.

[CLIP FROM NETWORK]:

PETER FINCH AS HOWARD BEALE: I want you to get up right now and go to the window, open it and stick your head out and yell, I'm as mad as hell and I'm not going to take this anymore! [MUSIC UP AND UNDER]



BOB GARFIELD: That's it for this week's show. On the Media was produced by Jamie York, Mike Vuolo, Mark Phillips, Nazanin Rafsanjani, Alex Goldman and Bret Jaspers, with more help from Nerida Brownlee and Bonnie Watt and edited – by Brooke. Jennifer Munson has temporarily left us to have a baby. Good luck, Jen. We miss you already. Our engineer this week was Robert Granus [sp?], with help from John DeLore. A special thank you to WNYC archivist Andy Lanset.

BROOKE GLADSTONE: Katya Rogers is our senior producer. Ellen Horne is WNYC's senior director of national programs, and our head honcho. Bassist/composer Ben Allison wrote our theme. You can listen to the program and find transcripts at Onthemedia.org. You can also post comments there. You can find us on Facebook or follow us on Twitter. This is On the Media from WNYC. I'm Brooke Gladstone.

BOB GARFIELD: And I'm Bob Garfield.