The Great Ben Roethlisberger Hoax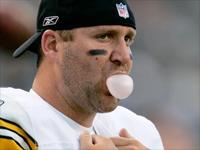 Transcript
BROOKE GLADSTONE: This is On the Media. I'm Brooke Gladstone.

BOB GARFIELD: And I'm Bob Garfield. Last week, Washington Post sportswriter and D.C. sports radio host Mike Wise sent out a Tweet about NFL quarterback Ben Roethlisberger. The Pittsburg Steelers star had been suspected in April for six games because of conduct off the field, including allegations of sexual assault. Rumors had been circulating that the league would reduce his suspension to four games, which could profoundly affect the Steelers' prospects for the coming football season. What Wise Tweeted, though, before those rumors actually came to fruition, was that the suspension would be revised to five games. Many news outlets, including The Miami Herald, The Baltimore Sun and the NBC sports blog ProFootballTalk, ran the Tweet. The only problem was Wise had invented the story. As a stunt for his radio show, he wanted to demonstrate that even a pure fabrication would be picked up without verification by online media. Well, he was right about that. He also succeeded in making us think about the symbiosis of old and new media, the notion that the parasite may be slowly killing the host it needs in order to survive. Oh, and one more thing Mike Wise accomplished – he managed to get suspended for a month by The Washington Post, which took a dim view of its staffers manufacturing outright lies. A bizarre episode, to say the least, a kind of morality tale about trust. One man who trusted too much was Mike Florio, editor of the blog ProFootballTalk, who ran Wise's fake scoop on the front page of his blog. He says that the only thing this fiasco proved was that Mike Wise abused the credibility of The Washington Post.

MIKE FLORIO: I did have misgivings because it went against the grain. But it's a report from a man, a respected journalist with a newspaper that has a national name, and the fact that it did go against the grain made it a noteworthy and interesting and presumably reliable story to disseminate to my readers and for other media to disseminate to their readers as well.

BOB GARFIELD: Do you think there should be a different standard for accuracy and sourcing for something that a reporter Tweets as opposed to what they have set in type in their newspaper?

MIKE FLORIO: Well, I think first and foremost the standard of what a person puts on his or her Twitter page should be governed by the standards already promulgated by the newspaper or other media company for which he or she works. And specifically in this case, the Washington Post Company had already made it clear that that's the standard they expect Mike Wise and the other journalists at the newspaper to follow.

BOB GARFIELD: What kind of point was he trying to make?

MIKE FLORIO: The point was anybody will go with anything that's posted on Twitter. He should have set up a dummy account, put things up there under this assumed name for a period of time to see if he ever could gain traction just by making things up and see whether or not other reporters would take that as the starting point for their own reporting. But he used the reputation of his employer to float a false story. That's not the way to prove the point that he was trying to make. He has no understanding whatsoever of how this new media world operates.

BOB GARFIELD: Still and all, his invented scoop was picked up by people, like you, with no attempt to verify it. And presumably his point was that therefore we can assume that many other weakly sourced or completely invented rumors and misinformation are also aggregated by blogs like yours.

MIKE FLORIO: But let me ask you this. If Mike Wise had made that assertion in an item printed in The Washington Post and delivered to your doorstep, what should anyone have done to verify what he said in there? Should he have been called up to say, is this a hoax? Are you trying to prove a broader social point here? Or could that be relied upon as something that could be passed along to someone else, not as the gospel truth, but as Mike Wise of The Washington Post reports Ben Roethlisberger will be suspended five games?

BOB GARFIELD: You know, in business there's something called a net promoter score. It's a measure of customer service and consumer trust, actually. Do you think as a result of what Mike Wise did, your net promoter score has gone down?

MIKE FLORIO: I don't think so, because I don't know what I could have done differently that would be been reasonable. If I call up Mike Wise to say to him, is this a hoax, has your Twitter account been hacked, when you say Roethlisberger are you referring to Ben Roethlisberger and not Fred Roethlisberger [BOB LAUGHS] from Topeka, Kansas?

BOB GARFIELD: [LAUGHING] All right, all right, all right.

MIKE FLORIO: I mean, if I – but if I do that then, how am I ever going to get any work done? If Adam Schefter of ESPN reports on Twitter that someone's signing a new contract, I should be entitled to take that to the bank, the reader should be entitled to take that to the bank - not that it's ultimately accurate, because reporters get things wrong, but that it's at least an attempt to be accurate. I think in Mike Wise's effort to make some broader statement, what he essentially did was try to throw a wrench into the gears of the new media that he apparently despises because he doesn't understand it. And he proved his failure to understand it by trying to make his point in a way that ultimately hurt one person, Mike Wise, and one media company, the Washington Post.

BOB GARFIELD: Yeah. Mike, thank you so much.

MIKE FLORIO: Well, hey, great talking to you, interesting discussion, and I'm sure there'll be more issues like this coming up in the future.

BOB GARFIELD: Mike Florio is the editor of the ProFootballTalk blog on NBCSports.com. For his part, Mike Wise says he was just trying to prove a point about the lack of journalistic ethics in today's world of instant publishing. He joins us now. Mike, welcome to the show.

MIKE WISE: Thanks, Bob.

BOB GARFIELD: Please note that the words to follow technically form a question.

MIKE WISE: [LAUGHS] Okay.

BOB GARFIELD: What a stupid -

MIKE WISE: [LAUGHS]

BOB GARFIELD: - stunt. Eh?

MIKE WISE: Should I – should I answer that?

BOB GARFIELD: Yeah, yeah, yeah, please.

MIKE WISE: Okay. The answer to that question was, boy, you did your homework today. You did it well.

BOB GARFIELD: [LAUGHS] Why did you send out the bogus Tweet? What was the point?

MIKE WISE: The original idea was I was doing a radio show bit – I've been doing it for about a year – and I sort of preached journalism credibility. I would have Bob Schieffer on to talk about journalism ethics. And I would be incensed at all these erroneous reports that nobody ever paid the price for. And so in my harebrained thinking, I would throw out a Tweet about Ben Roethlisberger's suspension and say, it's five games, I'm told. And I did it during the radio show, and I told people on the radio show I will correct it in two to three minutes and you will see afterward how ridiculous our media news cycle is nowadays. No one will vet this story, no one will source it. And in the absentmindedness of my radio show, I hit the follow Tweet, which was something to the effect that I was kidding -

[BOB LAUGHS] And I looked at my Twitter account about 40 minutes later and it said, "Twitter over capacity." It never went through. So a good hour lapsed before I actually made it clear that this was a joke. And the bottom line is that was a Washington Post Twitter account. If I had not had a job at The Washington Post and the radio show was it, no one would say anything.

BOB GARFIELD: So among the things you learned from this fiasco [LAUGHS] was that The Washington Post doesn't really want to have Opie and Anthony sending out [LAUGHS] fake Tweets, and your hoax was trading on the credibility of The Washington Post.

MIKE WISE: Yeah, when you start this out and you think to yourself, boy, maybe I could be Woodward and Bernstein one day, and all of a sudden you wake up one day and you're halfway to Howard Stern, you realize something didn't click into my brain at that moment, that I was a Post employee and they would take this seriously and this wouldn't just be a joke. You know, I didn't wake up that day thinking I needed to detonate my career, but somewhere in the neural pathways of my warped brain that day I thought this was a radio bit.

BOB GARFIELD: Your plan was to unmask the world of bloggers and aggregators who will repost anything without a moment's effort to check facts, sources, and so on. I guess you have succeeded in that, huh?

MIKE WISE: Yes and no. I mean, there are ten ways to do that, and I picked the absolute worst way.

BOB GARFIELD: But if the reader comes to this thing knowing that he or she is getting just the latest dump of rumors that have been harvested from here, there and everywhere, doesn't the reader bring with him or her, you know, a certain amount of skepticism and caveat emptor in what is being linked to?

MIKE WISE: If this trust in the media and trust in what you read and you hear and you watch is constantly being eroded, in my mind there has to be a breaking point. And the only way to do this is hold people that didn't do their homework accountable. And until that's done, we are going to continue to lose circulation, listeners and believers. One of the blogs in question that made a homepage out of the story, this is the same blog that revealed that Terry Bradshaw had died several years ago. And this person had to print a retraction for his blog and say that actually someone died on the Terry Bradshaw Freeway in Louisiana. It actually didn't happen. And I think it's worrisome and I think it's scary, and I think there's just too much of it going around. If that's considered aggregate news and that you can hide behind "I don't have any classical journalism training," that's pretty sad, where we're at.

BOB GARFIELD: Are we talking about Mike Florio and ProFootballTalk.com?

MIKE WISE: Yes.

BOB GARFIELD: Now, by a quirk of radio production timing, we spoke to Mike Florio before we got a chance to talk to you. But based on what I've learned from the two of you, it almost looks like the substance of this is more like a blood feud than anything that has to do with journalistic values. Have I just blundered into the Hatfields and the McCoys?

MIKE WISE: [LAUGHS] Well, I don't dislike Mike Florio. I dislike the idea of Mike Florio. I dislike the idea of someone hiding behind the idea that I don't have classical journalism training, so my job is to put news out there, irrespective of whether it's wrong or not. He said in an interview recently that speed is so important in this business; therefore, if he's the first one to get it up, his credibility goes up. I can't imagine that speed is more important than accuracy. But in that milieu, it is. And I will say this. Most people in my profession that wrote me, some of which agreed with my point, nobody agreed with what I did. That said, there was a personal note of, hey, hang in there. This was one moment of lapse. And it – it's sad, but there is a chunk of my credibility gone today, and I need to build that back up. The 20 years that nobody had ever questioned, that now it has been, and I promise it won't happen again Not necessarily Mike Florio, but what some people of his ilk and some people of his, his job description can't say is that it won't happen again.

BOB GARFIELD: All right, Mike, thank you very much.

MIKE WISE: Thank you, Bob, for taking the time to hear me out.

BOB GARFIELD: Mike Wise is a sportswriter for The Washington Post, or at least he will be again just about the beginning part of October.