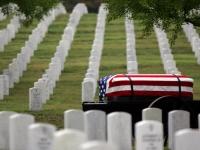 Transcript
BOB GARFIELD: This is On the Media. I'm Bob Garfield.

BROOKE GLADSTONE: And I'm Brooke Gladstone. It's an argument as old as photography itself. Governments don't like ugly battlefield pictures of the wars they're waging. Should First Amendment wonks always stand up for the right to print? Nightmarish photos of trench warfare were suppressed during World War I. When they were finally released, the depth of the government's deception gave rise, critics say, to the cynical lost generation of the '20s. Some in the military still believe that the grisly TV footage from Vietnam, our first living room war, sapped the nation's will to win. Those critics claim that the decision to publish is often more about politics than journalism. Now the latest example, Marine Lance Corporal Joshua Bernard of New Portland, Maine, in Afghanistan, captured by an Associated Press photographer in the act of dying, one leg apparently blown away. AP called the soldier's family. The family asked the news outlet not to release it. Defense Secretary Robert Gates called to add his support to the family's request. AP released it anyway. Geoff Morrell is Deputy Assistant Secretary of Defense for Public Affairs and the Pentagon Press Secretary. Welcome to the show.

GEOFF MORRELL: My pleasure, Brooke.

BROOKE GLADSTONE: So, Secretary of Defense Robert Gates said that printing the photo over the objections of the family was unconscionable and appalling. Can you sum up his argument for why it shouldn't have been published?

GEOFF MORRELL: It is a very graphic and gruesome photograph, but we are not objecting to the graphic or gruesome nature of it. As appalling as the Secretary and many of us found it to be, what we are objecting to is the fact that the family clearly asked the AP not to run the photograph because it would add to their pain, and yet they proceeded with publication. He thought their behavior, their decision making, was wrong and that they should, as he tries to when in doubt, always defer to the wishes of the family. It's the least we can do for these families who have given up one of their own.

BROOKE GLADSTONE: They are so vulnerable and they've sacrificed so much, and yet do you think, does the Secretary think that they should have final say over what a news outlet decides is news that's fit to print?

GEOFF MORRELL: I don't think the Secretary believes that. I don't believe that. I don't think we're making a great pronouncement about the future of photography on the battlefield. We're talking about one particular family dealing with one particular tragic loss of life. And in this case, they asked for AP not to publish, and the AP proceeded to anyway, and the Secretary thought that was appalling.

BROOKE GLADSTONE: Now, the AP didn't do this cavalierly. It was part of a huge piece called "Death of a Marine," and it came with a 1700 word piece on the battle, a series of photos, the photographer's journal, interviews with Bernard's family. It wasn't just thrown onto the wire for titillation.

GEOFF MORRELL: Yes, they clearly had thought long and hard about it. They just arrived ultimately at the wrong decision as far as the family and we are concerned. There are other photographs, as you mention, that accompanied this story which adequately represented the horrors of that particular battle. And, in fact, the vast majority of news outlets chose not to run this particular graphic photograph, and if they did indeed run this story, they ran other photographs to accompany it. I think only a handful of newspapers had actually run this. And the Secretary was very appreciative of the fact that the vast majority of news outlets had shown good judgment and not run this photograph.

BROOKE GLADSTONE: Well, then I guess you would say that the system worked. AP is a wire service. It offers this stuff. The main paper where Lance Cpl. Bernard grew up didn't run it, but it was run in other locations.

GEOFF MORRELL: The fact is, Brooke, the family wished for no one to publish this photograph, so whether it's one, three, five, 15 or 50, the damage has been done according to this family. The problem with what AP ultimately did was, by pushing this photograph out, they have given their blessing to this photograph. And many of these newspapers don't, frankly, go through the editorial tug of war that AP clearly did leading up to this. It's up to them, frankly, to be the gatekeeper for their clients on what is ethically appropriate to publish.

BROOKE GLADSTONE: The AP photographer, Julie Jacobson, published a journal that she kept, and at one point she asks, and I'm going to quote her, "With great respect and understanding to all the opposing arguments in publication, I feel that as journalists, it is our social responsibility to record and publish such images. We have no restrictions to shoot or publish casualties from opposition forces, or even civilian casualties. Are those people less human than American or other NATO soldiers?"

GEOFF MORRELL: These aren't restrictions. We're not looking to change any rules. We're not looking to make it more restrictive or more onerous for reporters to do their work. We are the biggest champions of reporters in the battlefield. This is a secretary who only months after coming into office went to the United States Naval Academy, the United States Air Force Academy and at their commencements told them flat out, the press is not the enemy and to treat it as such is self defeating. This is the guy who opened up Dover Air Force Base for the first time for photographers so they could see returning war dead. This is the person who credits the press for uncovering the ills that — in terms of outpatient care at Walter Reed Army Medical Center. He is a champion of the press. He is a proponent of the press. But he also believes it is incumbent upon the press to exercise good judgment and not be detached from the horrors of this war and the pain and suffering that families go through as a result of it.

BROOKE GLADSTONE: Let me ask you about the AP's fundamental point, that a photo like this, by its very graphic nature, cuts through the abstractions of death tolls and numbers and even names.

GEOFF MORRELL: Well, that is precisely, Brooke, why we have been such a champion over the last eight years of trying to get the media as close as we possibly can to this experience, and that's why you've got reporters all over the battlefield. And so I don't think it's lost on the American people, eight years after these conflicts began, what the consequences of war are.

BROOKE GLADSTONE: There has been, though, over the course of all of these years, a great reluctance to show photographs of dead or mortally wounded soldiers, American soldiers. We've seen quite a bit of gore, but not so much inflicted on our own troops.

GEOFF MORRELL: Well, that's ultimately the judgment of each news organization, and it's one, frankly, that we've applauded, because we don't think that it takes a particularly gruesome photograph of a recognizable soldier or Marine, airman or sailor to convey the cost of war. Overall, the news judgment that's been exercised over the past eight years has been exemplary. This situation is the exception and not the rule, thankfully.

BROOKE GLADSTONE: Geoff, thank you very much.

GEOFF MORRELL: My pleasure, Brooke. Thanks for having me.

BROOKE GLADSTONE: Geoff Morrell is Deputy Assistant Secretary of Defense for Public Affairs and Pentagon Press Secretary. Santiago Lyon is the director of photography for the AP. He told us that the controversial photo was just too important not to run.

SANTIAGO LYON: I think this photo was key to understanding what happened that day in Afghanistan because it shows the very real and terrible and awful effects of warfare. There are many thousands of soldiers and military personnel serving over there and comparatively few journalists embedded with them, and because there are a set of very detailed rules regarding the embedding of journalists with the military that require that family members be notified before any of this imagery can be released, and in some cases that kills the immediacy of the information, and sometimes the information doesn't come out.

BROOKE GLADSTONE: This may seem to be a strange question coming from a reporter, but is immediacy really that essential in a story like this, an anecdote that's meant to stand in for a great deal more about the sacrifice of war?

SANTIAGO LYON: Well, indeed, and that's why in this particular case, almost three weeks passed between when the incident happened and when we released the information and the story, the photograph. That is indicative of the care and the seriousness that we took in reporting this particular story.

BROOKE GLADSTONE: Are you saying that the circumstances of getting this story and this photograph are so unusual that AP could not have, say, held out for a case where the family actually okayed the release of the photograph, because obviously, and unfortunately, he's not going to be the last casualty.

SANTIAGO LYON: Well [SIGHS] it is unusual for the reasons I described. We don't see these photographs very often. When we went to see the family, we didn't go to request their permission. When we contacted the military, we didn't contact them to request their permission. What we were doing was, in both cases, alerting them to the fact that we had this material, gathering information from them as it was relevant to the story and then ultimately proceeding with the distribution of the images.

BROOKE GLADSTONE: Secretary Gates has stated publicly that the media should not be treated as the enemy by the military. He's praised the press for uncovering everything from inadequate armor to the horrible conditions at Walter Reed. But when you ignore his request to respect the wishes of a grieving family, don't you risk undermining the improved relationship between the media and the military? Is it worth the price for this one photo?

SANTIAGO LYON: Well, I think it is, in the sense that it's our duty to inform the public. If we pause and backpedal because the Secretary of Defense objects to the image in support of the family, we're doing ourselves and the general public a disservice.

BROOKE GLADSTONE: I don't know if you saw this. Tom Ricks for eight years he was The Washington Post defense reporter — wrote last Saturday on the Foreign Policy blog, quote, "Today I am embarrassed for American journalism. As a former military reporter I'm also angry with the AP. They've committed the sin, but all of us in the media will pay for it. This one will haunt us for years. The Marines, especially, don't forget."

SANTIAGO LYON: Well, for me it's interesting that the Marines on the ground in Afghanistan, from the commanding general of that particular battalion down to the company commander, have told us that they really don't have a problem with what we did, that they understand that it's our job to photograph and capture reality and that we did our job. They really don't seem that concerned about it. And this is coming from the men on the ground actually fighting the war.

BROOKE GLADSTONE: Santiago, thank you very much.

SANTIAGO LYON: Thank you, my pleasure.

[MUSIC UP AND UNDER]

BROOKE GLADSTONE: Santiago Lyon is the director of photography for the Associated Press.
Music Credits:
"Joe Henry" by All Blues Hail Mary