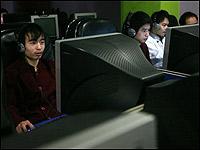 Transcript
BROOKE GLADSTONE:
This is On the Media. I'm Brooke Gladstone. The Internet was China's fastest and best aggregator of information after last month's earthquake. But Chinese media watchdogs say the era of Internet freedom after the quake passed quickly, most visibly with the recent arrest of cyber-dissident Huang Qi, apparently for condemning the government's response to the quake.

Still, in China, most censorship is self-censorship, and that also applies to the U.S.-owned search engines that do business there. Forbes.com recently observed that these companies have generally caved in to the Chinese government's demands to censor some websites. They just can't seem to agree on just which sites those are.

According to a new study conducted by Nart Villeneuve at the University of Toronto's Open Net Initiative, Google sometimes blocks the BBC, while Yahoo permits it, and Microsoft deletes Chinese entries from Wikipedia that the Chinese version of Google, Baidu.com, allows.

Rebecca MacKinnon is an Internet specialist based at the University of Hong Kong, which just hosted the Chinese Internet Research Conference. We met her this month in Hong Kong and asked her to tell us how the Chinese Net works. She gave us the entire 101 in a brisk seven minutes. Take notes.
REBECCA MacKINNON:
Well basically, the Chinese Internet is controlled on several levels. At one level you have basically what's known as the great firewall, so if I'm inside China and I try to access, let's say, Human Rights Watch, I get an error message on my browser.

Then the other part of the Internet controls is controlling domestic websites. So if I run an online news service or I run a blogging service or a chat room or something, I'm responsible for all the content that appears and all the content that my users post. So I have to police it and take down anything politically objectionable, or I lose my license.

And then the third way is information surveillance, and so on, so with emails and with Internet service providers keeping tabs on traffic going back and forth, and so on. And so you basically have these three levels.

And American Internet companies doing business in China are sort of caught in all of these different levels. You've got the search engines, like Google, who go in.

And it turns out they initially went in just with their regular search engine and a lot of Chinese people were doing searches on Google.com and they would get results, and a number of them would be blocked. And so they'd click on the link and they'd get an error message, and their Internet connection would go down.

And so Google's approach was, okay, we need to provide a censored service so that people can at least have part of our search engine that works well, even though we can't provide them with everything. So they devised Google.cn, which basically checks against the great firewall to see what's being blocked, and then they take out those results so that you're not receiving results that are blocked inside China, for the most part.

And this has been, you know, highly controversial. It is true that they censor their search results less than the Chinese most-popular search engine Baidu. Google.cn also censors a lot less than Chinese Yahoo and Microsoft's Chinese search engine.

So they claim, well, you know, it's better to be there in part rather than not all; we're still helping Chinese people get more information.

Then with Microsoft, they have a blog-hosting service, MSN Live – it used to be called MSN Spaces. And they got a lot of bad p.r. when they took down the content of a number of Chinese bloggers a few years ago. That, again, they said, they had to do in order to be in compliance, in order to conduct their business in China.

And then with Yahoo, you had the most, I would say, direct complicity in what people felt was the most outrageous thing, which was that Yahoo's Chinese-language email service has handed over at least four people to Chinese police, who were subject to, quote, unquote, "criminal investigations." But, you know, they were basically just sending information overseas or, you know, organizing political groups, and this kind of thing.

At any rate, it's a very difficult issue, because these companies go in, they say it's better that we're there than not there, but in order to be there we have to play by the rules.

But, no matter how you slice it, they are certainly contributing and helping to legitimize China's information tunnel vision, as far as the population is concerned. They're contributing to the fact that the Chinese Internet and the amount of information and the nature of the information you get on the Chinese Internet is different from the global Internet.
BROOKE GLADSTONE:
From where you sit, and you're the best person to assess this sort of thing, do you wish these companies would not cooperate, or are you glad they're there?
REBECCA MacKINNON:
I think you can engage in a smart manner. I think it's really a matter of being honest and open and transparent with your users about what you're doing with their data, what information they're going to get and not going to get through your service, because this isn't just an issue in China.

Frankly, globally, it's very difficult to point to a single country where you don't have governments on one side, users on the other, and companies in the middle being pushed by governments to do things that run counter, arguably, to the rights and interests of those users.

I mean, even in the United States recently we've had cases of telecom companies being pressured by the Bush Administration to reveal data without warrants, and so on and so on.

Now, I'm not saying that the United States is China, at all. But what I am saying is that we have a global problem that no country is immune to unless there is no Internet. So maybe North Korea doesn't have this problem, but pretty much everybody else has this problem to some degree.

And what we need to do is make sure that we're not having a race to the bottom. We need to make sure that the companies who are doing business in the most authoritarian countries are not setting the standards of business practice for Internet and telecommunications companies globally. And that is a danger with what's going on in China.

And so the issue is – actually, I'm involved at the moment with an effort to get Internet and telecoms companies to sign on to a global code of conduct for free expression and privacy. And the point is look, okay, we understand most governments are going to make you censor something. In the United States you have to censor kiddy porn and, you know, YouTube censors copyright violations. In pretty much every country, law enforcement requires you to hand over user data in the case of criminal investigations. That certainly happens in the United States.

The issue is - are you being honest with your users? So a user, be it in China or in the United States, or wherever they are, before they send that whistle-blowing email, before they set up that email group to organize an opposition party, or before they send the report that's exposing their government for human rights violations to an overseas website, they have a better understanding of how their data might be used so they can make intelligent choices about what services to use.

And that's, I think, the main issue we have with China today. I think to say, oh, disengage from China, nobody should do business in China until China's perfect – frankly, if we want to hold China to those standards, we should shut down most business in the United States, as well [LAUGHS], you know? So the line needs to be drawn. We need to figure out how to do this intelligently.
BROOKE GLADSTONE:
It needs to be drawn here.
REBECCA MacKINNON:
Well, yeah. I mean, China, again, is sort of the testing ground [BROOKE COUGHS] for how far human beings are going to allow technology companies to collude with governments and not care.
BROOKE GLADSTONE:
Rebecca MacKinnon is an assistant professor at the Journalism and Media Studies Department at the University of Hong Kong.

Like everything else in China, we learned that there are many sides to the story of the Internet. It isn't just control, censorship and surveillance. It's also an effective tool for people to organize themselves. And organization is, of course, the key to people power.

A few weeks ago in Beijing, I asked Jeremy Goldkorn, who runs the Chinese media site Danwei.org, to give us some examples of the Internet as vanguard for social change.
JEREMY GOLDKORN:
There were a few really notable examples last year, I think the most prominent of which was the brick kiln slave scandal, which broke in May 2007, in which a factory in Shanxi Province making bricks had enslaved about 400 children and was using them as slave labor to make bricks.

They were in cahoots with the local authorities, so some of the parents found out where they were and went there to try and free them. They couldn't because the local cops were stopping this. And they got together and they wrote a letter, which somebody helped post to a very popular forum website called Tianya, asking for help to free their children.

And it became a, you know, almost overnight scandal on the Chinese Internet, very quickly was picked up by Chinese newspapers and, you know, within a few weeks the government had shut the factory down and sacked, I think, about 90 provincial officials. This came completely out of the Internet.

Around the same time, June of last year, there was a protest against a chemical factory that was to make something called PX, parazyline, which local residents didn't want the factory near the place where they had just bought houses. And a protest movement was organized using SMS messages on cell phones and the Internet, and the factory later was forced to move.

So it is starting to happen where both sort of activist movements and actual news information are emerging first on the Internet and then making their way into the mainstream media or government attention.
BROOKE GLADSTONE:
Can you describe what the odd conditions are in which provincial reporters can do their work? My understanding is that you can do investigative reporting in the provinces but there are restrictions on what reporters can do in their own towns, not so much in towns to which they are not assigned. It gives rise to some peculiar situations, doesn't it?
JEREMY GOLDKORN:
Yeah. The thing is that as far as the central government goes, what they're scared of is challenge to their power. When it comes to local issues, it's not a central government priority. And, in fact, often the central government, if you could say, likes investigation of local officials because that's - I mean, from time immemorial in China, that's been a problem of the central government, how to rein in local officials, the corruption of local officials.

So from the central government point of view, they don't mind people investigating – often they don't mind people investigating local corrupt practices or other bad things going on locally.

However, each local government - obviously there are many vested interests, and if your local government in X town in the middle of Gansu has just signed a deal for a factory that's going to pollute and, you know, you're the one – the local government stands to gain and local business interests stand to gain, those type of officials and businesspeople will be very harsh in trying to stop media from reporting on it. So often the local newspaper, local radio station will not dare to do it because they feel too vulnerable.

Of course, the Internet changes everything a little bit because it means, you know, you might have a newspaper in Guangzhou but you put it on the Internet, the whole country can see it. But by this time, hopefully you're far away from the local officials who might seek to do you harm.
BROOKE GLADSTONE:
Jeremy Goldkorn is founder of the Chinese media site Danwei.org.