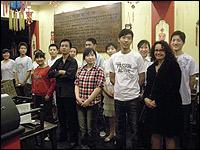 Transcript
BROOKE GLADSTONE:
From WNYC in New York, this is NPR's On the Media. I'm Brooke Gladstone, reporting this week from China.
[SINGING CONTINUES]
We're lingering near a restaurant window in Beijing, OTM producers Jamie York, Megan Ryan and I, listening to the sweet sound of music pouring out into an alley. Caught eavesdropping, we're waved in to watch a rehearsal of China's Olympic theme song, We Are Ready.
[SINGING PHRASE "WE ARE READY" IN ENGLISH]
China is ready for its close up. Honored as the site for the Olympic Games, shamed as an exporter of shoddy goods, praised for its response to natural disaster and condemned for its foreign and domestic affairs, what China wants most of all is to be seen as a modern player on the world stage.
[SINGING PHRASE "WE ARE READY" IN ENGLISH]
[SOUND OF CLAPPING]
Of course, for most of the last 170 years, China has recoiled from modernity, since it was forced on them in the form of opium by the British. The Opium Wars humiliated the self styled Middle Kingdom, which saw invasion and slaughter by nine different armies in the next hundred years and even more horrors after that.

But now, finally, China has emerged from its permanent state of orange alert, declaring, your money's safe with us, we're modern. We're not your father's China. Will anyone believe it?
JOSHUA RAMO:
You know, Jiang Zemin, who was the last General Secretary of the Communist Party and the last President of China, in his retirement speech used the word "new" 90 times in a 90 minute speech.
BROOKE GLADSTONE:
Joshua Ramo, managing director of the international consulting firm Kissinger Associates, meets us in a Beijing teahouse.
JOSHUA RAMO:
He was trying to drive home this idea that precisely because China's creating new problems faster than it can possibly solve them, the only hope for the country in the future was its newness.

Probably the most important debate underway in Chinese foreign policy circles these days is exactly this question, which is, is a conflict with the West inevitable because Westerners are simply incapable of updating their views of China to match the reality?
VOICE ON LOUDSPEAKER:
Always keep an eye to your own property in case stolen or lost. Thank you. Wish you a pleasant trip in Wangfujing Street.
BROOKE GLADSTONE:
On the Media is here in China to see how Brand China squares with the reality. It's a hard sell in many precincts of the globe, where it rains steadily on the Olympic Torch Parade, but in other venues, it's the West that's doing the selling.
[APPLAUSE]
RUPERT HOOGEWERF:
It's very nice to welcome you here to our Executive Lunch Briefing on the Chinese luxury consumer. There are 800,000 U.S. dollar millionaires in China today.
BROOKE GLADSTONE:
A posh Beijing hotel where Rupert Hoogewerf, a self styled godfather of the China rich list, is hosting a marketing conference.
RUPERT HOOGEWERF:
There's at least 50,000 people who've got ten million U.S. dollars. There are 106 U.S. dollar billionaires. That's second only to the U.S. The U.S. has got 400, according to the Forbes list.

What stands out, these entrepreneurs in China, from anywhere else? The first thing is they're all first generation. The average age in our rich list is 47 years old.
[SOUND TRAILS OFF]
BROOKE GLADSTONE:
China is projected to be the world's largest ad market in the next decade, ads to fuel a new media industry dead set on teaching this first generation how to spend, so snobby Europeans don't say things like
HONG HUANG:
You know, they're nouveau riche, their money is crispy new, and they're so gauche.
BROOKE GLADSTONE:
Hong Huang is founder of China Interactive Media Group, publisher of Time Out Beijing and iLook, and she writes a hugely popular blog. Her mother was Mao's English teacher.
HONG HUANG:
Yeah, there is a lot of coaching that's needed in terms of wealthy, affluent people because, you know, you don't want them to embarrass you by building another White House or a Chateau Lafite or something like that and, you know, be plastered all over Paris Match as the laughingstock of the First World, to say, look at these Chinese, they're rich but they're so stupid and they're copying us, and they're so uncool, you know. What Tom is doing is not meaningless.
BROOKE GLADSTONE:
By "Tom," Hong means Thomas Shao, one of China's first media tycoons. The privileged son of well connected parents, he launched his first glossy, Modern Pictorial, in 1988, when the only competition in China was the imported Elle Magazine. In 1993, he brought out his flagship, Modern Weekly, with news about international business, fashion and culture.
[CHINESE]
THOMAS SHAO [INTERPRETER]:
Fifteen years ago, I knew that globalization was inevitable and that China would be a part of the world. When I founded the company, I wanted to introduce international concepts and values to our readers. So our slogan is, "Global Vision, Modern China."

What we have is the elite who want to develop better taste, have a better quality of life and be more successful.
BROOKE GLADSTONE:
Just as the Playboy Advisor in the sixties dished out tips on the smoothest Scotch and the coolest jazz, Shao's Modern Media Group is the source on swank consumption. It also serves up arts and culture but, unlike Playboy, it doesn't peddle hip ideology, like civil rights or free expression.

Modern Weekly does offer news, but mostly from far away.
BROOKE GLADSTONE:
You wouldn't talk about Tibet.
THOMAS SHAO [INTERPRETER]:
We did talk about Tibet in the past, how it was a fun and pretty place to visit. We talked from the aspect of travel. We haven't discussed it from other angles because we haven't looked into them.
SHEN QUIN:
Now, at least for lifestyle publications, it's promotion of capitalism, consumerism, materialism. Politics is still taboo here and no lifestyle magazine will touch that.
BROOKE GLADSTONE:
Shen Quin is a veteran editor of several Chinese glossies.
SHEN QUIN:
Most of time, you do self censorship. It's not worth it to push the envelope and then get in trouble. I hate to say this, but this is the reality. If I am really into social changes, I'm not going to do a fashion magazine.
BROOKE GLADSTONE:
But, of course, a fashion magazine represents enormous social change. She remembers when she first flipped through Elle. Back then?
SHEN QUIN:
Everybody dressed almost exactly same. No colors, nothing. It's gray. You look at the magazines, and I believe no matter how philosophical you are, as a woman, when you see beautiful clothes, there's this so called "me moment" because you immediately picture yourself in that dress. And then when you know you can actually buy it and then wear it, I think it's sense of freedom.

I don't think my mother in her whole life ever had a "me moment." She doesn't even know she can have that. All her decisions based upon what's good for other people.

My generation definitely have some identity crisis, because we don't know who we are. And the younger generation's better, because when they grow up, personal feeling and the sense of self actually become part of their conscious.
BROOKE GLADSTONE:
Publisher and blogger Hong Huang says that the deepest generational divide separates those born before 1980 and those born after, because of what they saw happening around them, and what they saw on TV.
HONG HUANG:
If you want to know [LAUGHS] what contributed most to a peaceful evolution in China, it would be pirated DVD. From cartoons, from Disney to movies, it's the only thing that broke the censorship barrier. I'm sorry Hollywood lost a lot of money about this, but just consider it a donation to democracy around the world.
[LAUGHTER]
ELAINE:
I think maybe 50 percent of us, we are all watching Desperate Housewives.
BROOKE GLADSTONE:
That's Elaine, one of several people, all in their early 20s, assembled in my Shanghai hotel room by Ed, our young translator. They are serious, focused and well educated. When we asked their names, they considerately offered the ones they use in English class. It took some prodding to get them to admit their guilty pleasures. Here's Ed, prodding.
ED:
I bet everybody here watch Prison Break, 24, Desperate Housewife and Sex in City.
BROOKE GLADSTONE:
They download them off the Net.
WOMAN:
I think this is maybe the reason why we often watch American TV shows, such as Ugly Betty, Friends, because we have maybe generation gap with 10 years older than us, maybe our big sisters, big brothers. They don't like to watch that because their life and the life in TV are not similar. They are more similar of us.
BROOKE GLADSTONE:
You know, we used to think that a generation was 20 years, but in China, people who are 10 years apart or 8 years apart or even 4 years apart will have entirely different experiences.
WOMAN:
Actually, three months.
[LAUGHTER]
MAN:
The difference between our generation and our parents' generation is they don't have a choice, but we have too many choices. Their choice is to maybe serve the country and follow the Communism ideal, whatever it is. But we, we can pursue our dreams, although we don't know exactly what the dream is.

And also, another problem for us is our society is getting so materialistic. It's materialism everywhere. So you don't have a higher goal that you can dedicate yourself to.
So for our generation the problem is what is the meaning for life.
[MUSIC UP AND UNDER]
JOSHUA RAMO:
And, you know, here in Beijing the city changes so quickly that the maps are out of date every two weeks. And that's as true for kind of people's expectations or their dreams as it is for the actual geography of the place.
BROOKE GLADSTONE:
The Kissinger Institute's Joshua Ramo.
JOSHUA RAMO:
It's a country that's lifted 400 million people out of poverty in the last 20 years but also still has 700 million people who are living on less than three dollars a day. And they are now in the beginning phases of movements like urbanization will urbanize 300 million people in China over the next 15 to 20 years.

Taking somebody off of a farm and moving them to the city, which is the only way to raise their income, at this point, creates all sorts of social tensions that have never been dealt with before, all sort of problems for people who are unaccustomed to living in cities.
[MUSIC UP AND UNDER]
BROOKE GLADSTONE:
Up next - radio for farm raised factory girls, an earthquake in the media and investigative reporting with Chinese characteristics. What's that? How about a metaphorical elaboration?
DAVID BANDURSKI:
We hear a lot of metaphors to [LAUGHS] describe how media work in China because it's sometimes so fuzzy and so unclear.
BROOKE GLADSTONE:
That's David Bandurski of the University of Hong Kong's Journalism and Media Studies Center.
DAVID BANDURSKI:
A former editor in chief of People's Daily, the official newspaper, talked about monkey dancing under the table in Peking Opera. There was a famous star, I think it was in the 1930s, who was known for this dance that he performed under an eight legged table. And so, he's performing a kind of kung fu or a tai chi maneuver but he doesn't upset the legs of the table. So he's able to dance gracefully, but he's doing it under restrictions.
BROOKE GLADSTONE:
Stay tuned for the monkey dancers. This is On the Media from NPR.