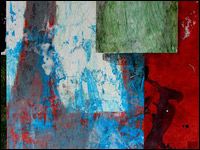 Transcript
BROOKE GLADSTONE:
From WNYC in New York, this is NPR's On the Media. I'm Brooke Gladstone.
BOB GARFIELD:
And I'm Bob Garfield. This week a show about media and - space. Remember way back to, say, 1998, when the most popular medium for old and young alike was television and when the most popular place to consume it was your living room?

Today you're as likely to be at a desk or a Starbucks as your easy chair. Advances in both technology and design have altered both how and where you get the news. So this week, we decided to focus on the where.
BROOKE GLADSTONE:
If this seems a bit abstract, well, we used to feel that way, but now we don't. WNYC, the nation's largest public radio station and where On the Media is produced, is moving.

Ever since the 1920s, when New York Public Radio was founded, WNYC has lived in the iconic Municipal Building in the City Hall district of Lower Manhattan. Now we're movin' on up to the western edge of trendy Soho – state-of-the-art studios, triple the square footage, three full floors of open plan offices – a brand new space.
BOB GARFIELD:
Which got us thinking about some other spaces, so we thought we would rerun some prior considerations of media spaces and also report on some new ones, including how architects use high-tech technology to pitch their designs, and how sound is used to create and modify spaces.

First though, Japan's bid for the extreme media experience offered via so-called media immersion pods. I say "so-called" because the Japanese just call them Internet cafés or manga cafes after the illustrated books. But they are so much more.
BROOKE GLADSTONE:
Internet cafes are to these immersion pods what a Hershey Bar is to a bathtub full of molten Godiva. Virginia Heffernan wrote about the ultimate media indulgence in The New York Times. She admitted that it felt a little decadent.
VIRGINIA HEFFERNAN:
And there's something even a little bit disreputable about these places. They are kept pretty dark, and they also have a smoking section, which in a room of cubicles translates into a general scent of smoke that pervades the whole. And I'm guessing it's about 40,000 square feet, so -
BROOKE GLADSTONE:
An airplane hangar?
VIRGINIA HEFFERNAN:
Yeah, an airplane hangar, that's about right. They're windowless, with almost like mood lighting over certain stations that offer you drinks. And then there are different sections in the rooms. So there's a place for women, which is pretty significant, because the media immersion pods have become one of the few places that women of all ages can go that's semi-public where they can also just be alone.

I heard a lot of descriptions by married women of saying, when I want to be away from my husband, I go to these places and sometimes stay all night in the ladies' section.

BROOKE GLADSTONE:
Now, how do you stay all night? I mean, you're sitting in a chair, right?
VIRGINIA HEFFERNAN:
Well, that brings us to what the inside of the carrels look like – really soft, bucket leather seats, a terrific PlayStation, a great Xbox, Nintendo Wii, a DVD player, a high-speed Internet connection. And then there are spaces, like a place for you to put your feet up if you just want to turn the chair a little bit and simply read, which surprisingly is what a lot of people do in these places.

So you're in front of all this high-tech, high-speed, expensive technology, which cuts down on the feeling that this is a somehow cheap or tawdry experience.
BROOKE GLADSTONE:
So how long did you stay when you went?

VIRGINIA HEFFERNAN:
I think I stayed for a total of six or seven hours. Like a casino, you enter and your sense of time goes out the window. I mean, I couldn't believe when I looked at my watch and it was maybe almost dawn.
BROOKE GLADSTONE:
If these are fundamentally, I won't say antisocial, but non-social experiences, how do people account for the fact that other people are right with them?
VIRGINIA HEFFERNAN:
Well, one of my questions when I was in there is would these things exist if people weren't on networked computers? So yes, people are not talking to people at the juice stations, they're not talking over the walls of their cubicles. So to that extent, they're alone.

But there is a lot of instant messaging, text messaging, emailing going on, and that strange sense that we've now gotten used to of being alone and yet very socially involved with the world via cyberspace.

You come to this so that you can be at the cockpit and you can like pilot through the Internet or through cyberspace and be fully in control from this position. So I didn't feel that it was a reclusive place, as much as a place of power.
BROOKE GLADSTONE:
In the U.S. we often think of people who don't interact with other people in the physical world as troubled. Does a similar stigma exist in Japan?
VIRGINIA HEFFERNAN:
There are certainly extreme cases, and they get a lot of attention, of the so-called hikikomori, who are -
BROOKE GLADSTONE:
They're the shut-ins.
VIRGINIA HEFFERNAN:
They're shut-ins, yeah. They're young men, mostly – there are very few women – who essentially enter their room, and they're usually living with their parents at the time, and in the ideology of Japan have decided that the burdens on them as wage-earners are just too high, or as students are too high, and that they're just not coming out.

And I think that that fantasy of shutting yourself in your room, as opposed, maybe, to an American fantasy of running away, is to some extent present for all young Japanese.
BROOKE GLADSTONE:
Well, all teenagers shut themselves in their room at one point or another -
VIRGINIA HEFFERNAN:
Yeah.
BROOKE GLADSTONE:
- all around the world, if they have a room.
VIRGINIA HEFFERNAN:
Yes.
BROOKE GLADSTONE:
But in Japan, you note examples where sometimes they shut themselves away for years, one person for 13 years.
VIRGINIA HEFFERNAN:
Yeah, Maggie Jones did a wonderful story for The New York Times Magazine on this phenomenon of the hikikomori. And one of the things that seemed clear that in America when kids – when I as [LAUGHS] an adolescent locked myself in my room, the thing that got me out of it was thinking, but I still have to meet other kids.

Well, if you can lock yourself in your room and still meet other kids online, and moreover – and this is a sort of later stage of development in Japan – become famous online.

There are these amazing figures who are known as the charismahiki who are shut-ins with a following. So their mothers believe them to be languishing in their room as if in prison, but their throngs of followers believe them to be sort of celebrities or gods or rock stars.
BROOKE GLADSTONE:
Are Japanese and American cultures similar enough that you would or could expect these media immersion pods to spring up here in our cities?
VIRGINIA HEFFERNAN:
Everyone who read the piece said, you know, it's sick, but I wish I could go into a media immersion pod. [LAUGHS]
[LAUGHTER]
BROOKE GLADSTONE:
We do seem to be potentially creating things like that for our own homes. I mean, it used to be that TV used to be the center of a communal experience. That doesn't seem to be the case anymore, now that we're consuming our media in a different way.
VIRGINIA HEFFERNAN:
One hypothesis about media has it that suburban architecture after the war was very much about encouraging family and about discouraging solitude on the part of either the man or the woman.

So there weren't the same sewing rooms or watercolor rooms for the women, and there weren't the same smoking rooms and studies for the men. And instead they had dens, TV rooms, family rooms.

Well, in reaction, you get real hi-fi culture and audiophile culture and also these chairs that start to be womblike where men almost want to create – I keep saying men because audiophiles are almost exclusively male – trying to create a space almost in their bodies. You know, maybe my head can take this in, and then if I put the newspaper in front of my face, and then I can start to like create a little four walls, it will just exempt me from family activities and family responsibilities.
BROOKE GLADSTONE:
Even while they're sitting perhaps in the middle of it.
VIRGINIA HEFFERNAN:
Even while they're sitting perhaps in the middle of it. So the '70s dad, with his huge headphones plugged in and listening to something else, he just gets to not be there.

I mean, I use my BlackBerry this way too, to just put a little barrier, create a little actual physical space for myself in public.
BROOKE GLADSTONE:
But is audiophile dad, who had to live inside his own head, getting replaced by home theater dad?

VIRGINIA HEFFERNAN:
The home theaters definitely among the wealthy are making a comeback. And you might justify to your spouse that you need a, quote, "home office," but then that can quickly turn into an entertainment center.
BROOKE GLADSTONE:
With four walls and a door.
VIRGINIA HEFFERNAN:
With actual four walls and a door. But just as the spaces seem like they're as much a sanctuary as possible, then you start to see, in the magazines that chronicle how these interiors change, instead of the one Ames chair it's suddenly two chairs, because what if you want your buddy to come over and watch with you? And then like five chairs because you want to be the person that can have the Super Bowl party or the Oscars party if you have that good technology.

And then it just starts to look like you've set up a little movie theater in your house, like you almost should be charging tickets for it.
BROOKE GLADSTONE:
Getting back to Japan for a moment, we always think about immersing ourselves in media as a way to lose ourselves. But someone in your story said that, at least in Japan, these pods are constructed and inhabited and used as a way to find oneself.
VIRGINIA HEFFERNAN:
Yeah. Japanese society, and American society, too, during the workday and in formal workplaces, are so stratified, and the same is true at school. These spaces in Japan, these immersion pods, are a place to go in – I think that the anthropologist I spoke to said something like, you turn into no-ID-man, no-face-man, no-name-man.

And that, for him, opened up a world of possibilities, he thought, for young people and middle-aged people who go into these immersion pods maybe under the pretext of doing some work or checking some email or checking stock prices, but actually get to do a little bit of role play while they're there or a little just fancy escape.

Part of the reason I think that it's worth building these studies or letting your spouse have a home office where they do a lot of fantasy football and maybe not as much work as they're pretending they're doing, is that everyone has always needed fictional getaways, and they've needed a place to immerse themselves in a sort of unreal space.
BROOKE GLADSTONE:
I wonder whether it's a problem simply of definition. Whenever we talk about people getting over-engaged in a mental space, in a virtual space -
VIRGINIA HEFFERNAN:
Yes.
BROOKE GLADSTONE:
- we think it's sick. I mean, I hear people talk about Second Life as if it were sick.
VIRGINIA HEFFERNAN:
Yeah.
BROOKE GLADSTONE:
But then you read the stories about people whose actual lives are just no fun at all. And it's really time that we live in, not space. So why can't these virtual mental spaces be regarded as legitimate spaces, the same as spending time in the garden?
VIRGINIA HEFFERNAN:
Yeah. I mean, I think that as much as now we pay lip service to how much we loved the golden age of the novel, we've never really liked the specter of the person who sits in some Cervantes world and reads long novels or the moviegoer who comes out blinking against the light after, you know, a long double feature.

And yet we believe, now nostalgically, that there was something that was good for you about reading novels. There was something that was good for you about seeing movies. And yet Second Life and the Internet represent an addiction. I think the truth is we just always feel suspicious of these sedentary fantasy experiences.
BROOKE GLADSTONE:
Things that take you out of the real world.
VIRGINIA HEFFERNAN:
Things that take you out of the real world.
BROOKE GLADSTONE:
Spaces in your head.
VIRGINIA HEFFERNAN:
Spaces in your head. You're not meeting your obligations to your family or to your workplace if you're just lost in your head, and that makes you a threatening citizen.
BROOKE GLADSTONE:
Virginia, thank you very much.
VIRGINIA HEFFERNAN:
Thanks a lot.

BROOKE GLADSTONE:
Virginia Heffernan writes The Medium column for The New York Times Magazine, and she also blogs at Themedium.blogs.nytimes.com.

Music Credits:
"Notices" by Build Buildings