Inside the Mind of a Talking Head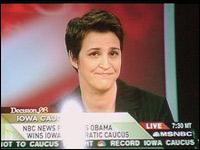 Transcript
BOB GARFIELD:
And I'm Bob Garfield. The Democratic Party primaries had another installment this week. Voters went to the polls in North Carolina and Indiana on Tuesday. And on cable news, anchors and pundits analyzed their heads off.
[CLIP]
MALE CORRESPONDENT:
Welcome back to MSNBC's coverage of the Indiana, North Carolina -
[END CLIP]
BOB GARFIELD:
The North Carolina results came in early, but NBC kept Indiana in the too-close-to-call category into the wee hours of the morning. So, as has become its signature, MSNBC rolled out hours and hours of live coverage.
[CLIP]
RACHEL MADDOW:
- going to Barack Obama. It's not getting worse for him, by any means. The -
[END CLIP]
BOB GARFIELD:
In all, it was a revealing night – revealing, that is, about the mechanics of election night coverage - namely, while wading in a vast vacuum of results, how to fill six hours of air time. Talk, talk, talk.
[CLIP]
RACHEL MADDOW:
That's the big question, and that's a problem both for [LAUGHING] Hillary Clinton and for Barack Obama, because they're both putting -
[END CLIP]
BOB GARFIELD:
And on, and on. You heard Rachel Maddow again and again in this tape. She is one of the on-air analysts during MSNBC's live coverage. As a talking head, Maddow represents the progressive left. She hosts her own radio show every evening on Air America and she's also David Gregory's sidekick on his MSNBC show, and she appears regularly on shows like Countdown with Keith Olbermann and The Verdict with Dan Abrams.

Right now this second, she's on – On the Media. Rachel, welcome to the show.
RACHEL MADDOW:
Hi, Bob. [LAUGHS] Thanks for having me.
BOB GARFIELD:
Okay. So rate Tuesday night's coverage. Did you guys, you think, in that vast six hours [LAUGHS] of vamping, do you think you jumped the shark or do you think you stayed pretty much relevant through the whole ordeal?
RACHEL MADDOW:
I was riveted, but I guess that's what they pay me for.
BOB GARFIELD:
[LAUGHS]
RACHEL MADDOW:
It actually became a story that we didn't have results, because people were focused on what the margin was going to be in Indiana. We had instant results out of North Carolina. And the fact that we couldn't answer the question itself became a form of result. We started talking about the fact that that meant that it wasn't going to be a blowout for Hillary Clinton. That had implications.

What we were able to do and what we were not able to do became part of the story that we were all covering.
BOB GARFIELD:
I think this conversation is about what it's like to be you. How does it feel to be on live national television pretty much in the absence of, you know, facts or reporting -
RACHEL MADDOW:
[LAUGHS]
BOB GARFIELD:
- and just kind of blathering? Does that feel good? Does it feel bad? Does it feel dirty?
RACHEL MADDOW:
Some of what I do in my life is blathering, but covering election night, we are actually reacting to facts as they are brought into our discussion. The exit poll data is real. The results information is certainly real. The statements by the candidates are real. And those are the facts that we bounce off in order to create a hopefully interesting, engaging narrative about what's unfolding in political news that night.

So it doesn't feel artificial to me. But I do think that what happens in cable news coverage right now on big political nights is that, you know, every Tuesday where there's an election is now a Super Tuesday. And if it's a Super Tuesday, it justifies having 40 people on set at any [LAUGHING] one time.

And I think there is a real danger that the kind of alpha dog narrative of the night gets followed by everybody else. So whether it's Tim Russert or whether it's George Stephanopoulos, they give their take on what's happening, on what the story is of the night, on what direction things are going.

And because we're all in a group, we're all in the same room, I think that creates a tendency to all follow that storyline. And I think I, by nature [LAUGHS], resist that sort of thing, just because of my personality, but it does often make me the contrarian in the room.
BOB GARFIELD:
Right up 'til the, you know, the minute before the primary, all the talk was about Reverend Wright, Reverend Wright, Reverend Wright, Reverend Wright, which actually got under your skin. Here's you.
[CLIP]
RACHEL MADDOW:
I find it incredible that we're all sitting here going, why won't the Jeremiah Wright controversy go away? Well, you know what? Today John McCain unveiled his health care plan.
[BOB LAUGHS]
We got three different statements, three different policies from the candidates on gas prices. We got the President of the United States making a huge economic speech and speaking to reporters for 40 minutes.

We've got four Marines, or four U.S. soldiers, who were announced to have been killed in Iraq yesterday. What else has to happen in the news to –
[OVERLAPPING VOICES]
MALE CORRESPONDENT:
But Rachel –
RACHEL MADDOW:
– push Jeremiah Wright out of the headlines before we do it -
[OVERTALK]
MALE CORRESPONDENT:
- this is a Democratic -
RACHEL MADDOW:
- for six straight headlines on every politics show in the country?
[OVERTALK]
MALE CORRESPONDENT:
Hey, but Rachel, but when you, when you when you have Jeremiah Wright going -
[OVERTALK]
RACHEL MADDOW:
Is this all we're capable of talking about any more?
[END CLIP]
RACHEL MADDOW:
The thing that is least rewarding to me about television is that I don't get to decide what stories we discuss. Usually that means that I, I go along and I try to come up with my best take on what it is that they're throwing out there for discussion.

But every once in a while, like with that tape that you've played, every once in a while I think that the most important thing about the story that we're discussing is the fact that it is deemed worthy to discuss on cable television.
And so, [LAUGHS] that point is something that I'm willing to bring up.

I mean, I don't think that television executives and television producers are particularly happy to hear their pundits say that. Essentially, you're questioning the production of the show.
BOB GARFIELD:
Were you spoken to about that little tirade?
RACHEL MADDOW:
Was I spoken to about it? No. I don't have that kind of relationship with them. But, I made clear that I wasn't going to play [LAUGHS] along happily with discussing every permutation of the Reverend Wright story.

Ultimately, when the Jeremiah Wright coverage completely eclipsed everything else that was being discussed on the campaign trail for a couple of days, I just took myself out of the mix.

And it's a decision, at that point, as to what my value is in the discussion. I can criticize that that discussion is happening from outside that discussion. But [LAUGHS] if nobody hears that criticism because I've taken myself off television because I think I'm above that, for some reason, then nobody's going to hear my critique, either, and the discussion's going to happen with or without me.
BOB GARFIELD:
Okay, now on this program we spend a lot of time criticizing especially cable news for fixating on stories that are dramatic but ultimately insignificant to, you know, the body politic.

But what if I asserted to you that you're actually wrong about the Reverend Wright story, that while the back and forth between him and Barack Obama may not have anything to do with health care or the economy or America's standing in the world, it is a metaphor for racial ambivalence in America and for racial tension and for a lot of the issues that undergird the entire notion of a black man running for president? Maybe it is "the" story of the election.
RACHEL MADDOW:
I think it is one story of the election. I think the Reverend Wright controversy is - interesting. There is a discussion there to have. But I also think that the amount of coverage was excessive.

I know you guys have talked about this. In the Project on Excellence in Journalism Report looking at the quantity of campaign coverage in the week leading up to Indiana and North Carolina, the Reverend Wright story [LAUGHS] got, I think they found 42 percent of the campaign coverage for that week.

Hillary Clinton, everything about Hillary Clinton got 41 percent [LAUGHS] of the coverage. [BOB LAUGHS]

I mean, yes, the Reverend Wright story is interesting. It's not that interesting. I'm willing, actually, to engage with people about the Reverend Wright story, to a certain extent, but I'm not willing to allow it to eclipse everything else simply because it gets good television ratings because it has tabloid value.

I also think that the amount of media coverage of the Reverend Wright controversy is itself a story, because I do think that there are similarly tabloid, similarly scurrilous, similarly potential ratings magnet stories about the other candidates, particularly about John McCain and his albatross right-wing pastors. But they haven't been exploited in the same way.

And that decision, that decision by the media, I think, is worth interrogating, because I think it does have political implications.
BOB GARFIELD:
As I told you, this conversation is about you, but let's for a moment talk about me.
RACHEL MADDOW:
[LAUGHS]
BOB GARFIELD:
I met my wife in a bar. She was a businesswoman from Serbia, and we met, I don't know, 12 years ago. And my opening salvo was something along the lines of - what must it be like for you to go to work every day, knowing the various compromises you have to make just to go about doing business in Serbia under the Milosevic regime? You know, "do you come here often" this question wasn't.

RACHEL MADDOW:
[LAUGHS]
BOB GARFIELD:
And I have exactly the same question for you. As a pundit on MSNBC, what compromises do you have to make day in and day out, and how do you sort that all out?
RACHEL MADDOW:
It's really only one issue. Well, no. There's a petty issue and there's a real issue. The petty issue is that I hate them dressing me up like a senator. [LAUGHS]
[OVERTALK]
I, I – that is a person -
BOB GARFIELD:
[LAUGHING] I forget - do you wear the American flag lapel pin?
RACHEL MADDOW:
If they could brooch me, they would.
[LAUGHTER]
But literally, it causes me psychic pain to have to put on the "I'm a high school principal, I'm a U.S. senator" outfit and get the makeup and the whole thing. That's the petty issue.

The real issue is story selection, is editorial control. I can only control what it is that I get asked to speak about in a very blunt way. That said, the way that I handle that is that I, I am gunning to get my own show. I would really like to be hosting a show on cable television, rather than guesting because I would like to exert more control over what gets discussed, over what counts as important.
BOB GARFIELD:
Rachel, thank you very much.
RACHEL MADDOW:
Bob, this has been a lot of fun. Thanks for asking me to be on the show.
BOB GARFIELD:
Rachel Maddow hosts The Rachel Maddow Show on Air America, and you can catch her – almost all the time – on MSNBC.