Word Watch: Waterboarding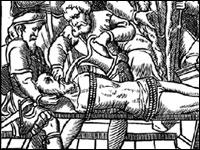 Transcript
BOB GARFIELD:
From WNYC in New York, this is NPR's On the Media. I'm Bob Garfield.
BROOKE GLADSTONE:
And I'm Brooke Gladstone. On Thursday, the Senate confirmed retired Judge Michael Mukasey as attorney general. It was a bumpy ride. Actually, it was supposed to be relatively smooth until he bumped up against the definition of two words: torture and waterboarding. Here's Senator Sheldon Whitehouse, Democrat of Rhode Island.
SENATOR WHITEHOUSE:
Just to finish that thought, is waterboarding constitutional?
JUDGE MUKASEY:
I don't know what's involved in the technique. If, if — if waterboarding is, is torture, torture is not constitutional.
SENATOR WHITEHOUSE:
That's a massive hedge. I mean, it either is or it isn't. Do you have an opinion on whether waterboarding is constitutional?
JUDGE MUKASEY:
If it amounts to torture, it is not constitutional.
SENATOR WHITEHOUSE:
I'm very disappointed in that answer. I think it is purely semantic.
JUDGE MUKASEY:
Sorry.
BROOKE GLADSTONE:
Every now and then, this show weighs in on a word or a phrase percolating up through the media. This week, it's "waterboarding," a compound word that sounds strangely benign.
[CLIP]:
MAN:
You know, when you get waterboarded, it sounds like fun. I can't wait to hop in my Jeep Liberty, drink some Mountain Dew and go waterboarding.
[LAUGHTER AND APPLAUSE]
[END OF CLIP]
BROOKE GLADSTONE:
But it's not benign.
[SOUNDS OF WATER]
MAN:
You can end this, you can end this now. Just talk! Talk!
[OVERTALK]
MAN:
I think you're getting' ready to say somethin'. Are you getting' ready to say something?
KAJ LARSON:
[ ? ] say [ ? ] gonna say [ ? ]
[TWO AT ONCE]
MAN:
What have you got to say? What do you have to say?
[OVERTALK AND YELLING]
KAJ LARSON:
[ ? ] Nothing!
[SOUNDS OF WATER]
BROOKE GLADSTONE:
That's the sound of waterboarding, performed by trained military personnel on Kaj Larson, a journalist with the cable channel Current TV. They stuffed a cloth in his mouth and poured water into his nose and throat. Fox News' Steve Harrigan underwent waterboarding too, less professionally and far more briefly.

Both conceded that they didn't experience the true horror of waterboarding, given that it was voluntary. But still, Fox News' Harrigan felt confident enough to weigh in on the practice.
STEVE HARRIGAN:
I was ready to submit, tell them anything within minutes. And then just minutes later, I was standing by the side of that pool feeling fine. So as far as torture goes, at least in this controlled experiment, to me this seemed like a pretty efficient mechanism to get someone to talk and then still have them alive and healthy within minutes.
MALCOLM NANCE:
Well, I'm sure if he had a real waterboarding done on him, not done by a couple of amateurs, that he would have a life-defining experience.
BROOKE GLADSTONE:
Malcolm Nance is a former instructor at the U.S. Naval Survival Evasion Resistance and Escape School in San Diego, where he supervised, performed and watched waterboardings over a four-year period. His job was to prepare soldiers to withstand torture.
MALCOLM NANCE:
What you've seen in these video clips that have shown that, those are what we call field-expedient waterboardings. Those are not real waterboardings as they would be done on an al Qaeda member.
BROOKE GLADSTONE:
Clearly, a studio demonstration will not lead us to clarity on the question of whether waterboarding is torture. In fact, says GOP presidential hopeful Rudolph Giuliani, you can't trust the media to play it straight on such a subtle and variable interrogation technique.
RUDOLPH GIULIANI:
It depends on how it's done. It depends on who does it. I think the way it's been defined in the media, it shouldn't be done, the way in which they have described it, particularly in the liberal media. But I'd have to see what the real description of it is, because I've learned something, being in public life as long as I have. And I hate to shock anybody with this --
[LAUGHTER]
-- but the newspapers don't always describe it accurately.
[LAUGHTER AND APPLAUSE]
BROOKE GLADSTONE:
Malcolm Nance.
MALCOLM NANCE:
It's torture, no matter how. It is not about whether the technique uses 25 ounces or 64 ounces. It's a question of do we as Americans torture.
SENATOR JOHN McCAIN:
Anyone who says they don't know if waterboarding is torture or not has no experience in the conduct of warfare and national security.
BROOKE GLADSTONE:
Senator John McCain, former prisoner of war, also running for the GOP presidential nomination, says Giuliani is missing the point, like a lot of politicians and pundits.
SENATOR JOHN McCAIN:
It isn't about an interrogation technique. It isn't about whether someone's really harmed or not. It's about what kind of a nation we are. If we engage in a practice that was invented in the Spanish Inquisition, was used by Pol Pot in Cambodia in that great genocide, is now being used on Buddhist monks in Burma, how do we keep the moral high ground in the world?
BROOKE GLADSTONE:
How indeed? Well, we still have freedom of speech, even for people who don't know what they're talking about, who exercise their rights to further cloud the issue of torture on 24-hour cable TV.
DIANA WEST:
John McCain's torture is nothing like waterboarding.
[OVERTALK]
ROLAND MARTIN:
Wait, so — so, now —
DIANA WEST:
Anything that we do is always going to be more humane than anything our enemies do.
ROLAND MARTIN:
So now you know what he felt? Wow!
[OVERTALK]
DIANA WEST:
I don't need to know what he felt.
ROLAND MARTIN:
Wow.
DIANA WEST:
I do know that --
BROOKE GLADSTONE:
CNN's Situation Room.
DIANA WEST:
No. It's -— that's, that's ridiculous. Then no one can have any opinion about anything unless —-
[OVERTALK]
—- they've had primary experience.
WOLF BLITZER:
But, but Diana, but Diana -—
DIANA WEST:
It's absurd!
[BOTH AT ONCE]
WOLF BLITZER:
John McCain does say flatly that waterboarding is torture.
DIANA WEST:
Yes. I know that. But this is not a -- you know, John McCain is not king.
BROOKE GLADSTONE:
No, he just knows more than most about this particular issue. But the information is out there. Surely some enterprising reporter with no political axe to grind has taken on the challenge of defining waterboarding. Someone must have already done the research and come to a fair and fact-based conclusion.

We called Chicago Tribune deputy editor Randy Weissman to see how The Trib defined it. He didn't have an immediate answer.
RANDY WEISSMAN:
What had happened was that your colleague called me and asked me for comment on it. And when I called around the office, I realized that there was not an established defined definition of how we were going to approach that issue.
BROOKE GLADSTONE:
And what have you come up with, or are you still mulling it over?
RANDY WEISSMAN:
No, we did this one rather quickly. Our official definition is -- effective today -- "an interrogation technique that simulates drowning a prisoner, comma, creating the sensation of imminent death."
MALCOLM NANCE:
That's not an accurate description at all.
BROOKE GLADSTONE:
Former military instructor Malcolm Nance.
MALCOLM NANCE:
And I've seen every one of the types of waterboarding that has been portrayed in the press, that's been described in the press. It's all still the waterboarding process, and waterboarding is intended to put water down into your throat, into your trachea and then, with enough water, into your lungs. You are drowning.
BROOKE GLADSTONE:
What phrase do you think the media ought to use?
MALCOLM NANCE:
Drowning torture.
BROOKE GLADSTONE:
But Weissman says it's simulated drowning. Look it up!
RANDY WEISSMAN:
Simply put, if you look in Webster's, drowning is death, and waterboarding would only fit that definition if, if the prisoner died. Ask most people if a person drowns what happens, you -— I would be willing to bet you that they would say he died.
BROOKE GLADSTONE:
But we're talking about drown-ing, the gerund. If a person is out in the water and they're goin' down for the third time, they are drowning until the lifeguard goes in and pulls them out.
RANDY WEISSMAN:
Well, I will go along with Webster's New World Dictionary, which says "to die by suffocation in water or other liquid."
BROOKE GLADSTONE:
Simulation suggests that it's a trick, it's a trick that you think that your lungs are filling with water when, in fact, they are.
RANDY WEISSMAN:
[LAUGHS] Let's see if I can find another analogy. If you attach electrodes to someone and provide current, are you electrocuting that person if the person does not die?
BROOKE GLADSTONE:
And you're saying that if you send an electric current through their body that doesn't kill them, you are simulating the electrocution and not really electrocuting them?
RANDY WEISSMAN:
I would say you're definitely not really electrocuting them.
BROOKE GLADSTONE:
We called Los Angeles Times National Editor Scott Kraft for a second opinion.
SCOTT KRAFT:
I think I'd be reluctant to call it drowning torture, just because torture has become a politically charged word. It's actually at the very center of what -— why we're even writing about it.
BROOKE GLADSTONE:
Your paper has chosen to use the term "Armenian genocide," while Congress is still debating whether to define it as genocide. Isn't that the same issue? The definition is the story, and you've chosen a position.
SCOTT KRAFT:
Ten years ago or so the paper decided, as a matter of style, to do this. I think it puts us in an awkward position. The people who did this, I think, were deciding that, like Holocaust, it's one of those labels that you can use.

But I agree with you entirely that it's very awkward, I think, to have to write about. The whole term of "genocide" is the reason that there's a debate over this resolution with all the implications that we've written about. And, by the way -- and we've said this in the stories -- the paper, as a matter of style, has decided to call it genocide.
BROOKE GLADSTONE:
So, the guardians of The Los Angeles Times stylebook were able to render a judgment on the Armenian genocide but not on waterboarding.

Randy Weissman of The Chicago Tribune says that, really, news pages are no place to take a stand. Leave that to the columnists.
RANDY WEISSMAN:
What my personal opinion is, and what the media in general may believe, are really not relevant. Individuals representing news outlets should not be making judgments.
BROOKE GLADSTONE:
To some degree, because it's the job of the news media to accurately and completely inform their readership, viewers, listeners, whatever, by sidestepping a policy issue you are potentially not serving your audience.
RANDY WEISSMAN:
I agree with you, and I think that at some point most, if not all, media outlets will make a decision. When will that happen? I wish I had a good answer for you.

Clearly it is a matter of some news outlet sitting down and saying, I believe that waterboarding is torture and we're going to call it torture from now on. Someone needs to make that choice. The Tribune has chosen not to make that choice, at this point. Will we at some point? We may. We may not.
BROOKE GLADSTONE:
But isn't this news we could use? And wouldn't some good old-fashioned shoe leather get the job done? How about facts?

In 1947, the U.S. sentenced a Japanese officer to 15 years hard labor for waterboarding an American civilian. The Geneva Conventions, the War Crimes Act and the Detainee Treatment Act either suggest or explicitly state that waterboarding is torture. The 2006 Military Commissions Act says it is not.

That last law seems to supersede the others. So, NPR calls waterboarding a, quote, "controversial interrogation technique." The New York Times calls it "simulated drowning." And on MSNBC, Time Magazine's Ana Marie Cox used waterboarding as a metaphor for the congressional grilling of Alberto Gonzales last August.
ANA MARIE COX:
I mean, the last time he went in front of Congress, I felt sorry for him. It was like a -- it was legislative waterboarding. You know, they just kept going after him and kept going after him.
BROOKE GLADSTONE:
Malcolm, does it make you cringe when you hear torture and waterboarding used as a metaphor?
MALCOLM NANCE:
The media gladly appears to accept any terminology that comes out and then they make light of it. And I really long for a time when the media would take matters of serious national security interest seriously. And this is one.

Again, you know, I characterize it less than a question of the technique, but than is our moral [LAUGHS] fabric tearing in this nation? And I think the media is coming across with scissors when they use phrases like that.
BROOKE GLADSTONE:
MSNBC's Morning Joe show.
[CLIP]:
WILLIE GEIST:
And as you mentioned, Joe, it's not a new phenomenon. It's being pinned on President Bush, but --
JOE SCARBOROUGH:
Right.
WILLIE GEIST:
-- this has been part of interrogation for years and years and years.
[OVERTALK]
JOE SCARBOROUGH:
Well, hell -—
WILLIE GRIST:
Again, I'm not defending it.
JOE SCARBOROUGH:
No!
WILLIE GEIST:
That's just a fact.
JOE SCARBOROUGH:
Yeah. But, I mean, they did it at your fraternity on Hell Night, right?
[LAUGHTER/OVERTALK]
WILLIE GEIST:
Yeah, they did. [LAUGHS] Unfortunately they did, yes.
JOE SCARBOROUGH:
Yeah, exactly.
[END OF CLIP]
BROOKE GLADSTONE:
Oh, pay no attention. It's just the media running with scissors again.