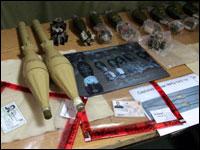 Transcript



BROOKE GLADSTONE:
From WNYC in New York, this is NPR's On the Media. I'm Brooke Gladstone.
BOB GARFIELD:
And I'm Bob Garfield. This week, the Bush administration asserted on the record that Iran was behind a new especially lethal explosive device that's been killing American soldiers in Iraq. And this week, the media responded in a variety of ways. Here's NBC's David Gregory at the President's Tuesday press conference.
DAVID GREGORY:
Critics say that you're using the same quality of intelligence about Iran that you used to make the case for war in Iraq, specifically about WMD, that turned out to be wrong, and that you are doing that to make a case for war -

PRESIDENT GEORGE BUSH:
Hmm!
DAVID GREGORY:
- against Iran. Is that the case?
PRESIDENT GEORGE BUSH:
I can say with certainty that the Quds Force, a part of the Iranian government, has provided these sophisticated IEDs that have harmed our troops.
BOB GARFIELD:
Many media critics were experiencing an eerie sense of deja vu, especially regarding the first story on the alleged Iranian devices published in last Saturday's New York Times. That story, by Michael Gordon, made heavy use of unnamed government sources asserting the Iranian connection. In fact, it seemed to resemble a story written by Gordon and Judith Miller in 2002, which helped make the government's case for war in Iraq. That story quoted unnamed officials claiming that Saddam was acquiring aluminum tubes for use in nuclear weapons production. That story was wrong.

Michael Massing has been a strong critic of the media's pre-war coverage and he was stunned by the February 10th story in The Times.
MICHAEL MASSING:
Yeah, I would put it that I was floored by seeing this. The Times, you know, issued a mea culpa about its earlier stories in which they seemed overly credulous. And I really think The Times has been doing a much better job guarding against falling into that same trap.

And lo and behold, February 10th, in the same column of the newspaper, the same slot as the earlier Gordon/Miller story, we have another story smelling very similarly as having been planted by the U.S. government and very much promoting its bellicose intentions toward a nation in the Middle East. As well, it had very few qualifiers like the earlier story. It talked about civilian and military officials from a broad range of government agencies providing specific details to support their case.

I read the whole thing looking for those qualifiers, that this sounds very similar to what the administration has done in the past, looking at least for outside experts to evaluate the nature of this, and there was virtually nothing.
BOB GARFIELD:
Now, that story ran, I believe, on a Saturday. On Monday came a story by James Glanz that emerged from a press conference held in Iraq with senior military officials, anonymous senior military officials, who went on in much greater detail about these armaments and their provenance, tracking serial numbers back to Iran and so forth.

Now, that story may be suspicious as well, but not for want of being skeptical. It seemed to me that it was, you know, something close to a minuet, dancing around the facts presented by the government, calling attention to the holes in the government's analysis and the fact that nobody in the military would go on the record.
MICHAEL MASSING:
Yes, it was interesting. The story about the press conference seemed to be a sign that The Times realized that it was hanging out there in a similar way that it had been earlier and that it had resolved to avoid again. And so, you just found many more caveats and qualifiers in that story.

And I think the press corps in general, the way they reported that press conference, has brought a fair amount of skepticism to it. So I think that the Baghdad press corps was responding in a way different from this Times reporter in Washington was, where he was just getting this information directly through government sources. So I was glad to see the second story, and then, subsequently, also, The Times on its editorial page asking good questions, and a follow-up story yet again on Tuesday raising even more questions about sort of what the administration is up to.

It's not merely the sort of question of whether or not these weapons originated in Iran and how much the Iranian government was involved but it's the whole nature of what the administration is trying to accomplish here. That is the real sort of story, I think. Why now? Why are they pushing so hard, looking at this weapons presentation in the context of all the other things that the United States is doing vis-a-vis Iran? Those are the really important questions that need to be asked. And I'm encouraged to see that many news organizations, including The Times, are asking them.
BOB GARFIELD:
All right, Michael. Thank you so much.
MICHAEL MASSING:
Okay, Bob. Thanks. I appreciate it.
BOB GARFIELD:
Michael Massing is a contributing editor at The Columbia Journalism Review. He wrote Now They Tell Us: The American Press in Iraq.
BROOKE GLADSTONE:
Massing isn't the only one sniffing parallels between Saddam's alleged aluminum tubes and Iran's explosively formed penetrators, or EFPs. Washington Post columnist Dan Froomkin asked, quote, "Is the Bush administration once again building a faulty case for war, and is the press going along for the ride?"

We asked New York Times reporter Michael Gordon. He says there's a big difference between the aluminum tube story and the one on Iranian EFPs.
MICHAEL GORDON:
First off on the tubes, The New York Times and I myself learned from that experience. I wish I had been a bit more skeptical on the tubes issue when it first came along. And my view at the time was, well, they've got the tubes in their possession. It didn't come from a defector. It didn't come from Chalabi. It wasn't based on a photo. And it took me a while, although it was before the war, but it still took me a while to figure out that there was significant dissent within the intelligence community.

In this case, we ran those traps prior to publishing this story. We held up the story and we tried to satisfy ourselves that we weren't overlooking a counterargument within the intellectual community that this material didn't come from Iran.
BROOKE GLADSTONE:
But one of the frustrating similarities for many people is the reliance on, quote, "civilian and military officials from a broad range of government agencies." Now, according to The New York Times policy, and I'm quoting here, "When we use such anonymous sources, we accept an obligation not only to convince the reader of their reliability but also to convey what we can learn of their motivation."

Well, I read through your piece carefully. I couldn't find any explanation of why your sources required that they would be unnamed.
MICHAEL GORDON:
Let me explain to you how I went about doing this story. I was embedded in Baghdad on a patrol in al-Anbar in July that was hit by an IED. One Iraqi soldier was killed and several wounded, and I wrote a story about that.

And so when I was in Baghdad in October, I heard from the troops with whom I was embedded that there was a particularly lethal form of IED, and I set out to do a story not really about the Iranian connection but about these devices.

And as I explored this, over a period of weeks, I gained access and quoted verbatim in The New York Times some of the intelligence that was done by the American experts who work on such things. And it said that key devices for these systems were being supplied by Iran's Islamic Revolutionary Guard, Quds Force, kind of paramilitary force. That's really what I reported.

What I did not assert is that it was being done at the highest levels of the Iranian government. That was asserted by military briefers who conducted a session in Baghdad subsequent to my article.

BROOKE GLADSTONE:
And, in fact, the subsequent reporting offered some dissenting voices and some notes of skepticism, but that initial piece didn't have any. And the lack of direct attribution, together with the timing, led many critics to conclude that your piece could have been the product of calculated government leaks.
MICHAEL GORDON:
To me, it's pretty interesting because if you look back at my own coverage over the last several months, I broke the Hadley story memo -
BROOKE GLADSTONE:
Mm-hmm.
MICHAEL GORDON:
- in which the National Security Advisor in the United States expressed really the gravest of concerns about the kind of reliability of the Maliki government, whether it was really a credible partner in Iraq. I broke the Rumsfeld memo in which we learned that the Secretary of Defense had privately favored many of the proposals being advanced by Democratic lawmakers today.

I'm used to getting a lot of criticism from the right. Now there's this criticism from the left that somehow this was an orchestrated story. And, in fact, these assertions about Iran have a long history. General Casey has made these assertions, more recently, Robert Gates, early in the year, Negroponte; General Abizaid has alluded to the Iranian connection. So there have been a whole slew of on-the-record statements.

The problem is when you try to get into the physical evidence, the specific data that is drawn on by the intelligence community, you end up talking to people who don't really like to be identified. And that was the situation that I was in.
BROOKE GLADSTONE:
I understand that many administration officials have gone on the record pointing the finger at Iran. On the other hand, we've all had a bellyful of administration officials shoveling crap into the media and onto the American public. And does it concern you at all, even though I know it's not your job to be concerned about these things, that given how Vice-President Cheney touted your stories before the war, at least the one about the tubes, that the White House might again point to The Times to justify a further escalation in the region?
MICHAEL GORDON:
See, I'm puzzled by the notion that military intelligence gathered from the battlefield about a particular type of IED, its properties and the source of origin, necessarily implies that we have to adopt one policy toward Iran or another.
BROOKE GLADSTONE:
You don't think that that implication is there?
MICHAEL GORDON:
See, I think you can accept the analysis that these devices – and I don't know anyone who's challenged it – come from Iran, and you could still take the view that the United States should talk to Tehran. You can make that argument. Or you could make the kind of arguments some in the Bush Administration make, that this explains why they've conducted raids against Iranian operatives in Iraq over the past couple of months. I think you need to separate the politics from the intelligence.
BROOKE GLADSTONE:
It's very difficult to do that because we have a history where they have been inseparable. It really doesn't matter what kind of informed reasonable debates you could have outside the White House.
MICHAEL GORDON:
Well, we're trying to have an informed reasonable debate. And the way I look at this is this intelligence and information work doesn't come from the top down. It doesn't come from the White House. It comes from the bottom up.

In the case of WMD, the United States was really flying blind. The CIA didn't have many good human intelligence operatives in Iraq. It was essentially extrapolating from old information. We were on the outside looking in.

In the case of Iraq, we're in; for better or for worse, we're in. And these weapons are being used against American troops, and every time a Humvee is blown up by some of these systems, intelligence experts pick up the pieces, gather them, analyze it, do a kind of forensic analysis, combine that with signals intelligence, information about smuggling rings and the kind of characters one finds in Iraq. And they've produced this picture. This is a picture produced on the battlefield in Iraq, not produced in the White House.
BROOKE GLADSTONE:
Michael, thank you very much.
MICHAEL GORDON:
Okay, thank you.
BROOKE GLADSTONE:
Michael Gordon is chief military correspondent for The New York Times.