When Coronavirus Isn't The Only Crisis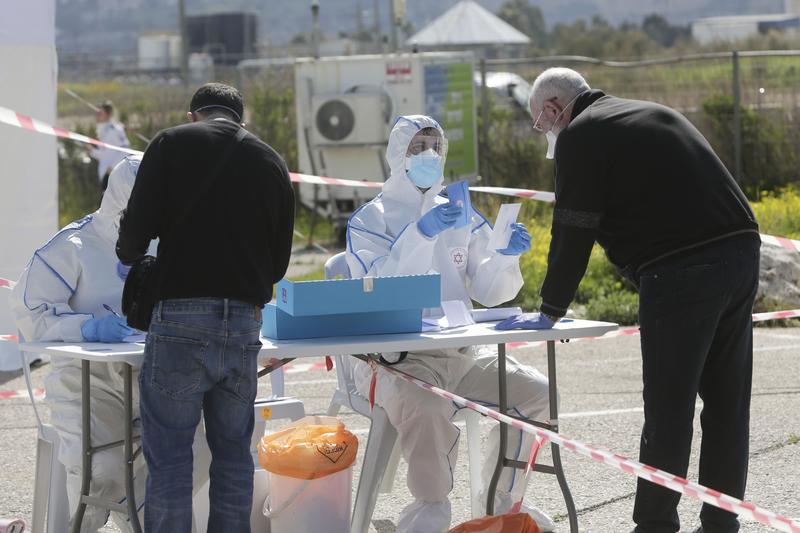 Transcript
Bob Garfield: This is an OTM podcast extra. I'm Bob Garfield, and that's the sound in Jerusalem last week of auto descent. How do citizens voice-protest when a pandemic makes it too dangerous and illegal to peaceably assemble? Last Thursday this was a convoy of cars sealed and self-contained, heading to the Knesset, Israel's legislature. Hundreds of protesters honked horns and waved black flags in protest of Benjamin Netanyahu and his government's response to coronavirus.
New measures, they said are undemocratic, including surveillance technology that employs the country's significant security apparatus in new ways. Plenty of social distancing in this gathering, but police tried to shut it down anyway. Steve Hendrix is Jerusalem bureau chief for The Washington Post and he joins me now. Steve, welcome to the show.
Steve Hendrix: Thanks. Thanks for having me.
Bob Garfield: Let's begin with the surveillance element. Take me back to last Wednesday when 400 some Israelis got a text message on their phones. What did it say?
Steve Hendrix: Basically that you may already be infected with the coronavirus. This was a brand new program that Benjamin Netanyahu had asked for and gotten permission to implement in which the State Security Service was allowed to use its digital surveillance systems in the service of viral tracking. Basically, they were able to go through the phones, presumably of every Israeli see where they had been in the previous few weeks, overlay that onto where they knew certain COVID-19 positive cases said then and extrapolated who might be at risk of having been infected. Those 400 people were all notified that they were on that list and we're told to begin self-isolation immediately.
Bob Garfield: Well, it's an attention grabber strictly from an epidemiological perspective, it would seem to make some sense. Who is in proximity of someone known to be infected? Elsewhere, public health officials are using the more laborious analog way through interviews and so on, but this nonetheless, has been criticized. Why?
Steve Hendrix: It did raise immediate objections from privacy advocates. No one gave consent for this kind of monitoring, so Israelis are trying to decide whether the cost is worth the benefit. Even those people who were notified a few that we talked to found it very creepy, without a doubt, but were also quite aware of the benefits of being able to track the virus.
Bob Garfield: There is also a question I gather of really how much security because this thing is not all that precise a tool.
Steve Hendrix: That's right. There's not a lot known about exactly what the government is doing here. There's a lot of elements to Israel's Intelligence Service generally, and specifically, its digital capabilities that just aren't known. As you say, when it's just a matter of my cell phone pinging the cell towers somewhere in Tel Aviv at a certain time of day, where a known coronavirus patient was also pinging that tower, there's not a lot of precision there. You're still talking about dozens of square miles of territory, and a recommended distance of transmission for this virus of six feet.
What's not known or what other intelligence digital surveillance capabilities the security agency might be bringing to bear, it's suspected that Israel has ways of sorting a lot of this material that's more precise than that, but we don't know exactly what they're using.
Bob Garfield: All by itself, it's a low-resolution tool, but maybe something else from the security state toolkit is enhancing the image?
Steve Hendrix: That's right. There's been other reporting by the New York Times that the government is bringing to bear other more sophisticated intelligence apparatus here.
Bob Garfield: You mentioned concern from privacy advocates. Does their voice matter in Israel in March of 2020? Are they drowned out by other voices?
Steve Hendrix: Well, there's so much going on here, not just the pandemic, but also an ongoing political crisis, where Israelis are actually beginning to question some very long-held beliefs about the soundness of their democracy. As in countries all over the world, Prime Minister Benjamin Netanyahu here is pushing the boundaries of government power as he addresses this crisis. Some of those concerns seem to have as much to do with endangered political powers they do responding to the pandemic. For example, his hand-picked justice minister early on in the crisis canceled pretty much all judicial proceedings in the country two days before Netanyahu's own trial on corruption was scheduled to begin.
I don't think many people here thought it was a coincidence. It is hard now to imagine a normally function court system. Nothing else is operating as normal. Plenty of democracy advocates feel like it's just one of many power grabs that he has instituted in the name of fighting the coronavirus including the restrictions on parliamentary activity that serve his cause well, now that his faction no longer has the majority.
There's a lot of concern that he's willing to go a lot farther. He's desperate to hang on to power. He's proven willing to incite against the justice system against the Arab minority, against anyone who opposes his ability to maintain power as he steps forward as the essential person, the only one, as his supporters will say, who can help Israel get through this pandemic.
Bob Garfield: You have an authoritarian, leaning prime minister struggling for power at his own personal liberty, as a matter of fact, neutering the parliament. Historian Yuval Noah Harari has said that's just tantamount to dictatorship.
Steve Hendrix: Just today, former president of the Israeli Supreme Court said that the Speaker of the Knessets refusal to adhere to a high court ruling, that he must allow this vote that would likely take his own job is rocking the foundations of democracy in Israel. It's hard to overstate the triple sense of crisis in this country. I think Israelis are wondering exactly how they're going to get out of this.
Bob Garfield: Are they though? Through the years of Netanyahu's rule, they ultimately have been very forgiving of everything that he has done to encroach on their civil liberties to especially encroach on Arab civil liberties, and to continue to have an iron fist in the occupied territories. As a society, they've been down for that over, I don't know, what is it? 15 years? Is this changing the calculus for large numbers of people?
Steve Hendrix: The political dynamic here would be familiar to Americans. There is a core of supporters behind the prime minister who can do no wrong for a significant plurality of people but it's not a majority. He has failed in three straight elections to win a majority in the parliament. There are voices who condemn his autocratic rule, his actions against the Arab minority, and his personal corruption which has now resulted in indictments on bribery, fraud and breach of trust charges.
The last best hope for many Israelis was the judiciary, which has proven itself willing to stand up to Netanyahu. That's now come to a crisis point itself because the Speaker of the Parliament, the Netanyahu ally, is so far refusing to comply with the High Court's ruling that he allow the parliament to function normally.
Bob Garfield: We've talked about the Arab population within Israel and in the occupied territories. That would include refugee camps in Jordan and in Syria, but also notably in the Gaza Strip, which are very densely populated and would seem to be death traps.
Steve Hendrix: An outbreak in Gaza or frankly any of the other dozens of refugee camps, and resettlement centers, migrant centers across the Middle East are really the worst nightmare of health officials. Anyone who considers what that might look like, there are 2 million people who live in Gaza, extremely small. It's basically an open-air densely packed prison, just reported its first two positive cases of coronavirus. Two people who returned from Pakistan. Fortunately, they stepped right into the protocol of immediate quarantine so they did not have a chance to circulate in the wider population.
If an outbreak were to take hold there, it's hard to imagine how it could be contained. It's a place that's already very poor. They only have a few hours of electricity a day. Until recently it was considered the most densely populated part of the Middle East, until another refugee area in Northern Syria took that honor, just recently. The WHO is working with the Palestinian Ministry of Health to set up quarantine centers, more testing capacity. Israel is helping with that. I don't think anyone has any illusions about what would happen in an area of that size and density with fewer than 70 respirator ICU units to use if a real fast-moving outbreak were to occur.
Bob Garfield: What has that meant to life for Palestinians? Has it changed in any way, the relationship between the Israelis, and the various governmental and quasi-governmental units that govern in the occupied territories?
Steve Hendrix: There are reports that this crisis has meant a greater level of cooperation between Israel and Hamas, the militant group that governs in the Gaza strip, and the Palestinian Authority, the group that governs in the West Bank. There's undoubtedly a lot of cooperation going on. We know that a lot of testing in those Palestinian areas is occurring in Israeli hospitals. We know that the security services have worked together to seal off areas where outbreaks have occurred including in Bethlehem.
Gaza, for example, is completely sealed now except for the back and forth traffic of humanitarian pandemic related assistance. We'll see if that cooperation lasts beyond the epidemic, or if it can survive a truly gruesome outbreak which is entirely possible in these confined areas, but so far the system seems to be working and perhaps working as well as it ever does, given the gravity of circumstance.
Bob Garfield: You've described "never" babies and we have those too, but the very idea of a base of support that's unchangeable is also quite parallel. Are there any lessons in dealing with this political dynamic that come from Israel? Is there a lesson here for those who are more than fed up with Trump?
Steve Hendrix: I certainly believe that the functioning democracy in the United States is capable of having another election in that the winner will take office and prevail. I think Israelis are beginning to question whether or not they can say the same thing. Three elections have failed to produce a majority. Prime minister in power is proven willing to make moves that would have been considered an asthma here in previous generations, and there really is no resolution in sight at this point. Everything is only made more difficult by the fact that the emergency has erupted in the middle of the political season.
[background music playing]
Steve Hendrix: I think that's the future for Israel and the United States; a lot of uncertainty and a lot of anxiety.
Bob Garfield: Steve, I thank you.
Steve Hendrix: Thank you, Bob.
Bob Garfield: Steve Hendrix is bureau chief in Jerusalem for The Washington Post.
?Speaker: That's it for this pod extra, a reminder that there's more midweek content from OTM in our newsletter, you can subscribe to it at onthemedia.org/newsletter. That's where we put the non-scary stuff, usually.
Copyright © 2020 New York Public Radio. All rights reserved. Visit our website terms of use at www.wnyc.org for further information.
New York Public Radio transcripts are created on a rush deadline, often by contractors. This text may not be in its final form and may be updated or revised in the future. Accuracy and availability may vary. The authoritative record of New York Public Radio's programming is the audio record.