Virtual Worship Is Older Than You Think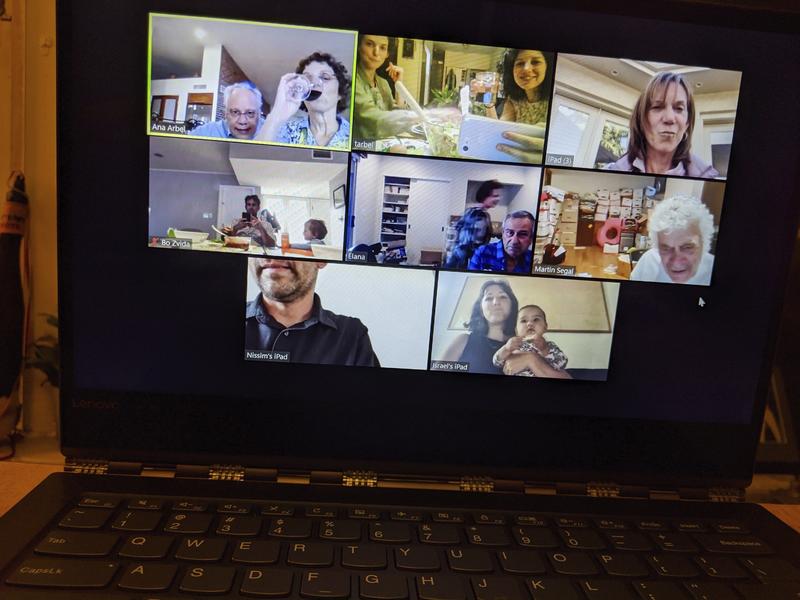 Transcript
Bob Garfield: This is an On The Media podcast extra, I'm Bob Garfield. Religion has played a pivotal role during the COVID-19 pandemic. Consider Iran, which after China in February showed one of the highest rates of virus deaths. Many of the first cases were traced back to the Holy city of Qom, which continued to welcome pilgrims into the month of March. A church in South Korea provided optimal conditions for the virus to spread so much so that all 200,000 members of the denomination were tested by the government for COVID-19. Here in the United States at one point, almost a third of COVID-19 cases could be traced back to one Pentecostal church in Sacramento.
We are currently in peak Holy season for three major faiths in the United States, Passover, Easter, and Ramadan, but at a time when most houses of worship can count on being busiest, lockdown means people of faith can't celebrate physically together. That is most people. A few houses of worship across the country are refusing to close and move online in part because of the holy season and because they are deeming themselves as essential as grocery stores. According to data from the American Enterprise Institute, more than 10% of the religious groups in the United States continue to offer services as usual. Many of these are evangelical Christian services.
Preacher: I got news for you, this church will never close. The only time the church is closed is when the rapture has taken place.
Bob: That's a Tampa, Florida pastor who was arrested for continuing to hold worship services at his church. Since then, the governor of Florida, Ron DeSantis, having apparently learned nothing about life and death from his beach week debacle overruled local regulations and deemed churches essential, so they can continue to meet and potentially expose one another to COVID-19 spreading the deadly virus further. In fact, a Richmond, Virginia pastor who refused to close his church because, "God is larger than Coronavirus" died from COVID-19 the day before Easter.
Resistance to closing continues. As of Monday, three Southern California churches are suing governor Gavin Newsome over his orders to close, and that resistance goes all the way up to the Department of Justice. Attorney general William Barr is "monitoring state and local government officials cracking down on religious services and is ready to take action, lest religion be singled out for public health intervention." Samuel Boyd is an assistant professor of religious studies and Jewish studies at the University of Colorado. He says the conflicts the society now face are stark, but not new. Sam, Welcome to OTM.
Sam Boyd: Thank you so much. It's great to be here.
Bob: What kind of thinking motivates battles over religious liberty in the middle of a pandemic?
Sam: Those religious communities and churches, as you mentioned, are holding fast to the idea that we meet in physical person because that's what God commands us to do. There's this belief that if God can raise Jesus from the dead, we will have faith and trust that he will carry us through this no matter what it might look like. Now, scientifically, communally, we know the devastation this can have in the modern context, but you can at least see the tension that people in religious communities might feel
Bob: Let's focus on the word tension because there is this ongoing feeling among many religious groups of persecution, whether by some other by the government, by somebody. I would say a very high sensitivity to a secular body getting in the church's business.
Sam: There is definitely a lot of historical background for this. A wonderful scholar, Candida Moss wrote this book, The Myth Of Persecution, what she does is she looks at the way in which Christianity in its early phases was persecuted periodically. The way that becomes something in the cultural map of a lot of churches, such that whenever somebody else comes in and oversteps, what is at least perceived to be overstepping boundaries and inserting itself within Christian religious communities, that category of persecution can become reactivated in a way that can energize as communities can mobilize them.
If the government is going to try to tell us what to do, then all the more we'll continue with our divine mandate and defiance of the government. Now, some of the political theory behind this, you can go to Martin Luther. He had a theory of two swords, one of which belongs to the kingdom of God, one of which belongs to a secular government, but when those words conflict and clash, it creates a lot of issues for people who go to church.
Bob: Now, while there is a number of religious organizations, churches, and so on that are refusing to heed public health mandates, it's a small percentage. Most mosques, churches, synagogues appear to have closed. Catholic priests have made headlines for printing photos of their parishioners and taping them to the pews for online mass, Zoom seders were all the rage if you've ever wondered what it was like to eat dinner on camera with your Zayde and Bubbie, and mosques are streaming drum up prayers on Facebook live. In other words, religious observances are taking place, even on a mass scale. Is there anything in various Holy books demanding physical gathering at a communal service?
Sam: You have commands for ritual pilgrimage. God says three times a year. You're supposed to come to the chosen place, which is Jerusalem, and three times you're supposed to be there physically. Now, what do you do when there's no longer a temple or in certain parts of history of Judaism after a series of revolts. In 135 AD or common era, the Roman emperor expels the entire Jewish population from Jerusalem. What do you do?
You can go back into the text and find ways to innovate. Passover already in the biblical text gets combined with what's called the feast of the unleavened bread. These celebrations get innovated into familial celebrations happening in the household. The way in which Passover has always been celebrated has always been somewhat of a function of innovation, of current historical and cultural circumstances.
Bob: Why shouldn't a pilgrimage through your broadband connection be any different from a pilgrimage on foot. You're still going to a place, do you have to go to Mecca? Do you have to go to the cathedral to commune with God and your fellow man? I thought God was everywhere.
Sam: There's really interesting article in the Jerusalem Post about some Orthodox rabbis who went back and looked at the concept of a minyan, which is traditionally 10 men other traditions have expanded upon that. Just 10 people have to be in the same place for certain prayers to be recited. What is meant by the word place, these Orthodox rabbis had a rule or come to a conclusion about that. Zoom can now be considered to be a place, even if you're in otherwise different locales. Being in one place in zoom constitutes a place.
There certainly is this concept, both in Judaism with the Shekinah, which is like the divine essence that according to some traditions follows the people of Jerusalem into exile into Babylon after the Babylonians destroyed it in 586. It's like the spirit of God can dwell with you. This happens in Christianity as well. There's a fascinating example of this. In the medieval times when Ethiopian Christians used to go to Jerusalem three times a year, like it says in Deuteronomy, and they would make their pilgrimage, the passages were no longer safe because of the crusades. A King, Lalibela, around the 13th or so century actually built versions of Holy places of Israel in Ethiopia itself. God could be right there in Ethiopia with you and these churches, which are gorgeous rock-hewn churches three stories into the ground became a substitute.
Bob: These are workarounds.
Sam: These are workarounds, but it's not-- I think one thing that's important to emphasize when people from the outside come to these religious rituals or the ways that they change and innovate, it can sometimes look random, but there's actually rules to the game that allow you to take new historical circumstances but find the license for doing what you need to do based on texts that have always been there.
Bob: You cited as an example, the Jewish response 2,500 years ago to the destruction of the temple, there was no place to worship.
Sam: Yes. This gets into the mysterious origins of the synagogue and both songs in the book of Hosea. There's a likening sacrifices to prayers. That's a metaphor in these passages, but when the temple is no longer there, the Amidah prayer in Judaism is a prayer that counts like a sacrifice. The metaphor gets actualized, concretized, and it's not just a temporary workaround or fix, there's actually a metaphorical license for doing so.
Bob: Now this was not a trivial event. The destruction of the temple went to the very heart of ancient Judaism, much more of an existential threat to the entire religion than the difference between in 2020 going to church or doing it online. Are there other examples of religious identity literally changing in the wake of pandemic or any other cause?
Sam: You go back again and something like early Christianity where religious identity changed. You had this sort of category of being a martyr. The word martyr literally means "a witness" with the ideas you witnessed to the validity of something by being willing to die for it. What happens when Constantine legalizes Christianity and so the Roman empire is no longer producing these martyrs for you, you get the rise of monasticism where the church produces it for itself. Some of those types of crises can produce categories that survive and become productive ways of thinking about your religious identity in the world.
Bob: I'm interested in whether events like this can actually change religious identity of one sort or another going forward. I'm thinking, for example, of American Muslims post-911.
Sam: Yes. These very unfortunate social pressure on Islamic communities to announce themselves as peaceful, whereas most Christian communities didn't have to do that. In my own personal background, I was actually a foreign currency derivatives trader when September 11th happened, brokerage firms wiped out. We used to go out to the pub after work and people would debate certain things like when Osama bin Laden uses the word Crusader.
It playing on the idea of Christianity versus Islam and we had these really interesting questions. What is Christianity? What is Islam? People struggled quite a bit with their religious identity in the wake of this. There was a spike in church attendance for two to three weeks, and then it trailed off. When President Obama was elected president, what is his real true religious affiliation, and is he going to persecute Christians? There is that sense of, "We could be persecuted again at any moment. The early churches are so far away that it can't happen again here in America, so we need a battle for identity. We need a battle for a political and cultural place in the landscape of ideas."
Bob: Are there any clues that you've divined so far that suggests that we're onto a larger shift in ways we worship, that some of this stuff could be permanent.
Sam: It's difficult to figure out. Maybe Zoom becomes more of a convenient option on occasion, but the idea of physically taking a sacrament and Christianity, I don't think we'll make things like virtual church attendance permanent, because it's just so embedded in the religious concept. The God sanctifies the physical. Then there are other parts that are going to be very interesting to see. Sometimes innovation happens and it's obvious and people know it and they see it and it continues on as an innovative practice that people will trace back to this moment.
Sometimes innovation is a bit more nuanced or it happens and people aren't aware. Classic example is the architecture of the cathedral borrowed in many ways from not Romans here at temples, but rather the Roman Basilica, which is an administrative building structure. Where at one end you might have a big statue of Roman emperor that gets replaced instead by the altar. It make it now a place where religious observance happens and you can innovate, but do so in territory that's familiar to what your average person might've been familiar with in the Roman empire.
It'll be interesting to see the way in which religious communities, however many years from now, look back at this moment and how much innovation either they explicitly attribute to things like the coronavirus in 2020, or maybe they're innovations that happened that they just forget are a product of the particular historical moments that we live in right now. It'll be interesting to see.
Bob: I've got to ask, under the circumstances, are we in like a bull market for apocalyptic vision? There were certain evangelical congregations around the country and around the world that are focused on end times, are these the end times that they've been praying about all along?
Sam: It'll be interesting to see how much people take on the mantle of apocalypticism. We've lived in escalating climate crises, living in an economic bubble that's not sustainable and now we have a pandemic that is going to pop everything. How much of that extreme circumstance will give certain people with religious sensibilities, the sense that they're somehow getting a special insight into ultimate reality. That's what apocalypticism means. It means to reveal. Then they produce these visions for society as a result, that the end of the world is coming. This is what you need to do. I think it's going to be really interesting to see how that plays out in the landscape of religious identity.
Bob: Finally, Sam, I want to move from religious ritual and doctrine to secular law, namely the constitution. The first amendment protects the practice of religion, speech, and freedom of assembly to almost an absolute degree, no human sacrifice and no shouting fire in a crowded theater, but is a pandemic not pretty much the ultimate crowded theater. Isn't the protection of public health, excuse the expression, a Trump card that even under the most gimlet eye view of religion takes precedence over the establishment.
Sam: To put the impetus back to maybe not constitutional law, but biblical law, or even in Islam, Sheria, or in Judaism, Halakhah, there's a large wisdom backing to it to be able to navigate things like the first amendment. This is a pandemic, as you said, that is like the ultimate crowded theater. It's not just my reading of something like Hebrews chapter 10 that tells me to stop congregating. That may be a necessary, but not sufficient condition for coming to a conclusion of how I should operate within the current historical crisis.
Rather, what is also wise. Wisdom is a big component of the Bible and scriptural texts that I think can allow- I'm not trying to be prescriptive here. I am not a theologian, but could allow religious communities to navigate in socially constitutionally responsible ways without also feeling like they're giving up their convictions in the same process.
Bob: Sam, I want to thank you.
Sam: Bob. This has been excellent. Thank you for having me on.
Bob: Samuel Boyd is an assistant professor of religious studies and Jewish studies at the University of Colorado. We don't ask this often, but there is something mind-blowingly easy that you can do to support OTM. If you've been listening to us in lockdown, please rate and review the show on whatever podcast platform you use. It takes just a few seconds and it helps us reach new listeners who have no idea what they're missing in these difficult times. Thank you so much for listening and thanks for helping out.
Copyright © 2020 New York Public Radio. All rights reserved. Visit our website terms of use at www.wnyc.org for further information.
New York Public Radio transcripts are created on a rush deadline, often by contractors. This text may not be in its final form and may be updated or revised in the future. Accuracy and availability may vary. The authoritative record of New York Public Radio's programming is the audio record.