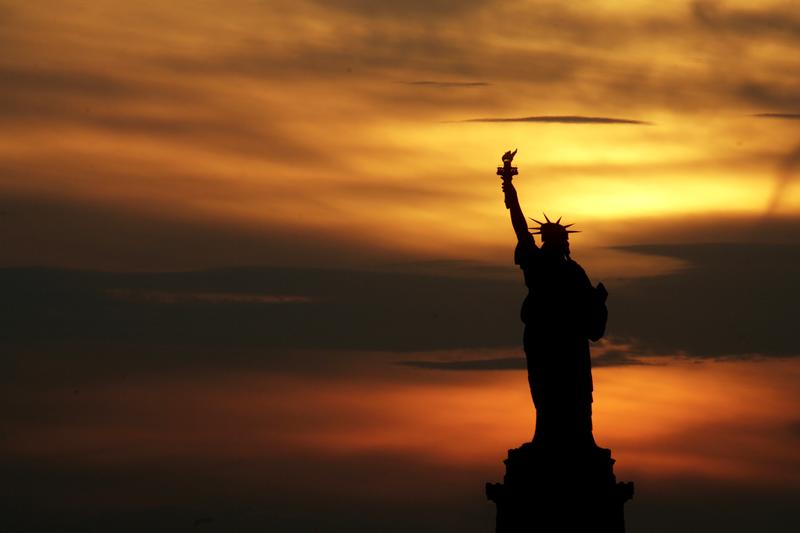 Transcript
[CLIP]
MALE CORRESPONDENT President meanwhile will have to announce a new National Security Advisor after the abrupt departure of John Bolton. [END CLIP]
BROOKE GLADSTONE The latest shakeup in the White House has talking heads fearing the loss of stability. What stability? From WNYC in New York this is On The Media. I'm Brooke Gladstone.
BOB GARFIELD And I'm Bob Garfield. How the press is suddenly seeing Trump's latest victim as a man of ideas.
[CLIP]
FRED KAPLAN Hitler had a world view too, you know? I would rather have no world view than a really terrible, destructive world view. [END CLIP]
BROOKE GLADSTONE Also, is Lady Liberty the mother of exiles or a guardian shielding America for the teeming hordes. Pick a side. Everybody does.
[CLIP]
PAUL KRAMER Yeah I think there's a reason why, when these contemporary nativists are trying to make these arguments for shutting down refugee programs, closing borders, etc, that they feel like they have to take her on. [END CLIP]
BOB GARFIELD Brooke visits Lady Liberty, after this.
BROOKE GLADSTONE From WNYC in New York this is On The Media. I'm Brooke Gladstone.
BOB GARFIELD And I'm Bob Garfield. It began, as it often does, with a tweet.
[MUSIC UP & UNDER] [CLIP]
MALE CORRESPONDENT At the White House, major changes with the firing of National Security Director John Bolton. President Trump tweeting that news saying, 'I informed John Bolton last night that his services are no longer needed at the White House.' [END CLIP]
BOB GARFIELD This in turn sparked two very familiar manifestations of Washington press corps reflex.
[CLIP]
FEMALE CORRESPONDENT Shakeup at the White House. Did National Security Adviser John Bolton quit or was he fired? [END CLIP]
BOB GARFIELD Palace intrigue soap opera. Who done it? Who cares? The tick tock of the latest Trump-ian chaos was so trivial and irrelevant that even Fox and Friends momentarily broke character to think about why they were even gossiping about it.
MALE CORRESPONDENT John Bolton just texted me.
FEMALE CORRESPONDENT Oh.
MALE CORRESPONDENT Just now. He's watching. He said, 'let's be clear, I resigned.' And I said, 'do you mind if I say that while you were talking.' And he wrote, 'yes.' So John Bolton is just answered the president's tweet by saying--
FEMALE CORRESPONDENT Why--why are we doing this. Like why are we--I know why we're doing it, it's a talk show.
FEMALE CORRESPONDENT [laughs] [END CLIP]
BOB GARFIELD But the second reflexive response was more telling, so conditioned to reporting on Trump's recklessness and incompetence is the chattering class. And so caught up in the schadenfreude of administration chaos, much of their coverage defaulted to the narrative of Bolton's departure as destabilizing.
[CLIP]
ARI MELBER It's clear Bolton was reportedly willing to stand up to what he saw as bad or dangerous foreign policy ideas. He had that type of backbone, whether you agree with his alternative ideas. [END CLIP]
BOB GARFIELD That was Ari Melber on MSNBC. And here were the Morning Joe hosts.
[CLIP]
MALE CORRESPONDENT This is the Wall Street Journal's lead editorial today on John Bolton and they say right in the lede, 'America's adversaries lost a rare internal restraint on President Trump's inconsistent and transactional security instincts. The world is now a more dangerous place.'.
FEMALE CORRESPONDENT Wow. Joining us now is--.
FEMALE CORRESPONDENT I think there were a lot of people who didn't love John Bolton being chosen as national security adviser but the thought of him leaving is even worse, if that makes any sense. [END CLIP]
BOB GARFIELD And Dexter Filkins writing in The New Yorker said quote, 'you may not like Bolton's worldview, many of his enemies in Washington certainly despise it, but at least he has a world view.
[CLIP OF THE BIG LEBOWSKI]
I mean, say what you want about the tenets of national socialism do, at least it's an ethos. [END CLIP]
BOB GARFIELD Walter from The Big Lebowski. And thus this week John Bolton was elevated. No better way to burnish your political obituary than getting fired by Trump. Yes. The president calls the press an enemy and so I suppose, by definition, he is ours. But that doesn't mean the enemy of my enemy is my friend. How quickly some have forgotten.
[CLIP]
LAWRENCE O'DONNELL On April 9th, the United States will take one big step closer to nuclear war. [END CLIP]
BOB GARFIELD MSNBC is Lawrence O'Donnell a year and a half ago when Bolton got the appointment.
[CLIP]
LAWRENCE O'DONNELL On April 9th, Donald Trump will have a national security adviser who just five weeks earlier publicly called for a pre-emptive attack on North Korea. [END CLIP]
BOB GARFIELD And as for Morning Joe, 17 months ago they weren't quite so ready to imagine Bolton as a stabilizing influence.
MALE CORRESPONDENT John Bolton Is a bigger neo-con than Dick Cheney. Could you explain what a [inaudible] as somebody that knows that for foreign policy what a massive neo-con on steroids John Bolton is.
FEMALE CORRESPONDENT Well John Bolton is--[END CLIP].
BOB GARFIELD Well, yes and no.
FRED KAPLAN He has always decried the label neo-con as not applying to him because one feature of a neoconservative is that they want to spread democracy throughout the world, you know, through force.
BOB GARFIELD Fred Kaplan is a staff writer at Slate where he writes the War Stories column. He's also, full disclosure, Brooke's husband.
FRED KAPLAN Bolton doesn't give a damn about spreading democracy around the world. His goal is quite, strictly and explicitly, extending American power around the world, getting rid of things like the U.N. and international law because they constrain American power. I mean--I mean he's--he's about is up front an imperialist as anyone that we've seen in a senior position in the United States probably for nearly a hundred years.
BOB GARFIELD Which yessiree, is a worldview.
FRED KAPLAN Hitler had a world view too, you know? The fact that, 'oh well gee he--he has an ideology and he believes it,' I don't think that says anything necessarily in his favor.
BOB GARFIELD But if you're so consumed by Trump hatred that you automatically relate to his victims, you can deceive yourself into a false narrative such as House Speaker Nancy Pelosi's tweet quote, 'John Bolton's sudden departure is a symbol of the disarray that has unnerved our allies since day one of the Trump administration. Steady leadership and strategic foreign policy is key to ensuring America's national security.' The revisionism got so weird that Trump whisperer Tucker Carlson of Fox News Channel, seeing that Bolton was being portrayed in the enemy lame stream media as a victim, had to turn against him portraying Bolton as something unspeakably vile–a liberal.
[CLIP]
TUCKER CARLSON Bolton himself fundamentally was a man of the left. There was not a human problem John Bolton wasn't totally convinced could be solved with the brute force of government. That's an assumption of the left, not the right. Don't let the mustache fool you. John Bolton was one of the most progressive people in the Trump administration. [END CLIP]
FRED KAPLAN This is what happens when you put Donald Trump at the center of your conception of politics. Call yourself conservative and therefore see anybody who is against Donald Trump as a leftist.
BOB GARFIELD Slate's Fred Kaplan who sees no need this week to revise history.
FRED KAPLAN When Trump named Bolton national security adviser I wrote a column in Slate which began, 'now's the time to push the panic button.' And the reason I wrote that is because clearly Trump had been watching Bolton on Fox News where he was a regular commentator. Bolton had made no bones about the fact that he favored bombing North Korea, overthrowing the Iranian government, you know, pulling out of every treaty that you could think of. The fact that Trump then named him national security adviser full well knowing what his views were, told me that that's what he wants Bolton to do.
BOB GARFIELD Trump grooved on that tough talk, the bellicose rhetoric, the violent threats he believes force the other side to negotiate.
FRED KAPLAN He thought that talking tough would make the leaders of North Korea and Iran and other places tremble in their boots and give in to everything that America wants. Turns out that Trump really didn't want to go to war. He likes military parades. He likes tough language suggesting that he is going to war.
BOB GARFIELD Just as he liked now departed Defense Secretary Jim 'mad dog' Mattis until he discovered Mattis wasn't all that mad. But for all of Trump's saber rattling he has mainly tried to do deals. Deals with a series of devils like North Korea Russia and the Taliban while also cozying up to murderers in Saudi Arabia and the Philippines. This sort of seat of the pants diplomacy, Kaplan says, could not have taken place under previous administrations because the layers of national security infrastructure at the State Department, the intelligence agencies, the Pentagon and the National Security Council itself would have interfered with a bunch of annoying impediments such as facts and history and doctrine and strategy and law. And far from being the enemy of our enemy, this is where Bolton was Trump's best friend.
FRED KAPLAN You know Trump always wanted to pull out of the Iran nuclear deal. Mattis and Tillerson and McMaster kind of convinced him that it was worth staying in. Bolton gave him permission to leave. Bolton also pulled out of the Intermediate Range Nuclear Forces Treaty with Russia. He has reinforced and, again, given permission to several of the pernicious things that Trump had wanted to do and told him, 'yeah, go ahead, do it.' And in the meantime destroying the apparatus for inter-agency decision making while he was at it.
BOB GARFIELD So now we are left with the entire remaining national security apparatus of the United States splitting his time between the Oval Office and the 13th fairway. Bolton's fate ironically was sealed because he worked for someone even more deaf to dissenting views than himself. That doesn't make him a steady hand. It just makes him a loser.
[MUSIC UP & UNDER]
BROOKE GLADSTONE Coming up, it's about guns, it's about mental health, it's about homelessness, it's not private. A new perspective on so-called domestic violence.
BOB GARFIELD This is On The Media.
********************************
BROOKE GLADSTONE This is On The Media, I'm Brooke Gladstone.
BOB GARFIELD And I'm Bob Garfield. September 13th marked the 25th anniversary of the signing of the Violence Against Women Act. That law established the National Domestic Violence Hotline, the Department of Justice's Office on Violence Against Women and a number of training programs on gender based violence for victim advocates, law enforcement and the judiciary. The laws five-year reauthorization was passed in the house but sits stalled in the Senate over Republican objections. The obstruction is untimely. Researchers at Northeastern University have found that after almost four decades of steady decline, intimate partner homicides increased each year between 2014 and 2017. Though reauthorization got a shout out from Joe Biden in Thursday's Democratic presidential debate--.
[CLIP]
JOE BIDEN Twenty-fifth anniversary of the Violence Against Women Act is up, the Republican Congress has not reauthorized it. Let's put pressure on those passed the Violence Against Women Act now. [END CLIP]
BOB GARFIELD The legislative roadblock has not commanded much attention from the media or the public, which may have something to do with the words we use. Words, which do not convey the horror.
RACHEL LOUISE SNYDER Anytime you put the word domestic in front of anything, domestic terrorism versus international terrorism, it has a softening to it.
BOB GARFIELD Rachel Louise Snyder has covered domestic violence in the United States for 10 years and is the author of No Visible Bruises.
RACHEL LOUISE SNYDER Of course domestic violence replaced battered women, which had its own problems but at least that created a sense of what was going on.
BOB GARFIELD She prefers the term intimate terrorism.
RACHEL LOUISE SNYDER Because I think it comes closer to getting at the psychology of what it's like to live within a situation of domestic violence. It feels like terror, the anticipation of physical violence. There's a reason that neurologists today compare the brain scans of domestic violence victims with the brain scans of prisoners of war. There's something about living in the stress of that situation and I think intimate terrorism captures all those different constellations.
BOB GARFIELD Let's now address the news. This week as the 25th anniversary of the signing of the Violence Against Women's Act. Why hasn't it been reauthorized as it routinely was four previous times?
RACHEL LOUISE SNYDER The bill was intended, it was written to be evaluated every five years. And as we learned more and as our research evolved and our programs and practices, we could have some sense of being able to move grant moneys around or have further protections. For example in 2013 you saw more protections for immigrants and Native American women and LGBTQ communities. And so in the 2018 Bill, there was a tightening of gun restrictions federally for convicted abusers and the NRA came out against that and that's essentially what is holding it up.
BOB GARFIELD You wrote in your book that the murder of Nicole Brown Simpson was a turning point in the evolution of this law.
RACHEL LOUISE SNYDER The OJ case really brought to the forefront the idea that domestic violence, homicide and domestic violence could happen to anyone. You know when we heard Nicole Brown Simpson's 911 tapes, the general public could hear how terrifying that kind of situation is. People said if it can happen to someone who's beautiful and wealthy and famous then it really can happen to anybody. At the same time, communities of color said, 'wait a minute why did it take a rich beautiful white woman to bring this to our attention. We've been saying this for years.' So her case I think spurred a lot of things but even prior to her case happening, the Violence Against Women Act had been tussled about in Congress for years. And it was a really hard fought win for Joe Biden and the people who wrote the bill. I mean it really took years for that to pass. So I think those two things kind of happened hand-in-hand.
BOB GARFIELD I want talk about the soft pedaling of domestic violence not just by the cops but by the media as well. You know, I'm thinking of the coverage of murder-suicides, a term which seems often to be kind of perfunctory and even dismissive.
RACHEL LOUISE SNYDER I would like to give a class to everybody who writes headlines in this country and beseech them to leave out the term domestic dispute.
[CLIP]
FEMALE CORRESPONDENT Preliminarily, this appears to be a domestic dispute. It did not involve any members of the public.
MALE CORRESPONDENT Thank you. Breaking this morning Omaha police is somewhat as cut when strangers intervene in the couple's argument at a gas station.
MALE CORRESPONDENT Linebacker Reuben Foster just released by the San Francisco 49ers after an arrest on domestic violence charges has quickly found a new team, the Washington Redskins. [END CLIP]
RACHEL LOUISE SNYDER What's really happening is that it compartmentalize is it in the minds of readers and even in the minds of reporters. And it even goes beyond just headlines. I read a story just yesterday where a grandmother and one of her grandchildren were killed or maybe more than one but a four year old survived. And the article said, you know, four year old was unharmed. And it's really disturbing to think that we can't take one second out to say this child was physically unharmed in this one single event but that child is going to have a lifetime of trauma to deal with. And also we need to deal with that child too to make sure that child doesn't become a a future victim or a future abuser.
BOB GARFIELD Which the odds suggest is a very likely outcome.
RACHEL LOUISE SNYDER That's right. So I think that what it does is it enables our inaction.
BOB GARFIELD You write in your book about so many other myths and assumptions and just fundamental misunderstandings of what takes place inside the home or actually outside the home in many cases as well when men stalk the women who they're about to harm, but a question we've all heard and maybe even asked ourselves is, why didn't she just leave?
[CLIP]
FEMALE CORRESPONDENT Said why did she stay? Why didn't she leave?
FEMALE CORRESPONDENT And that is the issue at hand. Why didn't she leave whether it was money, whether it was, you know, she was mentally abused by him and she couldn't leave him. That's the real issue we should be talking about but nobody--
RACHEL LOUISE SNYDER We expect leaving to have a visual of going on a trip. You pack your bag, you're out the door. But it doesn't happen like that. It happens in stages. So for a victim who is really controlled in every way, which is not uncommon, they can't just walk out their door. They're monitored, right. And if you have kids, you can't just take your kids out of school and register them in another school without the permission of both spouses. You can't just quit your job if the only shelter bed available is four hours away across your state. So there's a really careful calculation that happens. And in my book I talk about a woman named Michelle who lived in a home that they rented from her father, she and her husband Rocky. And she had done things like secretly put the house in her name. Her father had done that because he knew that it was an abusive situation. So she was laying the groundwork to be able to leave. She wasn't allowed to work but she was allowed to take classes so she had a plan to get her nursing degree in two years at which point she was going to hopefully be able to convince her husband Rocky that she could have a job outside the home. But she was doing all of these things because her view, and this is the view of so many victims, was incredibly long. So it's not that she wasn't leaving, it's that leaving safely was going to be a long term process because leaving is the most dangerous time. So many women are killed when they leave. This is when victims die, when their abuser feels like they're losing control.
BOB GARFIELD Another misassumption that you've pointed out is that we'll all be able to recognize someone who's violent, you know, because they're all brutes flying into rages at the drop of a hat. But that's not so either.
RACHEL LOUISE SNYDER Not so, not so. The first time I walked into a batter's intervention group was outside of Boston. There were seven men and some of them were wearing construction kind of gear like they just got off work. Two of them were in suits and ties. One of them was an undergraduate college student. I mean all of them were guys I would have gone out for a beer with. They were funny. They were joking around they were laughing and it, I got to tell you, it shook me. It really shook me because I realized in that moment there's nothing. There's no placard that they carry around that says, you know, I'm an abuser. What we're thinking about is a rage-aholic and what we're doing is thinking anger management and that is not the same as abuse. Only 20 or 25 percent of abusers fit that profile of rage-aholic.
BOB GARFIELD And the rest are what? I mean gas lighters, passive aggressive?
RACHEL LOUISE SNYDER Yeah. They tend to be very narcissistic. They tend to be very manipulative. But that charm is what initially draws people to them. And so it's not surprising to me at all when I read something like Eric Schneiderman the former attorney general for New York, because by all accounts he was charming, he was also narcissistic, he was also manipulative.
[CLIP]
MALE CORRESPONDENT Ally of the #MeToo movement is resigning as New York state attorney general because of allegations that he physically and emotionally abused four romantic partners. [END CLIP]
RACHEL LOUISE SNYDER It doesn't surprise me when people who are at the top of their game professionally turn out to be abusers and some of the most vindictive abusers.
BOB GARFIELD Back to politics and pathology for a moment, you mentioned that one of the political obstacles reauthorizing the Violence Against Women Act is pushback by the NRA. The thing is, as you have written we cannot discuss the epidemic of American domestic violence without thinking about guns. Not just the correlation between gun availability and murder of an intimate but the relationship between domestic violence and mass shootings.
RACHEL LOUISE SNYDER It's disturbing to me that more isn't made of this. We really forget that a lot of the mass shootings that are infamous are in fact domestic violence-homicide. Those are things like Adam Lanza in Sandy Hook began. His rampage with his mother, right? Which was a domestic violence-homicide or even going way back to what is widely considered the first mass shooting in this country with Charles Whitman at the University of Texas tower shooting. He started the night before by killing his wife and his mother. So we don't think about those but the second corollary to mass shootings and domestic violence is that even some mass shootings that are not domestic violence homicides. These shooters have domestic violence in their backgrounds and I'm talking here about people like Dylann Roof who witnessed by some accounts terrible abuse between his father and stepmother. And there's discussion or allegations that he was terribly abused as a child himself. Or Omar Mateen who did the Orlando pulse shooting had strangled his first wife in the state of Florida, which is a felony and if charged carries a 10 year sentence but he was never charged with strangulation. So there's two different ways of looking at the connection between domestic violence and mass shootings.
BOB GARFIELD But if you're right, we should see that there is less domestic violence in societies that don't have guns absolutely at hand everywhere.
RACHEL LOUISE SNYDER There's a researcher at Michigan State, April Zeoli, who looked at whether or not if guns are taken away will people use other means, right? This is one of the common arguments by members of the NRA and gun rights activists that if you take the guns they'll just use knives or they'll use strangulation or some other method. And in fact she found that to be absolutely not true. Like nothing, no research really backs that theory. There's another book that was written by a man named David Adams and he interviewed 14 men who had killed their wives with guns and 11 of the 14 told him that had guns not been so readily available, had they not been able to get a gun so easily, they don't believe they would have killed their spouse.
BOB GARFIELD Maybe the most fundamental failure of understanding you have written is the relationship between domestic violence and not just guns but virtually everything that ails the society. How so?
RACHEL LOUISE SNYDER It's really staggering when you began to think about the ways in which domestic violence intersects really so many of the pressing social issues that we face today. I mean everything here from mass incarceration to homelessness, more than half the women who are homeless in this country are homeless as a direct result of domestic violence. Eighty percent of the men who are incarcerated today were either child witnesses or victims of abuse when they were growing up. I've read statistics, although there are no national statistics on this, that more than half the women in prison today are there because they killed their abusers out of self-defense. Being evicted from one's apartment is often a result of domestic violence. So it really intersects so many of the major things that we are facing as a society. And it gets to why the Violence Against Women Act is so important because that act repositioned domestic violence and it told the victims of this country that we see you and we care about you. And to take that away, well I think we know what the message is--is going to be.
BOB GARFIELD What are the prospects for the act. Is Senate Majority Leader Mitch McConnell going to keep this from coming to the floor? Will his deference to the NRA keep this from being restored to its place in the law of the land?
RACHEL LOUISE SNYDER Why he won't bring this to a vote this seems like an issue that should be completely bipartisan. And it's, in terms of the federal budget, it's a drop in the bucket. It's $500 million dollars. It's nothing.
BOB GARFIELD In the budget of a department that has $28 billion.
RACHEL LOUISE SNYDER That's right. And I talked to a woman just today and I asked her how much federal funding do you get. She said 25 percent of our funding just for our domestic homicide reduction comes from the federal VAWA grants, 25 percent. And that's for homicide reduction. That doesn't count the federal funding they get for shelters and to house and other advocacy court representatives and things like that, free legal services. So people will die if we don't reauthorize VAWA. People will die. That is the long and short of it. It's a two part problem. The practical reality is that people will die. The other part is this message that we are going to give to victims all over this country that your safety is not a priority in this country. And I have to say it underscores a message of misogyny that we're already getting these days.
[MUSIC UP & UNDER]
BOB GARFIELD Rachel, thank you very much.
RACHEL LOUISE SNYDER Thank you for having me.
BOB GARFIELD Rachel Louise Snyder is the author of No Visible Bruises.
BROOKE GLADSTONE Coming up, there are three statues of a lady in New York Harbor. Which one you see, depends on how you look.
BOB GARFIELD This is On The Media.
**********
BOB GARFIELD This is On The Media, I'm Bob Garfield.
BROOKE GLADSTONE And I'm Brooke Gladstone. Gang wars, regular wars, death squads, natural disaster. There's no excuse immigrants won't summon to seek entry to our shores. But don't worry our White House isn't buying any of it not last year or last week or this week.
[CLIP]
PRES. DONALD J. TRUMP I don't want to allow people that weren't supposed to be in the Bahamas to come in to the United States including some very bad people and some very bad gang members. [END CLIP]
BROOKE GLADSTONE Last Sunday, some Bahamians fleeing the devastation of Hurricane Dorian were kicked off ferries because they lacked visas. On Wednesday--.
[CLIP]
FEMALE CORRESPONDENT The U.S. Supreme Court says the Trump administration can begin denying asylum seekers refuge while a legal fight on the war continues. The policy is meant to deny asylum to anyone who passes through another country to the US. [END CLIP].
BROOKE GLADSTONE In other words, to apply for asylum at the southern border you must have first applied for safe haven anywhere else. This after 13 states filed a lawsuit last month against the president's new public charge rule set to take effect next month, a rule that could deny green cards and visas to legal immigrants.
[CLIP]
MALE CORRESPONDENT If the Trump administration believes that there is any possibility that a legal immigrant might, at any point in that immigrant's life, even temporarily rely on government benefits like food stamps Medicaid or housing assistance. [END CLIP]
BROOKE GLADSTONE When the policy was announced last month, acting Citizenship and Immigration Services director Ken Cuccinelli was queried on NPR's Morning Edition.
[CLIP]
FEMALE CORRESPONDENT Would you also agree that Emma Lazarus has words etched on the Statue of Liberty, 'Give me your tired, your poor,' are also part of the American ethos?
KEN CUCINELLI Oh they certainly are. 'Give me your tired, your poor,' who can stand on their own two feet and who will not become a public charge, that--that plaque was put on the Statue of Liberty at almost the same time as the first public charged law was passed. Very interesting timing. [END CLIP]
BROOKE GLADSTONE It's not the first time that a member of Trump's team was slapped with that line from the poem "The New Colossus."
[CLIP]
MALE CORRESPONDENT What you're proposing or what the president's proposal here does not sound like it's in keeping with American tradition when it comes to immigration. [END CLIP]
BROOKE GLADSTONE Two years ago when proposing a policy favoring English speaking immigrants, senior policy adviser Stephen Miller was confronted by CNN's Jim Acosta.
[CLIP]
JIM ACOSTA The Statue of Liberty says, 'Give me your tired, your poor, your huddled masses yearning to breathe free.' Doesn't say anything about speaking English.
MALE CORRESPONDENT I don't get off into a whole thing about history here but the Statue of Liberty is a symbol of Liberty Enlightening the World, it's a symbol of American liberty lighting the world. The poem that you're referring to was added later. It's not actually part of the original statue of liberty. [END CLIP]
PAUL KRAMER When I told people I was working on the Statue of Liberty, a lot of people just kind of roll their eyes or shrug their shoulders.
BROOKE GLADSTONE Paul Kramer is a professor of history at Vanderbilt University who's written about the statue's multifarious meanings. You can hear we're on a boat and we're headed for Liberty Island. It's September 11th. The day is hot, the way's clear and she is magnificent.
PAUL KRAMER I think it's become so much a part of kind of kitsch and popular culture, right? We just got pretzels and there were souvenirs of the Statue of Liberty and right--foam headgear and so we've lost track of how weird the statue is, that there would be this enormous icon in the harbor that people continue to fight and wrestle over.
[CLIP]
ANNOUNCER Ladies and gentlemen, welcome aboard Miss Liberty. [END CLIP]
BROOKE GLADSTONE It's amazing how close it is. Over there next to it is--.
PAUL KRAMER Ellis Island.
BROOKE GLADSTONE That's Ellis Island.
PAUL KRAMER Yeah I mean the sequence that people would come in on the boat they would see the statue first and then they would stop at Ellis Island and have to get off and be checked. And roughly 2 percent of immigrants were deported and not allowed to land. So there was a lot of fear--.
[CLIP]
ANNOUNCER For many, Liberty Enlightening the World, as the statue is officially titled, symbolize the freedom and opportunity that awaited them in their new land. [END CLIP]
PAUL KRAMER Yeah so that contrast between kind of hope and terror is a big part of the immigrant narrative.
[CLIP]
ANNOUNCER Food and gift services are located both aboard this vessel and the shop near the ferry dock at Liberty Island. [END CLIP].
BROOKE GLADSTONE It really is beautiful.
PAUL KRAMER Yeah.
BROOKE GLADSTONE The [inaudible] is in her arms, she may not be a warrior but she is strong. She is indomitable and she seems to me to be suppressing her power, holding it back or holding it in reserve.
PAUL KRAMER Yeah I think there's a reason why, when these contemporary nativists are trying to make these arguments for shutting down refugee programs, closing borders, etc, that they feel like they have to take her on. I mean it is a sign of how powerful she is in public life and how powerful she's been made by the waves of people that have given her [inaudible], emancipatory meanings that they feel like they just have to wrestle with her and she keeps fighting back.
BROOKE GLADSTONE The statue, dedicated in 1886, was pitched by the abolitionist and political thinker Edouard Rene de Laboulaye as a gift from the French people to celebrate the Union's victory in the civil war, the end of slavery in America and the triumph of democratic and enlightenment ideals.
PAUL KRAMER And so after the Civil War he's able to sort of say, 'okay the United States has now perfected itself. It has now gotten slavery out of its system.' And you know, as a result he is turning a blind eye to ongoing systems of racial oppression in the United States because they kind of need the United States to be a perfected Republic.
[MUSIC UP & UNDER]
BROOKE GLADSTONE If built as originally conceived, Lady Liberty would have held broken shackles and worn the fringy and cap of emancipation. Now, the broken chains laid her feet nearly invisible and the original message is likewise obscured. The timing was off.
PAUL KRAMER There are freedom meanings that are clearly informing the spirit of the statute from the beginning but they're deliberately modulated. And so I think part of what is striking is the ways that successive groups, immigrants, African-Americans other marginalized groups, will again and again have to kind of blow on the kindling of those freedom meanings in the statute, to bring them to life, to kind of animate them. And there are crosswinds that are trying to blow those out. It's not a given that the statue is going to represent a robust meaningful idea of freedom. It's something that has to be renewed and has to be recharged again and again.
[MUSIC UP & UNDER]
PAUL KRAMER Americans have spent a lot of time over the last century American-izing the statue even to the point where it becomes, by some measures, the most sort of easily identifiable symbol of the nation. But there is something persistently kind of alien about the statue beginning with its origins. And initially Americans are not certain what to do with it. I mean what does this gift entail, what do the French Republicans want from America.
BROOKE GLADSTONE A Trojan horse in the form of a very tall lady.
PAUL KRAMER Yeah. There's a lot of questions about that and then of course the big issue is that Americans have to pony up for the pedestal. It takes longer than the Americans have promised, which is a little bit embarrassing. But eventually it comes together. So even from the beginning there's this sense of, 'do we want this thing?'
BROOKE GLADSTONE Finally the funds for the base were raised through donations, vast and tiny. The poem "The New Colossus" by Emma Lazarus was her contribution, an auction item. Seventeen years passed before it was enshrined on the base because the meaning of the Statue of Liberty has always flickered and shifted. Though she's always been a potent symbol of something. The Statue of Liberty means precisely what you think it means. It also means the opposite. Kramer says that there are actually three statues–the statue of the Guardian, the statue of the exile and the statue of the state the imperial statue.
PAUL KRAMER In some ways the statue begins as what I'm calling the guardian statue, which is actually not an immigration symbol. It's a symbol of anti-immigration. This is a symbol of a certain kind of white exclusionary nation that is trying to protect itself from the world. If you look at some of the political cartoons from around the time the statue was built, it is understood by some commentators as a kind of guardian of the nation, standing at the threshold as a kind of police officer, as a kind of border control agent that is going to keep out the rabble, that is going to send a message that the United States is able to protect its borders. Early on the most famous poem that's associated with the statue when it comes to immigration is not Emma Lazarus' poem "The New Colossus." It's Thomas Bailey Aldrich's "The Unguarded Gate" from 1892 and it's a rabidly xenophobic poem.
BROOKE GLADSTONE It refers to the statue as a white goddess.
PAUL KRAMER Yeah.
BROOKE GLADSTONE Warning her of a wild Motley throng on the nation's doorstep, bringing their unknown gods and rights, strange tongues and tiger passions here to stretch their claws.
PAUL KRAMER Yeah. Yeah. He's really going for broke there. I mean other cases I found where the KKK at one point has a parade in Bellingham, Washington and they put us a picture of the Statue of Liberty on the back of a wagon. So the idea that the Statue of Liberty doesn't represent inclusion or racial justice or welcome to immigrants I think is an important part of the story.
[CLIP]
RUSH LIMBAUGH Lady Liberty is carrying the light of liberty to the rest of the world.
BROOKE GLADSTONE Rush Limbaugh embraces the Guardian model.
RUSH LIMBAUGH Is not a beacon for immigrants to get to this country because they're tired of poor your huddled, hungry or thirsty. [END CLIP]
PAUL KRAMER While the guardian statue, for its proponents, is synonymous with certain kind of racialized nation. The exile statue always remains offshore. It always remains at a kind of remove from the nation. It represents a universal value of welcome and freedom and sanctuary for the oppressed. The exile statue really begins with immigrants coming over on the boat. It's a sign that they have arrived in the United States. It's a sign of safety. It's a sign of optimism and hope soon. Immigrants are putting the statue on their guidebooks that they send home to greenhorns that train them and how to kind of get by in America when they arrive. They send it on their postcards. It becomes a part of imagery so that people arriving expect the statue. It's no longer a discovery, it's--it's a kind of expectation. But those meanings remain within immigrant cultures, they don't become a part of a kind of larger American public culture until later.
BROOKE GLADSTONE You've said that that guardian statue period extended from its creation to around 1940. But it certainly overlapped then yes with the exiles.
PAUL KRAMER Yes, absolutely. And I think there's this period between say, you know, the 1920s 1930s and the 40s and 50s, where these two formations are kind of rivals in some important ways in public imagery.
[CLIP OF IRVING BERLIN SINGING]
BROOKE GLADSTONE Irving Berlin warbling in 1940.
[MUSIC UP & UNDER]
BROOKE GLADSTONE Writer, immigrant, antifascist Louis Adamic was in the vanguard of those who took up the Lazarus poem to promote the statue of exile. 'Diversity,' he said, 'was the best defense against the real threat of fascism.'
PAUL KRAMER The idea that the strongest nations are ones that respect diversity, that encourage it, that don't require a coercive assimilation of immigrant groups but that each group is able to contribute its unique spirit, its unique gifts, to the nation as a whole.
[CLIP]
MALE CORRESPONDENT The farmers of Iowa Nebraska became the Scandinavians and in smaller numbers of Slavs, Italians, the Jews. To the mills of New England come the French Canadians, the Irish, the Portuguese, the Slavs. [END CLIP]
BROOKE GLADSTONE In radio programs like Americans all, immigrants all in the late 30s, he strove to enshrine the statue of exile into the mainstream of American culture against great odds by making it part of an American national creed.
[CLIP]
MALE CORRESPONDENT They built the roads, the canals, the railroad and then the highways. [END CLIP]
PAUL KRAMER It can be a little embarrassing by contemporary sensibilities in the way that it--it kind of ties specific groups to their inner genius. But within the context of the time, it's clearly doing some very important egalitarian work.
BROOKE GLADSTONE But this is something of a mixed message because even as it rejects the fearful bigotry of the guardian statue in favor of the statue of exile, it also embraces the third statue in Paul Kramer's schematic, the imperial one.
PAUL KRAMER One of the complicated things in any message about the statue is that often these three statues kind of intertwined with each other. And that's one reason why I--I think it's important to distinguish the exile statue from the imperial statue, even though the imperial statue often ventriloquizes Emma Lazarus and kind of invokes Emma Lazarus to kind of give a generous humanitarian gloss. But ultimately it is about the utility of immigrants for the nation.
BROOKE GLADSTONE Later President Johnson would celebrate immigrants at the foot of Lady Liberty by listing a series of foreign sounding names of soldiers who died in Vietnam.
[CLIP]
LYNDON JOHNSON A man named Fernandez, Zajac, Zelinko and Mariano [END CLIP].
BROOKE GLADSTONE Adamic did not live to see that, but Kramer thinks he would have found the spectacle grotesque.
[MUSIC UP & UNDER]
PAUL KRAMER The imperial statue is America. It is America sort of declaring itself as the exemplar of freedom throughout the world. Freedom is what the United States is. It isn't what America does and sometimes doesn't do.
BROOKE GLADSTONE Consider this invocation of the imperial statue during the statue's centennial in 1986, when there was a refugee crisis sparked by America's backing of dictatorships south of the border.
[CLIP]
RONALD REGAN The light of tonight will surely cast its glow upon her as it has upon us for two centuries. Keeping Faith with the dream of long ago and guiding millions still to a future of peace and freedom. [END CLIP]
PAUL KRAMER I was able to find some quotations from a reporter's go to immigrant detention at the tip of Manhattan and people in immigrant detention, including people fleeing some of these sort of U.S. backed conflicts are there and they can hear the celebrations from within jail. And I just think that, in a way, as I think of the imperial statue expressed in its essence, right, Is the imagery of inclusion and celebration of immigrants social mobility and freedom and opportunity in a context where actual refugees are being subjected to violence and discrimination.
BROOKE GLADSTONE There was a newspaper cartoon for this period with a towering statue of Liberty looking down at a disheveled person holding a suitcase and the text says, 'Give me your rich, you're famous, your Nobel laureates, your Russian poets and polish emissaries, your respectable white anti-Soviets yearning to breathe free.'.
[CLIP]
RONALD REGAN Now we will unveil that Gallant Lady. Thank you and God bless you all. [END CLIP]
BROOKE GLADSTONE As the sun beats down on Liberty Island, these solemn gloriously green lady pierces the brilliant sky, but offers no shade. Many of the humans below cheerfully check off a box on their list of tourist sites. But back at her unveiling, the response was far more fraught. Two hundred women sailed to the island proclaiming the quote, 'an erecting a statue of liberty embodied as a woman in a land where no woman has political liberty, men have shown a delightful inconsistency.' Only a few years earlier, the government had passed the Chinese Exclusion Act, our first big immigration law–and it was explicitly racist. It sparked the so-called driving out period when Chinese were shot, stabbed, burned and starved. As for African-Americans, the black owned Cleveland Gazette offered this editorial, 'shove the statue, torch and all into the sea until the liberty of this country as such has to make it possible for an inoffensive and industrious colored man in the south to earn a respectable living for himself and his family without being Ku Klux-ed, perhaps murdered, his daughter and wife outraged, his property destroyed. The idea of the liberty of this country in lightening the world or even Patagonia is ridiculous in the extreme.'.
[CLIP]
JAMES BALDWIN We hold these truths to be self-evident, that all men are created equal. [END CLIP]
BROOKE GLADSTONE James Baldwin in the 80s.
JAMES BALDWIN And the moment I do, I'm in trouble again because, um, obviously I'm not concluded that pronouncement that they are endowed by their Creator with certain inalienable Rights. That among these rights to life liberty and the pursuit of happiness. But this liberty for black Americans, black inhabitants in this country, the Statue of Liberty is simply a very bitter joke.
[MUSIC UP & UNDER]
BROOKE GLADSTONE "Not like the brazen giant of Greek fame, With conquering limbs astride from land to land; Here at our sea washed, sunset gates shall stand a mighty woman with a torch whose flame is the imprisoned lightning, and her name Mother of Exiles. From her beacon-hand glows worldwide welcome; her mild eyes command the air-bridged harbor that twin cities frame. 'Keep, ancient lands, your storied pomp!' cries she with silent lips. 'Give me your tired, your poor, your huddled masses yearning to breathe free. The wretched refuse of your teeming shore. Send these, the homeless, tempest-tost to me, I lift my lamp beside the golden door.'".
PAUL KRAMER One question I have just thinking about the history of the changing meanings of the statute immigration is whether the statue will continue to be an important icon of immigration heading into the next century. The way that the memory of the statue is linked to the Lazarus poem has this very particular kind of relationship to European immigrants of the early 20th century. And one of things that struck me when I was looking at the refugee crisis in the 80s is that there were a sanctuary movement activists who invoke the statue and said, 'you know, the imperial statue of Reagan is a phony and the real statue is is the exile statue.' But there were others who said. 'the statue doesn't mean anything to us. You know, our struggle is about the border. It's about Latin America. It doesn't speak to an ocean crossing.' One of things I think is interesting to think about is whether, with the fading of that European immigrant wave and its kind of cultural descendants, whether the statue will continue to hold on as a symbol that people will invoke or whether other images will take over.
[MUSIC UP & UNDER]
BROOKE GLADSTONE Having had three of my own grandparents pass it on the way to Ellis Island, I'll always have feelings for the old girl. But there will be other more relevant emblems of struggle. The question is will they be as resilient? As Kramer said, the Sanctuary Movement was focused on the southern border but is still laid claim to the statue's true meaning. And he notes that in the 50s, as immigrant movements talked up the benefits of admitting European refugees displaced by the war, Langston Hughes described Lady Liberty in the Chicago Defender as having her face turned to the old world, welcoming European refugees from poverty and hate standing in New York Harper with her back to Harlem. Hughes called on African-Americans to ask the country when will you permit us the privileges you offer Russians, Germans, Poles and Danes who come to our shores. But then he said Liberty would take delight in asking those questions for you. Liberty, she said dream. And aspiration of grace that happened to land in New York Harbor. She is not America. She is no nation. She was a gift. The rest is up to us.
[MUSIC UP & UNDER]
BOB GARFIELD That's it for this week's show. On The Media is produced by Alana Casanova- Burgess, Micah Loewinger, Leah Feder, Jon Hanrahan and Asthaa Chaturvedi. We had more help from Charlotte Gartenberg and our show was edited by Brooke. Our technical director is Jennifer Munson. Our engineers this week were Sam Bair and Josh Han.
BROOKE GLADSTONE Special thanks to Suzanne Mannion of the Statue of Liberty Ellis Island Foundation and to Andy Lanset of the New York Public Radio Archives. Katya Rogers is our executive producer. On The Media is a production of WNYC Studios. I'm Brooke Gladstone.
BOB GARFIELD And I'm Bob Garfield.
UNDERWRITING On The Media is supported by the Ford Foundation The John S. and James L. Knight Foundation and the listeners of WNYC Radio.