Trump and the Christian Persecution Complex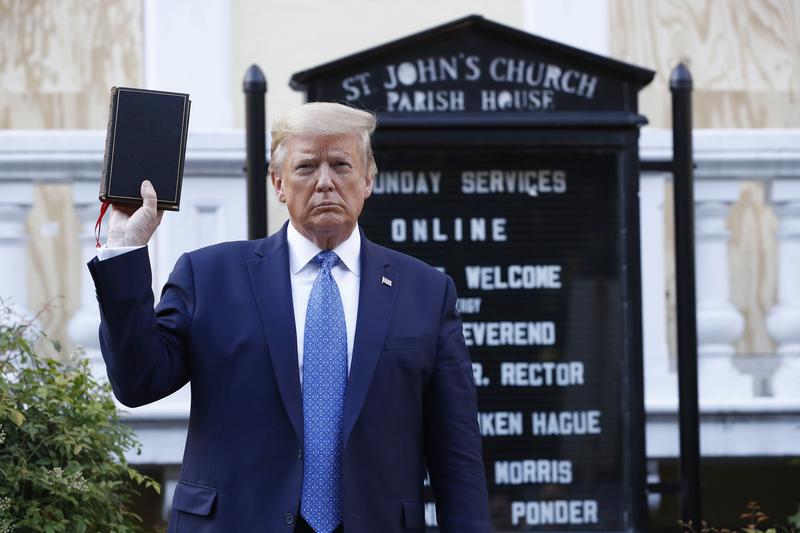 Transcript
Bob Garfield.: There's is an On The Media podcast extra. I'm Bob Garfield. On Monday, peaceful protesters were met with tear gas outside the White House.
Newscaster: Using flashbangs in front of them and mounted police to clear what has been an entirely peaceful protest, not 90%, not 99%, but a 100% peace protest here today.
Bob: The reason, the President wanted to have his photo taken in front of the church. He brandished a Bible in the air, mostly in silence as the photographers obliged. The church in question was St. John's Episcopal. Every sitting president has attended services there at least once since its founding in 1816. On Sunday, someone tried to set its basement on fire. What better gimmick than for a demagogue claiming to defend the real American values, then a historic symbol of Christianity under siege.
[background noise]
Bob: Among those outraged was Bishop Mariann Edgar Budde of the Episcopal Diocese of Washington.
Mariann Edgar Budde: This was a charade that in some ways was meant to bolster a message that does nothing to calm the soul and to reassure the nation that we can recover from this moment, which is what we need from the president.
Bob: Charade was only the latest for Donald, patron saint of red meat. On Friday, May 22nd, at very nearly the crest of the coronavirus pandemic, he demanded that houses of worship be opened on the grounds of religious liberty.
President Trump: I call upon governors to allow our churches and places of worship to open right now.
Bob: Never mind the fact that they are hotbeds for COVID-19 since they bring congregants to gather cheek by jowl in enclosed spaces, often for hours. When Sunday the 24th came, Trump was forced to forsake his right to worship due to pressing matters of state.
Newscaster: After calling on churches to reopen this weekend, President Trump opted to head out for another round of golf.
Bob: For a self-identified Christian, as Ruth Graham notes in Slate, he has had some difficulty staying on message.
Journalist: Have you ever asked God for forgiveness?
President Trump: That's a tough question. I don't think in terms of-- I'm a religious person.
Journalist: I'm wondering what one or two of your most favorite Bible verses are.
President Trump: I wouldn't want to get into it, because to me that's very personal. When I talk about the Bible--
Bob: Of course it is. Unless, possibly, his new role as defender of the faith against hostile enemies may be grounded more in sucking up to the religious right. Because, in general, his St. John's Church Bible trumping sure played well there.
In The Atlantic, writer McKay Coppins quotes the chairman of the Faith and Freedom Coalition who praised Trump for sending the message that "Our streets and cities do not belong to rioters and domestic terrorists", and that the answer to unrest is "the repentance, redemption and forgiveness of the Christian faith." It's no wonder that Trump's posturing is welcome to the religious right. While Christianity has dominated America since its founding and the West for more than a millennium, the notion of Christianity under siege persists, not just in the past four decades of cultural wars, but throughout history. Candida Moss, professor of theology and religion at the university of Birmingham in the UK says the persecution trope dates to the early church.
Candida: The myth that Christians are constantly persecuted that it's at heart of who they are and defines the Christian experience, goes all the way back to the fourth century, when we started to find off first Christian historians. These historians, they were interested in using martyrdom for their own political aims. They present martyrdom and persecution of Christians as this continual thread, whether it's the Romans persecuting Christians, whether it's the Jews persecuting Christians, or whether it's now heretics, persecuting real Christians. The problem with this is that this story is largely invented.
Bob: When your very creed begins with the murder of God by a mob, no surprise that the idea of persecution would persist beyond the origin story.
Candida: The story that we're told in Sunday school is that from the death of Jesus onwards, his followers were constantly hounded and forced to practice their religion in secret by a hostile Roman government. That begins, we're told, as early as let's say the '40s.
Bob: Was there any sustained persecution of early Christians?
Candida: There were Christians who died under Roman rule, but there were really only very brief periods in the very late third and around the turn of the fourth century that Roman emperors actually turned their focus to Christians and said, "This is illegal, you either sacrifice to the emperor or you die." When the emperor Valerian decided in 256, because he was losing a war, that he was going to target Christians, one of his first steps involved exiling Christian members of his own imperial household and sending them off to country estates. Another one, was to remove Christians from high-ranking positions in public office. What does this tell us? This tells us the Christians were in high-ranking positions. They were even in the household of the emperor. They can't have been cowering in secret, if he takes these kinds of steps.
Bob: Look I'm Jewish, but I remember that I learned in school or somewhere of early Christians cowering in the catacombs of Rome for fear of the Romans who were going to kill them.
Candida: No, Christians never cowered in the catacombs. That's actually a tourist myth that goes back to the 18th and 19th centuries when Americans and Brits were touring continental Europe. They were told that Christians used to shelter here, but there's actually no evidence that they did that. They used to be big church-like structures built on top of the catacombs. That was where Christians would assemble. The reason why that matters is, of course, everyone knew where they were and where to find them. They certainly weren't hiding.
Bob: Were are any other examples, false stories of martyrdom?
Candida: First of all, our narratives about the deaths of the apostles, the most famous being, perhaps the death of Peter, which was immortalized in the movie Quo Vadis in which he's crucified upside down because he doesn't feel worthy to die like Jesus.
[audio clip from Quo Vadis]
Peter: To die as our Lord died is more than I deserve.
Speaker: We can change that.
Candida: That story, as we tell it today, comes from the fourth century church historian Eusebius. If you go back to the earliest reference to the death of St. Peter, we're told that Peter died as a result of jealousy and the Greek word that actually refers to in-group jealousy almost as if other Christians did things that led to his death. This is just one very famous martyr who probably was executed by Roman authorities for being a troublemaker and potential political subversive. We don't know that much about what happened because the stories are from so much later.
Bob: I want to ask you about the marketing of a new religion. 2000 years ago, you right, that persecution was seen as a sign that your God or gods were weak, and along comes Christianity, which had a different selling proposition. How so?
Candida: Well, as you say, prior to Christianity, if you were persecuted, it was either because you had committed some religious crime, you had sinned and your God was punishing you, or because your God wasn't that powerful. With Christianity and the idea that God itself became incarnate and died for human beings, we see a radical new understanding of what suffering and death can mean.
At the time, it's amazing to think about, how did this even take root in a society that didn't think of death and suffering in this way? One reason is that death was so close and people had to contend with their own mortality all of the time. Having Christianity promise an afterlife, promise rewards, and speak about social injustices, this was enormously compelling for people. This is part of the reason that Christianity flourished, but accompanying it is the idea that now suffering for God is a good thing. That was revolutionary at the time.
Bob: If I understand what you're saying, the notion of persecuted Christians actually intensified as Christianity grew and became more powerful around the world.
Candida: That's right. What we call the cult of the saints, which is the veneration of martyrs, really takes off after Christians take over the Roman empire. Of course, there were places Christians could really die, but it's during this period, after the Roman empire has been effectively Christianized, that Christians start writing about persecution, using it to target other groups that they don't like. In fact, using the history of persecution to justify their violence against those who are not members of that own religious groups. It's not as if the experience of persecution taught early Christians about religious tolerance, quite on the contrary, the minute they had power, they started destroying pagan temples.
Bob: What do you just described as the Gulf of Tonkin incident? It's "Remember the Maine", it's Saddam's troops throwing babies out of incubators, a pretext for your own violence.
Candida: That's right. Once you have the idea that you were persecuted, you can now respond however you want. There was a fifth century Christian monk called Shenoute, who once said that there is no crime for those who have Christ. Using this idea to defend all kinds of violent things that he and his monks had been doing. That's a very dangerous idea.
Bob: Let's look at contemporary times. It's easy to understand it from a purely political point of view, why modern American Christians would describe themselves as persecuted. It's a whole lot easier to prosecute the culture wars, if you've got righteous volunteers lining up behind you. How did they square the concentrated power of Christians throughout the entire history of the nation with the notion that they are somehow under siege.
Candida: They simply overlook it. When I wrote my book, it was during the Obama years. One of the things that I thought was that, if there was now a Republican president who actively identified himself as a defender of Christians, surely the persecution narrative should go away, if they were really persecute. But it didn't, it actually intensified. The reason for that is, conservative evangelicals in particular feel that they are under attack by the forces of secularism, feminism, relativism--
Bob: Jews will not replace us, so the Nazis chanted in Charlottesville.
Candida: This too is part of the martyrdom story. The first martyr named in the new Testament is Stephen, who was stoned to death by a Jewish mob. This evolved into this idea that the Jews not only killed Jesus, but they also persecuted his followers. None of which is true.
Bob: Now we've drawn a dotted line from early Christianity to President Trump, opening up the churches, less the injustice continue. Is it really-- Is it a dotted line? Is it a straight line? Or is this American version of a persecution myth a thing of its own that's entirely untethered from Christianity's history? Is it perhaps just a modern expression of political conservatism?
Candida: I think it's certainly a much louder tradition in American politics, especially for the last 50 years or so. There's an astonishing conflation of patriotism and Christian identity that really lies at the heart of this persecution rhetoric. It seems to me that as an outsider, looking at it, one might say, well, these are inherently contradictory things. How can one both be the most dominant religious group in America and also victims, but in a way, this is how Christianity flourished from the early church onwards.
When Christianity succeeded and converted the Roman emperor, that was a sign that they were protected by God, but when Christians were persecuted, which some really were, that was also a sign of their virtue. That's really what's being invoked. When someone like President Trump says that he's the greatest president ever, but also that he's a victim of conspiracies.
Bob: One bit of evidence for non persecution is that groups that have been persecuted, you write, historically have kind of kept it on the down-low, if I will exclude Judaism from this, is that so?
Candida: People who are genuinely persecuted go to great lengths to try and explain themselves to the authorities. They try to show why they're not a threat, why people shouldn't worry about them. This is what happened in the early church. We have Christian writers writing these documents, explaining why Christians were also good Roman citizens. They are really justifying that own existence. When you hear people just saying, "I'm persecuted," without providing any justification or explanation for why they feel that way, you have to wonder if they're actually recipients of real violence, or if they're just using that idea to their own rhetorical advantage.
Bob: Prostitution is a real, we're not suggesting that it doesn't exist, are we?
Candida: In 2012, when Newt Gingrich and noticed his bid for the presidency, he talked about himself as entering the presidential race because he wanted to be a Christian president and defend Christianity in America. That was in January, 2011. On that same day news emerge of 35,000 Christians being driven from their homes by Boko Haram. There was no attention to that story in the US media. I suppose my point here is that the rhetoric of persecution does not help those people who are really persecuted. It actually just distracts from their cause. We might say, actually prevents people from helping them.
Bob: I want to come back to Trump and the opening of churches. His political bet is that this will rally his base. Actually, according to a survey by the Democracy Fund and UCLA Nationscape, white evangelical Christians were keener to return to their worship spaces than other religious Americans, but only 6 in 10. The other 40% were like, "Yeah, I thin, just going to sit this one out at home."
Candida: I think it's really important to point out that the vast majority of Christians have no complaints about closing churches. They have complied, they are happy to stay home and protect others, just as members of other faith groups have complied with the regulations that are out there. In many ways, it's almost as if Trump himself is creating this moment of supposed persecution in order to sort of fan the flames of fear about persecution and solidify his position within his religiously conservative base.
I should add, as problematic as I find this rhetoric, I really love these martyrdom stories. I'm a practicing Roman Catholic. For me, these are really treasured stories that I learned from my youth, but just because I am very committed to that religion and to these stories, doesn't mean that I shouldn't also acknowledge the problematic ways in which Christian history is deployed.
Bob: Candida, thank you very much.
Candida: Thank you for having me.
Bob: Candida Moss is a professor of theology and religion at the university of Birmingham and author of The Myth of Persecution: How Early Christians Invented a Story of Martyrdom.
[music]
Copyright © 2020 New York Public Radio. All rights reserved. Visit our website terms of use at www.wnyc.org for further information.
New York Public Radio transcripts are created on a rush deadline, often by contractors. This text may not be in its final form and may be updated or revised in the future. Accuracy and availability may vary. The authoritative record of New York Public Radio's programming is the audio record.