Trump's War on Critical Race Theory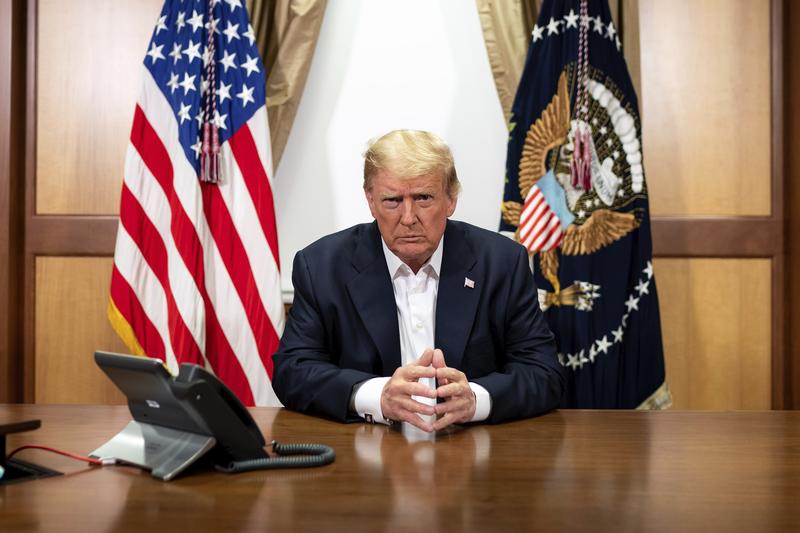 Transcript
[music]
Announcer: Listener-supported WNYC Studios.
Bob Garfield: Earlier this week, an American military classroom had a lesson censored when a showing of the biopic Malcolm X was feared to violate a White House Executive Order prohibiting certain Anti-racism education. Programmed by actor William Jackson Harper for the Arts in the Armed Forces Initiative, the acclaimed film was seen by some cadets as a potential violation of Trump's decree. How does basic education get subverted by presidential fiat?
Because Donald Trump decided to react to the anguish of racial injustice and the elevation of Black Lives Matter by declaring race, truth, and reconciliation as defeat in the culture wars, defeat redeemed only by restoring a traditional and patriotic brand of history, which means, of course, a nationalist, jingoist, whitewashed narrative of pure heroism in virtue and one that treats the educational cure as worse than the disease.
The same refrain mouthed by the authoritarian strongmen of Russia, Poland, Hungary, Turkey, and Brazil. Trump can't directly influence the public school curriculum he's railed about, but as Georgetown law professor, Paul Butler, wrote this week in The Washington Post, "The federal workforce is his to manage." Paul, welcome to On the Media.
Paul Butler: Thanks, Bob. It's great to be here.
Bob: Tell me about the executive orders from last month and what they specify, what they prohibit.
Paul: President Trump authored executive orders that ban diversity training in federal workplaces that includes discussions of concepts like white privilege or microaggressions or critical race theory. His concern, apparently, is based on what he heard on Fox News, which for the last month has been railing against critical race theory, calling it un-American. According to The Washington Post, Trump saw one of the cable news programs and he asked his assistants, "What's going on?" Or as the Post says, he said, "What is this crap?"
He summoned one of the Fox News guests into The Oval Office and shortly thereafter, we have a flurry of documents coming from the White House in which they criticize critical race theory. In my mind, worse yet, try to institute a specific way that federal employees should be taught about bias and race.
Bob: All right, it's not the war on Christmas supposedly being waged by the left. It's the war on American history supposedly being waged by the left. What is the harm they claim is being done?
Paul: Let's talk about concerns about diversity among the federal workforce. We know that about 46%, almost half of federal civil servants, are people of color and yet if you look at the highest ranks, only about 22% serve in the Senior Executive Service. Other reports have found that in government agencies, racial and ethnic minorities are less likely to be promoted than their white colleagues, even when they have the same kind of record.
What diversity training programs try to do is to address those disparities head-on by having conversations about race, about history, and about culture. They're not mind control. In some ways, they're not a whole lot different than what happens in classrooms at colleges and universities all over the country, where people are taught about sociology and psychology. There's an expression when you know better you do better.
Far from trying to tell people how to think, I think what most of these programs try to do is to help folks understand these disparities in the workplace for people who are responsible for carrying out important federal policies, including, now we have to think about health policies and to make sure that Anti-Blackness, that prejudice, that no stereotypes play a role in how they carry out their important responsibilities that are funded by our taxpayer dollars.
Bob: Trump and Fox for their part claim that federal workers and contractors are being brainwashed into a false vision of a wicked racist America. One obvious question is, really? Brainwashed? By what means exactly? Another is, how false a narrative exactly? What do these trainings entail?
Paul: We know that what they address is race and how it operates in the real world and in the workplace. Some of them discuss this scientific concept known as implicit bias, which is the idea that we have a lot of attitudes about things like age and sexual orientation and disability, religion, gender and race, a lot of thoughts about those and feelings that we're not consciously aware of and yet those thoughts and feelings might impact how we act and how we treat other people.
What some of these diversity training programs do is to help people think through what it means and ways to address their implicit bias so that it doesn't impact how they spend taxpayer dollars.
Bob: But it's super useful in the cultural wars. A lot of right-wing rhetoric on these issues is really about the Marxist propaganda that they think they're seeing in the public schools, especially based on the New York Times' 1619 project, which very famously and award-winningly, reimagined American history is defined or at least heavily and forever influenced by the slave trade for centuries ago. We'll get back to that in a minute, but the executive order, unlike localized public education, happens to be something Trump can issue unilaterally. He went after federal employee training because he could.
Paul: President Trump has the power to control what 2 million-plus federal workers are taught about race and about prejudice. It's not just the 2 million workers because the President's Executive Order extends to people who do contracts with the government, and organizations and companies that have contracts with the government. For literally millions of people, President Trump controls what they are taught in the workplace about race.
"Sit with that for a minute," as I say in The Washington Post piece. It would be one thing if this was an evidence-based historical focus practice but we know that the President essentially wants lies told about American history and culture. He does not want the primary role of slavery in the formation of this country to be discussed.
Bob: He doesn't seem to grasp the notion that history is iterative and cumulative and subject to new interpretations, which I think exactly defines the 1619 project. He thinks it can only be revisionist history with an ideological slant.
Paul: The cliche is history is taught by the winners and for a long time, the winners were rich, white heterosexual men, who taught history and wrote history from a perspective in which they were the heroes and saviors. For the most part, kind-hearted and solicitors to native people and immigrants and LGBT people and African Americans. The New York Times won a Pulitzer Prize for a 1619 report that looks at history from a more accurate evidence-based perspective.
It doesn't mean that the United States is not a great country. It doesn't mean that there aren't millions of African Americans who are proud of the American part of that title as well as the African part. What it does mean is that when we discuss history and culture and contemporary events that we have to look at the full picture or we're not getting the appropriate education.
The full picture of American history includes the practice of near-genocidal practices toward American Indians and the enslavement of African Americans followed by the old Jim Crow followed by The New Jim Crow. All of that is part of our history and unless we understand that, we're not going to create equal justice under the law.
Bob: It's a country that never had the truth and reconciliation process that others have. I'm thinking notably of Germany after the war, and South Africa. Our history has been iterated, but maybe until now with Black Lives Matter, there hasn't been a thoroughgoing re-examination not only of the centuries-old history, but of how the bigotry and injustice persists today. We're going through that process and it's not an easy one. What Trump seems to be doing is rejecting that process in favor of returning to the narrative seen strictly through the prism generally of the powers that be. I mean, am I reading this right?
Paul: The New York Times describes the movement for Black lives as the most successful social justice movement in the history of the United States. There were days this past summer where in every state and in almost every city there were protests. People standing up against police brutality and state violence and people standing up for Black lives and the value of our lives.
This movement didn't come out of nowhere. One of the places it came from is critical race theory. Critical race theory has had a lot of influence not just in universities and among college students, but in corporate workplaces, in police academies, in terms of how rookie cops are trained. Certainly, this summer and this national reckoning has underscored what a lot of people have understood for a long time, that it's important to acknowledge the roles of white supremacy and patriarchy in our practices.
Bob: Now, you said the words "critical race theory", which is a total trigger for the political right. For them, it is to the attack on traditional values what season's greetings was to the war on Christmas?
Paul: This attack on critical race theory is really Orwellian in the sense that up is down, right is wrong and acknowledging racism is itself racist.
Bob: Talking about bizarro world, up is down, down is up. Last month the president of Princeton University wrote a letter publicly acknowledging the myriad ways that Princeton, the institution, has excluded students of color and otherwise been a bulwark of the patriarchy over the decades. It was quite the mea culpa. How did the Trump administration respond to that letter?
Paul: By threatening to sue Princeton. The president of Princeton University wrote the letter that you mentioned where he acknowledged that for most of its history, Princeton has intentionally and systemically excluded people of color and also women, Jews, and other minorities. In response, the Trump Department of Education wrote a letter saying that those admissions are and I'm quoting, "Serious, even shocking." Since the university has received $75 million in research grants and other federal funds since the President Eisgruber of Princeton became the president, that it might have to give back that $75 million since it had just acknowledged that it had discriminated.
Bob: You didn't have to dig too deeply to realize that the threat of withholding $75 million in federal research funds, wasn't punitive for Princeton's history of racist conduct. It was a penalty for going public and making an issue out of its own systemic racism. Right?
Paul: We have to keep going back to Orwell because it's the most instructive frame. What was racist and illegal about Princeton in the view of the Trump administration wasn't the reality that it had practice discriminatory policies against people of color, women, Jews, and others. What the problem was is that number one, the university it admitted it. Again, acknowledging racism trying to do something about Anti-Blackness is the problem.
I was also concerned that the Trump Administration's letter to Princeton also specifically flagged something that the president had said in his letter, president of Princeton, that now to wear address that history of exclusion, that university was now open to a new range of students from communities who are disproportionately affected by systemic racism and other forms of disadvantage. The Trump Administration specifically called out that language in this letter threatening to sue Princeton.
Bob: Once again, this executive order relating to training and federal agencies, it's really is it not the opening salvo in the larger war against truth and reconciliation? The big target, it seems to me, is the public education system. They want to replace critical thinking with what they call patriotic education. Are we going to go full on Poland here and erase modern scholarship from the test books?
Paul: We're not going to do that mainly because schooling education is primarily a state function, a local function that the federal government doesn't have a whole lot of power over. In States we see many thinking about the best interest of their students as is their charge making curriculums more diverse. Recently we've seen moves to teach more accurate information about the LGBT community, native communities, ongoing efforts to correct mistakes in history books about slavery, about African American and Latinx people.
Bob: We have an election coming up. Is this all just going to go away on inauguration day if Biden should be elected?
Paul: If a new administration is installed, most people will understand that Trump's war on diversity and his intellectual attacks on accurate narratives of American history, I think, most people will get that that was wrong. His base which includes a large number of white people, we have to acknowledge, his base will be energized by that move. Even if President Trump himself leaves the national stage, Trumpism is, unfortunately, here to stay.
Bob: Somewhere in our conversations with you, and maybe it was in the pre-interview with our producer Ava, we discussed the notion of a post-racial America, which President Obama liked to talk about us being on the cusp of, and which others fully declared with Obama's ascendancy. Which of course has been laid bare as a pipe dream ever since because rather than becoming post-racial, the bugs came out of the woodwork.
Now if indeed Biden wins the election, that brings with it Kamala Harris, an African American woman as vice president, which I guess at a minimum is another data point, another opportunity. Do you see the combination of an African American vice president, who may well succeed and edge at Biden, in combination with Black Lives Matter, somehow entering us closer to a society that has seen some level of truth and reconciliation? If you'll excuse the stemwinder question, is it perhaps some great irony that Trumpism hastened this process rather than stymied it?
Paul: I think that an African American woman vice president in a country with a legacy of white supremacy and patriarchy would inch us closer to our ideal and in my book Chokehold: Policing Black Men, which came out shortly after Trump was inaugurated, I stated the police didn't treat Black people any better when Obama was president and I don't that they will treat Black people any worse while Trump is president.
One of the lessons of critical race theory is that Anti-Blackness is systemic. It's built in to our institutions and practices in a way that makes it impossible for one president to defeat. In Chokehold, I did talk about a concept called "Productive apocalypse" and there the idea was that if Trump was as bad for race relations as people were predicting and he's actually been, I think worse, that that would bring what people in the movement for Black lives sometimes referred to as a "Productive apocalypse" in which now everybody would get it or if not everybody, then many people who hadn't gotten it before. Many people would now understand that white supremacy is real. I think this summer, this national reckoning on race is evidence of that productive apocalypse.
Bob: Maybe he'll wind up on Mount Rushmore after all?
Paul: No, they're trying to figure out what to do with the monuments of the people who participated in slavery, who supported it and white supremacy and the people who exercised neo-genocide against Indians. I think when we figure out how to remember those people in a historically accurate way, [inaudible 00:20:30]
Bob: Paul, thank you very much.
Paul: Thank you for having me.
Bob: Former prosecutor Paul Butler is a professor at the Georgetown University School of Law.
[music]
Copyright © 2020 New York Public Radio. All rights reserved. Visit our website terms of use at www.wnyc.org for further information.
New York Public Radio transcripts are created on a rush deadline, often by contractors. This text may not be in its final form and may be updated or revised in the future. Accuracy and availability may vary. The authoritative record of New York Public Radio's programming is the audio record.