The Trial of Elizabeth Holmes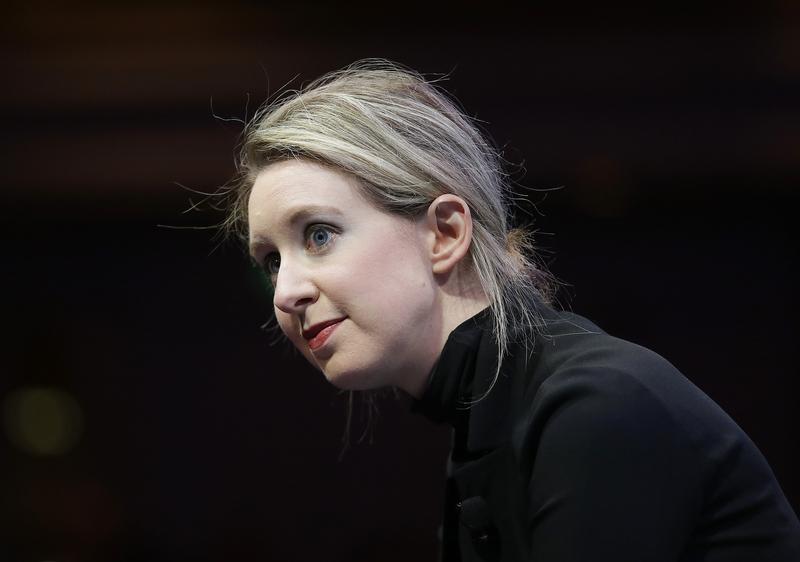 Transcript
[music]
Leah Feder: This is an On the Media podcast extra. I'm senior producer Leah Feder bringing you an update to a story Brooke and I worked on together a few years back when then Wall Street Journal reporter, John Carreyrou published Bad Blood. His eye-popping expose of Elizabeth Holmes, and her promise to revolutionize the blood-testing industry.
Elizabeth Holmes: There's an opportunity to create a new paradigm, being able to make actionable health information accessible to people everywhere at the time it matters most.
Leah Feder: A decade earlier, at the age of 19, Holmes had founded Theranos, a company built on the claim that its microfluidic technology could facilitate a move from deep vein blood draws to test base on a single drop of blood. It promised easier, cheaper, more accessible lab tests, and it quickly became a Silicon Valley darling.
Reporter 1: Theranos is valued greater than say Quest Diagnostics or Lab Corp.
Leah Feder: In 2014, Fortune Magazine ran a now-iconic cover story featuring Holmes. Blonde hair, a black turtleneck, a deadpan stare into the camera, and the headline, "This CEO is Out For Blood," but only 16 months later, Carreyrou would start publishing damning articles and Holmes' star would come tumbling to the ground.
Reporter 2: Two articles published in the Wall Street Journal investigated the efficacy and accuracy of the single finger-prick blood test that put Theranos on the map.
Reporter 3: Theranos saying it is scaling back its tests after the expose in the Wall Street Journal claims the company uses its key technology in just one of its tests.
Leah Feder: Theranos had been falsifying results and lying about the efficacy of its technology for years.
Reporter 4: $700 million of investors money going poof, vaporized.
Leah Feder: Now, years later, Holmes is being called to account.
Reporter 5: The criminal trial of former Theranos CEO, Elizabeth Holmes, gets underway today in San Jose, California. Holmes faces up to 20 years in prison if convicted.
Leah Feder: It's a trial that Carreyrou is chronicling in a set of bonus episodes for the podcast, Bad Blood: The Final Chapter with co-host, Emily Saul. In it, Carreyrou notes the challenges of finding jurors unfamiliar with the now infamous Holme story.
John Carreyrou: Easily half of the prospective jurors had read stories about the case, or seen TV segments about it, or heard radio segments, or watched one of the documentaries, and some had read my book.
Leah Feder: None of them was picked. In the end, the selection process resulted in a jury that has a disproportionate number of older white men, which, as Carreyrou pointed out to Brooke when they spoke back in 2018, is a demographic that Holmes has a track record of winning over to her cause.
John Carreyrou: The first one was Channing Robertson, her engineering school professor when she dropped out of Stanford, and he helped give her credibility when she was just a teenager. A year or two later, she met Donald L. Lucas, a pretty well-known venture capitalist who had groomed Larry Ellison.
Brooke: Who went on to create?
John Carreyrou: Oracle. Then she met George Shultz, the former Secretary of State who crafted the Reagan administration's foreign policy, and she wowed him. He joined her board and pretty soon introduced her to all his buddies at the Hoover institution, which is the conservative think tank housed on the Stanford campus.
Brooke: What was the goal of the company? What was the problem it was trying to solve?
John Carreyrou: Well, Elizabeth Holmes's view, the blood-testing industry was broken, controlled by these two big companies, LabCorp and Quest, and they still use decades-old methods. Namely the big hypodermic needle drawing five tubes of blood. She likened it to a medieval torture mechanism. The fact of the matter is that if Elizabeth had invented, as she claimed, a new way to test blood from just a drop or two pricked from a finger, from what you could do the full range of tests, that would actually have been a big advance in medicine.
Something that thousands of researchers and academia in the industry have been working on for 20 years where you would prick the finger and get a small sample of blood, put it in this cartridge, which would slot into a reader, send a signal from the reader to a doctor's computer and give the doctor the patient's blood test result.
Brooke: Now we have that for testing blood sugar.
John Carreyrou: It was inspired from the blood sugar glucose monitors, except she wanted them to do all the tests. That's much more difficult to pull off than it might sound because there are different classes of tests, and those different classes of tests require completely different lab methods and completely different lab instruments.
Brooke: Most 19-year-olds can't secure millions of dollars in funding. What was so different about Elizabeth?
John Carreyrou: She at first leveraged her family connections. Her family's neighbors happened to be the Drapers. Tim Draper is a very well-known and very successful venture capitalist in Silicon Valley. When Elizabeth dropped out of Stanford, a decade later, she knocked on Tim Draper's door and he actually wrote her her first check for a million dollars. She also approached a friend of her father's, a guy named Victor Palmieri who was a retired businessman, and he also invested in Theranos. She hit up some students in her class at Stanford, the Chang family, and they were heirs to a multi-billion dollar Taiwanese tech distributor.
Brooke: Yes, she had connections, but that doesn't mean you can leverage them. Describe this young woman.
John Carreyrou: Full of energy, believed 100% in her vision, her calling to be an entrepreneur. She got turned down by quite a few venture capitalists. I have an anecdote in my book about a medical technology VC firm investing in med-tech companies for decades. When she sat down with the partners there, she spoke in grand terms of her ability to change mankind, but when they tried to ask her very technical questions, she was stumped and got defensive, and after about an hour, stood up and left in a huff.
Brooke: The Theranos story wasn't coming primarily from reporters with healthcare backgrounds. The story came from people who covered technology or who were covering her, beginning with the Wall Street Journal.
John Carreyrou: Right. The first mainstream publication that put her on the map was my own newspaper. An op-ed writer named Joe Rigo, went out to California to interview her in a friendly piece. Pretty much took her claims of having invented this groundbreaking new science at face value, and that's the first piece of that put her on the map. Then there was a piece in Wired Magazine a few months later in early 2014, and then the story that really, really rocketed her to fame was the magazine cover story in Fortune Magazine in June of 2014.
Brooke: How would you characterize that coverage? This was not about the technology as much as it was about the techiness and the technologist.
John Carreyrou: Right. Her product wasn't a traditional Silicon Valley product. It wasn't software or computer hardware or smartphone app. It was actually a medical product, but she managed to get the press to approach her from that traditional Silicon Valley perspective. She modeled herself after Steve Jobs. She wore the black turtleneck. She started doing that as early as 2006, 2007. She hired the same advertising agency that had created iconic Apple advertising campaigns, Chiat\Day in Los Angeles.
There were also ads in which Elizabeth herself was featured. I'm thinking of one, in particular, that was directed by Errol Morris, the Oscar-winning documentary filmmaker. It's a close-up shot of her, and she's speaking into the camera with her big blue eyes that don't blink much, and she's speaking very slowly and deliberately. It's almost hypnotic when you watch her. It calls to mind almost a cult leader when you watch that video.
Elizabeth: To me, nothing matters more than what people go through when someone they love is found out to be really, really sick. Most of the time when that happens, it happens so late in the disease progression process that there's nothing you can do. That feeling of helplessness is heartbreaking. If I could build something that would change it, that was what I want to do with my life.
John Carreyrou: I found out that that voice is actually not her natural voice. I have an anecdote in the book where an employee, in 2011, who has just recently joined the company is meeting with Elizabeth at the end of the day, and she forgets to put on the baritone and her voice comes out sounding much more like a young woman's voice, several tones higher. When he thinks about it, it makes sense because Silicon Valley is a world that's really completely dominated by men. He figures that at some point Elizabeth Holmes has decided that she needs to put on basically a male voice to be taken seriously in this man's world.
Brooke: How did Holmes misdirect potential business partners, funders, and the press?
John Carreyrou: The key to the fraud and misdirection is that Theranos was able to mislead Walgreens. At an early stage, the two companies signed a preliminary partnership agreement by August of 2010. Walgreens actually hired a laboratory expert as a consultant to help it vet the Theranos technology. After a couple of months, Elizabeth and Sunny told Walgreens that they didn't like this consultant named Kevin Hunter who was asking too many questions, that he was interfering with getting work done.
Brooke: They didn't allow him to have test results. They didn't provide him with any data. They didn't enable him to do any oversight at all. Ultimately, you said it's because Walgreens was so engaged in magical thinking and so terrified that CVS would get there ahead of them, that they permitted their own watchdog to be muscled and chained.
John Carreyrou: She used the fact that she rolled out the fingerstick tests in Walgreens stores as the validation that their gnosis product was real. How could it not be? It was available to consumers in Walgreens stores in Palo Alto and in the Phoenix area. The fact that Walgreens had completely failed to vet the technology or do its due diligence, and let Theranos roll out the blood tests, then led a bunch of investors to invest money thinking that surely, this company that's been around for 100 years, has done its homework when in fact it had not done its homework.
Brooke: There's more than just Walgreens though, there was a whole pattern of lying. Elizabeth Holmes made things up. When she was talking to investors, she would offer income projections 10 times as big as those she presented internally, and they falsified even their test results when they were forced to provide them. She also claimed that the military was using the technology and it just wasn't.
John Carreyrou: She did try to get a field test of the Theranos device in Afghanistan after she met Jim Mattis, who at the time was the head of CENTCOM. The field test never took place, but she continued to tell prospective investors and board members, people like George Schultz, that the Theranos device was being used in the field in Afghanistan and was in medevac helicopters, and was helping save the lives of soldiers in the field. I think it illustrates Elizabeth Holmes' chutzpah and her ability to lie in a way so blatantly that no one thinks to question the assertions because how could she be lying about things that are so untrue? They must be true.
Brooke: Fundamentally, she was a terrific liar, really persuasive, but there were other things that enabled her success for so long. The story was seductive. Nobody wanted to penetrate the myth.
John Carreyrou: There was a yearning in Silicon Valley and even beyond Silicon Valley to see the first tech billionaire female founder.
Brooke: Though she was operating in the medical field, she was covered like a tech entrepreneur. There's a narrative of the Silicon Valley wunderkind success.
John Carreyrou: Silicon Valley has a history of faking it until you make it. There was a term that was coined in the early '80s, called vaporware that referred to computer software or hardware that was announced by a company with great fanfare and then either never deployed or created or deployed years later without many of the features that had been promised. If they have bugs, you can fix the bugs, and as people say in Silicon Valley, iterate and put out new versions of the software, and that works okay in the traditional Silicon Valley world of software. You absolutely could not do this in medicine because, in medicine, doctors and patients are relying on your products to make very important health decisions.
Brooke: You first learned of this story after a blogger named Adam Clapper had noticed some inconsistencies in the story, encouraged you to follow the trail, and over the course of nine months, you did.
John Carreyrou: Some of the very basic questions I was asking were things like, of the 250 blood tests Theranos has on its menu, how many are done with proprietary Theranos technology, and how many are done with commercial machines made by third parties? I had learned from my ex-employees sources that they were using commercial machines for most of their tests. They wouldn't answer that question on the grounds that that touched on trade secrets.
Brooke: They were using Siemen's machines and other machines because theirs didn't work.
John Carreyrou: Theranos, in fact, the last version of its technology was called the MiniLab. Elizabeth had christened it the MiniLab, and it was a prototype that didn't even work. When they had gone live with their fingerstick tests in Walgreens stores, they had dusted off an older device that she had christened the Edison after Thomas Edison, which was a much more limited machine that could only do one class of tests known as immunoassays.
They went live with that older machine, and they only had about 12 tests that they were performing on that device. Then the rest of these, some 240 tests on the menu, they were using commercial analyzers made by the likes of Siemens. To uphold the myth that they had invented a technology that could test tiny blood samples pricked from a finger, what they did is they modified the Siemens machines to make them compatible with tiny blood samples.
Brooke: They bought them, they broke into them, they changed them a little bit.
John Carreyrou: They made the cups that went into the machines smaller. They also, more importantly, diluted the blood so that there would be more volume because these commercial machines made by Siemens were made to handle normal size blood samples.
Brooke: They broke into them and made them less accurate.
John Carreyrou: Exactly.
Brooke: What happened to Theranos and to Elizabeth Holmes?
John Carreyrou: Theranos and Elizabeth Holmes were banned by one of the health regulators, Centers for Medicare and Medicaid Services, from running laboratories and had to shut down their laboratories. They subsequently voided nearly a million blood test results in Arizona and California. The Securities and Exchange Commission announced fraud charges against Elizabeth Holmes and Theranos. Elizabeth Holmes chose to settle them without admitting or denying wrongdoing. She paid $500,000 fine and relinquished most of her stock. She also agreed to a ban from being a director in a public company for 10 years.
Brooke: What about all of those grand old men who were duped by this? George Schultz, who kept throwing birthday parties for Elizabeth Holmes, and all the other people? Jim Mattis, Henry Kissinger, Sam Nunn, Rupert Murdoch. Did any of them admit to being wrong and learning from this magical thinking in which they had all indulged?
John Carreyrou: Very few of them, if any have, at least publicly, I'm told, however, by a very, very, very good source that George Schultz recently admitted to his family that he had been wrong all along. He did so after reading the SEC charges. He told members of his family that he had no idea that there had been that amount of lying and he was clueless about it.
Brooke: Schultz always claimed he never knew about Iran-Contra when he was Reagan's Secretary of State either.
John Carreyrou: He survived Watergate and his reputation was pretty much unblemished. Unfortunately, he now has to account for his role in the Theranos scandal.
Brooke: Just an innocent dupe once again. John, thank you very much.
John Carreyrou: Thanks a lot for having me.
Brooke: John Carreyrou is an investigative journalist at the Wall Street Journal and author of Bad Blood Secrets and Lies in a Silicon Valley startup.
[music]
Leah Feder: That's it for this week's Podcast Extra. For more OTM, follow us on Twitter, like us on Facebook, and above all, sign up for our newsletter.
Copyright © 2021 New York Public Radio. All rights reserved. Visit our website terms of use at www.wnyc.org for further information.
New York Public Radio transcripts are created on a rush deadline, often by contractors. This text may not be in its final form and may be updated or revised in the future. Accuracy and availability may vary. The authoritative record of New York Public Radio's programming is the audio record.