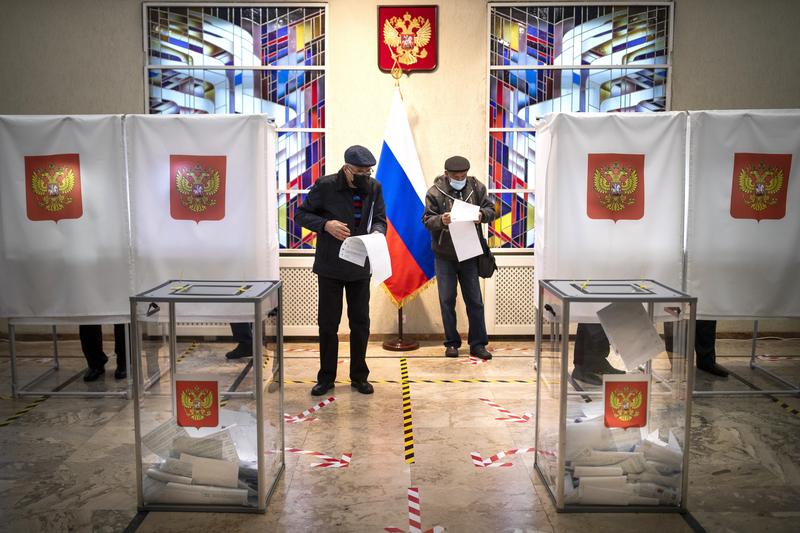 Transcript
The Subversion Playbook
DAN HIRSCHHORN We'll call it an investigation, a probe, a review, but we're not calling it an audit.
SACHA PFEIFFER The Philadelphia Inquirer will no longer use the word 'audit' when referring to the effort by the state's GOP to investigate the 2020 election. Why? Because words matter.
From WNYC in New York, this is On the Media. Also on this week's show, elections are under threat from so many directions that those who are sounding the alarm are having to get creative.
[CLIP]
CNN CORRESPONDENT This is cable, so you can say it. How scared are you about elections going forward?
RICK HASEN [ON CNN] Well, I never expected to say I'd be scared sh*tless on CNN. [END CLIP]
RICK HASEN And then he called me Professor Pottymouth.
SACHA PFEIFFER And in Russia, the Kremlin's latest move to silence journalists is to label them foreign agents and make them declare it everywhere they go online and off.
JOSHUA YAFFA They could become professional breakdance buskers who work in the Moscow metro and they'd still be foreign agents.
SACHA PFEIFFER It's all coming up after this.
[END OF BILLBOARD]
SACHA PFEIFFER From WNYC in New York, this is On the Media. I'm Sacha Pfeiffer sitting in for Brooke Gladstone. This week, President Biden won the election in Maricopa County. Again.
[CLIP]
NEWS REPORT Here's what Maricopa County tweeted: "the Arizona audit draft report from Cyber Ninjas confirms the county's canvass of the 2020 general election was accurate. And the candidates certified as the winners did, in fact, win. [END CLIP]
SACHA PFEIFFER That politically motivated and widely criticized recount had been pushed by Arizona State Republicans last December after they met with Rudy Giuliani. It was part of a multipronged and baseless quest to overturn the results of the 2020 election. Just as the case was closing on the Arizona election probe, Texas announced Thursday it would begin a, quote, 'comprehensive forensic audit of its own.' Meanwhile, Wisconsin and Pennsylvania persist with their Republican led efforts.
[CLIP]
NEWS REPORT ...in the Republican legislature in Pennsylvania began pushing another bogus audit, this one funded by tax dollars, to prove widespread fraud that did not happen. [END CLIP]
SACHA PFEIFFER All these attempts to thwart the will of the people have not gone unnoticed in Congress.
[CLIP]
SENATOR AMY KLOBUCHAR You cannot have these states basically deciding who their voters are. If they had trouble in the last election, if they lost the presidency, then change your policies, change your candidates, change your messages. Do not try to change your voters. That is against the fundamental right to vote. [END CLIP]
SACHA PFEIFFER That's Senator Amy Klobuchar this week, discussing the Freedom to Vote Act. A new bill aimed at countering the nationwide right wing movement to restrict voting access. If you follow the coverage of this issue, you'll notice one word comes up, a lot.
[CLIP]
NEWS REPORT Officials in one county are still defending the integrity of the vote against an audit ordered by the Republican controlled state Senate. [END CLIP]
SACHA PFEIFFER Audit. It's the word Republican lawmakers are using to describe the process of examining election results, but is audit the best word to describe what's happening?
DAN HIRSCHHORN Huge questions remain unanswered about the extent to which partisan political players might have a role in the process. So we're not calling it an audit.
SACHA PFEIFFER That's Dan Hirschhorn, assistant managing editor at the Philadelphia Inquirer. His newspaper has started adding a box to its election coverage titled "Why We're Not Calling it an Audit."
DAN HIRSCHHORN We'll call it an investigation, a probe, a review. Often we'll describe it as a partisan probe or investigation or review. Other times we might put descriptions in quotations if they're attributed to other speakers, but we do not call it an audit in our own language.
SACHA PFEIFFER Do you think calling it an investigation or a probe is any less damaging or any more neutral?
DAN HIRSCHHORN I think it's more accurate. I won't speak to whether or not any of these are damaging. The job of journalists in choosing language is to be accurate and precise. Audit is not an accurate word to describe what we know to be happening.
SACHA PFEIFFER You mentioned that sometimes you'll put terms in quotation marks and I've read that the Republicans were calling this a 'forensic investigation.' So sometimes the Philadelphia Inquirer will put that in quotation marks, but I'm wondering if you think readers make a distinction. I mean, forensic investigation sounds big and bad and scary. Does putting it in quotation marks change that at all?
DAN HIRSCHHORN We believe our readers are smart and savvy enough to understand when we're saying something versus when we are relaying what others are saying. And even when we are quoting other speakers and describing it this way, we're providing a great deal of context and detail and reality check to make clear what it is and is not.
SACHA PFEIFFER This gets at such a difficult decision that newspapers have to make. This is how to use language, how to describe something precisely and accurately when we have so much difficulty now as a culture agreeing on facts. I'm thinking even about Guantanamo, which I've covered for years. I try not to use the word detainee because they're prisoners. I mean, detainee, I think understates what they are and certainly there's been a lot of criticism of the term 'enhanced interrogation.' I mean, say torture. I think most reasonable people agree that's what it is. And it feels like these election fraud claims raise the same problems. Audit is not the only word that is debatable. Have you found yourself wrestling over other words and whether they accurately capture what's happening when it comes to election fraud, voter subversion, etc.?
DAN HIRSCHHORN We haven't had to wrestle too much with our decisions over usages of the word audits or really any other words, because our coverage of voting rights and election administration has always been done in a way that is clear eyed and puts the facts first, which made our decision not to describe it as an audit, as actually a really easy one, because it's flowed out of all of the coverage that we've done. In the run up to the election, we were very clear eyed in describing what then-President Trump and his supporters were doing, what the facts were. We never described his false election claims as being, quote, 'offered without evidence' or anything of that sort. We simply called them false– because they are false.
SACHA PFEIFFER Have you felt the need to explain to Inquirer readers why you've made these decisions and why you wouldn't use the term audit, for example?
DAN HIRSCHHORN Well, yeah. In addition to our language in the body copy of the story itself, we have a box that is appended to these stories in print and online that explains that we are not calling it an audit, and why.
SACHA PFEIFFER Have you had any readers accuse you of being biased toward the Democratic point of view by not using the word audit?
DAN HIRSCHHORN Not that I've heard from directly.
SACHA PFEIFFER Now, in The Washington Post recently, Margaret Sullivan talked about the need for stronger language when it comes to election subversion, words like 'fraud-It.' Jay Rosen has said that journalists need to enter what he calls emergency-mode when it comes to covering calls of false elections and subverted votes. I'm wondering whether you feel like the Philadelphia Inquirer needs to enter emergency mode.
DAN HIRSCHHORN I'm not sure what emergency mode really means in a tangible way for our coverage. I think there are some critics who, in feeling that we don't go far enough, wouldn't actually be satisfied unless we did anything short of saying Republicans are bad. And that's not the role that we play. Even in this decision not to use the word audit, we're not making sweeping claims about the Pennsylvania Republican Party or any or even most elected Republican officeholders in Pennsylvania. We are making tailored decisions based on individual stories as the need arises. I don't know what is actually gained by us going further than we are. I don't think there are readers out there that are waiting for us to make some kind of more explicit value judgment. And when we do, all of a sudden they're going to have some greater clarity of understanding than they already do. Us saying that one side of the political debate here is not telling the truth, I believe is enough for our readers to make informed judgments.
SACHA PFEIFFER There are inevitably many more media outlets that are going to have to make this decision. We're now seeing that challenging election results is a political strategy intended to make voters and the public doubt the integrity of the election process. What's your advice to other media outlets who might not have thought about this yet? Do you believe they need to be ready and thinking now about how you're going to cover this and what you're going to call it, what words you're going to use?
DAN HIRSCHHORN The most important thing is to start this work well before the polls ever open. I was very proud of the way we did this in 2020. We were telegraphing to our readers for months beforehand that the election results would not be immediate in the way that they had become accustomed to. That the quote unquote lead in the vote margin would change as mail ballots were counted, that this process would almost certainly result in an earlier, quote unquote, lead for Donald Trump. That would slowly diminish as mail ballots predominantly cast by Democrats were counted. And that whatever the result of this, it's not fraud, it's not any kind of rigging – it is simply the system working, albeit slowly. It is the votes being counted. Journalists need to understand how the business of election administration is conducted in their states and in their counties so they can explain that to their readers.
SACHA PFEIFFER That all sounds so sensible. Sounds like the way the world should work. But is the world or at least the country as it is the way it is? Do you think that's good enough? Is it enough to correct the fact pattern?
DAN HIRSCHHORN I don't know if it's enough to to correct misperceptions and mis information. I don't know what else we could possibly do to correct misperceptions and misinformation. We offer our readers the truth and the facts. As you know all too well, people can pick and choose from a great deal of news media sources these days. We can't control what readers are finding elsewhere. We can control what we give them.
SACHA PFEIFFER Dan Hirschhorn is an assistant managing editor at the Philadelphia Inquirer. Dan, thank you for talking about this. It's really interesting.
DAN HIRSCHHORN Thank you so much.
SACHA PFEIFFER Coming up, what election subversion looks like here and in Russia, this is On the Media.
[BREAK]
SACHA PFEIFFER This is On the Media, I'm Sacha Pfeiffer sitting in for Brooke Gladstone. Since the announcement of the Maricopa County probe, there have been signs that there was more going on than a good faith attempt to review the election process. For one thing, a June report written by Republicans argued that Cyber Ninjas, the company contracted to undertake the count, had been procured using an uncompetitive process and was using unreliable methods. Then there's the content of the Cyber Ninja's report itself. A New York Times story Friday morning, quotes Adrian Fontes, the county recorder who oversaw the election, saying the questions investigators raised in the report reveal, quote, their purposeful ignorance and the fact that they, quote, don't understand the system. For example, the findings raise the potential danger of duplicate votes. But Fontes explains that the state has systems in place to reconcile votes in real time. And he says even raising that as an issue indicates a level of ignorance about how the county conducts elections. There are plenty more examples like that. Rick Hasen, a professor of law and political science at the University of California, Irvine, writes that this kind of obtuseness is a feature, not a bug. In a newly published paper, he lays out the three pathways to election subversion.
RICK HASEN Everybody understands voter suppression. When Georgia passes a law that says people waiting in long lines to vote are not allowed to be given water, you can relate to that. That's voter suppression. You're making it harder for someone to register and to vote. Election subversion is something different.
SACHA PFEIFFER One of the pathways, he says, is election official manipulation of election results.
RICK HASEN One of the things that we know that's happened since the 2012 election is that a number of election officials who withstood the pressure to mess with the vote totals, they're now leaving. They face death threats, they face threats of violence, they've faced intimidation. And in many places, they're being replaced by Trumpist loyalists. People who say that they believe or actually believe that the 2020 election was stolen from Trump. Those people are going to be in charge in some places of counting the votes, and in setting up the rules for how votes are counted. It's a low rent way of stealing an election. It doesn't happen very much in the United States because we have lots of checks and balances in place, but there was an election about a decade ago in a small Southern California city called Cudahy, where absentee ballots for the local election were sent to city hall for counting. The ballots were steamed open. They threw away the ballots of the votes for challengers and they kept the ballots and counted the ballots of those who are incumbents. I mean, that's what I'm talking about, something as crass as that, something I did not expect to see in the United States. And it requires potentially changing rules so that there isn't transparency in the ability to recount votes, and the ability to watch the process and control the chain of custody there.
SACHA PFEIFFER And as you mentioned, there are many election officials who are just-- they're done. They're leaving. They don't want to go through this again. That poses an opportunity for people to appoint new election officials who aren't as scrupulous. People without scruples, who will do the bidding of those who want a certain candidate to win.
RICK HASEN Right. I think there's a double whammy that comes when election officials leave. Number one, as you mentioned, the people that come in might lack integrity, but the other problem is the people that come in might lack experience and competence. And that raises the potential that people could take the mistakes that are made by new election officials, even well-meaning election officials, falsely claim that there's fraud or irregularities and use that as an excuse to try to overturn an election.
SACHA PFEIFFER Another way that you say an election can be subverted is violence or intimidation interfering with election processes. It seems pretty easy to understand, but go ahead and explain to us or give us some examples of what that might be.
DAN HIRSCHHORN Well, we know that when Arizona officials in 2020 were counting ballots, there was literally a mob outside.
[CLIP OF MOB CHANTING "COUNT THE VOTES"]
RICK HASEN Wanting to get in. We saw this in Detroit. There was just some very good reporting by CNN collecting some audio of voicemails with death threats to election officials.
[CLIP]
THREATENING VOICEMAIL 234 years ago, the founding Caucasian Fathers of America gave us the Second Amendment. Time's running out, Richard. We're coming after you. And every m*** that stole this election with our Second Amendment. You will be served lead. [END CLIP]
RICK HASEN And, of course, we could have violence that prevents a peaceful transfer of power that prevents someone from taking office. Something like what we saw on January 6th.
[CLIP]
INSURRECTIONIST Where are you Nancy? We're looking for you. [END CLIP]
RICK HASEN When those who are counting votes were targeted for violence.
SACHA PFEIFFER I'd like you to spend the most time on the final way you think an election can be subverted, because you think this is the most dangerous and the most likely way, and that's usurpation of voter choice for president. What makes it particularly chilling, as you said, it sort of has the aura of respectability and expertise. So explain what usurpation of voter choice for president is.
RICK HASEN So this is a really complicated point, so I'll simplify it just a little bit. The Constitution says the state legislatures get to set the rules for choosing presidential electors in each state and each state sends their presidential electors to Congress to be counted, and there are rules for how that's supposed to take place. What we saw in 2020 and what could happen in the future is that state legislatures, which are given the power to set the rules for presidential elections, could be pressured or could decide to ignore the votes of the people through technical legal arguments about their power to do so. And despite the actual results of the election, they could purport to send in a different slate of presidential electors. So say we're talking about 2024, Biden wins the state of Arizona if you counted the votes fairly. But the Arizona legislature decides, you know what, even though we held that election, we think there were irregularities, so we're going to send in a different slate of electors. And then if Republicans control the House of Representatives, there's a challenge which electoral college votes should count. The Republicans decide to count the votes sent in by the state legislature, relying on technical legal arguments, which I think are unsound technical legal arguments, but relying on those arguments and claiming that they have the right to accept those. That would be a way it would be a kind of respectable, bloodless coup. It would be a way of turning the election loser into the election winner. And rather than relying on kind of outlandish claims of fraud like Trump did in 2020: ballot box stuffing or laser's changing votes. And, you know, it's really easy to counter that by saying there is no evidence of laser's affecting election results, but when the argument is under the independent state legislature doctrine, if you correctly understand Article one of the Constitution Section four and you understand Article two as well as three USC Section two of the electoral Count act, you know, it's sounds like this person must know what they're talking about. When in fact, just a bloodless version of the same thing, trying to use false arguments to overturn an election.
SACHA PFEIFFER You've said in your paper that the Supreme Court has left a gap open for state legislatures in a way that could be concerning.
RICK HASEN So, the best way to understand this is to look at an example from 2020. In the 2020 election, which we held under very difficult circumstances in the middle of a pandemic, there were lots of lawsuits related to the election. Some related to changes that were made because of the pandemic that some people thought were illegal and some related to failures to make changes which rendered elections unconstitutional. So one of the cases that came up was a case in Pennsylvania where voting rights groups argued because of the pandemic and because of problems with how the US Postal Service was operating in the middle of the pandemic, ballots were likely to be late in arriving to election centers to be counted. And so there was a lawsuit brought and the state Supreme Court ruled that under the state constitution. The number of days for receiving these ballots to be counted in the presidential election had to be extended by three days. So rather than the ballots arriving on Election Day. By midnight of that day, they could arrive within three days of the election. And that was a state supreme court relying on the state constitution to extend voting time. Well, Republicans filed suit afterwards against that determination by the state Supreme Court. And the argument was by extending the deadline by three days, the state Supreme Court has usurped the power of the state legislature to set the rules for conducting a presidential election and conduct a congressional election, which the Constitution gives to the state legislature. Even a state supreme court relying on a state constitution doesn't have the power to do this. There were 10000 such ballots that came in and those in that three day period. And along the way, as litigation went to the Supreme Court, 4 justices on the Supreme Court expressed at least some sympathy with the idea that a state Supreme Court relying on a state constitution cannot change rules from any deviation set by a legislature in the statute. That is the independent state legislature doctrine. And Justice Alito, who is the circuit justice of the Supreme Court justice in charge of this geographic area in Pennsylvania, ordered that those ballots be kept separate, those ten thousand ballots. Fortunately, the margin in Pennsylvania between Biden and Trump was eighty thousand votes. So those 10000 votes, whether they were concerned, that was not going to make a difference in the outcome of the election. But you could easily see that if it had made a difference, if it had been determinative, there were at least four and I count potentially six justices on the court who would have been willing to accept this very muscular reading of the independent state legislature doctrine that the legislature can act independent of its own state Supreme Court and its own constitution in setting its election rules.
SACHA PFEIFFER What you just said, I think, is a good example of why this is actually challenging for the media to cover. It's quite complicated. What is the best way to bring this to the public attention in a way that makes it understandable?
RICK HASEN Well, I've gotten a story about that, about the media angle, which is that I gave an interview to Jane Mayer of The New Yorker that ran about a month ago in a story called The Big Money Behind the Big Lie, in which I explained this doctrine to Jane. And she quoted me are saying that I was, quote, scared sh*tless. Right after I did that, I was put on CNN and the anchor making these arguments. The anchors said, 'come on, say it, say it. Professor...'.
[CLIP]
CNN CORRESPONDENT This is cable so you can say it. How scared are you about elections going forward?
RICK HASEN [ON CNN] Well, I never expected to say I'd be scared sh*tless on CNN, but....[END CLIP]
RICK HASEN And then he called me Professor Potty Mouth. And so this got a tremendous amount of attention because academics are not usually on TV swearing.
[BOTH CHUCKLE]
RICK HASEN My paper is meant to sound the alarm. I kind of feel like I'm the climate scientist who says we're going to have terrible fires and flooding if the Earth's temperature rises a degree and a half, or like the epidemiologist a couple of years ago who said, you know, we're really not prepared for a pandemic. We're in that same level of potential catastrophic political meltdown. And all I can do is sound the alarm and hope that the media are going to listen and they're going to try and tell the story.
SACHA PFEIFFER Some of the challenges to election results have happened as a result of changes in accommodations made due to the pandemic. Dropbox voting, expanded absentee voting, longer deadlines for ballots to arrive. If those types of changes and accommodations end, do you still see a great risk or is it the pandemic in particular that opens the door to this kind of litigation?
RICK HASEN I don't think it's the pandemic in particular. One of the things that surprised me about the 2020 election and the claims of fraud that were made by Trump and his allies was that they didn't rely on even a kernel of truth about election fraud and election irregularities. I had worried that the election was going to be poorly conducted because of the pandemic and that there would be some major problem in Pennsylvania or elsewhere, and that this problem might make it genuinely difficult to know if there was an outcome determinative problem in a state. And that could then have been seized on as a basis for trying to overturn the election results, much like Bush versus Gore. Back in twenty twenty, when the margin of error in how the election was conducted in Florida in 2000 greatly exceeded the margin of victory. And it was outcome determinative. But what I learned about 2020 was you don't even need a kernel of truth if you're willing to shamelessly lie about the integrity of the election and you're able to get enough attention and that you're willing to get millions of voters to pay attention and to go along with the lie, then you've undermined voter confidence. You create the conditions where an election could be stolen. So, no, I don't think it depends on the pandemic going forward. This was just a dress rehearsal for what might happen in a future election.
SACHA PFEIFFER So how do you think that news consumers can watch for subversion in upcoming election cycles? Because, as you say, it's often quieter than voter suppression attempts. And then what can they do to try to stop it?
RICK HASEN I think the first thing to recognize is that because our elections are conducted in such a decentralized way where it's on the state and local level, the rules that might allow elections, subversion happen on the state and local level as well. And so people need to be vigilant. They need to be looking at these rules for how elections can be challenged. Case in point, Texas, Texas just passed a very restrictive voting law that's gotten a lot of attention. There was that whole walkout of Democrats. You may remember all of that, but the law ultimately passed when Democrats had to come back to Texas and the Texas legislature had its quorum again. But there was a provision in the original law, one that would have made it much easier to have state courts overturn the results of the elections. It changed the standard of proof. It changed the rules for what you would have to show in order to overturn an election result. That provision, after pressure from government groups and civic groups and others, that provision was taken out of the law as it ultimately passed. So I do think that there are things to do right now in every state. For example, and perhaps most importantly, every state should be voting with paper ballots, paper ballots that can be recounted by an objective group, by a court or by an independent body that's charged with doing so in the process of any kind of election contest. There's a lot that could be done right now.
SACHA PFEIFFER What happens if we don't stop these attempts at election subversion? How high are the stakes?
RICK HASEN Well, the stakes are the future of American democracy, because if you can't trust the vote count, you don't have a democracy. And so much has been done to undermine confidence in the election process. Even more undermining of that process would happen if election results were actually stolen. This is a really scary moment in American democracy, the scariest moment of our lifetimes.
SACHA PFEIFFER Rick Hasen is the chancellor's professor of law and political science at the University of California, Irvine, and he's also co-director of the Fair Elections and Free Speech Center. Rick, thank you.
RICK HASEN Thank you.
SACHA PFEIFFER The threats of election subversion in the United States probably sound more than familiar to people in Russia, where for years Putin has been consolidating his power through anti-democratic tactics and in the country's federal elections last weekend. Those tactics were once again on display.
[MUSIC RISES UP AND UNDER]
[CLIP MONTAGE]
NEWS REPORT Independent vote-monitor Golos, says it's been made aware of more than 4000 possible instances of fraud in this election.
NEWS REPORT Observers say the goal was a high voter turnout to lend the election more legitimacy.
NEWS REPORT The Russian president is shown using a controversial online voting system, which critics say allows even more opportunity to manipulate results.
NEWS REPORT Victory for President Vladimir Putin's United Russia party comes in the wake of a clampdown that saw many opposition politicians and activists arrested or barred from running. [END CLIP]
SACHA PFEIFFER In the run up to the elections, the country's opposition leaders attempted to use what little power they had to put up an electoral fight.
[CLIP]
NEWS REPORT A smart voting app. It advised users on which candidates could potentially unseat the ruling party. [END CLIP]
SACHA PFEIFFER The tool used to help voters vote strategically is an app built by the opposition and promoted by Navalny and his allies. But the night before polls opened, that app disappeared from Google and Apple's app stores.
[MUSIC FADES OUT]
TANYA LOKOT There is a particular agency in the Russian state body called RoskamNadzor, which is the Internet regulator, also the media regulator. And so RoskamNadzor reached out. They said you have to remove the app.
SACHA PFEIFFER Tanya Lokot is a media scholar and author who's been following the drama in Russia
TANYA LOKOT For a long time, Google and Apple just ignored these requests, and so at a certain point, their local offices in Russia were visited by court martials who came along and said there is a court order we have that says that this app was created by an organization that has been outlawed in Russia as extremist and therefore everything they've created and published somewhere should also be removed.
SACHA PFEIFFER Ah, so some law enforcement intimidation.
TANYA LOKOT Yes, indeed. And, you know, usually the companies get these threats of fines and they've been fined multiple times for violating various Internet related regulations in Russia. And usually they just ignore this because technically the companies that deal with content moderation are based in the US. The legal entities in Russia are usually people who deal with sales or advertising. So they have nothing to do with the Google content or applications. But in this case, there were reports of direct threats of criminal prosecution for local staff, and I think that must have been what tipped the balance and tipped the scales where they said, 'OK, we need to maybe respond to this somehow.'
SACHA PFEIFFER What was the Russian government claiming was illegal about this app?
TANYA LOKOT Well, that's the interesting thing, because technically, if we consider the app on its own merits, it's not really doing anything illegal. All it's doing is offering voters information on absolutely legitimate candidates that are part of the ballots in all of the Russian regions.
SACHA PFEIFFER It's like a voter guide. These are the candidates, these are their positions.
TANYA LOKOT Exactly. The app is useful because it allows you to enter your voting districts and it'll tell you who the most likely candidate is. So it's kind of like a tactical voting thing or voter information thing. But none of this is illegal in Russia. And in fact, several of the pro-government parties or conglomerations, they also created very similar apps that were not pulled from the app stores
SACHA PFEIFFER After the smart voting app disappeared in Russia, a cat and mouse game of sorts broke out. Explain how this unfolded.
TANYA LOKOT Well, obviously, the Navalny associates were incredibly disappointed because they believe that both Google and Apple would uphold democratic ideals, and obviously they think of their app as a democratic tool. So they vowed to release the candidate list in any possible shape and form that they could. So the first thing they did, which was very easy to do, they just put it up as a Google doc and shared it on their social media accounts. And very quickly, RoskamNadzor came back to Google and said, oh, we want you to block these specific Google Docs as well, and Google did. They also posted a YouTube video, which was a live reading of the fascinating list of candidates and that in a few hours also got blocked. They just continued posting this list and sharing it in a thread on Twitter. They put it up on Reddit, they put it up on GitHub. They put it up on every available platform they could. They shared it on Telegram, so they basically just flooded the Internet and then obviously other people also re-shared all of these files and reposted them.
SACHA PFEIFFER Russia has tried to censor tech companies before. Was the pressure to get them to remove this app different than previous types of pressure?
TANYA LOKOT A lot of the previous censorship efforts, some of which were successful. LinkedIn, for instance, has been banned in Russia since 2016. Most of those censorship attempts deal with things like companies refusing to store data inside Russia or protest related content that they refused to take down. But this particular case is clearly a political issue where we see that it is because the app was created by opposition and opposition affiliated actors is why the state wanted it gone and that the companies conceded to removing this app. Based on this reasoning, to me seems like a major precedent.
SACHA PFEIFFER What's surprising about this is that Google is part of this global network initiative that pledges that when it makes decisions like these that might infringe on human rights, it will be transparent and explain its decision. But in this case, they seem not to have been transparent.
TANYA LOKOT Not at all. And I think that that's what many digital rights advocates found incredibly disappointing, is that there is this position that Google has taken where it says, yes, we vow to uphold human rights standards and to be very detailed in how we evaluate our decisions that we make, especially in states where people's rights are already under threat. And then they go and do something like this and don't even deign to provide an explanation.
SACHA PFEIFFER Since removing the smart voting app seems to have gotten the Russian government the outcome it wanted, it got the victory it wanted. Do you think that will incentivize the Russian government to keep using these tactics to pressure tech companies in the future?
TANYA LOKOT To me, what the most devious thing is, is that the Kremlin has really tried to frame this as election interference. So they're basically saying by allowing this app to be hosted on your app stores, you are contributing to Western interference in the Russian election, which seems ridiculous. But the mythical proportions that this idea of election interference has reached in the US, it's a very clever framing.
SACHA PFEIFFER This all sounds so dire. How would you advise tech companies and governments and our government to deal with this?
TANYA LOKOT That's the big question, isn't it? Sanctions are obviously part of the answer. In many cases, these sanctions have already been applied, but I think there's probably more that both companies and governments can do. Companies, for one, can at least release statements and refuse to cave to this pressure or at least announce why they did it and to explain the reasoning behind it. Just because a certain country has a set of laws doesn't mean that everybody should abide by these laws, because very often these laws couldn't be further away from what we actually talk about when we talk about justice, human rights, digital rights, personal security, where the law is clearly just aimed at ensuring that the state is able to control every aspect of our lives.
SACHA PFEIFFER Tanya, thank you very much.
TANYA LOKOT Thank you.
SACHA PFEIFFER Tanya Lokot is a media scholar and associate professor of digital media and society at Dublin City University and author of the book Beyond the Protest Square Digital Media and Augmented Dissent, which came out earlier this year. Coming up, the 24 words being used to stifle Russian journalists. This is On the Media.
[BREAK]
SACHA PFEIFFER This is On the Media, I'm Sacha Pfeiffer sitting in for Brooke Gladstone. In the months leading up to the Duma elections, the Russian government carried out a wave of crackdowns on dissenting voices, with the media bearing the brunt of it, but maybe not in the ways we've come to expect. This isn't a story of henchmen or former KGB, although they make a brief appearance. This is a story of death by bureaucracy. On the Media, producer Molly Schwartz brings us the story of how a few Russian journalists are navigating their confounding new reality
MOLLY SCHWARTZ On July 15th. Sonya Groysman lost her job.
SONYA GROYSMAN It wasn't the best day of my life, I can tell you.
MOLLY SCHWARTZ Groysman is a 27 year old Russian journalist who used to work at an investigative news outlet called Proekt.
SONYA GROYSMAN I did a podcast which told the stories of Russian doctors who were on the front lines against coronavirus, which was based on doctors diaries. And it was the only broadcast that conveyed a realistic picture of what was happening in Russia's hospitals.
MOLLY SCHWARTZ But back in July, the Russian government went after Proekt, calling it a, quote, undesirable organization and basically banning it from the country.
SONYA GROYSMAN And desirable organization means that all the projects, all the things we did became illegal.
JOSHUA YAFFA Proekt was releasing one high profile, fascinating and impactful investigation after another.
MOLLY SCHWARTZ This is Joshua Yaffa, Moscow correspondent for The New Yorker.
JOSHUA YAFFA It specialized in the kind of brave, unflinching, hard hitting investigations that were hard to find and weren't being done by outlets based in Russia.
MOLLY SCHWARTZ In Russia, there are certain people like Putin's allies who you can't touch, but Proekt went there.
JOSHUA YAFFA Russia's interior minister, people from the so-called siloviki, the very powerful top officials from the country's security services. They even wrote an investigation that appeared to suggest Putin might have a 17-year-old daughter from an extramarital affair, and both this young woman and her mother seem to benefit financially from certain ties to Kremlin linked institutions and banks.
MOLLY SCHWARTZ This is the kind of reporting that got the elite shut down, putting Sonia Groysman out of a job with her new free time. She took a trip to Sochi, a vacation town in the south of Russia,.
SONYA GROYSMAN Just to think what's next? What should I do now?
MOLLY SCHWARTZ On July twenty third, she was sitting on the coast of the Black Sea, just watching the waves.
SONYA GROYSMAN This day was stormy. It was rainy. And I just was looking at the waves. And the thought is like my life, you know.
MOLLY SCHWARTZ But then her reverie was cut short when her phone started buzzing like crazy.
SONYA GROYSMAN 20 messages in a minute. I started to get in.
MOLLY SCHWARTZ She opened one and clicked the link
SONYA GROYSMAN and the link to these, at least where my surname was 31. On this list,
MOLLY SCHWARTZ Sonya Grossman's name had been added to the Ministry of Justice's list of foreign agents.
SONYA GROYSMAN I realized that my life is going to change, right now.
[MUSIC RISES UP AND UNDER]
MOLLY SCHWARTZ Since 2012, the Russian government has used this foreign agent label to shut down organizations it sees as antagonistic.
[CLIP MONTAGE]
NEWS REPORT The wave of police raids against nongovernmental organizations, foreign cultural organizations and human rights groups continues in Russia with the latest targets, the Helsinki Group and Memorial, Russia's oldest human rights organization.
NEWS REPORT We are seeing a downright hunt for human rights groups. They want to force us to declare that we are foreign agents. They are hunting us down.
MOLLY SCHWARTZ They went after Transparency International, the MacArthur Foundation, the Election Monitoring Group Golos.
JOSHUA YAFFA This foreign agent legislation was continually expanded by the Kremlin to cover more and more groups and more and more segments of society.
MOLLY SCHWARTZ But in 2017, the law was expanded to specifically target the media. And in the last few months, they've been on a kind of spree.
JOSHUA YAFFA So this all began in April, first with the targeting of Meduza, an online publication that had been founded by journalists who had found themselves homeless during previous waves of media crackdown.
MOLLY SCHWARTZ A media startup called VTimes was named a foreign agent. Then the trickle became a stream and then a river.
JOSHUA YAFFA Then came Proekt. Then came an outlet called The Insider, which specializes in data driven investigations and often cooperates with Bellingcat. After that, we saw TV Rain Television Channel, which was the largest media outlet name to the Foreign Agent Registry.
MOLLY SCHWARTZ One of the most surprising things that happened in this time, the authorities started adding the names of individual journalists to the list. That's what happened to Sonya Groysman.
SONYA GROYSMAN To become a foreign agent in Russia. You have to publish something on social media or in media publications and receive a financial transfer from abroad. That's all. Even if your, I don't know, American grandma will send you 20 dollars and you post something on social media. Yes, you are a potential foreign agent.
ALEXEY KOVALYOV The Russian foreign agent law was specifically designed to destroy you, drive you out of business.
MOLLY SCHWARTZ Alexey Kovalyov is an investigations editor at the news outlet Meduza. Brooke spoke to him when Meduza was first targeted,
ALEXEY KOVALYOV but not in one fell swoop. Like the government raids your offices and confiscates the electronics, and the rest of the journalists know. It's not like that.
MOLLY SCHWARTZ It's the bureaucratic hoops you're forced to jump through, says Kovalyov, that can be fatal for a news outlet.
ALEXEY KOVALYOV We have to put a massive, ugly legal disclaimer on top of everything we publish. And that includes all ads and promotional materials.
MOLLY SCHWARTZ The disclaimer reads like a big scarlet letter of legalese. It says, quote,
[LEGAL DISCLAIMER PLAYS UNDER, IN RUSSIAN]
MOLLY SCHWARTZ This news media / material was created and or disseminated by a foreign mass media performing the functions of a foreign agent and or a Russian legal entity, performing the functions of foreign agent.
[END OF DISCLAIMER]
MOLLY SCHWARTZ The same rules apply to Sonya Groysman.
SONYA GROYSMAN Even if I post, I don't know, flowers or my cat, I have to put this disclaimer.
MOLLY SCHWARTZ I checked out Groysman's social media, and that block of text, all caps, is in every post, every Instagram story, every comment, every response to a friend's comment.
SONYA GROYSMAN Every time I post something, I feel that I'm taking a risk.
MOLLY SCHWARTZ She'll be fined if she doesn't comply. First ten thousand rubles, which is around 140 U.S. dollars, then 50000 rubles, which is around six hundred eighty five dollars.
SONYA GROYSMAN And on the third time there is the prospect of a criminal case up to two years of prison.
MOLLY SCHWARTZ Just six months ago, Russian journalists would jump from news outlet to news outlet as some were shut down and others started up. But now even that option is disappearing.
JOSHUA YAFFA They could become, you know, professional breakdance buskers who work in the Moscow metro or they could go, you know, gather mushrooms in the Siberian tiger forest and they'd still be foreign agents. Right. They sort of carry that designation with them.
[AMBI SOUND OF PROTEST PLAYS]
MOLLY SCHWARTZ Last month, Sonya Groysman went to a protest with a small group of journalists outside the headquarters of the FSB. That's like Russia's main security agency. They took turns holding signs, rotating one by one.
SONYA GROYSMAN It is prohibited to protest in front of FSB building, but one person protests are not prohibited.
MOLLY SCHWARTZ When it was Greenspan's turn to picket, she took the opportunity to perform some political theater.
SONYA GROYSMAN I just came there with the sign on which I had written nothing more than the full text of this twenty four word disclaimer.
MOLLY SCHWARTZ THE disclaimer, you know, the chunk of legalese I just read you a moment ago, and she was only there holding that sign for a few minutes before she was approached by men in uniform.
[MAN BEGINS SPEAKING IN RUSSIAN]
What happens next is all captured on tape by Groysman. They grab her, take her to a police station and sit her down in a large assembly room. A portrait of Putin hangs on the wall. An officer starts to copy down the text on Groysman's sign to include in her arrest papers.
[CROSSTALK]
MOLLY SCHWARTZ The police officer complains that the text on her poster is too long and the language is so burdensome.
[WOMAN SPEAKING IN RUSSIAN]
MOLLY SCHWARTZ He asks Groysman if it would be OK if you just takes a picture of it with his phone instead of having to write it all out. Groysman tells him that she's required to put it in front of anything she publishes.
SONYA GROYSMAN And I was like: that's the law and you're a policeman, you know. It would be great if you read it.
MOLLY SCHWARTZ The entire exchange is documented in a podcast that Groysman started with her former colleague, Olga Churakova, whose name was also added to the foreign agent list in July,
SONYA GROYSMAN We started recording a podcast called 'Privyet,Ty Inoagent', which means in English 'Hi, You Are Foreign Agent' about what life is like for us in this new reality.
MOLLY SCHWARTZ In the second episode of the podcast, which, like every episode, starts with the disclaimer, there's a scene in which Churakova tries to get a job at a fast food chain that makes blini, the delicious Russian pancakes. Churakova calls and asks if they have any open positions.
[CHURAKOVA SPEAKING WITH MANAGER IN RUSSIAN PLAYS UNDER]
MOLLY SCHWARTZ The woman on the phone says yes, they're looking for cooks and cashiers. Churakova asks if it's possible to get a job as a cook without any prior experience
MOLLY SCHWARTZ Yes, it's possible. Churakova then explains that she's a journalist, and she's been designated as a foreign agent.
MOLLY SCHWARTZ The woman on the phone says she's never heard of this before, but asked Churakova to write to her supervisors and explain the situation
MOLLY SCHWARTZ Churakova does not get the job.
TIKHON DZYADKO It is like the sign that you are holding, on which there is a text. Don't work with him and don't talk to him.
MOLLY SCHWARTZ Tikhon Dzyadko is the editor in chief of TV Rain or Dozhd in Russian. He told me about how it's the stigma of this foreign agent label that's been so painful for him.
TIKHON DZYADKO For example, when you are designated as foreign agent, almost 100 percent that people from the government would deny talking to you. These 24 words, it's not the worst part, but it's the stupidest part.
MOLLY SCHWARTZ The worst part, he says, is the idea that they're traitors to their country.
TIKHON DZYADKO We think of ourselves as the Patriots and everything. What we're doing here, this TV station over 11 years of its existence, we are doing it for the best of our country. We just want our country to be better. I want my kids to live in a better place than the place where I grew up.
MOLLY SCHWARTZ Dor Dzyadko, because he's Russian and he works for a Russian organization, and above all, he does this journalism because he really cares about Russia. That's what's made this foreign agent label so weird and confusing. But they've been anticipating some kind of pressure from the government because of what they were broadcasting last winter.
JOSHUA YAFFA If we want to isolate the most recent catalyst in this long story of increasing pressure and repression...
MOLLY SCHWARTZ Joshua Yaffa.
JOSHUA YAFFA It would be fair to talk about the poisoning and then return of Alexei Navalny,
MOLLY SCHWARTZ Alexei Navalny, the leader of the opposition, and official thorn in Putin's side. He was poisoned in August 2020, taken to Germany for medical treatment. Then he returned to Russia and was immediately arrested, which led to protests
JOSHUA YAFFA Not just in Moscow, but in dozens, if not 100 cities around Russia. I think the Kremlin was certainly spooked.
MOLLY SCHWARTZ Tikhon Dzyadko said 10 million people watched their coverage on YouTube. And this is, I think, one of the most important parts of this whole story. Putin claims that Russia's foreign agent law was actually inspired by a law in the US. The Foreign Agents Registration Act of 1938, which put a label on outlets like Russia Today, media that our Department of Justice considers foreign propaganda, but Joshua Yaffa of The New Yorker isn't buying it.
JOSHUA YAFFA I think it's a ridiculous and absurd comparison. As far as I understand. The foreign registration essentially ends there. In other words, you're added to the registry. You're not required to add some cumbersome disclaimer to everything you publish.
MOLLY SCHWARTZ Being a journalist in Russia is kind of like a dance, perhaps the Tropak, the classic Slavic folk jig that you might know from The Nutcracker. The dancers do these complicated whirls and squats and kicks as the music speeds up to a frenetic pace. Leaving all parties panting for breath as the curtain falls, Russian journalists, too, are jumping and twirling quick on their feet, just trying to stay a few steps ahead of the Kremlin and still perform the essential parts of their job. And, despite what you might think, they are doing their jobs.
JOSHUA YAFFA Independent journalism in Russia is perpetually under threat and under pressure, but it's not completely gone. And I think that oftentimes in the American conversation, we don't acknowledge the fact that there are these journalists who are still managing. Despite all the difficulties thrown at them, do work that is extraordinary and worthy of our admiration.
SONYA GROYSMAN We can still report things and we can earn money. We can be in the profession.
MOLLY SCHWARTZ For Groysman's relatives who grew up in the Soviet Union, however, the fear is a little more ingrained.
SONYA GROYSMAN My grandparents think that I have to stop it, you know, just to be silent. Someone on the top will forgive you and then exclude you from this list. But we have YouTube, we have Instagram, we have Telegram. We can distribute the information all the ways. Yes, it would be harder and harder to work as a journalist, but all the people cannot be silent.
MOLLY SCHWARTZ The tempo is gradually increasing, but for now, the dance goes on. For On the Media, I'm Molly Schwartz.
SACHA PFEIFFER That's it for this week's show. On the Media is produced by Leah Feder, Micah Loewinger, Eloise Blondiau, Rebecca Clark-Callender and Molly Schwartz with help from Juwayriah Wright. Xandra Ellin writes our newsletter. Our technical director is Jennifer Munsen, our engineer this week was Adriene Lilly. Katya Rogers is our executive producer.
SACHA PFEIFFER On the Media is a production of WNYC Studios. Brooke Gladstone will be back in one week. I'm Sacha Pfeiffer.