The Democracy We Think We Live In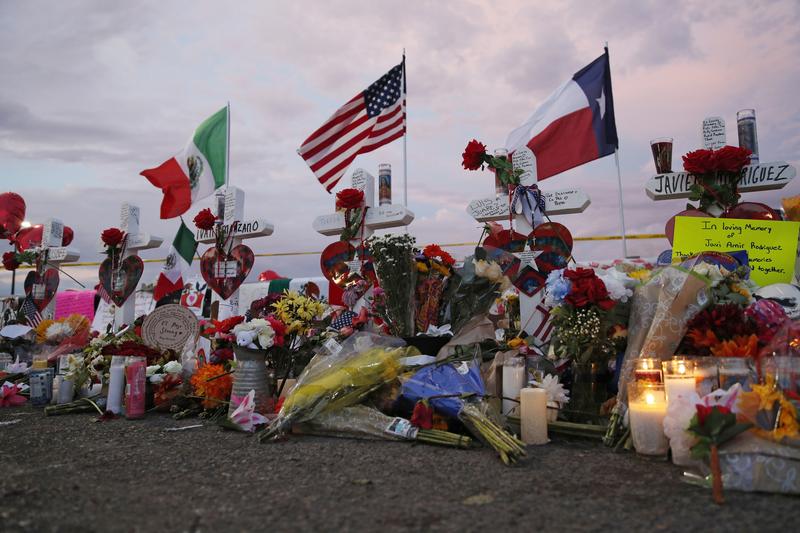 Transcript
[CLIP]
FEMALE CORRESPONDENT It does seem like the America we know and love doesn't exist anymore.
BOB GARFIELD Tracing the dotted line and assigning blame. From hateful rhetoric to 22 dead in El Paso. From WNYC in New York, this is On The Media. I'm Bob Garfield. Also on this week's show, after newly released tape of Ronald Reagan calling black people monkeys, we consider the role of racism in the American presidency.
ADAM SERWER Trump is only expressing in public what many, many American presidents believed in private.
BOB GARFIELD And in Puerto Rico, amid corruption investigations and three governors in a week, they're mad as hell and they're not gonna take it anymore.
YARIMAR BONILLA I have a friend who says, "I blame the street lights!" Having to navigate a place for two years now with dark street light. Like, we have sharpened our skills in ways that the government didn't realize.
BOB GARFIELD From WNYC in New York, this Bob Garfield. Let's just be blunt about the question. When a white nationalist massacred 22 people in an El Paso Wal-Mart last week, who besides the shooter had blood on their hands? Most of the media commentary on that question this week focused on the most obvious culprit.
[CLIP]
MALE CORRESPONDENT Tonight President Trump's own words are coming under increasing scrutiny.
FEMALE CORRESPONDENT Yesterday Trump made no attempt to reconcile his condemnation of hatred with his persistent anti-immigrant rhetoric and made no mention of Hispanics or Latinos. [END CLIP]
BOB GARFIELD Which was not like him. Here's Monday's teleprompter Trump interwoven with unscripted Trump.
[MUSIC UP & UNDER] [MONTAGE OF CLIPS]
PRES. DONALD J. TRUMP In one voice, our nation must condemn racism--
PRES. DONALD J. TRUMP They're bringing drugs.
PRES. DONALD J. TRUMP Bigotry.
PRES. DONALD J. TRUMP They're bringing crime. They're rapists.
PRES. DONALD J. TRUMP And white supremacy.
PRES. DONALD J. TRUMP Very fine people on both sides.
PRES. DONALD J. TRUMP These sinister ideologies must be defeated.
PRES. DONALD J. TRUMP I'm a nationalist, OK. I'm a nationalist.
PRES. DONALD J. TRUMP Hate has no place in America.
CROWD [CHANTING 'SEND HER BACK']
PRES. DONALD J. TRUMP We must stop the glorification of violence in our society.
PRES. DONALD J. TRUMP But how do you stop these people.
WOMAN IN AUDIENCE Shoot 'em.
PRES. DONALD J. TRUMP You can't. There's no--that's only in the panhandle you can get away with that statement. [END CLIP]
BOB GARFIELD That montage is a product, obviously, of sound editing. But more importantly of contextualizing, which is crucial journalism. And yet so often absent partly because it can be confused with editorializing. So if we're in search of enablers of murderous demagoguery, we can't entirely exclude the mainstream press. Which in its determination to avoid the appearance of bias let alone activism, chronically soft pedals depravity–whether with bland euphemistic language--.
[CLIP]
MALE CORRESPONDENT A divisive chief executive who has discarded countless norms. [END CLIP]
BOB GARFIELD Or careless water carrying for big lies. The first edition of Tuesday's New York Times headline about Trump's post-El Paso post-Dayton address, Trump Urges Unity Versus Racism, was nominally accurate but unforgivably devoid of context. Like reporting on 9/11 by saying, 'sunny day in New York City.' And we get suckered by the same con again and again.
[CLIP]
WEIJIA JIANG He said, 'these sinister ideologies must be defeated and he really did set a different tone than he did in the past when it comes to condemning this hate.' [END CLIP]
BOB GARFIELD Maybe someone should inform CBS' as Weihia Jiang that, while Trump was reading empty pieties from the teleprompter, his million dollar plus Facebook ad campaign was warning supporters of the Hispanic invasion. The press is also compromised by its obsession with novelty, the new in news, the impulse to advance a story not revisited no matter how horrendous. Its like climate coverage, yeah the planet is being destroyed but didn't we do that story last winter? The On The Media team, I must say, wrestled over the question of old news-ness with whether to say any of this. Of course, on the matter of culpability for bloodshed, careless reporting is a mere annoyance compared to organized obstruction. For decades, the NRA has used its silver or lead strategy, campaign cash bribery or electoral destruction, to block nearly all gun control legislation. And there's the GOP, which with plenty of craven Democratic Party assistance, has steadfastly done the same no matter what happened in Columbine, Sandy Hook, Aurora, Charleston, Parkland, Orlando, San Bernardino, Sutherland Springs, Las Vegas, Pittsburgh, Dayton or El Paso. There are also the non-mainstream media subreddits like r/ the Donald and message boards like 8chan safe haven not just for trolls but militant racists, white supremacists and sociopaths including the shooters and massacres in New Zealand. Canada and again and again and again, here. They exchange propaganda, memes and tributes to mass murderers. Not only to find common cause but to proliferate their message and radicalize the like minded. In other words, as we reported after Christ Church, they are integral moving parts in an elaborate racist, misogynist machine,which is why this week the founder of 8chan declared that the board should be shut down. But as El Paso buries its dead, I bury the lede because the racial hate machine has an engine. It's called the Fox News Channel.
[CLIP]
FEMALE CORRESPONDENT It does seem like the America that we know and love doesn't exist anymore.
FEMALE CORRESPONDENT There are so many communities across this country that have become dumping grounds for refugees who are not properly vetted and who have shown none of the qualities that we want in the people who come here.
FEMALE CORRESPONDENT Massive demographic changes have been foisted upon the American people. And there are changes that none of us ever voted for and most of us don't like.
FEMALE CORRESPONDENT Any nation should be upset and outraged when there is an invasion by foreigners into our country. People that have no respect for the rule of law.
MALE CORRESPONDENT This is a country where the average person is getting poorer with a suicide rate is spiking. White supremacy that's the problem. This is a hoax just like the Russia hoax. It's a conspiracy theory used to divide the country and keep a hold on power. That's exactly what's going on.
FEMALE CORRESPONDENT The effort here is to replace this kind of the old America with a new America who is not coming into the country legally.
TUCKER CLARSON Now you know the answer. They're not their base anymore. They've replaced you. [END CLIP]
BOB GARFIELD That last one was Tucker Carlson Fox's race baiter in chief. Please note that replacement and invasion are recurring themes in the El Paso shooter's social media posts supposedly justifying his violence. As they were in Christchurch, as they are on 8chan and the rest of the right-wing echo chamber. You'll recall the Nazi chant from Charlottesville.
[CLIP]
CROWD [CHANTING 'YOU WILL NOT REPLACE US'] [END CLIP]
BOB GARFIELD It's not just rhetoric, it is liturgy of the sort repeated solemnly every day on Fox. Because the hate engine is also a profit engine–to the tune of more than two billion dollars a year. What began as a cynical platform for pandering to conservatives mutated into the propaganda arm of the GOP and has devolved still further into a bellows for burning white resentment. It trades in rage, bigotry, misinformation, disinformation, conspiracy scenarios and general incitement. And it does so for money. It's not just that they're extremist ideologues, they are mercenaries, merchants of mayhem. And in this week the price was innocent American life. Blood on their hands. Yeah. Brought to you by their sponsors.
[MUSIC UP & UNDER]
BOB GARFIELD So there's the aforementioned carelessness of the mainstream media and then there is, perhaps, something more insidious, a tolerance for racism and xenophobia laundered through punditry on electoral pragmatism. In an essay for Slate this week, Tom Scocca observed that tolerance for intolerable ideology is too often advertised as a virtue. In effect, trying to make bigotry respectable. Tom welcome back to OTM.
TOM SCOCCA Thanks for having me.
BOB GARFIELD When did you first begin noticing this phenomenon, the mainstreaming of at least the germ of white nationalist beliefs in, as you call them, the ostensibly liberal media.
TOM SCOCCA It really started jumping out of me in the immediate aftermath of the 2016 election. There was this instant focus on the perceived or projected grievances of the people whose votes would put him over the top. And a lot of this was being attributed by reputable pundits and reputable outlets to the Democrats excessive focus on identity politics.
[CLIP]
FEMALE CORRESPONDENT Now to the post-mortem of the 2016 election and the call to eliminate two words from the political lexicon, identity politics.
FEMALE CORRESPONDENT Cultural issues that might be problematic for the party or its kind of identity politics have had them run up against some of the realities of white working class voters the Donald Trump appeal to successfully. [END CLIP].
TOM SCOCCA They're talking about the political or material interests of people other than white men constituted an insult that would lead people to support Donald Trump and to turn against the people who talked in these terms.
BOB GARFIELD Now in your piece, you mentioned several examples of, sort of, ignore racial anxiety at your own peril, and we'll get to them, but I'd actually like to start with one piece that you don't bring up and that's David Frum's cover story in The Atlantic in April.
TOM SCOCCA Yeah, that piece was genuinely shocking to see. Here's the Atlantic, which is a magazine that has its roots in abolitionism and this piece was a threat essentially. 'How much immigration is too much?' was the tag on the story and the headline online is If Liberals Won't Enforce Borders Fascists Will.
BOB GARFIELD Frum wasn't suggesting that there was something fundamentally wrong with our immigration rates but that as a political matter if the Democrats didn't clamp down then right-wingers will.
TOM SCOCCA Right, the milder xenophobia has to be put into practice to contain the threat of the really bad stuff.
BOB GARFIELD And you've seen similar kinds of questions, at least implicit, from the journalist moderators at the Democratic debates, for example.
[CLIP]
FEMALE CORRESPONDENT Just to clarify, would you decriminalize--.
FEMALE CORRESPONDENT Yes.
FEMALE CORRESPONDENT --illegal border crossings? [END CLIP]
TOM SCOCCA Are you going to decriminalize the border crossings? If so, what are you going to do to discourage people from coming? What are you going to do about this crisis? The questions weren't, how are you going to demilitarize the border? How are you going to de-escalate a situation in which people are being thrown into prison camps and having their children kidnapped from them? People are dying in United States custody under this crackdown but the moderators weren't offering them those questions, they were challenging them to defend the idea that this country should back down from this current policy.
BOB GARFIELD It was a proxy question for those in the electorate who believe we're being invaded.
TOM SCOCCA Yes, The idea that it was an invasion was built into the questions.
BOB GARFIELD But if the question is political pragmatism, you know, just wanting to win in 2020 for example, maybe locking them out of the debate or the consideration of policy is reckless–if only because that feeds the sense of being subjugated by the corrupted elites, which as you know is a narrative of our times. You've seen a lot of that very argumentation on the op-ed pages of The New York Times in New York [inaudible] of the people times for god sake.
TOM SCOCCA Yeah, they may have gone out of their way to be solicitous to this kind of argument. Ross Douthat writing in The Times, one of the many people who've expressed this idea that behind the calls for immigration reform is this concept that we've lost social cohesion since 1965. And when they say this, it seems like they're folding it into this whole mythology of how there was an era of true American cultural cohesion after World War II that was abandoned in the mid 60s harkening straight back to Jim Crow. Bret Stephens, in response to the Democratic debate, wrote, 'what conclusions should ordinary people draw about what Democrats stand for other than a thunderous repudiation of Donald Trump and how they see America, other than as a land of unscrupulous profiteers and hapless victims. Here's what a party that makes too many Americans feel like strangers in their own country/ a party that puts more of its faith and invests most of its efforts in them instead of us. They speak Spanish. We don't. They are not US citizens or legal residents, we are. They broke the rules to get into this country. We didn't.'
BOB GARFIELD Well there's a word for this. I think it's pandering, which hasn't necessarily well served, let's say, the Clinton administration or the Obama one. I think everybody in American politics, of whatever age, has you know somehow in its collective consciousness memory of 1972 when Richard Nixon mobilized the so-called silent majority just buried George McGovern–not to mention 2016. But you think this notion of being realistic about voter concerns has the effect of compromising what should be bedrock principles of democracy and human rights. If I get you right, it's--it's not just capitulation you're talking about but a de facto endorsement of the bigotry status quo.
TOM SCOCCA Yeah. I think that's right. To argue for bringing this perspective to the table is to tell the people who hold it that they are the true Americans. I mean that's the thing that's been haunting all this you know since '72, at least right? And there's the sense that the true American legitimacy lies somewhere out there in an angry voter who be furious if they knew what you were really planning to do in the name of justice and equality. When you see the New York Times going out of its way to criticize identity politics, going too far, it's really fundamentally informed by the idea that this is a discussion that is happening between white people. That like one set of white people is worried about not offending another set of white people and that's why all the analysis of 2016 seems to be crammed into this model based on '72 and seems absolutely incapable of incorporating the fact that Donald Trump lost the popular vote by a large margin and it wasn't because a bunch of pointy headed college professors were voting against him. Because the pointy headed college professors don't have the numbers. The non-white people who make up a huge chunk of the working class have the numbers.
BOB GARFIELD If you could have intervened before David Frum filed his piece or Ross Douthat or Bret Stephens or if you could have stopped Dana Bash from asking about border security, what would you have said?
TOM SCOCCA I would've said, 'who are you talking about? What do you mean when you are describing these provocations that regular Americans are suffering? Are these your own feelings? And if they're not, why are you raising them?
BOB GARFIELD Tom, thank you.
TOM SCOCCA Thanks.
BOB GARFIELD Tom Scocca is politics editor for Slate. And his piece was titled We're Taking the Concerns of Racists Seriously Has Gotten Us.
[MUSIC UP & UNDER]
BOB GARFIELD Coming up, white supremacy in the White House–not a new development. This is On The Media.
************************
BOB GARFIELD This is On The Media, I'm Bob Garfield. Racism of the powerful, once the stuff of old boy networks and silent oppressive infrastructures is lately out in the open. But it has a long sordid history, even in the White House. Consider this conversation between President Richard Nixon and then California Governor Ronald Reagan covertly taped by the disgraced president in 1971. The two were discussing a U.N. vote in which delegates from African countries had gone against American interests, voting to recognize the People's Republic of China not Taiwan as the legitimate holder of the U.N. seat.
[CLIP]
RICHARD NIXON Yeah.
RONALD REAGAN To see those, those monkeys from those African countries, damn them, they're still uncomfortable wearing shoes.
RICHARD NIXON Haha. [END CLIP]
BOB GARFIELD In case you missed, that Reagan called the African delegation monkeys who were uncomfortable wearing shoes. As revealed in The Atlantic last week by presidential historian Tim Naftali, that snippet had for years been withheld by the National Archives, apparently to protect Reagan's privacy presumably because he was unaware that the conversation was being recorded. To Atlantic staff writer Adam Serwer, Reagan's remark was not only racist and condescending but emblematic of a certain 'just between you and me' white supremacism that persists to this day at the highest levels of government and continues to contaminate American democracy. Adam welcome back to OTM.
ADAM SERWER Thanks for having me.
BOB GARFIELD Now one reaction to the recording, and it was mine, was like duh. Is it such a revelation that Reagan ascribed inferiority to blacks?
ADAM SERWER I don't think it's surprising but I do think it's important to have on the record in part because there is a kind of historical amnesia and nostalgia about the extent to which white supremacy has been a governing doctrine of the United States. For most of the history of the United States until 1965, you know, this idea that somehow we're very far removed from this and you know the sentiments expressed by the current President Donald Trump are something new and terrible is actually false.
BOB GARFIELD The context was not domestic racial turbulence, it was geopolitical.
ADAM SERWER Communist China, the People's Republic of China had spent a lot of money and time trying to woo African States to its side and using a lot of propaganda to criticize the United States for hypocrisy on civil rights and colonialism. And all of that paid off and it paid off in part because Nixon and Reagan were incapable of seeing these African nations as states with interests of their own and politics of their own. This idea that only white people are fit for self-government is something that has plagued American democracy since its inception and continues to today.
BOB GARFIELD In The Atlantic this week you looked at a piece published in Horace Greeley's New York Tribune. Now Greeley was a Republican, which at the time was the party of Lincoln and the Democrats were actually the avowed racists. This piece was almost exactly a hundred years before the Nixon-Reagan phone call and the echoes are kind of eerie.
ADAM SERWER Greeley, who had been a staunch republican an abolitionist but who was a conservative wealthy northern Republican, his newspaper published an exploration of the Reconstruction government in South Carolina, where at the time I believed black people had a majority in the state. The article without fully endorsing racist white Democrats' perception of the Reconstruction government, basically substantiated it by saying that black people were too ignorant and too debased to really govern the state and that giving them the vote was a disaster and that it would be best if the status quo ante returned where wealthy white men were controlling the state and its politics. And that helped usher in a backlash against Reconstruction in the north, which led to Greeley running against Grant on a platform of ending Reconstruction. And Greeley's doctrine that the government should not interfere on behalf of working people, interfering on behalf of industry, which it had done for a very long time, was perfectly fine, turn that version of the Republican Party towards the one that it became today.
BOB GARFIELD So the party of Lincoln was substantially becoming the party of Greeley with increasing calls for disenfranchisement of newly enfranchised black voters and the marginalization of freed men. You know, it kind of sounds like the modern day Republican strategy of suppressing the black vote and dismantling what's left of the welfare state. Is it a fair comparison?
ADAM SERWER I think you can certainly see echoes of that doctrine. You know, there's--one of the things people say is that the parties have switched places. But I would say that it's more accurate to say that who the parties were in the 1870s, they followed their doctrinal beliefs in unexpected directions. So the Republican Party separated from its working class black base in the South became much more of a party of capitalism and the Democrats who were kind of a party of class war, at least elements of it, were when black voters joined their coalition, they abandoned their racism and became something else. I think that you can see echoes of this idea that minorities are incapable of sort of objectively evaluating their political choices and rhetoric about black people being on the quote unquote Democrat plantation. In fact, back in the 1870s Democratic newspapers were describing black voters as being on the Republican plantation, that the language is almost identical. But this sort of idea that certain voters need to be excluded from the political conversation because they're too unsophisticated or too easily manipulated by so-called free stuff has really been a part of the political conversation for a long time and still is.
BOB GARFIELD So there has been this trend, not just in the United States, of nationalism, nativism, open racism. But this is against the backdrop of a far longer megatrend going back to the post-World War II period of liberal democracy, a trend so pronounced that Francis Fukuyama famously declared the end of history. That the planet was going to be organized along liberal democracy lines and it was all over but the shouting. Well, not quite. But do you believe that what we are witnessing now is, in itself, a spasm. Or do you think it is a competing megatrend that is pitted against the path towards liberalism and that it is, perhaps even more than the cold war, a battle of ideology that will determinate the path of the world? In other words is this just an ugly temporary phenomenon where we're witnessing or is it something more tectonic?
ADAM SERWER The United States has essentially always been defined by this conflict between its two faces. One, a country that is defined by its white and Christian origins and another, a country that is defined by its diversity–give me your tired your hungry your poor. Anybody can be an American regardless of race, creed, religion. These two impulses that are essentially both forms of nationalist impulses have been competing since the founding and I think that this is just the latest chapter in that conflict. I'm not sure if that conflict ever gets resolved. The reason I think that we are partially surprised by it is because after the civil rights movement, after the election of Barack Obama, I think people, a bit like Fukuyama's book, had a sense that we had sort of really gotten past this particular battle. And what's happening now is telling us we have not. It's still with us and we're still going to be fighting ISIS-backed for the rest of my lifetime–if not longer.
BOB GARFIELD Now I've got to ask you this, from that one phone exchange between Reagan and Nixon, in your piece you extrapolate a whole narrative of condescension, racism, miscalculation and cynicism, that certainly seems to scan to me, it all makes sense. The dots all seem to connect but really rests on a thin reed of evidence, which is a snippet of a phone call. Is the smoking gun tape finally unearthed at the National Archives? Is it enough of a foundation to draw the conclusions you've drawn?
ADAM SERWER Ah, no it's not, which is why, drawn on both of their public records. I mean Nixon consciously embraced a strategy of white division in order to win the election. His strategists have spoken at length about that. Reagan endorsed, in 1964, a candidate who opposed the Civil Rights Act and ultimately the Voting Rights Act, which Reagan did as well. You can see throughout their lives, Nixon and Reagan not just saying offensive things but taking actions that reflect the worldview that is expressed in that phone call.
BOB GARFIELD And now comes Trump who is just sticking it to a whole new dimension.
ADAM SERWER Trump is only expressing in public what many many American presidents believed in private. And I think it's important for Americans to come to terms with that reality because it's the only way to move on and change for the better.
BOB GARFIELD Adam, thank you so much.
ADAM SERWER Thanks for having me.
BOB GARFIELD Adam Serwer is a staff writer for The Atlantic.
[MUSIC UP & UNDER].
********************
BOB GARFIELD When it comes to Trump saying the quiet racist part out loud, there is a prime example in his treatment of Puerto Rico. Take his September 2017 tweets just after Hurricane Maria. Quote, 'they want everything done for them.'.
[MUSIC UP & UNDER].
BOB GARFIELD And that world view, 'these people are helpless,' has gotten some fresh material. Last month nearly 900 leaked pages of a private chat involving the former governor of Puerto Rico, revealed how he used despicable language in private and also it pulled back the curtain on some corrupt dealings with his associates. It all comes on the heels of FBI investigations into his administration. The Wall Street Journal editorial read quote, 'political corruption in Puerto Rico is thick as the humidity and urged more federal oversight of the island.' An editorial in The Washington Post had a similar call saying the island needed a stronger federal fiscal control board. And there was this.
[CLIP]
FEMALE CORRESPONDENT This situation has also drawn the attention of President Trump who tweeted, 'I know the people of Puerto Rico well and they are great. But much of their leadership is corrupt and robbing the US government blind.
BOB GARFIELD In San Juan, OTM producer Alana Casanova-Burgess found that the call for more federal oversight is a sadly familiar and implicitly racist dog whistle.
ALANA CASANOVA-BURGESS It was a few minutes before 5 o'clock on Friday August 2nd. The moment that Ricardo Rossello said that he would be stepping down as governor of Puerto Rico. In Old San Juan thousands were celebrating near the governor's mansion counting down to that moment in ecstasy. The result of two weeks of protests to push him out.
[CLIP OF AMBI]
ALANA CASANOVA-BURGESS Since 1 minute after 5 o'clock that Friday, and as of this recording, there have been two more governors, one rule to be illegitimate by the Puerto Rico Supreme Court and one appointed following a legal pretzel of succession rules. That afternoon, deep concern over what would come next, what has come next, was already in the air. Just two blocks away from the celebration, outside the cathedral Roberto Thomas barely needed any prompting. He's a coordinator with the community organization IDEBAJO and he's all too familiar with the old tropes about Puerto Rico and corruption.
ROBERTO THOMAS [In spanish] Le da ciertas excusas que son racistas
ALANA CASANOVA-BURGESS It gives Trump certain excuses that are racist and colonialist, he told me, because the thinking is basically those people live in places full of corruption inherent to their racial and ethnic makeup. They're full of crime.
ROBERTO THOMAS Cosas a que nosotros no pasa porque
ALANA CASANOVA-BURGESS Such a thing doesn't happen to us because we are white and civilized, which we know is not true–starting with Trump.
ROBERTO THOMAS Concuerda con la política del nacionalismo blanco económico también de Donald Trump
ALANA CASANOVA-BURGESS It matches the politics of white nationalist economics of Donald Trump. Of withholding economic support to anything that he understands as supporting his agenda of white nationalism. And giving money to the savage and Caribbeaian is outside of that spectrum.
ROBERTO THOMAS El salvaje en el caribe está fuera de ese espectro
JOSE CARABALLO CUETO I know that is very convenient for certain people to blame all the problems that the countries are having in the south for corruption. Oh Haiti is poor is because of corruption. Puerto Rico is under depression because of--of corruption.
ALANA CASANOVA-BURGESS Jose Caraballo Cueto is former president of the Puerto Rico association of economists and a professor at the University of Puerto Rico at Cayey.
JOSE CARABALLO CUETO It will be simplistic to say that the primary problem of Puerto Rico is corruption. That is something endemic for Puerto Rico and that there is no way that we can resolve it unless there is a federal intervention.
ALANA CASANOVA-BURGESS In 2016, a federally mandated financial oversight and management board was appointed with the aim of dealing with over $70 billion in bond debt. At first Jose says it was pretty popular. Nearly 70 percent of Puerto Ricans approved of the idea.
JOSE CARABALLO CUETO This board is going to be after bad politician. They're going to restore credibility. They're going to stop corruption. So many people say well is that the federal commission so must be good.
ALANA CASANOVA-BURGESS But it's been three years and the board, which is known as 'La Junta' hasn't delivered–and many are skeptical that they ever will.
JOSE CARABALLO CUETO They know the contract that they have given away and they have observed that they didn't prosecute nobody. They didn't actually counsel all the contracts that the FBI is now saying that were involved in corruption. So right now it's the opposite. Almost 60 percent of the population is against a fiscal control board.
ALANA CASANOVA-BURGESS Jose notes that the board has been sued repeatedly for a lack of transparency and some board members have conflicts of interest. More power to the fiscal board, he says, isn't the answer to the real problem of debt–nor to corruption, which isn't unique to Puerto Rico.
JOSE CARABALLO CUETO And I remember an interview that was made to the FBI director in Puerto Rico and he said, 'I'm coming from New York and New York wrote the textbook of corruption and what I'm seeing in Puerto Rico is not different.'
ALANA CASANOVA-BURGESS Jose points out that several of the legal and lobbying firms that have been involved in scandals on the island are from the United States and the revolving door between these firms and government agencies is all too familiar. And then there are the expensive consulting firms like McKinsey acting, he says, without accountability.
JOSE CARABALLO CUETO What is McKinsey doing right now in Puerto Rico earning $3 million every month that I think is that very expensive consulting contract for doing reports that are worthy of undergraduate students.
ALANA CASANOVA-BURGESS In November 2017 at a Fiscal Board listening session in San Juan, I saw Jose Caraballo Cueto give a seven minute presentation about poverty and the effects of austerity policy.
JOSE CARABALLO CUETO It was just seven minutes. How can I talk about all the problems that we have in Puerto Rico in seven minutes.
ALANA CASANOVA-BURGESS Two members of the board were chatting and laughing as he spoke. One of them was a participant in the private chat with the governor that leaked last month. So I asked Jose about it.
JOSE CARABALLO CUETO Actually I didn't want to go there but many people insist, 'you have to go there, you have to talk about numbers, you have to talk about what is happening.'
ALANA CASANOVA-BURGESS He said it wasn't the only occasion real concerns have been dismissed.
JOSE CARABALLO CUETO I remember one day I was talking to staff members of Senator Orrin Hatch. They were sleeping in the table when we were talking about the poverty in Puerto Rico. What were the impact of austerity on and he was sleeping in the table in front of us. They really don't care. Say the same thing with the fiscal control board. They say, 'well, these people in Puerto Rico, we are affecting them but we aren't there--they don't vote for us. They don't let us. They don't hold accountable us.' And that was me as I said I've PhD in economics. Imagine somebody, some of these people don't we have served here walking the streets and they want to express themselves, 'you know what, you close my school right here in my community and this is affecting me. I don't have--I don't have transportation to take my kids to the next school.' Imagine that. It's like we have all the solutions for you. It's very paternalistic. They're patronizing you but also it's not true that they have the solutions. There are three years here, we don't see that we are better than than before to fiscal control board. Thus, I think that's an indicator of why this anti-democratic solutions are not a solution at all.
[MUSIC UP & UNDER].
ALANA CASANOVA-BURGESS There are more protests on the island against the newly sworn in governor, but there are also more conversations about what comes next. What are the big goals? So coming up the list of demands in Puerto Rico includes more democracy.
[MUSIC UP & UNDER]
ALANA CASANOVA-BURGESS This is On The Media.
***********************
ALANA CASANOVA-BURGESS From WNYC, this is On The Media. I'm Alana Casanova-Burgess. The Puerto Rican anthropologist Yarimar Bonilla tweeted recently that Rossello's resignation was like the finale of season one of this wild television show in Puerto Rico. The second season, happening now, has a muddier narrative arc. One storyline focuses on the machinations of the political class in San Juan punctuated by lawsuits, Senate votes and closed door meetings. The exact kind of backroom dealing people protested against. There have been three unpopular governors in one week and now there are more calls for a special election. In the meantime, another set of questions are on everyone's lips how ambitious can the movement for democratic change be now that people are energized, aware, awake? Can there be reform to a broken political system? And realistically for some, how much democracy can there be in a colony?
[CLIP IN SPANISH]
ALANA CASANOVA-BURGESS This storyline is unfolding much more in the open–literally. In the plaza in Ponce, a city on the southern coast of the island, university students had organized an 'Asamblea de Pueblo,' a people's assembly. It was a Thursday night and around 100 people met near the fountain. It was one of the first of a wave of 'asambleas' organized for the coming days all over the island.
MALE CORRESPONDENT Aguadilla, Mayaguez Juntuado, Caguas, Lares, Luquillo, San Juan
ALANA CASANOVA-BURGESS 'We're not the only ones,' they said, 'to gather like this.'
MALE CORRESPONDENT Así que vamos a aplaudir a nosotros mismos
ALANA CASANOVA-BURGESS Several people had never held a microphone, never spoken openly in a crowd about politics. For others, it came more easily.
MALE CORRESPONDENT Y levantarnos como un solo ser humano en voz de una democracia popular y en voz de la liberación
ROXANNA FERNANDEZ Ahora mismo la situación en Puerto Rico es bien compleja porque primero somos una colonia.
ALANA CASANOVA-BURGESS That's Roxanna Fernandez. She is a sociologist who came to the People's Assembly in Bonsai. 'The situation in Puerto Rico is very complicated,' She told me, 'First of all because we are a colony.'
ROXANNA FERNANDEZ Por eso que fue importante
ALANA CASANOVA-BURGESS 'That's why it was important for us to show the world that, in that moment, during the protests we were the ones who held the power because it's usually not in our hands. Whether it's the federal or local government,' she says, 'decisions are made without consulting Puerto Ricans. After Hurricane Maria, roughly a quarter of the island's public schools were closed permanently.'
ROXANNA FERNANDEZ Lo que ha hecho es que ha roto el sentido de identidad
ALANA CASANOVA-BURGESS 'They moved the schools and what's happening. Young parents are starting to leave the island because they can't live here.'
ROXANNA FERNANDEZ Porque no pueden vivir aquí.
ALANA CASANOVA-BURGESS Over 600,000 Puerto Ricans have left the island for the mainland since 2004. But even after Maria, there are those who have returned like Jonathan who's 23. He didn't want to give his last name.
JONATHAN I'm from Puerto Rico.My heart's always been there. I have an autistic brother so we had to make a really big decision since there's no help here for autistic kids like that. So--
ALANA CASANOVA-BURGESS When did you come back?
JONATHAN About a year ago. About a year ago and I came when my 4 year old even told my family, they didn't want me to actually do it. Cause obviously, you know, how education is working here and I thought that's what Puerto Rico needs. Our younger generation is what is going to help this country grow and if we don't support this younger generation that we have here, it is not going to do any, any good.
ALIANA BIGIO ALCOBA Then everyone was asking, why do you guys think young people like took the lead in this movement, especially young women. And I think that is because we have nothing else to lose.
ALANA CASANOVA-BURGESS Aliana Bigio Alcoba is a 21 year old activist. We met in a busy coffee shop in Rio Piedras, near the University of Puerto Rico where she's a political science student. Last month, she wrote an essay in the feminist outlet called Todas PR here. Quote, 'I'm a daughter of the crisis.'.
ALIANA BIGIO ALCOBA I was born with Puerto Rico in crisis. I--my parents knew what it was like before, they knew what it was like to like buy a house. The economy was booming and all this stuff. And we resent that because we were born in crisis.
ALANA CASANOVA-BURGESS Aliana runs an Instagram and Facebook page called Con.Sentimiento, consent. It's a feminist project to raise awareness about machista culture in Puerto Rico. But the idea of consent for her has now expanded to consent of the governed–particularly in a colony. Long before the leaked chats were published, feminist activists like Aliana protested what they saw as inaction from the government in the face of the pervasive problem of gender violence. According to an ACLU report, the island has the highest per capita rate in the world of women over the age of 14 being killed by their partners.
ALIANA BIGIO ALCOBA The chat that leaked and everything that happened in the past few weeks was a confirmation that the government was never going to do something about it because they, on the chat were, perpetuating this kind of violence.
ALANA CASANOVA-BURGESS Aliana and some other active went to a tourist spot in Old San Juan under some photogenic umbrellas and sat with duct tape covering their mouths. Words from the chat like 'puta,' whore. Or 4,645 recognized as the number of dead from Hurricane Maria was written on the tape. They printed out pages of the chat and put them in binders for people to read as they walked by the protest outside the governor's mansion.
ALANA CASANOVA-BURGESS People who, I'm sure usually don't get involved in this, they were like, 'oh my god, this is real.' And they sat down with their families and read it.
ALANA CASANOVA-BURGESS This was before the nearly 900 pages were published by the Center for Investigative Journalism in Puerto Rico. And those who passed were reading disturbing excerpts for the first time.
ALIANA BIGIO ALCOBA And they understood that we need to come back here tomorrow not to drink pina coladas or take pictures but to protest. Because this is, this is real.
ALANA CASANOVA-BURGESS Yarimari Bonilla is an anthropologist with the City University of New York and co-editor of Aftershocks of Disaster: Puerto Rico Before and After the Storm. She's been on On The Media before and she's a friend and she also wanted to hear from Aliana so she joined us in the noisy cafe and pulled up a chair.
YARIMAR BONILLA A lot of allies in the US, they're like, 'oh we have to remember that Puerto Rico is part of the US, That Puerto Ricans are US citizens.'.
ALIANA BIGIO ALCOBA We're only US Citizens when it's convenient. Not when we need to have difficult conversation on how our relationship with the US has affected us.
ALANA CASANOVA-BURGESS How would you like to see the conversation framed in a way that's more productive, more healthy? Like a side from the citizen narrative.
ALIANA BIGIO ALCOBA People need to start paying attention to the things that have led us up to this moment and not look at it as something that just happened. Like we've been in a crisis for 21 years. I think it's time that we understand that it's not about Ricardo Rossello. It's not about like a group of people right now. It's about the whole system that has failed us. It's about being a colony. It's about not being able to move forward because we've always had to be stuck in this kind of status that has limited us economically, socially, everything.
ALANA CASANOVA-BURGESS So after Maria, a lot of people who would describe living without water, without electricity, you know, without insulin medication, just under conditions that shouldn't be bearable would say, '[In spanish]'. Hay que acostumbrarse.
[MONTAGE OF CLIPS]
WOMAN Es una cuestion de acostumbrarse.
MAN Ya. Hay que acostumbrar
WOMAN Hemos tenido que acostumbrarnos y seguir luchando. Cada día, cada día.
ALANA CASANOVA-BURGESS And it would be confusing because it felt like you needed an anger translator. Obviously things were not OK. And now there's so much anger and there's no filter you don't need a translator. I wonder if either of you have thoughts about that shift in the way people are expressing themselves and not holding back.
YARIMAR BONILLA In that moment, which you had captured, I think everyone was just trying to pull together Puerto Rico, se levanta, solidaridad. We're in this together. We all have to do what we can. And that whole discourse of hay que acostumbrarse was like, 'let's be patient. The government is doing its job. This was like unforeseen natural disaster.' But at the same time, from that moment till now, people were absorbing all these shocks and hit and enduring and also not allowing themselves to mourn the dead, not allowing themselves to really process the near death experience that they had gone through with the hurricane. And so all that trauma that was repressed in the service of something greater. And so when we saw that the governor was not holding at all in the way the rest of the people were, I think that just exploded. And also, at the same time, I think that there was a strength that was cultivated during that time of learning how to live without electricity and running water. I have a friend who says, 'I blame the street lights.' Like having having to learn how to navigate a place for two years now with dark street light. Like we have sharpened our skills in ways that the government didn't, you know, realize. And Residente and Bad Bunny had that song about sharpening the knives. You know, like we've been sharpening everything, you know? And so I think that now people are not going to tolerate anything, you know? Because we we did all the tolerating we could do, you know?
ALANA CASANOVA-BURGESS I mean I don't wanna ask you what comes next but what what do you want? What's your wildest fantasy.
ALIANA BIGIO ALCOBA That the debt is audited and that Puerto Rico is free to not be a colony, to be our own country. I think that being independent has been vilified. Maybe we could endure a good transition process and we could be a successful country and have a good economy. Have--have our culture in all its glory and I wish that we could get to that. But I think there's still a lot of work that needs to be done. There's a lot of traumas. There's a lot of dependency with the US. Obviously I think that statehood would not favor us. But if I were to choose between what where we are right now and like statehood, if those were the only two options definitely statehood would be the better option. Because we just need to get out of this limbo that we're in. Puerto Rico is dying slowly, very slowly but it's on its way. And I think that with people leaving, with all of this that's going on, the mental health of Puerto Ricans is--is honestly so está tan decaído. I don't know how to say that in english but it's extremely worrying to me, the path that we're going.
YARIMAR BONILLA I think that was part of what struck me so much about your essay and about, you know, young people that I'm interviewing. Like your strong desire to be able to live here, you know? Like having this broader meaning that's not just about residing, you know? But about really living here. So I was just really moved by that. A political movement, there's a lot of heightened emotions.
ALIANA BIGIO ALCOBA Yeah, during the protest. It's a bittersweet feeling. I mean, like everyone was happy that people were on the streets but we were also noticing that we don't have anymore options. And I think that many, many people are sick and tired of seeing our families have to leave. Like I saw a banner in the protest that said, 'I'm here because I don't want to talk to my parents on face time anymore.' What I've told people is like we need to stop seeing this as something that has an end. Because people are asking,'oh when are the protests going to stop?' Like, 'when are we going back to normal?' Then I'm like, 'there is no normal anymore.' Like normal for us should be protesting always. That's how you exercise this democracy that we all think we live in. We just need to be involved forever.
[MUSIC UP & UNDER]
ALANA CASANOVA-BURGESS There are also those who want statehood or who point out how long and difficult, maybe impractical, the process of independence could be. But after ousting one governor, a goal called impossible, I also heard from many that they've moved beyond the limitations of quote 'practical goals.' A few hours later I saw Aliana participating in another protest. She was one of five women sitting calmly blocking a street near the Fortaleza while thousands were celebrating the governor's resignation. Their mouths were covered in duct tape, each with one of five words. Algo anda mal aquí. Resiste, something is wrong here, resist. There's a lot of anxiety in Puerto Rico that the feeling of hope will dissipate, that old interests will win the day and crush the transformative optimism of the protests. But the assemblies have continued. At least 200 people showed up to one in the Plaza of Caguas just outside San Juan. It started to pour with rain, so organizers improvised leading a spontaneous march to the town hall for shelter. I ran into Alberto Bartolomé who had also gone to the assembly and Ponce a few days earlier. 'One waits and waits thinking about this moment,' he said, 'when the country would change.'
ALBERTO BARTOLOME Una lleva tiempo pensando en esto. Como que el país cambie. Y esto es cambio
ALANA CASANOVA-BURGESS Esto es cambio. This is change. Would it be okay, I asked him, if I describe this as a place of tremendous hope? That people of all backgrounds are gathering here trying to build something bigger, reaching toward reform. Was that too rosy? Would I be giving a false impression?
ALBERTO BARTOLOME Veo gente con ganas de cambiar el país, con ganas de proponer
ALANA CASANOVA-BURGESS 'It's beautiful,' he said. He saw people eager to change the country, eager to contribute, to listen, to give their time.
ALBERTO BARTOLOME Yo juro que eso es lo que hay.
ALANA CASANOVA-BURGESS They meet again this weekend. For On The Media, I'm Alana Casanova-Burgess.
[CHANTING] [MUSIC UP & UNDER]
BOB GARFIELD That's it for this week's show. On The Media is produced by Alana Casanova-Burgess, Micah Loewinger, Leah Feder, Jon Hanrahan and Asthaa Chaturvedi. We had more help, and must have bid adieu to Chloe Nosom. And our show was edited this week by our executive producer, Katya Rogers. Our technical director is Jennifer Munson. Our engineers this week with Sam Bair and Josh Han. On The Media is a production of WNYC Studios. I'm Bob Garfield.
[MUSIC UP & UNDER]
UNDERWRITING The media is supported by the Ford Foundation, The John S. and James L. Knight Foundation and the listeners of WNYC Radio.