The Scarlet E, Part IV: Solutions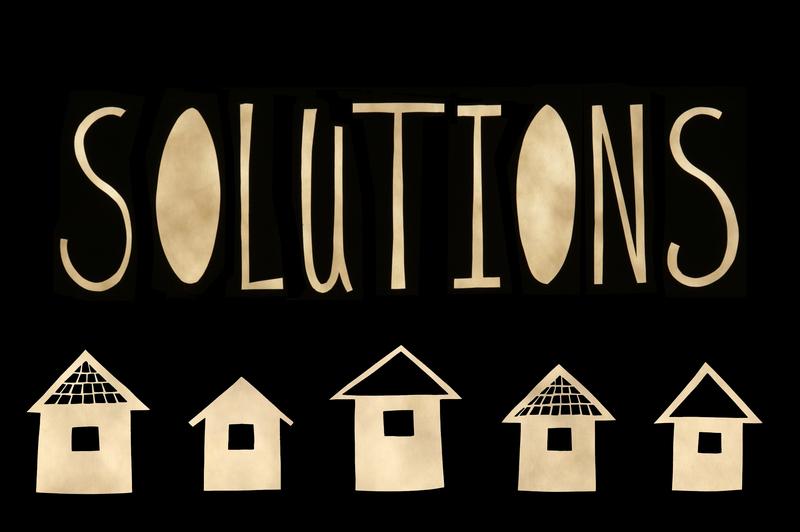 Transcript
BROOKE GLADSTONE: From WNYC in New York, this is On the Media. Bob Garfield is away this week, I'm Brooke Gladstone with the fourth and final chapter in our series on American eviction, The Scarlet E. We've been exploring the whys and wherefores of eviction, the mechanics of it, and the wreckage. From the very beginning, sociologist Matt Desmond, author of Evicted, founder of the Eviction Lab at Princeton, and my Virgil on this project, waved me away from the big city stories that big city journalists tend to fixate on.
MATT DESMOND: For me anyways, the reporting on this story is stuck in a bit of a rut. Gee, it's really expensive to live in… fill in the blank. Yes, but what else? What other stories can we tell? And I think that was our task to try to push us out of that rut.
BROOKE GLADSTONE: But I'm going to a big city now… because this final episode is about solutions.
MATT DESMOND: The first way to recognize that is what New York City needs, Cleveland does not need, you know what Indianapolis needs, San Francisco does not need. So if you go to a city like San Francisco, there is literally not enough built affordable units to sustain everyone who's living there.
BROOKE GLADSTONE: And that got me thinking about supply…
TAPE: If so many people are getting priced out of a market that doesn't have enough housing, then why not build more housing? It seems like a simple idea. So why can't San Francisco get it done? "The project is an embarrassment." "An abomination.""I'm feeling so violated."
BROOKE GLADSTONE: Which attempt at solving supply has the worst reputation? The public housing project, long viewed as a vector of social dysfunction and decay. So, what happened?
It all started out so well...
ARCHIVE TAPE: Blazing the way for national slum clearance. At Atlanta, President Roosevelt's housing board, through federal court action, has condemned 40 square blocks…
ARCHIVE TAPE: Where many children learn to steal, to fight civil authority, to forage like little jungle animals, and often to take what they want, wherever and whenever they can find it.
ARCHIVE TAPE: Harold Ickes, then the Secretary of the Interior, personally sets off the initial blast.
FRANKLIN D. ROOSEVELT: Today these hopeless old houses are gone and in their place we see the bright, cheerful buildings of the Techwood Housing Project.
BROOKE GLADSTONE: On the day after Thanksgiving, 1935, Franklin Delano Roosevelt appeared before tens of thousands at Georgia Tech's Grant Field to dedicate the first ever federally-funded public housing in the country, Techwood Homes.
FRANKLIN D. ROOSEVELT: People who never before could get a decent roof over their heads will live here in reasonable comfort amid healthful, worthwhile surroundings. Others will find similar homes in Atlanta's second slum clearance project, the University Project.
BROOKE GLADSTONE: That was the "homes for negroes" project. Segregated housing, yes -- he was not to take that issue on. But still, both projects stood as shining rebukes to critics of the New Deal, by hiring the unemployed to build what Americans needed most: homes, and a stake in the nation.
FRANKLIN D. ROOSEVELT: As long as they know that their government is sympathetically working to protect their jobs and to better their homes, we will be confident that if the need arises, the people themselves will whole-heartedly join in the defense of their homes and the defense of their democracy.
LAWRENCE VALE: One of the things that is so interesting about public housing is that it's constantly asking the people who administer it which of the poor should housed. Because the country has never been willing to build enough of it to serve those who could be eligible on the basis of their income.
BROOKE GLADSTONE: Lawrence Vale, professor of Urban Design and Planning at MIT has traced our fraught history with public housing, from the Puritans to the projects and beyond. He says that it was never framed as welfare, but a reward to the deserving poor.
LAWRENCE VALE: When public housing gets started, it's meant to find the most upwardly mobile people who had stable employment. And then you see this sort of self-congratulation about having ended all sorts of juvenile delinquency, all sorts of diseases and all of these things that were problematic in the slums. But what happened is that they replaced, not just the slums but the slum dwellers. So you see the dirty children huddled in the street corner in the back alley. And then you see the scrubbed children standing in the sunshine. But it's not the same children.
It was harder to get into public housing than it was to get into any of the most selective universities at the time. This was a great achievement to be accepted into public housing. Think of it as a program that begins during the Great Depression when there are a lot of people who never expected to be out of work. Then you have the people coming back from the second world war who are having a terrible housing shortage but who have served the country honorably during wartime. And the idea was that public housing should be targeted to those kinds of people.
ARCHIVE TAPE: Something is going to add up here! His own air-conditioned castle with a deep-freeze. A cooler for beer. A great big lawn where Bette and Bugsy can welcome him home…
BROOKE GLADSTONE: But as the 50s slid into the 60s, the white upwardly mobile poor no longer needed public housing. They had the Federal Housing Authority, and for a while, the GI bill to help secure affordable mortgages. African Americans were largely shut out from those programs and boxed in by segregation. So, under the gimlet eye of the rising Civil Rights movement, public housing authorities moved uneasily into a new phase.
LAWRENCE VALE: You start getting divisions between the people that see their mission as well we've got to cope with the poorest of the poor and that's who's applying and if the private market isn't going to house them, that's what public housing is for. And then you have the holdouts from that first phase that are saying no no no you'll ruin the program. It has to be only for the people that are most likely to be upwardly mobile.
BROOKE GLADSTONE: There was another problem with housing the poorest of the poor. The projects were built by the government, but were supposed to be maintained by the reliable rents of all those upwardly mobile whites. As the buildings aged, poorer tenants moved in, black tenants, and suddenly federal funding fell off a cliff. President Nixon gave it a hard shove in 1973. He removed public housing funds from the budget. The Reagan administration slashed HUD programs by a devastating 60 percent. At one point, to boost public support of the projects and address another real need, there had been a shift in priorities to housing seniors. Who doesn't love a senior?
Still the buildings crumbled, becoming slums where slums had been before.
The government walked away. Often the garbage collection, and the policing, too.
The discarded tenants built communities, as people do, even amid the filth and fear.
Then, cities like Chicago and Atlanta found that the downtown areas around the projects were becoming trendy, Techwood, blessed by Roosevelt himself, was located on just such a site. And Atlanta had a deadline.
HOST: It appears certain tonight that, come 1996, Olympic athletes of the world will be living in the shadow of one of the nation's oldest housing projects.
LAWRENCE VALE: And the last thing they wanted was for people to be looking at the Olympic village and then saying well what is that here. It certainly was seen as an opportunity to develop a really prime piece of real estate and to remove some of the people who could be seen as better off elsewhere.
REPORTER: The Atlanta Committee for the Olympic Games wants to buy this 4.6 acre sliver off the northeast side of Techwood Homes for about 4 million dollars. A no vote from tenants would stop it all cold. Some opponents say it is just another empty promise but most residents didn't seem to buy that.
VOICE: We are not going to continue to tolerate this dungeon that we have to live in. And the only way that we're going to be able to do so is to have adequate cash.
REPORTER: The final vote was 144 yes, 47 no. Meaning tenants have agreed to sell the land for Olympic use.
BROOKE GLADSTONE: Lawrence Vale has observed that a sure-fire way to boost a city's image is to build public housing. Or destroy public housing. Either way. For the last several decades destroying has been the trend, sometimes by disassembling, sometimes by knocking it down. Sometimes by implosion, as in Jersey City, Baltimore, Newark, San Francisco, Detroit, Philadelphia. Atlanta's sprawling network of projects. Were all emptied and mostly replaced one way or another. Once the city was home to 14,000 units of public housing. And then there were none.
[EXPLOSION]
BROOKE GLADSTONE: In 2011, Roosevelt House, a roach-infested high-rise for senior citizens on a coveted corner of Centennial Olympic Park Drive, went down in a grand implosion gleefully detonated by 74-year old Dovie Newell, who had lived 21 years in Techwood, and suffered through its long decline, and then went on to live in its mixed-income successor.
BROOKE GLADSTONE: So I'm standing in front of Centennial Olympic Park Drive. These are the Techwood Homes. They're tidy. They're arranged in a cul-de-sac. Immaculate. Dovie's place isn't made of the same brick as some of the others. Some kind of siding. But it has the same quality of care and order. And you could definitely live here. You'd want to.
DOVIE NEWELL: My name is Dovie Newell. I was born in the city of Atlanta. October 30, 1937.
BROOKE GLADSTONE: Born in a house with an outside bathroom, she was 26 and married when she first moved into the Herndon House project. She liked it. Then she broke up with her husband and moved with her five kids, to Techwood. She liked that even more.
DOVIE NEWELL: These were built for large families and I had a three bedroom living room dining room and kitchen and I had never had it before. And I cherished it and kept it clean, safe, and sanitary.
BROOKE GLADSTONE: And then?
DOVIE NEWELL: Drugs were brought in, prostitution, you name it. And then when the missing and murdered children started. It really scared me.
BROOKE GLADSTONE: You were the one to detonate the explosion to bring down Roosevelt Homes. Why? Why do you think you were chosen to do that?
DOVIE NEWELL: I have no earthly idea. But the building became unlivable. They wanted to build something new. I said, You want me to blow it up? He said, Yep! I said, Well, I'll blow it up for you!
BROOKE GLADSTONE: Dovie may have come to loathe her home at Techwood, but she was a dependable and apparently presentable tenant. Because when Techwood became the clean and green Centennial Place, she was one of the very few invited back.
DOVIE NEWELL: Well if you if you had never lived in public housing, you wouldn't understand. A lot of them didn't want to come back because of the rules and regulations.
BROOKE GLADSTONE: Atlanta's Housing Authority was among the first to impose a work requirement.
LAWRENCE VALE: Continuous full time employment at least 30 hours a week if you're an adult and not elderly or disabled, and any other members of your household who are also adults need to be having at least 30 hours of work or in school for the equivalent of 30 hours. It's very much intended to be a reward for that lingering segment of the lowest income people who seem like they would make good neighbors to the market rate residents who are going to be living next door.
DOVIE NEWELL: You had to do the right thing, not be caught with anything. A lot of the people that lived here, a lot of those people getting checks and they wouldn't pay the rent. So how can you feel sorry for them if they don't do the right thing.
BROOKE GLADSTONE: And how about all the people who do the right thing but don't get a break?
DOVIE NEWELL: Some of them don't ever get a break
LAWRENCE VALE: No one will say that all families are equally wonderful neighbors and equally deserving of a great housing subsidy. But what are the criteria that you should use for denying that to someone?
BROOKE GLADSTONE: So, is the main obstacle to solving the housing crisis, its principal victims, people unable to pay market rents? The belief that the poor can't hack it seems to have guided the government's response thus far. You know - some people just can't have nice things. Lawrence Vale, who's studied the issue for decades, says that's the fatal error. He's seen the opposite principle applied with great success. A workable model on the big-city issue of supply, in fact a couple of them. This is On the Media.
BROOKE GLADSTONE: This is On the Media, I'm Brooke Gladstone, and here's Lawrence Vale with a tale of public housing that works. By which I mean one that doesn't involve clearing a slum (evicting all the people), then building a project that doesn't house them all, then clearing out the project (evicting all the people) and erecting mixed income units that house even fewer of them, or knocking down the project (evicting all the people) and selling the site to private investors who'll build market rate units except for a handful that only the uppermost poor might wedge into, or destroying the project (evicting all the people) and replacing it with nothing.
These approaches have been tried repeatedly, and for some reason they never seem to work. I mean, if the goal actually is to ease the housing crisis, which…
Anyway, here's Lawrence Vale — no wait, first, a quick detour.
KING WILLIAMS: I saw a lot of housing projects come I saw a lot of people who were poor growing up and then at some point it just felt like everyone disappeared. So no one could ever give me sufficient answer --
BROOKE GLADSTONE: Wait. What do you mean? Everybody disappeared.
KING WILLIAMS: Well for me as a kid there was a housing project called East Lake Meadows.
BROOKE GLADSTONE: That's a famous project. Not in a good way.
KING WILLIAMS: Definitely not a good way.
BROOKE GLADSTONE: King Williams, a journalist and filmmaker who focuses on the city's culture, urban planning and gentrification, made a documentary called "The Atlanta Way."
KING WILLIAMS: So growing up on this side of town I would always come over to visit with my dad. To visit my dad's friend over here on Alston Drive and as I got older, the East Lake that I remember which was just people always out no matter what time of day, people walking, people laughing and people cussing, people fighting. You actually felt as if you were part of something. And so that was the thing I have asked my mom -- what happened to the people and she just had no answer.
BROOKE GLADSTONE: King remembers it through a child's eyes, but a year after East Lake Meadows opened in 1971, it was already notorious for its murder rate, less so for its shoddy construction and overcrowding. In the mid-90s it was razed and replaced with mixed-income housing by a foundation created by a local businessman, with the provisional endorsement of Eva Davis, head of the East Lake Tenants Association, revered for organizing rent strikes to get vital services at East Lake. In the end, the promises of a place in the shiny new neighborhood were broken, for most of the tenants anyway.
The new East Lake offers such amenities as a pool, a golf course, and most notably a stellar school, so stellar in fact, that each year the entering class gets whiter and whiter and housing prices go up. But only a quarter of the original residents chose, or were allowed, to return. The rest, as King says, pretty much disappeared. The neighborhood was infinitely better, but the community was gone.
KING WILLIAMS: Talking to some of the people of the residents who lived in both The Villages of East Lake now and the old East Lake Meadows, they say yes the place is nicer, it's safer, it's quiet, but all I do is go home and watch TV. I don't interact with anyone in the neighborhood; my grandkids don't go out to the pool here. It's very isolating and since you know you're in a safer place but now you have no connection to anyone else.
BROOKE GLADSTONE: But they get to use the school.
KING WILLIAMS: Yeah they get to use the school, there is a golf course also available but this demographic doesn't golf like that. It's a good gesture, I'm not against it but it doesn't feel like this was a place meant for the people here. They're doing something nice for the people but not of the people.
BROOKE GLADSTONE: The new community at what is now called The Villages of Eastlake is hailed as redevelopment at its best. It's also ranked as one of the most diverse neighborhoods in Atlanta. And anway Atlanta's public housing, massively over populated, woefully, aggressively underfunded, could not help but fail. But whether public housing was viewed as a reward to the deserving poor, or as warehouses for the marginalized, the residents themselves never had a say. Lawrence Vale saw something better in Boston.
LAWRENCE VALE: You know the most successful place that I looked at which was something done back in the 1980s was a place called Commonwealth Development. And when they did the redevelopment and they spent tens of millions of dollars on it, they wanted people to be able to come back. And what they did is they negotiated with a private management company and the residents a 250-page community management agreement. They jointly set the rules, they jointly set the standards for what they wanted in the community that was going to return to this place, and then they did something really remarkable: The residents who had some great legal aid attorneys got it into the document that they could fire the private management company with 30 days notice. Three decades later... they're still there and they still have a well maintained and supportive community that's a 100 percent public housing.
BROOKE GLADSTONE: So what made the difference?
LAWRENCE VALE: There is a sense of shared governance, not some sense of them out there to spy on us or to look for reasons to kick us out. But people that are jointly coming up with the terms for what it means to live as a community and they added daycare onsite. They added community gardens on site -- all sorts of things that make for a community that isn't just your own private apartment and then some empty public realm outside.
BROOKE GLADSTONE: How do you qualify to live there?
LAWRENCE VALE: You go onto a public housing waiting list.
BROOKE GLADSTONE: Do you need to have a steady job?
LAWRENCE VALE: There's not a work requirement. Not in Boston. It was financially quite successful and it's still the best public housing in the city and they didn't have to turn it over to mixed income. They didn't have to turn it over to market rate even though it's in a highly desirable area that could easily have been high-end condos.
BROOKE GLADSTONE: It happened in Boston, in part because the low-income renters there had been mobilized since the late 60s, by a variety of city proposals to transform their neighborhoods.
LAWRENCE VALE: They became a political force that was going to ensure that any mayor would pay attention to the neighborhoods and not just to downtown business interests. And a force that meant that we've got to come pretty close to one for one replacement for any public housing. We've got to make sure that the people who lived in these are not going to be evicted like they were in a generation before.
BROOKE GLADSTONE: Some have said that the way that the housing projects were cleared in Atlanta had the dual benefit to some of breaking up political blocs. That these were you know get out the vote areas that these women who ran these neighborhoods ensured that they would have some kind of political voice. But these places were torn down and the residents scattered to the winds.
LAWRENCE VALE: I think that political voice and political patronage permeates the entire public housing origins. So you had in the early time, the Irish projects, the Italian projects, one Jewish project. The city was 97 percent white when they started building public houses. That's who it was for except for two or three that were almost entirely black. And then things changed. Neighborhood by neighborhood, every single place started to have a more diverse constituency applying to get into the public housing and they had those kinds of fights. The racial politics of Boston over the period from the late 1930s into the 1990s was incredibly fraught.
BROOKE GLADSTONE: And this project that worked so well, Commonwealth project?
LAWRENCE VALE: This was one of the most integrated places in the city. A substantial African-American community, a substantial Latino community, a substantial Asian community and the white community tended to be ethnic elderly Russian ladies. You could just as easily have a white male president of the tenant organization as a black woman.
BROOKE GLADSTONE: You know the more I cover politics or poverty or pretty much anything it seems to often come down to a matter of dignity.
LAWRENCE VALE: I think that's exactly right. You know the two words that I would hear would be dignity and maybe trust. The situation that many of these households face is systematic loss of trust that in turn erodes their sense of dignity. Done right, the opportunity to have a redevelopment of one's community is an opportunity to restore that trust and thereby restore that dignity or retain that dignity.
BROOKE GLADSTONE: That rebuts the idea that all projects are doomed to be drenched in crud and blood. It's their founding philosophies that seal their fate. But what about private housing? Can it really work for both landlords and tenants, given you know, capitalism? We think we found a way. And wouldn't you know, it's in Atlanta.
MARJY STAGMEIER: So -- I was a monopoly champ of my sixth grade class and I went home and told my parents I was going to be a landlord when I grew up.
BROOKE GLADSTONE: Marjy Stagmeier does not have the affect of a do-gooder. She wrote a book called "Real Estate Asset Management Executive Strategies For Profit-Making."
MARJY STAGMEIER: Correct.
BROOKE GLADSTONE: Properties blighted by crime, environmental hazards, transient populations and other bad elements are her passion. The property I'm in now, Summerdale Commons, is one of several modelled on Marjy's formula for affordable housing success. It's under total renovation: new windows, roofs, plumbing, kitchens, heat, air conditioning. Six months, 244 units, a million and a half dollars. New ownership, major renovation -- that usually sends eviction skyrocketing. But she's retained 80 percent of her tenants because she hasn't raised their rent.
MARJY STAGMEIER: Averaged. Seven hundred and eleven dollars. We'll start a one bedroom at five hundred ninety five and a three bedroom will be 826 dollars. So we strive to keep our rents affordable for families living at the poverty line. In 2019, the federal poverty line is twenty five thousand one hundred for a family of four. That's someone making twelve dollars an hour. So our goal is to keep our rents affordable for families making between 10 and 12 dollars an hour.
BROOKE GLADSTONE: These are for-profit apartments designed to keep tenants in them. One of Summerdale Commons most notable features is its free after-school program to help the children with their homework, and ensure they are safe while their parents are at work. That means they can work longer hours without worry and reliably pay their rent. And the kids? I met a bunch of them from kindergarten through fifth grade. If I hadn't blown in unannounced, I wouldn't have believed it.
BROOKE GLADSTONE: What's your name.
KOMARIA: Komaria.
BROOKE GLADSTONE: And what grade are you in.
KOMARIA: First.
J GREEN: My name's J Green Caulfield and I'm in kindergarten.
KENYA: My name's Kenya Gibson and I'm in second grade.
SCOTT: Scott Xavien.
JASMINE: My name is Jasmine.
KUSARI: My name's Kusari, and I'm in fourth grade.
OCTAVIAN: My name is Octavian, and I'm in third grade.
GISELLE: Hello, I'm Giselle. I'm in third grade.
BROOKE GLADSTONE: Do you like this? Do you like having this place to go after school?
ALL: Yes.
BROOKE GLADSTONE: Why.
ALL: Because it's the best place.
BROOKE GLADSTONE: Seriously?
ALL: It's the best place we can do our homework and eat snacks and go outside. We have a lot of fun.
BROOKE GLADSTONE: Are you kidding. You sound like you guys have practiced that.
ALL: Practicing practicing! We can easily make friends.
BROOKE GLADSTONE: Does anybody have a complaint?
ALL: No. No. No.
BROOKE GLADSTONE: The landlord pays half the cost, Marji's non-profit Star City foundation, pays the rest.
MARJY STAGMEIER: I've always been fascinated with low income housing…
BROOKE GLADSTONE: Well what little girl doesn't feel that way…
MARJY STAGMEIER: I wanted to be landlord Barbie. I'm just fascinated with it because I actually when I worked for my last company I managed a portfolio class A brand new construction in it. To me it was boring.
BROOKE GLADSTONE: You've put in a million dollars maybe a million and a half counting buying the property in advance. So your company has to have substantial reserves and I know that profitability was the name of your game as you were coming up in the world.
MARJY STAGMEIER: That's what's unique about this model is we've gotten very innovative in how we raise money. We've had foundations give us money, zero interest loans. We've been working with the city of Atlanta and got a housing opportunity bond. We found a bank -- it was hard to find a bank willing to invest in a blighted area but we've gotten a bank. So our cost to capital here is very low. For every percent of interest we have to pay. So if it goes from 2 to 3 percent it's 38 dollars a month in rent for our tenants. We're very sensitive about our cost of capital to be able to keep our rents affordable. I think a lot of people come into these blighted areas and they borrow money let's say at 10 percent. Well I mean you have to raise your rents significantly in order just to fund the interest for your investors. So we've really worked hard at being innovative in how we purchase properties. So a lot of it has been contributed or is a loan. We call it capital stag gymnastics.
BROOKE GLADSTONE: There's more to Marji's formula, including a health care component, but most instructive is how she arrived at where she is. Ten years ago she bought a blighted apartment complex in North Atlanta, went to a PTA meeting to introduce herself, and was instantly condemned as a slumlord who was destroying the school.
MARJY STAGMEIER: And I went home slept on it woke up bright and early, went straight to the school knocked on the door and surprisingly the assistant principal, Dr. Ritchie, agreed to meet with me and she explained to me how our crime infested property was causing transiency at her school and quite frankly for me personally it was devastating because I did not want to be morally responsible for a failing school as an apartment owner so I told her that's not how we operate and we will work with you to help you turn your school around.
BROOKE GLADSTONE: So what was your idea initially when you bought that blighted community?
MARJY STAGMEIER: Be a commodity landlord; renovate it flip it for a big profit. And then I realized the impact that apartment could really have the community at large.
BROOKE GLADSTONE: Something you didn't realize before.
MARJY STAGMEIER: Correct.
BROOKE GLADSTONE: You hadn't truly understood what transiency meant.
MARJY STAGMEIER: Correct.
MARJY STAGMEIER: Transiency is the movement of children during the year from the school. So at the time Brumby Elementary had about a 62 percent transiency rate.
BROOKE GLADSTONE: Wow.
MARJY STAGMEIER: And we were one of the largest apartment communities that fed the school so the fact that our apartment community was unhealthy was making the school unhealthy. So we told her we would start an after-school program. Within five years we had 90 children in the program and we had a 100 percent pass rate on the federal competency test.
BROOKE GLADSTONE: From your apartment house, everyone passed the basic test.
MARJY STAGMEIER: Correct. And so the school ended up becoming a title one school of distinction.
BROOKE GLADSTONE: But her investors had given her six years to turn a profit and she hadn't yet so she had to sell.
MARJY STAGMEIER: So the new owners came in, they raised the rents over 100 dollars a unit. They fired my police officers they immediately close the after school program and within 18 months she was a failing school again. So unfortunately it proved our point.
BROOKE GLADSTONE: When eviction's reverberations send an entire school tumbling from the bottom to the top to the bottom again, it seems less like an epidemic and more like a seismic wave. Either way, it's a problem. And there are solutions, market solutions, legal solutions, government solutions, solutions for every constituency, yours for just a tweak in perspective, and a certain redistribution of capital you'd hardly even notice. Up next. This is On the Media.
BROOKE GLADSTONE: This is On the Media. I'm Brooke Gladstone. We've called the final chapter simply "solutions," but it's never simple. This malady is bred in America's bone, or the bones, reinforced by its oft-avowed faith in the Invisible Hand. The "hand" represents the natural force that, in a truly free market, would ensure everyone's interests are served and everyone's needs met. Like all religions, it can't be proved. There's never been a truly free market. And in fact, the deeper you dig into the causes of the eviction plague -- the laws, low wages, lack of legal aid, the inflated rents, the tax structures, the lobbying, the lack of affordable housing, the clearer it becomes that the housing market is one of the least free...
MATT DESMOND: This idea that gosh we can't afford to help folks that are evicted from their homes… That's just a lie. We spend so much more every year on homeowner tax subsidies especially the mortgage interest deduction than we do on direct housing assistance to the needy. And then we think gosh how how do we raise enough money to help this enormous housing crisis. Well how about homeowners pay their fair share. It's like really really hard to think of a social policy that does a better job of amplifying our economic and racial inequalities than our current housing policy does. Only one in four families who qualifies for public housing or vouchers that lower their rent burden get any kind of help. And it's not because that 76 percent is somehow disqualified. It's cause we just don't have enough investment to go around and the waiting list for public housing in our biggest cities is no longer counted in years it's counted in decades….
NEWS TAPE: There were 750 applications for public housing, more like a thousand showed up.
NEWS TAPE: Authorities here tell us there were expecting about 10,000 people. They ultimately had about 30,000 people show up.
NEWS TAPE: They just ran towards the building. They wanted to make sure they got their vouchers and police say it just got out of control and they responded as if this were a riot.
MATT DESMOND: If I applied for public housing built public housing today in our nation's capital, there's a good chance that I'd be a grandfather by the time my application came up for review. I have elementary school kids. And so I think that that's the state of our you know our investment in the home.
BROOKE GLADSTONE: Each year, over two million households use vouchers, half with kids, which enable them to spend only 30 percent of their income for housing, which most of the poor cannot. They can feed their kids healthy food and live in a place that isn't falling apart. Their children are more likely to attend college. That's why people are so desperate for them. But many landlords won't rent to people with vouchers. They say they hate the paperwork, the strict standards, the inspections. They don't say vouchers carry a stigma, but they do. So the vouchers expire unused. Currently more than a dozen states ban discrimination based on person's source of income, meaning those precious vouchers. The nation needs more of them, and more landlords to take them. So that's one solution. But we're finding plenty of others on the state and local level and in proposals presented on the campaign trail.
ELIZABETH WARREN: It's got a lot of pieces. One part will give grants to first-time homebuyers or people who haven't recently owned in formerly redlined or officially segregated areas. It includes parts that would help people whose housing wealth was destroyed by the 2008 crash. It would invest in new affordable housing units. And it would help roll back restrictive local zoning rules.
CORY BOOKER: My housing plan says cities, you should have a plan. You should have an active plan to do like I did when I was a mayor, and create a lot more supply of affordable housing, then finally, don't cast shade on people who can't work right now because of mental illness and other challenges. We are going to do the fiscally right thing and the morally right thing to make sure that they too have homes.
KAMALA HARRIS: The rent relief act says that if you spend more than 30 percent of your income on rent and utilities, you'll get a portion of that money back. It's that straight-forward.
BROOKE GLADSTONE: Do any of those proposals look like they would help or help a lot?
MATT DESMOND: They'd be game changing. They're amazing. Comparing the proposals that Senator Warren, Senator Booker and Senator Harris have put out against the status quo… there's so much ground that they would cover. Elizabeth Warren is proposing a deep investment in both urban and rural housing. She's proposing reparations for redlining, recognizing that our federal policy isn't just about dollars and cents, it's about justice and repairing historical wrongs. Senator Booker is promoting a renter's tax credit and saying you know two thirds of the country get these homeowner tax credits and one third is completely left out of the deal. Is that fair? I think that these proposals are scaled to the size of the challenge. they are not nibbling at the edges. They're proposals that say look, we're in the middle of an enormous housing crisis and we have to invest in it deeply if we care about American security and economic mobility.
BROOKE GLADSTONE: The current Federal housing voucher program costs a tad over 20 billion dollars. Earlier Matt mentioned the mortgage interest deduction? That subsidy for homeowners like me? That costs the Feds about 34 billion dollars. You know, the experts don't seem to much care for the MID.
In fact, St. Louis Fed economist Bill Emmons observed last year that it's rare to find a policy so popular with the public that's so disliked by economists. Why?
Because it inflates housing prices which leads to more borrowing, which leads to more defaults. The American Economic Review calculated that if the MID went away, homeownership would rise by five percent, home prices would dip by four percent, and the average mortgage balance would drop by 30 percent. Go figure.
Now let's move on to the courts.
TAPE: (inside courtroom)All rise!
BROOKE GLADSTONE: We recorded this in a couple of New Jersey housing courts.
TAPE: Before I begin I'm going to give you some instructions in regards as to how we're going to conduct court today. If you're the tenant and you hear your name called, Mary Jones, you must stand and announce your presence by saying ready tenant. We'll mark your case as dismissed if the landlord is not here. If you are the tenant and you do not stand and announce your presence, then a default may be entered against you. We're not moving out. I'm willing to pay the month. I'm not moving out. But you can't, but you won't want to do that -- because I just got my daughter back from the state. If I have to move, I lose -- when you bring you in we're going to explain the procedure of the court to you. We can answer any questions you might have. We have the money! She's just being hard-headed. If we could just pay the rent, and we'll pay the next month's rent, I don't know why she's making such a big thing for nothing! She wants the rent, she wants us out.
BROOKE GLADSTONE: Tenants representing themselves almost always lose. A grassroots movement in the South Bronx led by a group called Casa pushed for the right to counsel, and in 2017 New York was the first city to legislate lawyers for tenants. The program now serves 20 zip codes, with plans to expand. Since then, Washington, San Francisco, Philadelphia, Minneapolis, Newark and others have moved ahead with their own programs.
MARK LEVINE: We made a very strong moral case that no one facing a life altering judgment should ever have to endure that proceeding without the benefit of an attorney.
BROOKE GLADSTONE: New York City Councilmember Mark Levine pushed hard for the bill. Among the roughly 22,000 New Yorkers represented by lawyers provided by the city last year, 84 percent were able to stay in their homes.
MARK LEVINE: We've seen now not only a drop in eviction rates but we have seen a drop in the number of eviction filings down about 10 percent. And that is the ultimate vindication for this policy. Proving what landlords were doing all along they were deliberately hauling tenants into housing court on flimsy terms knowing they wouldn't face an attorney. And now that we're changing the game whoops they're not bringing so many cases.
MARVIN PENDARVIS: If they're facing an eviction generally they're not going to be able to afford a lawyer. And the laws are stacked against them to where they're really, they've lost before they've even begun.
BROOKE GLADSTONE: Marvin Pendarvis was evicted as a child. It was scary and tough. Now he serves in the South Carolina Legislature representing parts of North Charleston, the top-ranking evicting large city on the Eviction Lab's list. He's pushing for a tenant's right to counsel and a dedicated housing court. He's pushing uphill. South Carolina Governor Henry McMaster is himself a landlord, subject to repeated complaints about roaches, bedbugs, leaks and mold, that tenants can do little about. And then there's the bargain price of filing for eviction in the state, a big reason why tenants there are slammed with filings over and over again, paying late fees and court costs and sliding deeper into a hole. Another solution: Forty bucks? Up that price!
MARVIN PENDARVIS: We can increase the fee for landlords to apply for eviction. That's one thing that Virginia did. Richmond did that's one thing that I proposed for us to do here. It's just too cheap to file an eviction. If they want to file it they need to be having some skin in the game.
BROOKE GLADSTONE: Richmond, Virginia, number two on the eviction lab list. The state also boasts numbers three, four, six and ten. But unlike South Carolina, at least Virginia was embarrassed about it.
NEWS TAPE: According to a Princeton University study, the state of Virginia has one of the highest rates of eviction in the country. And last week Governor Northam passed a legislation package to mitigate that. Delegate Jennifer Foy of Virginia's 2nd district "pay and stay" bill gives tenants who are late on their rent two additional weeks to pay and additional fees.
BROOKE GLADSTONE: Nothing was happening, and now it is. So maybe there still is power in the press.
MARTY WEGBREIT: My life changed on Sunday, April 8 when the New York Times front page above the fold article appears about evictions in Richmond and I'm quoted. Literally the next day, I'm interviewed on camera by all three local TV stations.
BROOKE GLADSTONE: That's Marty Wegbreit, chief litigator for Central Virginia legal aid, who was suddenly getting meetings with power brokers he'd never gotten before. He's been for years in the overgrown orchard of Virginia eviction, a disaster, he says, long hiding in plain sight. But then the sharp New York Times urban policy reporter Emily Badger wrote up the Eviction Lab findings and it couldn't hide anymore. Committees were convened. Proposals were debated. The law changed, a little. Some first steps. Much more to do.
MARTY WEGBREIT: We want to see a remedy for condemnation which currently does not exist.
BROOKE GLADSTONE: I don't know what that is.
MARTY WEGBREIT: So if the housing is so bad that it gets condemned the red tape goes up the orange sheet goes on the door and people have to move immediately and the landlord is not in fact legally responsible to refund some of that money that they were collecting while the place was deteriorating to the point where it was condemned. Now the tenant could sue. And good luck in court. But there's no law that says you're entitled to a refund of some of that rent that you paid while the place was falling into disrepair. We'd love to see that.
BROOKE GLADSTONE: Now, we've moved out of the realm of solutions to simple justice. So, what is the problem with Virginia?
MARTY WEGBREIT: Here's my list. We have a lack of affordable housing. We have poverty. We have bad landlord tenant laws. We have archaic terminology like the summons for unlawful detainer that scares people away from even coming to court. We have that history of government-sponsored segregation. We have a relatively high cost of living at least compared to places like say Alabama and Mississippi. We've got gentrification we've got the foreclosure crisis and the aftermath of it. We have an older housing stock. The Virginia minimum wage has not been increased for 10 years.
BROOKE GLADSTONE: It's 7.25.
MARTY WEGBREIT: 7.25 an hour. We have very little support for tenants other than in the wealthier parts of northern Virginia. And last but not least let's not forget that for five long years Virginia didn't expand Medicaid and we threw five billion dollars down the toilet. That could have reduced tenants' expenses for health care that they could have used to pay rent. So it's not just one thing that's driven up the eviction rate in Virginia. It's everything. And what's been driving down the eviction rate - nothing.
BROOKE GLADSTONE: Finally, since my time is running out, zoning. Where the housing crisis gets up close and personal. Exclusionary zoning is a policy that employs land use and building codes to keep certain neighborhoods from becoming too… affordable. After the Fair Housing Act was passed, this became the go-to way to keep the poor and associated riff-raff (if you get my drift) from moving in. When Congress passed the low income housing tax credit program in the mid 80s, developers got big tax breaks for building affordable housing, and in Minneapolis, as elsewhere, they've concentrated it where the white majority would least object, the central city, far from the good jobs, the good schools.
In December of 2018, the Minneapolis city council voted unanimously to get rid of single family zoning, zones in which 75 percent of the residents live. The upzoning allows for the building of duplexes, triplexes, quadruplexes where no multi-unit homes had gone before. Affordable homes. Near to good schools, good jobs.
It's the first time a city had done it, as far as anybody can remember.
Now, Charlotte, North Carolina is starting to mull it over, though it would be a much heavier political lift. But it would help relieve the terrible squeeze on affordable housing. Yeah, an act of upzoning could do a lot of things.
MATT DESMOND: What makes this country great? Why are we so powerful and rich?
BROOKE GLADSTONE: Matt Desmond.
MATT DESMOND: The story is, you know we have the right work ethic or values, we're more inventive. But history seems to tell a different story. America was willing to exploit and enslave millions of African Americans for much longer than the other nations of the western world. And we made a killing. Its a history of land speculation, slavers mortgaging their slaves to buy more slaves, financial instruments that we take for granted today like collateralized debt obligations, you know this spirit of feverish speculation has always been with us in a way that has uniquely disadvantaged African Americans. It's also true that there's always been a march of resistance with us, right?
BROOKE GLADSTONE: It's seems clear, this is a time of reckoning, for our country, for ourselves.
Eviction embodies all of that, being about whether we all have a right to a home, to belong, and not just some of us, by accident of birth.
Who are we, really, if we're agitated by the appearance of a building on our block,
But not nearly so offended by the plight of those inside, or those who cannot get in.
BROOKE GLADSTONE: The Scarlet E is produced by Eve Claxton, Jon Hanrahan and Katherine Simon. Our technical director is Jennifer Munson, our editor is OTM executive producer Katya Rogers. Our original score was composed by Mark Henry Phillips. We had more help from Emily Mann, Greta Rainbow and the Eviction Lab team. Thanks to WNYC archivist Andy Lanset.