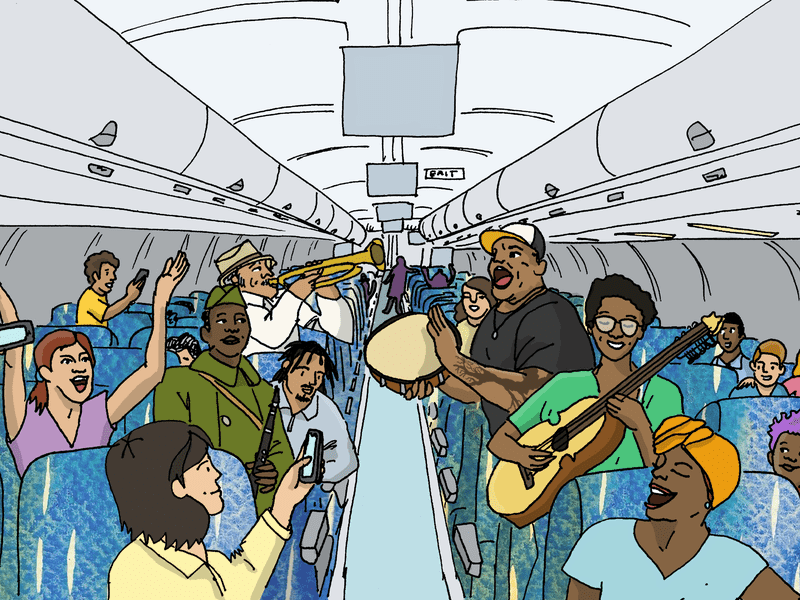 Transcript
Micah Loewinger: Hey, I'm Micah Loewinger for the podcast Extra. This week we are featuring the work of our WNYC colleague and former OTM producer Alana Casanova Burgess. She's the host of La Brega, a podcast series all about Puerto Rico. Her team is calling season to the Puerto Rican experience in eight songs. We think you're going to love the first episode of the new season. Here's Alana.
Alana Casanova-Burgess: Not long ago, I was on a flight to San Juan. I was sitting on the left side of the plane, with a clear view over the orange glow of street lights and traffic below. And as the wheels touched down, everyone who was grateful to be back in Puerto Rico applauded, as we always do.
[applause and engine rumble]
Alana: And then, while we were sitting there, taxiing or whatever… I heard someone just a few rows behind me start to sing.
I rushed to record it on my phone.
[MUSIC - "Preciosa," Myzo]
Alana: A few people craned their necks, a few stood up.
[MUSIC - "Preciosa," Myzo: "...te trate con negra maldad" – passenger says "Esoooo!"]
Alana: Every passenger was under a spell, listening to Preciosa, the most Puerto Rican of songs, come from nowhere.
[MUSIC down - cheers]
[MUSIC]
Alana: I was flying to PR to do some reporting for this second season of La Brega, a season about music where every episode will be based on a different Puerto Rican song. And right away, I get this musical blessing on a plane. Magic. Puerto Rico está cabrón.
[MUSIC]
Alana: Everyone knows that Puerto Rico está cabrón – that Puerto Rico is fucking awesome – because Bad Bunny has been saying it.
[MUSIC - "El Apagón," Bad Bunny]
Alana: And everybody's singing along.
[MUSIC - "El Apagón," Bad Bunny field recording]
Alana: The biggest artist in the world right now doesn't just happen to be Puerto Rican… he's uncompromisingly boricua, refusing to change his language or his accent.
ARCHIVAL / AMA
Interviewer: Tell me how you sum up the last year or so for you?
ARCHIVAL / AMA
Bad Bunny: Ummm… te voy a ser bien claro, no entendí lo que dijiste, I don't understand what you say…
Alana: Always talking about us. Always bragging about us.
ARCHIVAL / Bad Bunny Concert
Bad Bunny: Yo creo en esta generación. Yo creo en este Puerto Rico, Yo quiero vivir aquí por siempre, con ustedes.
Alana: He's sharing so much of Puerto Rico as he tops the charts, over and over and over again.
ARCHIVAL / montage
Announcers: "Bad Bunny!" "Bad Bunny!" …
[MUSIC]
Alana: He's changed pop music and made it ours.
ARCHIVAL / The Today Show
Reporter: The chart-topping rapper from Puerto Rico is just named Apple Music's artist of the year. Well-deserved too.
Alana: In some ways, this isn't new. As an island that's just 100 by 35 miles, we've consistently punched above our weight. Puerto Rican music has long been everywhere… from the boleros that get people to sway to the reggaeton that makes them grind.
We write lyrics so lovely that they're sung all over the world. We perform at the Super Bowl and we sweep at the Grammys. And I say we, because when someone Puerto Rican takes the stage, it can feel as if your own cousin were up there.
ARCHIVAL / MTV
Melo: Benito! Congratulations, the VMA MTV award for artist of the year. Representing for the Boricuas! Yeah!
[MUSIC]
Alana: And all that music… is doing a lot.
Tucked into the lyrics are stories about who we are and what we want, about Puerto Ricanness and what that means. That's as true of Bad Bunny's songs as it is about Preciosa, the song from the plane.
So this season, we're looking at ourselves through our music: iconic songs that tell us about home and what it means to stay or leave; songs that teach us about race and belonging, or about freedom and our bodies… songs about losing what should be ours and fighting for it. And we should start, actually, with Preciosa. It's really the unofficial anthem, more meaningful to many of us – including to the plane singer, Myzo, than the actual anthem. That's what he told me, at baggage claim:
Alana: y por qué esa canción?
Myzo: Porque ese es el verdadero himno de Puerto Rico. La Borinqueña no lo es. Es Preciosa.
Alana: Es Preciosa, está bien…
Alana: Preciosa is about how beautiful Puerto Rico is – mi borinquen hermosa. It's like a love song to a place, instead of to a lover.
[MUSIC - "Preciosa," Los Panchos]
Alana: The waves from the sea that bathe you (pause) call you Preciosa.
Because you are a delight, you are an Eden. I will always call you Preciosa.
[MUSIC - "Preciosa," Los Panchos]
[MUSIC - "Preciosa," field recording]
Alana: I have this recording, from July of 2019 in Old San Juan, of thousands of people singing Preciosa at a protest to get rid of the governor.
They were singing the Marc Anthony cover. There's a long part at the end that he improvises, a soneo. It's epic.
[MUSIC - "Preciosa," Marc Anthony]
Alana: This has been the iconic version of the song for over twenty years, after he recorded it for a television music special from Banco Popular in 1998.
He's in a kind of 1940s costume (pocket watch and everything) in a kitschy fake living room in front of a piano. Nothing about it feels authentic…. except for Marc Anthony's passion for Puerto Rico.
[MUSIC - "Preciosa," Marc Anthony]
Alana: The man sounds like his soul is on fire.
[MUSIC - "Preciosa," Marc Anthony]
Alana: The original version was written in 1937 not by Marc Anthony, but by Rafael Hernández.
[MUSIC - "Preciosa," Los Panchos]
Alana: An artist who you could say was like the Bad Bunny of his time. No, I'm kidding. I mean, they're very different people from very different times. But… they do have some things in common. Two Puerto Rican icons. Both hugely influential… beloved everywhere, who use their Puerto Rican-ness to shine. They're both uncompromising.
The more I learn about Hernández' genius and the different places he shows up in music history, the more I feel that swell of pride like when your cousin takes the stage. Like… he was there at the birth of what would later become jazz… Though, a lot of people don't know that part of the story.
Bobby: Rafael, wow, an incredible musician lost to the dust of time.
Alana: Bobby Sanabria is a Grammy-nominated percussionist, and an educator. He says Rafael Hernández was a musical polymath.
Bobby: He wrote pieces for symphonic orchestra, for chamber ensembles, string quartets. He was a supreme musician.
Alana: And he could play several instruments – violin, piano, cello, the trombone, even something called a bombardino.
Bobby: –it's a small concert tuba.
[MUSIC - "Paso Doble," Banda Municipal de San Juan]
Alana: He grew up in Aguadilla at the turn of the century, and then moved to San Juan to play in a municipal marching band — we used to have a lot of those.
Elena: What did people do for recreation entertainment? You go to the plaza and hear these bands.
Alana: Elena Martinez is with the Bronx Music Heritage Center, and is married to Bobby. So, around this time, when Hernández was in these bands, World War I was raging in Europe.
ARCHIVAL / World Troubles 1914-1934
Announcer: President Wilson signed the declaration of war on April 6th and America's manhood was drafted.
[MUSIC]
Alana: A lot of men are enlisting… including a lot of African-American soldiers, who sign up believing that it would change how they were perceived in a very segregated United States. In New York, there was this all-Black regiment, led by a white commander, who was really into music.
Elena: He loved music and he wanted to create a really incredible regimental band.
Alana: And he already had this big star: the composer and bandleader James Reese Europe.
ARCHIVAL / documentary
James Reese Europe, the most popular black band leader of the time.
Alana: So the commander starts to recruit, to get more of the best of the best.
Elena: So he's looking into the scene that he plays with all the musicians locally, but he just realizes that, um, he needs work on the clarinet section. The clarinet section needs some work. And he needs, a really, as soon as possible, where can I get like, really great clarinet players? So he goes to Puerto Rico…
Alana: So he's like where do I get great clarinet players I have to go to Puerto Rico?
Elena: Well, Yeah, everyone, everyone asked why does he go to Puerto Rico? Why Puerto Rico? You know, there's a lot of, there's a lot of black musicians on the scene there.
Bobby: And they have citizenship.
Alana: One of those black musicians was Rafael Hernández — he and 17 other Puerto Ricans sign up. So of the 44 members of the regimental band who go to Europe, nearly HALF of them are boricua. They're sent to France as part of the 369th infantry regiment.
Bobby: Which became later known as the Harlem Hellfighters.
[MUSIC]
Alana: Hellfighters:Possibly named by the Germans out of fear. They spend longer in the trenches than any other unit, and are awarded lots of honors.
But a big thing about them, was their band –
[MUSIC - "Memphis Blues," James Reese Europe's 369th U.S. Infantry "Hell Fighters" Band]
Alana: It played a new kind of music, one that was just taking shape.
Bobby: What today we call jazz.
[MUSIC - James Reese Europe: Memphis Blues]
Alana: This band — made up largely of Black Puerto Ricans — is seen by historians as being an essential part of the creation of the great American art form.
Bobby: Every jazz festival that exists, every jazz club that exists, every jazz musician that has come from Europe exists because of the monumental performances that this military band did. If that band didn't have those musicians from the island, it wouldn't have sounded the way it did.
[MUSIC]
Elena: I think there's two things going on that come out in the Hell Fighter story.
Alana: For one thing: there's the shared experience of this segregated regiment – the racism that they all faced. And, also–
Elena: Colonialism comes out, right? Why are we good at everyone else's music? Not only are we good, we excel at everyone else's music.
Alana: Elena and Bobby say that's true of Puerto Rican excellence with jazz, or with Cuban rhythms, or with hip hop.
Elena: When you live on the margins, you have to know a lot of other things to survive. And I think Puerto Ricans have done that very well. They've been able to reach out from the margins and, and, and learn and, and, and survive and thrive in places that they need to.
Alana: And that's just the beginning of Rafael Hernández' story. He keeps popping up all over the place. After the war, he came back to the US with the Hellfighters and stuck around Harlem to play jazz. He spent a while in Mexico – you can catch him in films from that golden age of Mexican cinema, right there with Cantinflas.
ARCHIVAL / Águila o Sol
Cantinflas: ¿Qué relajo es ese señor?
Rafael Hernández: ¿Que paso?
Cantinflas: Ah! ¡No ha pasado nada!
Alana: Hernández composed many of his most famous songs while living in Mexico— including El Cumbanchero, Ahora Seremos Felices, and Perfume de Gardenias.
[MUSIC - "Perfume de Gardenias," Los Tres Reyes]
Alana: Throughout his life, he wrote literally thousands of songs.
Bobby: You're talking about a person that became not only Puerto Rico's greatest composer, but Latin America's most beloved composer after the war.
Alana: And his songs were so so so specifically boricua. Like Bad Bunny does today, he was using Puerto Rican language to tell Puerto Rican stories, and reached a huge audience. And he didn't just do it with Preciosa.
Take another one of his songs, Lamento Borincano – literally has Puerto Rican in the title, and centers on a very Puerto Rican word, jibarito. A loving term for someone from the mountains.
[MUSIC - "Lamento Borincano," Los Panchos: "El jibarito va pensando así, diciendo así, cantando así por el camino…."]
Alana: And yet, that didn't stop its popularity. You know who's covered this song? Everyone.
Brazil's Caetano Veloso…
[MUSIC - "Lamento Borincano," Caetano Veloso]
Argentina's Facundo Cabral…
[MUSIC - "Lamento Borincano," Facundo Cabral]
Victor Jara, from Chile…
[MUSIC ""Lamento Borincano," Victor Jara]
Even the great Chavela Vargas…
[MUSIC - "Lamento Borincano," Chavela Vargas]
Alana: But back to Preciosa, this anthem to loving Puerto Rico – but specifically, to loving it from afar, because Rafael Hernández wrote it in Mexico. It's about yearning to return, and it has this nostalgic energy. In fact, many of our most famous anthems are exactly like this – infused with the longing that comes with displacement and diaspora.
That gives them this quality of… gauzyness. Because when you aren't in Puerto Rico, you tend to remember it with rose-colored glasses. When I miss a place, I don't think about the power outages that can make life impossible there. And… There's something else that today sounds off in Preciosa: the way Rafael Hernández depicts race in Puerto Rico. In the lyrics, he praises two groups: we get the nobility of the Spaniard…
[MUSIC - "Preciosa," Los Panchos: "Tienes la noble hidalguía de la madre España"]
Alana: And the bravery of the Taino.
[MUSIC - "Preciosa," Los Panchos: "El fiero cantio, del indio bravío"]
Alana: There's no mention of African roots in Puerto Rico at all. Very cringey. Hernández was afro-boricua himself, but there appears to have been no room to praise Blackness in the 1930s Puerto Rico that Preciosa describes. But — in another line in the song, he erases nothing. Tucked in behind the glimmering waves is a dagger of a line about the United States.
[MUSIC - "Preciosa," Marc Anthony: "No importa el tirano te trate con negra maldad"]
Alana: No importa el tirano te trate con negra maldad. You'll be beautiful even if the tyrant treats you with black malice. It's such a pointed critique of the United States. And that leads to a story.
[MUSIC]
Alana: There's this moment in the early 1950s when the Puerto Rican government needed a new national anthem. There's a rumor that Luis Muñoz Marin, the first elected governor, was really into Preciosa for the anthem. Juan Otero, a musicologist, told us about it.
Juan Otero: The lyric that says that "no importa el tirano te trate con negra maldad," it doesn't matter that the tyrant treats you bad, no?
Alana: The governor, wanted to swap tyrant for destiny, destino. "It doesn't matter if destiny treats you badly."
Juan Otero: But Hernández refused.
Alana: Tyrant stays in. Uncompromising, like Bad Bunny. And so — we ended up with La Borinqueña as our official anthem — which, let me tell you: not as great.
[MUSIC - "La Borinqueña," Jhonny Albino y El Trio San Juan: "Cuando a sus playas llegó Colón, esclavo lleno de admiración"]
Alana: It's a song in which Columbus shows up in a conveniently unpopulated landscape and exclaims:
[MUSIC - "La Borinqueña," Jhonny Albino y El Trio San Juan: "Ohhhhh! Esta es la linda tierra que busco yo…"]
Alana: "Oh, oh, oh! This, right here, is the beautiful land I've been looking for, it is the daughter of the sea and the sun." It's all very… colonial.
[MUSIC - "La Borinqueña," Jhonny Albino y El Trio San Juan: "Del mar y del sol."]
Alana: So much so, that there's another, pro-independence version of the anthem that tells boricuas to wake up already, grab their machetes, and fight for liberty. If Columbus showed up here , his oh-oh-ohs may have been screams.
[MUSIC - "Borinqueña Revolucionaria," Lizbeth Roman: "El ruido de cañón. Nosotros queremos la libertad. Nuestros machetes nos la dará…"]
[MUSIC - "Preciosa," Myzo: "No importa el tirano te trate de negra maldad….Esssoooo!"]
Alana: It's not surprising that a national anthem for a colony would be so fraught. Patriotism hits different when you're non-sovereign.
Meanwhile, the song we all seem to be able to agree on, the song people sing when they can't hold back, is Preciosa.
Alana: It has just enough bite, and still plenty of pride.
["Preciosa," Myzo, cheering]
[MUSIC - "Preciosa," Marc Anthony]
Alana: Coming up — drawing a line from the Bad Bunny of the 1930s, to … actual Bad Bunny. Stay with us.
MIDROLL BREAK
Angélica: Hola! I'm Angélica!
José: And I am José from Balún–-
Angélica: And you are listening to La Brega.
Alana: We're back with La Brega – a show with a name we need to define, because it's not a word people really use anywhere else but in Puerto Rico.
[MUSIC]
Person 1: When I hear or use la brega, I'm referring to the struggle…
Person 2: The struggle..
Person 3: Lucha, viene del hustle.
Person 4: Grinding.
Person 5: You know what it means, it means to do it! [laughter]
Alana: Bad Bunny doesn't explain anything in his lyrics. Just like Rafael Hernández didn't explain jibarito or Borinkén, and people liked his music anyway. Listening to Benito is like doing a word puzzle for Puerto Rican-isms, spotting la pichaera, the bichotes and piquetes, even la bellaquera.
[MUSIC - "El Apagón," Bad Bunny: "Ay! ay!"]
Alana: There's all this Puerto Rican slang making its way around the world. Does everyone know what they're singing? No. Is it sometimes really dirty? Yes. Is it kind of fun anyway? Also yes.
"Preciosa" may be the unofficial anthem, but there are a couple of Benito songs that could fit the bill too. And I think… because he is writing from the island… at this particularly difficult time – they strike a different note.
[MUSIC]
Alana: Many older songs… like Preciosa or Soñando con Puerto Rico … are about this idealized gauzy memory of home – where everything is perfect and breezes caress your face. There's no austerity policy in these songs. No potholes, or blackouts. But there are potholes AND blackouts in Bad Bunny's Puerto Rico.
[MUSIC - "Estamos Bien," Bad Bunny: "La Mercedes en PR cogiendo boquete, eh. Vivo como soñé a los 17, eh, eh."
Alana: This is Estamos Bien – "we're good" – said in the same tone as, "aquí, bregando." It came out the year after Hurricane Maria.
ARCHIVAL / The Tonight Show Starring Jimmy Fallon
Jimmy Fallon: Give it up for Bad Bunny….
Alana: He introduced it during his debut on Jimmy Fallon, one of the few examples of Benito speaking English. He used his appearance to underscore both the urgency of the situation and the sense that life has to keep going.
ARCHIVAL / The Tonight Show Starring Jimmy Fallon
Bad Bunny: After one year of the hurricane, there are still people without electricity in their homes. More than 3,000 people died and Trump is still in denial. Well you know what? MUSIC - "Estamos bien…"]
Alana: And the potholes are there again in El Apagón, which means The Blackout:
[MUSIC - "El Apagón," Bad Bunny: "Con un besito pa abuela en el balcón, cogiendo to los hoyos en la rubicón…. P Fckn R, ay"]
Alana: Tucked in after an unexpectedly tender line about a kiss for your abuela – the bitter mixed with the sweet.
[MUSIC beat]
Alana: There are things Bad Bunny has said – and sung – that I don't agree with. He's often held up as a kind of saint – literally San Benito – and nobody deserves that pedestal. But there are things I really admire. When I hear him sing about Puerto Rico's failed energy grid in packed arenas… it's not just a form of protest, I think it's a kind of honest love. Like, this place is not okay, but it's still "Preciosa". When Benito and fans all over the world scream "Puerto Rico Esta Bien Cabrón" at the top of their lungs…
[MUSIC - "El Apagón," Orlando field recording: "Puerto Rico está bien cabrón"]
Alana: The whole world is screaming about la brega.
Bianca: because as you know, "esta bien cabrón" can mean it's amazing and it can also mean it's so hard and it's so difficult.
Alana: Bianca Graulau is an independent journalist based in Camuy.
Bianca: We drive to the beach and we see this amazing paradise and we're like Puerto Rico esta cabrón. And then we have another power outage and we're like Puerto Rico esta cabrón… cuz it's so hard to live here, you know? So, I just think, again, it's just hard for that to not resonate with people living here.
Alana: In September, Benito put out a music video for the song El Apagón, and did something… highly unusual. Baked into the video, is an 18-minute mini-documentary about gentrification in PR — reported by Bianca.
ARCHIVAL / Aquí Vive Gente
Bianca: Están quienes llegan con ventajas y beneficios y están quienes llevan aquí toda una vida y ahora sienten que les quieren sacar…
Alana: She explained how people from the states are taking advantage of tax benefits and displacing Boricuas all over the archipelago.
Bianca: How Puerto Ricans feel like what belongs to them is being taken away.
Alana: She focused on one particular neighborhood, called Puerta de Tierra. Outside investors have bought up residential buildings there, evicting residents and turning the apartments into airbnb's for tourists. And not only that…
Bianca: The school in Puerta de Tierra was shut down. And once that building was empty, the government sold it to an investor who is now turning it into luxury apartments with an ocean view. So, two examples of people feeling like they're being pushed out.
Alana: El Apagón, ends with this defiant verse:
[MUSIC - "El Apagón," Bad Bunny: "Yo no me quiero ir de aquí, que se vayan ellos, que se vayan ellos…"]
Alana: "I don't want to leave here, they should go." But even a song about staying is about the possibility of leaving. That choice — a choice so many of our families have made over the generations, and continue to make now — hangs over everything we do.
[MUSIC]
Alana: It's in Bad Bunny just as much as it's in Rafael Hernández. It's in our reggaeton just as much as in saccharin anthems from Puerto Rico's past. Maybe this Bad Bunny and Rafael Hernández comparison is a little much — they're a century apart, writing from different places, and only one of them sings frequently about oral sex. But both of them tie this little island to all the other islands, carry us to other shores, and make me feel …somehow, bigger. And maybe you as well.
Bianca noticed the resonance after the video for El Apagón came out…
Bianca: I've gotten so many messages and so many interview requests from countries, especially in Latin America saying, you know, we saw ourselves in that story even though we're not Puerto Rican, we have those same issues here.
Alana: If you look at the comments on YouTube, there are declarations of solidarity from all over Latin America –
Person 1: Soy Mexicana..
Person 2: From Chile..
Person 3: Soy Colombiana…
Person 4: Soy peruano y admiro todo lo que haces por tu país.
Person 5: Costa Rica camina mano a mano con todos.
Person 6: Y este documental me conmocionó hasta las lágrimas.
Person 7: I'm Salvadoran but this, this made me cry.
Alana: The idea that you can't live where you're from, that your government isn't working for you – it's for the powerful… and that you get squeezed out… we all get it.
Person 1: I send you strength to continue fighting. No dejen que les quiten sus tierras, ni que los traten de ignorantes.
Person 2: Soy de Cuba. Es tan triste que pasen tantos años y aún sigamos en lo mismo.
Person 3: Y qué dolor la verdad, ver y escuchar lo que está pasando.
Person 4: I don't think any other artist defends their country the way you do.
Person 5: ¡Fuerza! a todos mis hermanos y hermanas de Puerto Rico!!
Person 6: Dios los bendiga.
Alana: So, this season on La Brega – we're going to celebrate that power, the way that… whether it's Preciosa or El Apagón… there are deep lessons woven into our songs. Lessons that resonate across borders.Lessons that serve us, and sometimes hold us back. Lessons that push us, and ask us to imagine more.
You get it. There's always more to our music than meets the ear.
Gabby Rivera: Sometimes, to do a lotta work, you gotta speak all the languages.
Ana Macho: Estaría bien cute bien cute bien cute.
Stacey DiLiberto: This is what I'm all about, dude.
Jessica Parker Ríos: Un Puerto Rico de ensueño.
Lia Camille Crockett: It's the classic…gets all the tías moving…
Afrika Clivillés: La lucha sigue, pero no es una lucha triste.
José Masso: He had this persona of being el malo, right?
Bianca: They just strike a chord in your heart and they make you want to just book the next flight home.
Alana: I'm Alana Casanova Burgess, and this is La Brega: The Puerto Rican experience in eight songs. This was Track One: Preciosa.
Micah Loewinger: You can hear new episodes of La Brega every Thursday through the end of March. Episodes are available in English and Spanish. Just look for La Brega in your podcast app and tune in at the end of the week for the latest episode of On the Media. And don't forget to sign up for our newsletter at On the Media board. We've got a couple of new writers at the helm, and we're trying something a little bit different. Take a peek and let us know if you like it. Thanks for listening. I'm Micah Loewinger.