How the Prosecutor Became the Most Powerful Person in the Justice System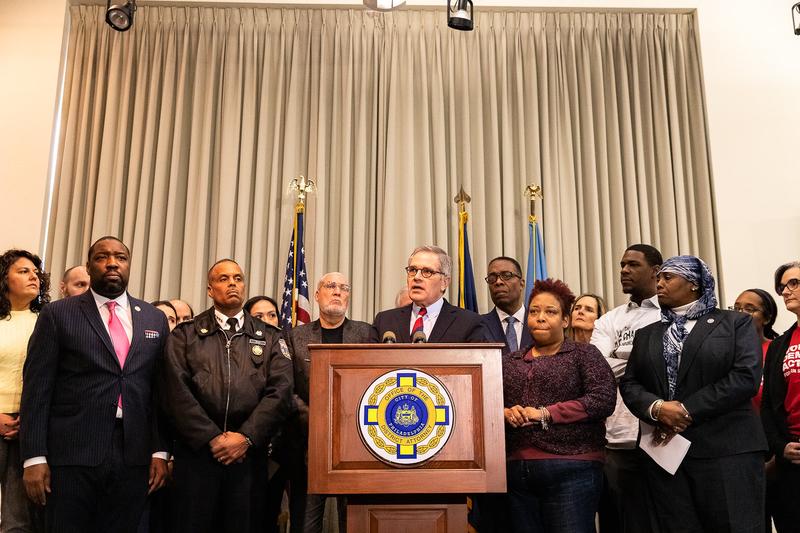 Transcript
BROOKE GLADSTONE This is On The Media. I'm Brooke Gladstone. And this is Joe Biden in June on the debate stage in a smack down with Kamala Harris.
[CLIP]
JOE BIDEN I was a public defender. I didn't become a prosecutor. I came out and I left a good law firm to become a public defender. When in fact--. [END CLIP]
BROOKE GLADSTONE Biden was harkening back to the era not so long ago when the prosecutor was not seen as the predominant defender of the American way. After all it was the public defender who protects the rights of the poor, of the unpopular, even the guilty. Prosecutors prosecuted.
EMILY BAZELON Historically prosecutors have won re-election by promising to be as tough on crime as possible.
BROOKE GLADSTONE That's Emily Bazelon, we just heard from her sister, staff writer at The New York Times Magazine and author of Charged: The New Movement to Transform American Prosecution and End Mass Incarceration.
EMILY BAZELON You just couldn't lose by beating the law and order drunk.
BROOKE GLADSTONE Before the 21st century, though prosecutors safeguarded the public in their fashion, defense attorneys were often more admired as protectors of the underdog.
EMILY BAZELON Abraham Lincoln did criminal defense work. And so then when you get to the mid-20th century in the 50s and 60s, we have the fictional character of Atticus Finch in To Kill a Mockingbird.
[CLIP OF TO KILL A MOCKINGBIRD]
ATTICUS FINCH Defendant is not guilty. But somebody in this courtroom is. [END CLIP]
BROOKE GLADSTONE We had TV's Perry Mason.
[CLIP]
PERRY MASON And you didn't plant Fallon's note in his pocket.
NICHOLS

No, no, no.
PERRY MASON No Mr. Nichols, you didn't kill Thompson. But you did Mr. Wells. [END CLIP]
EMILY BAZELON I think there was just more cultural recognition of the job of the defense lawyer.
BROOKE GLADSTONE Then let's get to an entire generation, Beginning in 1990. Law And Order, the small screen expression of an era already underway.
SAM WATERSTON AS JACK MCCOY Where there is a law I'll enforce it. Where there's a crime I'll prosecute it. And where there's a victim, I'll speak for that victim. That's my bottom line.
EMILY BAZELON Right. Our heroes are the people who are prosecuting the crimes. That was also a good fit with what was happening in that moment. You know, starting in the late 70s and the 80s, we have a rise in crime that scares a lot of people. And we start to see politicians, you know, really beginning with Richard Nixon, winning office by promising to be as tough as possible. And the other thing that's particularly true on television and in the media is we lift up the trial even though, starting in the 80s, the trial begins to vanish from the reality of the American criminal justice system. It's almost as if we're more attached to the trial on television the less people actually experience it in reality.
BROOKE GLADSTONE That factoid in your book really just stopped me in my tracks. That 95 percent of decisions are made in plea bargains and never get to the bench.
EMILY BAZELON And what's going on here is prosecutors growing in power. What you see in the 80s when there is this rising crime are tougher sentences.
[CLIP]
GEORGE H.W. BUSH The states need to match tougher federal laws with tougher laws of their own.
BROOKE GLADSTONE George H.W. Bush.
GEORGE H.W. BUSH Stiffer bail, probation, parole and sentencing. [END CLIP]
EMILY BAZELON And one of the main mechanisms for making sentences harsher was the mandatory minimum sentence. Tie the hands of a softy judge and make sure that this person is going to prison for a certain amount of time. The goal was to eliminate discretion. But the problem is you can't eliminate discretion from the criminal justice system.
BROOKE GLADSTONE Discretion moved from the judge to the prosecutor.
EMILY BAZELON Exactly. The dual role of the prosecutor is that they are supposed to both focus on winning convictions and also being ministers of justice because they represent the state and the court. The problem is that winning convictions can very much take over. Some prosecutors offices have traditionally given out awards. When you put someone away. I think it is also true that if you get used to seeing yourself as wearing a white hat you can lose sight of other kinds of values and of your own fallibility. And so if you have a lot of power and then you also see yourself as being the force of righteousness, are you going to start to cut corners? Are you going to think, 'OK well I know this person is guilty so maybe I'll withhold some evidence of their innocence.' The problem of believing that the ends justify the means.
BROOKE GLADSTONE There's a history of prosecutorial digging in. There's one case you describe a guy is sent up the river for rape. Then through DNA evidence they find the actual rapist, they try him, they throw him in the clink but they won't let the first guy go.
EMILY BAZELON That was a really shocking case for me as well. It involves a defendant named Joe Buffey and it took place in a small town in West Virginia. You know, it's so important to say like most prosecutors would never do something like this but sometimes you get people who are just so self-righteous or so unwilling to imagine the harm they've done by putting an innocent person in prison that they're just not willing to back down. And that is certainly what happened in Joseph Buffey's case. The West Virginia Supreme Court overturned his conviction and the prosecutors just insisted, well even though the DNA evidence implicates someone else and we actually caught that guy who had a record as a sex offender, we're now going to concoct some accessory role in this crime for Joseph Buffey even though the victim never said there was a second person present.
BROOKE GLADSTONE I was actually shocked by the lack of oversight. All the battles lost in the effort to impose some oversight on district attorneys.
EMILY BAZELON In the 1970s, the Supreme Court has this question, 'what kind of immunity from suit showed a prosecutor have?' And they pick the very highest level it's called absolute immunity. And it basically means that if you can say that what you did wrong was in the course of doing your job, you're not going to be personally sued. Prosecutors can do things like not disclose or even deliberately hide evidence and very rarely get punished. Nobody in our system should have that kind of ability to abuse the system.
BROOKE GLADSTONE You get to investigate yourself if you need to be investigated.
[CLIP]
MALE CORRESPONDENT Hey Massachusetts, here's a pop quiz. Who's the most powerful person in the criminal legal system? No, it's not a judge. It's a local district attorney, your DA. What makes your DA so powerful? For one, they decide who gets charged with the crime but more importantly they determine how most criminal cases are resolved. And in Massachusetts 90 percent of criminal cases are resolved by plea bargain. In many instances, judges have almost no role in the plea bargaining process. [END CLIP]
EMILY BAZELON The plea bargain is the grease that keeps the wheels of the system spinning.
BROOKE GLADSTONE I think a lot of people would be inclined to think, 'why would someone plead guilty to a serious crime that they didn't commit?'
EMILY BAZELON You can feel coerced or forced into pleading guilty because if you decide that you want to go to trial the penalty will be so much higher than the offer the prosecutors are making. For example, there's a man in prison in Louisiana prosecuted by the New Orleans DA office, which is one of the offices that historically has had this problem of hiding evidence, arrested for a robbery at gunpoint offered a 15 year plea deal if he pled guilty. He said he didn't do it. It's a pretty shaky victim ID. There is no other physical evidence against him. He decided to roll the dice and go to trial and he is serving a 65 year sentence. This is someone who was 19 and who had one prior drug crime on his record.
BROOKE GLADSTONE In 2012 you found the average sentence for federal narcotics defendants who entered a plea was five years and four months. The average sentence for defendants who went to trial was 16 years.
EMILY BAZELON Right, so I would argue there's something wrong there because the people who went to trial and the people who pled guilty, one group is not necessarily more culpable or more dangerous than the other group. You're really talking about the kind of pressure that the system exerts on defendants in order for the system to keep functioning at a fast rate.
BROOKE GLADSTONE Let's talk about bail because a lot of progressive prosecutors in this recent wave are focused on that system.
LARRY KRASNER Arguably the best and most successful zero money bail system is Washington D.C., which has been working that way for 30 years.
BROOKE GLADSTONE Larry Krasner is Philadelphia DA and a resolutely progressive prosecutor.
LARRY KRASNER This illegal, under D.C. law, to have money be any aspect of bail. So they only have two speeds on a car. One speed as you get released, maybe there's some conditions. And the other speed is that there's no amount of bail you can pay to get out. What that really works out to in Washington D.C. is about 12 percent are held without bail. And if you are if you are Mark Zuckerberg and you are charged with something, you're not getting out because no amount of money will get you out.
BROOKE GLADSTONE I just wondered whether most Americans still see prison as a first resort, the safest approach.
EMILY BAZELON When you look at polls that ask people, 'are you more likely to vote for a candidate who's interested in reducing mass incarceration,' or 'increasing racial fairness in the system,' the majority of people say yes. The majority of Democrats, independents, the majority of Republicans across the board, if you're not so concerned about individual justice you might be worried about the fact that your tax money is not being well spent. When you're thinking of 2.2 million people who are incarcerated in America today. And so I think there is an increasing bipartisan openness to alternatives.
BROOKE GLADSTONE You talked about the phenomenal number of, of people who are incarcerated in this country. There's even a more phenomenal number for people who are quote 'under supervision.'
EMILY BAZELON Yeah I thought that parole and probation were about helping people reacclimate when they get out but they increasingly function in a way that simply penalizes people. The average person on parole in this country has to live with something like 20 conditions. Things like, 'I'll never go to a bar without the approval of my probation officer. I have a curfew every single night of 9:00 or 10:00. I'm not allowed to see people in the community who've been convicted of crimes.' These are things that are very hard to live under for years and years as an adult human being.
BROOKE GLADSTONE And how many people are under supervision?
EMILY BAZELON Five million. An enormous population of people and in some states as many as two thirds of them cycle right back into jail and prison.
BROOKE GLADSTONE What is the incentive to land these people back into jail?
EMILY BAZELON If your biggest fear is the headline of the person who gets out of prison early and then commits a violent crime, you want to be able to say, 'well, we were doing everything we could to control their lives and keep them under wraps.' Like Willie Horton, right? He was out on furlough.
BROOKE GLADSTONE It's 30 years since the campaign for president between George H.W. Bush and Michael Dukakis.
[CLIP].
MALE CORRESPONDENT Dukakis not only opposes the death penalty, he allowed first degree murderers to have weekend passes from prison. One was Willie Horton who murdered a boy in a robbery stabbing him 19 times. Despite a life sentence, Horton received 10 weekend passes from prison. Horton fled, kidnapped a young couple, stabbing the man and repeatedly raping his girlfriend. Weekend prison passes, Dukakis on crime. [END CLIP]
BROOKE GLADSTONE For her book, Emily was following that kid in Brooklyn who was caught in a house with a loaded, unlicensed gun and faced serious violent felony charges. But he was lucky. After months of work he won acceptance into a diversion program where he pleaded guilty and could still serve time, but he got a year with a social worker, a year of goals and some serious restrictions to get his life back together.
EMILY BAZELON One day I was in court with this young person and the DA's office said, 'OK, we're ready to accept this diversion program for you. We think that you can do it.' So then the prosecutor and the defense lawyer walked into the courtroom with the judge who'd been overseeing the case. And she said, 'I'm not doing this. You have to find another judge.' The prosecutor and the defense lawyer are scurrying over the entire courthouse in Brooklyn to find a judge who's willing to let this kid take a plea bargain to this diversion program. Why did that judge refused to take this plea deal? There was this negative story from years earlier where she had agreed to drug treatment for someone in her courtroom who had then not even committed a violent crime, but he had been accused of like harassing a motorist and that bad headline had clearly spooked her from giving other people second chances. That's how we got a lot of over incarceration and that kind of media coverage, it's really toxic.
BROOKE GLADSTONE What do we know if anything about the rate of convicts in diversion programs reoffending?
EMILY BAZELON It depends on the program. There are very few diversion programs for people convicted of felonies. This program in Brooklyn I was describing has a very good record, a much lower rate of rearrest and reconviction than people who go to prison and get out on the other end. Again, it's all about whether you're willing to take a risk and see someone as more than the worst thing they're accused of doing. You know, one thing that I have thought about so much as I've been following young people charged with crimes for the system, I have two teenage boys, affluent white kids. And they have a lot of capacity to make mistakes and get forgiven for them. I just see the opposite so often when I'm in court with poor kids, especially black kids. This assumption that they don't deserve a second chance or the benefit of the doubt.
BROOKE GLADSTONE Since we don't have a lot of data about whether people in diversion programs go on to commit more crimes or don't, could you tell me about the program in Honolulu.
EMILY BAZELON What was happening was that people on probation in Hawaii were threatened with lots of time in prison if they failed a drug test. Probation officers just wouldn't report the first one or two or three or more violations because the punishment seemed so out of proportion to the mistake that people were making. This one particular judge came in and he realized that he was only finding out about failed drug tests like the fifth or even the tenth time that it had happened. And so what he said to the probation officers was, 'I want punishment to be swift and certain and I think it can be really small as long as people know that they're going to get in trouble.' And so the new rule was that if you failed a drug test you were going to jail only for maybe 24 or 48 hours but you could bank on it.
BROOKE GLADSTONE What the researchers found was that the shorter but swifter and more certain punishment was enough to compel the test subjects to pass their drug tests at far higher rates. And this has profound implications for public safety. In America, there is roughly a 40 percent chance that you will get away with murder. And despite the dire consequences for those who are convicted, our homicide rate remains relatively high compared to say Germany, England or Switzerland– countries that don't routinely pay for a life by taking one or locking it away forever. Countries that incidentally also solve murder cases at far higher rates. The point here is that it's hard to catch a murderer but it may be worth taking resources from other things to do it better.
EMILY BAZELON Because if you're the shooter on the street you can think that you probably get away with it. And that might make you much more likely to take a chance even if you're facing a really heavy sentence than someone who thinks, 'you know, what I'm gonna get caught.'
BROOKE GLADSTONE So with limited resources, go after the murderers. One murderer is better than a hundred people jumping turnstiles.
EMILY BAZELON Right. Unsolved murders create this reality that people can commit terrible crimes with impunity. That's a real public safety threat.
BROOKE GLADSTONE Non-violent crimes are low hanging fruit. They're much easier to apprehend those people and much easier to solve. Of course, there is the argument that fewer daily crimes, jumping turnstiles and so forth, have led to the great drop in crime that we have seen in cities all across the country.
EMILY BAZELON So if you think back to the 80s and 90s there was this theory of policing and prosecution called broken windows. And the idea was that if you didn't catch every single person who sprayed graffiti or broke a window in a neighborhood you were encouraging crime to breed there. We spent an enormous amount of resources locking people up based on that theory. And in cities like New York it really led to stop and frisk. Police are jacking people up all over the place especially, black and brown people and you see this very high rate of arrests.
[MUSIC UP & UNDER].
EMILY BAZELON When Mayor de Blasio significantly pulled back on stop and frisk, pretty much everybody who studies this in New York and elsewhere thought, 'OK, well now we're going to have to brace for a crime spike here.' And that just didn't happen. New York's amazing and dramatic drop in crime, which really is like a phenomenon. I mean New York City has right now the same kind of crime rates that it had in the 1950s for violent crime. It turns out that just does not depend on anything like a broken windows theory. And there's also proven out in other cities.
BROOKE GLADSTONE According to the Human Rights Defense Center, statistically U.S. law enforcement agencies are the worst crime solvers in the western world, despite steady declines in the overall murder rate. Some suggest it's due in part to the long delay before DNA tests are obtained. Most suggest it's the deep distrust people in the most crime wracked places have of the police. In any case, it's a problem.
[MUSIC UP & UNDER]
BROOKE GLADSTONE Coming up, what progressive prosecutors offer in the way of solutions. This is On The Media.