The Pfizer Vaccine Isn't a Home Run Yet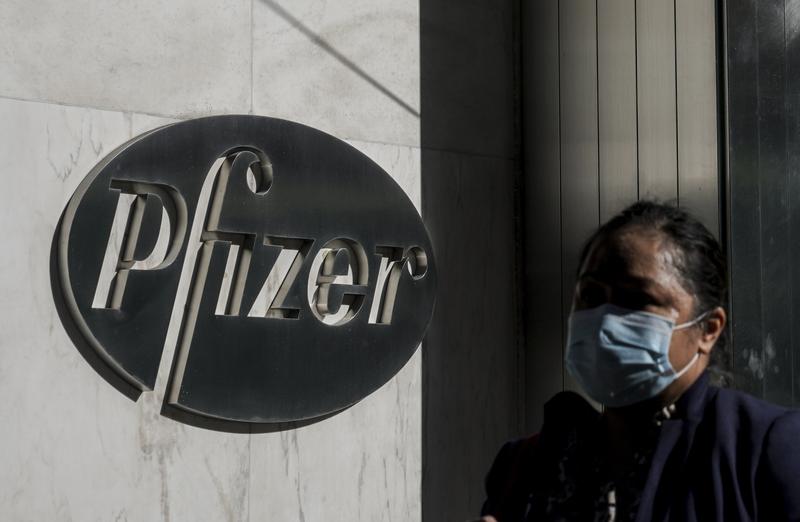 Transcript
Brooke Gladstone: Pfizer announced Monday that its vaccine demonstrated more than 90% effectiveness and no bad reactions in trial results, an outcome that should enable the company to obtain an emergency authorization in a couple of weeks, once it has more data.
Newscaster: The two-dose vaccine given three weeks apart is being called one of the biggest medical breakthroughs in a century.
Brooke: On Monday with the sixth straight day of 100,000 plus daily coronavirus cases, and the rolling average of deaths per week rising toward the 1000 mark yet again, any break was bound to feel like a big one.
Newscaster: Markets are soaring right now you see the big board right there, the Dow up more than 1000 points.
Newscaster: Pfizer stock price jumped nearly 8% and optimism, its vaccine could unlock economies, lifted up companies that have been battered by COVID.
Brooke: Between the vaccine and the unveiling also on Monday of a Biden-led COVID Task Force, it seems like the rare pandemic era day in which the good news could compete with the tragic.
Laurie Garrett: Certainly the vaccine experts out there are all quite excited. I would say it's fairly universal.
Brooke: The Pulitzer Prize-winning science writer Laurie Garrett wrote this week in Foreign Policy, that even if this vaccine works as advertised, there are still plenty of reasons to worry about how much good it can do. Beginning with caveats about the vaccine itself.
Laurie: We have never made a vaccine, and certainly never administered it to human beings before, that was made from messenger RNA, which is the translation that carries the signals from your DNA blueprint to the ribosome to make proteins, and in this case, the protein it's supposed to be instructing your body to make is the spike protein which sticks out from the outside of the virus.
The spike proteins are the key thing the virus uses to find a doorknob to open to get into your cell. It is also the key thing that triggers the immune response and that includes making neutralizing antibodies. The idea is to get your own cells to make the proteins so that your immune system says, "What the heck is this," and comes in and starts devouring protein.
Brooke: Most vaccines trigger the immune system using whole sturdy virus cells, but this trick begins with a much smaller, much fickler messenger or mRNA and there's the trouble.
Laurie: MRNA is not stable, it falls apart very easily and warm temperatures in the presence of air, sunlight, anything that isn't like being packaged inside of the cell. It must be stored in ultra-deep freezers minus 100 to 110 Fahrenheit. That's way below what your freezer can handle and it's way below what most health departments have and certainly way below what most portable equipment can handle as far as freezing something so you can transport it. That's a big roadblock down the path.
Broke: Caveat number two is about the process, which has been openly speedy with permission from regulators at the FDA.
Laurie: The agreement was to bypass a whole lot of things that would normally be done in the vaccine production process in order to make it all go much, much, much faster. Instead of putting three or four years into the effort, we're putting in a few months. They recruited some 47,000 volunteers from all over the world, but in a press release, they presented data on about 34,000 of them, the rest haven't yet completed their process. Everybody had to have their first shot and then 20 days later, their second shot, and then seven days after that they got a COVID test.
The results presented are what was found at that seven-day point. They then went into negotiations with the FDA to retest everybody at a 14-day point. The bottom line is this is all extraordinarily unusual, and if indeed it is 90% protective going up two weeks, two months, five years, whatever, then this is a home run, but there's no way to know that at this point.
Brooke: Caveat number three, the extent of the infection itself. Pfizer promises 50 million vaccine doses this year and more than a billion next year, but the global case count currently stands at 50 million and we're entering another period of exponential growth.
Laurie: We are now seeing surges in most states that far exceed what we were dealing with in the spring and far exceeded the peak in mid-July. We are galloping at a mad pace. Just 30 days ago, we were astonished because we went over 50,000 cases in a 24-hour period and now we're at 130,000 cases in a 24-hour period. At this rate, we will reach Thanksgiving with 200,000 new cases a day. We are seeing a huge and very troubling surge in hospitalizations. Many states and localities are already reporting their hospitals to be full.
El Paso, Texas, and the Dakotas are really leading the pack right now. In El Paso, they now have refrigerator trucks lining the streets because the morgues are full. All of their intensive care units are over full. Similarly, the Dakotas have over-saturated all available facilities. At least 43 states have cities and localities facing this level of surge. The other thing that's quite different about what's going on now compared to even the summer surge, much less the initial surge in the spring, is that it's really spread out all over America. It isn't localized. You can't just say, "It's Miami, Fort Lauderdale," or "It's New York and New Jersey."
This is everywhere in the entire United States. It is rural, suburban, urban and as a result of our American ongoing catastrophe, there's spillover so that now for the first time, Canada is really entering into crisis, in particular in Ontario province, with a huge surge of cases. Mexico is in a very acute crisis with COVID that is escalating and filling hospitals all over Mexico. It's really an all of North America phenomenon now.
Then, Brooke, here's the other thing, we've [unintelligible 00:07:02] these numbers around. You'll hear there were 130,000 new cases yesterday, you'll hear there were 1,100 deaths yesterday, and you'll say, "Oh, that's really bad, but at least it's not 3,000 deaths and 300,000 new cases and a total of 350,000 dead cumulatively," but it might be. Those might be closer to the real numbers.
Brooke: On Tuesday, ProPublica released a review of state vaccine distribution plans that were ordered by the CDC. It found that officials don't really know how they're going to deal with the storage and transport requirements of the vaccine, of Pfizer's vaccine, especially in rural areas that are seeing a spike in infections. Who would ever imagine that the day would come when the dry ice supply would become a life and death issue.
Laurie: Well, long before any news reporters did stories, saying this is the situation, Andrew Cuomo took over as president of the National Governors Association. The association took a sweeping look at the state of readiness of its members and at questions they had to pose to our Centers for Disease Control, which is supposedly in charge of all of this, and the White House.
It's a very long list of questions, several pages, and as you go through it, you can see it's really a cry for help from the states. They're saying, "Look, if you need us to have portable storage capacity for minus 100 degrees Fahrenheit coolers, and you're telling us it can't even be out of a cooler for one minute, then who's going to buy all this because we're out of cash."
As you go through the list of logistic concerns, it's enormous. We have no example of an adult administered vaccine for which we're good at doing boosters. It's very hard to track adults. It's not like children who go in with mom or dad to routine proscribed pediatric visits, and somebody keeping a record in that doctor's office and okay, it's time for a booster on your measles vaccine, nothing like that for adults.
Most adults, for example, may have only gotten one hepatitis shot, never did get a booster. Similarly, you can go down the line the shingles vaccine, there's two of them, you should have two of them, but most have only done one and they can't tell you which one. Then you add to that, that there's a lot of resistance against getting vaccinated. The whole COVID situation has been like putting lighter fluid on the anti-vaccine movement. There's a huge lot of people out there who for a variety of different reasons, pick your favorite conspiracy, are absolutely sure that the COVID vaccine is nefarious, evil, horrible, and should be shut.
One of the most remarkable theories out there is that this is all a plot from Bill Gates, who has invented a little nano-device that's going to be in all these vaccines and so when you get an injection, there will be a tracking device that will monitor your every movement for the rest of your lives and send all that data to Bill Gates. [laughs]
Brooke: Like he cares where I go.
Laurie: Seriously, like, "Hey, Bill, you could have at it, probably you or your people know, because I have a Microsoft computer."
[laughter]
Brooke: What Cuomo was talking about was the readiness for states to serve their citizens. If they want a vaccine, in the data that ProPublica got, Washington State's Health Department said it didn't have enough warehouses that could store the vaccine at a cold enough temperature. Arizona expects that the vaccine won't be able to be handled by the rural communities and tribal lands.
North Dakota, Oregon, aren't sure how they're going to take care of migrant workers. Kansas appears to mistakenly assume shipments will be far smaller than a thousand doses. Georgia's Public Health Department is relying on local districts and counties to work out their own details. Do you have a percentage for the anti-vaxxers? What happens to the people who are left?
Laurie: There've been multiple surveys done to assess willingness to get vaccinated and a great deal of this was presented to the National Academy of Medicine, as they were trying to figure out what to do about setting priorities about who should get first access to vaccine and so on. What you see is pretty consistently, regardless of who's doing the polling, it's running about 25 to 30% of the population says, "Yes, I will roll up my sleeve right away and take a vaccine," and then about 55 to 60% say, "I'm going to wait and see what happens to the first guys and if they don't drop dead or have some horrible side effect, then I'll go get it and I'll take my family with me.
Then you have a hardcore remainder that say, "Under no circumstances ever. No matter what. I will get COVID, I don't care. I absolutely will never get vaccinated." When you do the math, you can see that even if you believe it's possible to have herd immunity in our society so that we can all just take our masks off and assume there's no more virus out there, even if you think that's possible, which is a whole separate discussion, we don't have sufficient willingness to get vaccinated that we will have over 80 to 90% of our population immune to the virus.
Brooke: Now the federal program called Operation Warp Speed is only supposed to be responsible for delivering the vaccines to the states. Then it's up to the states to figure out on their own how to get the shots to the people who most need them.
Laurie: I would also add, it's up to the states to figure out how to message and communicate about the vaccine so that they get a higher response affirmative rate from their population, and the federal government is not offering to assist in that in any way.
Brooke: If we allow ourselves to imagine that this vaccine works beyond that seven-day window and if the FDA says "Go", then, we're still up against your forth caveat, is our public health system prepared to distribute this vaccine effectively or equitably or even at all?
Laurie: Especially when you get down to questions, like one of the populations that seems to have the highest or second or third-highest rate of infection and death is n\Native Americans and in particular, there's a huge problem with COVID on the Navajo nation, Hopi nation, Zuni nation, the tribal groups that are in the Southwest. These people for the most part live in very spread-out rural areas where the drive time just to go to the store and buy some eggs can be a couple of hours. The idea of figuring out how to keep track of everybody on the Navajo nation, for example, and vaccinate all of them and then find them all again for the second round it's staggering.
We have within our nation sub-nations and sub-populations for whom access to the medical system has always been problematic and now you're asking for this thing in a freezer that has to be handled by highly trained individuals and they have to keep track of everybody and find them all again, 28 days later.
Brooke: I raised dry ice at the beginning of this, is that a supply chain issue, supply chains that got disrupted by the virus?
Laurie: Actually, the dry ice problem is a really interesting one. It's directly correlated with the only upside of the COVID crisis, the one and only good thing about it, which is a decrease in fossil fuel consumption the burning of ethanol and other fossil fuel products and it turns out that dry ice is made from CO2 exuded in the consumption of ethanol. There's actually a shortage worldwide for a good reason.
Freezer units, cold chain freezer units have been developed to try and improve what's called the culturing maintaining their proper temperature of vaccines from the point of manufacturer all the way into the arm of the recipient or the mouth if it's drops. We're very good at it now for child vaccines, but none of them, nothing that we're administering requires ultra-cold deep freeze and so this is a real technological hurdle.
There are many groups trying to work on it right now. We'll see how quickly they can, but whatever it is, it's going to involve money for the states. They will have to buy a lot of something, whatever it is and they will have to have people trained and know how to monitor them, make sure that the vaccines never get above a certain temperature threshold. This is going to be tricky.
Brooke: Is something going on now that you know of, or do you expect that all this is going to have to wait until Inauguration Day?
Laurie: The problem is the whole accountability and believability issue that we've been facing for four years with the Trump administration on everything. As far as COVID goes, when in doubt, assume they're lying to you because that has been what's happened with us. We hear from Operation Warp Speed, "We've got the dry ice figured out," and they don't tell us exactly how it's figured out, what the cost margins might be, who's going to pay for it. None of that information is available. If you go down the list, most of the people who are appointed by the President to handle this whole thing are telling us they have everything figured out and the state should stop complaining.
Brooke: Maybe they do, but it's likely to be what they had with regard to PPE and testing and all of the other things that the US was supposedly so fantastic at and the envy of the world, right down to the numbers of cases and then avoiding studiously the numbers of deaths, that there's just no credibility left.
Laurie: Listen, Brooke, just a couple of hours ago, for an article I was working on, I looked up data at the AMA and we still have very acute PPE shortages all over the United States. This is the conservative American Medical Association saying this, not some radical rowdy group out there. Anybody that tells you that we solve the whole problem, there's plenty of masks, plenty of gowns, plenty of goggles, no shortages of anything, healthcare workers are fully protected, they're not talking to the healthcare workers if they're saying that. It's not true.
You can go down the line one supply chain question after another and we still have problems. Well, now we're about to go into some really big territory and it's not just, "Do we have enough dry ice and coolers" whatever the nature of this cooler maybe but, "Do we have enough syringes? Do we have enough of the proper gloves for the person to wear who's administering the vaccines? Enough little alcohol swabs to swab the point at which you're going to get poked?" and you can go on and on down the list and there will be shortages. Everybody is hearing from the president's office that, "This has all worked out. Nothing to worry about."
Brooke: Laurie, thank you very much.
Laurie: Always happy to be with you, Brooke.
Brooke: Laurie Garrett is a Pulitzer Prize-winning science writer whose article in Foreign Policy was titled, The vaccine news is good. Here's the bad news. Thanks for listening to this podcast extra, you can find the big show at, onthemedia.org or wherever you listen to podcasts on Friday around dinner time. I'm Brooke Gladstone.
Copyright © 2020 New York Public Radio. All rights reserved. Visit our website terms of use at www.wnyc.org for further information.
New York Public Radio transcripts are created on a rush deadline, often by contractors. This text may not be in its final form and may be updated or revised in the future. Accuracy and availability may vary. The authoritative record of New York Public Radio's programming is the audio record.