OTM presents The Experiment: Who Would Jesus Mock?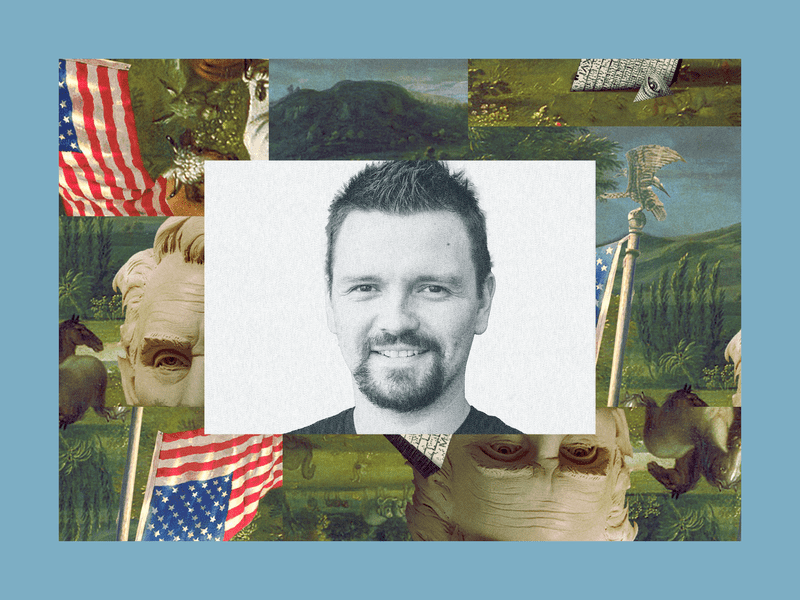 Transcript
BROOKE GLADSTONE: This is the On the Media midweek podcast. I'm Brooke Gladstone. This week, we're featuring an episode of a show made by our producing station, WNYC in collaboration with The Atlantic magazine. It's called The Experiment. This episode is all about the Christian satire website, The Babylon Bee. Here's the host of the show, Julia Longoria.
JULIA LONGORIA: I recently asked Atlantic staff writer, Emma Green, to pull up a joke that she'd told me from a Christian satire website called The Babylon Bee.
EMMA GREEN: Here we go. This is from their early days, from 2016. The headline is Holy Spirit Unable To Move Through Congregation As Fog Machine Breaks, which is really funny because-- I guess now I'm explaining the joke, which is a little lame. This is poking fun at the fact that there's a certain kind of megachurch where the environment is very much like a rock concert. It's like fog machines and skinny jeans and neon lights. It's just a funny joke to be like, "We're here to be reached by the Holy Spirit but the fog machine kept us from doing that because we got distracted thinking that the fog machine was the point."
JULIA: Emma, of course, covers religion for The Atlantic and she first came across The Babylon Bee as this sort of evangelical answer to The Onion.
EMMA: I remember thinking, "Oh, this is something different. This is insiders who totally get what evangelicalism is and love it and consider themselves part of it and also just told a really hilarious joke about smoke machines at a megachurch."
JULIA: If you've followed The Babylon Bee over the last few years, you know it doesn't just poke fun at megachurches.
EMMA: The Babylon Bee has always had a political streak to it and you could say a political mean streak. Like the headline, Trump Announces Illegal Immigrant Gladiator Games, or another one, Hillary Turns To Husband For Advice On Attracting Young, Impressionable, Female Voters. As these political posts have started to go viral, they have gotten a lot of criticism for pushing satire past the line of making jokes and into misinformation.
LISA KENNEDY MONTGOMERY: Liberal media wouldn't know a joke if it punched them in the Tic Tac sack, especially jokes from a popular satire website, The Babylon Bee.
TUCKER CARLSON: The New York Times recently denounced The Babylon Bee as, "A far-right misinformation site, sometimes traffics in misinformation under the guise of satire," No humor allowed.
EMMA: With my reporting, I spend a lot of time in the evangelical world that The Babylon Bee inhabits. I wanted to know directly from them, what do they think they're doing when they're telling these jokes? I called the editor-in-chief of The Babylon Bee, Kyle Mann.
KYLE MANN: I'm not going to explain the joke to you. Do you want me to explain the joke to you?
EMMA: Yes.
KYLE: Because the joke is that--
EMMA: Humor is this weird thing where either you think it's funny or you don't. Either, you see it as a joke or you don't. I think understanding the why behind that can also help us understand something bigger about politics, about this divided political world that we're living in. I really think it's important to understand the people who think that The Babylon Bee's jokes are funny.
[music]
JULIA: This week, Atlantic writer Emma Green sits down with Kyle Mann, the editor-in-chief of The Babylon Bee to talk about Christianity and comedy.
KYLE: There's this idea that conservative comedy can just say something and everybody will laugh because they agree with it. If it just comes off as angry, it's not going to hit that mark. It has to be clever. The balance of comedy is trying to find that line.
JULIA: Where is the line between making a joke and doing harm? What can humor tell us about where we are right now as a country? I'm Julia Longoria. This is The Experiment, a show about our unfinished country.
[music]
Emma, you sat down with Kyle Mann. I'm curious, how does he fit into the evangelical world that you know so well? Did he grow up religious?
EMMA: Yes. The environment where he grew up was the kind of feel-good, rock-concert Christian environment that that fog-machine joke makes fun of.
KYLE: I grew up in a kind of megachurch-type atmosphere with the big show and the laser lights. My rebellious-teen stage was becoming a theological conservative. A lot of my buddies have a similar story where Christianity had become this just cultural tradition and so the call of conservative theology for us was like, "Wow, there's this rich, centuries-old tradition of good, solid, biblically, faithful teaching where people just dig into the Bible and they just see what it says, you know, and that's the primary concern.
EMMA: More or less, Kyle is part of the Philosophy Bros of the Christian world. This is exactly who The Babylon Bee was trying to target when they first launched in 2016. Even though Kyle didn't have a formal comedy background, he started pitching jokes to the beat.
KYLE: It was more the natural outpouring of everything I had just enjoyed in life. I absolutely loved all of Christopher Guest's mockumentaries and I love The Onion. Anything that's just very dry, Monty Python or that kind of stuff. That's like, to me, the gold standard of comedy.
EMMA: A couple of years later, Kyle ascended to the top and started running the place.
KYLE: As an editor, I have to think along a lot of different axes like, "Has anybody done this joke before? Is this in The Babylon Bee's voice? How could this possibly be misinterpreted?" There's constantly stuff that I can't publish. It's just, "Yes, here's the problem with that one. I know exactly what lefty Twitter is going to say as soon as we publish that." You have to be careful with that.
EMMA: Are you scared of lefty Twitter? You're scared of the dogpile?
KYLE: No. Lefty Twitter doesn't matter to anybody except lefty Twitter, so I don't really care. They've hated us for five years and so it doesn't really matter that much. At the same time, we do have this brand that we want to be careful. We don't want to make it easy for them either. We did this great joke, one of our best jokes. The headline is Dumb AOC Accidentally Strangles Herself Tying Her Shoes (Because She Is So Stupid). We've reposted it to Twitter a few times. Every time we do, lefty Twitter gets so upset and they're like, "I can't believe they wrote this joke. Who explains a joke right in the headline? It's not even funny."
EMMA: When some people read that joke, they see it as just a shot at AOC, Alexandria Ocasio-Cortez. They're being mean to the most hated congresswoman on the planet but in Kyle's mind, the joke is actually not aimed at AOC at all.
KYLE: The great thing about this headline is, we're making fun of stupid boomer jokes about AOC because at the time, there were just constant memes about AOC being dumb or whatever. We said, "Well, what if we just went all-in with this weird Andy Kaufman bit where we're making fun of ourselves, but we don't tell anybody we're making fun of ourselves?" It really is this weird litmus test where, if you see it and you know what we're doing, which most of our audience does, they laugh at it. If you don't know what we're doing, people on the right who don't like AOC, they'll be like, "Yes, I don't like her either, but this joke isn't very good." Then I think people on the left think that we're always 100% serious and we're always saying what we're saying. They don't understand that comedy can take this ridiculous position just to mock it a little bit.
EMMA: It's not just people on the left who misinterpret Babylon Bee articles. There are also plenty of people on the right who read these headlines and just think they're news. Take, for example, this article that was published in January of 2020. It was shared 3.3 million times according to the numbers that are on the Bee's website. The headline was Democrats Call for Flags to Be Flown at Half-Mast to Grieve the Death of Soleimani. That, of course, is Qasem Soleimani, the Iranian leader who was killed in an American strike. I want to know what makes this funny? I know that's the worst question for somebody to ask to somebody who writes jokes, but why is that funny?
KYLE: Well, it's funny because General Soleimani died and then they called for flags to be flown at half-mast to grieve his death. Get it?
EMMA: That's what I'm saying. Besides just saying the joke over, what makes it funny?
KYLE: I'm not going to explain the joke to you. Do you want me to explain the joke to you?
EMMA: Yes.
KYLE: Because the joke is that General Soleimani died and Democrats were sad.
EMMA: Why is that funny?
KYLE: If you don't know why that's funny, then you're not the audience for the joke.
EMMA: I think what's tough about this joke is that, on the one hand, there are conservatives who would read this headline and not give a second thought. They would think that it's real because it exactly fits all of the stereotypes and clichés that people on the right use about the left all the time. By the same token, there are people on the left who look at that and say, "Hey, you're not trying to tell a joke, you're trying to mislead people." There's no shared kernel of truth. There's nothing that people from different political perspectives could look and say, "Hey, I actually see something a little bit true about the joke that you're trying to tell," but obviously, Kyle disagrees.
KYLE: The funniest part about that is that it got fact-checked because it was so believable that Democrats would do that. That's the funniest part to me.
EMMA: I don't think the reason that they fact-checked it was because it was so plausible. I think it's because it was being shared millions of times on Facebook.
KYLE: Why was that? It was because it was plausible.
EMMA: Yes, but what if people did believe that was real, which I think they gathered evidence that some people thought that was real. Do you worry about that? Regardless of how many times you make it clear that you're a satire website or whatever, that people will read that and be like, "Oh, this is actually a fact that I saw, I'm a boomer scrolling through my Facebook feed. I actually think that this is a real thing that Democrats do." Does that pose any ethical responsibilities for you guys?
KYLE: Not any more so than any other comedian who gets mistaken for being real. Does SNL bear responsibility because people still think that Sarah Palin said that she could see Russia from her house? The Onion's had been shared by politicians who thought it was real. Stephen Colbert, people always thought was being serious.
EMMA: You feel like you get slammed for it more because you're writing from a conservative perspective?
KYLE: Oh, we do. We've seen this time in the game with fact-checkers and stuff, that there's a different way in which they fact-check our articles and accuse us of intentionally muddying the waters, of intentionally spreading misinformation versus the way that they would fact-check other sites in the past where they would say, "Come on. This is satire, obviously." There's just a totally different tone in the way that they approach us.
[music]
EMMA: It's pretty clear that The Babylon Bee sees themselves as an underdog. They are the opponents of the liberal elite. What that means is that they're often telling jokes that other people find offensive.
KYLE: As soon as someone sits there and says, "Oh, you can't make fun of this class because that class is oppressed," that's going to make me want to tell a joke about that.
EMMA: Fat jokes, jokes about Black people, jokes about gay people. I wanted to know, is there a line for them that they wouldn't cross in their pursuit of standing against the liberal media elite? I want to talk about one of the many drawings in your new book. There's one, in particular, that's at the beginning of Chapter 2, which is on race. I wonder if you remember that particular image. It has three little stick figures. Do you remember the one I'm talking about?
KYLE: No.
EMMA: I'll just describe it to you. There's Chapter 2 and Race is the heading, and then there's a little stick figure that's like, peach-colored that says, "Bad." Then one that's next to it, to the right, that's gray, that says, "Better." Then there's one, that's next to it, to the right that says, "Best" and it's black. I wonder. Why do you think that's funny?
Kyle: Well, it's because being peach is not good or being yellow is not good or whatever color that is. I'm not looking at the drawing, but being gray is better and then being dark-colored is best.
EMMA: Right, but you're not just talking about that in terms of stick figures. You're talking about that in terms of how progressives think about a hierarchy of race, right?
KYLE: Sure.
EMMA: Why is that funny?
KYLE: Well, I'm not sitting here with a book and I'm not going to sit here and deconstruct and explain every joke to you. I think what you're doing is you're pulling out these singular jokes in the midst of a book that is written in this voice that says, "Hey, here's a guide to being woke, and here's how you get there." There's one joke that does that in the middle of a chapter on race. The hope is that as you're sitting there reading it, we're writing in this voice and we're taking this ridiculous position in order to mock something, in order to make fun of this idea that your skin color matters in terms of your hierarchy, in terms of setting up this oppressed-versus-oppressor class. That's one joke in the midst of that. If you really don't get the joke, I can't help you.
EMMA: Well, I guess what I'm wondering is whether you think that spirit on the left that you're trying to capture with that cartoon-- do you think that that mentality is actually true to liberal or progressive subcultures in America?
KYLE: Well, absolutely. Obviously, that's an extreme example. The role of the comedian is to stand there and be the court jester and say, "Hey, like, what the heck are we doing with all this wokeness and cultural Marxism?" and to just stand there and point at it and hold up a mirror to mock it. It's not supposed to create this nuanced discussion and make these nuanced points. Do I think everybody on the left thinks that way? No, but the second you say that in comedy, you're not making a joke anymore. Now you're just like writing a think piece.
EMMA: I think you made a joke at one point about switching out the steeple of your church with the cross, for a Black Lives Matter fist. I think it'd be easy to make the mistake, which I assume is a mistake, of thinking that you guys think any reflection on, for example, the history of racism in the Southern Baptist Convention is stupid. I guess I just wondered, do you think it's stupid?
KYLE: Yes. I think it's ridiculous to talk about racism at all, obviously, because we made a joke about one thing. No. Obviously, [chuckles] I'm being sarcastic. This is the whole point I'm trying to make about comedy. To go so far to say, "Let's replace the cross that redeems us, that unites humanity, that destroys racism. Let's take that cross down and replace it with the Black Lives Matter fist," is to make a point about the way that a lot of people who are thinking in a Marxist mindset are trying to approach race in the church. To read into it like, "Oh, well, do you care about racism at all? You're saying racism is not a problem?" is to not understand how satire works.
EMMA: Do you feel like your work at The Babylon Bee helps you to live out or uphold what you see as the image of Jesus in the Bible?
KYLE: Would Jesus joke about the things of The Babylon Bee jokes about? Yes. I think Jesus would make fun of the most powerful man in the world, the president of the United States. I think he would do that, sure. I think he would make fun of and call to repentance, the LGBTQ community. Sure, I think he would do that, who controls a huge part of our cultural institutions. I think he'd make fun of major corporations. I think he'd make fun of universities. I think he would make fun of those things because the real irony right now is that the left controls a ton of our cultural institutions and thinks that they're oppressed. Yes, we'll make fun of that for sure. I think that's certainly in line with the way that Jesus inverted things and turn them on their heads.
At the same time, I want to be clear that Jesus-- we can't sit here and map our modern political divide onto Jesus. Now, I do think maybe what you're asking is like, "Is there something Christian about that? What is Christian about mockery?" There is a place in it for the Bible, but I do think there is a danger too. C. S. Lewis famously hated writing The Screwtape Letters because it's a book that's written from the perspective and the voice of a demon and he's mocking sin and he's mocking the way that we're tempted and the way that we reason with ourselves and fall into sin.
He hated writing in the voice of a demon for so long because he started to think like a demon. I think there is a danger there, especially if I'm writing a bunch of political jokes and it's like, "Oh, how can I make fun of the left right now?" There is something that's not good about that, I think, on some levels. Just being completely honest and vulnerable with you, there is a level where you have to stop yourself and say, "This isn't good for my soul on some level."
[music]
JULIA: Did you get a sense that Kyle grappled with the ethical questions of, is he doing harm with these jokes in any real way?
EMMA: Even to him, somebody who clearly thinks his own jokes are pretty funny, he thinks it's worth sitting back and stopping to reflect on whether his jokes are actually right in the sense of right for a Christian to be telling. There's something about humor that I think is designed to help us negotiate the margins of culture and what's acceptable. Humor, comedy, stand-up has always been around, pushing the boundaries a little bit. It's critiquing or calling out by name, something that other people have found to be taboo or too sacred.
In a certain way, the Bee is an important experiment for us in this time, which does feel so serious, and in which people are unable to find common cause with people from a different point of view, by and large. We're living in really serious times around the consequences of the actions of people with power for the lives of people of color. We're living through really serious times in terms of Americans' trust in their government and in each other and in their institutions.
I think there's some segment of people who feel very much as though they sit on the opposite side of a fence from people who view these problems radically differently than they do, and those are their enemies. Of course, they're not going to find the same stuff funny, and of course, they wouldn't want to. I don't know, I think there's something real and almost bittersweet about that idea that there probably isn't humor, especially humor that gets it all political, that Americans could just set aside their differences and find funny together.
[music]
JULIA: It is really sad. Strangely, it really is the symptom of the main problem we're having right now. I feel like with the joke, you have to have some common ground, right?
EMMA: Yes.
JULIA: You have to have some shared narrative that you can both laugh at, and it's so hard right now, to find that.
EMMA: Can we not sit down and just share a good belly laugh at a dumb joke anymore? This is my lament for America.
[music]
BROOKE GLADSTONE: Thanks for listening. Please check out the big show on Friday. It usually gets posted around dinnertime.