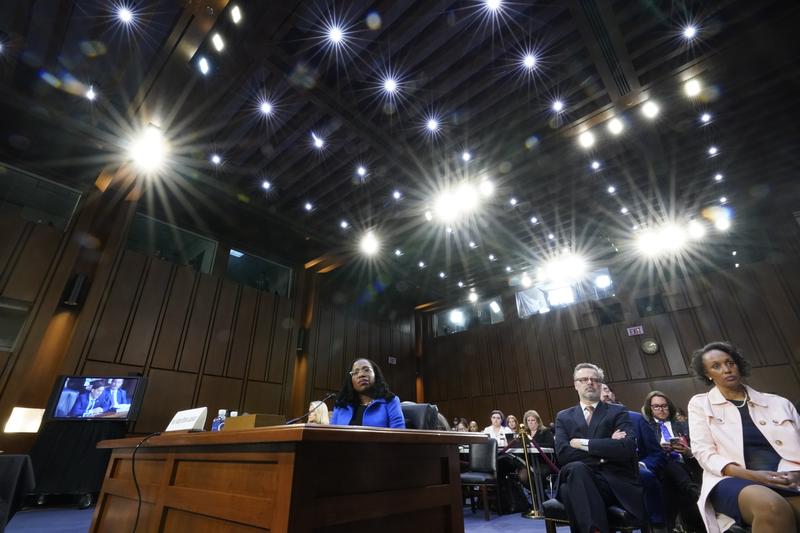 Transcript
MELISSA GIRA GRANT It's about creating chaos and the course of these hearings putting out this point that children are specifically under threat from Democrats. Critical race theory LGBTQ educators.
BROOKE GLADSTONE You can follow the breadcrumb trail of QAnon straight through the hearings for Supreme Court nominee Ketanji Brown-Jackson. From WNYC in New York, this is On the Media, I'm Brooke Gladstone. Also this week, as war rages, the Ukrainian government rallies global support with breathtaking, media savvy.
LILI LOOFBOUROW My God, you know, they have really been able to move an entire international order by packaging a story that they did not choose.
BROOKE GLADSTONE Plus, the multiple versions of Ukraine bound up in a single family's history.
FRANKLIN FOER I realize that these people who threatened to kill my grandmother were also the people who saved my grandfather, and that's the moment where my view of Ukraine was completely turned on its head.
BROOKE GLADSTONE It's all coming up, after this.
[END OF BILLBOARD]
BROOKE GLADSTONE From WNYC in New York, this is On the Media, I'm Brooke Gladstone. And these are what actual audible dog whistles sound like. They're not pleasant. But not nearly as excruciating as the human ones heard on the Hill this week during the confirmation hearings for Supreme Court nominee Judge Ketanji Brown Jackson, a glorious American moment was tainted by the senatorial effluvia, expelled by the likes of Senators Tom Cotton.
[CLIP]
SEN. TOM COTTON Do you think most detainees at Guantanamo Bay, are mostly terrorists or mostly, I don't know, innocent goat farmers? [END CLIP]
BROOKE GLADSTONE And by Ted Cruz.
[CLIP]
SEN. TED CRUZ Let's go back to your favorite topic of this hearing, which is the criminal law cases you had as a district judge and in particular, the cases involving child pornography. [END CLIP]
BROOKE GLADSTONE Rick Scott.
[CLIP]
SEN. RICK SCOTT She seems to be very soft on sexual predators, people that have harmed our children. [END CLIP]
BROOKE GLADSTONE But the most frequent, far-right refrain, that Judge Jackson went easy on child sex offenders, debuted in Senator Josh Hawley's Twitter thread. He doubled down in a question to Brown about a ruling.
[CLIP]
SEN. JOSH HAWLEY This is a case where you had an 18-year-old who possessed and distributed hundreds of images of 8-year-olds and nine year olds and 10-year-olds, and you gave him, frankly, a slap on the wrist bands of 3 months.
KETANJI BROWN JACKSON Senator, I r–.
SEN. JOSH HAWLEY Do you regret it?
KETANJI BROWN JACKSON What I regret is that in a hearing about my qualifications to be a Justice on the Supreme Court, we've spent a lot of time focusing on this small subset of my sentences, and I've tried to explain... [END CLIP].
[CLIP]
SEN. DICK DURBIN Your nomination turned out to be a testing ground for conspiracy theories and culture war theories. [END CLIP]
BROOKE GLADSTONE Judiciary Committee Chairman Dick Durbin of Illinois.
[CLIP]
SEN. DICK DURBIN The more bizarre the charges against you and your family law, I understand the social media scoreboard lit up yesterday. These are not theories that are in the mainstream of America, but they have been presented here as such. [END CLIP]
BROOKE GLADSTONE people were doing terrible things in that hearing room. But the child porn canard flogged by Hawley, best known for cheering on the January 6th insurrectionists was by far the worst.
MELISSA GIRA GRANT It's not a new theme for Josh Hawley.
BROOKE GLADSTONE Melissa Gira Grant has been following this for the New Republic.
MELISSA GIRA GRANT He first came on my radar when he was the attorney general of Missouri. One of his claims then was that sex trafficking and particularly the trafficking of children, was the fault of the sexual revolution. This is somebody who saw this issue as essentially a culture war talking point. I think that's the same thing that we're seeing right now in these hearings. It's about preying on this very powerful fear.
BROOKE GLADSTONE Even if conservative columnists like, say, Charlie Sykes of the Bulwark or McCarthy of the National Review call him out on bad faith – doesn't even matter to Hawley.
MELISSA GIRA GRANT It's about creating chaos and the course of these hearings putting out this point that seems to be very important even to the mainstream of the Republican Party right now, marshaling all of that energy into this moment.
BROOKE GLADSTONE Painting Judge Jackson as laissez faire on child abuse.
MELISSA GIRA GRANT It's not very effective at sinking her confirmation. I don't know that it's necessarily even meant to do that. People who would support Hawley, people who might support DeSantis, Trump, all of this sort of wing of the Republican Party. It signals to them like, I'm on your side. I mean, Hawley started this with a series of tweets. And there's a group. one of their staff has been called to testify by the Senate Judiciary Committee. It's an anti-sex trafficking group adjacent to QAnon, and their leadership helped draw attention to themselves by leveraging the sex trafficking panic about the online store Wayfair from a couple of summers ago.
BROOKE GLADSTONE Yeah, that was when QAnon said that Wayfair was hiding children in cabinets. It was loony.
MELISSA GIRA GRANT Completely ludicrous. And yet the CEO and founder of this group, Operation Underground Railroad, his name's Tim Ballard and used to work for the federal government. He puts up videos online talking about like, "Well, we don't know if that's true or not, and we'll let law enforcement sort that out. But it is a real issue." The same summer that QAnon was organizing, these like "Save the Children" rallies mainstream their message the summer of 2020 ahead of the election. This organization was also doing anti-child sex trafficking rallies the same weekend, and there were lots of people spreading QAnon rhetoric and messaging on their Facebook page, engaging with people who were volunteers for the organization. There was someone who was arrested in connection with January 6th who had just come from holding a fundraiser for this organization and then was later photographed with his feet on Nancy Pelosi's desk. So this is the group that has already, the insurrection, notwithstanding, been welcomed into Washington, D.C. anti-sex trafficking circles. To have this hearing be a platform for them is absolutely a hijacking of an incredibly high profile event. Even this name being advanced, signals to this same sort of base that we're going to use your talking points to challenge a potential Supreme Court Justice.
BROOKE GLADSTONE Let's pause for a moment at Pizzagate that helped jump1 start QAnon. That was the conspiracy theory about a sex trafficking ring run by Hillary Clinton and others out of a pizza shop in Washington. Someone showed up at the shop with an assault rifle. January 6th insurrectionists shouted to the Capitol Police officers that the officers were protecting pedophiles. It really seems like the rhetoric can and has incited violent action.
MELISSA GIRA GRANT That was what was scariest to me about Pizzagate. It seemed like using this tactic in service of this ridiculous and yet potent conspiracy theory about the Democratic Party. It didn't take very long to get from Pizzagate to January 6th.
BROOKE GLADSTONE Have any of them looked into the actual nature and extent of child sex trafficking in this country?
MELISSA GIRA GRANT I mean, the thing that's sort of heartbreaking in this political moment is most people who, as young people have been in a situation where somebody took advantage of them sexually for something that they needed, whether that was a place to stay or a meal or some other kind of job or safety. That is what sex trafficking looks like for youth in this country. We are not talking about this MAGA fantasy of children being held in the basement of a pizza restaurant in Washington, D.C., which doesn't even have a basement, which was the Pizzagate story.
BROOKE GLADSTONE Donald Trump said, "I know nothing about QAnon." And then he said "they are strongly against pedophilia, and I agree with that."
MELISSA GIRA GRANT You know, when Hawley is sort of bringing the specter of child pornography or pedophilia in this moment, you know, it's a callback to that. The reality is many of the people who say that they want to end this, whether that's Hawley or Trump, don't even understand what the problem is. But they are tapping into something that actually had a lot of legitimacy before they showed up and tried to bend this rhetoric for their purposes. It is about sort of painting your enemies not just as like political foes, but as like actually evil people.
BROOKE GLADSTONE Don Moynihan wrote in his Substack that the same actors who constructed the anti CRT panic are now actively creating a new moral panic or really invigorating an old one. You see the same actors involved.
MELISSA GIRA GRANT Ironically, they have somewhat of a more intersectional understanding of the way that they're bringing these attacks.
BROOKE GLADSTONE How do you mean?
MELISSA GIRA GRANT Well, you know, they see that these are interconnected issues that going after people's fundamental rights, whether that's around gender or sexuality or race, is advantageous for them because they have a group of people to sell on this message like, look at these, other people have rights, children are endangered.
BROOKE GLADSTONE You've written about the child abuse rhetoric in Republican messaging, defending the Florida legislation dubbed the "Don't Say Gay" bill by opponents because the bill seems to bar any discussion of sexual identity. That is regarded as harmful to children, not sexual activity or a sexual advocacy, but merely an acknowledgment of different sorts of sexual identity.
MELISSA GIRA GRANT It's written in such a vague way. Ultimately, the judgment call comes down to Do you want to open yourself up to a lawsuit from the most conservative, most homophobic, most transphobic parents in your district? And that's how you have to judge how you're going to conduct yourself in your classroom, your library, your afterschool programs. Then DeSantis is trying to throw up this fig leaf of like, No, no, no, no. It doesn't say, don't say gay. Where does it say that? Well, of course, it doesn't say that this is part of DeSantis trying to launch himself even onto a larger stage. He now is hiding behind this idea that, well, if you're against this bill, then you must be for endangering children. And as his press secretary put it, you're basically a groomer.
BROOKE GLADSTONE Let's talk about the term groomer because it's coming up everywhere.
[CLIP]
NEWS REPORT It prohibits the grooming of children by public school teachers. This evil that we're facing is grooming young children for sexual abuse.
LAURA INGRAHAM Oh my God, when did our public schools any schools become what are essentially grooming centers for our gender identity radicals? [END CLIP]
MELISSA GIRA GRANT It's such a pernicious and kind of old fashioned in a way claim to make about gender and sexuality, right? You know, Laura Ingraham specifically sort of updates it when she says schools are, you know, grooming grounds for gender ideology. What it is for them that's scandalous isn't, you know, LGBTQ people broadly, but like trans and gender nonconforming people specifically. And then it becomes a very helpful cudgel to sort of like go after LGBTQ rights overall. But it sounds really scary to be told that if you stand up for LGBTQ rights, if you stand up for your trans students, your trans kids, you essentially are saying child abuse is OK.
BROOKE GLADSTONE Circling back again to Judge Jackson, it seems to me that this marks kind of a great leap forward in the presence of this rhetoric, which was percolating for so long online, but didn't really take up residence on Capitol Hill.
MELISSA GIRA GRANT It is not the first time the people who believe these kinds of things have arrived in Congress. We have Marjorie Taylor Greene, also Lauren Boebert, though she says she no longer supports these things. It's also an eerie sort of full circle moment where, you know, Ketanji Brown Jackson was actually a federal judge involved in sentencing the Pizzagate gunman. He got a four year jail sentence. She saw that this wasn't just sort of a freak act of violence. She described it as something that was utterly incompatible with our constitutional scheme and rule of law. That this was meant to undermine democracy. And yet, when that judge is up for a Supreme Court seat, this is going to be the thing that they reach for. It's a very high profile showing for people like Hawley and others to mainstream this sort of QAnon panic about pedophilia and child abuse. Into what should be an incredibly serious and generational shaping process of putting a new judge on the Supreme Court. But this is the trajectory they have been on now for several years.
BROOKE GLADSTONE Melissa, thank you very much.
MELISSA GIRA GRANT Thanks so much.
BROOKE GLADSTONE Melissa Gira Grant is a staff writer at the New Republic and author of the forthcoming book A Woman is Against the Law: Sex Race and the Limits of Justice in America.
Coming up, the power of a sitcom. Servant of the People began on the small screen. Now it commands a global stage. This is On the Media.
[BREAK]
BROOKE GLADSTONE This is On the Media, I'm Brooke Gladstone. Earlier this month, when Ukrainian President Volodymyr Zelensky was asked how it felt to be Putin's number one target, he said this:.
[CLIP]
Speaker 6 My life today is wonderful. I believe that I am needed.
BROOKE GLADSTONE President Zelensky's courage in remaining in his country, and his staff's inspired communication of the war's toll has spawned a rare kind of global awe. In our hunger for more of this compelling character, many of us have turned to the sitcom he produced and starred in back in 2015, called "Servant of the People," newly available on Netflix. It's rather amusing, but wildly compelling, because his role on that show was what vaulted him into office and Putin's crosshairs. He played the Vasil Petrovich Holoborodko, a beloved history teacher who lives with his parents and ride the bike to work.q After a student secretly records him rallying against corruption in the government and posted on YouTube.
[HOLOBORODKO'S RANT PLAYS]
BROOKE GLADSTONE Holoborodko becomes a viral sensation and then president of Ukraine. Zelensky built his campaign on the deep appeal of Holoborodko. They shared the same platform to free Ukraine from oligarchs, bribery and broken roads. His party bears the sitcom's name servant of the people. Slate writer Lili Loofbourow recently probed the question of who Zelenskiy was and is and why exactly he means so much to the rest of us. Welcome back to the show, Lily.
LILI LOOFBOUROW Thank you so much for having me.
BROOKE GLADSTONE So you wrote "if history repeats itself first as tragedy, then as farce. What happens when the order is reversed? Watching Servant of the Pleople, you just can't avoid the parallels between the character and the real man – to the extent that we can even imagine we know the real man. You also say that he shares some faults with his alter ego
LILI LOOFBOUROW On servant of the people he's determined to fight the entrenched cronyism. So he fires a bunch of pretty corrupt officials. But then his solution to the problem of cronyism is to hire all of his friends and his ex-wife to take over senior government positions, many of whom have no qualifications whatsoever. In fact, one of his friends is an actor, and he makes him the minister of foreign affairs, and his very first act is to make a series of extremely racist statements on camera. But the show doesn't judge him for that. That Foreign Minister remains the minister of Foreign Affairs, and the real Zelensky did something a little bit similar. Like once he was elected president, he actually brought some three dozen of his own associates from the entertainment industry into his government, installing them also in departments, many of which didn't share much with the areas of expertize that his friends had, like national security or defense.
BROOKE GLADSTONE The weird thing, though, Lily, is they haven't been that bad at it. As a matter of fact, at least in this extreme circumstance, they've been pretty darn good.
LILI LOOFBOUROW You know, one of the things that really struck me when all of the clips from Ukraine were starting to come out was how skillfully the Ukrainian messaging was being packaged, you know? And you have to think that having a team of showbiz experts at the helm has something to do with that. That might not make for great day to day government.
BROOKE GLADSTONE Right
Zelensky was in real trouble before the Russian invasion. Over 60 percent of the country did not want him to run for reelection. There had been some corruption scandals within his own administration. When he was supposed to be the anti-corruption guy. His chief of staff's brother was selling high level positions, which is something that could have happened in Servant of the People, and he didn't do much about it. But in terms of meeting this particular moment. My God, you know, they they have really been able to move an entire international order by packaging a story that they did not choose.
BROOKE GLADSTONE You also noted that his image and more importantly, perhaps his attitude, his tone, his stance transformed.
LILI LOOFBOUROW Yeah, it's another strange parallel when you watch Servant of the People. There's an arc right that Holoborodko goes on where he starts off, as I'm not going to say an amiable doofus. He's an intellectual, he's smart, he's a scholar, he's a historian,
BROOKE GLADSTONE But he can't resist the watch when it's offered to him
LILI LOOFBOUROW Right! He's initially kind of overwhelmed by the image making exercise that the entire state apparatus has for him. He's being dazzled by designer suits that he can choose and shoes and watches. And he's much too receptive, at least initially to everything that his prime minister suggests. The prime minister is, of course, an ally of the oligarchs. And so what happens over the course of the series is that Holodborodko learns to take control of his own image. He selects a suit that is kind of dressed down. He rejects the security detail. He fires the masseuses and the psychologists that are supposed to keep him in tact and the fancy cars. And if at first in the show, like he's only dreaming of reading the corrupt officials in government, the Riot Act, by the end, he's actually done it a number of times. You watch him rise to the occasion and learn to occupy the power of his position and deploy it. Zelensky has been on kind of a similar arc when he first came to power in 2019. He was in a very difficult position, right? He was having to deal with aggression from Russia and the United States, that under Trump was no longer explicitly supportive of Ukraine. Their first encounter Zelensky, for many of us, was actually the Trump phone call.
BROOKE GLADSTONE Trump was saying, "We'll give you the weapons you need to defend yourself. If you do me a favor" and you saw Zelensky [DEEP SIGH] tap dancing kind of alternately praising and defying Trump. I mean, it was an impossible situation for anyone. But most of us were going, this poor guy is way in over his head.
LILI LOOFBOUROW Yeah. Even at his meeting with Putin, the first one that took place in Paris, which, by the way, I have to say again, there's another Holoborodko parallel there, because Putin, of course, showed up in a limousine and Zelensky showed up in a gray Renault minivan. But in any event, in that meeting, everyone understood that Putin had all the leverage, and that was once again in a very difficult diplomatic position. So we watched him do his best. But he definitely wasn't, what he has since become, which is kind of a powerful, uncompromising and inspiring figure. Making clever and layered demands. You know, he told the US when they offered to help him escape that he needed ammunition, not a ride. He's become very bold.
BROOKE GLADSTONE And of course, all of this is bolstered by his stunning rhetoric. You quote him saying, even simple farmers are capturing Russian soldiers every day, and all of them say the same thing. They don't know why they are here. They're not warriors of a superpower. They're confused children who have been used. Take them home.
LILI LOOFBOUROW I mean, it's brilliant. What better way to appeal to a certain kind of half evacuated Western sensibility than to remind them of a kind of noble war where there is a good side and an evil side? Then, by overtly sympathizing with the enemy soldiers.
BROOKE GLADSTONE You wrote, there's a drunkenness to the explosion of pro-Ukrainian sentiment. You mentioned the U.S. Marine Corps subreddit that had a post called Zelenskiy is about as motivating a leader as I've seen in our lifetime. And the reply was, yep, I'd follow that guy into hell. The idea you wrote of a political leader willing to die with his people has struck so many is unthinkably brave and more than a little thrilling.
LILI LOOFBOUROW I called it drunkenness because I think it feels very good to be able to enthusiastically support someone in a context that feels morally simple and clear cut. I don't think that's an experience most of us have very often. [CHUCKLES] You know, the Battle of Snake Island, which was one of the very early stories that went mega viral, was the story of these incredibly brave Ukrainian soldiers on this island, 13 of them, who told the Russians when they arrived there. Go f* yourself on the radio after saying, turn it up. So it's thrillingly courageous, right? They wanted that captured as their last act before all 13 were slain, as you know, as President Zelenskyy told us that Thursday. That story, I think, was instrumental in catalyzing a lot of the a really fervent pro-Ukrainian feeling. It also turned out to not be true. Not completely.
BROOKE GLADSTONE The defiance was true, but the tragic conclusion was not.
LILI LOOFBOUROW Exactly. There was really good news – that the 13 soldiers were not slain. And so I think that a lot of those early moments fueled an extraordinary amount of feeling. You can't imagine Spielberg doing any better. And I think that that has downsides.
BROOKE GLADSTONE What have you got in your mind?
LILI LOOFBOUROW You know, some journalists in trying to narrate the war keep falling into these awkward constructions that hints at an us and a them, like CBS News foreign correspondent Charlie D'Agata said.
[CLIP]
CHARLIE D'AGATA You know, this is a relatively civilized, relatively European. I have to choose those words carefully to city, where you wouldn't expect that or hope that it's going to happen. [END CLIP]
LILI LOOFBOUROW I don't even know what he means by "hope that is going to happen." But, you know, it was it was just a disaster. And he apologized, but I think that more important than the apology is is trying to understand what is going on there because he's not alone. And that is worrying.
BROOKE GLADSTONE You wrote that, no one could fault the skill with which the Ukrainians have made the heroes and villains clear, or the virtuosity with which they've calibrated their actions to move specifically Western sensibilities.
LILI LOOFBOUROW I think something weird is happening, and we see it reflected in Charlie D'Agata's, you know, civilized versus uncivilized, you know, formulations and all the sympathy that is accruing to Ukrainian refugees that never accrued to other refugees. And it's I think that pro-Ukrainian feelings are coalescing around a category of identification that's in a vague way the West. A category that we know that's done a great deal of harm. Westerness is responsible for empires, it's just it's responsible for racism. It's not a category that we claim with pride.
BROOKE GLADSTONE And you said it was ironic that Putin's existential fears about the West may have accidentally revitalized that category.
LILI LOOFBOUROW Exactly. Westerness to the extent that it existed as an international phenomenon was in real decline. In fact, a new concept had emerged called the "westlessness" in some international relations discourse. Trying to name the way that Western alliances were dissolving and the ideological poles that they used to share are shifting away. And examples of that are, you know, Brexit and Donald Trump reportedly wanting to leave NATO. The West really is apparently rising again as an object of identification for people who are looking for a way to enfold Ukraine in and included in something. And the thing that they are sort of grasping to include it into is "you are like us. And so therefore we feel particular sympathy with you." You know, you can see why that's dangerous. The categories is rescued from disuse and people who have been very thoughtful about jingoism or about all kinds of military interventionism are suddenly, I think, so incensed by what's happening to Ukraine that they are falling into a lot of these traps of Westerness that we would do well to think very carefully about.
BROOKE GLADSTONE How do you watch yourself watching Zelensky?
LILI LOOFBOUROW I think for me, it has meant being suspicious any time I start to feel myself becoming too fervently a part of an "us." So sympathy is warranted and safe. I think horror is appropriate and necessary, but I think when it starts to become a team emotion, that's where a step back is called for.
BROOKE GLADSTONE Lili, thank you so much.
LILI LOOFBOUROW Thank you for having me.
BROOKE GLADSTONE Lili Loofbourow covers culture and politics for Slate. Coming up, more stories of a Ukraine past and present that persist in the memories of a writerly American family. This is On the Media.
[BREAK]
BROOKE GLADSTONE This is On the Media, I'm Brooke Gladstone. Watching Servant of the People while simultaneously watching the coverage of the war. It's kind of like one of those digital images where you slide the cursor from side to side to reveal the before and after. Slide it to the left in the sunny streets of Kyiv are bustling and lively. Slide it right and the streets are a dim, rubble strewn wasteland. Obviously, in real life, only one of those realities exists now. Our next story is about multiple versions of Ukraine too. Some from the past, some from the present, all of which existing in one family's shared history. The family is the Foers. Franklin Foer, the eldest son and the staff writer at The Atlantic, told the story to Julia Longoria, host of the WNYC podcast: The Experiment.
[CLIP]
WOLF BLITZER It's a repeated refrain from Vladimir Putin and his acolytes. Putin has said he wants to quote–
MATT BODNER – Denazify the Ukrainian government. That they are a liberating force from essentially an oppressive Nazi government. [CLIP]
FRANKLIN FOER When I heard Putin say that, I thought about my own journey with Ukraine. Because there was a point not so long ago when I would have agreed with them or, you know, thought that there was some truth to what he was saying because I grew up with my grandmother's stories.
JULIA LONGORIA Franklin's grandma and Vladimir Putin happened to have a similar story that they've told themselves about Ukraine. As you might imagine, they don't have a whole lot else in common.
[CLIP]
MARTHA STEWART Now we have Grandma Ethel here. I'm so pleased to have her here. [END CLIP]
FRANKLIN FOER My grandmother's name was Ethel
JULIA LONGORIA Before she passed away in December 2018. Ethel was a guest on the Martha Stewart show.
[CLIP]
MARTHA STEWART So one cup of matzo meal? Now what kind of massive meal?
GRANDMA ETHEL Yeah.
MARTHA STEWART What kind?
GRANDMA ETHEL Straight.
MARTHA STEWART Straight.
GRANDMA ETHEL Manischewitz. whatever.
MARTHA STEWART OK, OK. [END CLIP]
FRANKLIN FOER She was very warm. She loved to talk to people on the telephone. Always in a very loud voice because she wasn't totally convinced of the technology. [JULIA CHUCKLES]. She had a real bounce in her step. Despite having survived so many terrible things.
[CLIP]
GRANDMA ETHEL I came from Europe and I went through the war, I was very lucky. I escaped Hitler.
MARTHA STEWART Yeah, lucky lucky.
GRANDMA ETHEL Luck and intuition. [END CLIP]
FRANKLIN FOER My mother came to this country as a little girl. Home had been Ukraine, but they didn't see themselves as Ukrainian, they saw themselves as Jewish. My grandmother viewed the Ukrainians that she knew as Nazi collaborators, and so that was the story that I grew up with.
BRIEFING The purpose of this interview is to add to the oral history of the Nazi Holocaust so that future generations will know what happened. With this knowledge, hopefully we can prevent any such occurrence in the future. Could you please tell me your name?
ETHEL KAPLAN Ethel Kaplan. I was born in 1920, June 15. I have two sisters and we were very, very close. You know.
FRANKLIN FOER The part of Ukraine she lived in had been previously Polish, but then became part of the Soviet Union. She'd been a communist, actually as a little girl. She liked to talk about how she would go down to wash the family's plates before Passover to make them kosher for the holidays, and that she would go out and sit by the river with the boys who liked her.
ETHEL KAPLAN I had a lot of friends, a lot of friends,
FRANKLIN FOER but then she describes one day she saw paratroopers fall from the sky.
ETHEL KAPLAN A lot of people said running in the soldiers and we could see parachutes and airplanes,
FRANKLIN FOER and there was a collective state of panic in her town.
JULIA LONGORIA Ethel had just turned 21 years old. This was 1941. The Nazis began their surprise invasion of the Soviet Union in June of that year. One of the first places they attacked was what is now known as the country of Ukraine. And what was then known as the Ukraine or the Borderlands. The edge of the Soviet empire. This was Ethel's homeland.
FRANKLIN FOER And she makes a snap decision to run for her life.
INTERVIEWER What did your mother say to you when you said you were leaving?
ETHEL KAPLAN She was speechless. She didn't say anything.
INTERVIEWER Did she try to change your mind?
ETHEL KAPLAN No.
JULIA LONGORIA Why didn't her mom go with her?
FRANKLIN FOER Her mother couldn't imagine the worst if you lived in this part of Ukraine. You were used to pogroms. You were used to invading armies. You'd survived terrible things before, and she couldn't imagine why it would be different this time.
JULIA LONGORIA As early as the 1800s before the Soviets took over. There were riots against Jews in this area, known as pogroms, where non-Jews would commit violence against Jewish people, sometimes egged on by Russian police. But Ethel had never witnessed any of this firsthand. So when she saw paratroopers arrive, she was scared. She felt she had to leave.
FRANKLIN FOER She had no destination in mind.
ETHEL KAPLAN We didn't realize what we are doing. We just went running again. We just had to survive.
FRANKLIN FOER So she's going east. She ends up in Kiev. The whole city is in a state of wartime panic, and she gets to the train station and ends up in Kazakhstan, where she gets assigned to work on a collective farm. There's a radio in the farm, and so she's able to track the progression of the war. That way, she gets the sense that the Soviets are pushing back against the Nazis and conquered the swath of Ukraine, where her village is
FRANKLIN FOER And so she writes a letter to Joseph Stalin asking for permission to be able to visit her town. And although she never heard back from Stalin himself that she got some sort of response.
ETHEL KAPLAN They sent me that all my family died.
FRANKLIN FOER She hadn't heard from her family during the war, and when she got to the town, she was pulled aside by somebody a Ukrainian she knew who told her that her grandfather had gone to pray in the synagogue.
ETHEL KAPLAN All the Jews, they were praying. So they put a fire on the point. They burned them in the synagogue.
FRANKLIN FOER The Nazis lock the doors and burnt down the place with him in it.
ETHEL KAPLAN My younger sister, they killed her in the middle of the street and my older sister, they didn't even want to tell me what happened to her because it was so terrible.
FRANKLIN FOER The Nazis had marched her sister and her mother to the forest outside of the town and forced them to dig a grave and then aligned the Jews up and shot them so that they fell back into this grave.
ETHEL KAPLAN This is what they told me, and everybody got killed. Every one of them.
FRANKLIN FOER It's a lot to absorb. For any person to hear all of this in one moment. But on top of that, there was another Ukrainian who told her and said, You know what? I'm telling you something that's going to save your life now. You need to leave because the Nazis may be gone, but their Ukrainian collaborators are still here, and they'll kill you if you spend more than one night in this town.
JULIA LONGORIA The last night that Ethel ever spent in her hometown to find out how she would tell the story of Ukraine for generation.,
FRANKLIN FOER that was the story that I grew up with.
JULIA LONGORIA It was a story that Franklin and his two brothers knew very well. But there were other parts of their family history that were fuzzier to the brothers. For instance, what had happened to their grandfather? They knew that their grandparents had met after both of them had fled Nazis in Ukraine. But that was about it.
FRANKLIN FOER My grandfather, his name was Louis. He died long before I was born, before my brothers were born. He died in 1954, and we didn't really know anything about his life. My grandmother kind of always kept it hush hush, which should have had a big question mark set next to it.
JULIA LONGORIA Slowly over time and in a very circuitous way. The brothers began to acknowledge the question mark and to begin to try to find answers. Frank's brother, Jonathan, wrote a novel about it.
FRANKLIN FOER He wrote this magical realist history called Everything is Illuminated, which was a novel that tried to imagine my grandfather's existence. And so that happens and actually gets turned into a movie.
JULIA LONGORIA For the brothers, the book and the movie just reinforced the questions that they'd been suppressing. Like, how did their grandfather die so young?
FRANKLIN FOER My youngest brother, Josh, went and did a search of death certificates, and he discovered that my grandfather had hung himself in the back of the store that he owned on Euclid Street in Washington, D.C.. And there's one other mystery that I think I need to introduce right now, which is that when my mom was 40 years old, just after her 40th birthday, she had a conversation with my grandmother and my grandmother told her, You know, your father had another daughter and she was killed in the war and was 7 years old when she was murdered. And my mom was 7 years old when my grandfather killed himself. And for my mother, this was like this earth shattering moment. She was just so gobsmacked by this revelation.
JULIA LONGORIA Frank's mom Esther started to look for answers herself. Who was this half sister of hers? How did her dad escape the Holocaust? She had held onto one shred of evidence of her dad from many years earlier.
FRANKLIN FOER The photograph. There was a photograph of him sitting with three Ukrainians. One of the Ukrainians was an older man and we knew that my grandfather had probably been saved during the war by him, but we didn't know much else.
JULIA LONGORIA If anyone knew the story of what had happened to Grandpa Louis, it would be these Ukrainians in the photo. So Frank and his mom started to consider, what if we try and go find these people?
FRANKLIN FOER My grandmother was pretty horrified by the idea. She was frankly terrified by the prospect of our going there.
JULIA LONGORIA But in 2009, Frank and his mom got on a plane to Ukraine anyway.
FRANKLIN FOER And the last thing that she told us on our way out the door was don't eat their food. Which I found to be such a strange warning. What else are we going to do?
JULIA LONGORIA Just take some granola bars.. [CHUCKLES]
FRANKLIN FOER Protein bars the entire time? Yeah. So we drove into this very small remote Ukrainian village where my grandfather had lived, and it's one road, maybe 10 houses on each side of the road and in back of the houses, there's just like fields leading into the forest. And at the entrance to the village, there are three Ukrainian lined up to greet us and it's really awkward. Like, we're meeting these people for the first time. We think they may be our saviors, but they may not be our saviors. And so we we hug them, we shake their hands. They're very, very warm to us. And so they take us into their house. It feels like it could have come from 1915, and there's a ledge. And on this ledge, there's a photo, an old photo that's propped up and she takes it down, and she compares it to the photo that we have. And it's pretty clear that the guy who is sitting next to my grandfather is in this photo that she has. This guy had a button on his shirt that was in both photographs that just looked like it couldn't have been a coincidence. So my mother and I are starting to get very excited that we may have found the family that saved my grandfather, and we sit down and the granddaughter starts to tell us the story.
And she says, You know, I never really heard very much about my grandfather during the war, but when my uncle would get drunk, he would tell this story about how when he was a kid, the family had hid a guy named Leibel, which was my my grandfather's Yiddish name, and that the Nazis had once come to our house and Leibel was hiding behind a door. And if the Nazis had discovered him, we would have all been killed. And at that moment, the grandson disappears and he comes back with an old woman.
She comes into the room and she runs her thumb over my forehead and she says, You have your grandfather's brow. And I ask her the question. I was like, So you knew my grandfather says, yes, I knew your grandfather. I knew his wife, Zipporah. Then I ask her about my mother's sister, and I said, Did you? Did you know my mother, sister? And she pointed to the window and she said, Yeah, I used to play with her in those fields outside. We would play with a ball. And I said, Did you know her name? And she said, Yes, her name was Asya.
It was like this girl who had been completely lost to history, there was no trace of her in any of the databases of Holocaust victims. We didn't know her name. We didn't think we would ever know her name. It was like we'd we'd rescued her memory. To me, in a way, that's Ukraine, it's like Ukraine is this place where history continues to exist, like these things that you think are so distant in the past are actually still touchable. That's the moment where my view of Ukraine was completely turned on its head. I realize that these people who threatened to kill my grandmother were also the people who saved my grandfather and that they'd made the ultimate sacrifice on behalf of a neighbor. I mean, I found myself crying into the arms of this Ukrainian family, who I'd only just met, but by knowing that I owed them the greatest debt.
In 2014, I was editor of the New Republic magazine, and I watched the events of that year. I watched how the people of Kyiv had risen up against the corrupt pro-Soviet government that existed and installed a democracy in the country. And I watched as Vladimir Putin invaded Crimea and then invaded eastern Ukraine. And there was this real struggle for the soul of the country, and the New Republic organized a conference in Kyiv.
JULIA LONGORIA The conference took place in May of 2014, just two months after Russia had invaded Crimea and eastern Ukraine. A precursor to the violence we're seeing now.
FRANKLIN FOER And the city still felt like it was in the middle of a revolution. If you walked into the streets, there were still barricades with tires piled up. You could see buildings that had been burnt down. You could see bullet holes. People who were veterans of the battle still camped out in the central square.
JULIA LONGORIA The Central Square, or Maidan, is where Ukrainians had protested and fought for democracy in their country.
FRANKLIN FOER And at that conference I'd invited Lesya who was the great granddaughter of the guy who'd saved my grandfather during the war. She was a student in Kyiv, and she had been in the Maidan as a protester, but she really didn't know much about the Holocaust. It just hadn't been part of her education. And so I went with her to Babi Yar, which is a ravine where the Jews of the city were marched and killed in one of the biggest mass graves in history. Over the course of several days, thirty thousand Jews were killed in this ravine. I mean, in a way, I was learning about it as we were walking through. I mean, I knew I knew the basic outlines of it all from before, but she was really learning about it for the first time, and it was incredible to watch her face as she started to comprehend what had happened at this place.
FRANKLIN FOER [FROM CONFERENCE] Thank you very much for joining us on this on this beautiful Monday morning, when there is so much else to do
FRANKLIN FOER the next day at the conference. I was on a panel about Ukraine history, memory and the future of the country. So I started to tell the story about the guy who saved my grandfather during the war.
FRANKLIN FOER [FROM CONFERENCE] He would not have survived the war if it were not for his Ukrainian neighbor, Devid, who was one of the the truly righteous gentiles, and he hid him in his house for a year. And I mentioned this story in part because the great granddaughter of the man who saved my grandfather, Lesya, is here in the audience and she was on the Maidan.
FRANKLIN FOER And I found myself just really overwhelmed by the emotion of the moment.
FRANKLIN FOER [FROM CONFERENCE] It's been a very meaningful, sorry, unexpected and very meaningful experience for her, and it's kind of the beauty of what's happened.
FRANKLIN FOER And I pointed to her and the room just kind of broke out in a sustained applause for her. And the organizer of the trip kind of brought her up on stage in the invitation at that. And it was just it was such a moving. Moment for me, because I felt like I was able to publicly acknowledge the debt that I had to her family.
When Lesya came to Washington to stay with my mother, my mother took her to visit my grandmother, and I think it was actually a touching experience for my grandmother because after all this time of kind of harboring these kind of terrible memories of Ukrainians, she was able to admit herself, well, they actually were some good Ukrainians, and it was probably a touching, redemptive moment for her.
JULIA LONGORIA So where is Lesya now?
FRANKLIN FOER Uh, she is in Kyiv? Do you want to get in touch with her?
JULIA LONGORIA Yeah.
FRANKLIN FOER You know, she may be in her village now. I have to ask my mom.
[PHONE TRILLS]
JULIA LONGORIA Hello. Hi, Esther, it's Julia. I just wanted to call you because it's been such a pleasure talking to your son, Frank – Franklin. Does he go by Frank or...?
ESTHER FOER You know, he used to go by Frankie, but now he goes by Frank. And you know, Lesya, I don't know if you were able to talk to her.
JULIA LONGORIA Yeah, we've been trying to reach Lesya. Have you been in touch?
ESTHER FOER Yes. Every day I got, I got something from her today.
JULIA LONGORIA What did she say?
ESTHER FOER Oh, this is February 12th. It was way back. There's tension in Kyiv, we work with foreigners and a lot of them are leaving. However, Ukrainians believe that everything will be fine. Thank you for email. I couldn't answer earlier because it was a bit crazy. The next one we're still in Kyiv. Couldn't leave the next parents or say Kyiv's not in good condition right now. 26, she writes. We will say then the next day, she says, we left. Kyiv last night by train. Now we're going to our parents village. We're a bit afraid is on the border with Belarus. Thank you for keeping in touch with us. It means a lot right now. And what's really sweet is when she writes with best wishes from Lesya and your Ukrainian family. They describe themselves as "our Ukrainian family" and we write back "as your American family." We offered to take them in. I've told myself Lesya You know what, if they want to come here, we will sponsor them in a heartbeat. You know, without a moment's hesitation. I feel it's my obligation.
JULIA LONGORIA Yes. And do you have any sense from talking to Lesya like what? What her plans are or what's next for her family?
ESTHER FOER I can't imagine that she knows what's next for her family. This is a huge crisis, and I think you take it day by day, and you do what you can to be a survivor. Yeah, which is what I learned from my mother, who was kind of the ultimate survivor.
JULIA LONGORIA Well, Esther, thank you so much.
ESTHER FOER Okay. I hope you can connect with Lesya.
JULIA LONGORIA Yeah, I hope so too. I mean, I think, well, we'll keep trying.
ESTHER FOER Yeah. All right.
BROOKE GLADSTONE On the media is produced by Micah Loewinger, Eloise Blondiau, Rebecca Clark-Callender and Max Balton with help from Aki Camargo. Our engineers this week were Adriene Lily and Andrew Nerviano. Katya Rogers is our executive producer. On the Media is a production of WNYC Studios. I'm Brooke Gladstone.