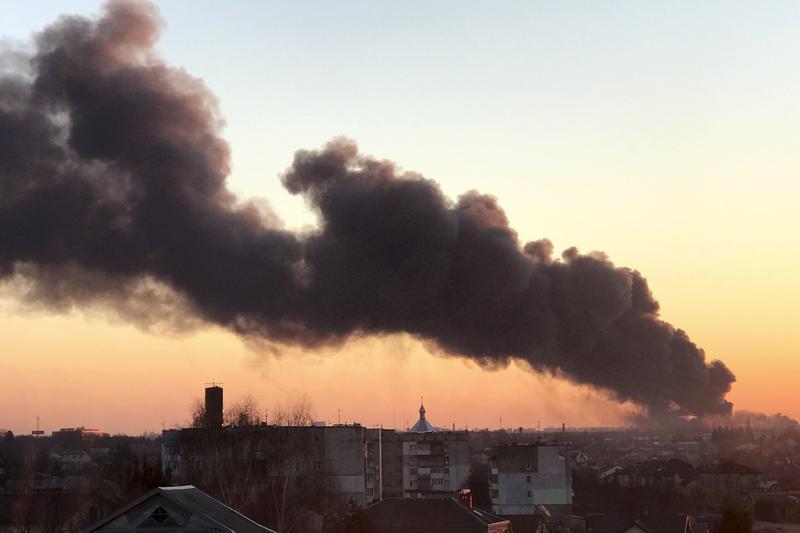 Transcript
[CLIP]
TUCKER CARLSON The Russian disinformation they've been telling us for days is a lie, and a conspiracy theory and crazy and immoral to believe...Is in fact totally and completely true. [END CLIP]
MATT KATZ Well, it's not, but how did one dark corner of the American internet create a worldwide Kremlin conspiracy theory? From WNYC in New York, this is On the Media. I'm Matt Katz. Also on this week's show: what it's like collecting digital evidence of war crimes.
ELIOT HIGGINS Local Russians were using TikTok to film military convoys, and a lot of those videos have been collected, and that allows us to track the movements of Russian convoys.
MATT KATZ Plus, a club of foreign correspondents in the 1920s and 30s witnessed the biggest story of their lives: the rise of autocracy.
DEBORAH COHEN So if the world has centuries of experiences with kings and emperors, who are these people who claim that their authority descends from the people, but they disdain hereditary rule,
MATT KATZ It's all coming up after this.
[END OF BILLBOARD]
BROOKE GLADSTONE From WNYC in New York, this is On the Media. I'm Brooke Gladstone. And just for this week, I'm handing the hosting duties over to my WNYC colleague Matt Katz. He covers public safety for our local newsroom and has multiple awards to his name. For instance, he won a Peabody for his investigation of Governor Chris Christie's involvement in the scandal known as Bridgegate. So you know, he's no slouch. What I'm saying is you're in safe hands, listeners. I'll see you all next week. Take it away, Matt.
MATT KATZ Thank you, Brooke. This week, Netflix announced that it's bringing back Servant of the People to its streaming service. Ukrainian President Volodymyr Zelensky plays a history teacher whose rant about corruption in the government goes viral and propels him to the presidency.
[VASILY PETROVYCH RANTING IN UKRAINIAN]
MATT KATZ Like in the real world, Zelensky's character looks eagerly to his European neighbors to the West. When then German Chancellor Angela Merkel calls Zelensky's character to tell him Ukraine has been admitted into the European Union. He soon learns the truth. She actually meant to call Montenegro. The foes in the show ring true too. A vulgar joke he makes about Putin got the series canceled in Russia. In the last few weeks, the fictional history teacher turned president has become a real president turned history teacher. In a virtual visit to the British House of Commons. Zelensky quoted Shakespeare and Churchill. In Germany, he reminded the parliament of the vow to never again let a dictator exterminate a people and about Germany's own invasion of Ukraine in World War 2. And in army fatigues, on a large screen before Congress, Zelensky asked American lawmakers to remember.
[CLIP]
ZELENSKY's TRANSLATOR Remember September, the 11th day in a terrible day in 2001, when evil tried to turn your city's independent territories and battlefields when innocent people were attacked, [END CLIP]
MATT KATZ While Zelensky used history in his campaign to recruit help from the West. The Russian disinformation machine was busy with its own campaign to spread conspiracy and divisions. The focus biolabs or more specifically, the United States, developing or helping develop biological weapons and laboratories across Ukraine. Ben Collins is a senior reporter for NBC News, covering disinformation extremism in the internet. And he says while this may sound like a far-fetched plot, it's really a digital age revival.
BEN COLLINS It's not that new in the grand scope of Russian propaganda history to accuse adversaries of having biological weapons and then using them yourself. They did this in Syria several years ago. In Aleppo, they tried to claim that, you know, the Syrians somehow gassed themselves or faked a chemical weapons attack when they were the perpetrators themselves. And they also did this with a spy poisoning.
[CLIP]
NEWS REPORT British police now believe that former Russian spy Sergei Skripal and his daughter Yulia, were poisoned with a nerve agent.
NEWS REPORT The government said it was Novichok poison developed in the Soviet era and that the Russian state must have been behind the attack. [END CLIP]
BEN COLLINS They claimed that it's actually the US making Novichok, maybe in Ukraine. And that spy, that's how he got poisoned with American Novichok. But of course, that makes no sense. There was later identified as FSB agents who pulled off that attack. So this is a Russian propaganda operation that has done this consistently.
MATT KATZ What are they alleging? What are biolabs? It sounds like something out of a Marvel movie.
BEN COLLINS They are research facilities that don't study things like bioweapons or the coronavirus or whatever. But that's what is being pushed by the Russian government now. You'll see talk by the Russian government that they are making specific coronaviruses in these labs to target ethnic Russians, but not Ukrainians, and it's being flown over the border by birds who are taking the coronavirus, bypassing the Ukrainians, bypassing Europeans and infecting Russians.
MATT KATZ This is a Russian-style conspiracy theory, I guess, but that's not exactly the origin of it at this moment, right?
BEN COLLINS That's exactly right. I think a really important history here is to go back to just a few weeks ago before the war and see what Vladimir Putin was talking about – see what the Russian government was talking about as their pretext for the war. They were not talking about Ukrainian biolabs that did not come up. What did come up was de-Nazification, the idea that the Ukrainian government was run by Nazis. Actual Nazis, and that they needed to go in there and get rid of them and then install a separate government that is more aligned with Vladimir Putin. And what you can see is this not landing with the global far right, this de-Nazification idea. You saw for weeks traditional allies in the propaganda spaces China, India, Pakistan even weirdly enough, uncommon allies but allies against the West in propaganda. They did not buy in on this de-Nazification thing. Didn't make any sense to them. In fact, the American far-right didn't buy in, either. The American far right was like, "What are you guys talking about?" Like denazif––what? The characters that you guys are bringing up now are new to us and we need some comfort food. And the comfort food to them is Anthony Fauci or Joe Biden or something like that. So on the day of the invasion, you can see this. We worked for this company called Pyrra, the CEO Welton Chang to this data, and you can see that there are like single digit posts about biolabs on the top 15 far right. American social networks in the days before the invasion. And then on the day of the invasion, there is hundreds and then after that thousands, and you can see that they are trying to find a reason why Vladimir Putin is not the bad guy. Because they've been told for years, he's not the bad guy. He's sort of like Donald Trump. He's smart, he's savvy. He's tough.
[CLIP]
CONSPIRACY THEORIST When they went into Ukraine and they found these labs. They believe that the deep state is possibly going to use a bioweapon on Russian people. Because they've been just like that they were collecting our DNA in China. They've been collecting their DNA as well. [END CLIP]
BEN COLLINS This pretext was invented. The first one just didn't work. You know, you can see it with the Chinese government and the way they responded. At first, they were scrounging around for weeks there, saying, "like, what? This doesn't really make sense" and they were more abstaining than they were joining in with the Russians on this propaganda campaign. But now, because you know, they were implicated in previous American propaganda about how they funded these biolabs, how they funded coronavirus research in Wuhan. Some way for them to get back at the United States. So their Foreign Ministry asked for a full accounting of biolabs throughout the world. Right in line with when Russia started doubling down on this stuff, too. This is working through Russian propaganda now. You can see in the month before on TASS, which is like Russia's APs – their news agency. There was no talk of biolabs at all in Ukraine. But on Thursday and Friday of last week, there were 24 stories. Independent stories about biolabs in Ukraine.
MATT KATZ Ben, like any great conspiracy theory, there's like a kernel of truth. And there are biological laboratories in Ukraine, and the U.S. is involved in them through something called the U.S. Cooperative Threat Reduction Program, right?
BEN COLLINS Yeah, it was a way to manage and pare down Soviet era biological research facilities with the help of various different countries, not just the United States in the West as a way to make it safer. So there's no biological equivalent of a Chernobyl, right? That's the kernel of truth there. And that's what really made this take off. Maybe a week or two afterwards where Marco Rubio brought up this conspiracy theory. Because in Marco Rubio's world, the further right parts of his constituency were already reading these posts on Facebook and Twitter and Gab. Rubio brought up this conspiracy theory in the Senate Foreign Relations Committee, and he was just saying like:
[CLIP]
MARCO RUBIO Does Ukraine have chemical or biological weapons? [END CLIP]
BEN COLLINS What are the deal with these biolabs that keep coming up in social media? This is Russian propaganda, right? And then there was this very inelegant answer from Victoria Nuland, the undersecretary of state for political affairs, who said:
[CLIP]
VICTORIA NULAND Ukraine has a biological research facilities. Which in fact we are now quite concerned Russian troops, Russian forces may be seeking to gain control of. So we are working with the Ukrainians ...[END CLIP]
BEN COLLINS She didn't say that, you know, they weren't making bioweapons because I'm assuming she had no idea that this was in the separate reality that as the QAnon and anti-vax worlds. That this is the only thing they're talking about. So she accidentally lent credence to this conspiracy theory. I'm sure Marco Rubio did not want to give the soundbites to Russian propaganda, but this is what they have been leaning on ever since.
[CLIP]
TUCKER CARLSON Green Nuland just confirmed that the Russian disinformation, they've been telling us for days is a lie and a conspiracy theory and crazy and immoral to believe is in fact, totally and completely true, and a dozen questions instantly jumped to mind. [END CLIP]
BEN COLLINS Tucker and Glenn Greenwald, all those people, they are using this testimony. As really their only shred of what they deem to be proof, when really it's just an ambiguous answer to a question that is pretty dynamic and pretty complicated.
MATT KATZ David Corn, Washington Bureau Chief and Mother Jones reported that there is a copy of a memo that they received from the Kremlin to media organizations in Russia that essentially instructed them to report on the quote activities of military biological laboratories with American participation in Ukraine. And it said the U.S. is attempting quote "bio genocide" of the population there. They also threw in some coronavirus allegations for good measure. And then the memo allegedly instructed Russian media to use as many clips of Fox News host Tucker Carlson as they could.
BEN COLLINS You got to remember, Tucker is not just an American idea now. Tucker is not just an American star, he is a star of the global far right. He's been a star of global white nationalism for many, many years. People on 4chan and Gab have always looked up to him. You know, they view him as the guy who sort of sets the tone for their talking points. As an ally who won't let them down. And that's why it worked so well. He knows exactly how to speak to the Western, far right. And it works across country lines at this point. Tucker does that, "just asking the question" sort of rhetorical trick thing he does it with his tone.
MATT KATZ Outraged and curious at the same time, yes.
BEN COLLINS The upward tilt at the end of each sentence. Russian propaganda has this guy who effectively like imitates Tucker in Russian.
MATT KATZ There's a guy who dubs over Tucker on Russian TV.
BEN COLLINS Yeah, he literally dubs over Tucker in the same cadence.
[TUCKER CARLSON DUBBED IN RUSSIAN]
BEN COLLINS They found the guy who is a pretty good Russian composite character for Tucker, audibly. So they have a gift from the American far right. The American Far Right knows how to do this. They are very good at storytelling. Its world building, that's what it is, really. And Tucker is really good at synthesizing that for an audience that is just glued to the TV all day instead of the ones that are glued to extremist social networks.
MATT KATZ So that means a piece of disinformation inspired by Soviet Russian disinformation was reborn in American far-right media, where it was then amplified by China, and echoed by Tucker Carlson, who was then used by Russian state media to amplify the same conspiracy. I mean, my mind is melting here.
BEN COLLINS Look, man, it's like pro wrestling. You got to remember, like the previous feud, right? Yeah, you got to remember that for years, the American administration, which them as one big thing here, called it the Chinavirus and alleged over and over again that this was maybe a bioweapon created by the Chinese. And then, you know, China had to flip that around and be like, maybe it was a bioweapon created by the Americans funding something in Wuhan and all this stuff. So you have to go back to two seasons ago and remember all of this stuff that was going on, all of this propaganda that was going on.
MATT KATZ It's clear that certain elements of the far right are looking for conspiracies to make Ukraine look bad, maybe to justify years of footsie with Putin and Russia to delegitimize Biden. Then maybe due to a natural affinity for the authoritarian and what they describe as the white power structure in Russia. So can we expect more of this conspiratorial commingling between the American Right and Russia?
BEN COLLINS Yes. Get rid of borders in your head. Get rid of the idea that there are political borders that define the far right, the American far right and the French far right and Canadian far right. In some cases, Russian far right and the Australian far right. They are working under the same premise. There is a new world order. They are trying to bring you down. It's Joe Biden. It's Angela Merkel. It's people who have been elected. It's Anthony Fauci –.
MATT KATZ Soros–
BEN COLLINS George Soros. Yes, it's George Soros. In some cases, it's Tom Hanks if you're a QAnon guy, right? It's all of these people who have power you don't have. Once you view it that way, once you view it through their lens, you can start thinking like them and you can start seeing where these conspiracy theories go. These things will just evolve. They will pick up new talking points. They will adapt themselves into every world event. That's what QAnon is by the way. QAnon is an explanation for every single world of it. It's all the same bad guys doing the same stuff. It was weird to me Russia didn't do this for the first time around. Before they invaded, because this talking point makes sense within that. The idea that there are Nazis we need to get rid of in Ukraine, that seems like a 15-20 year old Soviet propaganda campaign. This is the real deal. This is the new stuff that works for everybody across the world, that will get you wide scale buy in.
MATT KATZ You've been doing this for a while. How exasperated do you feel on a daily basis? Do you feel like you're fighting this war against mistruths that you're...losing?
BEN COLLINS I think we were losing worse until recently. I think most people are starting to see what this is. That you can't just go up to a guy who believes that Anthony Fauci eats kids and just be like, "Hey, what are your thoughts on this thing?" That they have rigged the game by taking advantage of the traditional media infrastructure in the way that things used to work? You know, it's been a massive shift in how this stuff is covered throughout the industry, and it's been largely for the better. And I've seen it with people in my life. Eventually, people do get hit in the face with reality here. But there's the fact that it's coming to this, that there's this much death and destruction. In the meantime, it is very, very disheartening.
MATT KATZ So you think that maybe disinformation and misinformation, which previously could have just been dismissed as you know, opinion journalism or harmless conspiracy theories is now being viewed more as a matter of life and death?
BEN COLLINS Yeah, it's it's meteorology, man. If you can see the patterns, if you can look at the data and see how this stuff moves like at the very basis of that story that I wrote this week. Nobody was talking about Biolabs. Then they invaded and then everybody was talking about biolabs. And you can trace it back to the one Twitter thread that did it, which was a QAnon account. That's science. That's not a thought that I had. That's a bunch of data, and it's irrefutable. So it's OK that for years that, you know, this sort of work was laughed off or viewed as political beltway kind of journalism, whatever. But I knew it wasn't. I know the kind of researchers I was talking to. I know that they were the smartest people that I've ever met, and I know that their commitment to this work was made for this moment. They knew they were studying effectively wartime propaganda. And just because a couple of idiots on Twitter said it wasn't a big deal. That's just like disinformation itself. It doesn't matter what some people think about your profession when you can see for a fact what is actually going on.
MATT KATZ Thank you, Ben.
BEN COLLINS Absolutely, man. I really appreciate the time.
MATT KATZ Ben Collins is a senior reporter for NBC News. You can find his article. Russian Propaganda on Ukraine's Nonexistent Biolabs Boosted by U.S. Far Right. It's at NBC News.com.
Coming up, what does it take to identify a war crime in real time? This is On the Media.
[BREAK]
MATT KATZ This is On the Media, I'm Matt Katz sitting in for Brooke Gladstone. This week, President Joe Biden decried the Russian military attacks on civilians.
[CLIP]
PRESIDENT BIDEN Putin is inflicting appalling, appalling devastation and horror on Ukraine bombing apartment buildings, maternity wards, hospitals [CONTINUES CHATTER OFF MIC] [END CLIP]
MATT KATZ In case you missed it, he called Putin a war criminal. White House Press Secretary Jen Psaki was asked about Biden's choice of words later that day.
[CLIP]
JEN PSAKI The president's remarks speak for themselves. He was speaking from his heart and speaking from what we've seen on television, which is barbaric actions by a brutal dictator through his invasion of a foreign country. [END CLIP]
MATT KATZ What we see on TV or social media might be enough proof to condemn Putin in the court of public opinion. But the international courts that investigate human rights violations and crimes against humanity. Of course, they have a much higher bar. For the past decade, open source researchers have used online posts Google Street View, radio chatter and publicly available satellite imagery to piece together comprehensive overviews of war zones. But what's new with this conflict in Ukraine is that the information gathering is being tailored to meet the standards needed to bring war crime cases to trial. Organizations like the Netherlands based nonprofit Bellingcat, which was founded in 2014 by Eliot Higgins, tap into a network of digital savvy users to get real time, impossibly intricate details about how this war is being waged. Like documenting the use of the cluster bomb. In 2008, more than 100 states ratified a treaty condemning their use. But Russia was not among them. Higgins explains how they identify these weapons in the field.
ELIOT HIGGINS So in the case of cluster munition attacks, one thing that's rather unique about them is when the munition opens up in the air. There's two parts. A rocket engine and a cluster munition container lands in the ground, kind of like lawn darts. And you can actually use the direction that the munition is pointing back towards to get a line of where the rocket came from in the first place. Followed that line back and find multiple instances is in one location of cluster munition use, and you can plot this on Google Earth, the trajectories of these weapons and we look at where these trajectories cross. We also have access to satellite imagery through providers like Planet Maxar, and we can look at those areas and see if there's signs of any military activity. And if there's multiple rocket launchers there, then you can often see burn marks on the ground from launch plumes that give you a sense of which direction they're firing at. We also then have some other interesting stuff coming from Ukraine. For example, Russia is having issues with their encrypted communications, so they're forced to use unencrypted radios, and those signals are being picked up and actually streamed online. We can actually connect those launch sites to specific radio frequencies and start connecting orders to give launches to the actual impacts on the launches themselves. We also have from before the conflicts, local Russians were using TikTok to fill military convoys, and a lot of those videos have been collected. And that allows us to track the movements of Russian convoys, including those containing missile launchers and establish which military base they originated from. So we can have the specific unit that was involved with these attacks. And when we're dealing with cluster munitions, attacks are often in civilian areas, so potentially these could be violations of international humanitarian law.
MATT KATZ You mentioned Russian radio frequencies and how you've been able to intercept those and listen to those who is monitoring those channels.
ELIOT HIGGINS I mean that and many of the things that's happening with the conflict in Ukraine is organic, ad hoc online community that's formed around the conflict. Now, back in 2014, after the downing of Malaysian Airlines 17 in eastern Ukraine, a lot of people came together on the internet in this same kind of way and dug through the evidence of that. That then led us to make more discoveries about Russia's involvement in Ukraine back in 2014, including things like cross-border artillery attacks, which we used satellite imagery to look for. In particular, the work of the conflict intelligence team and the Center for Information Resilience gave us forewarning that an invasion was coming.
MATT KATZ And why is it important that that information gets collected and then disseminated so quickly?
ELIOT HIGGINS Well, part of it is to have an understanding of how the conflict is unfolding and the ebb and flow of combat activity. We certainly have a very good sense of Russia's activities where they've been the quite significant vehicle losses that have been documented through open sources. It also means that when we're working towards accountability, all of this is evidence that can help in legal cases at places like the International Criminal Court. And it's a very simple thing to geolocate video and say what munition was used in it. But as a conflict unfolds, this is thousands, if not millions of videos like this start being produced. In the conflict. In Syria, for example, there's an archive of a few million videos and photographs that have come from that conflict. And the problem is, if you are adding useful metadata that makes it searchable from day one, you basically have massive and unsearchable data that could be very useful, but it's impossible for anyone to really search you in a reasonable way. So our first step in our process is making sure that useful information is available as soon as possible to future accountability processes.
MATT KATZ So the International Criminal Court said it would investigate war crimes in Ukraine. The United Nations Human Rights Council will create a commission of inquiry on Ukraine. German federal prosecutors began a probe as well. All these entities are seeking evidence for possible war crimes. What are the potential implications of what you're doing when it comes to seeking justice for atrocities committed in this war? What could this mean when it comes to holding people accountable for what's going on right now?
ELIOT HIGGINS So part of the work that we're doing is we have this justice and accountability team is purely focused on producing reports that are basically to a quality and a standard that means this admissible to place like the ICC, and these have mechanisms that are being set up. The idea is that. Is that is not to replace our investigation, but to supplement the work that they would be doing through more traditional investigative methods. So, you know, talking to witnesses and different kinds of experts. And Belingcat's in quite a unique position in that we are, I think, pretty much at the cutting edge of this kind of investigation, which is quite a lot of pressure for a small organization. But the past few years, we've been focused a lot on developing our ideas around that and working with legal experts to develop a process for archiving an investigation that meets the requirements of these kind of bodies. I mean, I started doing this space as a hobby 10 years ago, and now, you know, we're talking to bodies who are really keen on using this kind of stuff as evidence. We've professionalized basically the entire field. And now what we're trying to do is make the bad guys basically aware that if you commit a crime, there's a way for that to be documented the way it's out of your control and a way that's undeniable. I think this is the first time I've seen a conflict in the 10 years I've been doing this, where everyone in all these communities has been prepared for it. And it makes me very hopeful for the future because this isn't just about what happens in Ukraine, it's almost about using Ukraine as the example of what's possible when we all come together and work together.
MATT KATZ Elliot, thank you so much.
ELIOT HIGGINS Thanks for having me on.
MATT KATZ Eliot Higgins is the founder of Bellingcat and author of the book We Are Bellingcat: An Intelligence Agency For The People. As we just heard, even a meticulously organized database of evidence is no good if a judge will look at it, which is how the Berkeley protocol and digital open source investigations came to be. Alexa Koenig is the executive director of the Human Rights Center at the UC Berkeley School of Law. She says the protocol was developed in response to a real need for guidelines on the use of online information to support justice and accountability.
ALEXA KOENIG One of the things we began to notice was that there wasn't a lot of clear answers about the admissibility of this new kind of content in international criminal courts or tribunals that were being set up for war crimes. So we began to think through what kind of a foundation needed to be laid to ensure that we were all even first speaking the same language. We held a workshop in 2017 in Italy that brought together members of the Office of the Prosecutor at the ICC, with technologists with journalists who are pioneering a lot of the underlying methodologies. What we quickly found was that we were all lost in all trying to build this new world together. Little things like if you grab a bunch of videos from YouTube or a bunch of posts from Twitter, how do you tag and code those so that later when war crimes investigators come looking for what evidence exists, you even know what you have and can find that signal in the noise.
MATT KATZ If I'm in Ukraine right now and I'm looking to document some of the atrocities that are happening, what will I read in there to better understand how to do this kind of work?
ALEXA KOENIG So some of the things that you can find in the Berkeley protocol are first from jurisdiction to jurisdiction across the world. There might be different requirements about how you introduce this kind of information into the court system. Its potential admissibility, what the judges are going to want to see to help establish its authenticity. Also beyond the law, thinking about when you grab something, say a video from YouTube or a photograph from Twitter, what you capture and how you capture it can really matter. So one of the things that we recommend in the protocol is that you're downloading not only the video or the photograph itself that you first of all, you don't just take a screengrab, which I think was really the standard even five or six years ago today. That's increasingly not being seen as strong as if you download the actual item and that you do so capturing all of the surrounding contextual information like the comments that are made, et cetera. And then ideally, you're having some process for what's called hashing that digital item. So a hash for anyone who's not already familiar with that term is just an alphanumeric code that is unique to every kind of digital asset. So a video or a photograph. This helps to establish chain of custody with these digital items so that later, when the item is introduced as evidence in court, you can run a software program across the item and see if the alphanumeric code has changed. If it has not changed, that's fairly decent evidence that the item has not been manipulated since it's been in the investigator's custody. Finally, we also raise a lot of issues around ethics and also around psychosocial well-being and resiliency. I think something that's very new to this community of practice is we've never before had a time in history where people were so bombarded with really graphic content. So we want investigators to be able to start thinking about how to protect themselves, their teams. And that they are also thinking about the publics that might come across it because the stuff can be quite upsetting.
MATT KATZ You know, scrolling through my my Twitter feed today, I saw a pretty gruesome image of a of a bloodied baby, apparently from Ukraine. I immediately looked away. But I'm sure I will see many more images in the coming days and weeks that I don't necessarily want to see. And so I was just wondering how you deal with gruesome images. Is grappling with that discomfort just part of seeking justice? Or do you have some advice on how all of us can deal with these images that we're kind of bombarded with?
ALEXA KOENIG Yeah, I'm actually writing a book right now on that with a colleague, and I don't think we realized how timely this would be with Ukraine. One of the things in interviewing people all over the world who deal with this kind of graphic content. One of the big insights has been: know when one you don't need to look. So I think it's very tempting to feel like we have an obligation to witness the worst of war because we know how desperately people are suffering. But if we are getting that information in other ways and we don't need to know or don't ha ve a reason to look, sometimes it's actually better for our long term well-being to not look.
MATT KATZ But sometimes we don't have a choice.
ALEXA KOENIG Sometimes we don't.
MATT KATZ I mean it's just showing up on my scroll. I got the latest news from spring training with the Mets, and then the next image is, is something that I can't get out of my head.
ALEXA KOENIG Great point. So I think one of the first things we recommend for all people doing this work and for the lay public, as well as turn off autoplay on Twitter, on Facebook, on any platform you can. So things aren't just popping up and surprising you. One of the things psychologists have found is most damaging about this is the element of surprise. So if you are going to watch it, some ways to potentially help yourself process the material and not hopefully leave an indelible mark is to prescreen and have some sense of what you're going to watch. What I will do as an investigator is if I see a video on YouTube and I suspect it's going to be particularly graphic, I'll actually scroll through the thumbnails first to let myself know, am I going to see a beheading or some kind of targeted assassination? And then I will deliberately turn down the sound. One of the things that is well known by open source investigators is a lot of the emotive quality of this content is in the person pleading for their life, for the baby, screaming for its mother. If you can mute that or at least turn it way down, you're going to lessen the emotional resonance at the same time that you're able to be informed. So I would keep your volume down pretty much at all times, if you can. And then last, it's really tempting for all of us late at night to kind of scroll on our phones or look at our laptops and do that from bed. Don't infect, your quote unquote safe spaces with this information. And that way, when you want to turn off and you want to relax. Places like your bedroom, it's kind of preserved for other activities and not for kind of making these permanent ties and associations to really gruesome and graphic material.
MATT KATZ The flip side of the fact that these images and the availability of these images can lead to justice and potentially prevent war crimes in the future. The flip side of that is that we're all exposed to it because it's out there because it's so public. That's maybe a good thing for justice, but maybe it's a difficult thing for human beings at a personal level.
ALEXA KOENIG Absolutely.
MATT KATZ Alexa Koenig is the executive director of the Human Rights Center at UC Berkeley School of Law, and she directed the development of the Berkeley Protocol on digital open source investigations. Alexa, thanks for coming on the show.
ALEXA KOENIG Thank you.
MATT KATZ Coming up, sounding the alarm on impending war. This is On the Media.
[BREAK]
MATT KATZ This is On the Media, I'm Matt Katz sitting in for Brooke Gladstone. Now we turn our attention to an older war in Europe and the journalists who saw it coming. They're the subject of a new book by historian Deborah Cohen called Last Call at the Hotel Imperial: The Reporters Who Took On A World At War. In it, Cohen follows a tight knit band of American journalists who started their careers in the 1920s. Four friends who became famous foreign correspondents and supplied news to millions of Americans. They often gathered in Vienna.
DEBORAH COHEN You walk into that bar, you want to get in on the conversation. Tough luck. You better have some really good information about the latest palace intrigue in Romania or a really good gossip about Stalin to retail. They are shouting, they're interrupting each other. They're making fun.
MATT KATZ There's John Gunther from Chicago, a fixture of the American bestseller list from the mid-1930s to the 1950s.
DEBORAH COHEN Gunther is big, affable, the kind of man whom everyone likes to talk to. As a friend of his says, you put your head right down on the pillow of his personality and start talking.
MATT KATZ Cohen says that Gunther was the peacekeeper of the group, but if he was butting heads with anyone, it was probably H.R. Knickerbocker.
DEBORAH COHEN H.R. Knickerbocker is really a live wire of a man. People are arguing with him.
MATT KATZ Nick worked for Hearst in the Philadelphia public ledger, and he won the Pulitzer Prize in '31 for a series on Stalin's first Five-Year Plan. And with him hitting the booze was the charismatic Vincent James Sheean, who also went by Jimmy.
DEBORAH COHEN Everyone is always falling in love with Sheean. Both men and women, and as he says he can, can stand it until he's got three or four women who are proposing marriage to him.
MATT KATZ Jimmy Sheean's political memoir was the inspiration for Alfred Hitchcock's 1940 film Foreign Correspondent.
[CLIP]
MR POWERS I don't want any more economists, sages or oracles bombinating over our cable. I want a reporter, somebody who doesn't know the difference between a newsroom and a kangaroo. A good, honest crime reporter. That's what The Globe needs. That's what Europe needs. There's a crime happening on that bedeviled continent. [END CLIP]
MATT KATZ Also in the middle of the gang was the Dorothy Thompson. At one point, her syndicated columns reached around 8 to 10 million people a week.
DEBORAH COHEN She is a central figure in reporters bars, trading jokes, getting those big interviews. She interviews everyone from Freud to Trotsky to Hitler.
MATT KATZ Thompson was the first woman to head up a major American overseas news bureau and the first American correspondent to be kicked out of Hitler's Germany. She got her own movie, too. Katharine Hepburn plays a character based on Thompson opposite Spencer Tracy, in the 1942 film Woman of the Year.
[CLIP]
SAM CRAIG A lot of drink in these?
TESS HARDING Oh, I don't know.
SAM CRAIG Well, I just mean if you're not used to them you know.
TESS HARDING Oh, don't worry about me. As a diplomat daughter I've had to match drinks with a lot of people. From remittance men to international spies. And I may say I've never wound up under the table. [END CLIP]
MATT KATZ Gunther, Knickerbocker, Sheean, Thompson were, for the most part, not frontline war reporters. Their job, as they saw it was to root out the biggest stories of the post-World War One world, and the most pressing that each ultimately realized, was the rise of the dictator
DEBORAH COHEN They're on the scene. And what they're trying to figure out is what modern dictatorship actually is. It's a new phenomenon. It's something that people haven't seen. So if the world has centuries of experiences with kings and emperors, who are these people who claim that their authority descends from the people, but they disdain hereditary rule, and they have, you know, these massive rallies. And a lot of smart people at the time think that dictatorship is a passing fancy. That either Hitler and Mussolini and the Austrian dictator Adolphus, either these people are going to sort of settle down and act like normal leaders, or maybe they're going to actually destroy each other. So Hitler and Mussolini seemed like the likely candidates because they're so jealous of each other. Each infringing on the other one's prerogatives. And so it seems really well into the late 30s that maybe there's not going to be a dictatorship vs. democracy contest, but maybe it's going to be a dictatorship versus dictatorship contest.
MATT KATZ So, John Gunther, he's from Chicago. He interviewed Trotsky. He interviewed Churchill. His early coverage of the rise of the Dictator is a really important part of the story.
DEBORAH COHEN Absolutely. John Gunther has a sense that the big story in Europe is not going to be the enshrinement of democracy, which is what people think after the Paris peace conference. You have all of these new democracies that have been created from the rump of the disbanded empires. Instead, he begins to think, as he says to a girl, he's trying to impress in 1926: "I think the big story is actually not democracy, but dictatorship." And he has a sense that comes from having been a city reporter in Chicago about these outsized personalities and the kind of influence that they're beginning to wield. And that really becomes the story that makes his name.
MATT KATZ You write that the reporters who gathered at the Hotel Imperial in Vienna, the status of their interview subjects functioned as a proxy for their own status. The bigger the name they landed for the interview, the better for them. What were some of their biggest gets?
DEBORAH COHEN Newspapers were hungry for stories about these rulers. H.R. Knickerbocker interviews Mussolini 4 times. He also interviews Hitler. Dorothy Thompson interviews Hitler, and John Gunther interviews FDR, Churchill and Trotsky. The interviews with dictators. Of course, they make brilliant copy. What you find out if you try to interview Hitler, though, is that he essentially treats every reporter who comes to see him as he treats his stadium audiences. He just launches us into his stadium address and just keeps on talking. And when you tried to interrupt him, he won't allow you to do that. And he just has scripted remarks. Mussolini is different. Mussolini doesn't permit anything that he says to be quoted verbatim without actually looking at it. So there's very little that you can publish. That's really interesting out of these interviews.
MATT KATZ Sometimes these reporters got their subjects really wrong. Dorothy Thompson, you write, conducted a hard-won interview with Hitler, only to basically downplay his evil. I saw Hitler exclamation point was the headline, she wrote quote. He is the very prototype of the little man. And if Hitler comes into power, he will smite only the weakest of his enemies.
DEBORAH COHEN You know their pricing dictatorship at a moment of its formation. And so a lot of the things that we now know, which has dictators aren't going to go away on their own or, as they say, in the interwar period: dictators don't usually die in bed. They need to be killed. That's how they're going to leave power. Either that or the utter annihilation and destruction of their countries, Knickerbocker or Gunther, who do take Hitler more seriously in the early 30s, are ridiculed for being an alarmist. Dorothy Thompson is very much in the main line when she thinks this guy is a joker. You know, what is he going to amount to? Like many people, she thinks, you know what is this Austrian house painter have that would actually make him a persuasive leader of the German nation? So what she gets wrong is that she doesn't see the ways in which he is speaking to the deeply injured parts of the German people and their experiences of defeat, demoralization and so forth, after the First World War. And later on, of course, her friends tease her mercilessly about having gotten this wrong and as she says, it's OK to be wrong the first time. As long as you get it right, the second and Dorothy Thompson really spends the rest of the 1930s as one of the most lucid and forceful advocates for American intervention in the European war.
MATT KATZ Can you give a couple of examples of when these reporters raise the alarm about the possibility of World War Two?
DEBORAH COHEN You know, they were really talking about World War Two from the mid 30s, and there was a kind of joke at the time, which was when would the word breakout where you end of 1936-er or were you in early 1937-er? You know, by 1934, it was really clear to them that the dictatorships were probably not going to destroy each other. That there was a three-cornered contest that was on between fascism, democracy and communism and how that was all going to shake out. Of course, they didn't know, but they made a set of quite startlingly accurate predictions. So in 1937, Knickerbocker, for instance, predicted the Nazi Soviet pact when, much to the surprise of the world, Stalin and Hitler ended up on the same side. Knickerbocker also predicted right at the start of the Second World War, he said this war is going to last 6 years. He pretty much predicted how the war was going to go. So part of what made them really good reporters was that they did have some uncanny powers of perception.
MATT KATZ And then the other interesting conversation that's happening then that is also in so many ways happening now is over objectivity. Critic Jay Rosen calls it the view from nowhere. You write this argument in journalism was indeed going on then during this rise of fascism, Knickerbocker and Guenther rejected the quote "both sides approach" to reporting in their in their coverage of Naziism early on. That was criticized, right?
DEBORAH COHEN Absolutely. So John Gunther's editors in 1933, right after the Nazi takeover, he was sending these reports about Jews being beaten up, about actions by anti-fascists who were spray painting the walls with anti-Nazi symbols about the brown houses where enemies of the regime were being tortured. And his editors at the Chicago Daily News, which is a liberal paper, write back to him and say, Please send us more diversified copy. We can't just have articles about Nazi atrocities in their paper all the time. What happens after the Second World War is the enshrinement of the value of objectivity and a much more detached kind of realist sort of view of foreign affairs.
MATT KATZ Tell me about the way in which you decided to write this history. You described your source material as quote thousands and thousands of candy hued slips of paper bound together with rusty paper clips or stuffed into envelopes. On one scrap, a confession of infidelity and another a rumor about Stalin's family life. You don't separate the reporter's private lives from their professional ones and telling these stories because they themselves didn't really draw a clear line either. As a reporter myself who talks to his therapist about work, I found it pretty cool that these guys did the exact same thing. They were getting into psychoanalysis. Why was it important to dive deep into the personal worlds of these reporters in order to understand their journalism?
DEBORAH COHEN They are almost metabolizing these successive crises, right? The 1930s are just one crisis after another, the invasion of Abyssinia, the annexation of Austria, the Munich Agreement and the Spanish Civil War. They're taking in these crises the way that they fundamentally shape their inner life. They shape their relationships. They shape the marriages. They shape the ways in which they raise their children or feel that children should be raised. In other words, the boundaries between inner life and geopolitics just absolutely collapsed. And so journalists are asking themselves, what is the relationship between a marriage and an empire? How our kind of personal pathologies being worked out in geopolitical terms. Those are the kinds of questions that really propel them and motivate them. And they were drawn into stories and in a sense, they got stuck inside them.
MATT KATZ You wrote that in the late thirties, Jimmy Sheean has a breakdown of some kind. He felt as if he'd become a sort of human lightning rod or seismograph for the universe's political ills that he could predict them.
DEBORAH COHEN So, you know, all reporters depend upon a good set of hunches. You have to be in the right place at the right time and you're only there if you actually are perspicacious about what's going to happen next. Someone like Sheean feels that he can almost feel that kind of hands of the universe, the hands of geopolitics on him. He also has a premonition that Gandhi will be assassinated by a Hindu nationalists, and he goes to see Gandhi and he is right there in the courtyard as the assassin fires the gun. And then, of course, is completely devastated and feels responsible. Like, why couldn't he have stopped it since he knew that it was going to happen?
MATT KATZ In the face of authoritarianism, journalism is stretched to its limits. The Hotel Imperial Club of Reporters warned of World War Two long before it happened. Sheean likened the experience to seeing an avalanche traveled down a mountain, trying to pull people out of the way, only to be largely ignored. How did they all reckon with the limits of their journalistic power?
DEBORAH COHEN You know, this too, is not unlike our movement in the sense that we have a set of observers who have long been warning whether they've been warning about the kleptocrats or they've been warning about Russian expansionism and fascism. For the reporters in my book, they are both witnesses, but they also are participants. What they want to do is to raise the alarm among their fellow citizens to tell them what is coming. And that is ultimately a very frustrating enterprise because as much as they do raise people's awareness about the European continent and actually troubles in Asia as well, they can't achieve what they want, which is for the U.S. to intervene in the Second World War. And that, of course, you know, doesn't happen for almost two years, and they're extraordinarily frustrated.
MATT KATZ Dorothy Thompson wrote in 1939 Do you feel as I do a sense of sickness as though all the world and everybody in it and you and I were sick and our nerves and in our brains and in our hearts? I imagine that line resonates with some listeners today. There have been plenty of comparisons made between this moment we're in now in the 1930s in terms of threats to democracy, ascension of fascism. You spent years researching and writing this history. Which parts of it are you returning to now or are you thinking about when you're reading the news, when you're looking at more bloodshed in Europe, more bloodshed in Europe than at any time since this period, you wrote about?
DEBORAH COHEN It's devastating. I mean, so first, I think about the extraordinarily brave journalists, both people who have stayed to report anonymously now inside the Russian Federation. Those extraordinarily brave journalists, both Ukrainian and foreign correspondents who are on the front lines and in extraordinary peril. Now I think about that and I'm incredibly grateful to them because this is the way that we're going to know something of what happens. I think that the style of the 1930s was a high emotional style, and that's our moment as well. And at the same time, for those people who are most exposed and journalists really foremost among them, you realize the extraordinary toll that this work takes on people. It's not just the problem of being a bystander, but it's the ways in which the project of authoritarianism is fundamentally to reach into every aspect of private life and to affect it.
MATT KATZ Well, we appreciate you telling these stories. They're compelling and so resonant. Thank you very much for coming on the show.
DEBORAH COHEN Thanks so much for having me. It's been really a pleasure.
MATT KATZ Deborah Cohen is author of Last Call at the Hotel Imperial: The Reporters Who Took on a World at War. She's also the Richard W. Leopold, professor of History and Northwestern University.
That's it for this week's show! On the Media is produced by Micah Loewinger, Eloise Blondiau, Rebecca Clark-Callender and Max Balton with help from Aki Camargo. Xandra Elin writes our newsletter. Our technical director is Jennifer Munson. Our engineers this week were Adriene Lily and Andrew Nerviano. Katya Rogers is our executive producer. On the Media as a production of WNYC Studios. Brooke Gladstone will be back next week. I'm Matt Katz.