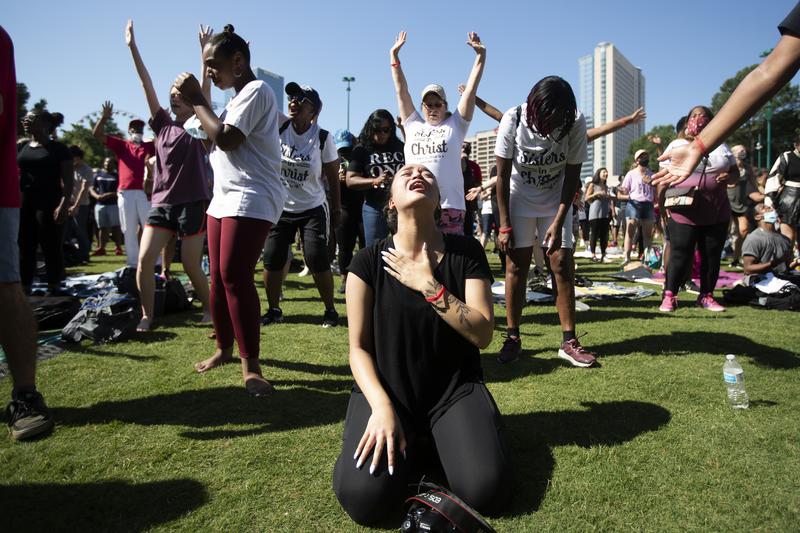 Transcript
The Undertow
[CLIP]
NEWS REPORT How will a second wave manifest itself? How will we know that one is upon us? [END CLIP]
BROOKE GLADSTONE This week: waves viral and political. From WNYC in New York, this is On the Media. I'm Brooke Gladstone.
BOB GARFIELD And Bob Garfield. After weeks of violent protests got wall-to-wall coverage, the current lull has some questioning: what's next for Black Lives Matter?
ALLEN KWABENA FRIMPONG When the cameras turn off, we think that the movement activity has somehow ended, but it hasn't. It's that what is required of us has shifted.
BROOKE GLADSTONE Also, a white historian from Oklahoma learned of the 1921 Tulsa Massacre only by chance. It was never covered, never taught.
RUSSELL COBB We learned something like that that took place so close to you and so intimately involved in your history. It feels like it changes your identity.
BOB GARFIELD It's all coming up, after this. From WNYC in New York, this is On the Media, I'm Bob Garfield.
BROOKE GLADSTONE And I'm Brooke Gladstone. Well, this week has been unusually tricky. Since the lockdown, the prevailing narrative in the previous 7 days was relatively easy to identify and explore, but this week, not so much. The tension hasn't abated, but it's become amorphous, infused with the prospect or maybe the hope of change for the better. Anyway, it seemed an apt time to look into the past and ahead into the middle distance. We are awash in waves right now, ranging from the viral to the political. So let's start with the viral, where after months of experience, clarity is still hard to find.
[CLIP]
GOV ANDREW CUOMO Nobody really knows. Is there a second wave? Is there not a second wave? [END CLIP]
[CLIP]
NEWS REPORT How will a second wave manifest itself? How will we know that one is upon us? [END CLIP]
[CLIP]
NEWS REPORT The fear of a second coronavirus wave is now a reality. [END CLIP]
BROOKE GLADSTONE This week, Vice President Pence wrote an op-ed in the Wall Street Journal that ran with the headline "There isn't a Coronavirus 'second wave.'" The piece claims that the media is fueling unwarranted panic, that unwavering progress has been made, that the spread of the virus has been slowed. The headline alone is technically accurate. There is no second wave because we are, in fact, still in the first wave. But as Johns Hopkins epidemiologist Caitlin Rivers observed this week, it's less like a wave and more like a mesa.
CAITLIN RIVERS Yeah, that's right. We're really in a plateau. At the national level, we've been recording about twenty thousand cases per day for the last, more than a month. But some places that were hit very early and hard in the outbreak, like New York and New Jersey, are doing quite well and they have really successfully turned the corner. But other places never turned the corner or they had a period of relative quiet and are now experiencing more intense transmission.
BROOKE GLADSTONE Can you give us a snapshot of the states we should be concerned about?
CAITLIN RIVERS Arizona, Florida, South Carolina, Arkansas. And there are a few others that are also intensifying.
BROOKE GLADSTONE Texas, even Oklahoma.
CAITLIN RIVERS Oregon. I think it's actually on the order of 15 to 20 states that may be headed in the wrong direction.
BROOKE GLADSTONE Here's a simple question. What is a wave?
CAITLIN RIVERS There is quite a bad outbreak and then it ends and there is a period of quiet and then a second wave begins. That's not really what we're seeing here at the national level. We never exited the first wave. There are a few states that I think we could say that they're in a second wave. And those are states that have very low counts, overall. Alaska, Hawaii, Montana all really did exit the first wave and had a period of quiet and are now experiencing a resurgence. But those states with high case counts and intense outbreaks, I wouldn't say they ever really left the first wave.
BROOKE GLADSTONE I was thinking of a piece by Ed Yong in The Atlantic last month. He referred to the American pandemic as a patchwork pandemic. He said each state's pattern is distinct. Hawaii's looks like a child's drawing of a mountain. Minnesota's looks like the tip of a hockey stick. Maine's looks like a two humped camel. So not only are different states having different experiences, but cities and rural areas are on different timescales. And American mortality rates obviously differ hugely with respect to race. This splintering, wrote Yong, can be psychologically perilous because it's harder to get a grip on what's actually happening.
CAITLIN RIVERS I think it is hard. A community could look different than the state numbers, could look different from the national numbers. And that's because diseases are spread through contact networks. How the disease spreads through those networks will vary from place to place and from community to community.
BROOKE GLADSTONE I'm speaking to you from Brooklyn, New York. This state is now undergoing phases of, quoe "reopening": a word that suggests we're going back to normal. But what public health experts keep saying is that we're moving forward to a new way of managing in a world with coronavirus. In March, there was a Medium post by a Tomas Pueyo entitled "The Hammer and the Dance," and it went viral. He saw the hammer as harsh steps like lockdowns when aggressive measures are needed and the dance represented the careful choreography that we have to perform when things start to ease up. I guess we're in the dance portion.
CAITLIN RIVERS I do think we're in the dance portion and I'm not seeing a lot of appetite right now for the hammer. We need to leave that as an option to ensure that we're able to prevent the health care systems from becoming overwhelmed. But I would be surprised if we go back to large scale lock down. Part of it is political appetite, and I think it stems from very real concerns about the consequences of lockdowns, if you will, on the economy and what that means for people's lives and livelihoods. But it's also that we've learned more about the virus as we've gone through.
BROOKE GLADSTONE Tell me what we've learned. I raised this partly because there's been some interesting preliminary data from the demonstrations, the protests, and it really seems that if you wore a mask, there wasn't likely to be an uptick in transmissions, at least not so far.
CAITLIN RIVERS I think it's a little bit early to evaluate whether the protests will have any impact on our epidemiology. It takes about three weeks from infection until ICU admission. And I use ICU admission because that's one of the most reliable indicators that's easy to observe. Things are looking good so far, and I certainly hope that continues to be the case. But you hit on two major points that I think have been major developments in our understanding of transmission. And that's that outdoors is safer than indoors. And also the importance of masks, and universal masking is really a new way of thinking about disease control for us in the United States. It'll be interesting to see whether that is an intervention that we carry forward with us. Early in the outbreak, many states chose to close their outdoor recreation areas, for example. I would be surprised if we go back to making that a restriction, because I do think that those kinds of activities outdoors are relatively safe.
BROOKE GLADSTONE Psychologically, do you think it would have served the public better to suggest that we would always be confronting this disease like a chronic condition? Do you think we would have been less impatient if we understood that this was a national change?
CAITLIN RIVERS Perhaps. It was always my expectation that this would be a virus that we would have to manage until we had an effective vaccine. Less clear to me and probably to others is whether the United States would be able to gain tight control through case-based interventions, diagnostic testing and the contact tracing and the isolation. The suite of interventions that South Korea and Singapore, Iceland, Taiwan, New Zealand, Australia have used to control their outbreaks and they are in a better place than we are. Now, the U.S. has scaled up on all of those interventions quite a lot. It's just that we never transition to fully managing our outbreaks in this way. And so I think making clear now that without that kind of approach, we will have to be more careful than some other countries is helpful for helping the public to understand that this will be a longer term event.
BROOKE GLADSTONE You testified to a House committee last month about the government's response. You also raised a concern about complacency in that hearing.
CAITLIN RIVERS It's still with us. We've been averaging 500 to 700 new deaths each day for the last few weeks. And that's really extraordinary. That's a huge loss of life that is largely preventable. And if we relax on that, we could experience exponential growth again. The conditions of March are still a possible future scenario and we need to continue to be vigilant. One development I've been excited about in our national conversations is a recent brief that CDC gave about how people can think about the risks of different activities. Can I go to a barbecue? Can I meet my family member's new baby? And I love that we're spending more time helping people to understand how to evaluate the risks of those activities for themselves. The kinds of national conversations I'm not as excited about are trying to move ahead of the pandemic and trying to put it behind us.
BROOKE GLADSTONE On Twitter this week, you observed this pandemic is one of the most intense, broadly shared experiences in history. That's the real story. The schisms are a distraction.
CAITLIN RIVERS I see a lot in the headlines of yes masks, no masks. Can we open bars? Should we not open bars? And those are all legitimate discussions. But I don't want people to miss that we are going through something very intense and that we are all sharing that experience. Now, we are not sharing it in the same way. There are communities that have been harder hit than others. There have been communities of color in particular that have experienced disproportionate impacts. But at the 30,000 foot level, we are all living through history, and we are going through it together. And that is a lens that I would like to see more of in our national conversations.
BROOKE GLADSTONE Caitlin, thank you very much.
CAITLIN RIVERS Thanks for having me.
BROOKE GLADSTONE Caitlin Rivers is an epidemiologist and professor at Johns Hopkins University.
BOB GARFIELD Coming up, waves are the signature emotion of our times, our health, our politics. But did they signal another kind of stasis or a sea change?

BROOKE GLADSTONE This is On the Media.
This is On the Media, I'm Brooke Gladstone.
BOB GARFIELD And I'm Bob Garfield. Are we in wave one or wave two? If there is a lull, does that mark an end? A pause? Or gathering of strength? These questions we ask about coronavirus, but what if we understood social movement moments in the same way?
The death of George Floyd, and the uprisings that followed, can seem like the birth of a new social movement and a new host of possibilities. Disbanding and defunding police departments, commemorating Juneteenth, and addressing the ongoing silent apartheid, the systemic racism woven threads of society in everything from voting rights to health care to urban planning. It seems as sudden as a lightning strike. Allen Kwabena Frimpong is an activist and consultant with AdAstra Collective, which provides tools to build social movements. He says the explosion was ignited by what his group calls a trigger event, or several of them.
ALLEN KWABENA FRIMPONG The killing of George Floyd, the pandemic, the previous extrajudicial killings of Black people, these events, where we can no longer be complicit with the conditions of the status quo that we're in.
BOB GARFIELD And then, once the triggering event unleashes this long accumulating rage comes the heroic phase: everybody's on the streets, anything seems possible. Which leads, you say, to a honeymoon.
ALLEN KWABENA FRIMPONG Right. People believe anything is possible, that we've been dreaming of, that we would like to see in our world, a future without police, without jails and prisons. Now, that not only seems possible, it's becoming possible. And so we saw that with the disbandment of the Minneapolis Police Department, with the vote that was taken by the city council. And so it's in this space that possibility can live.
BOB GARFIELD And then history tells us the honeymoon inevitably ends, leading to disillusionment, contraction - you call it. The Women's March and Occupy are quintessential examples. And likewise, the first wave of Black Lives Matter. What's happening when the disillusionment sets in?
ALLEN KWABENA FRIMPONG Many times during this period, we think we've failed, that when the cameras turn off, when there's not as much attention to the issues in mass media, or even in social media, we think that the movement activity has somehow ended. But it hasn't. It's that what is required of us has shifted or it gets to shift in this phase of the cycle. And it's a time to build strategy and to build organization, to find unity around the issues and to figure out the infrastructure needed to be able to create the visions of the world that we actually want to live in.
BOB GARFIELD An analogy might be that you light the grill, the flames jump out of the kettles so big you could get singed. But then 15 minutes later, you come back and all you see is a heap of coals. But underneath it is smoldering. The cycle does seem to reflect at least American history going back to the Boston Tea Party.
ALLEN KWABENA FRIMPONG These kind of waves that we've seen, this country has dealt with since its inception. When you invoke the Boston Tea Party, that history occurred with the backdrop of slavery and the removal of indigenous folks. We have to understand, are waves of rebellions and riots. I'm here in Jersey City, New Jersey. In 1884, you had Black people rioting here in Newark because of the erection of what was then the school system, and how Black people were being locked out of participation. There are these strings of events in our history that lead to these moments.
BOB GARFIELD So let's call this the the second wave of Black Lives Matter. Does the same pattern still hold? I mean, if this is the second honeymoon, should we expect marital reality to kick in with a second loss of energy?
ALLEN KWABENA FRIMPONG Why wouldn't we? We still live in a culture that upholds capitalism and that holds white supremacy. The fact that we have people still talking about the reform of a police state I think is indicative of that. What feels different in this case is now you have corporations who want to put out statements saying Black Lives Matter.
So, yeah, we're in, if you want to call it, a second wave of Black Lives Matter. But the reality is that, as we've talked about before and the contraction phase, we really will have to ask the deep question, what will be required of us as organizers, activists, members of our communities to shift the material conditions.
BOB GARFIELD Are you in the process of trying to manage expectations? Show how the cycle works and say we're not going to lead the news for much longer. Be prepared to build networks and continue to organize, continue to lobby.
ALLEN KWABENA FRIMPONG What we will need to deal with in this contraction phase is what are going to be the alternative institutions that people can look to, that people can trust, and that people can believe in that shows that the path to the new normal that we deserve. And to me, what that looks like is worker-owned cooperatives, credit unions, community control of our public safety, health care for all, public education accessible to all. Those things would need to change if we're asking for the abolishment of police, cause what it requires of us then is to change our relationships with each other and build community with each other. And that's what we're going to need to prepare for as this contraction phase comes to life. And the question becomes, will we choose to do that work? Will we choose to build with people in our neighborhoods? Will we choose to depend on them, and create modalities for our safety?
BOB GARFIELD Speaking of other institutions, the show is called On the Media. And I want to ask you about us. And I want to go back to Occupy to do it. When the protesters vanished from the public parks and went home, sometimes chased away by police, we in the media seized on that exodus as a sign of the movement's failure because its goals were too quixotic, it's politics too fragmented and so on. Is the contraction phase of the cycle reflected by or influenced by the media characterizations?
ALLEN KWABENA FRIMPONG When people are not in the streets anymore and there isn't this huge spectacle, what is there left to cover? America is so infatuated with the spectacle of its own violence, and the trauma that ensues from it, that disillusionment and the contraction period of the cycle, I think is a representation of what we tend to be stuck in in terms of our own habits. We enjoy the trauma of the story of the victim, the perpetrator, and the savior, and the way we tell our news as from that habitual norm. And so what would it look like to shift away from that? And perhaps tell news that connects the dots, then tells a much more nuanced and complex story that the viewers and listeners deserve to hear. Where people can actually share authentic stories about what is going on from a place that is moving for people, that shifts something for them, that doesn't truncate and flatten their lives into just these one dimensional identities. It's a lot of what media frames and that then leads to some of the assumptions that get made about whatever happened to the marches, whatever happened to the people organizing. The reality is people are still doing that work, but it may look different.
BOB GARFIELD We in the media have focused on the tip of the iceberg. The protests, the violence, the repercussions. But you have been talking of what's going on beneath: the networks of people building power over time, the organization. What do you think we can do to tell the story of protest better?
ALLEN KWABENA FRIMPONG Folks in the media need to ask themselves, why do we feel compelled to tell these stories in these ways? What do we believe about our audience, about what they're ready to hear and what they're ready to listen to? We can then have a conversation about what are the human stories that need to be shared that connect the dots.
People think that somehow Minneapolis was just able to do this overnight, but they have been in a protracted struggle for years to get to this point. If media were to tell the stories of what it took to get there, that would be a different kind of conversation that has different kinds of implications. And the time that it would take to tell those stories would mean the focus of the stories is not just around making a profit, but we would actually have to honor people's time and contributions much differently than the ways that we do right now. Are they willing to shift as an industry to live into the kind of lives that these movements are demanding and declaring for?
BOB GARFIELD Allen, thank you.
ALLEN KWABENA FRIMPONG Well, thank you. I really appreciate the time being here and just being able to share and be in conversation.

BOB GARFIELD Allen Kwabena Frimpong is an activist and consultant with AdAstra Collective. When tracking the impact of a wave, it is best to take the long view. For now, we only know how it looks and feels and how it's interpreted in this moment.
[CLIP]
ATLANTA MAYOR KEISHA LANCE BOTTOMS So what I see happening on the streets of Atlanta, this is chaos. A protest has purpose. When Dr. King was assassinated, we didn't do this to our city. [END CLIP]
[CLIP]
JEH JOHNSON Martin Luther King said we have the right to protest for our rights. It is regrettable that some of these protest have turned toward violence. But in each instance, local law enforcement has been able to address it. [END CLIP]
[CLIP]
ANGELA UNDERWOOD-JACOBS We will never solve generational, systemic injustice with looting, burning, destruction of property and killing in the name of justice. [END CLIP]
BOB GARFIELD A recent Monmouth poll asked respondents about the actions of protesters, including the burning of a police precinct in Minneapolis. 57% said the protesters anger was fully justified. But as to whether the actions themselves were fully justified, only 17% said yes. That result comes 57 years after Dr. Martin Luther King, writing an open letter from a Birmingham, Alabama jail, scolded white moderates who say, "I agree with you in the goal you seek, but I cannot agree with your methods of direct action." That disconnect, wrote political reporter Maggie Astor this week in The New York Times, reveals a fundamental misunderstanding of the dynamics of protest and of American history itself. Maggie, welcome to the show.
MAGGIE ASTOR Thanks for having me.
BOB GARFIELD In your piece, you wrote about the cycle of public opinion. From anger and derision, to sanitization and nostalgia. You say this phenomenon goes at least a century back to the abolition movement, no?
MAGGIE ASTOR Yes. As far back as the eighteen thirties, there was really violent backlash to abolitionists. There was an incident in Boston, for example, where the abolitionist William Lloyd Garrison was literally dragged through the streets of Boston with a rope around his waist by a white mob. Another mob burned down a meeting hall in Philadelphia that was being used by abolitionists. So regardless of what tactics the activists used, there has always been that sort of backlash from people who oppose the aims of a protest movement.
BOB GARFIELD Now, let's move on with a little bit to the latter part of the 19th and early 20th century with the Women's Suffrage Movement. School history books and pop culture present a gauzy, and I think often condescending, view of those events. You know, it's just a bunch of flinty, determined women quaintly protesting for a cause that we today view as a no-brainer. But at the time, there was backlash, no?
MAGGIE ASTOR Yes, absolutely there was. Now, in comparison to many other movements, the tactics that many women suffragists used were more within the realm of traditional electoral politics. They circulated petitions, they held meetings, they lobbied Congress. But there was certainly in the later years of the suffrage movement, a very stark split between the more moderate wing, that was pursuing those tactics I just mentioned, and a more radical wing that, for example, in February of 1919, burned President Woodrow Wilson in effigy outside the White House. There was a huge amount of criticism of those tactics. But the way that those more radical protesters were treated by the police, when they were arrested, helped bring public sympathy to the movement. And even for the suffragists who did use those traditional political tactics, the message itself was disruptive, and that did bring a great deal of backlash even when they were using those very staid traditional political tools.
BOB GARFIELD A majority of Americans, I referred earlier to that Monmouth poll, still believe that polite protest is great, kicking up a ruckus: bad. And even more than that, counterproductive. You spoke with the historian whose focus has been on the relationship between so-called intense protest and voter turnout, which is the most fundamental tool of orderly democracy.
MAGGIE ASTOR The study you're referring to, which was by Daniel Gillion, a political scientist at the University of Pennsylvania, ranks the intensity of protests on a scale. So, for example, a protest will get one point if it involves more than 100 people. It'll get another point if there are arrests made. Another point if there are injuries. He found that more intense protests were associated with increased voter turnout among people who were ideologically aligned with the protest. And he also found that intense protests in any given congressional district tended to influence the voting record of that district's congressional representative.
BOB GARFIELD I mentioned earlier the gauzy mythology that's characterized some highly fraught historical moments. On this show, we've more than once revisited the story of young student Rosa Parks in 1955, refusing to move to the back of a Montgomery, Alabama bus. American memory views that episode through rose-colored glasses. Does it not?
MAGGIE ASTOR Yes, certainly. The mythology of Rosa Parks is that she was this ordinary woman who was very tired after a long day of work and she just really didn't want to give up her seat. In reality, she was a longtime activist with the NAACP. She had been deeply involved in investigating a gang rape case of a African-American woman. She was very much steeped in the Civil Rights Movement before that day on the bus. And that stand that she took was a calculated political action; it was not a spur of the moment, she was just tired sort of thing.
BOB GARFIELD So the sum total of this kind of soft focus revisionism seems to perpetuate a larger myth of frictionless, polite protest. And and in doing that, all but obliterates the impact of some truly convulsive events like the Watts riots, the 1968 riots across the country after the assassination of Dr. King, the L.A. rioting after the acquittal of the men who beat Rodney King. What is lost in this process?
MAGGIE ASTOR Well, it sort of perpetuates this myth that if people just stand up politely and state what is right, then society will change. But if the ideas that the movement was promoting were universally accepted and not controversial, then there wouldn't be any need for the movement to begin with. You know, the protest movements that have been successful are very complicated. They are accumulations of many different people using many different tactics. And it is really impossible to separate out one person and one tactic and say this is the one that caused the movement to succeed. So, this mythology really inhibits our understanding of how movements do achieve their goals and what they actually look like when they're happening.
BOB GARFIELD I'm wondering why is the impulse to revise history to match what we think our values are?
MAGGIE ASTOR Well, I think that certainly there is a tendency for people to believe that if they had been alive during a particular period of history, that they would have stood on the right side. Obviously, that is something that is impossible to know unless you actually were alive during that period in history. During the Civil Rights Movement, a very large subset of the population did not support Dr. King, either his tactics or his message. Violently resisted him. That fact is uncomfortable to a society that wants to believe that it would have stood with him.
BOB GARFIELD I am about to share with you an extremely troubling episode of my personal history. This was in 1970...let's say 4. It was summertime, and I was visiting my freshman year college roommate in central Pennsylvania. I was in his family's family room and above the mantelpiece was a rifle. His father was there. I said, what's that? And he says, oh, that's a replica of the rifle that killed Martin Luther King.
MAGGIE ASTOR Wow. I spoke with two of his children for my article, and both of them emphasized that at the time that he was assassinated, he was one of the most disliked people in America, according to polls. He was not the lionized hero that he is today.
BOB GARFIELD Maggie, I want to thank you very much.
MAGGIE ASTOR Thank you.
BOB GARFIELD Maggie Astor is a political reporter for The New York Times.
BROOKE GLADSTONE Coming up, what if there is an act of such horror that the journalists responsible for history's first draft don't cover it? Or worse still, cover it up?
BOB GARFIELD This is On the Media. This is On the Media, I'm Bob Garfield.
BROOKE GLADSTONE And I'm Brooke Gladstone. As we live history, and scramble to take stock of how we got here, the president follows his own soon to be historic course. Pandemic and uprising be damned. His people need him, and he will not let them down, whatever the cost, as long as they sign a waiver.
[CLIP]
NEWS REPORT He is under fire tonight for planning to hold a campaign rally in Tulsa, Oklahoma, on June 19th. [END CLIP]
BROOKE GLADSTONE Beyond the inevitable risk of spreading the virus, that the president would rally his supporters on June 19th in Tulsa, scanned to many as a vicious one-two punch. After all, June 19th, or Juneteenth, marks the day in 1865 when the enslaved people of Texas learned they finally were free. Trump, in a rare concession to criticism, pushed his rally to June 20th.
Still, amid the anti-racist protests that he's largely denounced, it's worth recalling that in 1921, Tulsa's Greenwood neighborhood was the site of the largest so-called race riot the nation has ever seen.
[CLIP]
OLIVIA HOOKER They decided, well, all right, we have to teach them a lesson. The Ku Klux decided that we have to teach them a lesson. [END CLIP]
BROOKE GLADSTONE That's Olivia Hooker. Until her death in 2018, she was one of the last survivors of the massacre left to bear witness.
[CLIP]
OLIVIA HOOKER On June 1st, they began to systematically destroy neighborhoods. And they had airplanes dropping things down on people's houses, and they had made up their mind to clear the entire area of Black people. [END CLIP]
BROOKE GLADSTONE Russell Cobb is a professor at the University of Alberta and the author of The Great Oklahoma Swindle: Race, Religion and Lies in America's Weirdest State. He's dived deep into the history of Greenwood, which began with a concession by the U.S. government to the "five civilized tribes."
RUSSELL COBB The Cherokee, the Muscogee Creek, Seminole, Choctaw and Chickasaw. And they just happened to cover what we would consider the Old South from Florida up to North Carolina, then westward into Mississippi and Arkansas. Now, they were labeled the five civilized tribes, in part because they adopted slavery. I mean, this is a historical irony, right? The white southerners filtering into that territory in the 17th - 18th century was saying, well, if you want to really assimilate to the civilization, you need to be farmers and establish white supremacy and hold Black people in slavery. And so they did. The white man ran them out of the southeast anyway, but they took their slaves with them. And when we get to the period right before the 20th century, this federal commission, known as the Dawes Commission trying to establish who exactly is a citizen of, say, the Cherokee Nation or the Creek Nation, are faced with this problem. What about the Black freedmen, the descendants of the slaves? Now we talk about Juneteenth and Juneteenth in Oklahoma was actually even later than Texas. The last slaves in Indian territory weren't freed until 1866, but when they were, they did become part of those indigenous nations. So, here's the thing, we have this federal government saying we're going to liquidate your government, and if you want to be a good citizen of the United States, you need to understand private property. So each tribal citizen is going to get more or less 160 acres, with one exception: the freedmen receive one hundred and sixty acres of land in what is slated to become the new state of Oklahoma.
BROOKE GLADSTONE The land was poor. So where did the wealth come from?
RUSSELL COBB It's right on top of what became the biggest oilfield pre-World War 1. And so Greenwood became Black Wall Street. That's where the money was, right, and it was a beacon. In the 19-teens, you start to see descendants of slaves, especially Texas and Mississippi, Alabama, come to Tulsa, come to Black Wall Street to make it like the American Dream.
BROOKE GLADSTONE There were two Black schools, 13 churches, two Black movie theaters, a Black public library.
RUSSELL COBB And don't forget, a roller skating rink!
BROOKE GLADSTONE Black-owned shops, Black-owned hotels, even a Black-owned newspaper, the Tulsa Star.
RUSSELL COBB The Tulsa Star was started by AJ Smitherman, and Smitherman was one of a handful of Black leaders who would not stand idly by as Oklahoma became more and more like the rest of the South. So, as segregation was imposed, as lynchings started to take place, as fake news started to spread about Black men attacking white women, Smitherman would denounce these things and even called for self-defense.
BROOKE GLADSTONE Greenwood was predominantly Black. Was it entirely Black?
RUSSELL COBB It was not like there was this entirely Black Greenwood, and this entirely white Tulsa. Remember, this was a place that was literally called Indian Territory just 20 years before this. So, there's all kinds of mixing. And it's also a boomtown. You have white people going into Greenwood, Jewish merchants setting up shop in Greenwood, Native Americans, the Freedman. And then you have what they call that the time state Blacks because they were from states as opposed to Indian territory. Tulsa was a Wild West town, but it was also a Bible Belt town, which it still is. And there were plenty of white people who were curious about Black clubs, music, dance. Greenwood attracted all the big names in jazz.
BROOKE GLADSTONE There's that famous song about Tulsa: "Take me back to Tulsa. I'm too young to marry."
RUSSELL COBB "Drop me off at Archer. I'll walk down to Greenwood." Bob Wills is saying, you can put me on the white street, and I'm going to walk down to Greenwood because that's where the good times are. And so the powderkeg, the thing that made it explosive, was that you had these two towns, they were intermixing and a lot of ways, both prosperous, but white Tulsa was increasingly adamant about enforcing white supremacy. And that's where the role of the media really comes in.
BROOKE GLADSTONE So there's one publication in particular that you flag in shaping white Tulsa's sentiments. That was the Tulsa Tribune. It was owned by Richard Lloyd Jones.
RUSSELL COBB He was sort of a celebrity journalist. He was writing for Collier's Weekly, and he landed in Oklahoma and he said, this is the place for me. It's got white supremacy, it's got an economic boom going on. He was essentially handed the editorship of the Tulsa Democrat, which he turned into the Tulsa Tribune.
BROOKE GLADSTONE This paper of his repeatedly struck a couple of themes.
RUSSELL COBB Yes. Tulsa was indeed a Wild West town. There was all kinds of police corruption. There was violence in the streets, bootlegging, et cetera, et cetera. But what Jones did was say it's coming from Greenwood or as he called it, Little Africa. And they went on a fact-finding mission and they found white women dancing while a Black man played the piano. And they heard this infernal new music called Jazz. But most importantly for them was that the Black Tulsans were getting a sense of equality. Both the Tribune and the World, we can't give the Tulsa World a free pass because both of those papers said that the number one issue that is creating tension is this Black man's notion of equality, which, of course, AJ Smitherman was very adamant in saying in the Tulsa Star. Yes, we are equal. We're equal under the law. If you're not going to protect our rights, we will stand up and protect them ourselves.
BROOKE GLADSTONE Jones publishes a note warning the mayor and the Tulsa police chief if something isn't done, something's going to explode.
RUSSELL COBB Yes, he actually is. It's chilling, it's chilling to read that.
BROOKE GLADSTONE The precipitating event involved a young man named Dick Rowland, who is Black, and white, woman named Sarah Page.
RUSSELL COBB Dick Rowland worked in a building called the Drexel Building shining shoes. This was Memorial Day, so there wasn't anyone else in the elevator, and Rowland was going up to the top floor to use the segregated bathroom. Sarah Page operates the elevator. And so she takes him up there, and on the way back down, there's some sort of physical altercation between the two. What got out was that he had attempted to rape her. First of all, Sarah Page never actually pressed the charges. And furthermore, a lot of things suggest that many white Tulsans were looking for an event. One example that showed the dangers of social and racial equality. Page was a very poor, uneducated, white girl who had recently relocated to Tulsa. It is possible that she was told to do this. There was certainly no evidence to even indict, much less convict Rowland. And that story went directly to the Tulsa Tribune as the following headline: "Nab Negro For Attacking Girl in an Elevator."
BROOKE GLADSTONE At the top of the interview, we heard the survivor, Olivia Hooker, talking about planes dropping things on people's houses. I mean, what would someone see if they were in a helicopter watching all of this?
RUSSELL COBB They would have seen a war. The whites, attackers, were often deputized. The police chief, Atkinson, was handing out badges like candy. White mobs looted gun stores, and sports equipment stores for any kind of weapons they could find. Police themselves participated, and battle lines formed. Thousands of white attackers and Black Tulsans who are prepared to not take this lying down. Obviously, they are vastly outnumbered, but they were also well armed and they took up defensive positions around the neighborhood. When the actual attack begins, survivors remember at five o'clock in the morning, this loud whistle going off and then all of a sudden guns are blazing and here come the airplanes.
BROOKE GLADSTONE What were they dropping?
RUSSELL COBB Incendiary devices, so, a sort of Molotov cocktails. And that's why the fires spread so widely. Of course, the people are filing out of their houses, and a lot of them are being rounded up and put in internment camps. But some of them are just being shot right on their front porch. We don't know how many people died that way. Hundreds.
BROOKE GLADSTONE Now, let's talk about how we remember. How did the regional and national media react?
RUSSELL COBB The Tulsa media wants the world to know that there was a quote unquote, "Negro uprising," and they pointed to the armed Black defenders who came to stop the lynching of Dick Rowland in the courthouse. They said the Blacks went crazy, they invaded white downtown. That's how it was remembered, was as a riot.
BROOKE GLADSTONE What about AJ Smitherman, the editor of the Tulsa Star, the Black owned newspaper? Were there any countervailing voices?
RUSSELL COBB There were. Smitherman was one of the main targets of the white mob. He got away, and ended up in Buffalo, New York. There was a search warrant out for his arrest. Fortunately, he had enough people around him to protect him from the prosecution.
BROOKE GLADSTONE So let's go back to Richard Lloyd Jones. He became kind of a self-proclaimed spokesperson of Tulsa, and he publishes two antithetical op-ed's on the topic. One, he sends to a national wire service, the other he prints in his own publication. It's incredible.
RUSSELL COBB Yeah. Talk about a forked tongue. His one op-ed, which he disseminates for the national audience, says that the result of this race riot will be that Blacks will have better homes. "The splinted spirit that is characteristic of the aggressively progressive Tulson. Tulsa will lift its head from this hour of shame to clean house." For his local audience, he writes an editorial. I can't, I don't think I can read.

BROOKE GLADSTONE Why not?

RUSSELL COBB It's just too, it's too vile. I'll just give you a little sense for it. "Such a district as the old n-town must never be allowed in Tulsa again. This old n-town where a lot of bad n-words, and a bad n-word is the lowest thing that walks on two feet."
BROOKE GLADSTONE What happens after that?
RUSSELL COBB There is a grand jury. There's an investigation. No one is ever prosecuted. I mean, think about that. The hundreds dead. The entire neighborhood completely flattened. No restitution is paid. No one is convicted of a crime. Richard Lloyd Jones continued publishing the Tulsa Tribune, his son inherited the paper and then his grandson inherited the paper. They pursued a strategy of absolute silence around this event. And, so did the Tulsa World. They just simply didn't want to talk about it.
BROOKE GLADSTONE You grew up in white Tulsa. What was your impression of the massacre?
RUSSELL COBB I didn't have an impression of the massacre because I didn't know it happened. I grew up two miles south of where it took place. When it came time for our Oklahoma history class, we learned about the wonderfulness of the oil industry and of Oklahoma, where the wind comes sweeping down the plains, and the waving wheat. And we never heard a single thing, nothing, about a race massacre or even a race riot. So, it was not until I was in graduate school browsing the stacks, I don't know was probably killing time, and I saw this book about the Tulsa Race Riot of 1921. And I went, what it what is this, some sort of historical novel? Some sort of weird parallel history? I called friends, I called family and a Black friend - and I said, did you ever hear about this? And he said, No, no, I mean, he said, his parents warned him about this time when there was this great fire and the Klan. They just warned us, just be careful what you do, because there was a time when there was a lot of violence. Ever since then, I've just been sort of obsessed with it, because when you learn something like that that took place so close to you and so intimately involved in your history, it feels like it changes your identity.
BROOKE GLADSTONE How so?
RUSSELL COBB Well, my family, we're all in the oil industry. And my great grandfather came to Tulsa at precisely this moment in time. Tulsa was the oil capital of the world, and beautiful Art Deco skyscrapers were being built, and lots of money was being made.
And if anything, by the 80s and early 90s, there was this sort of nostalgia for those days because Tulsa had kind of fallen on hard times. The price of oil was in the tank. And so there was this kind of romanticism about, oh, remember the glory days?
BROOKE GLADSTONE And then after?
RUSSELL COBB I thought, well, not only is it based on a lie, the wealth that was built was stolen. It was stolen. We talked about the Freedmen, the Native Americans and the allotments. That oil wealth was built on swindles. So, it created a real change in how I thought about the place and the people where I grew up.
BROOKE GLADSTONE Russell, thank you very much.
RUSSELL COBB Well, thank you so much, Brooke. I'm just very glad you're interested in the story.
BROOKE GLADSTONE Russell Cobb is a professor at the University of Alberta and the author of The Great Oklahoma Swindle: Race, Religion and Lies in America's Weirdest State.
BOB GARFIELD That's it for this week's show. On the Media is produced by Alana Casanova-Burgess. Micah Loewinger, Leah Feder, John Hanrahan, Xandra, Ellin and Eloise Blondiau. We had more help from Eleanor Nash, and our show was edited by Brooke. Our technical director is Jennifer Munson, our engineer this week was Josh Hahn.
BROOKE GLADSTONE Katya Rogers is our executive producer. On the Media, is a production of WNYC Studios, I'm Brooke Gladstone.
BOB GARFIELD And I'm Bob Garfield.