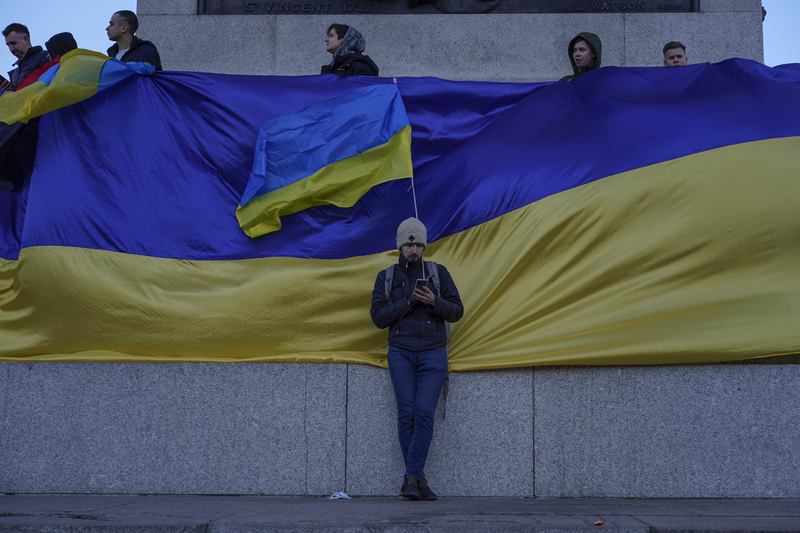 Transcript
JANE LYTVENENKO It's really difficult to put wool over people's eyes when you're bombing innocent civilians, when civilians are filming those bombs.
BROOKE GLADSTONE Putin bars Russian journalists from describing his action in Ukraine as war or invasion, but muzzling social media isn't so simple. From WNYC in New York, this is On the Media, I'm Brooke Gladstone. Also this week how open source intelligence penetrates the fog of war.
PETER ALDHOUS The signal was the Google Maps app that you and I have on our phones. You don't get much congestion in the rural Belgorod region at 3:15 in the morning.
BROOKE GLADSTONE Plus, why some far right figures are so very bullish on Putin.
CASEY MICHEL I think they have this image that Russia is like a white man's paradise for them, and that's all that they see without actually realizing what it's like on the ground in Russia itself.
BROOKE GLADSTONE It's all coming up after this.
[END OF BILLBOARD]
BROOKE GLADSTONE From WNYC in New York, this is On the Media, I'm Brooke Gladstone. Since the war in Ukraine began, we've been deluged by content. We've seen footage of the main TV tower in Kyiv smoldering after a missile hit. Fathers waving goodbye to their children through train windows, civilians huddled in metro stations. We should note that some pundits were notably more bothered by the tragedy in Ukraine than elsewhere...
[CLIP]
NEWS REPORT This isn't a place with all due respect, you know, like Iraq or Afghanistan that has seen conflict raging for decades. You know this is a relatively civilized, relatively European. I have to choose those words carefully.
NEWS REPORT This is not a developing Third World nation. This is Europe. [END CLIP]
BROOKE GLADSTONE This framing definitely got to MSNBC's Mehdi Hasan.
[CLIP]
MEHDI HASAN First off, Europe has been home to some of the worst war crimes in human history. I mean, the Holocaust. So why this surprise the bad things are happening in Europe? And second, when they say, oh, civilized cities? And in another clip, well-dressed people. And this is not the Third World, they really mean white people don't they? The reason...[END CLIP]
BROOKE GLADSTONE Amid the deluge of coverage, lots of misdirection. One video, later identified as ripped from a video game, was used to boost the tale of the so-called ghost of Kyiv, a likely mythical Ukrainian fighters said to have downed six Russian planes. On TikTok, those videos reached 200 million views. Other images is from Ukraine's revolution in 2014 have also been stripped of their original context and recycled. Over the decades, OTM has produced many printable one page guides to breaking news ranging from airplane crashes to coups. And many of those tips can be applied to consuming news about Ukraine. Read past the headline Check the dates, diversify your sources and pause long and hard before retweeting. But this week, I asked Jane Lytvenenko of the Technology and Social Change Project at Harvard's Shorenstein Center for advice on how to pass a story so riven with misinformation. She's Ukrainian and in constant, distressing touch with loved ones. We started with how to determine the truth of all those videos.
JANE LYTVENENKO So one important thing is to look out for the surroundings. Some videos taken from other conflict and war zones are set in deserts, for example. Ukraine doesn't have a desert, so that should be an immediate red flag. If you see a lot of barricades on the ground, those videos may be from the 2014 revolution, where there was much street fighting. As well, it's really important to be aware of that most blitzkriegs take place in the evening or at night.
BROOKE GLADSTONE What are clues that you are reading Kremlin sponsored news?
JANE LYTVENENKO Social media companies have been labeling Russian state sponsored news. So, noticing them – sometimes they can be quite small – is a very good first step. Also, Google it.
BROOKE GLADSTONE Right.
JANE LYTVENENKO Typing in the name of the outlet, along with Russian state sponsored or Russian propaganda, will often give you the context. If Kyiv is spelled as K-I-E-V, that's the Russian transliteration of the name, and that's an immediate red flag.
BROOKE GLADSTONE Mhm
JANE LYTVENENKO If you see The Ukraine versus Ukraine, that's also a red flag.
BROOKE GLADSTONE And that's how we all grew up in the U.S.–
JANE LYTVENENKO Yes.
BROOKE GLADSTONE Talking about Kiev and The Ukraine.
JANE LYTVENENKO Yes. And of course, we may see some of those errors today because this change in language is still new from legitimate outlets. On a bigger scale, Russian narratives are quite pervasive. Of course, we see the big ones like de-Nazification of Ukraine, so calling Ukraine a country filled with, you know, far-Right nationalists should be a huge red flag. There's a lot of whataboutism. Being aware of the ways in which they use wedge issues to undermine a conversation is a really good first step. One wedge issue that we've seen a lot is the US's involvement in other wars and other conflicts. The U.S. involvement has by far not always been righteous. But in this case, of course, Ukraine is asking for help from the US and the EU.
BROOKE GLADSTONE You saw a pro-Russian channel video where a man pointed at a blank spot on the ground and said this is where genocide victims were buried in Ukraine.
JANE LYTVENENKO The context in which I saw this was aimed at Russian speakers in Donbas, the occupied region of Ukraine. We see a lot of propaganda continue to be aimed at Russian supporters in that region, as well as Russians overall, yeah.
BROOKE GLADSTONE Let's talk about the psyops operations that are targeted against Ukrainians that sometimes seep out into the international community.
JANE LYTVENENKO Yeah, a lot of Russian disinformation, particularly within Ukraine, is not focused on these overarching narratives that we're talking about in the West. They're focused on sowing confusion in individual battles. Russia has also been mum about how many soldiers it lost on the ground, how much equipment it lost. We're not going to know exact counts either from Ukraine or from Russia for a long time – if ever. But a lot of the disinformation aims to demoralize Ukrainians and in some cases, in a very sinister turn, increase civilian death counts.
BROOKE GLADSTONE Should we always trust Ukrainian sources, Jane? I know this is a rather brusque question to be asking you, especially at this point. But what do you think?
JANE LYTVENENKO You know, I think that we have to look soberly. The role of the Ukrainian government right now is to uphold morale to the best of their ability. And so particularly, the hard numbers should be taken with a grain of salt.
BROOKE GLADSTONE You were born in Ukraine. You have family there. You've described how you've been relying on a Reuters live stream to stay connected. You wrote in The Atlantic "nothing is fake here. There's no algorithm. It's not a green screen against which TV pundits discuss Russia's next move. The live stream isn't trying to convince me of anything. It's just showing me things as they are."
JANE LYTVENENKO You know, I've – um – I've had to stop watching that livestream. Because I have this horrible fear that I will watch...One of my favorite places...be destroyed. That's really difficult to cope with. Instead of turned to public Telegram channels, Ukrainians are putting up videos. The report where the power is out at certain neighborhoods. They do their best to film Russian military equipment and be granular with the information. Also, much like a police scanner, the Telegram channels tell me where the air raid alerts are on a minute by minute basis so that I can understand what I look up at a more mainstream social media network where those videos may be coming from.
BROOKE GLADSTONE Where do you suggest our listeners should look?
JANE LYTVENENKO I understand that the answer of mainstream media is an unsatisfying answer, but various newsrooms have reporters on the ground who are risking their lives to bring accurate information. There's also Ukrainian news outlets like New Voice Ukraine and The Kyiv Independent, who are trying to get English-language information to international audiences. And, of course, the video verification teams of The Washington Post, The New York Times, Bellingcat, the conflict intelligence team– work very hard to make sure that the videos they share are accurate.
BROOKE GLADSTONE Reuters said that Twitter said it was going to begin to label and reduce the visibility of tweets that contain links to Russian state media like RT and Sputnik. Guardian reports that Apple has removed the Russia Today and Sputnik news apps from the Apple App Store outside Russia. A statement from Apple says it also disabled traffic and live incidents on Apple Maps to protect Ukrainian citizens inside Ukraine.
JANE LYTVENENKO The Ukrainian people, of course, understand the power of propaganda and have turned to social media networks to ask for action. But Russia here has been equally aggressive. Early on during the war. Facebook said that Russia told it to stop its fact checking operation, which Facebook refused to do. Russia has reportedly begun blocking YouTube in the country. Every time social media networks move to restrict Russian propaganda, Russia responds by restricting social media networks within the country.
BROOKE GLADSTONE Facebook banned state sponsored Russian media in Europe, but not in other parts of the world.
JANE LYTVENENKO ...And I wish I knew why. If Russian propaganda is dangerous in Europe, isn't it equally dangerous in other parts of the world? Part of it, I'm sure, is the political pressure, but there needs to be some consistency. There's also a lot that they're doing that we likely don't see. They don't announce the removal of every page or Facebook group or Twitter account, which is particularly troublesome because we need a record of the propaganda for historical record and we need a record of war crimes for historical record.
BROOKE GLADSTONE Laura Edelsten, who's a researcher at New York University. She said the US government quote flooded the zone with truthful information about the conflict and notes how stories such as those that depict Ukrainians fleeing with their pets are helpful in humanizing the conflict for those outside the country. She wrote that the past week has been a masterclass in how positive actors with strong information operations and tech platforms being somewhat sensible can create an environment in which misinformation struggles to take hold.
JANE LYTVENENKO I think she's right on point. The most powerful voices that we've seen have been voices of truth. Voices of Ukrainians themselves. It's really difficult to put wool over the people's eyes when you're bombing innocent civilians. When those innocent civilians are filming those bombs and are putting out their own stories, their own feelings, their own struggles during the war. The fierce determination to force the world to look at Ukraine has really been, in my opinion, one of the best tools Ukrainians have when it comes to getting politicians on their side and when it comes to getting the international community on their side. They – we, really are explaining what's happening on the ground. And of course, we can't forget the Ukrainian sense of humor. Russian battleship F Off has become a national rallying cry. We shouldn't let that distort the horrific situation, but it's another side to Ukrainian resistance.
BROOKE GLADSTONE And the attack on the TV tower shows that Russia is not happy about how effective Ukrainian media has been.
JANE LYTVENENKO The simultaneous destruction of the largest Jewish cemetery in the country and the destruction of the communication tower – I think symbolically tells you all you need to know about this war.
BROOKE GLADSTONE Jane, thank you very much.
JANE LYTVENENKO Thank you so much for having me
BROOKE GLADSTONE Jane Lytvynenko is a senior research fellow at the Technology and Social Change Project at Harvard University's Shorenstein Center.
Coming up, how open source intelligence is penetrating the fog of war. This is On the Media.
[BREAK]
BROOKE GLADSTONE This is On the Media, I'm Brooke Gladstone. Military operations are traditionally seen through a soda straw. To be fathomed only years later in history books. But what happens when current wartime intelligence lands in the hands of regular people, from surveillance aficionados to everyday TikTokers? BuzzFeed Science reporter Peter Altus recently took the measure of how Open-Source Intelligence has drastically transformed the way we see – literally see – the war in Ukraine. For instance, some of the first to know that Putin was making his move where analysts at the California based Middlebury Institute of International Studies, who were tracking the buildup of Russian military on the main road from Belgorod, Russia to Kharkiv, Ukraine,
PETER ALDHOUS They knew to look there because they were looking at what had been posted on TikTok by just ordinary Russian civilians taking videos of what they were seeing. And that included these surface-to-air missile launchers. So they worked out where they were, and then what happened, which was the signal that really, "oh, it's moving," was the Google Maps app that you and I have on our phones.
[BROOKE CHUCKLES]
PETER ALDHOUS Well, you don't get much congestion and rural Belgorod region at 3:15 local time in the morning. So what they realized when they suddenly saw this signal of a traffic jam appearing is ahh the few people who are on the road are being held up and why? There's probably that all this military hardware is now on the road and rolling toward Ukraine.
BROOKE GLADSTONE You've noted that Open-Source Intelligence, or OSINT, is altering the landscape of war, or at least the view from here. Can you tell me about how crowdsourced technology is having an impact?
PETER ALDHOUS Nearly all of this is a combination of technologies. The example I gave started off on TikTok. Going to very sophisticated radar imaging from satellites that has only been really available, at the resolution needed to see vehicles. In the past couple of years, the company that markets this data is called Capella Space is based in San Francisco. They launched their first satellite only in 2020. Now, the military, of course, has had access to synthetic aperture radar imagery for a long while. But what is happening is these technologies are coming into the public domain.
BROOKE GLADSTONE You mentioned synthetic aperture radar. It can construct detailed images from the signals that bounce back to a satellite.
PETER ALDHOUS Exactly right. So the satellite goes overhead. It's a low-Earth orbit. It is beaming radio waves down at the Earth, and they reflect and scatter in various ways. Some of that is going to come back to the satellite, which then that information can be processed and it can be used to build up images. But now the resolution of these things about 18 inches or so. And that's very much good enough to identify vehicles, to catch vehicles and to tell the difference between, you know, a truck from an armored personnel carrier from a surface to air missile launcher.
BROOKE GLADSTONE Because radio waves can pass through cloud cover or smoke. So you really can see through the fog of war.
PETER ALDHOUS Yes, exactly. The advantage of this synthetic aperture radar is that just passes through all of that, and you can still see what's going on on the ground, even when normal optical image wouldn't show you anything.
BROOKE GLADSTONE You wrote, no longer do governments have exclusive access to the technology that puts eyes on the battlefield. And you spoke to Steven Aftergood, who's always covered secrecy for the Federation of American Scientists. He said secrecy is harder. Certain kinds of deception are more difficult, and the possibilities for press and public accountability are increased. Is that the big headline here that Putin lost significant credibility when his statements didn't line up with reality?
PETER ALDHOUS Yeah, and that was why I wanted to write this piece, because clearly some of the stuff that has been coming out from Moscow has been pretty much immediately been shown to be false. In mid-February, there was the claim that these exercises taking place. That was all it was. There's no intention to invade, in Belarus. And then it's all "well troops are starting to return" and straight away, the people who are watching this are able to say, "Well, no, the buildup is continuing" the complete opposite of what is being claimed here. Even when this conflict between Russia and Ukraine really kicked off in 2014, with the annexation of Crimea. At that time, we just didn't have the full capabilities we do now to ground truth this stuff. And it would have been Putin and Moscow's words against Biden and Washington's word about what was going on.
BROOKE GLADSTONE You noted that people are also crowdsourcing real time flight data.
PETER ALDHOUS Yeah. So how this works is aircraft have transponders which are hanging out signals. And anybody who has a tiny radio antenna that you can make into a software defined radio on your computer can detect these things. And then those are all fed into these websites that display the tracking information and ADS-B exchange. It's the biggest unfiltered one, and I think this will get interesting – both planes and for marine vessels as well. And the sanctions stuff. Governments are saying, we are going to seize the assets of oligarchs who are close to Putin. Some of the most expensive assets they have are that private jets and the luxury yachts, and those can be tracked. The fact that that is now available for anybody to do, it's kind of a level of accountability. It's like, well, OK, we said we were seizing these assets. Well, they don't seem to be safe.
BROOKE GLADSTONE Melissa Hanham and OSINT specialist affiliated with the Center for International Security and Cooperation at Stanford, told you that she was worried about the ethical issues. She asked, Are OSINT analysts now actors in an active conflict? Can OSINT analysts change conflicts?
PETER ALDHOUS Yeah, it's a serious question. There are phenomenal abilities, for example, to geolocate exactly where a photograph or a video was taken from. So if you have people shooting videos from their apartments posting that and then that gets into the public discussion around the war, potentially those people become targets. The other thing to bear in mind is we've got these satellite imagery companies which are putting out information like those images of the Russian military convoy I mentioned. I asked those companies about, Well, how do you decide what you put out there? Because anything you put out there potentially identifies what you're showing as a target.
BROOKE GLADSTONE Just to be clear, you're talking about the companies that provide satellite imagery like Maxar Technologies or Capella Space.
PETER ALDHOUS Indeed, just to give you example, I think a lot of people expressing on social media frustration that while here are all these vehicles lined up, can't NATO strike it? Well, I think there are very good reasons why that might not be something NATO would want to do when those vehicles belong to a nuclear armed state. But clearly, just the fact that people are discussing it illustrates the point that if you show something and the signal gets amplified, potentially what is shown is a target in a real shooting war. That I think raises some interesting questions like what do the companies choose to release? And what do they choose to withhold? We are not, for example, seeing those companies release images of what the Ukrainian Defense Forces are doing. That's a decision, right? But in conflicts where the aggressor and the invader is perhaps a little less clear than in this one, that's going to pose some pretty thorny questions as to what gets put up into the public domain and what is not.
BROOKE GLADSTONE Thank you so much.
PETER ALDHOUS All right. I hope that was helpful.
BROOKE GLADSTONE Peter Aldous is a science reporter at BuzzFeed and author of the recent piece How Open Source Intelligence is Helping Clear the Fog of War in Ukraine.
Not long after Vladimir Putin announced the Russian invasion of Ukraine last week, far right conservatives and white nationalists gathered in Orlando, Florida, for the America First Political Conference. There, its founder, Nick Fuentes, whose white supremacist YouTube channel was suspended in 2020 for hate speech, questioned diversity in America.
[CLIP]
NICK FUENTAS You know, they say about America. Diversity is our strength, and I look at China and I look at Russia. Who – can we give a round of applause for Russia? [END CLIP]
BROOKE GLADSTONE On the messaging app Telegram last week, Fuentes referred to Putin as "my czar." He's one of a handful of far right white nationalist political figures who support Putin. Even after the invasion. On the conservative Christian radio show Crosstalk, far-Right activist and QAnon supporter Lauren Witzke, who ran against Delaware Senator Chris Coons in 2020, tied Putin's nationalism to his Christian identity.
[CLIP]
LAUREN WITZKE Russia is a Christian nationalist nation, so I actually support Putin's right to protect his people and always put his people first, but also protect their Christian values. I identify more with Putin's Christian values than I do with Joe Biden. [END CLIP]
BROOKE GLADSTONE Some conservative politicians and pundits like Tucker Carlson and Mike Pompeo have recently walked back comments lionizing Putin. More mainstream Republicans like Mitt Romney would say that's not enough.
[CLIP]
MITT ROMNEY How anybody in this country which loves freedom can side with Vladimir Putin. He has been an adversary of America at every chance he's had. It's unthinkable to be. It's– it's almost treasonous. [END CLIP]
BROOKE GLADSTONE He slammed his Republican colleagues, Marjorie Taylor Greene and Paul Gosar, for even attending Fuentes far right conference.
[CLIP]
MITT ROMNEY I'm reminded of that old line from the Butch Cassidy and the Sundance Kid movie where where one character says "Morons, I've got morons on my team," and I have to think anybody that would sit down with white nationalists and speak at their conference was certainly missing a few IQ points. [END CLIP]
BROOKE GLADSTONE Meanwhile, Donald Trump delivering the keynote address at the somewhat less far right conservative Political Action Conference, also held last week, didn't support Putin outright, but he did revisit some rhetorical themes from his campaigns and his presidency.
[CLIP]
DONALD TRUMP The problem is not that Putin is smart, which of course, he's smart. But the real problem is that our leaders are dumb. [END CLIP]
CASEY MICHEL It's great to see some of these more prominent members of the kind of Trumpian world at least coming around to the fact that Vladimir Putin is absolutely a threat to the West.
BROOKE GLADSTONE Casey Michel is an investigative journalist who's writings on kleptocracy and financial secrecy have appeared pretty much everywhere.
CASEY MICHEL But you have elements of white nationalists. You have elements of far right organizations in the United States, prominent far right voices, I'm sure listeners may have seen just the other day, Marjorie Taylor Greene speaking at a far right conference in which the participants were literally chanting Putin's name. I mean, this kind of hodgepodge of right wing or hard right groups that all coalesced certainly by the mid 2010s into supporting Putin and his expansionism, and we still see evidence of that today.
BROOKE GLADSTONE One of the oldest is probably Pat Buchanan, a former speechwriter for Richard Nixon. I think you've called him an intellectual flag bearer of paleo-conservatism. He said in the culture war for the future of mankind, Putin is planting Russia's flag firmly on the side of traditional Christianity.
CASEY MICHEL Certain moments do stick out to you as a kind of signal flares about where things are going and Pat Buchanan asking out loud, Is God now on the Kremlin's side? And if so, should American evangelicals? Should the American Right be supporting Moscow over Washington, supporting Russia or the US?
BROOKE GLADSTONE Richard Spencer, well, white supremacist has described Russia as the sole white power in the world, although it isn't because it's multi-ethnic like we are.
CASEY MICHEL You know, one of the great ironies and following all these white nationalistic figures and their overweening support for Putin lusting after this kind of strongman type in Washington is, you know, they have a very particular view of Russia and of Putin in particular. He is a white, masculine Christian European leader. You know, they don't usually refer to him as a dictator, but that's obviously what they see him as. Pushing back against same sex marriage, pushing back against any kind of expanded understanding of notions like gender identity. They do not understand that Russia is this remarkably diverse country with great numbers of ethnic and religious minorities. I think they have this image that Russia is a white man's paradise for them without actually realizing what it's like on the ground in Russia itself.
BROOKE GLADSTONE You write that David Duke, the former Grand Wizard of the Knights of the KKK, has said Russia is the key to White's survival and that other far right figures should go there to better learn how to grow their movements here.
CASEY MICHEL David Duke lived in Russia for a number of years and we still have very little idea of what he was actually doing over there. We know that his book thiis incredibly racist tract was sold in the Duma Bookstore, the bookstore for the Russian Parliament. But we still don't have any idea about the kinds of connections he made, the kinds of potential funding that he received, in addition to all these other white nationalistic figures whose links were still beginning to kind of sift through to figure out how some of these groups may be involved in ongoing interference efforts here, certainly in 2016, but by no means limited to that election. I think David Duke is symptomatic of the hard-right Christian nationalist white supremacist contingent over the past two decades. Gravitating to of all places, the Kremlin, which is such a kind of whiplash from where things were during the Cold War, obviously when the Soviets were around, I mean, it is a 180 that I still haven't wrapped my mind around.
BROOKE GLADSTONE You spoke to Cole Park, an LGBT researcher with political research associates who told you it's difficult to say who's inspiring whom, but there's a lot of cross-fertilization it seems going on.
CASEY MICHEL These are mutually reinforcing dynamics. You have those in the United States that are watching this incredible demographic change take place. They're watching in 2008, the election of the country's first black president. They're watching things like same sex marriage become legalized and beginning to search out other sources of inspiration and support for what they see as traditionalist values. While in Russia in the late 2000s and early 2010s, you have the consolidation of power in Moscow. You have any kind of dreams of broader democratization falling away. You have the return of Putin to the presidency in 2012, and all of a sudden you see these elements of this outreach looking for broader kind of fertile audiences to spread Moscow's message. And what we see taking place, especially by the early 2010s, is this kind of activation of these different networks targeting American white nationalist, far right separatists and secessionist American-evangelicals. And all of a sudden, you begin looking into these interpersonal linkages, these organizational linkages, funding linkages and funding mechanisms to specifically groom and hopefully activate these white nationalist contingents in the United States to sow chaos, to lead to potential bloodshed. And if Putin would have his way, potential state fracture in the United States itself. Again, remember, you know, Putin very much blames the United States of America for the collapse of the Soviet Union. The fragmentation into 15 new countries.
BROOKE GLADSTONE As to when all this began. You say it was the late 2000s and the early 2010s that were an inflection point. And of course, you can't underestimate the impact on these extremists of having a black president.
CASEY MICHEL I mean, this is exactly where Donald Trump emerges from. Trump rose to political prominence claiming that Obama was born outside of the United States. It's this broader rubric of racist racialist pushback against the way that the country is going and into the breach these Russian funded figures and organizations step certain oligarchs networks, organizations reaching out and building bridges to Americans on the far right and hard right building. These kinds of, they call it, the traditionalist international building this broader movement to a greater degree than it probably ever thought.
BROOKE GLADSTONE And you've said that at a 10000-foot level, the goal of the Christian white nationalists here is to find and elect a Putin style figure with a similar political dynamic to unify various Christian nationalist groups.
CASEY MICHEL And it is as clear as day that these organizations and groups and networks would like nothing more than to have, whether it's Donald Trump or some other similar figure in power in the White House. If they can't get their way, they're willing to lead separatist or secessionist movements and do what they can to, if nothing else, throw sticks in the spokes of America's broader democratic experiment of alliances and of the West's broader efforts to push back against things like the aggression we are now seeing out of Moscow – and all the bloodshed in Ukraine.
BROOKE GLADSTONE You've also written that the white nationalist Matthew Heimbach back he is the head of the Traditionalist Workers Party, considers Putin to be the leader of the free world and seeks to create a global network called Traditionalist Internationale. What is that and how hypothetical is it?
CASEY MICHEL Thankfully, we are a long way away from the realization of the Traditionalist Internationale, but the fact that we do see support for it in the United States, in Europe and certainly out of Moscow is something that we have to continue watching. At the end of the day, it's exactly what we've been talking about. It is the entrenchment of Putin style regimes in Washington, Ottawa, London, Brussels and elsewhere.
BROOKE GLADSTONE OK, so let's talk about what happened in 2015. The leading lights of Europe's far right, including members of Austria's Freedom Party, people from Sweden, Netherlands, Austria, the U.K. they got together in Petersburg. You say this meeting was one of the most notable gatherings of Europe's xenophobic, far right. But was it significant?
CASEY MICHEL It was, again, one of these kind of signal flares where you realize that there is far more organization. There is a far greater depth to these networks than would seem at initial blush. And usually these organizations that they operate in a domestic context, you don't see these international gatherings, anything like this magnitude, except once almost in a generation. And that just so happen to be in 2015 in Russia, in St Petersburg. These groups didn't come back to Washington or come back to Athens or come back to Oslo and all of a sudden began implementing legislation. But one of the things that we have seen time and again out of Russia is an ability to build these bridges across Europe, across North America. Brooke, I don't think it's any surprise that while that conference was happening, the same exact type of transatlantic transnational conference was happening of separatist and secessionists in Moscow. Many of whom are also on the far right from places like Spain, like Italy, including Texas secessionists flying over to Russia to coordinate with all these other separatist organized out of Moscow.
BROOKE GLADSTONE What happens if we ignore Putin's role as a global leader for white Christian nationalism?
CASEY MICHEL I do want to encourage listeners to maybe broaden their aperture about what potential outcomes we may be facing later this decade. I'm not saying anything like this is going to happen during the midterms, not going to happen in the run up to the next election, but this is a period of drastic change coming ahead of us. Any number of outcomes is possible. I'm not at all saying that this white Christian nationalistic outcome is the one that's staring us in the face. But there's certainly a possibility in which say, Joe Biden runs again in 2024 wins again. Donald Trump refuses to concede, and we see an expansion of the Jan. 6-type violence. And what flows from that? I have no idea.
BROOKE GLADSTONE Thanks, Casey.
CASEY MICHEL Yeah, Brooke. Sorry, that was a depressing answer. The answer–
BROOKE GLADSTONE Casey Michel is a writer and investigative journalist and the author of American Kleptocracy How the U.S. Created the World's Greatest Money Laundering Scheme in History.
Coming up, what does the claim of de-nazifying Ukraine mean to the audience to which it was intended? And who is that? This is On the Media.
[BREAK]
BROOKE GLADSTONE This is On the Media, I'm Brooke Gladstone. When Putin declared war on Ukraine in a televised speech last week, he said that with this occupation, Russia will quote seek to demilitarize and de-nazify Ukraine. But the Nazis Putin warned of weren't the usual suspects of neo-Nazism and anti-Semitism. Figures like David Duke, the former grand wizard of the Ku Klux Klan, whose anti-Semitic conspiracy theories, including the one that claims the Jews orchestrated the 9-11 attacks, didn't come up. Nor did he mean someone like Alexander Dugin, the Russian ultranationalist political thinker who writes in his book Conservative Revolution that quote, "The world of Judaica is a world hostile to us. To understand does not mean to forgive, but to vanquish." Where much of the world sees anti-Semitism, Putin sees allies. He claims the real Nazis are members of the Ukrainian government, like the freely elected and Jewish president of Ukraine, Volodymyr Zelensky. But according to Yale philosophy professor Jason Stanley, that very absurdity ties into one of the main anti-Semitic conspiracy theories prevalent in Eastern Europe today. Inspired by the likes of Duke and Dugin. "The Jews were behind the Holocaust and used the Nazis to persecute white Christian Russians," as Putin says is happening now. Stanley says this mockery of the Holocaust is a dog whistle to drum up support for war among those who share Putin's vision for a fascist Christian ethnostate.
JASON STANLEY To understand Putin's intentions, what we have to begin with is what de-Nazification was. Invading Germany, capturing the Nazi leaders, executing some, imprisoning others and then replacing Nazi ideology systematically in schools and institutions with liberal democratic ideology. So what does Putin mean? Putin means by de-Nazification. He's going to invade Ukraine, put on show trials versus the trials of Nuremberg, where he tries the leaders of Ukraine, execute some, imprisons others and then replace liberal democratic ideology with Christian nationalist fascist ideology.
BROOKE GLADSTONE De-nazify means to get the Nazis out. I mean, does he identify a different group? Perhaps far right Christian nationalists as the true victims of the Nazis?
JASON STANLEY Well, he needs to gather popular support and anti-Semitism as a popular base in Eastern Europe. This is not visible as much to those of us in the west. Eastern European anti-Semitism functions by saying that "Jews stole the Holocaust narrative." "That Eastern European Christians, those were the real victims of the Nazis." Of course, many Russian Christians were murdered by the Nazis. No one denies that, but a vast majority of eastern European jewelry was wiped out, so he claimed that there's a genocide facing Russian Christians in eastern Ukraine. That Zelensky and others are neo-Nazis and they're performing a genocide. This is an intentional mockery of the Holocaust. Speaking to an anti-Semitic Christian nationalist Russian audience.
BROOKE GLADSTONE Following Russia's annexation of Crimea in 2014, there was similar rhetoric from Putin about the fascist, far right nationalism in Ukraine and how bad it was. And at that time, it did seem to leave something of an impression on the West. It raised some questions and some eyebrows. Am I remembering it wrong?
JASON STANLEY No, you're remembering it absolutely correctly. I'm on the left, and many people on the left were convinced by this. Supporting that civic nationalism in the Maidan revolution of 2014. You did have far right elements. You had the Azov Battalion. You had some far right Ukrainian ethnonationalists, who reminded people of the past – of World War Two, where Ukrainian Jews were murdered not just by Nazis, but by Ukrainian nationalists. But in the 2019 election, the far right in Ukraine received two percent of the vote. You'd be hard pressed to find any recognizably democratic country where the far right has that little support. Ukraine has embraced liberal democracy. Where the nation is not the sort of ethnonationalist Ukrainian Christian nation of the neo-Nazi imagination: when they elect a Jewish leader, when the far-right parties get so little support, you can be assured that the far right is not in control.
BROOKE GLADSTONE Israel has avoided full throated criticism of the invasion of Ukraine. After some back and forth, it eventually voted to support the U.N. Security Council's condemnation of Russia's actions, but it didn't vote for sanctions. How do you reconcile the alliance, albeit qualified, between Christian Russian nationalism and Jewish Zionist nationalism? Or do Christian nationalists just like the idea of Jews living somewhere else?
JASON STANLEY Christian nationalism is, of course, the view that Jews are fine as long as they're over in their own country. So Yoram Hazony, leading Israeli ethnonationalist, came to speak at the National Conservative Conference in the United States last year and said the United States must be a Christian nation. And Israel has long cultivated the evangelical Christian right in the United States as an ally. Which is why you see Israeli flags in many Christian evangelical spaces. The idea that every identity should have its own nation, every religion should have its own nation or nations. That is the ethnonationalist idea. Israeli nationalists they're in alliance with nationalists elsewhere.
BROOKE GLADSTONE So if Putin hoped to divide the West – most commentators say that he failed.
JASON STANLEY Right.
BROOKE GLADSTONE But he is trying to appeal, you suggest, to his fascist, far right Christian brothers. To what end? To join the battle?
JASON STANLEY The idea here is that liberal democracy is the rot. It's a Jewish plot, and Zelensky, by being Jewish, almost embodies the anti-Semitic nightmare. You know, Hitler's idea was that Jews created liberal democracy to weaken the nation. And so you need a strong leader to fight it back, as liberal democracy involves tolerance, equal rights for everyone, regardless of their ethnicity or religion. So Putin is clearly linking his own autocratic reign, where he tortures and imprisons and kills dissidents – to this ideology, of liberal democracy, to the globalist, read: Jewish plot. This is going to strengthen the elements abroad that agree with him in one sense, but in another sense, it's going to separate them. Because fascism is based on ethnonationalism. It's based on identifying strong ethnic and religious identity. And these groups have histories that clash. You know, that's really the saving grace for liberal democracy here.
BROOKE GLADSTONE Give me an example of what you mean.
JASON STANLEY So take Poland and Russia or Hungary and Russia. Why does Orban, who is linked to Putin, ideologically similar to Putin – why did he come around in the end to agreeing with the sanctions and starting against Russia? Because the Soviet Union invaded Hungary, like the Soviet Union, is now invading Ukraine.
BROOKE GLADSTONE So how is that the saving grace?
JASON STANLEY The thing that unifies them is supposed to be, you know, we all agree that our nationality is the best. But there's a history of one of the nationalities fighting the other nationality for who will dominate. And Putin is a classic fascist. What we're seeing here just absolutely no coherent justification. False claims that a genocide of ethnic Russians is happening elsewhere, just absolutely fictitious basis for conquest. And some of these nationalities Hungary, Poland have been the victims of Russian imperial aggression in the past.
BROOKE GLADSTONE Is Putin's world so different from ours that we're not even supposed to understand his rhetoric?
JASON STANLEY The rhetoric of de-Nazification – there's an incoherence here, right? Because he's saying Ukraine is ethnonationalist fascist, but it's also liberal democratic, and both of those are bad. They have liberal democracy, and so they're a threat and their ethnonationalist fascists, so they're a threat. It appeals in multiple ways. Number one, it appeals to a sense of loss, dignity of Russians. So fascist rhetoric is meant to make people think your country is great and you need a strong leader to take it back from these minorities, from these people who are humiliating it. It's harshly anti-Semitic. It's saying the real genocide victims are ethnic Russian Christians. The Jews are the real agents of this genocide. This is meant to appeal to a domestic audience.
BROOKE GLADSTONE The former relatively moderate Russian president, now deputy chairman of the Security Council, Dmitry Medvedev, moderate no more. He accused the Ukrainian people of losing their identity, which is Russian. And he described Zelensky as disgusting, corrupt and faithless. Having repudiated his Jewish identity to serve rabid nationalists. This meant, according to Medvedev, that. Zelensky was like a Jewish Sonderkommando, a reference to the Jews in the camps forced to dispose of gas chamber victims during the Holocaust. Negotiations with such people in such a state said Medvedev, is pointless.
JASON STANLEY There are different forms of anti-Semitism. There's a kind of old anti-Semitism directed against Judaism as a religion that's not Nazi anti-Semitism. Nazi anti-Semitism is directed against Jews as supposedly these communists who are anti-religious. Goebbels and Hitler invade against Judeo Bolsheviks, who are corrupt, decadent, seeking to undermine the nation simply power hungry. So this is the description he gives of Zelensky, then he incoherently connects that with Ukrainian ethno nationalist identity. And then he slanders Zelenksy in the worst possible way by connecting him with the sonderkommando.
BROOKE GLADSTONE Stephen Blank, who is a fellow at the Foreign Policy Research Institute, says that Russia hopes that its words will resonate with Ukrainians on the belief that it can exploit what was true in the past, which was considerable anti-Semitism in Ukraine.
JASON STANLEY Yeah, it's appealing to Eastern European anti-Semitism and that Ukrainians will start to view Zelensky, their president, as anti Ukrainian who a globalist bringing in liberal democracy. But what Russia failed to see is that Ukraine's already made its choice. When Putin says Ukraine is an existential threat to him, he's right. He's right because, you know, Ukraine is a hopeful democracy. Fighting corruption, allowing religious toleration – tolerance for LGBT across the board. And it's right there on the border of Russia. And its friendly to Russians, so it is a threat because Russians can like look over the border and say, "Wouldn't it be great if we had free and fair elections every few years?"
BROOKE GLADSTONE Jason, thank you very much.
JASON STANLEY Thank you so much, Brooke.
BROOKE GLADSTONE Jason Stanley is a philosophy professor at Yale and the author of How Fascism Works: The Politics of Us and Them.
The BBC's Moscow News Service has been blocked, as has Voice of America, Radio Free Europe, the German, Deutsche Chavela, Facebook and Twitter, and many more. But worst of all, Russia's tough, resilient independent media outlets have gone dark. I'm talking about journalists who have withstood far more pressure than I can imagine. When I was a Moscow correspondent, I relied on Ekho Moskvy or Echo of Moscow for clarity and guidance. It's closed. The courageous Latvia based website Meduza is blocked, as is its lifeline to Russian crowdfunding. On Friday, Russia passed a law criminalizing so-called fake news, which is to say real news. Violators could be slammed with 15 years in prison for writing anything that contradicts Putin's story of the war. TV Rain, Russia's last independent station, was shut down Thursday, but it left with a defiant and infuriatingly clever musical commentary.
[TCHAIKOVSKY's "DANCE OF THE LITTLE SWANS" PLAYS]
BROOKE GLADSTONE The music the Soviet Union played when blocking access to the news of the death of Leonid Brezhnev, also during the attempted coup of 1991. It's the sound of silence enforced by the state...But you can dance to it.
On the Media is produced by MIcah Loewinger, Eloise Blondiau, Rebecca Clark-Callender and Max Walton with help from Aki Camargo. Our technical director is Jennifer Munson. Our engineers this week were Adriene Lily and Andrew Nerviano. Katya Rogers is our executive producer. On the Media is a production of WNYC Studios. I'm Brooke Gladstone.