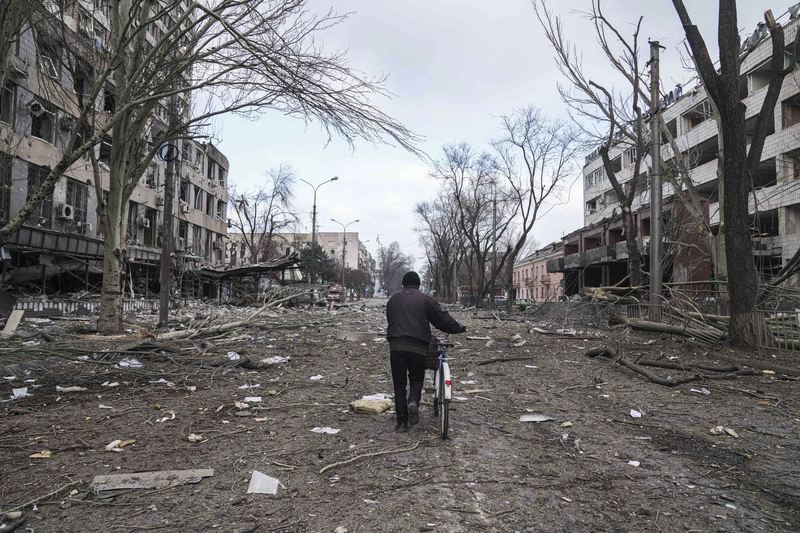 Transcript
[CLIP]
NEWS REPORTER Are you seriously claiming that they are not under attack from Russia?
MARIA BUTINA You know, I want to seriously see the evidence that these are Russians.
NEWS REPORTER Are you suggesting that the shells that are flattening Ukrainian cities are being fired by Ukrainians? [END CLIP]
BROOKE GLADSTONE The Putin regime is not backing down from its alternate reality, and that's pretty much all its citizens can see. Also how one Russian journalist is still fighting for his readers, family and country to grapple with the truth.
ALEXEY KOVALEV It's hard enough to have someone admit to a simple, innocuous mistake, like breaking a piece of China. But what I'm asking them here is to say "yes, I'm also partly responsible for this. Because I vote for Putin."
BROOKE GLADSTONE And what happens when a video game becomes real life in a time of war?
BOBI And those who play Tarkov are those who are able to find peace in suffering to get good enough to enjoy the game. and Tarkov, as it is – was very similar to the beginning of the war in Ukraine.
BROOKE GLADSTONE It's all coming up after this.
[END OF BILLBOARD]
BROOKE GLADSTONE From WNYC in New York, this is On the Media, I'm Brooke Gladstone. The death toll mounts in Ukraine this week as diplomatic talks with its Russian invaders find no purchase. And while the United States remains at arm's length from the fight on the ground, the attack on Russian finances has picked up steam.
[CLIP]
NEWS REPORT Thanks to Vladimir Putin. His invasion of Ukraine has prompted a mass exodus of businesses from Russia, including Visa, MasterCard and American Express. Which are ceasing cardholder transactions in that country.
PRESIDENT BIDEN We're banning all imports of Russian oil and gas and energy. [END CLIP]
BROOKE GLADSTONE Big Beverage is also getting into it.
[CLIP]
NEWS REPORT Coca-Cola and Starbucks joining the growing list of American businesses no longer doing business in Russia. [END CLIP]
BROOKE GLADSTONE And even Big Burger.
[CLIP]
NEWS REPORT McDonald's is the big one. They're going to keep paying their employees, but they're temporarily shutting all of their McDonald's restaurants. [END CLIP]
BROOKE GLADSTONE Behind what some are calling the new Iron Curtain. The impact of all these global wallets snapping shut, starting to pinch.
[CLIP]
NEWS REPORT Economic war. That is how Russia is describing the barrage of Western sanctions that is now being hit with. The government has now announced tax breaks for businesses and some other financial aid, but the ruble is now worth less than a cent on the dollar. [END CLIP]
BROOKE GLADSTONE But inside the country, shuttered McDonald's and stalled Apple Pay transactions are just part of the story. The biggest part, the most tragic part. The part about the war is never told. In fact, it's dangerous even to try. So it remains effectively unseen.
IRINA BOROGAN The special internet filtering system was adopted recently in Russia.
BROOKE GLADSTONE Irina Borogan is a Russian investigative journalist and senior fellow with the Center for European Policy Analysis.
IRINA BOROGAN Its called sovereign internet. This is a very effective system of blocking and mitigating any kind of traffic in Russia. The authorities have the capacity to block any web site or any particular story. And capacity to block any global platform. Whether its Facebook or YouTube.
BROOKE GLADSTONE Even when seen in action, it's hard to imagine message control at this scale and intensity. Of course, Vladimir Putin is the master of alternate realities. But his loyalists are similarly bald faced. Take this clip of a BBC interview of former US based spy and now member of the Russian Duma, Maria Butina.
[CLIP]
NEWS REPORTER Are you seriously claiming that they are not under attack from Russia?
MARIA BUTINA You know, I want to seriously see the evidence that these are Russians. And as much as we know and me personally in my region, we have people evacuated from Donbas and we do have –
NEWS REPORTER –stop please. Are you suggesting that the shells that are flattening Ukrainian cities are being fired by Ukrainians?
MARIA BUTINA I hope not. I hope no one in the world can bomb their own population. [END CLIP]
BROOKE GLADSTONE The Kremlin's talking points saturate the field like the fire from a rotary cannon, and the consequences are just as dire if you stand in its way. Last month, OTM producer Molly Schwartz brought us the story of Michael Wasiura, an American tasked with playing the Stars and Stripes pundit on Russian state TV talk shows. A job that often shifted between pundit and punching bag.
MICHAEL WASIURA The format is designed so that one side always wins and the other side always loses, and the side that always loses is my side.
BROOKE GLADSTONE He was the guy they talked over or shouted down. The one with the ludicrous American viewpoint on the day's issues. And in recent days, the issue was Ukraine.
MOLLY SCHWARTZ The hosts talk about how the West wants to discuss the security of Ukraine, but we here in Russia are worried about our own security.
[TALK SHOW HOST SPEAKING IN RUSSIAN]
MOLLY SCHWARTZ Wasiura responds. Speaking fluent Russian with a slight Midwestern accent.
[MICHAEL WASIURA SPEAKING IN RUSSIAN]
MOLLY SCHWARTZ "You say that your tanks and troops around the borders of Ukraine do not threaten anyone. That they are not even there," he says, "but that they are ready to answer any provocation to the end." Some of the patriotic panelists jump in saying "So then don't provoke us. Just go to Florida and relax. There's no cause for concern."
BROOKE GLADSTONE Michael Wasiura did his bit, however pointless it seemed to many. For God and country and a paycheck. But soon enough, just like the open internet, fast food and credit cards – Wasiura's role in Russia's reality ceased to exist.
MICHAEL WASIURA I left Moscow at 11 p.m. February 23rd. About seven hours before Russia's invasion of Ukraine started.
BROOKE GLADSTONE And what motivated you to do that?
MICHAEL WASIURA For a couple of weeks before that, my wife and I had been having conversations about when we would know it was time to go. And the Monday before the Wednesday that we left, we saw Vladimir Putin give a speech. And by the end of it, we had purchased airplane tickets out of the country,
BROOKE GLADSTONE Something about what he said?
MICHAEL WASIURA Not so much what he said – the way he said it. It sounded unhinged, and we weren't the only people who noticed that. We had a couple of conversations about whether or not we might be jumping the gun a little bit. And so when we left on that Wednesday, I promised that if nothing had happened by Saturday, we would buy tickets back to Moscow for Sunday and our son would go to school on Monday, as usual.
BROOKE GLADSTONE So now you're in Tbilisi, Georgia. How do you feel being in a peaceful place?
MICHAEL WASIURA Honestly, when we got here, I noticed for the first time in a couple of months just the tension go out of my chest. I was expecting something bad to happen for a while now. And even though something bad did happen, the fact that it was happening while I was out of Moscow physically, just emotionally, it wasn't quite as difficult as it probably would have been.
BROOKE GLADSTONE Did you feel in any way like you abandoned your mission?
MICHAEL WASIURA To some extent? Yeah. I was nervous about what the personal consequences might be for me. You know, being an approved critic of the regime, but still a critic. And so in late January, early February, I actually wrote a letter to my son just in case I disappeared into a penal colony or something like that. Sent it to a friend in Chicago – I didn't want to send it to my parents. And in that letter, I wrote about how we would know when it was time to go and whether or not we should go, because repression really is the sincerest form of flattery. If they really thought that I was important enough that I could influence the regime, then maybe I sort of had a duty to stay and play that role. In the end, we decided that it just wasn't worth it. We had seen what a similar regime in Belarus did when hundreds of thousands of people came out on the street to protest. It didn't make a difference, and sadly, my conclusion about where things are going in Moscow is that no amount of people power can stop this regime from doing what it's going to do, and we left.
BROOKE GLADSTONE So what about your job? What happened?
MICHAEL WASIURA So on Wednesday evening, when we were on our way to the airport, there had still been no invasion. I got a call from my producer saying that I would be on as usual on Thursday. I told her that I physically couldn't be there. I didn't tell her why exactly. No one knew that we were leaving. My producer covered for me. She said that she would tell the higher ups that I was feeling sick, which I was – physically. And as long as nothing bad happened, I said I would be back on Monday. I haven't actually heard from her since. And if I had still been in Moscow on that Thursday, I know that my appearance would have been canceled because since then they've taken away even any semblance of debate or freedom of speech. So even these token opposition that they would bring into the studio to be shouted over, that's gone. They're so concerned about controlling this message that in the studios, it's only people who support these special military operation. It's not called a war on TV. All the time.
BROOKE GLADSTONE You've been texting with one of the hosts, right? Sending them videos of what's happening in Ukraine, the atrocities.
MICHAEL WASIURA Sure, I have a little WhatsApp chat with the most aggressive of the hosts, and I send him video evidence of things that the Russian Army has done, and I remind him that the tribunal will not forget about you.
BROOKE GLADSTONE The tribunal....You mean like the Nuremberg trials?
MICHAEL WASIURA Yeah, when this is over. There are a lot of people in Russia who will need to be brought to justice, and people who I worked with are among them.
BROOKE GLADSTONE You told our reporter Molly Schwarz, that part of what motivated you to stay at your job was an inside view into a vast influencing machine. What did that machine look like when you left and what does it look like now?
MICHAEL WASIURA The machine has fundamentally changed for the past eight or so years. The machine created a kind of simulacrum of freedom of speech and debate. It gave people the impression that issues were being discussed. Now, even that element has been completely erased. They feel so nervous about controlling this particular message that they can't tolerate any dissent whatsoever.
BROOKE GLADSTONE Has there been that kind of ebb and flow you've observed in the past between fake debate and no debate?
MICHAEL WASIURA One example in August of 2020 in Belarus, there were elections which were pretty blatantly falsified. Hundreds of thousands of Belarusians came out to protest. There were violent reprisals from the Belarusian authorities, and on Monday I was supposed to be on a block about that. And at the last minute they pulled me and one other of the quote, unquote liberals, because they were clearly nervous about controlling that message. Now, in that case, by the end of the week, they were having me on and accusing the CIA of organizing the whole protest movement. Things had moved back to normal.
BROOKE GLADSTONE Normal, meaning that you would make your observations based on your understanding of the truth and they would talk over you.
MICHAEL WASIURA That's right. Normal in the sense that they understood communicating the message they wanted to communicate would be more effective by having that semblance of a debate. So in the case of the Belarussian elections in 2020, that little transition from total blackout of any opposing ideas to simulate crowed debate, it took about two days. In the case of the special military operation, that change has not happened and I don't see any prospect for it happening.
BROOKE GLADSTONE You said on Twitter. Quote a note on individual Russians collective blame for all of this. They deserve it, and I deserve it with them. What do you mean by that?
MICHAEL WASIURA I mean, everybody who was part of that country and still is is to some extent in this together. The fact that I was opposed and am opposed to the regime – and my wife was also. Doesn't mean that her Visa and MasterCard should not be blocked. There are collective punishments which seem to be the only way to actually potentially influence anything that's going on inside that country. And if people who are opposed to the regime have to suffer a little bit for that, I think they deserve it and I think I deserve that right along with them.
BROOKE GLADSTONE Later in the show, we'll be hearing from Alexey Kovalev from Meduza. He said that he feels complicit for not trying hard enough and that everyone who ever went on R.T, Russia Today, is complicit. Do you feel complicit in that way in playing your role in the fake debate?
MICHAEL WASIURA To some extent, yes. Alexey is a really, really good journalist. And Alexey, I've read his work, I respect his work a lot. He's done everything that he possibly could to actually fight this regime. I think that I was doing the same thing. I understood what the game was. My hope in participating in it was that not that I would win exactly, but that I could put myself in a position to play a positive role. That some people tuning in would see through the facade and understand how things were being rigged against characters like me and really against viewers. It didn't succeed, and I deserve some blame for that.
BROOKE GLADSTONE What about Russian society? You've made some pretty sharp observations about its mental health.
MICHAEL WASIURA I know this sounds extreme. I don't think it will sound extreme in two months. I don't see any way for that society to get healthy without foreign occupation. Without international authorities mandating that free media is allowed to operate the way that free media operates everywhere, that has freedom of speech, freedom of the press, that really certain politicians are not allowed to participate in political processes. Demagogues are not allowed to say certain things without those sorts of outside controls. I don't see any way to deprogram so many of the people who I would meet on the street who would spit back in my face all of the absurdist talking points that they heard from federal channel television hosts. I don't see any way to heal that society without outside intervention.
BROOKE GLADSTONE So what's next for you? To the extent that you – know?
MICHAEL WASIURA What's next for me depends largely upon some consular officers in Warsaw. We're still waiting for a green card interview for my wife before we can move back to the US. And so we are going to be exiles abroad for the foreseeable future.
BROOKE GLADSTONE Thank you very much, Michael.
MICHAEL WASIURA Thank you, Brooke.
BROOKE GLADSTONE Michael Wasiura is a writer and former American pundit for Russian talk shows. Coming up, Alexey Kovalev and his news outlet Meduza, which may be the last independent outlet left working in Russia. This is On the Media.
[BREAK]
BROOKE GLADSTONE This is On the Media, I'm Brooke Gladstone. Last week, Russia passed a law that criminalized the publication of false information about the Russian military in Ukraine. Violators face up to 15 years just for calling it a war. Independent news sites and the bureaus of many foreign ones were forced to close, including the Latvia based Meduza. An international publication released in Russian and English. Alexey Kovalev is an investigative editor at Meduza. As the state cracked down on journalists? Last week, after some hesitation, he fled his home in Moscow with his wife to the Latvian capital, Riga.
ALEXEY KOVALEV We started looking for tickets out of Moscow, which was already a pretty tall order because all the European Union airspace was close to Russian flights. We also have a dog which severely limited the few options that we really had, which were tickets to the very few destinations that did accept flights from Moscow, which was Yerevan and Istanbul, and the tickets were in the general area of several thousand dollars, which we couldn't afford. So we had to book a cab from Moscow to the nearest border control point.
BROOKE GLADSTONE And you just walked across. Yeah. What kind of a dog do you have?
ALEXEY KOVALEV It's a French bulldog. He's nine years old and his name is Tyrion.
BROOKE GLADSTONE Not after Game of Thrones.
ALEXEY KOVALEV Yeah, we got him when the season three started.
BROOKE GLADSTONE Tell me who you left behind.
ALEXEY KOVALEV Oh, well, my parents, who were very happy and relieved when I called them from the border and told them we were out of Russia. My grandparents who are still alive well into the 90s. I don't think they still know that I'm out of Russia. I'm waiting for an opportunity for someone to teach them how to use Skype so that at least I'm looking at them face to face when I'm telling them the news.
BROOKE GLADSTONE In April last year, Meduza was named a foreign agent by the Russian government, which requires journalists and outlets to brand every piece of content with a disclaimer or else face debilitating fines. That status obliterated your business model.
ALEXEY KOVALEV Yeah, we've been – since April 21. We've been relying on donations from our readers, which is very problematic because as of now, ruble has lost more than half of its value. And a bigger problem is that the Western digital services that we are relying on for cash transfers and donations.
BROOKE GLADSTONE You mean like PayPal?
ALEXEY KOVALEV Yeah, people and Stripe, for example, which we are relying on for donations, have been refusing Russian clients service. So Russians cannot send us money. We are almost exclusively relying on donations from abroad.
BROOKE GLADSTONE The foreign agent classification destabilized Meduza, but you were worried about being labeled an undesirable organization by the Russian state. What would this classification do to Meduza? How at risk do you feel?
ALEXEY KOVALEV It would put in the risk of criminal liability, not just ourselves, but basically anyone who shares our content. It would cut ourselves off from any freelance contributors, from any experts. It would be just illegal to talk to us.
BROOKE GLADSTONE So as of March 4th, you said any real reporting about the war is illegal in Russia. Can you tell me how Meduza has adapted?
ALEXEY KOVALEV Well, I really can't go into details –
BROOKE GLADSTONE I know.
...So as not to jeopardize their safety, but we will continue to do our work. We're not just reporting from the outside. Some sources will refuse to talk to us on the record for fear of association with a foreign agent or, God forbid, an undesirable organization. But there are still ways,
BROOKE GLADSTONE There's no one left in Moscow, right?
ALEXEY KOVALEV I want you to just grasp this full severity of this. The New York Times kept reporting from Moscow throughout the entire 20th century, throughout two revolutions, two wars in the untold number of social and political upheaval...
BROOKE GLADSTONE Stalin's purges.
ALEXEY KOVALEV Yes, exactly. And now they're leaving because they cannot guarantee the safety of their staff anymore. So Meduza would be one of the few, if not the only one who delivers the unfiltered, uncensored news about what's happening inside Russia. Because most remaining independent news outlets also announced on Friday that they have no other choice but to comply with this new law for fear for their staff safety. We have been anticipating this for many years. We founded this publication outside of Russia to protect ourselves from physical harassment, from getting our office raided. But we will continue working because, well, the whole responsibility falls on us, now. We cannot just give up.
BROOKE GLADSTONE But how are you getting through? I know that a lot of people have ways to evade the online scrutiny and restrictions that Russia has imposed. But are people able to read you or at least enough of them, whatever that means, to make it worthwhile?
ALEXEY KOVALEV Well, let me just give you a number. Before Russia's invasion, we had about half a million subscribers in the Telegram channel. Now we have more than a million.
BROOKE GLADSTONE Mm-Hmm.
ALEXEY KOVALEV We've lost a big chunk of our audience, but we've been educating our audience how to use virtual private network, VPNs, and other ways to circumvent these internet blocks. And I'm afraid it's getting more difficult by the day because we've been cut off from Visa and MasterCard service so Russians who remain in Russia cannot pay for anything. Spotify, Netflix, any Western digital service, including VPNs. So it's getting harder and harder. So we have to be coming up with new creative ways to circumvent those bans. So we have the app, the different social media platforms, including those still not banned in Russia because the state propaganda relies on the same online infrastructure, so they cannot really cut the branch they're themselves sitting on.
BROOKE GLADSTONE Can you give me some examples of the kind of reporting that Meduza is doing right now?
ALEXEY KOVALEV The Russian Ministry of Defense was claiming no Russian conscripts were involved in what they're calling the special operation in Ukraine because they're not calling it war. So we were able to confirm that one of the infantrymen captured in Ukraine was actually a conscript because it's a very important distinction. We referred to reports that conscripts were forced into signing contracts and just shipped off to the front line after a few months in a boot camp. They were actually sending actual conscripts with no combat experience to the frontline. We were able to track down their parents and they confirmed that, yes, indeed, this guy was just a conscript. This is the kind of thing we're doing, and this is why they want to shut us down.
BROOKE GLADSTONE On March 6th, in Russia, thousands of protesters against the war were arrested in 69 cities. Is it possible to quantify the resistance to Putin at this stage?
ALEXEY KOVALEV This would probably seem like nothing in a country of one hundred forty four million people. But these people knew exactly what they were facing. A massive fine, possibly 15 days of administrative arrest. There would probably lose their livelihoods after that because nobody would want anything to do with the dangerous elements like someone who would go and protest this war. But we still have no way of quantifying the level of dissatisfaction, because if you a Russian and your entire media diets only consists of government owned media, which is the majority of all media consumed in Russia, you wouldn't even know there was a war going on. These claims that are being circulated, they're so absurd that they wouldn't even know where to begin. This rift goes right through my own family. Because Russia and Ukraine are connected by millions and millions of historical and familial ties. My wife's grandmother was born in Ukraine, my father's grandfather was born in Ukraine as well. But when you confront people with these horrific images of cities like Kharkiv, which looks exactly like my neighborhood in Moscow. when I'm confronting people with the synergies, they will just repeat what the state propaganda is, telling them that there is no war. We were told on the Channel one, which is the biggest television network in Russia, that there was no war. We are just exterminating those Nazi elements. And if you're telling me that these are images of actual residential quarters in Kharkiv being struck by Russian missiles, it's because the Nazis are parking their artillery pieces inside residential quarters to provoke Russian artillery, to fire at them and accused Russia of war crimes. I'm not kidding you. This is an actual conversation ahead.
BROOKE GLADSTONE Here is what really puzzles me. I reported from Moscow in the Yeltsin years '92 to '95. It was only one year after the breakup of the Soviet Union, but people still had a kind of mindset. They had complete trust in what was said in their own group, in their own family, and they feigned trust in what the government was telling them. And so I found it really surprising when I heard the stories like the one you just told – where that trust in what the family says with the little group says the people that you roll your eyes with what they say didn't dislodge the falsehoods that had been spewed on Russian television,
ALEXEY KOVALEV I see where you're you going with this. And I know, because I was there, I was an October's child and I was a young pioneer. So yes, so I had Lenin's portrait in my classroom. So I do remember the time. What's happening now is different from then because I'm asking of my, let's say, my in-laws. I'm not just asking them to confirm or denying some ideological tenants, like what is better socialism or capitalism? I'm asking them actually to admit their complicity in a horrific war crime done in their name.
BROOKE GLADSTONE Is that how you feel, yourself?
ALEXEY KOVALEV [SIGH] Well, I've been working as a journalist for 20 years.
BROOKE GLADSTONE Mm-Hmm.
ALEXEY KOVALEV I've been doing the same thing I'm doing now. Exposing lies and wrongdoings and corruption. And I haven't been protesting because that's not what I see my mission as a journalist. But I feel like I've been doing what I've seen as my mission as an independent journalist.
BROOKE GLADSTONE So you don't charge yourself with complicity.
ALEXEY KOVALEV I do, in fact. Maybe I should have done more. Maybe I should have spoken out more loudly. I have no idea. I have no idea, frankly. I've never seen anything like this and I don't think anyone has.
BROOKE GLADSTONE You say that it's not that people are simply lacking access to factual info. They outright refuse to acknowledge its existence. And you've explained why. But do you see any way to break a propaganda hold that the people themselves prefer to cling to?
ALEXEY KOVALEV Oh, well, I mean, in 1945, the Americans organized a trip for the citizens of the city of Dachau, where one of the most notorious death camps was. So they actually put them on a bus and took them to the grounds of this concentration camp and had these people fill in the graves of the remains of the victims of these concentration camp. That's what it took for people of the city of the Dachau who had been living in the vicinity of this death camp to acknowledge what had been happening next to their homes for the past several years.
BROOKE GLADSTONE That's a tall order here. Yeah, getting boatloads of Russians into Mariupol and all the other cities.
ALEXEY KOVALEV I frankly don't know what it would take for Russians. The Germans had to come to terms over the next very painful few decades with what had been done in their name. But with Russians, its literally relatives,
BROOKE GLADSTONE it seems like Russia's pretty far from a massive antiwar movement. But do you think the seeds have been sown?
ALEXEY KOVALEV Well, I think so, yeah. Because the sanctions are going to hit us pretty hard and the ordinary Russians will really going to be sanctioned back into 1919. The shelves in these stores were empty.
BROOKE GLADSTONE I remember that well.
ALEXEY KOVALEV Yeah. And it's going to be worse than that because in 1992 and 1995, we had the future ahead of us. Now we don't have an anything. So people will be waking up to the fact our country is definitely not on the right side of history in this.
BROOKE GLADSTONE If you could just pick one thing you wish the West hadn't done. In order to enable the fight against propaganda, what would it be?
ALEXEY KOVALEV You know, I would probably use this opportunity you're giving me right now to ask anyone who has the means to do so in order of priority, of course, that you support Ukraine, you support Ukrainian refugees, but also you still have the means to do so. Please consider donating to Meduza, because we at Meduza are relying on the lifeline of crowdfunding and donations from abroad. And it looks like in a few days will be the only news outlet reporting from Russia.
BROOKE GLADSTONE Alexey, thank you very much.
ALEXEY KOVALEV Thank you for having me.
BROOKE GLADSTONE Alexey Kovalev is an investigative editor at Meduza. Coming up, a celebrated Ukrainian gamer finds himself relying on his well-honed skills to save his life. This is On the Media.
[BREAK]
BROOKE GLADSTONE This is On the Media, I'm Brooke Gladstone. So thus far on the show, we've heard about journalist who fled Russia because of a series of draconian anti-press laws that could have landed them behind bars for years. Now we turn to the exodus of refugees from Ukraine, which is being described as the fastest growing displacement of people in Europe since the Second World War. Our correspondent Micah Loewinger, has the story of the flight from war, in an age of micro celebrity.
[CLIP]
GAME SQUADMATE What's the news?
BOBI I don't know. No alternate.
MICAH LOEWINGER We're watching a live stream on Twitch.tv of a gamer who goes by "Bobi." It's February 24th and he's talking with his viewers.
[CLIP]
GAME SQUADMATE Which direction do I need to go?
BOBI Thank you guys for being with me for so long. [END CLIP]
MICAH LOEWINGER Most of the screen is taken up by a video game, a first-person shooter.
[SOUND OF A VIDEO GAME GUNSHOT]
MICAH LOEWINGER In the bottom right corner. We see Bobi's face. His weary eyes are peeking through a black balaclava. Behind him is a cot, a stack of wood logs, a furnace and a concrete wall.
[CLIP]
GAME SQUADMATE Yeah, that's bad news. [END CLIP]
MICAH LOEWINGER Bobby is live streaming from a bunker 30 feet below a military base in eastern Ukraine.
[CLIP]
GAME SQUADMATE Looks like a definite war boys.
MICAH LOEWINGER His viewers are sharing updates in real time as the invasion starts to unfold.
LOTTIE I've gone back and watched the whole video.
MICAH LOEWINGER This is Charlotte Wallens, she goes by Lottie. She lives in Trenton, Ontario, and she's one of Bobi's most devoted fans.
LOTTIE He felt the Earth move, and you see him sort of pick his head up and look around and he goes, "Guys, I think I need to go."
MICAH LOEWINGER It's at this moment, he realizes that Russia has begun bombing his location.
BOBI I hope I'll be able to see you again. I'll just drive to my family and I'll see if I can keep you updated– at least in text form. Discord guys
GAME SQUADMATE Yeah, you got Discord. Bob, you're good.
MICAH LOEWINGER Discord is a messaging app popular among gamers.
LOTTIE Watching him say goodbye to everybody absolutely broke me. He doesn't know if he's going to make it to see his kids, much less get to see the rest of the people he considers his family.
BOBI I love you guys. Thank you for whatever you've done. I love you guys.
GAME SQUADMATE Wish you. Good luck, brother.
BOBI Thanks, brother. To all of you thank you very much.
GAME SQUADMATE We'll see you soon Bob.
MICAH LOEWINGER That's when the stream ends. I saw this clip as it was circulating on the internet and went to Twitch to see if Bobi had signed back on. He'd been silent for eight days. I wanted to know what had happened to him, whether he'd made it to his family if they were all right. I managed to track him down with Lottie's help.
BOBI So Lottie, did you share with Micah, my location and stuff?
LOTTIE No, not your specific location,.
BOBI OK....
MICAH LOEWINGER Before I tell you what happened, I need to get you up to speed. First off, his real name's Pavel, but everyone calls him Bobi, so that's what I call him. He's from Poland, and he asks that I smudge some of his personal details to protect his family's safety. He originally came to Ukraine to start a business 10 years ago, but in 2014, life in eastern Ukraine, where they were living started to get really rough. Putin's invasion of Crimea accompanied a parallel conflict in the Donbas region between Ukraine and pro-Russian separatists. About 75 miles from Bobi's home. The nearby violence and economic turmoil hurt his business, and it filled him with dread. To get his mind off of things, he started sinking his free time into a game called Escape from Tarkov.
BOBI Pitiable. No PMC guys. Be careful. PMC
GAME SQUADMATE You dead?
BOBI I'm dead, PMC.
MICAH LOEWINGER It's a first-person shooter game, kind of like Call of Duty. But way more hardcore.
LOTTIE In Call of Duty. All of your teammates are marked as your teammates, and all of your enemies are marked as your enemies, and you have a special map that shows you where all your enemies are. Tarkov has none of that and very little instruction to start with, so it's got a very steep learning curve to it.
MICAH LOEWINGER Bobby became obsessed with escape from Tarkov for a couple of reasons. First, he loved the brutal challenge. You can't just run and gun in Tarkov. You have to be tactical and deliberate. The point is to survive. The weapons are designed to sound and feel like the real thing, and if you let your guard down for a moment, you're dead.
BOBI Those who play Tarkov are those who are able to find peace with suffering and takes a lot of suffering to get good enough to enjoy the game.
MICAH LOEWINGER And the second reason?
BOBI What clicked with me because buildings are looking like, I'm used to seeing this Eastern Europe in real life. And the story was matching the place I was living.
MICAH LOEWINGER Tarkov is a fictional Russian war zone created by Battle State Games. A beloved Russian developer,
BOBI Tarkov was very similar to what was the beginning of the war in Ukraine.
MICAH LOEWINGER For instance, in the game, you can play as one of two private military group. Which he says matched the dynamic in the early days of the war in Donbas.
BOBI There was private armies formed by oligarchs in Ukraine.
MICAH LOEWINGER I get that he really liked the game, but was he good at it?
LOTTIE Yeah, 18000 hours.
MICAH LOEWINGER Holy crap. 18000 hours is two years.
BOBI I was playing almost 20 hour a day every day. I was like. A zombie using Tarkov as the only drug to keep me out from having any contact with reality.
MICAH LOEWINGER When I think of an escape, I think of going to some fantasy land that's so unlike real life that it gets your mind off of it. But this sounds like you were just escaping into a computerized, gamified version of the world directly around you.
BOBI In real life, majority of things are usually taken away from your hands. If you like it or not. In Tarkov, majority of your outcome depends on you.
MICAH LOEWINGER He felt that lack of real world agency when COVID hit Ukraine. His business, all his investments he'd spent eight years building vanished overnight. He remembers telling his Tarkov friends about it in early 2020.
BOBI I ask them guys, I'm bankrupt. I have family, wife, two daughters and I don't know what to do, how to live. And the best thing I have left under my name is my life insurance. How I can commit suicide. They told me, Don't panic. Why don't you just do what you do right now? But for a living? And then they asked me straight, Why don't you just stream Tarkov?
MICAH LOEWINGER So he set up an account on Twitch. His wife used a connection she had in the army to help him rent a cheap bunker on a military base 18 miles from his home, which would allow him to stream without bothering his family. He also launched Tarkov Academy, a website where 40 or so people would end up applying to be coached by Bobi. The service was promotional and therefore free, but you'd have to put up with this:
BOBI While you're looting the stash, while I'm disconnected next to you. I'll die instantly. Do you understand what I mean? Protect me. Want the f* story to be told?
TARKOV TRAINEE Listen.
BOBI I told you. Protect me.
TARKOV TRAINEE If you're going to talk down to me...
BOBI Many people were saying I was taking Tarkov too seriously, but for them was just a game. For me, it was a source of feeding my family. So every time I die, I'd seen as taking a piece of bread from mouth of my children and wife.
KEITH BODNER The very first time I saw it, I didn't understand it.
MICAH LOEWINGER This is Keith Bodner, a 41-year-old operations manager living in the UK. He goes by "Keife."
KEITH BODNER He's a very intense person when he's in the game, and he's very focused and because he knows every aspect of the game intricately. I honestly thought this guy's crazy.
MICAH LOEWINGER Eventually, Keife and Lottie became two of his biggest fans.
LOTTIE Keife is Bobi's right hand man. They have been gaming together and working on the Tarkov Academy program together for years.
MICAH LOEWINGER Before the invasion, Bobi Stream averaged about 40 viewers. Super tiny by Twitch standards, he made 500 bucks a month through donations and Twitch ads, which was enough for his family to live a humble but stable life. And a big part of the reason this operation even worked was because of volunteers like Lottie and Keife.
KEITH BODNER My responsibilities were to make sure that the discord was running smoothly and then moderating the stream.
MICAH LOEWINGER How many hours a week would you say you were moderating?
KEITH BODNER In the region of 50 hours?
MICAH LOEWINGER Why were you giving this person? I'm assuming you've never met in real life 50 hours a week of free labor.
KEITH BODNER It's hard to explain, but basically you fall in love with Bob. You spend a little bit of time with him and everybody says the same. He's infectious.
LOTTIE Bobi takes everybody in who's kind and genuine, and he makes them a part of his family. Calls them brother, and he calls me sister. And that makes a very loyal following.
MICAH LOEWINGER Which brings us back to February 24th, just before 6:00 a.m. Ukraine time.
BOBI I love you. Thank you for whatever you've done.
GAME SQUADMATE Wish you good luck, brother.
MICAH LOEWINGER He ends the stream, rushes out of the military base. The air raid sirens are blaring, and he begins his drive back to his family.
LOTTIE About thirty five minutes after he left the bunker, he saw a missile go over its head that we're pretty sure destroyed his bunker. We know what hit it.
MICAH LOEWINGER He starts dictating his will into his phone, which he sends to Keife in a series of audio messages.
KEITH BODNER Those missiles literally going over his head. He's feeling them landing. He explained what he believed was PTSD at that stage due to the vibration and impact that it was having on his body.
MICAH LOEWINGER How did you respond to that?
KEITH BODNER I had to be brutal to him to calm him down. I couldn't reach across the phone and slap him across the face. I told him to pull yourself together. He's got kids that need him, and he needs to think on his feet and he needs a plan to get there. He was like, I know Keife, I needed you to tell me. And then as soon as he snapped out of that, his training kicked in.
MICAH LOEWINGER His training?
KEITH BODNER He spent 18000 hours playing effectively the most realistic Russian military simulator.
MICAH LOEWINGER Over the next four days or so, Bobi traveled over 900 miles as he navigated his way towards Ukraine's western border. To survive, he says, he drew on three lessons that he learned from playing Escape from Tarkov. Lesson one Think. Don't run.
BOBI You want to run anywhere. You don't think, where are you running, you're just trying to run away and and as you understand your direction of your movement is determining, will you be alive or not?
MICAH LOEWINGER When he played Tarkov, he was always the party leader, the one who called the shots.
BOBI Every army in the world, they have a drill sergeant.
MICAH LOEWINGER He says he barked orders at his family to keep everyone from panicking during the overwhelming stress of shelling around them.
BOBI I was literally shouting at them to get upset with me, to get to orientate their fear and anger towards me, to do what I'm saying. So bring this bring that.
MICAH LOEWINGER A quick note Bobby has two partners one Polish, one Ukrainian, each is mother to one daughter. He calls them his wives. But these are not legal marriages. The back story is complicated, but based on what I've heard, it sounds like this is a sustainable arrangement between three consenting adults. Anyway, they pack up quickly, and the five of them hop in Bobby's busted up hatchback and they start their escape from Ukraine.
BOBI Keife your situation is drastic
MICAH LOEWINGER Throughout his journey, he sends Keife and Lottie messages like this on WhatsApp.
BOBI Everything either of us looks like after followed. No people, no civilization, no petrol and gas station. No food, nothing. Nothing left. Everyone who is running ahead of us took everything yesterday, I was told that we can only travel between dust. After the dusk, it's better for us to stay in in the forest and move on the roads.
The first night was terrifying because we were in the middle of nowhere and missiles start falling around us. We didn't know what to do, and we see, I think, three families running to some shelter. So we decided to just pull over, run with them and hide in the basement.
MICAH LOEWINGER Bobi looks at Dischord on his phone, and he sees that Keife, Lottie and some of his viewers are checking in on him.
LOTTIE We spent some time explaining like, Look, it's OK, you're not alone. You're never going to be alone. We will be with you every step of the way and we will watch over you guys over the internet while you're sleeping.
BOBI I actually felt like I don't feel all day lonely because I'm surrounded with people who has been so many years and so many hours speaking together
LOTTIE and all of us for sending our love and our support back to them all. Even the families, we don't know. And he told us that night that it kept them going through the night without panicking.
MICAH LOEWINGER Lesson two: listen for clues. The next morning, February 25th, they wake up to Shelling at around 4:30 a.m.
BOBI From Tarkov, I learned how to calculate the speed velocity of a gun and bullets which are shooting at me by estimating the sound of the bullet. And in real life, it's on 350 meters a second,
MICAH LOEWINGER Even though there aren't shells or missiles in Tarkov. He applied this technique to figuring out where an explosion was coming from.
BOBI I was able to actually estimate a distance to explosion by seeing it and counting the time to hearing it. I was able to understand that this explosion is 1.82 seconds away from me, 700-ish meters.
MICAH LOEWINGER He realized that the time between explosions seemed to be getting shorter.
BOBI I told him my family we are living and everyone was shouting, What are you going the bombing? I said the shelling is around 1.5 km away from us and is coming towards us, so we will go opposite direction. I think the people in the basement, they were thinking, we are mental, but we were actually right.
MICAH LOEWINGER Lesson three: Put yourself in your enemy shoes.
BOBI I was always trying to explain...
MICAH LOEWINGER He would tell his students: imagine you are your enemy. Hunting you right now. How would you do it?
BOBI Where would you position yourself? How would you kill yourself? What would you expect to expose yourself?
MICAH LOEWINGER The Ukrainian interior minister had advised that civilians turn off cellular data so that Russians couldn't track their locations. This meant he couldn't see where he was driving for much of the trip. But Keife and Lottie could, because they were tracking his live location with end to end encryption on WhatsApp.
LOTTIE So we created a map for him on Google Maps and sent it to him as a screenshot and with the instructions page that you can print from Google Maps as a PDF so that he could pull it up on his phone, but turn off his data and everything else to try and make them as invisible as possible.
BOBI Because I had their information turn, he left and right. They were able to guide me for the countryside, which I never been before.
MICAH LOEWINGER Bobi's hyper awareness might have even saved their lives later that night when they were looking for somewhere to sleep.
LOTTIE They found a hotel that was on the road between Kyiv and Rivne.
MICAH LOEWINGER Meanwhile, Lottie and Keife, who were scanning Twitter and news sites, learned that trouble was approaching
LOTTIE 15 minutes after he got there. We had seen reports that there were troops moving along the road between Kyiv and Rivne, and he goes, OK, I'm going to go out and unplug the battery in my car because the car alarm is going off.
MICAH LOEWINGER Because even the vibrations from distant shelling were enough to set off the car's blinkers and alarm,
BOBI which in the middle of the night is visible by tens of kilometers.
LOTTIE And about 15 minutes after he went out to go pull the leads off the battery to disconnect the car alarm. The Russian convoy went by. The soldiers didn't enter the building. They just kept moving past them
MICAH LOEWINGER while they were focused on the immediate dangers of their journey. Bobi had no clue that he had become famous on the internet. That emotional clip of him saying goodbye during his last livestream had been spreading like crazy on Reddit and Twitch.
BOBI I was told that this was actually become so viral it was in Singapore television, in Spain, in England, in TV.
MICAH LOEWINGER More than a thousand bucks of donations had shown up in his bank account. Hundreds of new fans were pouring into his Discord server and showering him with support.
BOBI They were calling me a hero, and calling me a big man and I'm a God, and I was always saying, No guys, I'm not. I'm just a runner who was running away from his life and I'm doing nothing special.
MICAH LOEWINGER This bit of new internet fame, he realized, meant he'd make more money from live streaming when they finally reached Poland, whenever that might be. When I interviewed Lottie last week, she described what she had gleaned about the state of the refugee crisis.
LOTTIE The vast majority of the Ukrainian refugees are fleeing through Poland. It is a five to seven day wait right now in a car, and so keeping two children that young in a car for a week is completely not an option.
MICAH LOEWINGER Lottie, and Keife searching Google Maps, looking for places where the family might be able to safely wait out the logjam.
LOTTIE Small, out of the way, close to the border, sub-5000 people with like a road that runs straight through it, one way in and one way out.
MICAH LOEWINGER When Bobi and his family arrived at their suggested village on February 28th, they went into a grocery store.
BOBI There was a queue for bread because of a shortage, of course, and we spent two hours with 30 babushka, which is 30 old grandmas in the queue being so welcome, so helpful, so thoughtful.
MICAH LOEWINGER This little town mostly just had kids and their grandparents because the combat aged adults seemed to be off fighting the Russians.
BOBI For me, it was heartbreaking of seeing the grandma when I see how much money she's having in her wallet. You can see her counting on her fingers. Will she have enough to buy bread?
MICAH LOEWINGER At that moment, the grandma gets a call from her daughter, who is out there at war, asking if she's OK. If the kids are OK.
BOBI And her grandma with absolute peace and smiles laughing, Yes, everything is fine. We have money and stuff and soon hangs off. She openly says to other grandmas that her pension didn't arrive yet because the postman is not working. So she's actually struggling. And this was the instance when I said I'm done running. He said we were hungry. Let's use this momentum what we have. Let's stay here and help those who are really forgotten in this whole conflict. Because if I run to Poland, I would use from Ukraine, I will hear your mom or grandma who is blind suffering, going through it on her own without us, I would feel like a coward. I will not be watch myself in the mirror.
MICAH LOEWINGER Bobi says both of his partners have agreed to stay in this village for the foreseeable future. They have a plan to escape if things get bad, but for now they're doing humanitarian work with the money they're raising from Bobby's growing fame.
LOTTIE So there's just this little tiny, little villages, all of our western Ukraine. And because they're small and they're not being hit by shells, necessarily, they're not seeing any of the humanitarian aid that's coming in from the West. So all these billions of dollars that our countries have donated is going to the people in the major cities.
MICAH LOEWINGER With Keife and Lottie's help Bobby set up gamers4Ukraine(dot)com, that's "four" like the number four. He sent me a picture of packed grocery carts, he says, are for families passing through. He told me he's already driven countless people to bus stops and train stations, and that they've also begun renovating a building which will serve as a free hostel for refugees.
BOBI But for the last few days when we are actually actively helping families to run to safety, it changed my life forever because the mental and moral reward for help with no interest cannot be replaced by any other action or activity in life. And I love it because I feel that I've done something which will be left over from my existence in this Earth.
MICAH LOEWINGER When this is all over, if it's all over, do you think you would go back to playing Tarkov 20 hours a day?
BOBI Yes, of course. I'm sure I have no doubts. I didn't play Tarkov for 10 days right now, and I–I miss it. I wish to be there.
MICAH LOEWINGER At night, his family often stays in a bunker while Bobi is stationed in a watchtower to make sure Russian troops aren't coming down the main road into the town. If you go to his live stream, Twitch.tv/bobuubi, B-O-B-U-U-B-I, I don't know why it's spelled like that. You can see him sitting in the dark in that tower. His face lit by the screen, chatting with his viewers.
BOBI Hello, Phi-Phi. Hello, how are you doing Ph-iPhi
MICAH LOEWINGER Just chatting. He has no way of gaming right now.
BOBI How are you doing, brother?
FOLLOWER I'm fine. Thank you. What about you?
BOBI I'm just cold and I'm fine, just cold.
MICAH LOEWINGER For On the Media, I'm Micah Loewinger.
BROOKE GLADSTONE And that's the show! On the Media is produced by Eloise Blondiau, Rebecca Clark-Callender and Max Bolton with help from Aki Camargo. Xandra Ellin writes our newsletter. Our technical director is Jennifer Munson. Our engineers this week were Andrew Dunn, Adriene Lilly and Andrew Nerviano. Katya Rogers is our executive producer. On the Media, is a production of WNYC Studios. I'm Brooke Gladstone.