The Day Saddam Hussein's Statue Came Down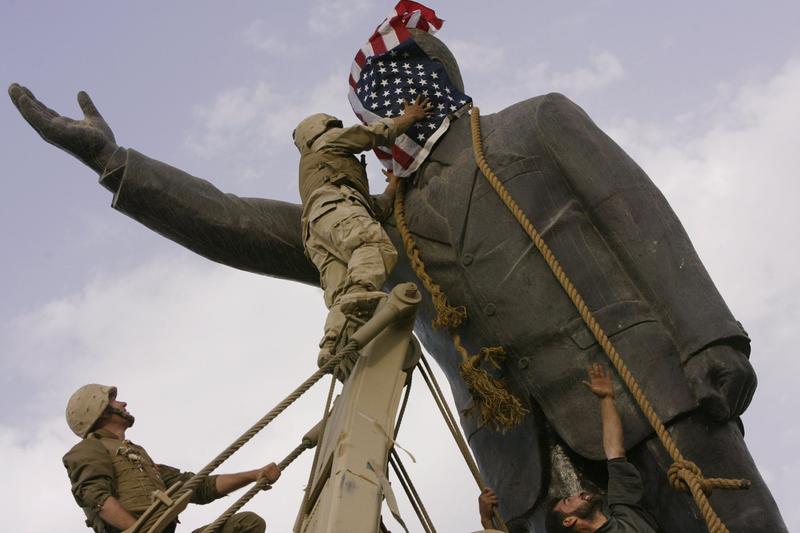 Transcript
Brooke Gladstone This is On the Media. I'm Brooke Gladstone. This week marks 20 years since George W Bush on the USS Abraham Lincoln. In front of a banner that read Mission Accomplished uttered these words.
TAPE My fellow Americans. Major combat operations in Iraq have ended in the battle of Iraq. The United States and our allies have prevailed.
Brooke Gladstone One month earlier in the Iraqi capital, there was another moment of victory declared. It, too, did not stand the test of time.
TAPE And the right hand part of the screen, which we've been watching now for an hour and a half. Iraqi citizens at first throwing shoes at the statue, then wrapping a rope around the neck of the statue, now being helped out by a U.S. tow truck vehicle to bring down the statue. And again, here you have the Marine up there. What is you doing? Oh, there you have it. Throwing an American flag.
TAPE Yeah. Yep. The right leg is snap. The left leg is going as pieces of debris coming off the statue. And now it's full of. As she goes around the square, people are waving their hands and the statue, the hollow statue of Saddam is left dangling from this marble plane.
Brooke Gladstone It was perhaps the most televised event of the Iraq War. U.S. marines toppling a statue of Saddam Hussein in Firdos Square in the center of Baghdad, amongst what seemed like a big crowd of exultant Iraqis. In the days following the toppling, cable news sources like CNN played the footage again and again. That first day, in particular, every seven and a half minutes. Peter Maass, then a contributing writer for The New York Times magazine, stood at the edge of Firdos Square that day on April 9th, 2003. For the previous two weeks, he'd been traveling with the same marine battalion that had rolled triumphantly into the square and dragged the statue down. What he witnessed that day was vastly different from what viewers were seeing on their TV screens across the world. Years later, Maass reconstructed the chain of events that led to the toppling and the rampant misconceptions that followed in its wake. It started with those hundreds of foreign journalists stuck at a hotel in Firdos Square.
Peter Maass All of these journalists were sequestered at the Palestine Hotel with and this is the crucial point with their broadcasting equipment. When the U.S. Marines arrived there, the journalists had their transmission equipment and they went live. This was the moment when the U.S. military was entering the very center of Baghdad and taking control of it. And they were able to broadcast it to the entire world live.
Brooke Gladstone And I think it's important to note that when these Marines arrived, that was the moment of liberation, at least for these journalists who'd been in Baghdad for weeks under the Iraqi government's control. Threatened with airstrikes. You noted that two journalists had been killed at the hotel just days before. So when they saw the Americans, they were probably in a particularly good mood.
Peter Maass For these journalists, the arrival of the U.S. Marines, the departure of Iraqi authority, was a personal liberation of sorts. They were no longer under threat of being taken prisoner by the Iraqi government or punished in some way. And they were also no longer under threat of being bombed again by the Americans because that bombing period was over with the arrival of the Americans and the fear this hotel. And so, indeed, they felt that this was a moment of relief and liberation for them. But that doesn't necessarily transfer over into the entire country of Iraq. And I think there was a problem with at least some of the journalists that indeed the sense of personal liberation perhaps contaminated their perspective on what was actually going on in that country, Iraq, that day.
Brooke Gladstone You made the decision sometime later, years later, to reconstruct what happened because no one else had. And you contacted all the people you knew in the battalion who had a role to play in the events. And you put together the story from the ground. You were doing it at the time, too, presumably. What was the difference between those stories?
Peter Maass I did not realize at the time that this moment of the statue being taken down was being translated, particularly in the U.S., as the moment of liberation that symbolized Iraq's total perpetual liberation by the U.S. military. At the time when I was there. It was kind of a joke. U.S. soldiers and Marines had been tearing down statues of Saddam Hussein. Virtually every city and town that they had gone through. I'd seen this before in that invasion. And so I watched it out of amusement. I didn't write about it at the time because it didn't become clear until years later that Iraq was just beginning the war that the U.S. thought it was ending. And it also did become clear to me just how important that coverage of the statue toppling was, that it had really created an incredibly deep narrative of liberation, of success, of mission accomplished that would literally take years and years of actual events on the ground and some very good reporting by American and other journalists of what was happening on the ground for the U.S. government, the U.S. military, for the U.S. population to realize, oh, my God, this wasn't a happy liberation. This wasn't the end of it. This was a disaster that still continues.
Brooke Gladstone Describe for me what was going on in Baghdad on the day when Americans saw on their TV screens something that looked very much like liberation. It wasn't peaceful, was it?
Peter Maass It was peaceful around Firdos Square because it was surrounded by American tanks and American snipers. But if you went a couple of blocks in almost any direction you would have encountered fighting, you would have encountered looting. You would have encountered a lot of fear, a lot of trepidation, a lot of concern about what the next day, the next week, the next month, the next year would bring.
Brooke Gladstone And so back to the square, you may have had safety there, but a wide shot which Americans didn't see would have shown that there weren't actually very many Iraqi. He's there.
Peter Maass There were maybe at most, a few hundred people in the square, and at least half of the people were American military or journalists. So we're talking a very small number of Iraqis who were actually in the square. And indeed, if you saw wide shots of the square, you'd notice that there was a concentration of people around the statue. But elsewhere, there wasn't much except for the American tanks that were in the circle around the statue.
Brooke Gladstone You're following Lieutenant Colonel McCoy's battalion into Firdos Square. Initially, there's no plan to take down the statue. How did that idea evolve?
Peter Maass The first person who came up with the idea was actually a gunnery sergeant in a tank recovery vehicle as they wheeled into Firdos Square, who noticed the statue and said, Hey, look, there's a statue of Saddam there. And wouldn't that be great to take down? And again, common instinct of American soldiers and Marines in Iraq. And he was told, no, we're not doing that right now. We've got to secure this square. But then once it was secured, that same gunnery sergeant said, hey, can I give these few Iraqis that are in the square? And there were really just a few dozen, a sledgehammer and a rope. But in my mind, if that fell off the side of a vehicle and he was told, like, okay, that's all right, but just don't use your vehicle, that is how it began. There was no big Pentagon master plan. It was soldiers, Marines on the scene who made these very autonomous, spontaneous decisions that at the moment seemed not to be important.
Brooke Gladstone Iraqis didn't try to bring down that statue for very long because they didn't have the technology.
Peter Maass So the toppling of the statue was over before it began, almost because the Iraqis with the sledgehammer kind of drifted away. Their arms were tired. And also the photographers drifted away because they had gotten their shots. And also, once the photographers drift away, you can see that the Iraqis become less interested in performing this activity. It had completely.
Brooke Gladstone Stopped. You said that the sight of the photographers swarming around the Iraqis at the base of the statue reminded you of a famous media study from 1953 by sociologists Kurt and Gladys Lange. The study showed that the media provoke people to do things they wouldn't do if they weren't cameras there. Now the Lange's we're studying an event that happened 70 years ago. Douglas MacArthur in 53, Truman had just relieved him of his command, and he was visiting Chicago for a parade in a speech, and the crowds weren't excited to see him.
Peter Maass The crowds were there, but they weren't doing that much. It wasn't that enthusiastic of a reception. But when the cameras were pointed that portions of the crowd, then those portions did become excited and did cheer. And those were the images that were broadcast and that defined MacArthur's triumphant return to Chicago. And it was a similar situation in Firdos Square in Baghdad, where you had the Iraqis engaging in this activity when the cameras were pointed at them. And once the cameras kind of drifted away, the Iraqis drifted away, too.
Brooke Gladstone And did the cameras return at any point?
Peter Maass The lieutenant colonel who commanded that battalion that I was with, Brian McCoy, who had been inside of the Palestine Hotel when this toppling sequence began, he emerged from the Palestine Hotel. I was at his side and he saw what had been going on, and he realized that there was an opportunity that was being missed. And so then McCoy gave the order for one of his vehicles, a tank recovery vehicle that has a crane to go ahead and take down the statue. And at that point, when he gave that order, there really was no activity around the statue. But then as the tank recovery vehicle moved towards the statue, it was like the party started all over again and everybody goes back to the statue. The journalists flocked back to the statue. The Iraqis who were in the square flocked back to the statue. It's showtime.
Brooke Gladstone What did McCoy tell you after the fact about how he understood that moment?
Peter Maass He said, look, you know, I got out there. I saw that this was like potentially a Paris liberation 1944 moment, but it wasn't really happening because the statue was still up there. This was a buzz kill. That was the word he used, buzz kill. And so I got permission to take the statue down and it worked. It's significant here that this was a unit of Marines and that this was a very press savvy lieutenant colonel who commanded this particular battalion of Marines. Marines are the smaller branch of the U.S. military compared to the Army, for example. And they they therefore, are friendlier and perhaps a little bit more skilled and have a lot more incentive to. Get the media on their side and try to create moments that will help them with the media. And so these things were in the back or the front of McCoy's mind when he was making these decisions. And the Marines are very proud to this day of that moment.
Brooke Gladstone Because it was so skillful and iconic.
Peter Maass The Marines liberated Baghdad. That's what that statue toppling meant. Not the U.S. Army, which actually had its forces in Baghdad two days earlier.
Brooke Gladstone Cable focused the world's attention on the thrilling video. There was a 2005 study by George Washington University that found between 8 a.m. and 11 p.m. that day. Fox News played it every 4.4 minutes. CNN replayed it every seven and a half minutes, though they could have used a wider shot that showed the mostly empty square. It didn't fit the narrative. And there really was no sense of triumph in the streets. If you were to watch TV, you wouldn't know any of that. We were primed for triumph. The newsrooms wanted triumph. You talked to a number of reporters. CNN's Walter Rodgers among them, whose Army unit was on the other side of the Tigris. What did his editors tell him?
Peter Maass He was told by his editors, get out of your embed with the Army. Get over to Firdos Square. We need somebody in Firdos Square to report from feared outside the toppling of the statue in the liberation of Baghdad. And Rodgers told his editors, Hey, I can't go over there. There's fighting going on. I could get killed if I try to cross the river on my own. It didn't matter. He wasn't broadcasting what was going on in his side of the river. That wasn't something that they were interested in. It was Firdos Square. Even though there's actually more important stories for you to report where you are.
Brooke Gladstone You spoke to a CNN editor named Wilson Seurat. You said it was one of the most fascinating interviews you've ever had with a fellow journalist.
Peter Maass This interview I had with Sarat was fascinating, and I'm not putting this on him in a negative way because he was part of an organization that was going to report on this event in the way that it chose to. And what do you explain to me was that he was in the control room in Atlanta and they had their live feed from Firdos Square before the Marines arrived, because remember, the American and international Joseph Firdos Square had all their transmission equipment and they were actually broadcasting live shots before the American Marines arrived and told me that in the control room, we were waiting for those first tanks to come down that road. And once they entered the square, once they came into view, we knew we were going to go live. That was going to be the story, because this was the day of liberation. We knew the Marines were converging on Baghdad. This was the day Baghdad was going to be taken. And we were looking for the symbol of liberation of Baghdad in Iraq, and it was going to be Firdos Square. So indeed, the moment that he saw those first tanks come down the street towards Firdos Square, they went live to it. Boom.
Brooke Gladstone So let me walk away from Sarat for a moment to Martin Savidge, who is reporting from a marine unit that was taking fire in the city at the time. He was ready to go on the air under fire at the exact moment that Surratt noticed the tanks entering Firdos Square. Sarat vividly recalled the moment and he switched the coverage to Firdos. Meanwhile, what happened to Martin Savidge?
Peter Maass Martin Savidge was sitting on the other side of the river under fire, not broadcasting because the decision had been made in Atlanta that the story was the Marines entering on the other side of the river and liberating Baghdad.
Brooke Gladstone You asked Sarat whether by focusing on the square rather than on. SAVIDGE and the chaos in Baghdad, whether he'd made the right call. What did he tell you?
Peter Maass He felt that he did, that this was a legitimate news event and that there was a balance of coverage overall. And in other words, that he used to me to some effect where, you know, viewers are smart, they can decide for themselves. Viewers are smart. But actually, if they don't have all of the information in proper context and in proper balance, then no, they really can't decide for themselves and they certainly can't decide for themselves. If not only are you broadcasting only from Firdos Square, but you're repeating that image again and again and again over the next days, weeks, etc., without broadcasting to an equal or greater extent, the chaos, the violence, the looting that is continuing and that will define Iraq for the next 20 years.
Brooke Gladstone Tell me about some of the other reporters who were with you at the square. In an article for The New Yorker in 2011. You wrote that some journalists actually did try to tell the stories of what was really happening in this. Aware that it was, in fact, a non-story. How did that go?
Peter Maass One of these reporters was San Francisco Chronicle reporter named Robert Collier. And actually, when he filed his story to his editors in San Francisco, Firdos Square wasn't featured in it. And it wasn't about the great liberation of Baghdad in Iraq, because what Collier wrote in his draft was about the chaos and the looting and the troubles that were ahead. And that story was rewritten. In San Francisco when he woke up the next day. And under his byline, there was a story that had used copy from some of the news agencies editors had inserted that was all about the liberation spirit in Firdos Square. And he was just stunned by it and angry, too. Anne Garrels, who was the NPR reporter as she wrote later on in her memoir, had also reported dispassionately, accurately about not just what was happening in Firdos Square, but elsewhere in Baghdad, and had been told by editors, Hey, you're not getting it. This isn't right. And they're telling this to this extremely distinguished or a reporter who's there on the spot who knows it. Although Garrels did the best she could. She's one reporter and you've got a lot of other people at that network who are kind of going along with the liberation line.
Brooke Gladstone In the sixties, Daniel Boorstin identified a category of media spectacle that he called pseudo events created to be reported on. We call them photo ops now, I guess. You saw the statue toppling as a pseudo event. What about the phoniness of that event, the misleading ness of that event? What about it bothered you the most?
Peter Maass It was such a creepy thing because it didn't look phony, did it? There's that old Groucho Marx line. What are you going to believe? You know, me or your own eyes?
Brooke Gladstone Are you going to believe me or you're lying or you're lying?
Peter Maass I'm sorry. Thank you. Yes. Everybody could look at this statue coming down and these deliriously happy Iraqis who were there. And indeed, it didn't look phony at all, but it was phony to the extent of it didn't represent what was happening in the rest of Iraq. And it was phony in the sense of this was not an autonomous event that the cameras or the military, for that matter, were just neutral witnesses to the cameras, more than the military were actively engaged in the construction and the creation. And it would not have occurred were it not for the fact that the cameras and the journalists were there. The military would not have had the incentive that they had. The Iraqis who were there would not have had the incentive that they had, and it would not have been seen by anybody either.
Brooke Gladstone War myths are created, some are dispelled. Do you think the story of the statue, the myth of the statue toppling, has that been dispelled and how does that line up with other discrepancies in the coverage of that war?
Peter Maass I don't think it's been dispelled at all because I still need to explain this. It's almost like I'm back in 2003 with people not being aware 20 years later, still not aware the scenes of that day still are printed and discussed in a positive way in the U.S. military and elsewhere.
Brooke Gladstone A lot of myths about the Vietnam War. Some time ago, people were asked, How many Vietnamese do you think were killed in the war in Vietnam? The number frequently came back 200,000, whereas it was 2 million. Do you think that we have a tendency to underestimate the damage that America can do in these foreign wars?
Peter Maass I think the word underestimate is not the appropriate word. I think obliterate is probably the correct word. One of the things that I noticed and particularly dismayed me on the 20th anniversary, which passed on April 9th of the toppling of the statue of Saddam Hussein, is that the stories that were written and there really weren't that many barely mentioned. The most important element of the invasion and its 20 years of violent aftermath, which is that more than 300,000 Iraqi civilians were killed and probably as a result of direct violence, you know, bombs and bullets and things of that sort. And probably somewhere around or above a million, if you also include malnutrition and disease that occurred as a result of the degradation of infrastructure, etc., more than a million. That number is rarely mentioned if it is mentioned in news stories. It's kind of just in passing. It's not about this epic mass killing of Iraqi civilians in an illegal war that was launched on wrongful pretenses that Iraq possessed weapons of mass destruction. A million people. And it's obliterated because if you don't obliterate it, you really can't have any discussion other than how do we atone for this and how do the people who are responsible for this, how should they be regarded and perhaps punished? But those are questions that we don't ask ourselves as a society. I mean, people who say that George Bush is a war criminal and should be on trial are regarded in the American. Society, I think is on the fringe. These people, the generals, the politicians are regarded as heroes. It's mind boggling.
Brooke Gladstone Governments pretty much always lie about wars. What was different about this? What should we have learned from this one? What were you hoping for?
Peter Maass It feels like to me a crime that's not unsolved because we've solved it. I mean, reporters and human rights organizations, etc. have documented what happened in Iraq and the civilians who were killed and the lies from American generals and politicians. So the crime is solved. But there's no justice because nobody who was involved in perpetrating that crime at the high level has been held responsible. They're held up as as heroes and honored statesmen and stateswoman. An illegal war. An illegal invasion is a huge war. Crime is called a crime of aggression. And it's one that is prosecuted against political leaders in particular. And it's one, for instance, that a lot of people justifiably are saying should now be prosecuted against Vladimir Putin for Russia's invasion of Ukraine. And it's one that should be lodged against any political leader who illegally invades another country. The notion of that occurring with respect to America's political leaders and the invasion of Iraq is a fantastic notion, fantastic in the sense of fantasy.
Brooke Gladstone Peter, thank you very much.
Peter Maass Thank you.
Brooke Gladstone Peter Maass is senior editor and writer at The Intercept. He was a contributing writer for The New York Times magazine during the Iraq War. Thanks for checking out the Midweek podcast. The big show goes up Friday roughly around dinner time. And in it, we'll be taking you back to Baghdad and also to Disneyland. If you like what you're hearing, leave us a review at wherever you get your podcasts. Thanks.