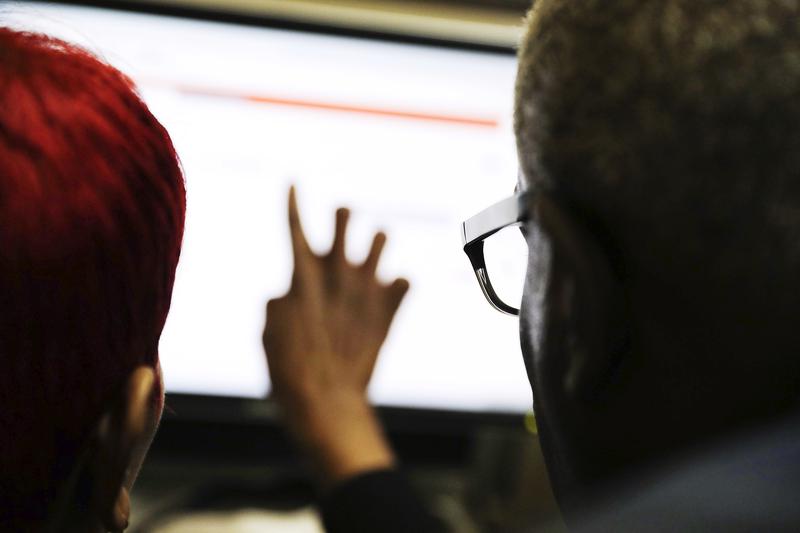 Transcript
PAUL WALDMAN And all of a sudden we're all talking about whether or not it's okay for a few dozen people to hold some signs outside Brett Kavanaugh's house.
BRANDY ZADROZNY How did a draft opinion upending 50 years of legal precedent devolve into a squabble about picketing suburban front yards? From WNYC in New York, this is On the Media, I'm Brandy Zadrozny. Also on this week's show, how to sniff out a moral panic over brand new tech. Once the radio was feared to ruin kids brains, later it was video games. Now it's TikTok.
TAYLOR LORENZ If a reporter just says it trended, where's the evidence? How much did it trend? Where did it trends? What made it trends?
BRANDY ZADROZNY Plus, what happens when ordinary people unwittingly become the face of viral conspiracy theories?
ANNA MERLIN First, they say this is a misunderstanding and I can explain it. And then they start to realize that anything they do feeds into the pattern of harassment and invasive communications.
BRANDY ZADROZNY It's all coming up after this.
[END OF BILLBOARD]
BRANDY ZADROZNY From WNYC in New York, this is On the Media. I'm Brandy Zadrozny. My day job is as a reporter for NBC News on the misinformation beat. But this week, I'm filling in for Brooke Gladstone and for our top story, the 98 page document that we've all been talking about since the night of May 2nd.
[CLIP]
NEWS REPORT Tonight, the nation's highest court confirmed the authenticity of this leaked draft decision of a ruling that would overturn abortion precedent in this country. [END CLIP]
BRANDY ZADROZNY Abortion, a perennial juggernaut of American politics. Tethered to everything from privacy to religion to money to science. And even when the high court ruled on Roe v Wade in 1973, there were clear signs in the coverage at the time that the issue wasn't going to go quietly into the night.
[CLIP]
NEWS REPORT The arguments will go on. Because perhaps more than any other issue in American life today, the abortion question is loaded with the emotional arguments of life, death and morality, not the kinds of issues that court can finally settle. [END CLIP]
BRANDY ZADROZNY The court of public opinion on abortion has actually been settled for some time. A 2019 Pew survey found that 70% of Americans said they did not want Roe overturned. But as you've watched the news unfold over the past two weeks, that public sentiment was not what was being covered. It was all about the political intrigue.
[CLIP MONTAGE]
NEWS REPORT I'm really interested in who the leaker was.
NEWS REPORT The leak has sparked demonstrations and renewed a focus on who leaked it and if they committed a crime.
NEWS REPORT Republicans said the leak was meant to intimidate the justices into changing their vote.
NEWS REPORT This leak from the court is fundamentally destructive to the Supreme Court of the United States, to the rule of law and to our Constitution. And none of these Democrats care. [END CLIP]
And decorum.
[CLIP]
NEWS REPORT The illegal protests, the illegal intimidation of Supreme Court justices, this is reprehensible.
NEWS REPORT The Democrats, the left, they are the riot party. This is what they do. They are the mob. They don't petition the court. They threaten to or try to burn down the court.
NEWS REPORT These thugs have no business at the private homes of any government officials, the Supreme Court justices or anyone else. [END CLIP]
BRANDY ZADROZNY Why are we arguing about leaks and protests? One answer could be that Republicans aren't doing the thing Democrats and abortion advocates did 49 years ago: celebrating. Here's Planned Parenthood President Alan Guttmacher.
[CLIP]
ALAN GUTTMACHER January 22nd, 1973, will stand out as one of the great days for freedom and free choice. This allows a woman free choices whether or not to remain pregnant. This is extraordinary. [END CLIP]
BRANDY ZADROZNY A lot of political sociologist mark Rowe's passage as the moment that galvanized the anti-abortion movement. So in 2022, the Republicans didn't celebrate publicly en masse. Not even for a day.
PAUL WALDMAN Yeah, it's really a fascinating turn of events when you think about how long Republicans have worked for this moment. Decades, really, and on the cusp of their great victory. It's as if they don't want to actually talk about the fact that they have won.
BRANDY ZADROZNY Paul Waldman is an opinion writer for the Plumb Line blog for The Washington Post. And he explains that Republicans, despite their anticipated victory over abortion rights, are in a tricky position.
PAUL WALDMAN Now that they've got their six votes and the conservative legal revolution is really underway. The more important it is to define it as apolitical, because if you don't, then it just looks like one more partisan institution and it starts to lose its legitimacy.
BRANDY ZADROZNY And questioning that sanctity of the court – that threatens the court as it exists now?
PAUL WALDMAN If the public starts to see the court as just, you know, an arm of the Republican Party that's echoing Republican claims and advancing Republican policy goals, well, then that opens up the question of how you might undertake some serious reforms. Maybe you should institute term limits for justices, which has been suggested. Maybe you ought to expand the size of the court. These are things that have been suggested but haven't really gotten very far. But if the court begins to look entirely political, then those things begin to seem much more reasonable and maybe something that we should seriously debate. That's a great threat, because what the Conservatives would like is to have everything kind of stay the way it is. They're going to get a lot of things from this court that they want and have wanted for a long time, not just on abortion, but on religious freedom, on how much power the government has to regulate environmental regulations, on worker rights, all kinds of things. They are going to be receiving a steady stream of policy wins from this court. And so they would like nothing more than to have that train just keep running. And if the court's legitimacy comes into serious question, that's a threat to the operation of that system that they worked so hard to put in place.
BRANDY ZADROZNY Okay. So this is On the Media, so let's talk about the news a little bit. The stories are Democrats are upset about the draft opinion and Republicans are angry about leaks and protests. Are we covering it all as punditry and thus equating picketing justices sidewalks with a fundamental altering of constitutional rights?
PAUL WALDMAN There's an inherent problem in the sort of he-said she-said style, which is the default for all news coverage. Almost everyone in the national media would agree that Republicans tend to be just better at unifying around a message once they figure out what they want to talk about, everybody on their side is going to echo that idea. And so if Republicans all start expressing their outrage that people protested outside a couple of justices homes, that's going to be the subject of a significant portion of the news coverage. Whether or not it really is all that important or even remotely as important as the fact that millions of women are about to lose their reproductive rights. And the other thing that happens then is that because Democrats are in this constant kind of defensive crouch and want to show that they are the party that believes in norms and civility and propriety. Well, in this case, you saw a piece of legislation introduced in the Senate which passed unanimously to beef up security for Supreme Court justices. And it's extraordinary when you think about the kinds of constant threats and violence that people who provide abortions have to deal with. You know, there have been ten or 11 doctors and clinic workers who have been murdered in recent decades, bombings of abortion clinics. And we're all acting as though, you know, a few people protesting outside a Supreme Court justices home is the worst thing that has ever happened to anyone.
BRANDY ZADROZNY Well, but that makes me think. Right. I'm thinking about the endgame, the Republican endgame here. If what do Republicans get out of this moment right now?
PAUL WALDMAN If you think about what the ideal outcome for Republicans is, it's that Roe v Wade is overturned. They get the policy victory they've sought for a long time and there's no political backlash whatsoever. And nothing fundamentally changes about the political situation. And they don't pay any sort of price for getting a policy outcome that is extremely unpopular with the public. And the Democratic base views it as inevitable and not something that you can do anything about, right. That's the ideal outcome for them.
BRANDY ZADROZNY Is there a right way to report on this issue?
PAUL WALDMAN Well, there's no perfect way to report on any issue, I think. We get very, very caught up, especially in the Washington media, in whatever is behind the scenes and looks like it's kind of backroom intrigue. And that's why the leak of the draft decision was so enticing to Washington reporters. Right, because you have this very kind of secretive institution and we get this little window into it and then we can speculate about, you know, was it a conservative clerk who leaked it or was it a liberal clerk, or could it have been one of the justices themselves? And we can go round and around on that. And that plays right into our perception of politics as just this big fun game that people play. But I think that the reporting has to focus on what the actual effects are going to be, how people's lives are going to be impacted, how is America going to change once this decision comes down? That's an eternal problem for the media. You know, we always focus on what what's dramatic, what has video and pictures, what involves conflict. That may be the most fundamental bias that the media has is toward conflict.
BRANDY ZADROZNY And is there a right way to read the news? You know, the media, like you said, likes conflict because people read conflict and regardless of where you stand. How should media consumers be sorting through all of this?
PAUL WALDMAN That's also an eternal problem. It's a lot to ask of people to sort all different kinds of facets of any issue and to seek out the things that are the most fundamental and the most consequential. That's a demand that almost no news consumer can satisfy, right? We only have so many hours in the day, and even those of us who do this for a living can't necessarily learn everything, let alone somebody who has a, you know, a regular job. So that's why it's incumbent upon those of us in the media to give people the best and most complete view of an issue that we can. And so the message to people who are just reading this stuff or watching it on television is to just keep asking, you know, how important is this thing that I'm seeing? If we're arguing about whether people should be protesting outside Justice's homes, is that really going to be something that in a week or in a month I'm going to care about? And then to ask yourself the second question, which is, okay, if I'm not, then what about this issue am I going to care about in a month or in a year? And in this case, it's what is America going to look like? What kind of access to abortion are people going to have? Try to focus on the coverage that gets to those more fundamental questions that you are going to care about in a month or a year and not so much about just what people are shouting about today.
BRANDY ZADROZNY Paul, thank you so much.
PAUL WALDMAN My pleasure.
BRANDY ZADROZNY Paul Waldman is an opinion writer for the Plumb Line blog for The Washington Post. Coming up, a taxonomy of moral panics on TikTok. This is On the Media.
[BREAK]
BRANDY ZADROZNY This is On the Media, I'm Brandy Zadrozny filling in this week for Brooke Gladstone. Turn on the evening news and you're likely to be confronted with a deluge of reports of young people having their minds hijacked by TikTok.
[CLIP]
NEWS REPORT There's a new TikTok phenomena called the Pee Your Pants Challenge.
NEWS REPORT The milk crate challenge is behind these recorded climbs of precariously placed pyramids.
NEWS REPORT The number of hits on TikTok in the billions...
NEWS REPORT Massive.
NEWS REPORT In the billions. [END CLIP]
BRANDY ZADROZNY There are so many breathless reports of TikTok challenges we could spend a lifetime trying to catalog all of them.
BRANDY ZADROZNY They run from very dumb to very serious. From real to overblown to completely made up. On the Media, correspondent Micah Loewinger reviewed this genre of coverage and he started to notice some patterns. Hey, Micah.
MICAH LOEWINGER Hey, Brandy.
BRANDY ZADROZNY So what do you got for us?
MICAH LOEWINGER Okay, so I've been putting together what I'm calling a taxonomy of TikTok panics. I'm going to take you through a bunch of examples of reporting, some based on true things. Others are made up or overblown. And I've gotten a lot of help from reporters and researchers who cover TikTok much more closely than I do. So first, I want to tell you about my conversation with Taylor Lorenz, who, as you know, is a reporter for The Washington Post.
TAYLOR LORENZ For years I've reported on the false nature of a lot of these trends and how they emerge with new technologies.
[CLIP]
NEWS REPORT Videos of teenagers snorting condoms and then pulling them out through their mouths. Yes, that's right. This is a thing. [END CLIP]
TAYLOR LORENZ Back in 2017, I wrote about how teens are actually not snorting condoms or eating Tide pods or whatever people were saying that YouTube was making kids do.
MICAH LOEWINGER Let's pause on the Tide Pods example for a second, which I think we can learn a lot from.
BRANDY ZADROZNY It was everywhere. I mean, there were like school letters sent home – to my home. Like it was a thing.
[CLIP]
NEWS REPORT They're popping detergent pods into their mouths and then posting the videos online. [END CLIP]
MICAH LOEWINGER Much of the early hubbub was based on Internet jokes and bizarre tweets, though there were a small number of YouTube videos that got a lot of attention.
TAYLOR LORENZ The local news coverage actually brings them into the consciousness. You saw people eating Tide pods, ironically, because of the panic about it.
MICAH LOEWINGER Even accounting for that feedback loop, the Tide Pod story was totally overblown. Calls to the American Association of Poison Control Centers concerning laundry detergent cases were trending down in 2017 when the story started, and as the coverage spilled over into 2018, the number dropped to the lowest record since the Tide Pods were released in 2012. And the vast majority of these poison calls were related to children under five, not teenagers.
BRANDY ZADROZNY A reminder that the amount of coverage doesn't always correlate with the size of the actual problem.
MICAH LOEWINGER So that's what we saw in the YouTube era of moral panics, which sets us up for what we're seeing with TikTok now.
TAYLOR LORENZ So you started to see pretty much the same thing that happened to YouTube, happened to Tik Tok, where it's like, look at what? TikTok is making your children do.
MICAH LOEWINGER Which brings us to the first in my taxonomy of TikTok panics what I'm calling the 'coordinated panic.' It all started with an infamous trend called devious licks.
[CLIP]
NEWS REPORT A whole new destructive TikTok craze as teens stealing and damaging property at schools.
NEWS REPORT It's called devious licks. And students have been recording themselves vandalizing and stealing school property. The result is thousands of dollars in damage to schools across the Bay Area and the country, all documented for likes on TikTok. [END CLIP]
TAYLOR LORENZ It's true that kids were vandalizing their schools, as kids have always done, but a lot of it was attributed to Tik Tok when it really shouldn't have been.
MICAH LOEWINGER The devious looks trend wasn't as well known until it was deliberately pushed to local outlets across the country by Facebook's parent company Meta, which Taylor Lorenz revealed in a bombshell scoop earlier this year.
TAYLOR LORENZ What myself and my colleague Drew Harwell revealed was that Meta had actually hired Targeted Victory, a well-known Republican consulting firm, to help plant negative stories about TikTok across the country in local news markets.
MICAH LOEWINGER Basically, Meta was tired of being the subject of constant public scrutiny and wanted to convince parents and public officials across the country that TikTok was the real menace. But here's a sort of funny twist. Rumors about devious licks had actually started on Facebook, not TikTok. Of course, the coordinated campaign to get local media to cover this didn't mention that.
TAYLOR LORENZ A bunch of state attorney generals have announced an investigation into TikTok and its harm in children.
[CLIP]
NEWS REPORT California Attorney General Rob Bonta announced an investigation to find out if TikTok uses special techniques to lure young users causing harm to them. [END CLIP]
TAYLOR LORENZ And so Targeted Victory and Meta were very interested in pushing these negative local news stories in those specific markets in hopes of pressuring state attorney generals to take action against TikTok.
MICAH LOEWINGER Targeted victory and Mata also pressured local outlets to cover the so-called Slap a teacher challenge.
[CLIP]
NEWS REPORT Educators, beware. That's the warning from the California Teachers Association, letting them know about a potential TikTok trend.
NEWS REPORT So there is a list already written out. It goes month by month telling kids what to do and film it, then put it on Tik Tok.
NEWS REPORT The challenge for the month of October. Slap a teacher. [END CLIP]
MICAH LOEWINGER Slap a teacher hadn't started yet, but the idea was that there was a nationwide plan among teenagers to slap their teachers starting at the beginning of the month. And and this fake list of so-called future challenges had once again originated on Facebook, where it circulated in teacher and police groups. But you wouldn't know that from the coverage.
TAYLOR LORENZ There's not even a single example in these stories of a slap a teacher video. If a reporter just says it trended, where's the evidence? How much did it trend? Where did it trend? What made it trend?
BRANDY ZADROZNY Yeah, it feels like the words trend and viral can be a bit of a cheat code for journalists because they don't require much proof. And it really does help punch up a story to feel more urgent.
MICAH LOEWINGER Yes, exactly. I think that's a really important point. And it's one that I heard from other reporters on this beat, like Ryan Broderick, who writes the Garbage Day newsletter.
RYAN BRODERICK I think the scale of TikTok makes it very hard to judge whether something is important on the app. The views are so high on the content that people assume that it must matter. You know, a trend of like for people doing something can feel like this massive movement when in fact it doesn't matter at all.
MICAH LOEWINGER Okay. So I want to move on from the coordinated panic stories to what I'm calling the 'rumor mill panic.' Brandy, did you hear about last year's National Rape Day?
BRANDY ZADROZNY I can't believe I've missed some of these, but no, I missed that one as well.
TAYLOR LORENZ This one is triggering for me. It really is. Part of what kind of pushed me into doing TikTok misinformation research in the first place.
MICAH LOEWINGER I called up Abbie Richards, who has written a lot about how conspiracy theories spread on the platform.
ABBIE RICHARDS It's unclear exactly where this started, this idea that a big group of men were going to just go out and rape women, which is a gross misunderstanding of how sexual violence is perpetrated, because most sexual assault is committed by somebody that the victim knows and often trusts.
MICAH LOEWINGER Like Slap-a-Teacher Day, it was unclear in the moment what the source of the concern was, but there was a rumor and that is what set the app on fire.
ABBIE RICHARDS We really awareness-videoed it into existence. All of the videos surrounding it were about like, Oh, I don't know if this is true, but if it is. Be careful.
[CLIP]
TIKTOKER I don't know how many guys are going to be participating in this. Be extra careful to get your mace. Get your Tasers. Don't go anywhere.
TIKTOKER I don't know whether it's a sick twisted joke or if it's a call to action. So I want to remind everybody to be prepared to save your own life. [END CLIP]
ABBIE RICHARDS And then the news coverage about it was not critical at all.
[CLIP]
NEWS REPORT It's hard to believe this is actually a thing. And I'm reporting on this to tell you about it this morning. A group of men on the popular social media app called Tik Tok have declared April 24th as National Rape Day. That's right. You heard me. [END CLIP]
MICAH LOEWINGER But when April 24th rolled around. Nothing happened. And a very similar phenomenon occurred later in 2021 with National School Shooting Day on December 17th.
ABBIE RICHARDS It seems to have started because there was some reported video to a school administrator and then once the school posted about it on Facebook and the local law enforcement, you posted about it on Facebook, it became this game of telephone of 'just be careful. You should know'.
[CLIP]
NEWS REPORT The TikTok challenge encourages students to make threats against their school. And it's supposed to happen today. [END CLIP]
MICAH LOEWINGER Ultimately, some reports noted that the Department of Homeland Security and local police believed these threats were totally unfounded. But by the time December 17th rolled around, the panic had spread too far.
[CLIP]
NEWS REPORT Schools are canceled in California, Texas, Missouri and Minnesota.
NEWS REPORT I've seen a dozen kids come into the front office here at this particular school location today feared for their lives.
STUDENT It's a little scary. I don't really want to go to school tomorrow. [END CLIP]
BRANDY ZADROZNY And it seems like one of the themes here is that news reports claiming that teens are going to do something on a certain day nationwide probably isn't going to come to fruition.
MICAH LOEWINGER And another theme in the coverage that I've noticed is reliance on police sources. Which brings us to the third in my taxonomy of TikTok panics what I'm calling: the local crime panic.
BRANDY ZADROZNY I call it cop-aganda.
[CLIP]
NEWS REPORT A new tick tock challenge has Massillon residents understandably upset.
[KIDS CHEERING]
NEWS REPORT Inspired by old Kool Aid commercials being reported across the country, Massillon police posted this warning on Facebook about young people busting through fences, causing thousands of dollars in damages. [END CLIP]
MICAH LOEWINGER Brandy, there were reports like this in New York, Idaho and Ohio. Palmer Hassch, a reporter for Insider, reached out to Tik Tok and the company told her there was no evidence that videos of the so-called Kool-Aid Man Challenge ever existed on the app. My best guess is that local police who, by the way, are not experts in youth culture, were basing this idea off of videos of drunken adult men busting through drywall, which have been circulating online for years.
[CLIP]
MAN Oh, no.
OTHER MAN Oh, no.
[SOUND OF DRYWALL BEING SMASHED THROUGH]
MAN Oh yeah. [END CLIP]
MICAH LOEWINGER And by the way, I found tons of news reports about the same form of vandalism that pre-date Tik Tok by years. Here's one from 2011.
[CLIP]
NEWS REPORT James Tidwell has had it with the female fence crashers. With the help of police, he installed some hidden cameras. And look at those cameras caught at midnight Sunday. It shows two teens body slamming the vinyl fence, taking several sections down.
BRANDY ZADROZNY Oh, my God.
NEWS REPORT This hidden camera actually caught another teen urinating in the neighbor's driveway, then struggling to get her pants back on before making a mad dash for the fence.
And then now she's peeing – how is this the news? I'm sorry, it's too much.
MICAH LOEWINGER I think it's fair to say Tik Tok did not create this problem.
BRANDY ZADROZNY Another thing that I'm picking up on from these examples is that Tik Tok, because it's the hot platform, it sort of allows journalists to put a fresh coat of paint on an old trend, intentionally or not.
MICAH LOEWINGER Yes, exactly. Which brings me to the last category in my taxonomy, what I'm calling the 'PSA panic.' It follows a common format. First, there's a frightening anecdote which is linked to what's described as an Internet trend, followed by an expert saying, this is dangerous, don't let your kids do this. And a conclusion that you should have a conversation with your kids about what they're doing and seeing online, like the so-called dry scooping challenge, meaning eating pre-workout supplements without dissolving them in water.
[CLIP]
NEWS REPORT A Tennessee woman experiences the dangerous consequences of this whole new social media Tik Tok challenge.
EATER-OF-DRY-PREWORKOUT All right, guys. So I had a heart attack, as most of you guys know, from taking this RetCon One: Total war. [END CLIP]
MICAH LOEWINGER This was a fad prior to Tik Tok. I've been able to find YouTube videos and posts on fitness websites dating back to 2019, but none of the recent reports that I've seen really spell that out or tell us how common this is. Much like my last example, what's known as the Blackout Challenge.
[CLIP]
NEWS REPORT A 12 year old boy is on life support after his parents say he may have tried a social media challenge.
NEWS REPORT There's a new TikTok challenge, putting teenagers at risk. So we want to talk about it. It's called the blackout challenge.
NEWS REPORT The blackout challenge. This is where you hold your breath until you pass out. [END CLIP]
MICAH LOEWINGER I saved this example for last because it's the most disturbing and sensitive. And I want to be clear that even just one child committing this type of self-harm is too many. But much of the recent TV coverage I've seen on this tends to focus on like a couple anecdotes without really addressing the context, which is that the choking game, as it's sometimes called, has been around since as early as the 1930s. The CDC found that about 82 kids have died from this between 1995 and 2007. And it's definitely possible social media has supercharged those numbers since. But without good investigative journalism or more academic research, we can only speculate. Which is one of my main points in this taxonomy. As journalists, we need to be clear about the scale of a given harm or threat. And if we don't know, we need to make that clear too. But more often than not, these reports just leave so much open to the imagination.
BRANDY ZADROZNY I agree, Micah, but we shouldn't go easy on TikTok either. Conspiracy theories, extremist content and misinformation. They travel extraordinarily fast on that app, and TikTok hasn't made it clear that they have a great handle on tamping it down.
RYAN BRODERICK It's the most aggressive algorithm I've ever seen when it comes to recommendations.
MICAH LOEWINGER Ryan Broderick..
NEWS REPORT It's the most re-mixable platform have ever seen. It's the fastest, most mobile platform I've ever seen. And so the damage that you can do with it is on a different level.
MICAH LOEWINGER And I imagine Tik Tok and academics are like studying these phenomena and perhaps as the national attorneys general investigation into the platform ramps up, there will be, you know, lots more discussion about the particular harms of TikTok. But as a news consumer, I think it's really important that we all kind of take a deep breath and recognize that we've been here before.
AMY ORBEN

It's this cycle that seems to repeat all over again, from the printing press to the radio to video games to smartphones and social media.
MICAH LOEWINGER Dr. Amy Orben leads the Digital Mental Health Program at the University of Cambridge. She's studied how throughout history, adults have routinely blamed new tech for undesirable behavior in kids.
TAYLOR LORENZ I actually came across one paper by a researcher called Mary Preston, who in the 1940s published a piece around children's reactions to the radio, which was just kind of really increasing in popularity in American society. And she noted that over half of the children she studied were becoming addicted to the radio and that was having an impact on their body and their health and their are using this addiction as an alcoholic does drink.
MICAH LOEWINGER WNYC is archivist Andy Lanset. It was kind enough to dust off this incredible broadcast from 1947.
BRANDY ZADROZNY Oh, this is so cool.
[CLIP]
REPORTER Are you telling me, Mrs Babillion children from the ages of 8 to 12 stay up to listen to the radio after 9:30, especially during the school week?
EXPERT Shocking as this may seem, Mrs. Cassidy, the unfortunate fact is that there are many parents who, to the detriment of the health and well-being of their children, do permit them to do just that. [END CLIP]
MICAH LOEWINGER After the moral panic around radio, there was one about comic books in the 1950s, which was powered by some pretty familiar, sensational news reports.
[CLIP]
INTERVIEWER What about the effect of these comic books on the children?
EXPERT All of our testimonies from psychiatrist and children themselves show that it's very upsetting. It has a bad moral effect and that it is directly responsible for a substantial amount of juvenile delinquency and child crime. [END CLIP]
BRANDY ZADROZNY That's amazing.
MICAH LOEWINGER There are even Senate hearings featuring psychiatrist Friedrich Wertham, whose research isn't exactly held in high esteem nowadays.
[CLIP]
FRIEDRICH WERTHAM I hate to say that, Senator, but I think Hitler was a beginner compared to the comic book industry. They get the children much younger. They teach them race hatred at the age of four before they can read. [END CLIP]
BRANDY ZADROZNY Woah.
MICAH LOEWINGER Sorry, I shouldn't laugh at that.
AMY ORBEN

No, it's wild. So Friedrich Wertham wrote about comic books. The issue is, and I quote, chronic stimulation, temptation and seduction are contributing factors to many children's mal-adjustments. And then only a couple of years later, you have the television and certain movies like Superman being seen as exactly the same thing. We see people using a whole new technology and we see something else we really care about. And then we link the two, whether that social media and mental health or videogames and aggression.
MICAH LOEWINGER And one big problem with this cycle, says Amy Orben, is that the technological development and public discourse tend to move. Way faster than the scientific community.
AMY ORBEN

Because scientific evidence is so slow to accumulate. We never really get to any real, concrete policy outcomes until the next technology comes around that people are more concerned about and they just forget the previous technology.
MICAH LOEWINGER And as she points out, a new technology is always going to be the easiest scapegoat. You know, if we put aside social media for a second. Nowadays, there are so many ways of explaining why young people may be behaving in a certain way. You know, root causes, any number of socioeconomic factors. Maybe their parents aren't around because they're working multiple jobs and maybe they're stressed out about school shootings. And, you know, having spent two plus years of remote learning, I mean, Brandy, your parent, fill in the rest of the list.
BRANDY ZADROZNY Why kids behave the way they do?
MICAH LOEWINGER Yeah.
BRANDY ZADROZNY Oh, God, I don't know.
BRANDY ZADROZNY I just have the kids. I don't understand them. None of us do. But I think that's your point, right? To look at any technology and say there's the reason. That's – that's a wild thing to do.
MICAH LOEWINGER Yeah, exactly.
BRANDY ZADROZNY So, okay, let's distill it down. When listeners encounter stories about dangerous trends on TikTok, what should they look out for.
MICAH LOEWINGER One? Are these reports giving you actual examples of the so-called trend. Two do the journalists offer some kind of data about how big of a trend this is? Three, if the story says young people are being harmed by this, is there evidence this is happening beyond just a couple anecdotes? And four, is this so-called trend really new? If you give it a quick Google, you'll probably find out like in 5 minutes.
BRANDY ZADROZNY Micah, thank you very much.
MICAH LOEWINGER Thank you.
BRANDY ZADROZNY Coming up, how a Tennessee nurse unwittingly became the face of a global anti-vax campaign. This is On the Media.
[BREAK]
BRANDY ZADROZNY This is On the Media. I'm Brandy Zadrozny filling in this week for Brooke Gladstone. As we just heard Micah say, one of the hurdles to understanding our current Internet ecosystem is that we can't ever fully examine the latest phenomena before it's been eclipsed by the next one. My colleagues and I on the misinformation beat. We're constantly overwhelmed with leads and tips about new conspiracy theories and older ones that just won't die. Most of the time, all we can do is try to shine a light on something and hope for the best. We're really putting out fires here. There just isn't enough time before we have to move on to the next urgent thing. And that's how I came to spend the last year of my life reporting for a new podcast series called Truthers. The plan is to take the time to go deep and show authoritatively what's true and what isn't and what happens when we get those things confused. What you're about to hear is an excerpt from the first season, which is all about a woman named Tiffany Dover, a regular person whose life became a weapon in a global information war. It's a story that begins, ironically enough, in a moment of hope.
[CLIP]
NEWS REPORT Moderna announcing today its vaccine is nearly 95% effective. [END CLIP]
BRANDY ZADROZNY It's December 2020. And finally, we have a COVID vaccine. Health care workers get the first doses. The local news stories and livestreams are all the same. It's hope on repeat. A nurse sanitizes her hands, puts on gloves, swabs the shoulder. The needle goes in. The needle goes out. Band-Aid to cheers. On the 17th, the vaccine comes to Chattanooga, Tennessee. Local news stations are covering the scene inside the Catholic Health Initiatives Memorial Hospital. Everybody calls it CHI Memorial. They're live streaming on Facebook. And thousands of people are watching.
[CLIP]
NURSE It's 2:00. So let's start with the vaccinations [END CLIP]
BRANDY ZADROZNY Sleeve comes up. Swab. Needle in, needle out. Cheers. Next up is a nurse manager. She's wearing navy blue scrubs. This is Tiffany Dover. She's got wide electric blue eyes. Long, straight, dark brown hair, and she parts it to the left. She takes the open seat. She folds her hands neatly in her lap. Her sleeve comes up. Swab. Needle and needle out. Cheers. A handful of other employees get their shots on camera, and then three of the newly inoculated doctors speak to the assembled reporters.
[CLIP]
DOCTOR It's important that those of us who have been trained for this set the example. [END CLIP]
BRANDY ZADROZNY Things seem to be winding down when someone behind the camera asks whether the reporters would like to hear from a hospital administrator.
[CLIP]
DOCTOR Or nurse? [END CLIP]
BRANDY ZADROZNY Or nurse. Someone says, Tiffany Dover walks back in front of the cameras.
[CLIP]
TIFFANY DOVER My name is Tiffany dover and I am the manager in CCU. [CONTINUES UNDER]
BRANDY ZADROZNY Tiffany starts taking questions from reporters.
TIFFANY DOVER When you woke up this morning, did you know you were going to be receiving the vaccine? I did, yes. So, you know, all of my staff, we are excited to get the vaccine, you know. um... [CONTINUES UNDER]
BRANDY ZADROZNY Then it happens.
TIFFANY DOVER And I know that umm – it's really. I'm sorry, I'm feeling really dizzy. Oh, I'm sorry.
BRANDY ZADROZNY Tiffany places her hand on her forehead and then turns away from the microphone. Then she faints. Some doctors are there to catch her and they help her to the floor. Within a few minutes, Tiffany is back on her feet, recovered, surrounded by reporters, and she's explaining what happened.
TIFFANY DOVER So I had a syncopal episode.
BRANDY ZADROZNY Syncopal episode as the medical term for fainting.
TIFFANY DOVER I have a history of having an overactive vagal response.
BRANDY ZADROZNY She's describing a reflex where your blood pressure suddenly drops and you get dizzy and you pass out. It can be triggered by lots of things. Physical pain, emotional distress, dehydration. Sometimes just standing up too long. It happens to some people a lot more often than others.
TIFFANY DOVER And so with that, if I have pain.
TIFFANY DOVER From anything hangnail or stub my toe, I can just pass out. So what happened is I started getting I get an aura before of feeling weak dizzy disoriented. And it just hit me. All of the sudden and just felt really diaphoretic. And I could feel it coming on. And so I felt a little disoriented. But I feel fine now, and the pain in my arm is very minimal actually, but it doesn't take much. So.
REPORTER So you feel fine now?
TIFFANY DOVER I feel fine now. And this is you know. I have passed out probably six times in the past six weeks. You know. It's common for me.
BRANDY ZADROZNY It goes on like this. Tiffany keeps saying this is about her, not the vaccine.
REPORTER Don't regret taking the vaccine?
TIFFANY DOVER No, no. I mean, like I said, a hangnail can cause me to have this.
BRANDY ZADROZNY By the end of the day on December 17th. The Tiffany Dover story was getting all kinds of traction.
[CLIP]
ALEX JONES And got into the main story today, which is just such an illustration of where we're at, where a nurse is cheering. [CONTINUES UNDER]
BRANDY ZADROZNY On the 18th, she even made it on to Infowars, the Internet show started by Alex Jones. That's one of the main clearinghouses for conspiracy theories.
ALEX JONES She's like. Hey, I'm getting the vaccine. It's so great. And then boom, they hit her with the vaccine. She literally passes out, falls over, and they have to take her to an ICU. [END CLIP]
BRANDY ZADROZNY I mean, there's no evidence that she went to the ICU or needed any medical treatment at all. But the story began to evolve radically all the way from check out this nurse who was injured by the shot to check out this nurse who died from it. YouTube creators around the world made videos about Tiffany.
[CLIP]
YOUTUBER Tiffany Dover.... [END CLIP]
BRANDY ZADROZNY They racked up millions of views and shares. One guy in Italy, made a music video.
NEWS REPORT [SONG PLAYING "TIFFANY DOVER" IS HEARD CLEARLY]
BRANDY ZADROZNY After the initial round of videos showing Tiffany's faint. Posters started to get more creative, compiling so-called evidence to back their claims. They also begin to collaborate, moving into something that researchers call participatory disinformation. It's where they piggyback off one another's work. On the first day, you just see the ripped video from the newscast. It's literally just that. Nurse faints, you put it on YouTube. The second day, the third day, now they're reacting to how the hospital reacts. Now they're going to cut pieces together, splice old pictures from social media. Three days after the event at CHI by a man named Joe Leonard made a video about it.
JOE LEONARD So I started driving down this rabbit hole trying to figure out what's the truth of the matter, what's going on here.
BRANDY ZADROZNY He's an online game developer and software engineer from Annapolis. He's also a prolific YouTuber. This is from his first video about Tiffany.
JOE LEONARD As far as I'm concerned, it appears to me that she actually did die.
BRANDY ZADROZNY The evidence that Leonard was relying on here was something simple. Tiffany had been someone who posted to social media nearly every single day. Her last few posts were proud pics of her new jeep, a collage of nursing colleagues, a video of a pizza and milkshakes date to celebrate her daughter's 13th birthday. Now she'd stopped posting entirely. Thousands of people posted new comments to her pages. She didn't answer a single one. She went dark.
JOE LEONARD If a woman is not on social media for five or six days. I mean, come on.
BRANDY ZADROZNY The other piece of evidence that she died, screenshots supposedly of a death record found on a data broker website. Here's one of the most popular YouTube videos that made that claim.
[CLIP]
YOUTUBER Okay, just so you see this with your own eyes, let's put Tiffany Dover in here. This is search query dot com. And we're going to look for record type death. All states search. Okay. Tiffany Dover, number 12. Tiffany Dover, 30 years old, white woman from Alabama. What was the name of Tiffany? [END CLIP]
BRANDY ZADROZNY Actually does live in Alabama, just over the Tennessee line. It's about an hour's drive from the hospital. But the death records were bogus. These sites were basically people search engines. And when you put a name in the box like Tiffany Dover, the first page you get back is an ad asking you to buy a report suggesting that there are all kinds of records available for the person, including death records. When you click on the report and buy it, the records that you were looking for aren't always there. And in Tiffany's case, there was no death record. Truther screenshotted that first page and claimed that was some kind of record. It wasn't. By the way, if you're trying that search at home right now, it's not going to work. A lot of the data broker sites just deleted Tiffany's whole profile after all this happened. A separate issue is that on some of the sites, anybody can create a record for anybody else. Dozens of fact checking organizations put out articles debunking the death claims. Reuters. The AP. PolitiFact. FactCheck.org. Poynter. USA Today. India Today. Le Monde in France. You get the picture.
[CLIP]
NEWS REPORT This claim is false.
NEWS REPORT The hospital says they want to clear up a rumor circulating online.
NEWS REPORT Know, TIffany is alive and well. [END CLIP]
BRANDY ZADROZNY But all of that fact checking didn't resolve the issue. Actually, it got arguably worse. In the days and weeks that followed, Truther started scraping all of Tiffany's social media profiles. They took her photos and videos that included hundreds of photos and videos of her children. They also expanded their investigations. They included Tiffany's husband and in-laws. Literally, any family members with public profiles became fair game. They accused them of being in on some kind of cover up. Truthers called Tiffany's Hospital repeatedly. One of them a guy named Jimmy Poole. He recorded himself and set it to dramatic music. We reached out to him. He didn't get back to us.
[CLIP]
JIMMY POOLE I'm a citizen journalist,.
OPERATOR [INDISCERNABLE] just go to memorial website, okay.
JIMMY POOLE Is she still alive?
OPERATOR [INDISCERNABLE] the memorial website.
JIMMY POOLE Well can you tell me if she's alive or not.
OPERATOR No sir.
JIMMY POOLE she's not alive, or you cannot tell me?
OPERATOR just go to the memorial website. [END CLIP]
BRANDY ZADROZNY Other truthers suggested going to Chattanooga to get answers. At least one guy did.
[CLIP]
JASON GOODMAN People might find this crazy, but I'm in Chattanooga, Tennessee, and I'm standing in front of the CHI Memorial Hospital. [END CLIP]
BRANDY ZADROZNY That's Jason Goodman. He makes Crowdsource the Truth. It's an Internet show. A federal judge who ruled against him this year in a copyright case said he, quote, trafficked in wild conspiracy theories. His videos, like the ones exploring so-called false flags around the Las Vegas mass shooting and the Sandy Hook massacre have gotten him banned from YouTube at least five times.
[CLIP]
JASON GOODMAN I just followed some directions, went to the information desk. Security guy basically told me to get the hell out of there. [END CLIP]
BRANDY ZADROZNY From the start, the hospital had been cast as a major suspect in the Tiffany story. To truthers every move CHI memorial made reeked of a cover up. Two days after Tiffany fainted, CHI Memorial issued a tweet that read, quote, Nurse Tiffany Dover appreciates the concern shown for her. She is home and doing well. She asked for privacy for her and her family. Conspiracy theorists were not satisfied. They called the hospital staff liars and demanded they post a photo of Tiffany holding up the days newspaper like you do with hostages. And two days later, the hospital actually tried.
They put out a video, which is what you're hearing now. But the thing is, no one speaks except for a few people off camera. The video is 21 seconds long and shows Tiffany at the foot of a staircase. She's wearing maroon scrubs, a white vest and a pen that reads I'm vaccinated against COVID 19. Posing around her are 20 coworkers. They're wearing hospital badges. A few looked to be nervously giggling. But it's tough to tell because everyone's wearing those blue surgical face masks, including Tiffany. Four of the women are holding signs with the date December 21st, 2020, and messages of support like nursing leadership supports Tiffany. Christmas garland hangs from the staircase. Behind them there's a photo of the pope. It's a strange video to watch. And the fact that Tiffany appeared but didn't speak...naturally, it just made matters worse.
[CLIP]
YOUTUBER And they have this woman that is not only about 25 lbs heavier than Tiffany is, but her hair is different or the part in hair is different.
BRANDY ZADROZNY A reasonable person might look at this video and think. Okay, poor lighting, different camera angle. But truthers decided that it was proof. Clear proof that the hospital and an ever expanding list of co-conspirators, including drug manufacturers, the government, the media, the Catholic Church, had used a body double to cover up Tiffany's death.
[CLIP MONTAGE]
YOUTUBER The hair is totally different. You see how it lays flat. The hair lays flat. Tiffany's got some swooptee-doo action. You see this? She got the swooptee-doo going up here?
YOUTUBER Her eyebrows look really different. It makes you wonder if people maybe went to an extreme to make it seem like she's okay and she's really not. Is her family being paid to be quiet is other things going on?
NEWS REPORT You look at Tiffany's eyes, which are blue, by the way, have a fleshy part that points curls down towards her nose, as you see here. The other girl doesn't. [END CLIP]
BRANDY ZADROZNY And they made channels on YouTube and Telegram and they make groups on Facebook. They created fake Instagram profiles and websites like Where is Tiffany Dover dot com. CHI Memorials video was like throwing chum in the water. Jason Goodman, the truther who went to the hospital, told me he knows where they went wrong.
JASON GOODMAN If there was a ton of conspiracy theories swirling about me, Jason Goodman, I would go on the YouTube channel and I would say, Hey, I'm fine. Everybody you saw me passed out on the news. No big deal. I'm totally fine. Why wouldn't they just put out something definitive with her speaking with the hospital administrator? We're here to squash the Internet conspiracy theories. The Q anon trolls, the morons out there. Why haven't we seen that video? Serious question for you, Brandy. Don't you agree that it's strange?
BRANDY ZADROZNY Of course, that seems like a fair point. But what it does, it takes all the responsibility and all the blame off the truthers and puts it on to Tiffany and her employers. We'll stop harassing you if you just do what we're asking. And if you don't, we're entitled to keep going. Imagine for a moment that you're Tiffany Dover. How would you handle being the main character in that kind of conspiracy theory? Would you talk to the national media or would you try to squash the rumors yourself? Would you post a video to your social media account or go live and answer questions in real time? Would you fight back in the comments? Would you report the videos and posts for harassment? File copyright claims against people posting your photos to get them taken down. Or maybe you'd say the hell with all of this. And delete the Facebook page and the Instagram account where truther continue to post about you. Whatever you think you would do. I don't think you can really know until it happens to you. And it could. Conspiracy theories these days are more often centered around ordinary people. Not Queen Elizabeth or Hillary Clinton or George Soros, but nurses and election workers and pizza shop owners, people like Tiffany Dover, people probably like you.
ANNA MERLIN People with absolutely no conceivable public profile get drawn into this stuff and they are not ready for it.
BRANDY ZADROZNY I talked to Anna Merlin, a senior staff writer at Vice. She's the author of Republic of Lies, a book about American Conspiracy Theory Communities. And she's covered a lot of stories like Tiffany's.
ANNA MERLIN Ordinary people who are made the center of conspiratorial claims often go through the same type of process where at first they say, like, this is a misunderstanding, and I can explain it. And then they start to realize that anything they do sort of feeds into the pattern of harassment and what feels like invasive communications from these folks.
BRANDY ZADROZNY That feeling like appealing to the truthers could be a rational course. I feel that all the time. I can't help but be tempted by their constant refrains of like, just show us.
ANNA MERLIN Right.
BRANDY ZADROZNY This thing, and then, you know, we'll all go away and you can have your lovely Instagram back and your family can go on a vacation without like any posted picture being part of this grand conspiracy.
ANNA MERLIN But of course they won't will they? Because if she does a video, it'll be, you know, that's not Tiffany. Look at her face. Her face is different. She seems unwell. She's talking like she had a stroke. Like anything she does will feed into it. I am certain that we will see that if she decides to make a video. And that is really unfortunate. But it is true.
BRANDY ZADROZNY Finding the truth and getting through to the people who need to hear it. It's complicated. In five episodes, I tried to tell the story of how this single lie traveled from Chattanooga through the rest of the world, propelled by conspiracy theorists and a thriving anti-vaccine industry. In the end, I re-learned that facts can only take you so far. Still, I hope you'll agree the truth was worth the pursuit, and I hope you'll check out Season one of Truthers.
That's it for this week's show! On the Media is produced by Micah Loewinger, Eloise Blondiau, Rebecca Clarke-Callender, Candice Wong, Susanne Gaber and Max Boulton. Our technical director is Jennifer Munson. Our engineers this week were Andrew Nervlano and Adriene Lily. Katya Rogers is our executive producer. On the Media, is a production of WNYC Studios. Brooke Gladstone will be back next week. I'm Brandy Zadrozny.