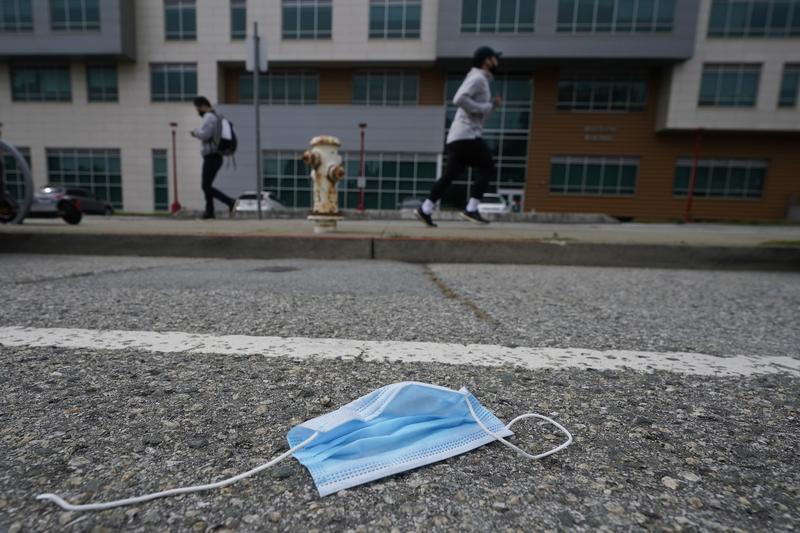 Transcript
MICAH LOEWINGER Hey, it's Micah from On the Media here. Before we get into this week's episode, I wanted to tell you about my visit to Brooke's House earlier this week. I was trying to solve a mystery.
[AT BROOKE'S HOME]
MICAH LOEWINGER This is the studio. This is where the magic happened.
BROOKE GLADSTONE That's right. It is obviously appallingly untidy, something that thankfully the listeners cannot see but can only imagine.
MICAH LOEWINGER And so this is where you sit, where you both do the interviews and crochet the hats
BROOKE GLADSTONE ...and crochet the hats. Yeah, absolutely.
[JUMP CUT TO MICAH IN THE STUDIO]
MICAH LOEWINGER As you may know, we've given out many of these colorful hats over the years to listeners like you. I wanted to know how and why Brooke became obsessed with making them.
[BACK AT BROOKE'S PLACE]
BROOKE GLADSTONE Well, during my parents' first bankruptcy, we moved from Long Island to rural Vermont, and I didn't know anybody, so I thought I would volunteer. Somebody told me there was this really nice lady named Fanny, who was in her 90s, very lonely – her family wasn't nearby, so I started visiting her and she taught me how to crochet. And I did it for, you know, a couple of years. And then 20, 30, 40 years passed and I didn't do it, and I...
MICAH LOEWINGER Surely something triggered the revival.
BROOKE GLADSTONE Ah, what could it have been? It really was a way to keep myself calm and settled and focused during things like editorial meetings. But we know this really isn't about the hats.
MICAH LOEWINGER [LAUGHING] Oh come on, you're going right for the transition!
BROOKE GLADSTONE Well...
MICAH LOEWINGER I mean, for me, it's kind of absurd that we're an award winning national public radio show. You've been doing this over 20 years. We basically have – we have a glorified bake sale to like, actually keep the show on, you know?
BROOKE GLADSTONE Are you recording that?
MICAH LOEWINGER Yes.
BROOKE GLADSTONE It is. It's a glorified bake sale.
[MICAH SWOOPS IN FROM THE STUDIO]
MICAH LOEWINGER Listeners, you've arrived at our glorified bake sale, the time when we ask you for donations to keep this show going. Well, yeah, it might seem absurd that this is how we fund the show. Truthfully, we wouldn't have it any other way. The fact that we're supported by you leaves us beholden to nobody, but you! Exactly how we want it to be, but in order for it to work, we need you to step up. So please get in on this. Donate right now, and when you join is a monthly sustaining member, you'll be entered to win your very own Brooke hat. We have 20 to give away, so your odds of winning one when you become a sustainer are pretty decent. Thank you so much to everyone who's already donated. And if you haven't go right this second to onthemedia.org/donate or text the letters OTM to 70101.That's OTM to 70101. Now onto the show.
ED YONG In January and February of 2022 were the fourth and fifth deadliest months of the pandemic to date.
BROOKE GLADSTONE How did all that death become just background noise? From WNYC in New York, this is On the Media. I'm Brooke Gladstone. Also on this week's show, how and when one moves on from a pandemic can create a roadmap for future failures ...
LAURA SPINNEY once it's over, we all just want to forget it, and because we don't talk about it, those memories fade quite quickly and that has all sorts of repercussions in terms of our response to the next one. We are not ready – we're never ready.
BROOKE GLADSTONE Plus, how to tell the story of COVID while case numbers and deaths rise and fall and rise and fall and rise and fall.
SOREN WHEELER Up and down, up and down and up and down.
MICAH LOEWINGER Yeah. But I don't know. Is that a good story?
SOREN WHEELER No. I mean, why are you asking that question? You know, it's not a good story.
MICAH LOEWINGER I know it's not a good story, but I'm just trying to make the point.
SOREN WHEELER Yeah, nobody wants to hear that story.
BROOKE GLADSTONE It's all coming up after this.
[END OF BILLBOARD]
BROOKE GLADSTONE From WNYC in New York, this is On the Media, I'm Brooke Gladstone. Two years into a global pandemic, Atlantic staff writer Ed Yong has observed a Sisyphean cycle of panic and neglect and how America has dealt with COVID, characterized by the nixing of a $15 billion relief measure last month.
[CLIP]
NEWS REPORT There was disagreement, including among the Democrats, over how to pay for COVID funding, and that has forced the House leadership to pull the COVID money out of the rest of the bill and then try to pass them separately. [END CLIP]
BROOKE GLADSTONE This week, a scramble to save 10 billion in COVID relief met with much the same fate. Senate Majority Leader Chuck Schumer.
[CLIP]
SEN. SCHUMER Republicans voted no on vaccines for kids. Republicans voted no on tests for new COVID variants. Republicans voted no on therapies to save lives and make us less sick. Have we learned nothing from the last two years of living with this horrible disease? Have Republicans learned nothing about how lack of preparation could damage our economy? [END CLIP]
BROOKE GLADSTONE To casual observers and certainly less casual ones like Ed Yong? They have not.
ED YONG What we've seen throughout the pandemic is that that neglect phase has repeatedly set in while the pandemic has actually been going on. We haven't even got to the moment of calm when the threat is over before we start rolling back the kinds of protections and investments that we so sorely lacked at the very start.
BROOKE GLADSTONE Almost every aspect of the nation's program of pandemic management is now imperiled. The supply of new treatments for those most at risk. Free testing and vaccinations for the uninsured. Efforts to vaccinate people in poorer countries where new variants may arise. Not to mention, in our own backyard,.
[CLIP]
NEWS REPORT We've actually had X-A, X-B, X-C. We talked about the Delta-cron, which was Delta plus Omicron. Now these are two omicron's together. [END CLIP]
BROOKE GLADSTONE Yong says, that as the current pandemic drags on, the next one hurtles towards us. The lessons the U.S. have failed to learn, or at least a century old. We'll get to those later in the hour. First, Ed Yong, welcome to the show.
ED YONG Hi, thanks for having me.
BROOKE GLADSTONE COVID is now the third leading cause of death in the U.S.. The third leading cause
ED YONG January and February of 2022, were the fourth and fifth deadliest months of the pandemic to date for about six months straight. The U.S. lost over 1000 citizens every day. Where was the reaction that that level of death should have provoked? Why was it that in January and February, we had so much talk about returning to normal? We had op-ed's claiming that the pandemic was over, that it was time to open everything again. It feels like COVID has become similar to a lot of other causes of mass mortality in the US. Gun violence is a classic example that people just accept as part of the background of our lives. You know if you compare the death toll from COVID to things like terrorist attacks to natural disasters like Hurricane Katrina, it's huge in scale. It's so much bigger in terms of the numbers. Why doesn't it provoke the same kind of visceral reaction?
BROOKE GLADSTONE Some of this has to do with fatalism. But you write that in the case of COVID, fatalism has been stoked by failure.
ED YONG Yes, the US went into this pandemic, rated as the most prepared country for a pandemic in the world.
[BROOKE LAUGHS]
ED YONG And yet across two plus years and two separate administrations, it really did fail to control the pandemic, you know, before vaccinations, after vaccinations. That creates this sense of almost nihilistic abandonment. This feeling that you're going to get infected, we're just going to have to learn to live with it. That's the point a lot of people have got to. Since the almost the very start of the pandemic the choices have been framed in terms of this ridiculous false dichotomy, where either we lock down all of society and this draconian way, or we do absolutely nothing and let the virus run amok. That's nonsense. There are so many things we could do in the middle space. You know, we could provide social policies like paid sick leave that would allow them to care for their livelihoods and their lives at the same time. We could improve the ventilation of our buildings. We could use mask mandates in a clever and targeted way so that they switch on. Then they switch off, according to very clearly defined metrics. We could do all of these things and we just seem instead intent on pulling back all of these protections.
BROOKE GLADSTONE Is it a lack of preparedness or simply a matter of which lives matter?
ED YONG Both of those things are interrelated. The deaths in the US have not fallen randomly across the country. They've been concentrated in more marginalized communities the elderly people who are immunocompromised, black and Hispanic and indigenous communities, disabled people. All of these groups have disproportionately been killed by the coronavirus. The US is very good at looking past the disproportionate deaths of its most vulnerable citizens. There was a paper that came out very recently which showed that when white Americans are told about the racial inequities and COVID deaths, they are less likely to take the pandemic seriously, less likely to want to continue with mitigation measures. You know, these are groups who are marginalized in life and their deaths are being treated marginally too. White mortality during COVID was still lower than black mortality was in the pre-pandemic years. And that speaks to the sheer amount of inequity the US, you know, had already come to accept even before COVID happened. It's important to remember that people who are controlling the pandemic narrative so journalists and policymakers are predominately not from these groups. They are predominantly from communities and positions of privilege and are less likely to know people who have significantly borne the brunt of the pandemic. And I think that their decisions reflect that demographic bias too.
BROOKE GLADSTONE So let's talk about some of the rhetoric by public health officials and pundits and politicians, that seems to add to the normalization of mass death. I mean, part of it has to do with a sense that this is a matter of personal responsibility.
ED YONG Even Rochelle Walensky, the director of the CDC, the nation's premier public health agency, was talking about how your health is in your hands – using the rhetoric of individual responsibility. Firstly, it's an infectious disease, it spreads from person to person and so my health in the context of an epidemic is never fully in my hands. It also depends on the decisions of my neighbors. But also, your ability to make choices about your health are constrained by your circumstances. So if you work in a low income job, you earn hourly wages and you don't have paid sick leave, you might not be able to isolate. If you start having symptoms, you might not be able to find the time to go, take a test or to make a vaccine appointment. This is something that public health officials more than anyone should understand, because the entire discipline is about protecting the health of entire communities to understand that people are connected and their social conditions affect their health in profound ways to see the rhetoric instead of individual choice above all else being echoed by some of the nation's top public health officials. It shows how much the strain of almost toxic individualism dominates American culture in a way that is really antithetical to actually controlling an infectious disease, which is, by its very nature, a collective problem.
BROOKE GLADSTONE You spoke to Richard Keller, who is a medical historian at the University of Wisconsin, Madison, and he said that a lot of the current pandemic rhetoric talks about co-morbidities or treats death as so inevitable as to not merit precaution.
ED YONG We see this a lot with some other causes of death, like liver disease or lung cancer, or AIDS, where these diseases are billed as a person's own fault, like if you die from lung cancer, it was your fault because you probably smoked. And similarly, there is this idea that if you die from COVID, it's your fault because you didn't get vaccinated. It really puts the onus of responsibility entirely on the individual who is sick and who has died instead of all the broken systems that surround that person. And we've already talked about the ways in which income and personal circumstances affect your choices. But then there's all the rest of it. Like, do you blame the person who died of COVID for dying of COVID? Why not apportion that blame to the person who infected them or the person who infected that person, or all the political choices that allowed the virus to run amok through the population. It's weird, too, that all of those systemic problems and all of the chains of events that led to someone being infected are overlooked. You know, again, this is like part of the quite gross way we individualize sickness and then absolve people in positions of power for not doing the things that would have prevented mass infection and mass death.
BROOKE GLADSTONE Right. I agree with everything you've said, although there's a maybe a mean small part of me that says, what about those people who didn't choose to be vaccinated?
ED YONG That decision is also an issue of inequity. It's also an issue of access. And in this case, it's things like access to high quality information. It's access to medical providers who you trust. A lot of people don't have those things. They might live in a rural community with no doctor who they regularly talk to – they might not have a doctor because they're uninsured. They might be surrounded by people who all are saying the same thing, which is that vaccines don't work and you shouldn't get them. I don't understand why it's OK to think that those people deserve to die. Just because people buy into false information doesn't mean we get to abandon them.
BROOKE GLADSTONE I appreciate that. Thank you. You also wrote, If safety is a matter of personal responsibility, then so is remembrance.
ED YONG Aside from a few moments like Biden doing a lighting ceremony at the White House. There really have been almost no national acts of remembrance and mourning. There are no permanent memorials. The lack of memorials or national acts of mourning leaves grievers locked in their own grief and to deal with it on their own. And I don't think we should underestimate the cost of that. You know, if almost a million people have died, then that means that around nine million people will be grieving a close loved one by. That's a population larger than the majority of states. That's a huge number of people who are going through really intense loss right now.
BROOKE GLADSTONE We saw that as the weekly death count dipped, the CDC announced that fully vaccinated Americans no longer needed to mask indoors. The CDC, you observed, offered no advice to immunocompromised people, who then became more at risk from simple activities like grocery shopping. And that's not a small group of people. They're at least seven million of them in the U.S.. You said that respecting the needs of immunocompromised people isn't about disproportionately accommodating some tiny minority. It's really about empathizing with your future self.
ED YONG Right? One of the things that degrades our immune system is just aging. Our immune systems get weaker, and that's partly why elderly people are so much more vulnerable to COVID. So the kinds of measures that will protect immunocompromised people now are also the kinds of measures that would protect all of us as we get older and as our immune systems naturally weaken. We talked about how there are seven million plus people who are immunocompromised in this country. If you include immunity weakening through age, that number gets a lot larger, a lot more quickly. And I think, you know, sometimes people who have the privilege of good health forget that that is a fleeting and precious thing and that they are one diagnosis or one accident away from disability. As an immunocompromised person said to me, like, don't you want a better world for yourself when that happens? The imminent future does not look great. If anything gives me a little bit of hope, it's the fact there are a lot of grassroots movements springing up right now to draw attention to communities who have been disproportionately harmed by the pandemic. I spoke to an anthropologist who studies communities after wars and conflicts, and she told me that this often happens. It's often the groups that have been disproportionately harmed who, you know, have to carry the mantle of moving their society towards a phase of reconciliation and reckoning. And you shouldn't have to be, you know, they've already suffered the most, but I'm not seeing signs that the more privileged among us are willing to carry that burden in this state.
BROOKE GLADSTONE Ed, thank you very much.
ED YONG Thanks for having me.
BROOKE GLADSTONE Ed Yong is a staff writer at The Atlantic, where he covers science. Next, there are people out there who know exactly how to live a fulfilling life in a seriously infectious world. We don't listen.
LAURA SPINNEY We're not going to take into consideration this very real problem unless everybody considers it a problem, not just the people who are already suffering from it. You or I could be struck down with long COVID tomorrow. Many people in the world are unvaccinated, and we don't know what variants are going to come.
BROOKE GLADSTONE This is On the Media.
[BREAK]
BROOKE GLADSTONE This is On the Media, I'm Brooke Gladstone. To continue with lessons unlearned, let's start with long COVID. CNN reported this week that COVID 19 has become a chronic condition for tens of millions of people. Long COVID, which can hurt multiple bodily systems and last a long while, even if your initial infection was mild, has caused a cumulative 386 billion in lost wages savings and medical expenses in the U.S. alone as of January, according to one estimate. It is, in effect, creating a new and burgeoning community of the disabled. Laura Spinney is a science journalist based in Paris for the science journal Nature. She wrote an article titled Pandemics Disable People: The History Lesson that Policymakers Ignore. She's the author of the book Pale Rider: The Spanish Flu of 1918 and How It Changed the World. Welcome to the show, Laura.
LAURA SPINNEY Thank you.
BROOKE GLADSTONE About a year ago, health economists at the London School of Hygiene and Tropical Medicine estimated that COVID induced disability might account for roughly 30 percent of the pandemic's overall health burden.
LAURA SPINNEY I know it's shocking, isn't it? With many caveats, there are many things they couldn't measure at that time. For example, they did not include mental health, and we know that mental health problems can be included in post-COVID syndromes. In fact, more recent estimates suggest that long COVID could potentially account for the majority of the health burden of this pandemic. The problem, and the reason that I wrote that essay, was that politicians in most of the world are still talking in terms of just hospitalizations and deaths when they give the reasons for their policy decisions. And it's just not good enough because we now know that long COVID, even if we can't be precise about the limits of the problem, we know it's a big problem and they really should be taking into account more than they are.
BROOKE GLADSTONE You wrote that long COVID is the latest reminder that epidemics have long tails, not just psychologically or economically or socially, but biologically. That goes back at least as far as the 1918 flu and what you call long influenza.
LAURA SPINNEY The most visible, if you like long tail of that pandemic, but still debated because we haven't proved a causal link between the two is what's called encephalitis lethargica, colloquially known as sleepy sickness, not the same as sleeping sickness. This was the strange kind of sleepiness that came over people very strange in the sense that people could still react. If you threw a ball at them, they could still catch it, even though they appeared by some measures to be asleep. So it was a weird kind of somnolence.
BROOKE GLADSTONE 80 percent of people who had encephalitis lethargica went on to develop a Parkinson's like disease. Apparently, it's never been proved biologically that the flu caused both E.L and the Parkinson's that frequently followed. But the statistical case for it is very strong.
LAURA SPINNEY There have been cases of encephalitis lethargica before in the world, but this is the only time in the world ever in history that we know of that there was a global wave of it following the global pandemic of flu. And there are also some really weird sort of smoking gun bits of circumstantial evidence. For example, Western Samoa had a really bad case of flu and a really bad case of esophagitis lethargica. American Samoa had neither.
BROOKE GLADSTONE And then if you look at subsequent flu pandemics, did you see encephalitis pop up?
LAURA SPINNEY Yeah, the next pandemic was '57 in the one after that, '68. Following both of those, there were waves of more generalized inflammatory disease, stroke, encephalitis, which just means inflammation of the brain and heart attacks. That is a common feature following outbreaks of flu, whether they be seasonal or epidemic or pandemic.
BROOKE GLADSTONE But have we seen encephalitis lethargica yet?
LAURA SPINNEY It hasn't been seen yet. Many neurologists will say that if we were going to see it, we would have seen cases already and we haven't. But it doesn't rule out other long term effects. For example, there could be an increase in neurodegenerative disease dementias and things. That is a possibility.
BROOKE GLADSTONE We know that measles can cause a progressive neurological disorder. But how about more recent diseases that we haven't had as much time to study? I read there was an association with Epstein-Barr.
LAURA SPINNEY Yeah, this is intriguing because doctors have suspected a link between Epstein-Barr virus, which is very common in people and multiple sclerosis, which is not as common. And so the idea is, and some recent work has seemed to corroborate the. That in those people who have some kind of predisposition to multiple sclerosis, the Epstein-Barr virus can possibly trigger their disease, and even if it isn't the underlying cause, that's important information because, you know, it could be something that you could target and treat, possibly even preventively. But it's one example of why it's so difficult to understand the causal links in these sequences.
BROOKE GLADSTONE In the course of the last two years, we placed an awful lot of faith in vaccines to basically end COVID. But it's still with us, including obviously those with long COVID. And you saw the same dissonance in your study of the polio epidemic.
LAURA SPINNEY The common thread with all these stories is human psychology trying to come to terms with a disease that might manifest differently in the short term and in the long term and making that connection. Polio grabbed the world's attention in the 40s and 50s when there were these terrifying summer epidemics across North America and Europe, which left many children paralyzed. There was this huge public groundswell of motivation to solve the problem, and everybody gave money to March of Dimes and March of Dimes funded the vaccine that Jonas Salk created. It was a great story of, you know, a triumph of science. But then some decades later, some of those individuals who'd survived polio as children, the percentages really vary wildly. I've seen 20 percent. I've seen 85 percent. They started to backslide. They started to have respiratory problems again, mobility problems. They were back on their mobility and respiratory aids. They tried to get in touch with the physicians who treated them initially in many cases, but their doctors had often retired and younger ones weren't interested. The anthropologist, who I interviewed for the article in Nature, who talked to many people with post-polio syndrome in the 80s and 90s, he said that it was really hard to get a younger generation of doctors interested in what was considered a disease from the past, and it wasn't so easy to sell to the charitable money giving public because there wasn't going to be one silver bullet. It was going to take time and patience and engineering, rather than one great big moonshot with a vaccine at the end of it. And so it was less visible.
BROOKE GLADSTONE At least it had one very visible champion, though. Albert Sabin, who developed the polio vaccine that replaced Salk's, drew attention to post polio syndrome and then the March of Dimes, which had supported polio research, took it up.
LAURA SPINNEY And yet, even though he championed post-polio, even the March of Dimes got involved, it didn't have the same cachet. It didn't have the same draw in terms of storytelling in terms of public visibility. And it's a problem with these long term conditions. And I think it's one of the reasons that people who are suffering from long COVID now feel so desperate and are protesting in the streets. They worry about the lack of attention now, while the pandemic is still raging, what will it be like for them once the pandemic is declared over and everybody else returns to some semblance of normality, whatever that might mean in a post-COVID world? How will they be treated? Will that be remembered? Will anybody pay attention to them? What will their future lives be like?
BROOKE GLADSTONE You wrote that from the beginning of this pandemic, people with disabilities understood that the disease would target them and would also swell their ranks.
LAURA SPINNEY The people who are already disabled were going to be more vulnerable to COVID. In many cases, but COVID would also create newly disabled people. In some countries, the virus has just been allowed to rage in schools where not all children are vaccinated. The testing has been cut down, and so we don't even see it. What is going to be the effect of that virus on those children in their later lives? And what is going to be the effect on those children who are already disabled? Take a child who severely asthmatic, who could not go to school because COVID was allowed to rage just an hour, allowing that to happen and deciding on that course of action. We've already excluded a certain population of children from school. Nobody talks about that. So it's this idea of the social model of disability. The idea that it's our decision is that disabled people, rather than the physical disorder or condition itself, that we can compound their disability. And that's really important.
BROOKE GLADSTONE You've observed that the long haulers haven't been reflected on data dashboards that the huge volume of COVID induced disability needs to be acknowledged in policymaking circles, not just in scientific grants and papers and clinics.
LAURA SPINNEY We're not going to take into consideration this very real problem unless everybody considers it a problem, not just the people who are already suffering from it. You or I could be struck down with long COVID tomorrow. Many people in the world are unvaccinated, and we don't know what variants are going to come.
BROOKE GLADSTONE You wrote that I love this line. Public health has always privileged the acute over the chronic.
LAURA SPINNEY Yeah. Well, it's a very human tendency, isn't it? We tend to favor what's happening now, and the psychological and social burden of COVID is not just the threat of hospitals overrun. It's also in the future with large numbers of people who will be unable to work. Large numbers of children, potentially who might not be able to fulfill their educational potential. I'd like to see the politicians take into account that future burden, as well as the present one that we can see before our own eyes, and also to think about a more disability-friendly society. I mean, there have been incremental improvements, some of the landmark pieces of disability legislation in the US, for example, came about as a result of campaigning by polio survivors. Who knows? Maybe one of the silver linings of this pandemic is that our societies will become more conscious of the disability that we see – becoming only more common as populations age, and that there will be a greater flexibility in the way that we live and work. Seeing disability more through the social model than through the medical model. Not so much as something that can be prevented or treated, but as something that can be lessened because we make space for disabled people to be productive.
BROOKE GLADSTONE As has often been observed during the lockdowns. Remote working flexibility in working hours and communication formats and metrics of productivity were universally adopted. Things that the disabled community had been asking for for decades.
LAURA SPINNEY Right. Of course there were problems, we found new solutions. We were forced to undertake this huge natural experiment overnight. And what did we learn? We learned that much more flexibility was possible in every aspect of life. And many of those are probably here to stay. They work, and if we can incorporate that kind of flexibility, then many more people will be brought into the work market and into all kinds of social and creative activities who were excluded from them previously.
BROOKE GLADSTONE You're not worried that a lot of these advances will be rolled back in some effort to return to a pre-pandemic normal.
LAURA SPINNEY You know, you can already see it. The thing is that we have to really make a scientific analysis of what we've learned and take away the lessons of what worked and what didn't. Just to give a really simple example, the first one that comes into my head, we definitely learned that children get a lot of benefit from learning together in a physical space that they share. But that doesn't mean that all learning at all ages has to happen in the classroom. It's about learning what combination is right for what children, what age group and so on. And a lot of those lessons have already been learned. So now can we just take on board that if we accept a hybrid situation, then we can make that educational system accessible to far more people? And the same is true of justice. E-Justice was something that a lot of people were campaigning for before the Covid pandemic.
E-Justice?
LAURA SPINNEY Yeah, moving justice online, large parts of the process online because something like half the world's population don't have reasonable access to justice by some measurement. So a lot of people were campaigning for justice to be more accessible online to try and bypass some of these backlogs at courtrooms, for one thing. That happened overnight thanks to COVID. Hearings had to move online, for example. Now again, there were problems with that, but we kind of had this natural experiment in what worked and what didn't. And so I think going forward, it would be foolish to just undo all of that. We need to take on board the things that worked and things that didn't so that we can again broaden access to more people.
BROOKE GLADSTONE The history is there. Why haven't we learned from the epidemics of the past, even ones like the 1918 flu that seem so similar to COVID-19?
LAURA SPINNEY I mean, I think there are lots of reasons, but one of the ones that intrigues me is this sort of failure of collective memory that seems to happen historically after pandemics. For some reason, we forget pandemics more easily than, for example, we forget wars. I've been thinking a lot about this in the last few years. We send people off to the front to fight wars. We don't all go through wars, so the rest of us are intrigued and interested in what happens in war. And so we'll read novels about it and so on. Whereas a pandemic is something that by definition affects everyone as so, we've all been through it. So once it's over, we all just want to forget it. You know when to talk about it more or read about it more or see plays. We just don't. We want to get past it. And because we don't rehearse it, we don't talk about it. Those memories fade quite quickly, and that has all sorts of repercussions. For example, in terms of our response to the next one, we are not ready – we're never ready.
BROOKE GLADSTONE Thank you very much, Laura.
LAURA SPINNEY It was a pleasure.
BROOKE GLADSTONE Laura Spinney is a writer and science journalist based in Paris and the author of the book Pale Rider: The Spanish Flu of 1918 and How It Changed the World. Coming up in the face of all this vacuity, what would Vonnegut do? This is On the Media.
[BREAK]
BROOKE GLADSTONE This is On the Media, I'm Brooke Gladstone. As you've heard so far this hour, the argument over what to do and whether to do it illustrates how death and disability on a massive scale are perceived in many precincts as a new normal. COVID is still too much with us, and yet many of us are just too spent, too confused to react anymore. Maybe we've forgotten how to feel for others or even look after ourselves. Last fall On the Media, correspondent Micah Loewinger. looked to the work of one of fictions great practitioners to make sense of how and why we lost the plot.
MICAH LOEWINGER Last October, when we first ran this piece, I spoke with my friend, Soren Wheeler, he also works at WNYC – about the dissonance of that moment in the pandemic, which frankly is feeling pretty familiar again. I interviewed him between the emergence of the Delta and Omicron variants.
SOREN WHEELER I ran into a neighbor-friend after dropping our kids off at school. I have a six-year-old who's not vaccinated, so like, it's definitely not over for us. She's like, 'Oh, are you guys still worried about that?' And I was like, shocked. But also, I didn't have a dramatic answer to 'are you still worried about it?' I had to be like, 'Well, not really for me in terms of hospitalization because I'm vaccinated and the kids, it's not as big a risk to them and my parents are good and like, but I but I just don't want it to keep going in case there's another mutation.' Even my dramatic feelings that it's not over were sort of abstract and flatter and slower.
MICAH LOEWINGER It's interesting to me that Soren was drawing a blank because he's one of the people most up for the challenge. He's the editor at Radiolab, where he thinks a lot about making hard topics accessible and engaging.
SOREN WHEELER Many of us don't think we want to hear about science, or many of us don't think we want to hear about politics or economics, or just like sort of a dark, dark thing, like a drone strike or something that you're just feel like, 'Oh, I don't want it.' And if you just give people information, you're never going to beat that feeling. That the way to beat that feeling, and make people engage with information, the lubrication to get them to get a new idea into their brain is emotion and emotional change over time.
MICAH LOEWINGER Of course, not all emotional stories are captivating, it's more complicated. Our own standards are mysterious to us. But several years ago, Soren found a sort of cheat code for how to distinguish good stories from bad ones. When he clicked on this esoteric YouTube video of an old lecture.
[CLIP]
KURT VONNEGUT Where the hell are we? [END CLIP]
MICAH LOEWINGER This is novelist Kurt Vonnegut, the author of Slaughterhouse Five, Cat's Cradle, and so many other great books.
SOREN WHEELER Vonnegut is a hero of mine, and then at some point I stumbled into this video and it just unveiled something. It's wry and funny, but also just deeply revealing about some basic things about us.
[CLIP]
KURT VONNEGUT No reason why those simple shapes of stories can't be fed into computers. They are beautiful shapes. [END CLIP]
MICAH LOEWINGER The lectures about a theory he had about the geometrical shapes of stories, really popular stories. Ones we've heard a billion times.
SOREN WHEELER He's like, sort of like a somewhat curmudgeonly, cynical old, oldish man by this point, and he's on a stage in sort of one of his sloppy suits and he's got a chalkboard.
[CLIP]
KURT VONNEGUT This is the G.I. axis. Good fortune. Ill fortune. Sickness and poverty down here. Wealth, and boisterous good health up there. [END CLIP]
MICAH LOEWINGER Vonnegut draws two perpendicular lines: a simple x-y axis on the chalkboard. The first line is labeled 'G' for good fortune on the top left corner and 'I' for ill fortune on the bottom left corner. And slicing through the middle of the chalkboard, left to right, is the second line the x axis.
[CLIP]
KURT VONNEGUT Now this is the B-E axis. B stands for a beginning, E stands for electricity. [END CLIP]
SOREN WHEELER Just starts explaining, there's just a couple of stories out there. He names the first one 'Man In A Hole'.
[CLIP]
KURT VONNEGUT Call, the story Man in A Hole, but it needn't be about a man, and it needn't be about somebody getting into a hole. It's just a good way to remember it. Somebody gets into trouble, gets out of it again. [END CLIP]
MICAH LOEWINGER In one motion, he draws a single curve with a shallow tip showing the person's fortune dropping down and swooping back up.
[CLIP]
KURT VONNEGUT People love that story. They never got sick of it. [END CLIP]
SOREN WHEELER It's just like, 'boom,' like what I'm doing in my head is like, 'Oh my god, yeah,' that's a whole category of movie that I've seen a thousand times.
MICAH LOEWINGER A 2018 study from Birmingham University used A.I. to analyze over 6000 scripts and found that this is the most profitable arc in all of Hollywood. And when you think about it, there are so many movies that are basically 'Man In A Hole' stories.
SOREN WHEELER Bill and Ted's Excellent Adventure is that.
MICAH LOEWINGER That's a great one. And Harold and Kumar Go to White Castle.
SOREN WHEELER Sure, yeah.
MICAH LOEWINGER Harold and Kumar, average day, they decide they want to get food.
[CLIP]
KUMAR No matter what, we are not ending this night without White Castle in our stomachs. Agreed?
HAROLD Agreed. [END CLIP]
MICAH LOEWINGER And then they go on a crazy journey, and it seems like all hope is lost after they're like stuck in the woods and everything has gone to crap.
[CLIP]
HAROLD I'm completely on edge right now, man. After all that sh*t that we've been through tonight, I don't know how much more I can take. [END CLIP]
MICAH LOEWINGER And then they managed to find the courage and some crazy, serendipitous events leads to them finally getting to White Castle, getting their burgers.
[CLIP]
WHITE CASTLE Looks like you guys had some night, huh?
HAROLD I want 30 sliders, 5 french fries and 4 large cherry Cokes.
KUMAR I want the same, except make mine Diet Cokes. [END CLIP]
MICAH LOEWINGER And so not only do they emerge from the hole, but they're sort of stronger afterward.
SOREN WHEELER You can see on the curve like that the man in the hole ends up higher up than where he or she started, right?
MICAH LOEWINGER Anyway, back to the lecture, Vonnegut begins drawing a second curve, which he calls...
[CLIP]
KURT VONNEGUT Boy gets girl, but it needn't be that. Just a way to remember it. Start on an average day, average person not expecting anything to happen a day like any other. Find something wonderful. Just loves it. [END CLIP]
MICAH LOEWINGER Vonnegut draws a curve with an upward slope. The protagonist has found their true love, but then the incline reaches a rounded peak. The moment when the protagonist and we, the audience realize this is all way too good to last.
SOREN WHEELER And then it goes bad. They lose it almost always, because to get the person they love, they'd like made up some stupid lie, or they said they were somebody they weren't. They go down and they lose the girl.
MICAH LOEWINGER Our character is heartbroken, and Vonnegut's curve drops down to a deep low on the good slash ill fortune axis. But then -.
SOREN WHEELER Usually in the last five minutes of the movie, they get the girl or the boy back and they're happy.
MICAH LOEWINGER And so the curve shoots way back up to finish the story. Vonnegut's curve ends up looking like an 's' flipped on its side. Neutral to happy, to sad, to happy again. People like that. Vonnegut's next story, he tells us, is a little bit more complicated.
[CLIP]
KURT VONNEGUT We love to hear this story. Every time it's retold, somebody makes another million dollars. You're welcome to do it. We're going to start way down here. Who is so low? It's a little girl. What's happened? Her mother has died. Her father has remarried. A vile-tempered, ugly woman with two nasty daughters, big daughters.
[LAUGHING CONTINUES UNDER]
SOREN WHEELER So Cinderella.
MICAH LOEWINGER Yeah.
KURT VONNEGUT Anyway, there's a party at the palace that night, she can't go. OK, so the fairy godmother comes. Gives her shoes, gives her stocking, gives her mascara, gives her a means of transportation, goes to the party, has a swell time. [END CLIP]
SOREN WHEELER This is the first time that, like you notice that he's introducing a whole 'nother aspect into these curves, which is slope. Because if you're going from beginning, middle and end, then what you're dealing with this time is so how steeply it goes up has to do with how fast it happens. Fairy Godmother comes along and he does this little staircase thing he's like.
[MUSIC BEGINS IN CINDERELLA TRANSFORMATION]
SOREN WHEELER Gives her some mascara, gives her some shoes, gives her a dress. Boom, boom. Hits of good fortune in this little staircase. And then she goes to the ball. And so now she's up, crossing past the line and up into the happy zone, dancing with the prince.
[CLIP]
CINDERELLA So this is love. mhmmhmm So this is love... [END CLIP]
SOREN WHEELER So, yeah, yeah. And then he does this thing where the line starts going down and he goes dong dong.
[CLIP]
KURT VONNEGUT Brrring, brrring, brrring. Now there's a slight inclination to that line, as I've drawn it because it takes perhaps 20 seconds, 30 seconds for a grandfather clock to strike 12.
[CLIP]
CINDERELLA Good-bye!
HANDSOME PRINCE Oh no, wait, you can't go now. It's only--
CINDERELLA Oh, I must, please, please I must.
[FADES INTO NEXT CLIP]
KURT VONNEGUT Does she wind up at the same level? Of course not. She will remember that dance for the rest of her life. Now she poops along on this level till the prince comes, the shoe fits, she achieves off-scale happiness. [END CLIP]
MICAH LOEWINGER Vonnegut's curve shoots to the top right corner of the chalkboard. And then he draws a little infinity sign.
SOREN WHEELER That is every fairy tales last line, which is 'and they lived happily ever after,' you know?
MICAH LOEWINGER Now, obviously, not all good stories need to have a happy ending. There are many different types of narratives out there. These just happen to be a few of the most popular ones, the ones that put a spell on us.
SOREN WHEELER The whole thing is like, look how simple we are. People never get sick of it. Our brain wants that over and over and over and over again. Like our brain still scans it as unexpected. We saw something go from good to bad and then good again?
MICAH LOEWINGER And maybe that sounds a little depressing to think that we're kind of trapped in this cycle of paying to see and feel that emotional experience playing out over and over. Trapped by a desire for that repetition, that familiarity. But Soren thinks it's actually quite instructive. For him and the producers at Radiolab. These are blueprints for how to satisfy and sustain a listener's attention and blueprints for what not to do.
SOREN WHEELER I mean, I always used to argue that like, I don't think Radiolab has ever said yes to a story that crossed the line once.
MICAH LOEWINGER So just one turn of fortune?
SOREN WHEELER Right. Like, Oh, here's Mary, she was super happy and going along, and then she got an illness and got really sick. And if you just leave me down there, man, I'm like, Oh, why did I listen to this? There's just a level of complication below which it didn't feel worth it.
MICAH LOEWINGER But it also seems like the opposite can be true. What happens when there are too many changes in fortune?
SOREN WHEELER Oh, sure. If you go up and down and up and down and up and down and up – by right around here, you've lost any element of surprise, probably. You've also sort of lost the feeling that we're on a path to something that there's an end point of any kind, which is the whole reason we listen to stories is just to get to an end point and then have a thought or feel different afterwards. You've lost the idea that there's any meaning to be made out of this.
MICAH LOEWINGER Yeah, you're going to numb their receptors.
SOREN WHEELER Right, yes.
MICAH LOEWINGER You know, I also encountered this video. I was binging Vonnegut's books, and then I started listening to old interviews with him on YouTube, and that's how I came across this video. And once I saw the shapes, they were kind of burned into my mind.
SOREN WHEELER Right.
MICAH LOEWINGER Then when the pandemic hit, there was this moment where the shapes of the pandemic became a universal language.
[CLIP]
NEWS REPORT Flatten the curve, flatten the curve. We did it. We flattened the curve.
NEWS REPORT We didn't just flatten the curve. We bent the curve. [END CLIP]
SOREN WHEELER I'm right there with you. It was completely striking, and I was instantly thinking about all the curves, both literal in terms of the rise of cases, but also like a pandemic as a story, right? A pandemic should have a beginning, middle and end as COVID is rising. What we're doing is we're plummeting down Vonnegut's line, down from health and wealth, down into like poverty and sickness and death.
MICAH LOEWINGER And when the daily cases began to drop at the end of that first wave last year, the emotional tenor of the country and the coverage seemed to improve too. At least for a moment.
[CLIP MONTAGE]
NEWS REPORT Northern New York state today, the governor saying all indications on the medical front continue to be encouraging hospitalizations down, new COVID cases down.
NEWS REPORT There is some good news, some sparks of hope. We're seeing cases falling, hospitalizations down...
NEWS REPORT Case numbers are going up, they're going up. 40 states are showing COVID rates that are going up.
NEWS REPORT New numbers this morning are pointing to a brighter picture in the U.S., the national rate of new COVID 19 infections and hospitalizations, both of those numbers are going down. [END MONTAGE]
MICAH LOEWINGER If you pull up a graph of the pandemic, you can see this ebb and flow of cases along the rippling Vonnegut curve.
SOREN WHEELER Up and down and up and down and up and down.
MICAH LOEWINGER Yeah, but I don't know, is that a good story?
SOREN WHEELER No. I mean, why are you asking that question? You know, it's not a good story.
MICAH LOEWINGER I know it's not a good story, but I'm just trying to make the point.
SOREN WHEELER Yeah, no. It's a bad story. Yeah, nobody wants to hear that story. I wouldn't put that story on the air. I wouldn't go to a movie theater to watch that story.
RACHEL PILTCH-LOEB I guess from my perspective, it's been a little bit of a sad and terrifying story.
MICAH LOEWINGER That's Rachel Piltch-Loeb preparedness fellow at the Harvard T.H. Chan School of Public Health.
RACHEL PILTCH-LOEB It's a scary story from the perspective of what does it mean for our public health infrastructure? What does it mean for the next time this comes around?
MICAH LOEWINGER I wanted to see if this made sense from a kind of epidemiological perspective. So I sent her an email summarizing my conversation with Soren about the pandemic, and Vonnegut's shapes
RACHEL PILTCH-LOEB I conceptually liked the thought a lot. I mean, the idea that we, as humans have narrative filters that we put on the world. And I think one of the challenges of the pandemic has been, we don't really know the trajectory of what's going to happen.
MICAH LOEWINGER Were there moments where there may have effectively been an over promise or where people may have perceived an imminent end to the pandemic?
RACHEL PILTCH-LOEB What was presented as a turning point in the story nationally was the vaccine availability and rollout, and we basically came up with a policy that was not necessarily founded in a particular piece of evidence besides the desire to make it true, which was if you're vaccinated, no other public health measures are necessary. Then we were faced with the Delta variant and people thought that the story had ended, so to speak. Vaccines are rarely 100 percent effective at preventing merely infection. That's not what they're designed to do. They're designed to prevent the impact of the infection, which is certainly what these vaccines do. We then had to start retelling a new set of policies, a new set of explanations, etc. And I think that that pivotal time really is where more people were lost and kind of began down their own path of 'I'm going to try and figure out what works for me'.
MICAH LOEWINGER We lost the plot.
RACHEL PILTCH-LOEB Yeah. It created this perception that the vaccines were the savior in the story, right? Our expectations of it were not realistic because the reality is that there is no panacea for a pandemic.
MICAH LOEWINGER Yeah, and I would say that that's probably not even unique to a pandemic or any kind of public health crisis. I mean, it's funny when we use terms like national narrative or whatever. When we watch a movie, we can take away different conclusions, but we're all watching the same movie. You know, we're all reading the same book. And one place where maybe my theory breaks down and where it's not so analogous is that we're not really witnessing the same story.
RACHEL PILTCH-LOEB We're talking about kind of a global story, a national story, a community story and a personal story, meaning my experience is probably pretty different from– from yours or from somebody else who's had a different experience personally with the virus, who maybe lives in a different part of the country, certainly in a different part of the world. So this story is still ongoing. We need to look really introspectively to figure out how to change the story for the next time.
SOREN WHEELER As much as like the simple stories are crack for the human brain, there's got to be a way to making us all a little bit more friendly to like the complicated stories and make complexity something to be reveled in and curious about, and fun and not dangerous or whatever. Or at least just recognize that none of the stories in our lives do the Vonnegut thing right? That's what we got to the movie theater for, but have a different version of us, a different habit of mine that we apply to the life around us, and especially to questions of public good.
MICAH LOEWINGER I'd like to end with a piece of advice that Vonnegut often used to tie up his lectures, something he learned from his uncle Alex.
[CLIP]
KURT VONNEGUT What Uncle Alex found objectionable about so many human beings is that they so seldom noticed it when they were happy. And so we would be sitting under an apple tree, for instance, on a July afternoon drinking lemonade and practically buzzing like honey bees and uncle Alex would stop everything and say, Wait a minute, stop. If this isn't nice, I don't know what is! [END CLIP]
MICAH LOEWINGER We've spent this hour focused on how some of us would prefer to act as if the story of COVID is over despite its continued destruction. It's been a messy narrative with no chance of ever ending up like Cinderella in that zone of infinite bliss. But as Vonnegut observed, some of the best stories don't make that landing and don't need to. As we watch our current storyline rise and fall and rise and fall, I'm thinking Uncle Alex may be pointing to the best ending we could ask for. For On the Media, I'm Micah Loewinger.
BROOKE GLADSTONE That's it for this week's show. On the Media is produced by Micah Loewinger, Eloise Blondiau, Rebecca Clark-Callender and Max Balton with help from Aki Camargo. Xandra Ellin writes our newsletter. Our technical director is Jennifer Munson. Our engineers this week were Adriene Lily and Andrew Nerviano. Katya Rogers is our executive producer, On the Media is a production of WNYC Studios, I'm Brooke Gladstone.