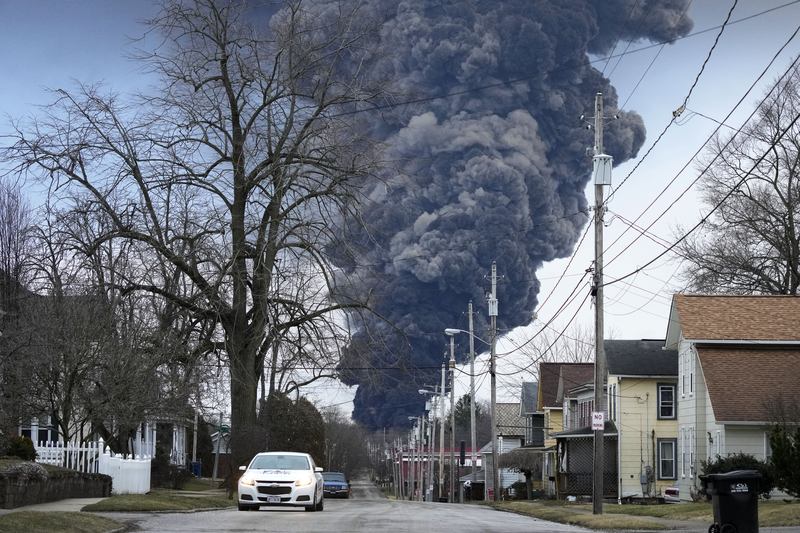 Transcript
BROOKE GLADSTONE Early coverage of the train derailment in Ohio left many with unanswered questions like why did it happen?
ALLISON FISHER It was mystifying to me that TV news networks still approach these tragedies almost as acts of God or mere accidents, because eventually the information does start to come out.
BROOKE GLADSTONE From WNYC in New York, this is On the Media. I'm Brooke Gladstone. On this week's show, disasters happen from — train derailing to earthquakes. Why aren't we better prepared?
GÖNÜL TOL There are things that you have to do before the earthquake hits. And the number one priority should be to construct stronger buildings.
BROOKE GLADSTONE Plus, the spread of the avian flu among mink has pandemic watchers pleading – please, no, not another one.
KEREN LANDMAN If you think that coronavirus is good at spitting out a new variant every few months, you ain't seen nothing. Influenza is the O.G. shapeshifter.
BROOKE GLADSTONE It's all coming up after this.
[END OF BILLBOARD]
BROOKE GLADSTONE From WNYC in New York, this is On the Media, I'm Brooke Gladstone. Did you hear about the train derailment that wrought havoc on the environment and rained horror on the local community?
WHITE NOISE MOVIE The cloud continues to travel west as residents are now being asked to relocate to Iron City.
WHITE NOISE MOVIE Evacuate, all places of residents. Cloud of deadly chemicals. Cloud of deadly chemicals.
BROOKE GLADSTONE That's actually a clip from the new movie White Noise, based on the Don DeLillo novel. Filmed in June and July of 2021 in Ohio, the same place a real train hauling hazardous materials derailed earlier this month.
CBS PITTSBURGH A state of emergency has been declared for the village as they continue to evaluate this derailment.
NBC And emergency crews unleashed a controlled release and burn of toxic chemicals to prevent a potentially deadly explosion.
NEWS 5 Rail operator Norfolk Southern says a variety of chemicals were being carried in the train cars, but the highly flammable vinyl chloride remains the biggest concern.
CBS That explosion was expected to release hydrogen chloride and phosgene. A gas used as a weapon in World War I.
BROOKE GLADSTONE Residents of East Palestine, Ohio, where the real derailment took place, were actually extras in White Noise, which depicted locals complaining about the spotty media coverage of the film's toxic airborne macguffin.
WHITE NOISE MOVIE Are they telling us it was insignificant? Do they think this is just television? Don't they know it's real? Shouldn't the streets be crawling with cameras and reporters? Shouldn't we be yelling out the window, asking – leave us alone? We've been through enough already. Haven't we earned the right to despise their idiot questions? Even if there hasn't been great loss of life? Don't we deserve attention for our suffering? Our terror isn't fear news.
BROOKE GLADSTONE Sean Hannity asked much the same question on his show this week.
SEAN HANNITY The media mob has largely ignored what is a growing disaster in Ohio.
BROOKE GLADSTONE Tiktokers are mad too.
TIKTOK Even though the media is refusing to cover it, there is a massive environmental disaster currently unfolding in Ohio.
TIKTOK And the coverage of it has been getting – hasn't been very good.
TIKTOK There is this hazardous material specialist. His quote was we basically nuked a town with chemicals so we can get a railroad open. This should be the number one story in the country right now.
TIKTOK You have dead fish in the water. You have dead dogs on front lawns. People getting nauseous and sick. Despite all this, the media is refusing to cover it.
BROOKE GLADSTONE And in some ways, they have a point. The derailment happened on February 3rd, but coverage on outlets like Fox and MSNBC really only picked up steam this week. So why?
ALLISON FISHER It's possible that some new details about the environmental and health impacts maybe drove that uptick. Or it could just have been that it started to trend on Twitter. But either way, it still told us that they were very late to the significance of the tragedy.
BROOKE GLADSTONE Allison Fisher, director of the Climate and Energy program for the progressive media watchdog Media Matters for America, points to the narratives taking over the story.
ALLISON FISHER These ideas that because this is happening to a white community, the media is not paying attention to it, suggesting that if it happened in a community of color, that it would have been treated differently. And we know that that's not true because we've documented time and time again that those stories aren't covered either. We'd love those same voices to come out and say that when it happens in Flint or when it happens in Jackson, Mississippi, you know, when it happens in some of these other places that are also inflicted by corporate greed and the lack of government oversight. So do I think that there's a media blackout and there's some sort of conspiracy behind that? No, this just fits in with a long line of environmental degradation, industrial accidents that go uncovered. And as a result, those that are perpetuating them go unaccountable.
BROOKE GLADSTONE And Fisher says that even now, with all eyes on the aftermath of the crisis in Palestine, mainstream coverage is still...meh.
ALLISON FISHER It's who, what, when, where without much context, without much detail or new information from hour to hour as they're reporting on the story. It was mystifying to me that TV news networks still approach these tragedies almost as acts of God or mere accidents, because eventually the information does start to come out.
BROOKE GLADSTONE Because the causes of the derailment are not a mystery. Late last year, rail workers were warning that something like this was bound to happen. Here's a clip from an interview a local reporter did in December.
CLYDE WHITAKER We had one derailment here in northeast Ohio where a wheel flange was very thin and it picked a switch and derailed the entire train. Luckily, it was. Full of candle wax and something highly volatile.
JULIA ROCK Train accidents are becoming more common for a number of reasons.
BROOKE GLADSTONE Julia Rock is a reporter at The Lever, an online investigative outlet. She says that workers were striking over a practice called precision scheduled railroading, which hinders the thoroughness and frequency of safety inspections.
JULIA ROCK Inspection times are getting shorter or they're not happening. Trains are getting longer, which is sort of an unusual fact, but it allows train companies to run leaner workforces because the number of people per train doesn't increase linearly as the trains get longer. So that can cause more safety problems. And crude oil and other hazardous materials being carried on trains has increased.
BROOKE GLADSTONE Still, derailments are old news.
FOX NEWS It's believed a procedural problem caused this derailment in Paulsboro, New Jersey, last Friday. The crash released vinyl chloride into the air and forced hundreds of people from their homes.
BROOKE GLADSTONE That was in 2012. And that New Jersey train was carrying the same chemical that was just unleashed in Ohio. Then this happened just a few days ago.
THE HILL Train carrying at least one car's worth of hazardous materials has derailed outside of Detroit.
BROOKE GLADSTONE In 2015, the Obama administration issued a rule requiring stronger safety measures on trains.
JULIA ROCK One of the sort of key features of that rule, the one that the railroad industry was most fixated on repealing, was one requiring electronically controlled pneumatic brakes on trains, essentially a much safer braking system that allows trains to stop all the cars at once rather than one car at a time as they currently are stopped.
BROOKE GLADSTONE Julia Rock says those special brakes were required only on trains hauling hazardous materials. But when Trump came into office, the lobbyists prevailed. The brake requirement, limited as it was to substances like crude oil, was rolled back, increasing the likelihood of toxic crashes even worse than the one in Palestine. Rock says she's heard from former regulators, rail workers and union members who all say the same thing.
JULIA ROCK Which was like, this is a bad derailment. But what we're worried about is something far worse happening. And you know, what is surprising is not that this train derailed and released this plume of chemicals and started on fire. What's surprising is that this doesn't happen more often.
BROOKE GLADSTONE Because the derailment was a preventable foreseeable disaster. The inevitable consequence of shortsighted policy and business decisions.
SCOTT KNOWLES That's often, I think, surprising to people because they think of a disaster as an apolitical event, something we should rally around each other and rally around our community and not talk about politics.
BROOKE GLADSTONE Scott Knowles is a historian of disaster. We spoke to him in 2017 after Hurricane Harvey slammed Texas' Gulf Coast.
SCOTT KNOWLES But disasters revealed to us whether or not we've invested enough in our civil society. Do we have the kind of health care that we need? Do we have the kind of environmental protection that we need? But because disasters are so complex, it's all sort of revealed at once.
BROOKE GLADSTONE Allison Fisher of Media Matters says that's where good reporting comes in.
ALLISON FISHER That does put pressure on public officials. It does help ensure that these companies are held accountable and more importantly, it gives voice to those that have been impacted by the disaster.
BROOKE GLADSTONE Another reason to report early and often? The absence of details early on nourishes conspiracies that bloom like algae in the void of unanswered questions.
TIKTOK I just feel like this is way worse than they are letting people know about because they don't want to cause alarm.
TIKTOK So let me get this right. Netflix released a movie last year about a train explosion in Ohio, and then this year, a train explodes in Ohio. Y'all think this was planned, or y'all think this was a coincidence?
TIKTOK This is America's Chernobyl. And right now, there are many politicians that are going to try and blow this off and say it's not as bad. You could still stay in your homes. Just don't breathe for too long. They're okay with sacrificing Americans.
BROOKE GLADSTONE Such algae blooms go on to fuel factually challenged bloviators like Charlie Kirk, who says members of the Biden administration won't go to East Palestine because…
CHARLIE KIRK The war on white people continues. Why would you care for the white working-class voters in eastern Ohio? If this train derailment happened in downtown Atlanta in the densely populated black neighborhoods, this would be the number one news story. It would be Flint water crisis 2.0. There would be clamoring and activism and talk.
BROOKE GLADSTONE The story in East Palestine is still unfolding. The causes may be clear, but the consequences aren't. And the EPA, which has been monitoring East Palestine's air and water to see if it's safe for humans to live there, has been steadily stripped of regulatory authority and funding. So what does that tell us?
SCOTT KNOWLES I believe that disasters reveal society.
BROOKE GLADSTONE Disaster historian Scott Knowles.
SCOTT KNOWLES They are an opportunity for us to actually pull back the curtain and see what some of the deeper commitments and values of a society actually are.
BROOKE GLADSTONE Disasters happen. They're caused by spasms of nature or late stage capitalism or frequently both. But the depth of the mayhem can be managed with attention and resources, research and regulation, institutions and infrastructure. Why they aren't is the theme of this hour.
Coming up, what to expect when you're not expecting an earthquake in an earthquake zone. The answer will not surprise you. This is On the Media.
[BREAK]
BROOKE GLADSTONE This is On the Media, I'm Brooke Gladstone. Now on to a disaster across the globe and the attendant mixed messages.
AL JAZEERA It's been ten days since the quakes toppled tens of thousands of buildings across Turkiye and Syria.
CNN The skies over Turkey are continuously pierced, with the sound of helicopter blades still performing crucial search and rescue.
DW NEWS The window for finding people alive is closing fast.
DW NEWS Of what Turkey has described as the biggest catastrophe of the century.
BROOKE GLADSTONE The magnitude 7.8 quake was the strongest that turkey perched atop fault lines had endured in over 80 years. But still, the horrific ever-rising death toll demanded accountability, or at least the appearance thereof.
MSNBC Earlier today, the justice minister in Turkey said the detainment warrants had been issued for 134 people that the government suspects of potentially being responsible for shoddy construction that could have led to the loss of life.
DW NEWS The government has vowed to punish anyone responsible. But critics say Turkey's construction codes are rarely enforced.
DW NEWS Political pressure is building on President Tayyip Erdogan over his handling of the crisis. The head of defense, Minister Hulusi Akar, admitted that after two days, only seven and a half thousand soldiers have been deployed in an area that encompassed ten large cities.
BROOKE GLADSTONE Some critics say the worst offense, however, was the initial delay in rescue efforts. The first few days after can be the most crucial for survival.
GÖNÜL TOL My sister and her family live in Antakya, and Antakya is one of the worst hit cities in the country. It's on the southern border with Syria.
BROOKE GLADSTONE Gönül Tol, founding director of the Middle East Institute's Turkey program, was on the ground in Turkey last week.
GÖNÜL TOL A few hours after the earthquake hit, the entire city had leveled to the ground and my sister's in-laws remain trapped under the rubble. So my sister and her family and her husband tried to dig them out with their bare hands. When they finally did pull out their father. There was a concrete block on his leg, so they needed equipment to be able to lift that concrete block. My family waited for 48 hours for the rescue workers, and when they finally did arrive, they told us that they could not help us because they had received instructions to focus their rescue work elsewhere.
BROOKE GLADSTONE He died.
GÖNÜL TOL He died.
BROOKE GLADSTONE I'm so sorry.
GÖNÜL TOL Thank you.
BROOKE GLADSTONE When your family was told, We can't do this right now. We have other orders. What were their orders?
GÖNÜL TOL Well, one of them told us that they were looking for an office that belonged to the family members of a member of parliament from Istanbul. This is just a symptom of a larger problem, which is the centralization of power.
BROOKE GLADSTONE Cast your mind back to 1999, Turkey had another shattering earthquake. It killed over 18,000 people. Erdogan campaigned on a platform of solving all the problems that had caused the government to respond so sluggishly. He would wipe away corruption and collusion between business and government. He'd rebuild the economy. But what did he actually accomplish in that 20 plus years?
GÖNÜL TOL Not much. You're right. He blamed all the ills of the 1990s on widespread corruption, dysfunctional governments and unresponsive state institutions, and he promised things would change radically. And many people believed him. He comes from an Islamist background. And yet social Democrats voted for him. Liberals voted for him. Not just the conservatives, but Erdogan hollowed out state institutions, wiped out most vibrant civil society organizations, and basically enriched his cronies to create a small circle of loyalists around him. In the 1990s, my country had many problems, and yet we did have institutions and now none of those institutions are there.
BROOKE GLADSTONE Throughout the 20 tens, Erdogan was on a construction spree counting on all of this building to inflate the economy, which it did at least temporarily. More jobs, more manufacturing. Much of this to replace the buildings that fell in 1999. You say that the people who benefited most from this building over the long haul were a small circle of friends from the construction sector?
GÖNÜL TOL That's right. By awarding them all infrastructure projects without competitive tenders or proper regulatory oversight, and these companies embarked on a massive building spree constructing in earthquake hotspots without following proper building codes. In Hatay, for instance, that's where my sister and her family lived. One of the areas hardest hit by Monday's earthquake residential buildings, hospitals and even the local branch of the Turkish disaster and emergency management presidency, all built by Erdogan's cronies. They were either leveled to the ground or suffered massive damage. The town's only airport built on top of a fault line by a company closely tied to Erdogan. It was split in two by the earthquake.
BROOKE GLADSTONE Are you saying that a lot of the buildings that fell were the newer buildings and older buildings were left standing?
GÖNÜL TOL That's partly true. According to experts and some state agencies, 51% of the buildings that collapsed in Monday's earthquake, they were built after Erdogan came to power. But old buildings collapsed, too, because Erdogan oversaw a sweeping amnesty program that forgave faults in millions of buildings.
BROOKE GLADSTONE What is an amnesty for a building?
GÖNÜL TOL It means it should be demolished. And yet Erdogan granted them an amnesty and they were allowed to stand.
BROOKE GLADSTONE I see. What about inspection companies? Weren't they sent around to check these places out?
GÖNÜL TOL Well, in Hatay, many of these inspection companies belong to these construction companies – to inspect their buildings.
BROOKE GLADSTONE You've written about the Turkish disaster and emergency management presidency, otherwise known as AFAD. It should have been instrumental in coordinating the relief effort. You say that it entirely was not.
GÖNÜL TOL Can you imagine? You are the main disaster and emergency management agency in a country like Turkey, which is prone to earthquakes and natural disasters, and yet you do not have a tent. Your budget is much smaller than the budget of the Directorate for Religious Affairs, and the person who is in charge is graduated from Department of Theology, and he has no previous experience in disaster management.
BROOKE GLADSTONE Why him?
GÖNÜL TOL Well, that's the story of Erdogan's Turkey. That's what he does. He put loyalists in key positions. And this is the result.
BROOKE GLADSTONE One thing I'm curious about is the earthquake tax that was introduced in the aftermath of the 1999 quake. Homeowners pay it every year along with their property taxes. 1999 was a long time ago. By now, that fund should have been valued in billions.
GÖNÜL TOL That's right.
BROOKE GLADSTONE Where did the money go?
GÖNÜL TOL $38 billion in earthquake tax. And yet we don't know what happened to that money.
BROOKE GLADSTONE Did anybody ask Erdogan?
GÖNÜL TOL Of course. Opposition parties, journalists, experts, they're all asking the same question: what happened to our earthquake tax money? And we haven't received an answer.
BROOKE GLADSTONE With thousands still buried under the rubble, he seems to be very busy spinning a narrative that this was an inevitability, a huge, unprecedented earthquake bound to kill on a mass scale, that it was impossible to prepare for a disaster like this. How is he getting that message out?
GÖNÜL TOL From the early hours, that's what his government was doing. Trying to push the narrative that this was the disaster of the century, that no government in the world could have responded to this earthquake. Yes, powerful earthquakes kill people, but they are more deadly in countries like Turkey, where the interests of a corrupt few are prioritized above all else. So this is not a natural disaster. This is a manmade disaster.
BROOKE GLADSTONE After the earthquake hit, you say he neglected to dispatch troops or rescue agencies, but he did work on a video.
GÖNÜL TOL Yes, it was the presidency's communications directorate that prepared it.. It was a very clumsily made video. Some of the experts that he included in that video came out later and said that their words had been manipulated. They all accept that this is a huge tragedy, that this is a huge disaster, but no one is saying that the government could not have helped.
BROOKE GLADSTONE So what does a well-constructed response to the earthquake look like?
GÖNÜL TOL There are things that you have to do before the earthquake hits. And the number one priority should be to construct stronger buildings, to direct the builders, to follow the regulations, safety codes and building codes. And also, you have to empower the very institutions that are in charge of responding, put people with the necessary background in charge of those institutions. So those are the things that you should be doing before the earthquake hits. And then there are things that you must do after the earthquake hits, and that is Turkey has the second largest army in NATO. So the president should have dispatched the military. If there were Turkish troops on the ground helping the victims, taking part in search and rescue efforts. The death toll would not have been this high.
BROOKE GLADSTONE When he was first elected. Did you have any hope in his governance?
GÖNÜL TOL I did, because the 1990s, it was a lost decade. I was young at the time, but I remember how unstable the country was at the time and all political parties were corrupt. So here came a politician who promised that he would do away with corruption, rebuild stronger, more responsive institutions. He would push hard for Turkey to become a more democratic, more prosperous country and EU member country, so he said all the right things and and I believed him.
BROOKE GLADSTONE Gönül, thank you very much.
GÖNÜL TOL Thanks for having me.
BROOKE GLADSTONE Gönül Tol is the founding director of the Middle East Institute's Turkey program and author of the book Erdogan's War: A Man's Struggle at Home and in Syria.
Over the last few weeks, we've seen the news focus on the devastation and response to the earthquake in Turkey. But in Syria, coverage has been more complicated because when the quake hit, the country was and is engaged in a long, drawn out civil war.
CBC 12 years of war have already wrought destruction, killed more than half a million. And now this.
MIDEAST EYE Frankly, the earthquake has brought attention back. But those millions of people in Syria have been struggling now for years and it's become a forgotten crisis.
BROOKE GLADSTONE And in the disastrous quake, Syrians still felt unseen more than a week after the earthquake. Some areas are still struggling for international support.
WHITE HELMET From the very beginning, we said we need help. We need your support. No one helped us. No one cared about those civilians. Unfortunately, the time passes and we're running out of time and no one responded to our calls.
BROOKE GLADSTONE International organizations like the U.N. have said that this is in part because in Syria, the hardest hit areas are located both in regions controlled by Syrian President Bashar al-Assad and in the northwest, where rebel groups hold power. Even in the aftermath, the rebel held areas have struggled most for support. For the first few crucial days, it was only small groups of local volunteers performing rescues or trying to from the rubble.
BBC Salvations for some. These sisters were pulled from the rubble of their house in Guinea by local rescuers. As the hours pass, exhausted search teams are digging more with hope and expectation.
BROOKE GLADSTONE Natasha Hall is a senior fellow at the Middle East program at the Center for Strategic and International Studies and has worked as an aid worker on the ground in Syria. She says that access to the northwest was definitely an issue, but politics colluded with Mother Nature to make it so.
NATASHA HALL The U.N. agencies that deliver and implement humanitarian aid are only allowed to do so through one border crossing from Turkey into northwest Syria. And this is because it relies on a mandate at the U.N. Security Council. And unfortunately, one of the Assad government's stalwart allies, Russia, is a permanent member on the Security Council. So every few months or so, there is a vote to renew this mandate or allowance for U.N. agencies to use this border crossing. So it has become extremely contentious.
BROOKE GLADSTONE As you mentioned, it took a while for U.N. aid to reach northwest Syria. Some Syrians are even flying the U.N. flag upside down.
NATASHA HALL Yes, we saw dozens of search and rescue teams from all around the world flying into government-controlled parts of Syria, flying into Turkey. And we saw two small teams within the first five days of the earthquake going into northwest Syria with no equipment. And just to give you a sense of the lack of urgency, I was speaking with a U.N. official the other day and they said, well, the needs haven't really changed.
BROOKE GLADSTONE That the earthquake didn't change things.
NATASHA HALL Which is ridiculous, of course. Finally, I think it was something like 28 trucks have come through, but that was five days after the initial earthquake and that was the typical aid received food kits and hygiene kits for this population. It was not earthquake related assistance or support. It's mostly been NGOs picking themselves up by their bootstraps and bringing in medical personnel.
BROOKE GLADSTONE Which brings to mind the Syrian volunteer civil defense group, the White Helmets.
NATASHA HALL The White Helmets emerged sort of out of necessity because, again, you had these areas heavily bombarded by Syrian regime aircraft and later Russian regime aircraft as well. And so people were buried under the rubble. There was a need for some kind of emergency force. They were initially trained by the Turkish civil defense because the Turkish civil defense had a lot of experience with earthquakes. The experience was translatable to wartime Syria.
BROOKE GLADSTONE The Syrian and Russian governments have long perpetuated misinformation against groups operating within the rebel-controlled areas, such as the White Helmets. They've been responsible for most of the rescue efforts in the northwest after the earthquake and you have yourself worked with them on the ground. Can you tell me about the misinformation?
NATASHA HALL What the Syrian regime and Russia aim to do was to flip the script on the entire conflict itself. That this was a Western plot to overthrow the government, that the White Helmets are Mossad agents, terrorists, throwing anything at them to see if anything will stick. We've seen a lot of footage from the White Helmets and others of children being rescued from under the rubble. Immediately the bots came out and started posting pictures of children who were buried under rubble in opposition controlled areas. The text essentially claiming that. This was Syrian and Russian civil defense rescuing children. And we even saw in BBC just a few days ago Ahmad al-Selmer who was a long-serving white helmet, speak for about 2 minutes, only to be followed by Guthina Shabet, who's a Syrian regime spokesperson for about ten or 15 minutes, calling the White Helmets terrorists multiple times. We've seen that narrative move to mainstream networks.
BROOKE GLADSTONE You say that Assad and his regime have been absolutely amazing in PR, that this has been another moment for Assad to normalize himself back into world politics with photo shoots, with world leaders and so on.
NATASHA HALL Absolutely. I mean, I think that this is an inflection point in a four year–five-year trend. But most certainly the government was ready for this. They had set the table for it, creating websites devoted to spreading misinformation on Syria. And so this is their moment to say how cruel the world is for not allowing humanitarian aid during this moment of crisis – which is misinformation in and of itself. Because actually even sanctioning countries like the United States and European countries have sent billions of dollars of aid into government-controlled parts of Syria for the entirety of the conflict. But I would argue that the governments that are taking the bait are not just taking the bait because they don't understand. I think that there is this feeling amongst regional countries, but even beyond the region, that the best way to move on from the gaping wound that is Syria is to normalize with the Assad regime.
BROOKE GLADSTONE You did a yearlong report before the earthquake focused on aid efforts to Syria in the 12 years since the start of the war. In that case and in the case of the earthquake, you found that a lot of that aid is not making it to civilians.
NATASHA HALL What we've seen since the beginning of this conflict, which the international community essentially decided to deal with through humanitarian aid, is a lot of compromises made by humanitarian workers on the ground, by U.N. officials, such as allowing government affiliated organizations to take U.N. aid out of sight to beneficiaries like allowing state military escorts to accompany those aid convoys. And what we saw is, is aid being delayed, impeded, ransacked, looted throughout the conflict as a result of that, and at least according to career U.N. officials that I talked to for that report, these are unprecedented compromises. And the problem is that it is very, very difficult to turn back once you have made those compromises. And so fast forward to this earthquake. I foresee a lot of compromises being made that will be difficult to turn back.
BROOKE GLADSTONE In Syria, the buildings themselves have been deteriorating for at least 12 years. Was there anything the international community could have done to make the earthquake's impact less catastrophic there?
NATASHA HALL That's a good question. This is a big issue for northwest Syria, as you mentioned. You know, this is an area with governance, but not really structured or standardized governance. Certainly not internationally recognized governments. And so you saw entire towns just leveled because you just don't have building codes. You don't have regulations. So the destruction and the casualties were far higher. Now, the larger question for all of Syria is how will you reconstruct in the aftermath of the earthquake? Because the European Union's stance, the U.K. stance and the United States stance has long been there will be no reconstruction unless there is movement towards U.N. Security Council Resolution 2254, which essentially asks for a you know, a just political transition. In the aftermath of this earthquake, there are questions of whether you build back better, but there's also a question of whether you build back at all.
BROOKE GLADSTONE They are sending billions to Syria. So doesn't that suggest they have decided in favor of rebuilding, even though Assad's still there?
NATASHA HALL The question is whether or not that will happen for northwest Syria at this point. This will be a long-standing impact. I lived in Armenia for two years and there are people that are still devastated and traumatized by an earthquake that happened 30 years ago. There are still people that are living in the containers that aid came in. What I'm seeing right now for the Northwest is not only is there an acute response, but it is completely unclear what the long term recovery will look like. There was one story that a friend of mine just told me his colleague was killed in the earthquake, but he had a 14 year old daughter who was trapped under the rubble. Rescue workers could not pull her out because her leg was trapped and they didn't have the equipment to lift it up. And so they had to amputate her leg. This is a 14 year old girl who has seen nothing but this war in spite of that. Just moments after that earthquake, after she got pulled out from under the rubble and lost her leg and her father, there was another tremor and she immediately turned to her cousin who sitting next to her and said, run, save yourself. I mean, this is a population that has endured so much and I just don't know how much you can push people. But I think this is the brink unless the international community comes together and really thinks about what recovery will look like.
BROOKE GLADSTONE Natasha, thank you very much.
NATASHA HALL Thank you for having me, Brooke.
BROOKE GLADSTONE Natasha Hall is a senior fellow at the Middle East program at the Center for Strategic and International Studies. Coming up, the perilous combo of chicken and mink. This is On the Media.
[BREAK]
BROOKE GLADSTONE This is On the Media, I'm Brooke Gladstone. We end on a disaster yet to come, and how salvation is likely to slip through our hands. It's no secret that after the past year, prices for the basics have gone up. But one staple stood out.
KTLA5 According to the latest stats that are out there. Egg prices in January were up by 70% from a year before.
BROOKE GLADSTONE Sure, record inflation played a role, but that's subsided. No, something else is afoul.
WBIR WRA says in the last year, the poultry industry had to euthanize millions of turkeys in chickens nationwide because of the bird flu.
BROOKE GLADSTONE A strain of bird flu known as H5N1 has led to what some call the largest avian influenza outbreak in U.S. history. Of course, birds catching a deadly bird flu seems kind of unsurprising. But in Spain, there was also an outbreak of H5N1 at a mink farm. That's scary. And not just for minks. Their respiratory tracks are far more similar to ours. Leading to a perplexing question for public health officials. Is H5N1 evolving the airborne ability to infect mammals en masse.
KEREN LANDMAN Now, that is still hypothetical.
BROOKE GLADSTONE Keren Landman covers public health, infectious diseases and the health workforce at Vox.
KEREN LANDMAN It's not clear from the publication that detailed this particular outbreak that the minks did transmit the virus to each other. It's possible that all of them became infected by eating the same infected bird or even by transmitting flu to each other through their feces. It's not totally clear that this virus in that population has acquired the ability to be transmitted through the air, which would be a much more concerning development.
BROOKE GLADSTONE It's also gotten in other animals grizzly bears in Montana – skunks. Can humans catch bird flu now?
KEREN LANDMAN Yes, but I want to clarify that. Humans can catch bird flu through very close contact with highly infected birds not casually walking by a backyard chicken. We are talking about usually poultry workers or people who work in markets where these animals are present in really high quantities and when there's not a lot of ventilation.
BROOKE GLADSTONE So we're very unlikely to catch it, but it's pretty deadly if we do. According to data from the World Health Organization, last month, between January 2003 to November 2022, there have been 868 cases of human infection reported from 21 countries, of which 457 were fatal. More than half. Comparing that to COVID 19, according to Johns Hopkins. The highest recorded mortality rate in the world was just under 5% in Peru. It was just a little over 1% here. More than half.
KEREN LANDMAN I don't mean to downplay the disease's case fatality rate, but a lot of these infections are taking place in countries that have a different standard of medical care than in the United States. That can certainly impact the fatality rate of these infections. That's not to say that we shouldn't be concerned about this. If, God forbid, an H5N1 were to acquire the ability to spread through the air among humans, it would spread in countries with different standards of medical care than in the United States.
BROOKE GLADSTONE You write, If there's anything concerning about the current bird flu, it's that it could mutate and evolve. Right. I mean, thanks to COVID 19, most of us are familiar with the havoc that variants can bring. If the bird flu evolves, how prepared are we?
KEREN LANDMAN Oh, boy. Do you want to talk first about how bird flu evolves or if you want to talk about preparedness?
BROOKE GLADSTONE Start with column A.
KEREN LANDMAN Well, bird flu and flu viruses in general are great at evolving. I mean, if you think that coronavirus is good at spitting out a new variant every few months, you ain't seen nothing. Influenza is the O.G. Shapeshifter. Different from the way viruses and other families mutate.
BROOKE GLADSTONE Such as coronavirus.
KEREN LANDMAN So they're in a totally different family of viruses. And scientists have a way of talking about the way influenza viruses mutate. That's simplified. There are two different ways that it changes. One is called 'drift', and one is called 'shift.' All viruses replicate themselves billions of times over, and as they're doing this, they make lots of little errors. And sometimes those errors really add up to translate into a way of behaving that can change the way the virus causes disease, the severity of disease, the way it spreads. However, they take a long time to take place and they usually don't result in an immunologically novel virus. Right.
BROOKE GLADSTONE So what's the difference between the way bird flu mutates and coronavirus?
KEREN LANDMAN So coronavirus can also do drift type mutation. It can also. Make lots of errors as it replicates itself and make lots of changes that make it look like a new variant, for example, that does change. But influenza virus has this added ability of being able to basically swap an entire chunk of its genome with another strain of flu virus that it meets in a cell. That kind of change is called shift. It's almost like if you had a set of eight cards because influenza viruses have eight segments of their genome and you wholesale traded one of those cards with another person, I think your producer earlier called it Virologic Go Fish. And it's a major change. It can give it not only new abilities very, very quickly, but it can also make it look very novel, very quickly to our immune systems. So not a whole lot of other viruses do this kind of shift. And that is why influenza virus has proven itself to be so good at causing pandemics, because as it sort of moves through populations, it can start acquiring new characteristics very quickly. It especially does this well when it is in an animal with another virus that's very different. And both viruses have lots of opportunities to replicate. But not all animals are hospitable to that kind of replication. Birds are great at being infected by H5N1. We're great at being infected by non avian flu type viruses.
BROOKE GLADSTONE Got it.
KEREN LANDMAN But there are mixing vessel animals that are great at being infected by both. Minks are among them. And so when those kinds of animals get infected by multiple types of flu strains at the same time, that's an opportunity for those flu strains to engage in 'shift type' mutations that very quickly allow them to acquire new genetic characteristics that can really change the way they behave and transmit. And that's what makes transmission in this kind of a mammal especially concerning.
BROOKE GLADSTONE Now let's move on to preparation, specifically vaccines. Zeynep Tufekci wrote in The New York Times that, quote, All but one of the approved vaccines for this are produced by incubating each dose in an egg.
KEREN LANDMAN And she also mentions a couple of paragraphs down from there that mRNA based platforms, which do not depend on eggs and which we used to create most of the coronavirus vaccines that we've used in this country. There seems to be a fair bit of confidence among the folks I've talked to that we would be able to use an mRNA platform to develop a vaccine to target a novel flu virus pretty rapidly, and we'd be able to scale that up. The question is whether people would take it. And as we've seen, that is much, much more complicated.
BROOKE GLADSTONE But is the public health infrastructure really there? I guess the bigger question is, did we learn any lessons in the last several years?
KEREN LANDMAN Well, not only is this an issue of funding, although public health at the federal, state and local level is really not funded to the degree that we need it to be to be prepared. But also there are big issues of morale and public health personnel leaving the profession for the private sector. We also have, unfortunately in this country, restricted the kind of research that would really help us know what kind of mutations are worrisome and what are not. And this is vein of function research, the kind of research that allows experts to tinker with a flu virus in the lab, give it the characteristics that worry us, and then see if it actually causes disease in an animal model. We're not allowed to do those kinds of research anymore in the U.S., funded by the the NIH, which is the most important source of scientific research funding in this country, doesn't fund that research anymore. They put it on hold in 2014.
BROOKE GLADSTONE Because people don't like unnatural, man made things being created in the world.
KEREN LANDMAN Yeah, there's a lot of worry that doing this kind of work is itself a big risk to humanity's health, and that's prevented a lot of really important research from happening.
BROOKE GLADSTONE Here's a funny question. Shouldn't we be vaccinating the chickens.
KEREN LANDMAN So they actually are good vaccines for chickens? However, it is hard for people to tell whether a chicken that has antibodies to the flu has those antibodies because it got infected or because it got vaccinated. When countries determine whether they want to accept our exports, if our egg populations or our chicken populations have these antibodies that could actually prevent them from taking those exports because of concerns that they may be receiving infected eggs or infected chickens into their countries.
BROOKE GLADSTONE Your Vox colleague Kenny Torella says we should blame the DIVA problem.
KEREN LANDMAN DIVA short for differentiating infected from vaccinated animals. And that's exactly the challenge here, although we want to protect our own flocks in the United States in our own eggs. Doing so could actually signal to other countries not that we're protecting them, but that they are infected. And that is a really unfortunate problem.
BROOKE GLADSTONE Tirella said that that means the big poultry exporters like the U.S., which sends 18% of its poultry abroad, don't vaccinate because they don't want to miss out on international trade.
KEREN LANDMAN Isn't that crazy? Instead, we'd rather just kill tens of millions of animals in awful ways.
BROOKE GLADSTONE Everybody who studies this probably has a different level of worry. What's yours?
KEREN LANDMAN This incursion into this population of minks is itself not a three alarm fire to me. There's a lot that needs to happen for those viruses to become agents of a human pandemic. The way to avoid this is by really prioritizing the things that we need to do to find and respond to these changes when they happen, and also to know when these changes really matter. So that means reconsidering the importance of gain of function research, also funding surveillance activities. So these are monitoring activities that let public health people know what kinds of flu viruses are circulating in farmed animal populations, wild animal populations, and in humans – quickly figure out what is going on and where so they can respond appropriately and then funding those response activities. You know, we've just really underfunded and under supported our public health infrastructure, not only in the United States, but worldwide. And even though the pandemic showed us just how much that is to our detriment, it doesn't really seem like we've gotten the message. I mean, funding public health didn't come up at all in the State of the Union speech this year. I was sort of shocked because, you know, this really feels like a moment where if we don't respond to the threats that we know are out there, we are going to be in some big trouble in the future. And flu could very easily be the agent of the next pandemic.
BROOKE GLADSTONE It sounds like the scariest thing isn't H5N1 or any other flu. It's us grabbing the attention of our elected officials and our population. It may be a very slow moving train, but we still have to deal with it.
KEREN LANDMAN That's right. This time it looks like the influenza virus that affected these minks didn't take all the steps it needed. But if we as a humanity don't develop a sense of respect for these pathogens and respect for each other, that would provoke us to do what we need to do. I mean, do you have faith that everybody, you know is going to put masks back on and go back to social distancing if we need to do this out of concern for a new respiratory pathogen? Do we have faith that everyone in our neighborhoods is going to run and get the new vaccine that's produced? Should we see a new pandemic potential flu virus emerge? Those are questions I wouldn't have imagined doubting the answer to a few short years ago. But having seen the way the coronavirus pandemic unfolded, I'm not sure that we really have it together to respond collectively. If a flu virus does take the steps it would need to take to really cause another pandemic.
BROOKE GLADSTONE Keren, thank you very much.
KEREN LANDMAN Thanks so much for having me.
BROOKE GLADSTONE Keren Landman covers public health at Vox.
And that's the show! On the Media is produced by Micah Loewinger, Eloise Blondiau, Molly Schwartz, Rebecca Clark-Callender, Candice Wang and Suzanne Gaber with help from Temi George. Our technical director is Jennifer Munson. Our engineers this week were Andrew Nerviano and Sham Sundra. Katya Rodgers is our executive producer – On the Media is a production of WNYC Studios. I'm Brooke Gladstone.
Copyright © 2023 New York Public Radio. All rights reserved. Visit our website terms of use at www.wnyc.org for further information.
New York Public Radio transcripts are created on a rush deadline, often by contractors. This text may not be in its final form and may be updated or revised in the future. Accuracy and availability may vary. The authoritative record of New York Public Radio's programming is the audio record.