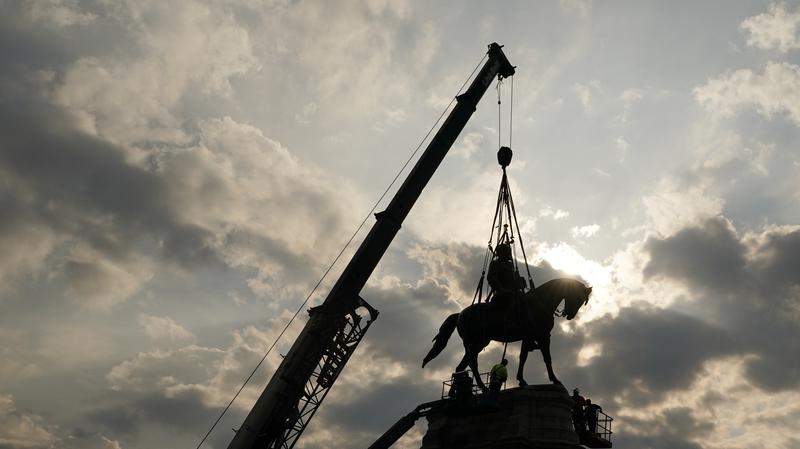 Transcript
Announcer: Listener-supported WNYC Studios.
[MUSIC - Zoe Keating: The Last Bird]
Brooke Gladstone: On this week's On the Media, the roiling tug of war over historical narratives.
Ty Seidule: At West Point, every year they're going to study the Battle of Chancellorsville during the Civil War, and every year Lee is going to beat Hooker. That's not going to change. We're not changing history, we're changing commemoration.
Akexis Akwagyiram: History is central to the dynamics of what we're seeing play out across the Sahel. You look at slavery, you look at colonialism, the history is so ugly and so hideous. You don't have to go back very far. This is all within living memory as well.
Male Speaker: President Putin, laying out his case that Ukraine is always part of Russia historically.
Mikhail Zygar: My mission was to start writing completely different version of Russian history because unfortunately it has always been written by historians who were serving the state.
Ty Seidule: The facts changed me, the archives changed me and my culture lied.
[music]
Brooke Gladstone: It's all coming up after this. From WNYC in New York, this is On the Media. I'm Brooke Gladstone. Once there was a time when all the tumult was about Donald J. Trump, the man.
Donald J. Trump: The people, my people, are so smart. You know what else they say about my people? The polls, they say I have the most loyal people. Did you ever see that? Where I could stand in the middle of Fifth Avenue, and shoot somebody, and I wouldn't lose any voters? It's incredible.
Brooke Gladstone: Then the fracas, abetted by the media, spread to his party and widened an already national fissure so that a nation that once shared a few fundamental values would come to battle over the most basic, the principle at least, that every citizen has a vote and is equal under the law. That is what this latest indictment, courtesy of US Special Counsel Jack Smith is about.
Jack Smith: The state went up considerably with this indictment because what's really on trial in this case is democracy.
Brooke Gladstone: Former Nixon White House counsel, John Dean, pleaded guilty to helping cover up the Watergate scandal and became a key witness in that prosecution.
Jack Smith: If Trump can get away with what he has done, what's spelled out in this indictment, our system of law no longer works and our election system is in jeopardy.
Brooke Gladstone: Smith lays out the case that Trump knew full well that he'd lost the presidency and still conspired to keep it by any means necessary. His document shows how. It also shows by being so very persuasive, how loyal are Trump's people?
Matt Gates: House Republicans should immediately demand that Jack Smith present himself for a transcribed interview before the Judiciary Committee in the next 15 days.
Brooke Gladstone: Florida Congressman Matt Gates.
Matt Gates: If he does not do that, we should send a subpoena. If he ignores the subpoena, we should hold him in criminal contempt of the Congress, and if Merrick Garland doesn't enforce that criminal contempt, then we ought to impeach Merrick Garland. By the way, while we're doing all of that to showcase how political and indeed dirty this has all become, we can utilize congressional immunities to immunize President Trump. This is all an effort to try to distract us from the very real crimes committed by Hunter and Joe Biden.
Brooke Gladstone: The point is, the United States of America has become a blur. Its institutions under attack, its culture wars increasingly ugly and cruel. What defines us? If it's worth the effort to fix and progress to what we could be, we first have to reckon with what we were. We need a true and honest historical narrative. Teach it, see it reflected in what we choose to honor. Ty Seidule is a former Brigadier General and vice chair of the National Commission on base renaming. Ty, welcome to the show.
Ty Seidule: Thank you, Brooke. What an honor to be here.
Brooke Gladstone: Many army posts have had these titles since World War I. What spurred the creation of this commission now?
Ty Seidule: Well, I think there are three things. The slaughter of Black churchgoers in Charleston in 2015, I think it was the white supremacist violence in Charlottesville 2017, and finally the murder of George Floyd in 2020. The National Reckoning that came with that, and Congress then passed a law that said to change, rename, or modify everything in the Department of Defense including base names, but down to paraphernalia, Trump vetoed that bill and Congress passed it with a super majority to create that commission.
Brooke Gladstone: There was strong bipartisan support.
Ty Seidule: I think that's important to remember that the military only makes significant social change when its political bosses tell it to. This is one of those times.
Brooke Gladstone: Can you tell me about the original namesakes? You've argued that they were all kinds of bad and some weren't even good at their jobs.
Ty Seidule: No. They're bad, and there's awful, and there's evil in a way. John Brown Gordon, who actually was a great fighter, wounded five times at the Battle of Antietam, but after the war, he gave a speech to Black Charlestonians, where he said, "If you African Americans are to demand equality, the 40 million of us white people will exterminate the 4 million of you in a race war." Then he later founded the Ku Klux Klan in Georgia and fought for segregation then and forever, and never served a day in the US Army. That's something to remember. These are named after the enemy.
Henry Benning, famous post in Georgia was someone who never served in the US Army, but who gave speeches trying to break apart the United States of America starting in 1849. He was a fire-eater, and later said that he would rather have pestilence and famine than Black equality. Then they're terrible generals, Leonidas Polk. Among historians we often say that the worst shot the US Army fired, canon shot they fired during the Civil War, was the one that killed Leonidas Polk. If he had lived longer, the Confederacy would've lost earlier.
Brooke Gladstone: How about Bragg?
Ty Seidule: Braxton Bragg was a terrible commander, his men hated him, during the Mexican war he was fragged, in other words, his own troops tried to kill him, and in the 1850s he got out of the army and bought an enslaved plantation where he sent the workers out as young as six years of age and said they were at a very good age to send out to the fields.
Brooke Gladstone: You've said that the first thing to know is that in the 19th century most army officers saw the Confederates as traitors. Probably the most egregious one being General Robert E. Lee, who is the most memorialized Confederate.
Ty Seidule: The thing about it is there's only one crime in the US Constitution, that's Article 3, Section 3, which says that treason is levying war against the United States. If anybody did that, it was Lee. Remember, Lee killed more US Army soldiers than any other enemy general in our history.
Brooke Gladstone: It was about a quarter million of his own and a quarter million of the Union Army.
Ty Seidule: Brooke, I don't like to say Union Army. Remember, it's the United States Army. Grant wore the same blue uniform that I wore for my career, so these Confederates refused to accept the results of a democratic election and choose armed rebellion insurrection rather than accept the results of an election.
Brooke Gladstone: I stand corrected.
Ty Seidule: When you use the language differently, you look at them differently. In fact, in 1868, all of the Confederates were granted amnesty for the crime of treason, to bring them back in.
Brooke Gladstone: If in the 19th century they never would've named bases, and posts, and streets, and squares, and schools after Confederate figures, when did it start to happen?
Ty Seidule: In World War I, by that time most of the Civil War generation have died out, and the idea that this was the War of the Rebellion, which is the official name, changes, and the Confederates and their children have the most successful propaganda campaign in history, led by the United Daughters of the Confederacy to change the meaning of the war. The war was no longer about slavery, it was about state rights.
That also coincides with, they redo all the constitutions, and so it excludes Black people. They exclude them from the vote. No Black person can go in the courthouse. Lynching reaches its height at this period. All of these create lost cause of the Confederacy myth, and when that occurs, now the South as a one-party state, Democrats, allows these posts to be named after Confederates in World War I. Half in World War I, half in World War II.
Brooke Gladstone: Then we have a bunch of monuments, so many of them.
Ty Seidule: There are two parts where Confederate monuments come in. One is 1890 to 1920, when, as they would say back then, the whites are back in the saddle. Now there is a white supremacist government in the South that they put these monuments up in front of courthouses to show, "We are the ones in charge." It's a symbol of white supremacy. That's what they say when they dedicate them. There is that period, then there's a period after World War II, and those are a reaction to integration. In fact, I went to a school in Alexandria, Virginia, I was bused from the white elementary school, Douglas MacArthur, to the segregated all Black School. What was the name of that segregated African American school? Robert E. Lee Elementary, named in 1961.
Brooke Gladstone: How did you find your way to this commission and how were the people picked?
Ty Seidule: There were four people picked by the Secretary of Defense and four people picked by the House and Senate Armed Services Committee, the chair and ranking. I was picked by Secretary of Defense, Austin. I had written about why the bases were named as they were, published a book about this. I had written op-eds about what we could change them to. When I retired from the military in 2020, I did it in part so that I would have the academic freedom to be able to say these things out loud. Once I had that freedom, you couldn't shut me up. The fact that we're changing these base names isn't going to end racism, but it's not a bad place to start. We want to make sure that who we commemorate represents our values.
Brooke Gladstone: What was the process, whereby these posts got new names?
Ty Seidule: Well, we first listened to the law, and the law had very clear things that one is that we had to listen to local sensitivities. We started meeting in March of 2021, and in the summer of 2021, we went to each one of these posts in person during the COVID time to ask the local communities both on post and off post what they thought. Then, we did a website where we got 34,000 names of people open to the public.
Now, some of them were saying that we should name it after Britney Spears. Then we took that of those, some 3000 were unique names, and then we necked it down to about 87 names. Then went back to the communities again, telling them that these are 10 names a piece that we think you should think about. We did another session with them, and then we met among the eight of us, decided those names, and announced them in May of 2022.
Brooke Gladstone: Did you see a lot of pushback?
Ty Seidule: Remarkably not
Brooke Gladstone: From the communities?
Ty Seidule: By the time we named them, they knew what was coming because we had engaged them so much.
Brooke Gladstone: Not much pushback at all you say until couple months ago. What happened?
Ty Seidule: Well, there are several candidates for the Republican nomination that think that this would get them traction, so both Mike Pence and Ron DeSantis went to North Carolina and said if it was up to them, they would change the name back to Bragg.
Mike Pence: I also look forward to as president restoring the name of Fort Bragg to our great military base in Fayetteville, North Carolina, and thank the people that have served there and they're proud of their service there. It's an iconic name and an iconic base and we're not going to let political correctness run amuck in North Carolina.
Ty Seidule: Even though the 2020 National Defense Authorization Act, that's the year before the commission was created, says nothing can be named after a Confederate.
Brooke Gladstone: What do you say to the people who charge that you're changing history?
Ty Seidule: We're not changing history, we're changing commemoration. At West Point, every year they're going to study the Battle of Chancellorsville during the Civil War and every year Lee is going to beat Hooker. That's not going to change, but commemoration is going to change because that tells us not about the figure memorialized as much as it does who put it up and why they put it up.
Brooke Gladstone: What is Fort Bragg named for?
Ty Seidule: It's named after Liberty. The community was really rallied behind this idea. The 82nd Airborne, one of our storied units, one of the lines of their songs is "We are the Soldiers of Liberty." The other part is Army Special Forces is on Fort Liberty, and Libertas is in their unit crest. They felt like their communities could rally around that phrase. African Americans could not vote. They were being lynched to enforce that, but now these names represent all of America and they represent who the army is in 2023.
Brooke Gladstone: Tell me about Lieutenant Colonel Charity Adams, on what former Army Post is her name now?
Ty Seidule: I love this one, Brooke. She's at the former Fort Lee. Charity Adams was the highest-ranking African-American woman in Europe during World War II. She commanded the 6888th Postal Battalion. They were the ones to ensure that [unintelligible 00:13:19] got to all the soldiers and before her unit arrived, they were failing in that mission. When she got there she turned it around immediately. There's a great story where somebody found out that under her command were only black women and they sent some white lieutenant young officer to take control. As soon as she saw this young man come over, she said, you will take command of this over my dead body.
[laughter]
She was absolutely a hero. I think one of the things that the commission has done is to say, the idea of who we think of American heroes, it is wide and it is broad and it is deep and it represents the diversity of the American experience and Charity Adams is certainly one of those heroes, one of my heroes.
Brooke Gladstone: What about Lieutenant General Arthur Gregg, where's his name these days?
Ty Seidule: Also, there at Fort Lee. It is now Fort Gregg-Adams and Arthur Gregg joined the Army when he was about 20. Joined the logistics branch, like transportation, ordinance, quartermaster, eventually desegregated that officer's club at Fort Lee and then became the highest-ranking African-American general when he retired. He is still alive. He's the only person that I know of that's ever had a post named after him while he was still alive. I just was on a panel with him at Howard University celebrating the integration of the military. He is absolutely a superb representation and mentored officers at what is now Fort Gregg-Adams for years after his retirement.
Brooke Gladstone: Now, Fort Lee is smack dab in the middle of Virginia. You go about an hour and a half or so out of Washington and you are in the middle of the land of the lost cause. Everything is named for Lee Confederate flags. It does seem to be an outpost. People there are okay with this?
Ty Seidule: Well, one thing we should remember is that Petersburg, Virginia and Hopewell, Virginia there are a majority African American cities. There are more African Americans in the South than there are at any other place in the country. This is showing the diversity of the American experience and our logistics and sustainment branches are the most diverse of, I think, any workplace in the country with nearly 50% Black soldiers.
Brooke Gladstone: What's next for the commission are all the army posts named now?
Ty Seidule: We're done. We folded our tent on the 1st of October of 2022 and gave our recommendations to the Secretary of Defense who accepted all of them. The army doing what the Army does well is implementing every one of them right now.
Brooke Gladstone: Ty, tell me about the many dogs you have in this fight. Mississippi, you've written a number of books on this topic, Robert E. Lee and Me: A Southerner's Reckoning with the Myth of the Lost Cause, is one of them. Did you run up against your own community, your family? How did you get from there to here?
Ty Seidule: I grew up in Northern Virginia first and Alexandria has more streets named after Confederates than any other city in the country. I grew up believing that on a scale of 1 to 10, Lee was an 11.
Brooke Gladstone: That he was a God among men,?
Ty Seidule: God among men, what you should emulate. I later went to college to try to be a Virginia gentleman because that was the highest status in my community. I went to Washington and Lee University, named after Robert Lee. I became an army officer. My dad was from Mississippi, grew up with these same myths that I did, believing in this lost cause myth, believing in Lee the greatest human that ever lived. When I turned away from that and I turned away hard, there were lots of people, there remain lots of people who see me as either a traitor or someone who went against their own code.
Brooke Gladstone: It sounds like you changed your mind in college.
Ty Seidule: I wish I could say I changed my mind in college, but I went where Lee was buried. I went to school where Traveler is buried, Traveler is Lee's horse. They leave pennies and apples on Traveler's grave face down so that the hated Lincoln cannot see Lee's grave. No, I did not get it until I had a PhD in History, and I was living on Lee Road by Lee Gate in Lee housing area at West Point.
I wondered why are there so many things at West Point named after Lee. I went into the archives and realized that in the 19th century they saw Lee as a traitor. They said I will never forgive those who forgot the flag to follow false gods. I realized that the oath that I took that everyone in the federal government takes is an anti-Confederate oath written in 1862. The facts changed me, the archives changed me and marrying a woman who's incapable of lying, that changed me too. My culture lied. Then once I figured that out, I realized that I could not change people's minds with facts. I had to tell my own story.
Brooke Gladstone: Ty, thank you so much.
Ty Seidule: Thank you so much for having me on.
Brooke Gladstone: Ty Seidule, Vice Chair of the National Commission on Base Renaming. Is a professor at Hamilton College and author of the book Robert E. Lee and Me: A Southerner's Reckoning with the Myth of the Lost Cause. Coming up, more teetering democracies and historical reckonings. This is On The Media.
[music]
This is On The Media. I'm Brooke Gladstone. It no longer needs to be said, though I will. That recognizing and reckoning with one's history is an ongoing project. These days it's happening just about everywhere all at once. In every place it happens, the role of propaganda distorts the outcome. Consider the Sahel region, which spans a strip of Northern Africa from the Atlantic Ocean to the Red Sea, where last week Niger's presidential guard turned on the Democratic leader it was supposed to defend.
Female New Speaker: They said they dissolved the Constitution in the West African country, suspended all institutions and closed the country's borders.
Brooke Gladstone: Propelled in part by resentment of their former French colonizers still in charge of much of its money and resources and egged on by Russian propaganda.
Male News Speaker: Many demonstrators were seen with placards calling for the departure of French forces from Niger and shouting pro-Russian slogans. There's been speculation that the coup leaders have enlisted the support of the Russian mercenary group Wagner.
Brooke Gladstone: The president of Niger was only the latest to fall in what the New York Times has called the longest corridor of military rule on Earth.
Male Speaker: The Western African nation of Guinea has plunged into deeper political instability. A unit of military has declared a coup in the region.
Male Speaker: All army officers in Burkina Faso have announced the overthrow of military leader Paul Henri Damiba.
Female Speaker: Leaders of a military coup in the West African nation of Mali say that they will enact political transition and fresh elections within a reasonable time.
Brooke Gladstone: The Sahel is a place veteran reporters have dubbed the coup belt.
Alexis Akwagyiram: I describe it as a coup belt simply because there have been a number of coups, something like 7 coups in the last 3 years.
Brooke Gladstone: Alexis Akwagyiram is the managing editor of Semafor Africa and former Reuters bureau chief in Nigeria. He said that the impact of the coup in Niger has more geopolitical impact than most.
Alexis Akwagyiram: This particular coup is important because Niger is the West's strongest ally in the region. The US have about 1,100 troops there, and there's a base from which they can launch drone attacks. The French have 1,500 troops there, and they can also launch attacks from a drone base as well.
Brooke Gladstone: There are all photos of protestors saying down with France. There are also plenty of protestors in the streets of Niger waving Russian flags and chanting long live Putin. Did Russian propaganda play a role in the Niger coup?
Alexis Akwagyiram: Yes, absolutely. I strongly suspect people in Niger do not have Russian flags and T-shirts lying around, so someone somewhere is supplying these.
Brooke Gladstone: What does this propaganda look like?
Alexis Akwagyiram: There's RT, which is a rolling Russian news service, and there's Sputnik News, which is like a defacto wire service, and they've forged partnerships with a number of broadcasters across the continent. You don't get a Russian broadcaster in any form. It's actually local broadcasters speaking the local languages, presenting the news, but the content that they provide is very much anti-Western and anti French in particular, these stories present the Russians as allies.
Now, as well as that, another layer is online. The Russians have, as I understand it, paid certain influences that have hundreds of thousands of followers on Facebook and on Twitter or X as it is now and on YouTube. Again, their commentary is very much about a narrative that is supportive of Russia, and the key thing here is some of them have existing networks. They've got an existing following, so one guy that I'm thinking of is a French-Béninois influencer called Kemi Seba, and he's been a longtime critic of France Afrique. This idea of France's continued political and economic influence over its former African colonies.
There was a big public outcry in 2017 when he was arrested for setting fire to the CFA Note this currency that's pegged to the Euro and controlled by France, and that's back in 2017. He presents himself as a Pan-Africanist. People have referred to him as African version of Louis Farrakhan, and so by co-opting someone like that, they can use him as a mouthpiece to present a narrative of the world that is sympathetic to Russia, so I found a Facebook post where he was referring to Russia's invasion of Ukraine, and he claimed that Moscow was trying to re-conquer Russian lands. It's subtle and it's coming from the mouths of people who you can relate to if you're from that region.
Brooke Gladstone: I know that the coverage of Mariupol, where so many Ukrainians were slaughtered was that Russia was invited in and I would think that would be extremely credible to African nations when Mali invited them in for real, but I'm just wondering, in the rest of the region in Mali, Burkina Faso, there's been a network of pro-Russian and anti-French Facebook pages to help drum up support for coups in both countries. What's the message about the US that Russia is trying to send to African news consumers?
Alexis Akwagyiram: It's not necessarily specifically just about the US. The message is fundamentally that the West is trying to bring about another wave of colonialism, and they should not be allowed to do that. Bear in mind, there is the collective memory of slavery in West Africa followed by colonialism. The belief is, and the argument is that this is what Europe, the US, France in particular is trying to do. They're trying to recolonize the continent.
I stumbled upon a cartoon that was widely shared on Twitter, so you've got a fighter who's got a Malian uniform, he's got the flag on his arm and then the flag in the background, and he's shooting. He's shooting this army of French zombies. Then it keeps on cutting to the Emmanuel Macron. You see him from the back at his desk and on his table he has a couple of framed photographs of his loved ones. There's a framed photograph of his wife, and there's a framed photograph of Joe Biden, and there is a map of Africa. You've got West Africa and it says Mali, and there's Niger and there is Ivory Coast. Then it cuts to a Malian soldier shooting French soldiers who are zombies effectively, and he's running out of ammunition.
Then a brave Russian swoops down and says, do you need some help? The Malian soldier says, yes, please, and the Russian soldier feeds ammunition into this assault weapon, and between them as partners, they kill all these French zombies. Then we get the same thing in Burkina Faso. Then they said, next, we need to go to Ivory Coast and help our brothers there. It's all very much about equals and being allies and nobody's helping anyone out. This is an equal partnership.
Brooke Gladstone: A lot of African countries though, didn't show up to the Russia-Africa summit and the Russian Press secretary, Dmitry Peskov, blamed that on the west putting pressure on these world leaders not to go.
Alexis Akwagyiram: It was very poorly attended. The Russia Africa summit was held 4 years ago and there were 43 heads of state that attended, on this occasion there were only 17. Vladimir Putin is very keen to build these alliances across Africa because it'd been locked out to the Western world through sanctions, and so it really helps the Russians, if they have a supply of things that bypass the Western financial networks, access to gold that they get from Mali or from Sudan, access to uranium will be incredibly useful. It's clear that Putin needs Africa and he's desperate to make sure that he deepens his foothold there.
Brooke Gladstone: Thus, the partnership between local African media outlets in Russia today. One of them is Afrique Media TV based in Cameroon. Here's a recent headline, "Putin: Russia promises to deliver free grain to six African countries." Do the people in these countries know that it's Russia's war and Russian action that is responsible for the grain shortage that they're suffering?
Alexis Akwagyiram: Well, yes and no. It depends how you frame it, because the Russian argument is Ukraine is part of Russia. Vladimir Putin's made it clear that he's just trying to reclaim land that is rightfully part of Russia. At this summit, Putin announced that he'll give free grain to six African nations, and so he would say this is an act of benevolence. Russia is trying to help Africans to prevent them from being collateral damage in what is a fair and just war, so it is all in the framing, all of it.
Brooke Gladstone: Alexis, what do you really think of the US coverage of Africa?
Alexis Akwagyiram: First of all, I'm the managing editor of Semafor Africa, and it was launched in October for the simple reason that there's clearly a gap in the American media market. I think for far too long, American media coverage of the continent has presented the continent as if it's a country rather than a continent of 54 nations. I understand why that's happened because the US is the wealthiest country in the world, and for many years we've essentially lived in a unipolar world in which the US is this dominant force that drives everything across global foreign policy and the dollar is the the global economy's engine, but it does matter because we live in an interconnected world.
If you take your eye off the ball in the Sahel, for example, that could be the next place where you get extremist groups, forming camps, and then launching attacks and it leads to global instability. I think there has been typically a lack of nuance. You end up with situations where you either get poverty porn and famine or conflict, and whereas something like this, this story in Niger as we've discussed, it's clearly more than just an eruption of anger and military strong men just wanting to be strong. There were a whole host of factors that all combine to make this happen.
Brooke Gladstone: The history of the West in Africa is so brutal and gruesome. You don't have to embroider it to have it be wounding as a memory. How do you think history is being used for purposes here, and what role does it play in the tug-of-war over hearts and minds in Western Africa?
Alexis Akwagyiram: I think history is central to the dynamics of what we're seeing play out across the Sahel and I don't think you have to aggressively rewrite it at all. If you lay out the simple facts. Look at slavery, you look at colonialism, the history is so hideous, and this is all within living memory as well since so-called liberation. The simple fact that African nations are in built with incredible natural resources. There are diamonds, there's an abundance of oil, there is gold, and yet Africa is the poorest continent on earth. The parts of the world that are the wealthiest are the ones that enrich themselves off the back of those natural resources.
The history is present in so many ways. There's a thread of it through all of what we're seeing in the Sahel. It doesn't take much for the Russians to come along, and by being careful with their language and finding different ways to spread their message, just say, "Look, we're not like those other guys. We're not the West." They can also hop back to history because the Soviet Union were friendly to and amenable to African countries in the liberation struggles when they wanted independence. That's why you're seeing for example South Africa refusing to denounce this invasion. In fact, roughly half of the countries in Africa refuse to denounce the invasion of Ukraine by Russia when it went to UN and vote. The reason is, they just feel this is not Africa's fight and Africa doesn't want to get involved in the affairs of these colonizers.
Brooke Gladstone: What you're saying is that it isn't about wrestling with dueling narratives of history in Africa, it's about reckoning with it. The West has to figure out some way to reconcile with Africa, its ugly history there?
Alexis Akwagyiram: I think a way forward would be to simply listen and adopt an approach which treat African countries as partners that doesn't seem paternalistic. With the Biden administration, I do think you can see a shift in tone and approach. For example, there was the U.S.-Africa Summit which was held in December. I attended that. The African delegates that I spoke to were really pleased. Everybody was invited, it was a big tent, everyone felt that they were treated as equals. Sometimes clichés are clichés because they're true. One is people want trade not aid. People want ways in which they can build themselves up and foster genuine partnerships.
Having now somebody who likens colonial history and the West approach to, you're standing next to somebody and that person pushed you off a cliff, you broken every bone in your body, and then you at the bottom of the cliff and they come down and they say, "Let me help you up." Would you trust that person? What I'm saying is you got to be really, really intentional and empathetic and find ways to particularly economic and business partnerships. I say in situations like this, the situation in Niger and Sahel more broadly and that instability try and work through back channels to subtly work with local partners so that those local partners can be in the driving seat because also knowledge is local. People in the region have a far better and more nuanced understanding of local politics.
Brooke Gladstone: Alexis, thank you very much.
Alexis Akwagyiram: You're welcome. Thank you for having me.
Brooke Gladstone: It's been a pleasure. Alexis Akwagyiram is the managing editor at Semafor Africa and he's been covering the region for over a decade with the BCC, Reuters and the Financial Times. Coming up, the historical consequence of colonizing in another part of the world. This is On the Media.
[music]
This is On the Media. I'm Brooke Gladstone. Colonizers are going to colonize. No, I haven't forgotten about Puerto Rico or Guam. We've reviewed that history in other shows. Though colonization is about land and resources and power, sometimes it's bracingly depicted as an act of goodwill or of kinship. Case in point, days before Putin invaded Ukraine last year, he recited an old essay on "the historical unity of Russians and Ukrainians wherein he rewrote the past."
Female News Speaker: This week started with President Putin quoting Lenin in saying that Ukraine was a fake country created by Lenin.
Male News Speaker: President Putin laying out his case that Ukraine is always part of Russia historically, cultural, ethnic, religious ties that go way back in history that it's not a real country that is naturally part of a bigger Russia.
Brooke Gladstone: The notion featured heavily on Russian news to justify the war. "Because Kiev is the mother of all Russian cities," but this is not new fiction. In fact, Mikhail Zygar has traced it back at least this far as the middle ages. He's a Russian investigative journalist, founding editor and chief of the independent Russian TV channel Rain. Suspended for its war coverage. Now based in the Netherlands. And author of the new book War and Punishment: Putin, Zelensky, and the Path to Russia's Invasion of Ukraine.
Zygar unravels a thousand years of fables, and he discovered a history entirely unlike the one he learned in Moscow growing up. Actually, he says that history starts in the Europe that would be familiar to fans of Game of Thrones with empires and religions vying for power and for land.
Mikhail Zygar: My mission was to start writing completely different version of Russian history because unfortunately, we have never had any kind of history of Russian people or people's of Russia. It has always been written by official historians who were serving the state and they were much more propagandist than historians.
Brooke Gladstone: Your book explores seven myths about the relationship between Ukraine and Russia. We won't get to them all, but we'll start with the most crucial one probably, unity, which was penned in a paper called Synopsis by a German monk 300 years ago.
Mikhail Zygar: A myth of the unity of Slavic nations is very real. It was created only three centuries ago by that German person named [unintelligible 00:37:21] Gizelle.
Brooke Gladstone: How does Gizelle's chronicle read?
Mikhail Zygar: It starts from the creation of the world, then goes all the way to Noah and Moses, and the first princess of Kievan Rus according that chronicle direct descendants of characters of the bible. The first statehood was created in Kiev, but then the grandson's of grandsons of the first Kievan princess move the capital of unified Rus to the city of Moscow. He draws that imaginary line that unifies old Kiev with new Moscow.
Brooke Gladstone: You say Gizelle's synopsis went on to be used a textbook.
Mikhail Zygar: It was one of the first scientific text on Russian history and [unintelligible 00:38:09] Gizelle could not have foreseen that, but Peter the Great loved it and it was used by all the official historians. Actually, it was the main source of the information for most Russian historians in 18th century and the 19th century till 20th century.
Brooke Gladstone: Okay, so stay with the era of Peter the Great when the Ukrainian leader or Hetman Ivan Mazepa was navigating two different empires, Sweden and Russia is now rapidly expanding. How did Mazepa become a symbol of betrayal? That would be the second myth that still resonates today.
Mikhail Zygar: During that period, Ukraine has become part of Russia empire and he was considered to be one of the very close military leaders to Russian emperor Peter the Great. As Mazepa always considered himself to be first Ukrainian leader and only then ally of the Russians are, when the sedation for his homeland has become really dangerous, he has chosen to switch sides and ally with Swedish emperor, and that symbolic choice is still considered for many years to be a symbolic betrayal by Russian historians.
At the same time, for Ukrainian historians, on the contrary, he chose his own people and his own nation, and he might have been a traitor if he had chosen Peter the Great but not his people.Is right now during the current war, it's associated with Ukraine word zrada that means betrayal. A very important political term in today's Ukraine that moral dilemma of Ivan Mazepa. It's always raised when a politician or an activist has a choice between real interests of his nation and possibility of some political alliance.
Brooke Gladstone: It explains so much, because in the last year or so, at various international cultural events like the PEN Conference, which stands for the Freedom of Writers, Ukrainian writers simply won't appear on the same stage with Russians, even if those Russians are dissidents and at risk and opposed to Putin's war. I never understood until you explain the idea of zrada, why Ukrainians would shun those Russians.
Mikhail Zygar: Ukrainians blame not only Russian government, and not only Vladimir Putin, but Russia as such, and all representatives of Russian culture. Ukrainians blame Pushkin as well as Joseph Brodsky, Dostoevsky, or other representatives of Russian culture claiming that they were imperialists. That's a very important idea for me because I think that we won't find common grounds before we address all those issues. We cannot, as Russian writers, Russian intellectuals, we cannot say, "Don't touch Pushkin, he's sacred. He's our everything." That would be just blind. We should reconsider all the mistakes and crimes of Russian culture as well. We are not the first. Very symbolic example is, for example, Kipling who has written the infamous poem about-
Brooke Gladstone: White Man's Burden.
Mikhail Zygar: Yes. Jungle Book is not canceled, is still loved by kids all over the world, but this particular concept of Kipling is widely discussed and is denounced by British intellectuals and by British historians. We must do that. We must get rid of our historical myths and of our sacred cause, including Pushkin or Dostoevsky.
Brooke Gladstone: You want to just get rid of Dostoevsky?
[laughter]
Mikhail Zygar: No.
Brooke Gladstone: You mean that we have to understand that he's a creature of his time.
Mikhail Zygar: We should read him in full. If he was terribly wrong, we must find courage to admit it and to say it.
Brooke Gladstone: You liken the Ukrainian poet Taras Shevchenko to Frederick Douglas because Shevchenko was basically a surf who happened to become the greatest Ukrainian poet. Liberated at the same time as Frederick Douglass, ran away from slavery to New York City, and liberated himself.
Mikhail Zygar: There were no parallels in history, definitely, but there are rhymes. Different countries were facing very similar political and social process and served them this form of slavery served them. In Russia, was abolished the same year as the American Civil War started. Taras Shevchenko is the first writer who used classic traditional literature, Ukrainian language. Before him, Ukrainians could reach the highest positions in Russian cultural elite or political bureaucracy. They could have become members of government or chancellors with only one condition if they abandoned their Ukrainian background and started speaking Russian. Shevchenko, even after being liberated and even after he had become one of the most popular artists in St. Petersburg, he never stopped writing in Ukrainian, and he has become a moral example.
Brooke Gladstone: It's interesting though how many Russians suggest that Ukrainian is actually just pigeon Russian. The words look alike, they sound alike. How do you address the language issue or the language myth?
Mikhail Zygar: A lot of Russians, and we know that Vladimir Putin is one of them, consider Ukrainian not as a real language, but as provincial Russian. Unfortunately, all those people don't know anything about Ukrainian literature or the history of Ukrainian language. They don't know, for example, the history of Russian authorities, especially in the 18th and 19th, and 20th century, to suppress the usage of Ukrainian languages. Ukrainian books were banned, the education in Ukrainian was permanently banned. That's a real historical tragedy. It's funny that the language that does not exist was banned and then still exists even after all those centuries.
Brooke Gladstone: Another myth you address is the myth of Lenin. Putin's claim before invading that Ukraine was an invention of Lenin's. You write that an independent Ukrainian state was formed in spite of Lenin.
Mikhail Zygar: Oh, yes. It's important to say that after the collapse of the Russian Empire, Mykhailo Hrushevsky, who was the spiritual leader and the head of first Ukrainian parliament, had an idea about Ukrainian autonomy.
Brooke Gladstone: He was, interestingly enough, a historian, and his book, the History of Ukraine-Rus, played a role in establishing Ukraine as a modern state.
Mikhail Zygar: He's still considered to be probably the founding father of the political Ukrainian nation because he was the first author to write the academic history of Ukraine.
Brooke Gladstone: That was written in 1898 and it was the first impactful response to the history written by the Monk Gizelle.
Mikhail Zygar: He was successfully trying to prove that Gizelle's concept written in synopsis was fake. How Ukraine became the independent state back in 1918, in October of 1917, there was a Bolshevik coup in St. Peterburg and Russia had become a communist dictatorship. That was a catastrophe for all the democratic movements in Russia and in Ukraine. After Lenin has become Russian dictator, there was no other choice for Ukrainian authorities and for Hrushevsky but to proclaim the independent Ukrainian state. It's really ridiculous when Vladimir Putin says that Ukraine was invented by Lenin.
Brooke Gladstone: Hrushevsky was interrogated by the Soviet secret police in the '30s. Historians arrested in the Soviet Union were called wrecker historians by the government. So the Russian government has always been extremely sensitive to how history is depicted.
Mikhail Zygar: That's the curse of Russian history, that it has always been very close to the power. All famous classical historians were always appointed by the heads of state and were reporting to the emperors or to the secretary generals. Nikolai Karamsin, probably one of the most famous Russian historians of 19th century, was reporting directly to the emperor Alexander I.
In 20th century, Stalin himself was editing the official version of the Communist Party history. It was absolutely clear for Russian leaders that they have to create the version of Russian history that proves they deserve to be in power. It should explain why Russian needs to be the empire. That was very clear for me that the moment when Putin started to build his ideology around his version of Russian history and to justify the current brutal aggression.
Brooke Gladstone: In the epilogue, you write that imperial history is our disease and that future generations of Russians will "not tread the same path if we, their ancestors, bear the punishment today." If imperial history has been the problem, you're turning to a revision of that history as the solution.
Mikhail Zygar: Yes, that's true. We have never had a proper people's history of Russia and that's right time to start writing it. If in history Russian army or Russian leaders have committed war crimes, they should be named this way. We should know everything about history of peoples of Russia, history of Siberia, and how Siberia was colonized, history of Far East, history of Urals, history of North Caucasus, all the neighbors of Russia and confess to ourselves and apologize to all other nations which have become victims of Russian imperial history.
Brooke Gladstone: Have you been following the fight here in America over history? How to teach it, how to advance it, how to reckon with it?
Mikhail Zygar: The debate about history in America is an inspiration for me because I think that every time we add another historical narrative to the traditional one, that's the way out. For example, I love the African-American Museum in Washington, DC because it adds another very important narrative missing in the traditional version of American history. I think that the more historical narratives a nation adds to its perception of history, the better. That's the way I hope Russian historians will proceed.
Brooke Gladstone: Mikhail, thank you very much.
Mikhail Zygar: Thank you. That was a pleasure talking to you.
Brooke Gladstone: Same here. Mikhail Zygar is the author of the book, War and Punishment: Putin, Zelensky, and the Path to Russia's Invasion of Ukraine.
[music]
Brooke Gladstone: On the Media is produced by Micah Loewinger, Eloise Blondiau, Molly Schwartz, Rebecca Clark-Callender, Candice Wang, and Suzanne Gaber with help from Shaan Merchant. Our technical director's Jennifer Munson. Our engineer this week was Andrew Nerviano. Katya Rogers is our executive producer. On the Media is a production of WNYC Studios. I'm Brooke Gladstone.
[music]
[00:50:51] [END OF AUDIO]
Copyright © 2023 New York Public Radio. All rights reserved. Visit our website terms of use at www.wnyc.org for further information.
New York Public Radio transcripts are created on a rush deadline, often by contractors. This text may not be in its final form and may be updated or revised in the future. Accuracy and availability may vary. The authoritative record of New York Public Radio's programming is the audio record.