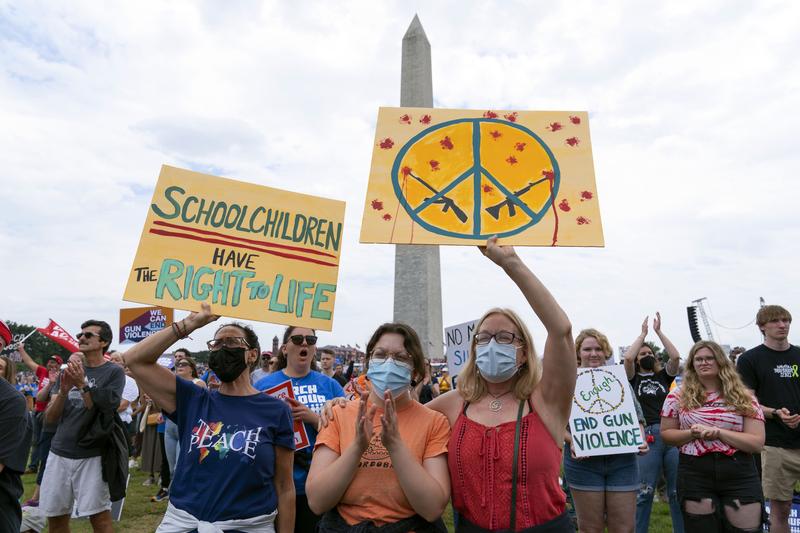 Transcript
McCARTHY Have you no stance of decency, sir? At long last.
BROOKE GLADSTONE Congress's Army McCarthy hearings in 1954 set the standard. But the January 6th committee is rewriting the rules.
NEWS REPORT A surprise announcement from the January 6 committee of a hearing later on today, set to share what it says is recently obtained evidence.
BROOKE GLADSTONE From WNYC in New York, this is On the Media. Also this week, the Supreme Court struck down a century old law restricting carrying guns outside the home, saying history will guide all such rulings now. So to protect gun regulation, states must answer in kind.
TIMOTHY ZICK It's going to be a question of finding a robust enough historical record to uphold a regulation that if you can't do that, then your law is invalid. The only thing that matters is history.
BROOKE GLADSTONE It's all coming up after this.
[END OF BILLBOARD]
BROOKE GLADSTONE From WNYC in New York, this is On the Media. I'm Brooke Gladstone. This week, the January 6th committee changed up its schedule. And as the kids say, a new episode just dropped.
[CLIP]
NEWS REPORT A sudden announcement of a hearing later on today. Set to share what it says is recently obtained evidence. [END CLIP]
BROOKE GLADSTONE It did not disappoint. Among the details, we learned that President Trump shrugged off concerns that many in the crowd he was propelling to the capital were armed.
[CLIP]
CASSIDY HUTCHINSON I was in the vicinity of a conversation where I overheard the president say something to the effect of, "I don't effing care that they have weapons. Let my people in. They can march the Capitol from here. Let the people in. Take the effing mags away. [END CLIP]
BROOKE GLADSTONE That's Cassidy Hutchinson, former aide to Trump's then chief of staff, Mark Meadows, and this week's surprise witness. As she told it, when the crowd chanted, "Hang Mike Pence." Meadows told her that Trump said he didn't think there was anything wrong with that. In fact, he longed to lead the gun-packing crowd to the Capitol himself, even lunging for the wheel, allegedly, to get himself there. And as this week's hearing built on the foundations laid by earlier ones, it grew even clearer that the president had long been in the process of stage managing a real coup that would pull in enough viewers to guarantee him a second season. But the management of the Select Committees investigation, the rolling revelations, the made for sharing soundbites, the primetime scheduling is just as remarkable because never, at least in my lifetime, has a congressional committee ever used the available media with such savvy. And I watched the Watergate hearings and tapes of the Army McCarthy hearings the year before I was born.
[CLIP]
McCARTHY Have you no stance of decency, sir? At long last, have, you met no empathy for people [END CLIP].
[CLIP]
LIZ CHENEY Tonight I say this to my Republican colleagues who are defending the indefensible, there will come a day when Donald Trump is gone, but your dishonor will remain. [END CLIP]
BROOKE GLADSTONE The temperate committee chair, Bennie Thompson, and the hard-boiled vice chair, Liz Cheney, were complimentary Dante's guiding us through the rankness, as when Cheney concluded with stunning evidence that threatening messages to witnesses had already been sent.
[CLIP]
LIZ CHENEY Here's another sample in a different context. This is a call received by one of our witnesses. Quote, "a person let me know you have your deposition tomorrow. He wants me to let you know he's thinking about you. He knows you're loyal and you're going to do the right thing when you go in for your deposition." I think most Americans know that attempting to influence witnesses to testify truthfully presents very serious concerns. [END CLIP]
BROOKE GLADSTONE It was a warning to the miscreants, followed by an offer of redemption by Bennie Thompson that it's never too late to move out of the darkness into the light.
[CLIP]
BENNIE THOMPSON And to that group of witnesses, if you've heard this testimony today and suddenly you remember things you couldn't previously recall, are there are some details you'd like to clarify or you discovered some courage you had hidden away somewhere? Our doors remain open. [END CLIP]
BROOKE GLADSTONE Doors ajar. In the halls of Congress are oddities often signs of great confidence or even greater stupidity? Here, the Select Committee is prompting audience participation in lieu of recitation and speechifying. The discussion builds on Twitter and TikTok, a call and response from all sides, of course. This week we heard of anonymous Secret Service people saying that the witnesses to that infamous lunge were ready to recant. We'll see. Trump may be indicted or not, but the select committee hearing now striving to save our democracy could serve as an unexpected template for a new mode of democratic discussion. Yeah, it has some of the trappings of true crime, but if it stays true and it still gets us to care, then on its own it stands as a triumph of democracy.
When it came to gun control in the headlines this week, it was the best and the worst of times. There was the signing of the first major gun safety legislation passed by Congress in nearly 30 years.
[CLIP]
NEWS REPORT The bill is a bipartisan deal that would expand gun background checks for people under 21, allowing up to ten business days to review juvenile and mental health records. It provides federal money for states enacting new red flag laws designed to temporarily seize guns from people deemed dangerous. And it closes the so-called boyfriend loophole preventing partners convicted of domestic abuse who live outside a victim's home from buying a gun. [END CLIP]
BROOKE GLADSTONE Then a change up on Thursday, when the Supreme Court struck down a century old New York law that restricted the carrying of guns outside the home without proper cause, ruling that Americans have a constitutional right to arm themselves in public.
[CLIP]
NEWS REPORT Now, this is the most significant Second Amendment ruling in more than a decade. In a 6 to 3 decision, the court struck down New York's law, which places restrictions on concealed handguns. That law was enacted more than a century ago. [END CLIP]
BROOKE GLADSTONE This prompted outrage at Manhattan's Union Square.
[CLIP]
PROTESTER We are enraged. We are disgusted. [END CLIP]
BROOKE GLADSTONE This ruling is the third major Supreme Court decision regarding gun rights following Heller in 2008 and McDonald in 2010. Heller asserted that the Second Amendment guarantees the right to possess firearms for self-defense independent of service in a state militia.
[CLIP]
NEWS REPORT A decisive ruling from the U.S. Supreme Court saying Americans can keep guns at home for self-defense. [END CLIP]
BROOKE GLADSTONE Two years later, McDonald reaffirmed Heller that the right of an individual to keep and bear arms is enforceable against the states. Last week's ruling, however, represents a noticeable shift away from what we typically discuss when it comes to gun control from who is entitled to carry a firearm and what kind of firearm to where, a firearm can be carried. The next major gun debate in the high court, says Timothy Zick, law professor at William and Mary. Law School will be a battle over where guns are and aren't allowed. And the only weapon gun regulating states can wield in this battle: history and history alone.
TIMOTHY ZICK In most states, in fact, you had the right to a concealed carry or open carry or both handguns primarily, but also in some states, all guns.
BROOKE GLADSTONE But you wrote that both red and blue states also were chock full of bans on public carry in a host of locations, including public transit, polling places, athletic facilities, public swimming pools, riverboat casinos and so on.
TIMOTHY ZICK And ironically, even in one state gun shows. So what the states appear to have recognized is that as robust as one might want public carry rights to be, there were certain places where one might not want people to be armed, either in a concealed fashion or openly carrying firearms.
BROOKE GLADSTONE And that could include airports, financial institutions, theaters, hotel lobbies, tribal lands. In the piece you wrote with Diana Palmer for The Atlantic, you wrote that, quote, The question of sensitive places is now front and center, and it's a sign of where the country is with its gun laws. Fighting over the margins of its expansive gun freedoms and not whether those freedoms should be so expansive in the first place.
TIMOTHY ZICK Well, proven itself is going to drive a serious change in how courts at least approach gun rights. But of course, the movement toward brewing has been brewing at least since Heller in 2008 and the McDonald case in 2010. For the first time, the Supreme Court recognized an individual right to keep and bear arms, not a right to connect it to service in a state militia which had been the understanding of lower federal courts, commentators, etc.. I mean, there were breadcrumbs in the Heller case, in the McDonald case, that the Second Amendment was never going to be limited to the home. When you talk about the right of self-defense and you rule out certain places where guns aren't going to be allowed, you're suggesting very strongly that there are going to be places where they are allowed.
BROOKE GLADSTONE But didn't the Heller case confirm that guns could be banned from some sensitive places? And didn't the Bruen case reaffirmed this?
TIMOTHY ZICK Yes. So in Heller, the court said no, rights are absolute, and that includes the Second Amendment. So there are what it called long standing limitations on the right under the Second Amendment that the court was not questioning. Among those are bans on possession by convicted felons. By persons who have a mental disability and ban, the court said, in sensitive places, including schools and government buildings, certain places where a ban or restriction would be presumptively constitutional.
BROOKE GLADSTONE So the phrase sensitive places. Justice Scalia coined the term in the Heller case, and he wrote that nothing in his majority opinion should cast doubt on laws forbidding the carrying of firearms in sensitive places. So what did he mean by sensitive places?
TIMOTHY ZICK Yeah. The court never actually defines what sensitive means. It gives two examples categorically schools and government buildings. And it doesn't say what sensitivity entails or what it means. So the lower court struggled to try and define it place by place, and they dealt with things like is a post office building sensitive? Is the parking lot outside the post office sensitive or places populated by particularly sensitive audiences like schools? Is it what goes on in the place that makes it sensitive? Maybe a legislative chamber because of the democratic process that takes place there.
BROOKE GLADSTONE Now, the New York defense in Brooklyn claimed that Manhattan is a densely populated area that is policed. We have people with guns to keep the public peace. And therefore, the entirety of Manhattan Island is a sensitive place with no need for people to carry guns. The court didn't buy that, obviously.
TIMOTHY ZICK No, it did not. So whatever sensitive places means, it cannot mean, according to Justice Thomas, in the majority, that you can take an entire city or the island of Manhattan and proclaim it a sensitive place. It has to be more specific or granular than that. The majority mentioned polling places, courthouses, and the reason it focused on those and it said there are very few historical examples of places where guns can be prohibited is because what's going to drive the court's review of gun regulations going forward is history.
BROOKE GLADSTONE And you wrote that Bruens a bombshell because it's telling us that in order to determine which places are sensitive, you have to prove that it's been historically treated as such. History is pretty subjective, right?
TIMOTHY ZICK Some have criticized what's called a text history and tradition approach as subjective, subject to manipulation. It's not objective, as the court claims. For its part, the majority recognized that, look, finding historical analogies for subways, for example, may be difficult, but the court is convinced it's not impossible that you can do what it called analogical reasoning, find historical analogs, lay them next to modern regulations, and decide whether those regulations are constitutional. That's going to be a very big part of litigation going forward, but it is going to raise lots of difficulties in terms of, as you say, how do you treat the island of Manhattan and its subway system when in 1791 there was no such thing? That's going to be the big challenge, particularly for governments that are trying to uphold gun regulations. They bear the burden under the courts approach of finding these historical analogs in early state laws from the 18th century primarily. That's not going to be an easy task.
BROOKE GLADSTONE So let's talk about one particular failed analogy brought up by Justice Breyer during the Bruen hearing. He was talking about the statute of Northampton in his dissent. This is a law enacted in England in 1328 stating that, quote, no man great are small of what condition so ever he be could go nor ride armed by night nor day in fares markets, nor in the presence of the justices or other ministers, nor in no parts elsewhere upon pain to forfeit their armor to the king and their bodies to prison at the King's pleasure. That's pretty clear. I gather the court wasn't keen on this as a precedent.
TIMOTHY ZICK Well, it downplayed the significance of the Northampton statute on a number of different rounds, one of which was, look, it's simply too old to tell us anything about how the Second Amendment right was understood in the colonies in the early states.
BROOKE GLADSTONE Was it too old?
TIMOTHY ZICK Well, the court didn't seem to think so when it was canvasing history in Heller and MacDonald. The English common law, the English statutory law seems to be relevant at least, but the court simply unwilling to place a great deal of weight on a 14th century. English statute.
BROOKE GLADSTONE The statute was in force well into the 18th century, wasn't it?
TIMOTHY ZICK Yes. And states adopted it as a model, and the court then had to work around all of those state laws that seem to accept the statutes principle of disarming people in crowded places. That's what a lot of the opinion is about. It's taking historical analogs that to New York State seem perfectly relevant and deriding them as irrelevant. And the court just says, Well, in New York's case, its law is invalid regardless of which of those historical periods we look at. So we don't need to decide today this will be a future case issue which historical periods are relevant. So in that macro level, you have that problem and then you get into the micro question. Suppose that it was just well understood that people shouldn't carry firearms into certain places like churches, for example. But I don't have a law on the books or a series of laws, 25 laws that say that. And it's going to be a question, as I say, of finding a robust enough historical record to uphold a regulation. And if you can't if you can't do that as the government, then your law is invalid regardless of any notion or interest you might have in public safety or dealing with the dangerousness of firearms. None of that matters. The only thing that matters is history.
BROOKE GLADSTONE So the decision in Bruen, I assume, means that some gun regulations that have been upheld by lower courts for a long time could be revisited. Prohibitions on gun use by felons and those who are mentally ill.
TIMOTHY ZICK So one of the things that Bruen does right off the bat is to say that what the lower courts have been doing in terms of reviewing gun regulations is wrong. The methodology that the courts have been using, we reject we the Supreme Court laws that were upheld under that methodology will be reconsidered, relitigated under this Texas history and tradition approach. Some of them may survive. Many of them may not. We've had over a thousand cases in the lower courts since Heller was decided. Most federal courts have adopted a sort of two step approach, which is part historical analysis, but also this sort of means end in public safety analysis. That's now been ruled out.
BROOKE GLADSTONE This shift to an examination of sensitive places, these future searches for historical analogies. You don't seem very hopeful that that will have much impact.
TIMOTHY ZICK I'm hopeful in the sense that the court itself identifies schools, government buildings, polling places, legislatures, courthouses. Those are not insignificant. Whether you can find historical analogs or, say, bans of firearms on university campuses and other places, I think is an open question. And I think the court has set this up in a way that makes it very difficult for the government to carry what the court says is its burden. Now, there are plenty of people devoted to scouring that historical record, finding evidence that you may not even know exists. In that sense, I am somewhat hopeful. At least some places will be deemed off limits. You know, New York's authorities are already looking at adding to the sort of sensitive place restrictions they already have other states and localities to the extent they're allowed to. We'll also be looking in that direction.
BROOKE GLADSTONE And you wrote that if the states can no longer use discretion to limit the number of people and places with guns, something needs to be done to stem the flow of weapons. And yet, District of Columbia, the Heller, found that strict regulation of gun ownership was unconstitutional. Do you have any thoughts about how to legally stem that flow?
TIMOTHY ZICK Well, there are a number of things that states may be able to do. We've had multiple shootings by 18 year olds. Should an 18 year old have the right to purchase and carry a long gun or a handgun? There's certain types of arms that seem to show up more frequently in mass shootings. Should it be legal to purchase a semiautomatic long gun like an AR 15?
BROOKE GLADSTONE Although handguns obviously are behind the vast majority of gun deaths in this country.
TIMOTHY ZICK Sure. You know, there is no one law that's going to solve this problem. I think part of the takeaway, if you read Justice Alito's opinion in Bruen, seems to be that, you know, the dissent spends a lot of time talking about gun deaths and gun violence, but he can't point to a law, including New York, that would solve that problem. Of course, that's not how we treat law in general. Of course, murderers who murder despite laws. That criminalized that activity. We can't simply throw up our hands and say no particular law is going to prevent gun violence in the United States. The court has left open at least some limitations, and states would certainly be looking in that direction, whether it's licensing requirements or sensitive places or what have you. This is not an easy area of law to understand.
BROOKE GLADSTONE Yeah.
TIMOTHY ZICK Except to the extent, you know, you're being told, well, history is everything. But what the court has allowed and what states have done are two very different things. The states are well ahead of the court and have been for a while.
BROOKE GLADSTONE All right. Timothy, thank you very much.
TIMOTHY ZICK Thank you for having me.
BROOKE GLADSTONE Timothy Zick is a professor of law at William and Mary Law School and the author of the forthcoming book Managed Dissent The Law of Public Protest. Coming up, what makes Justice Clarence Thomas tick? This is On the Media.
[BREAK]
BROOKE GLADSTONE This is On the Media, I'm Brooke Gladstone. So now let's consider the author of the decision in the case we just reviewed. New York State Rifle and Pistol Association Inc versus Bruen: Clarence Thomas.
[CLIP]
NEWS REPORT In this sweeping opinion, Justice Thomas says that every gun regulation must be subject to the text of the Second Amendment. Keep and bear arms and to the history of carrying weapons in this country. It essentially nationalizes the right to bear arms outside the home.
BROOKE GLADSTONE Prior to Bruen, the most recent headlines citing Thomas were in connection with the fervent efforts of his wife, Ginni, to oppose certification of the 2020 election. She is the definition of explicit, but Thomas, the longest serving justice on the bench, once dubbed the quietest justice, has also been the most enigmatic and too many liberals for most baffling justice. Some years ago, I spoke to Cory Robin about his book, The Enigma of Clarence Thomas, and I'm baffled no longer.
Thomas is not merely a black conservative who always seems to argue against leveling America's playing field. In this interview, which first ran in 2019, Robin explains that Thomas is, in fact, a black nationalist. It's evident in everything the judge writes and in every public pronouncement.
COREY ROBIN He is. In fact, the book opens with an epigraph, the famous line from the opening of Invisible Man. "I'm an invisible man and everybody sees everything and anything but me." Clarence Thomas has a very long written record, more than 700 opinions where he sets out this conservative black nationalism. And it's something that a lot of people have not noticed, though, the very few who have tend to be scholars of color. But for the most part, the only thing most people know about him is about Anita Hill and the fact that he doesn't ask questions from the bench
BROOKE GLADSTONE Something you observed very early on is that Thomas and the man he replaced, Thurgood Marshall, were both considered in their day to be intellectual lightweights whose decisions were written for them by other people. And as we later learn in your book, the kind of racism that rankled Thomas most was this constant charge that black people weren't as smart.
COREY ROBIN Exactly. He was a student at Holy Cross and then at Yale Law School beginning in 1971. And he discovered what he felt was a more insidious kind of racism than what he had known in the south. He grew up mostly in Savannah, Georgia. He was used to and familiar, the kind of overt hatred of black people by white people. And when he came to the north, he found a more genteel kind of racism that was more liberal, that was more patrician, that was overtly solicitous of black interests, that hid its deeper assumptions about particularly the intellectual inferiority, as you said, of black people. And that's something that Thomas has faced from a very early moment in his career and has taken with him onto the court.
BROOKE GLADSTONE He told the journalist Juan Williams that he preferred dealing with an out and out racist to one who was racist behind your back as one of his favorite songs went.
[MUSIC CLIP]
BROOKE GLADSTONE The Undisputed Truth is the band.
COREY ROBIN It came out in 1971, I believe, and he used to listen to it all the time at Yale Law School. And when he was asked about the Reagan administration, which he joined in 1981 and about the racism of the Reagan administration, he said they don't lie to you and also they don't smile at you. This is a very resonant notion for him. And I should say it also echoes a lot of sentiments and beliefs in the black nationalist tradition. Malcolm X spoke about the wolves vs. the Fox,
[CLIP]
MALCOLM X "...and we don't think that it is any worse to be bitten with a smile than it is to be bitten with a growl." [END CLIP]
BROOKE GLADSTONE And his first prolonged confrontation with smiling faces would probably have been at Holy Cross in Massachusetts.
[CLIP]
JUSTICE CLARENCE THOMAS I was out here writing in 1970 because I was mad at the world. That was cynicism and negativism, eating me up, hatred, animosity. And I felt justified because of all the race issues. I was really upset. [END CLIP]
COREY ROBIN Thomas comes there in 1968. He's a part of a cohort of 18 black men, one of the poorest of that cohort, recruited by a very liberal Jesuit who is seeking to integrate Holy Cross. The differential treatment of white and black students becomes very apparent. White students are sent letters in the summer before asking them, would you mind having a black roommate? The black students don't get any such letter at all. The experience of being in almost all white classrooms, of reading all white authors, of having mostly white music played at campus events, not having black professors spurs them to form the black student union. And this is a very deliberate decision and nomenclature they choose. The word black at this time is kind of more militant affirmation that you hear more on the West Coast than the East Coast. They have a statement of demands and then they issue a manifesto of their own internal rules, many of which involve, you know, that black men should respect black women. Black men should not be involved with white women. And so it's a whole statement and coherent platform that's very familiar among radicalized black students across America.
BROOKE GLADSTONE Is this when he first encounters or first makes use of the ideas of Malcolm X?
COREY ROBIN Yes, he reads the autobiography of Malcolm X in 1968, starts listening to the records of Malcolm X's speeches.
[CLIP]
MALCOLM X It is better for us to go to our own schools, and after we have a thorough knowledge of ourselves, of our own kind and racial dignity has been instilled within us. Then we can go to any one school and we'll still retain our race pride, and we will be able to avoid the subservient inferiority complex that is instilled within most Negroes who receive this sort of integrated education. [END CLIP]
COREY ROBIN Nearly 20 years later, when he is giving these interviews to people like Juan Williams, Thomas can recite from memory various passages from the autobiography and from those records.
BROOKE GLADSTONE Is this when he comes to the conclusion, the crucial conclusion that racism is not really addressable through the courts or through legislation?
COREY ROBIN Yes, we have to remember at this time, there's all kinds of political efforts to deal with racism. Some of it is electoral. Some of it is legislative. Some of it is judicial. And some of it is much more militant, radical action in the streets. And what he comes to by the sort of early to mid 1970s is a belief that white racism is permanent, pervasive and ineradicable in the United States. It has roots that cannot truly be fathomed. And because they cannot be fathomed, we can't pull them up. And that once you come to terms with that, several conclusions follow. And the first and the big important one is that the political process, whether it be voting or protest or organizing, that all of this is a misbegotten enterprise that black people should get themselves out of. This explains in part why he almost always comes down against voting rights. He believes that this is a fool's errand.
The second conclusion is that capitalism, the marketplace, while it tends to be geared towards white interests, nevertheless offers niches where black people can achieve some kind of measure of autonomy, specifically black men. Thomas derives this in part from his reading of Malcolm X. I should say a selective reading because Malcolm X had a complicated view on this. Thomas also derives this from reading a black economist by the name of Thomas Sowell, very prominent conservative and in Sowell, Thomas finds a vision for black people not of emancipation, but of a kind of autonomous space where black people can create their own world apart from white people. So that's the second conclusion that follows from this bedrock principle of the ineradicability of white racism.
BROOKE GLADSTONE He may have been more receptive to this idea because of the examples set by the most powerful male figure in his life. His stern, humorless but successful grandfather, Myers Anderson.
[CLIP]
JUSTICE CLARENCE THOMAS My wife had a bust of my grandfather made right after I was confirmed, and I put it up on a bookshelf where it looks down on me. He's that brooding omnipresence and he's looking down on me with one of his favorite sayings inscribed on it. "Ole man Kant is dead. I helped bury him." And here's what I wondered on the days when self-pity is consuming me, I look up at him. How can I complain to him? No education, no father, raised in part by freed slaves in Jim Crow South. He never complained. My grandmother never complained. How can I tell him that as a member of the United States Supreme Court, I can complain? [END CLIP]
COREY ROBIN Part of Myers Anderson's whole gestalt was a refusal to look to any kind of benevolence, help or aid from white society through that kind of self-reliance. That very stern iron discipline. He created a world for his family that was relatively safe and spread that protection and largesse to other parts of the black community. And so this spirit of what in the tradition is called do for self, a kind of collective self-reliance, looking inward to the community and particularly to very strong, powerful black male figures is something that Thomas learns very early on.
BROOKE GLADSTONE And of course, in his college years
[CLIP]
MALCOM X Once you can create some employment in the community where you live. It will eliminate the necessity of you and me having to act ignorantly and disgracefully boycotting and picketing some cracker someplace else, trying to beg him for a job. Any time you have to rely upon your enemy for a job, you're in bad shape. [END CLIP]
COREY ROBIN In the mid 1970s, Thomas makes his right turn toward more conservative principles, and the key element is some of those principles that we just heard in Malcolm X. This belief in creating black institutions that are primarily economic. And that this creates a kind of autonomy, even semi sovereignty, separate from the helping hand of white people. His real audience, he's said, is a potential black community that would embrace his ideas to stop looking to politics, to the Democrats, to liberalism as the path forward.
BROOKE GLADSTONE Coming up, how Justice Thomas enacts those principles through his decisions and the bleak vision of justice they represent. This is On the Media.
[BREAK]
BROOKE GLADSTONE This is On the Media. I'm Brooke Gladstone. So when Clarence Thomas arrives on the court, he carries with him a vision of the nation and its history and of human nature so remorselessly painful that the only way out is through more pain. Corey Robin, author of The Enigma of Clarence Thomas, explains.
COREY ROBIN So Thomas believes that black people, all black people in the United States are surrounded by a stigma of intellectual inferiority that they are simply not capable, is the belief among white people of any kind of achievement their advancement on their own. Thomas does not believe affirmative action created that stigma, but that affirmative action reinforces that stigma. It stigmatizes all black people with that notion that but for the help of white people, they could have never gotten where they are. And in this regard, he thinks that affirmative action stigmatizes it in the same way that slavery did. It didn't matter under conditions of slavery, whether you are a free black person or an enslaved black person. All black people were stigmatized with that sense of inferiority. And Thomas believes that affirmative action continues and that makes his decisions on affirmative action very different from other white conservatives on the court who emphasized this vision of colorblindness, that all people are equal and ought to be treated equally. For Thomas, it's an almost literal continuation of the kind of stigmas that black people have been subjected to throughout the ages of American history. And one last point when white liberals say the difference with affirmative action is that unlike Jim Crow or unlike slavery, affirmative action is designed to improve the conditions of African-Americans to get us beyond race. Thomas will point and cite chapter and verse from white slave holders and defenders of segregation who made very similar claims about their systems that they were overwhelmingly for the benefit of black people. So Thomas is not impressed by that argument. And then the last piece of his attack on affirmative action is that affirmative action is very much a white program for white people.
BROOKE GLADSTONE That was fascinating in your book. Basically, affirmative action enables an institution, say, an Ivy League school to keep its same elitist, selective, perhaps white supremacist admissions policies in place while tinkering around the edges that it basically offers a fig leaf.
COREY ROBIN Yes, because he says, if you really wanted to diversify yourself, the simplest, most effective, most efficient way is to change your admissions standards, not to rely on things like the LSAT, for example, which Thomas says everybody knows are racially skewed and racially biased. So change your admissions standards and you could instantaneously become a more diverse institution. But those institutions don't want to do that And so they come to rely on affirmative action, which, as you say, allows them to tinker around the edges. The other thing that affirmative action allows these white elites to do is to choose that black person that they think could be one of us. It enhances the discretionary power of white people. And to Thomas, this has a kind of terrible resonance with America's racial past of the kind of the white paternalistic choosing among those black people upon which they choose to cast their favors. And that's what affirmative action is for him. And then the very last piece of this, that this is all part of white elites self conception. This is kind of cosmopolitan, tolerant, multicultural aesthetic, and that's actually the word that Thomas often uses…
BROOKE GLADSTONE It makes them look better.
COREY ROBIN That's exactly what Thomas says.
BROOKE GLADSTONE Let's go to decisions that speak to the second part of your book. Capitalism, he said, that money enabled rich people to purchase politicians as mouthpieces for their points of view. And this is perfectly legitimate. And since black people will never be able to dominate power under the system of majority rule, money was the only way. And that led him to the decision he took on Citizens United.
COREY ROBIN In a 1987 speech he gives, he says what we need to do is to remove the stigma of shabbyness that surrounds wealth, particularly amongst liberals, to make the amassing of wealth almost as sacrosanct as speech itself, liberate commercial pursuits and make them seem moral. And if you read that speech in 1987, the redescription of money as speech is his grandfather who amassed resources and power for himself and his family and the black community. And Thomas says, you know, liberals would essentially dismiss my grandfather as a nothing. But this is the kind of black man upon whom the salvation of the black race depends.
BROOKE GLADSTONE So the third part of your disquisition on Thomas is titled The Constitution. You note, as others have, that really we function under two constitutions, the one before the Civil War and the one after.
COREY ROBIN Yes. And I call this "the white constitution and the black constitution." And Thomas says that the second constitution, the one that was created by the Civil War and Reconstruction, fundamentally transformed this state. And Thomas believes at the heart of that black constitution is this figure of the black man whose most precious freedom is the right to bear arms. There is also that first constitution that you mentioned.
BROOKE GLADSTONE The slave document.
COREY ROBIN Yes. This is the constitution that Clarence Thomas states forthrightly was created by slave holders and racists. Now, one would think that Thomas would want to have very little to do with that constitution, but that's not the case. And I think here we come to the heart of the most unsettling parts of his vision. He has said the salvation of the black race depends upon black men and that one of the byproducts of liberalism was what he calls the rights revolution. These rights made life easier and more tractable, and black men began to disintegrate. They lost their authority. They lost their will. They lost their discipline. And the results for the black community are catastrophic.
BROOKE GLADSTONE Because the burdens they faced were so much greater.
COREY ROBIN Exactly. So what Thomas believes is that we need to recreate those conditions of exigency and constraint and adversity, because under the harshest, most exigent conditions, black men will rise to their potential greatness. They will overcome precisely in the way that his grandfather overcame.
BROOKE GLADSTONE How does it play out in his decisions?
COREY ROBIN In order to recreate those conditions, Thomas also tries to enhance the white constitution, the antebellum constitution. And one of the features of that constitution were harsh conditions of punishment. And Thomas believes that one of the most terrible things the Warren Court did, the liberal Warren Court of the mid-century, was to mitigate the conditions of punishment, to introduce the federal courts, to oversee the practice of punishment and imprisonment, that should be the province of local governments in states. And Thomas would like to actually empower the state to punish, even if, and sometimes it seems, particularly if that state is racist.
BROOKE GLADSTONE That's perverse.
COREY ROBIN It's the most unsettling part, I think, of Thomas's vision, but it comes from this idea that it was under Jim Crow when black men rose to the level that someone like his grandfather did and were able to create enclaves of black autonomy and black separation and black community.
BROOKE GLADSTONE He talked about black men, what about black women?
COREY ROBIN There is very little room in this vision for black women. Black women at best are the recipients of the beneficence of black men. But at worst, black women he views as very dangerous figures. Either the dependence upon the welfare state, which is how he dismissed his sister, that she's so dependent upon welfare. She gets mad at the mailman when he's late with her check. As black feminists like Kimberly Crenshaw and Nell Painter pointed out at the time of his hearings, Thomas's view of his sister was not only extraordinarily ugly and cruel, it actually did not account for the fact that she was one of the pillars of the black community and the black family that she maintained the black community and the black family through her efforts with minimum wage jobs. But black women, as I say, they've played very little in this romantic fantasy that Thomas has. Sometimes when they appear, they're also perceived to be traitors. And that's where I think we come to the question of Anita Hill
[CLIP]
ANITA HILL Telling the world is the most difficult experience of my life. But it is very close to having to live through the experience, that occasion, this meeting. [END CLIP]
BROOKE GLADSTONE Anita Hill, a lawyer who worked under Clarence Thomas when he was working for Reagan, who charged him with a number of incidents of sexual harassment.
COREY ROBIN And it's how we mostly remember Clarence Thomas in this country. He responded to the charges not simply by denying them, but by really going on the offensive in the attack.
[CLIP]
JUSTICE CLARENCE THOMAS It is a message that unless you kowtow to an old order. This is what will happen to you. You will be lynched, destroyed, caricatured by a committee of the US Senate rather than hung from a tree. [END CLIP]
COREY ROBIN While Thomas was definitely lying about what he did and didn't do with Anita Hill, I don't think he was lying when he made that charge in the following sense. At the heart of Thomas's vision is black male authority, and Thomas believes that white liberalism has been an, essentially a conspiracy to take down black male authority. And so when he saw the Democrats and liberal groups in alliance with this black woman, he saw everything that he had been narrating in both public and private about the way the deck is stacked against black men who are trying to advance the race. And in that sense, Thomas was telling his truth, revealing in very plain terms what is at the heart of his entire constitutional vision, which is the attempt to preserve the role of black men.
BROOKE GLADSTONE And being utterly blind to the even higher barriers faced by black women.
COREY ROBIN Absolutely.
BROOKE GLADSTONE Did you come away from this project with any more sympathy for Clarence Thomas?
COREY ROBIN I think whenever you write about anybody, you have to have some degree of imaginative sympathy. But actually, I think I came away more horrified in a way by Clarence Thomas. All countries like their monsters. But the true horror of a monster is when they reveal a kind of truth about a larger world. And I think when Thomas begins with these very deep beliefs in racial pessimism, the fact that black people cannot be accommodated by a white society
BROOKE GLADSTONE And are better off if unboundedly repressed?
COREY ROBIN And that's the monstrosity of it all, is that he begins with beliefs that I think are widely shared and he follows them to conclusions that are not simply horrifying, but which actually do reflect the world that we live in today, where people are armed to the teeth, where white racism seems almost worse than ever, where wealth is accumulated in even more obscene ways and where black men are locked up in jails. This, in a way, is Clarence Thomas's preparatory vision to some kind of path out of it. And it's a very dark vision.
BROOKE GLADSTONE Here's Senator Howell Heflin during Clarence Thomas's confirmation for the Supreme Court.
[CLIP]
SENATOR HOWELL HEFLIN There are some that believe you are a closet liberal and some, on the other hand, that believe you are part of the right wing extreme group. Can you give us any answer as to what the real Clarence Thomas is like to date?
JUSTICE CLARENCE THOMAS I don't know that I would call myself an enigma. I'm just Clarence Thomas and I tried to do my grandfather said and stand up for what I believe in. There has been that measure of independence. But by and large, the point is I'm just simply different from what people painted me to be. And the person you have before you today is the person who was in those army fatigues, combat boots, whose grown older, wiser, but no less concerned about the same problems. [END CLIP]
COREY ROBIN That young man in army fatigues and combat boots who as a black power devotee and aficionado, has undergone some fundamental changes in terms of his beliefs about capitalism and so forth. But at the heart, that vision of racial pessimism, which Thomas has never been shy about. Has always been there.
BROOKE GLADSTONE We began talking about The Invisible Man, one of Clarence Thomas's favorite books in this at least he was certainly right. He never really was an enigma at all. It's just that so many of us liberals were outraged by a black man not pursuing civil rights in a way that made sense.
COREY ROBIN For many white liberals, Clarence Thomas doesn't make any sense at all. Once you look at African-American intellectual history and political history, Thomas's views are actually quite legible as part of a tradition. So the real enigma that I came to in all of this is not Thomas's beliefs, but the fact that white people continuously seem incapable of seeing those beliefs. And as I say in the book, there is this character in American literature whose experience looks remarkably like that. And that, of course, is Ralph Ellison's Invisible Man. And it's not just the fact that the invisible man is not seen, it's that white people think they do know who he is and they haven't got a clue.
BROOKE GLADSTONE Corey, thank you very much.
COREY ROBIN Thank you.
BROOKE GLADSTONE Corey Robin is the author of The Enigma of Clarence Thomas.
BROOKE GLADSTONE Corey Robin is the author of The Enigma of Clarence Thomas. We aired this interview first in 2019.
And that's the show this week. On the Media is produced by Micah Loewinger, Eloise Blondiau, Rebecca Clark-Callender, Candice Wang and Suzanne Gaber with help from Savannah Collins. Our technical director is Jennifer Munson. Our engineers this week were Sam Baer and Andrew Nerviano. Katya Rogers is our executive producer. On the Media is a production of WNYC Studios. I'm Brooke Gladstone.