The Life and Times of the FDA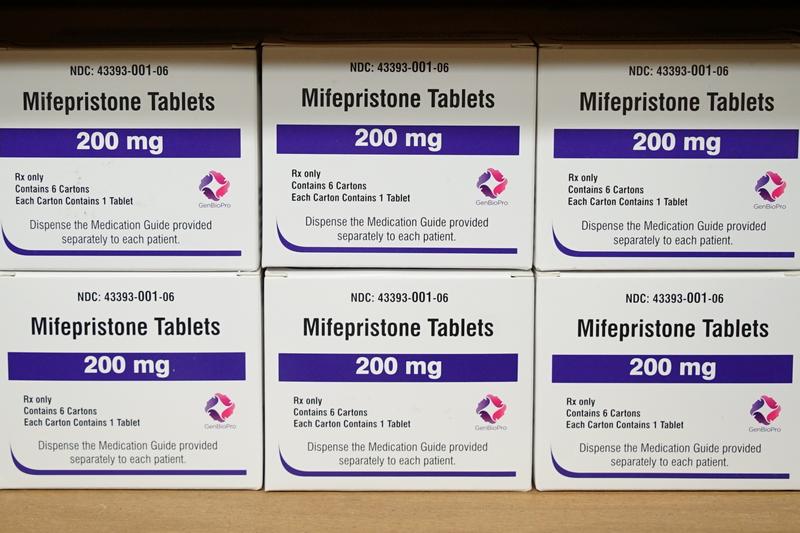 Transcript
Brooke Gladstone So the Supreme Court is about to make another abortion related decision about a well-regarded, often used abortion pill, mifepristone.
News Clip This is possibly going to be the most important abortion decision after Roe v Wade.
Brooke Gladstone The justices will evaluate a contentious decision about the drug that came down in a Texas court earlier this month.
News Clip A conservative Trump appointed federal judge in Texas has ruled to suspend the FDA's approval of mifepristone.
Brooke Gladstone That suspension is currently on hold at the request of the Biden administration until the high court decides otherwise. But the Texas decision was odd not just for its scope, but also for its target. Mifepristone isn't a new medication. It was originally approved by the FDA over two decades ago.
News Clip The reasoning here is basically that the decision making process, the FDA was improper and therefore if it was improper, then the approval simply can't be effective nationwide.
Brooke Gladstone The FDA has spent quite a bit of time in the national limelight the past few years, largely due to the pandemic. The agency continues to draw the ire of conservatives and sometimes liberals, too. And yet, despite its regular place in the headlines, the FDA is history is far less familiar. Daniel Carpenter is the Allie as Freed professor of government at Harvard University and author of the book Reputation and Power Organizational Image and Pharmaceutical Regulation at the FDA. And he says that the agency originally came to be because of lobbying by scientists, but also by the most activist of journalists to.
Daniel Carpenter Roughly around 1905, 1906 during the muckraking era in journalism. There were a number of kind of national stories. The best known, of course, Upton Sinclair's The Jungle and others that basically pointed to the crisis many thought we had in unsafe and impure foods and drugs. And so the Pure Food and Drugs Act of 1906 created basically the precursor of the modern FDA. And it wasn't known that the FDA at the time. It basically becomes known as the Food, Drug and Insecticide Administration in the 1920s. But the basic powers, especially over drug purity, food inspection, things like that.
Brooke Gladstone Power over premarket approval.
Daniel Carpenter So the pre-market approval does not happen until 1938. That's in the midst of the New Deal. What led to it most was the sulfanilamide tragedy. It was a sulfur drug that was suspended in an elixir with basically the operative ingredient in antifreeze, because it's actually really sweet. And this was given to a number of children and it was given to a large number of men. And it wasn't prescribed. It was more or less bought on the open market to treat syphilis, killed 120 people.
Brooke Gladstone I think it's worth noting that it was the muckrakers that initially gave impetus to the creation of this regulatory agency.
Daniel Carpenter Yeah, I think that's right. That said, all sorts of crises happen. And so the United States Department of Agriculture and then the FDA wasn't a perfect organization, but it was relatively well trusted by the public, by scientists and by Congress. And so I think you need both. You need some sense of crisis in the muckrakers, but you also need an agency that's relatively trusted.
Brooke Gladstone Since 1938, it has at least officially had premarket approval for drugs. And if I go into my kitchen and open the fridge or my bathroom and crack open my medicine cabinet, what is under the FDA's domain and what isn't.
Daniel Carpenter Just about everything, if you're looking in the fridge, certain meats are actually under the USDA, but a wide variety of other foods are under the FDA's authority. They might also be under your state's authority, like the Pennsylvania Department of Agriculture. When it comes to medicines, though, that's where the FDA's authority is really kind of unrivaled. And not just with drugs, but also with vaccines and a number of other things. That doesn't mean that everything you take like, say, a nutritional supplement is regulated by the FDA. Those are not nutritional supplements. But there's no pre-market approval relatively over foods. Occasionally, they can regulate things like food coloring and additives, but the degree to which those are regulated is not nearly as stringent as the degree to which things like drugs and medical devices are regulated. So basically, the FDA regulates those, if you will, from cradle to grave. From the inception of the idea, the earliest testing all the way through human trials approval and then post-market surveillance, including the possibility that something is withdrawn from the market.
Brooke Gladstone So tell me what approval actually means and what it entails.
Daniel Carpenter So phase one is you give a drug to healthy volunteers to make sure that they just don't drop dead. Phase two you give the drug to the target population for which it's intended. So if it's an oncology drug, you give it to those suffering from cancer and you're starting to get a sense not only of is there immediate harm, but harm if you take it over a while, does it damage the kidneys in ways that you wouldn't see right away, but you would see six months out? And then phase three is traditionally where we get what's called the randomized clinical trial. You're now doing a hard test of the drug by comparing it either against a placebo or more commonly these days against the known best alternative treatment. Those are the ones that take, you know, millions and millions of dollars to run. And they also tend to give us the best evidence about causality. Like, is the drug really responsible for curing? Is it really responsible for these safety problems or is it something else? At that point, a drug company will call them the sponsor. They put together a dossier that's called the new Drug application NDA. That is the basic power of the FDA is determining whether you can sell this and make money from it.
Brooke Gladstone There's also something called accelerated approval. There's breakthrough approval. And I think some people worry about that.
Daniel Carpenter In general, there's been an acceleration of the FDA decision phase over the last 50 years. Some of that is computers. Some of that is more human power. Some of it is changes to the regulations. And then in other cases, whether it's accelerated approval or breakthrough designations, the FDA is saying one of two things, either that the disease is sufficiently severe and without available treatments, that they're going to relax some of the clinical trial requirements or some of the evidentiary requirements and allow it to be approved, or that this particular molecule seems so powerful and just very well-established in early phase studies that they're going to allow some acceleration. And often that relies on what we call surrogate endpoints. It's like a standard measure. So for oncology drugs, what we really care about is does the person live longer? Things like safety and toxicity, But a stand in for that, a substitute measure would be, well, did the tumor they have if it's a solid tumor, did it grow or did it shrink? And how much? Another case would be basically looking not at heart disease, but say that cholesterol or cholesterol buildup in the arteries, something like that. What the FDA does increasingly is rely upon these surrogate measures, especially for breakthrough and for accelerated approval with potentially smaller, less costly clinical trials. You're right. There's a controversy about these. There's a number of studies just quite recently, some of which suggests that these drugs don't necessarily deliver any additional benefit. There's not a lot of follow ups. There's other evidence that actually these drugs seem to be just as safe as the ones that weren't rushed through. The evidence is out right now. I think one thing that would be relatively easy to do would be to have a more rigorous regimen of follow up.
Brooke Gladstone We talk a lot about narratives on this show, and I think the narratives around the FDA as an agency historically are pretty complex. You say that it operated pretty quietly from its founding until about the middle of the 20th century, and then something big happened, and now we're going to play JFK.
John F Kennedy Clip Every doctor, every hospital, every nurse have been notified. Every woman in this country, I think, must be aware that it's most important that they check their medicine cabinet and that they do not do that. They do not take this drug, that they turn it in.
Brooke Gladstone He's talking about thalidomide. And I think for a lot of people in my generation, it's solidified the idea that the FDA is an essential arm of the government, benevolent and something of which to be proud.
Daniel Carpenter Yeah, definitely had that reputational effect. Thalidomide was an anti-nausea drug. It could also be used as a sedative, as a relaxant, and it was marketed widely in Germany, the United Kingdom and parts of Australia. Nausea often accompanies pregnancy, and what began to be discovered were a bunch of children born with limb or other kinds of deformities was basically the absence of intermediate limb structures. So you'd have feet protruding from hips, just hands just protruding from shoulders. That was the part that really scared everybody. What we don't know is the number of stillborn and or aborted, either voluntarily or involuntarily children, which may well number in the thousands, if not tens of thousands. I mean, there's a deeper human tragedy here that's never been told, but the bottom line is there was a reviewer at the FDA and she was backed by many in her division that said, I don't like the evidence on this drug. And her name was Francis Kelsey. She ended up receiving the National Civilian Service Medal from President Kennedy after this. And she became within a few months of the initial stories, one of the ten most admired women by Reader's Digest in the entire planet. And she became a household name. And then after that, Congress passed a set of laws that strengthened a lot of the FDA's pre-market authority to basically regulate efficacy much more rigidly. So they began to look for evidence of efficacy as well as safety to really implement this program, a phase clinical trial.
Brooke Gladstone And yet, of course, there's a list of drugs that did receive FDA approval and went on to cause harm. Some of them are pain relievers along the lines of ibuprofen or naproxen. There's Bextra and Vioxx.
Daniel Carpenter Yup.
Brooke Gladstone For me, the most memorable one was probably Fen-Phen drug duo designed for weight loss until it was revealed it caused heart lung issues. Sadly, Why does that happen? And what are the consequences for the FDA?
Daniel Carpenter First off, finding out drugs have unanticipated Postmarket safety problems is just a necessary feature of any system. And I'm not saying that the cases that you just mentioned were okay. It's just that sooner or later a science is incomplete and we do a bunch of studies, but we don't follow people for years before we approve drugs. People may take it in ways that were not taken in the clinical trials. That was partly true of Vioxx. People who were kind of, you know, weekend warriors, 50 year olds like myself, playing basketball on the weekends, were taking it to recover from their knee and joint pain, things like that. But then there was a pretty rigorous clinical trial actually conducted by Vioxx's sponsor Merck that showed that it plausibly tripled the rate of heart attacks among those taking it. And there's almost no system that you could design that wouldn't have this happen sooner or later. Question is, is with what frequency? And is the FDA kind of approaching all of the different trade offs that it has to make in the right frame of mind?
Brooke Gladstone Okay. So give me the context. Give us an idea of how many drugs slipped through the system, what percentage of the drugs that the FDA approves go wrong?
Daniel Carpenter Well, I think there are different ways that you can decide that error. The most obvious one is if they later have to withdraw the drug from the market. And I'm going to focus on a kind of decision called new molecular entities. It means the molecule hasn't been marketed before in interstate commerce. Proteins like the biologics that you see now, or simpler kinds of drugs like statins or fluoxetine or other drugs that are commonly in our medicine cabinet.
Brooke Gladstone Fluoxetine, an antidepressant.
Daniel Carpenter Known as Prozac. So anywhere from 40 to 50 have been approved per year, new molecular entities since 1962. And I would say the rate of drugs being withdrawn is anywhere from maybe 1 to 3%. Now, drugs may be withdrawn for other reasons, namely that they're just eclipsed by competition and then they'll just, you know, kind of get quietly pulled off the market. The other possibility is that, you know, the FDA has kind of approved a drug but hasn't given it a really thorough review. And there are outside audiences like doctors and others who basically say, wow, this, you know, drug approval was procedurally weak and then insurance companies and others take notice and basically decide not to prescribe it. And the drug may end up talking about this. The drug aducanumab, the Alzheimer's drug.
Brooke Gladstone Yeah.
Daniel Carpenter Was one such example. That's a pretty important failure on the FDA's part.
Brooke Gladstone Let's talk about the early Alzheimer's drug. You mentioned Aducanumab. Yeah. It reduces a sign of Alzheimer's in the brain, but it doesn't seem to treat the disease. It doesn't seem to slow it down. It's a secondary sign that drug is is very expensive and doesn't seem to show any efficacy. It would seem to have failed that trial. Right.
Daniel Carpenter The way I would describe it, economy is the market has spoken and the FDA approved it and then a whole bunch of major hospitals, Mt. Sinai, Cleveland Clinic, a number of other hospitals, even here in Boston, basically said we're not going to prescribe it. And the market crashed and Biogen, its sponsor, lost millions.
Brooke Gladstone But the FDA shouldn't let the market speak. Right.
Daniel Carpenter Well, yes and no. I do think that Aducanumab was a mistake in approval. But for a disease that does not have any very good treatments and for a disease that people are willing to take a risk if there is good, solid evidence for efficacy, that the FDA should maybe at the margin take a chance on some drugs.
Brooke Gladstone That's my point. There didn't seem to have been.
Daniel Carpenter That's right. No, no. What I'm questioning is, is it's not clear that we shouldn't let the FDA allow the market to speak ever the other way of letting the market speak. As you know, you let a drug out and then you find that there's not efficacy later on, and then you revise your approval or you yank approval or things like that. That happened, for instance, with another monoclonal antibody bevacizumab for breast cancer. And there the FDA didn't pull the drug off the market, but it removed the breast cancer approval for that drug later on. I'm just saying it's not always clear that the FDA should, you know, never say, let's take a chance and see what happens later.
Brooke Gladstone There was a study published in the Journal of the American Medical Association, JAMA, in 2017 that found that nearly a third of the drugs that received FDA approval between 2001 and 2010 had a safety issue once they hit the market.
Daniel Carpenter That study, if I'm thinking of the right study and others show that there still are a number of safety problems that emerge, the fact that we discover a safety problem later on does not mean either that the drug should be withdrawn or just by itself that the FDA made a mistake in approving it. We have to recognize that evidence is going to, you know, emerge later on. at the end of the day, it's not just whether did safety problems emerge, but what kinds of safety problems, you know, with some of these things anyway. And I'm not criticizing the authors of the study because I've done studies like this myself. And it's very, very hard to compare these things because medications are just fundamentally different. Right. Comparing in oncology drug to Prozac, you know, we can put both of them in the same data set. But what is efficacy mean for one or the other or what does a safety problem mean for one or the other? It's just two different worlds. And to me, the big takeaway from a lot of this literature is that our system is really, really well equipped to examine drugs before approval, but it's not as well equipped to examine safety problems after approval.
Brooke Gladstone Which brings me to the next question. Sometimes the consumers don't need the drug pulled. They just need updated rules. An example Last summer, Amanda Moll wrote in The Atlantic about how American sunscreen, of all things, because of out-of-date rules about sun filters is actually worse than the sunscreen sold in other countries. Shouldn't there be some action on the part of the FDA? What's the holdup?
Daniel Carpenter So what I understand of the sunscreen rules is that this is an update not just to the drug labeling, but actually to the regulation. So a lot of the way that agencies work is by writing rules that have the force of law. My understanding of what happened, you know, it was actually during the Obama administration was that there was an attempt to update these rules in the FDA. And I think there was some push back by the Obama White House. You know, we might think of Obama as a more progressive president who was kind of more supportive of the FDA, actually, the Obama administration and a number of its arms and the Office of Management and Budget had a pretty conflictual relationship with the FDA on two fronts. One was on this and the other, you may well know the Plan B controversy in which the Health and Human Services Secretary in 2011 overturned an FDA approval decision.
News Clip The Secretary of Health and Human Services has waded into the politically charged issue of birth control for younger girls in a very public and high level disagreement. Kathleen Sebelius today blocked the Food and Drug Administration from allowing girls under 17 to buy the Plan B morning after pill without a prescription.
Brooke Gladstone You wrote about this in an op ed for The New York Times back in 2011. You said free the FDA. Yeah.
Daniel Carpenter Got a lot of hate mail after that one.
Brooke Gladstone Was it politics or a religious situation?
Daniel Carpenter I think the best way to describe is that it was a misguided attempt on the part of the Obama administration about a year before the presidential election to try to court favor with some social conservatives and anti-abortion groups. And the question was not about Plan B in general. It was about whether it could be marketed over-the-counter to teens and adolescents. Now, there's a whole bunch of reasons to suggest that maybe as a matter of societal policy, we might want. Regulate that. It strikes me that's really a matter for Congress. Exactly. President Obama's involvement in this decision was not perfectly clear, although it strikes me he must have known that Secretary Sebelius was going to make the decision. The harm, if you will, was short lived because a judge overturned this decision. It was really the the reputational harm that it did to the entire process. Now, you had a precedent where a president or a president's secretary of health and Human Services decided that the FDA, for whatever reason, had not made the right decision on a drug for reasons of politics, for reasons of really anything that the secretary could step in. There was nothing technically illegal about the decision. The 1938 Food, Drug and Cosmetic Act gives to the secretary of the relevant department the ability to approve or reject the drug. But we just don't expect the secretary to play a role because the secretary just isn't a pharmacologist and isn't a doctor in many cases. But you can imagine a secretary of Health and Human Services who is anti-vaccine, right? Who would say, well, no, I'm not we're not going to have this vaccine approved. Or you can have a secretary who decides that because they don't like a certain drugs profile or abortion politics or trans LGBTQ politics that they're going to decide to approve or not approve it just for those reasons, having nothing to do with its safety and efficacy.
Brooke Gladstone Was the Plan B episode. Do you think, a precedent for what we're seeing now with two lower courts attempting to overrule the agency's scientific judgments that would make mifapristone illegal across the country?
Daniel Carpenter In some ways, yes. In some ways no. Now we're seeing basically a district court judge who received the case precisely because they were known to be an anti-abortion advocate and an ideologue. And the judge now making a very much post hoc judgment about FDA decisions made ten, 15, 20 years ago and basically saying, I judge these to have been procedurally illegal. There's a whole bunch of other medical tests like vaginal ultrasounds that should have been taken. The bigger worry here is that any judge in the country could do this in the future. Right. So it really opens the door to a massive second guessing of our statutorily established national food and drug evaluation process. Say that I've got a very well-functioning cancer drug, but then somebody in the future says, well, I've got something that doesn't look so good in trials, but we're going to press one judge somewhere to order it approved. The market's going to be flooded with a lot of lemon products, potentially because some judge somewhere decides to say no. The FDA's dragging its feet and I ordered this approved.
Brooke Gladstone I know you're not a constitutional lawyer, but got any thoughts about what the Supreme Court is likely to do.
Daniel Carpenter If, in fact, we are to believe, for instance, Justice Kavanaugh's insistence in the Dobbs decision that these matters be left to the states on abortion and that this is a political matter and not a matter of judicial decision making. If we're to take him at his word there, he would probably join a majority to void this decision.
Brooke Gladstone What do you think coverage of the FDA misses or what do you wish more people understood about it?
Daniel Carpenter There is another aspect that we all miss when we think about the FDA, just in terms of the safety trade off, which is that pharmaceuticals are not the kinds of things that you can just kind of kick the tires and know whether it works. There are things like placebo effects, disease, reversion effects where I can get really sick from a flu and then take a drug and oh wow, the flu subsides, I feel better. Well, that just happens to be because I took the drug at the time when the flu had reached its peak and it was going to get better anyway. So it's really hard to know whether these things work and all But a very few people in our society actually don't know the exact molecular or biomolecular mechanisms by which they do work, even many doctors. And so we have to rely on a hard test, in many cases, these randomized clinical trials. And if you remove that and there will always be pressures to say, let's just release everything, you know, once we know it's safe. People just won't trust it because absent really good evidence, generally what history and the empirical studies will suggest is that people often won't trust new therapies. And when I say people, it's not just the people who are suffering from the disease. It's their doctors, it's their nurses. And very often it's their insurance companies that won't want to pay for. For them. And so what the FDA does is not just keep us safe or unsafe. Its function is not just to look at safety and efficacy. It's to basically provide a backbone of trust for the entire system so that this very complicated economy and ecology of therapeutic innovation can thrive in a situation where people trust the system.
Brooke Gladstone Daniel, thank you very much.
Daniel Carpenter Thank you.
Brooke Gladstone Daniel Carpenter is the Allie as Freed professor of government at Harvard University and author of Reputation and Power, Organizational Image and Pharmaceutical Regulation at the FDA. Thanks for checking out the Midweek podcast and please tune in to the big show on Friday. It usually posts around dinner time. We'll be considering the impact of the Murdochs on the culture of the world.
Copyright © 2023 New York Public Radio. All rights reserved. Visit our website terms of use at www.wnyc.org for further information.
New York Public Radio transcripts are created on a rush deadline, often by contractors. This text may not be in its final form and may be updated or revised in the future. Accuracy and availability may vary. The authoritative record of New York Public Radio's programming is the audio record.